I've been seeing a lot of posts on Facebook lately about people who are asked to participate in sharing the things that they are thankful for on that particular day.  I think it's a great idea.  So many people, myself included, tend to focus on the negative things that are going on in their lives.  Sometimes it takes sitting down and really concentrating on and appreciating the things that you can sometimes take for granted in your life.  It is then that you realize how good you have it.  Being conscious of the things that you're thankful for makes you a happier person overall.  And if you're happier, you're healthier, and the people around you are happier too.
When I saw that today's 'Back to Blogging Challenge' from The SITS Girls was to think of ten things you're thankful for and list them in a post, I thought to myself, 'Well, it's about time that you do this Pam!'.  And to be honest, I hope that this becomes more of a habit for me.
So here goes!  The things that I am listing are things that I am thankful for TODAY.  Each and every day will bring me new things that I"m thankful for.  As for today, here's what I have (in no particular order):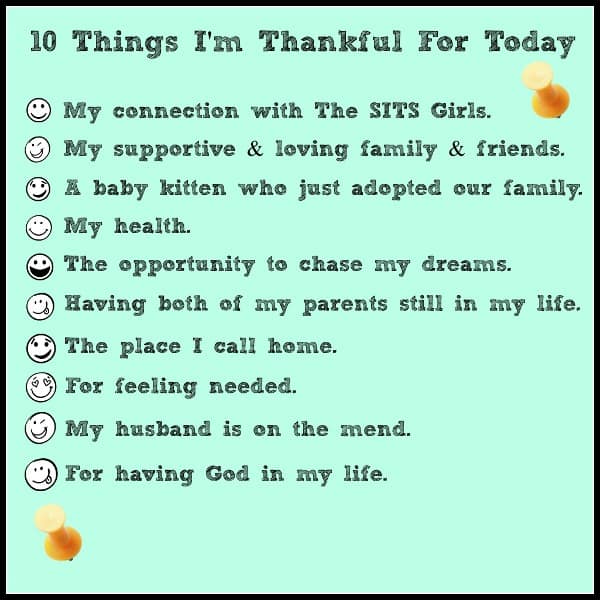 # 1. Mine and Terri's recent connection with  The SITS Girls, especially after the Bloggy Boot Camp, Women Get Social conference, has been so rewarding to both of us.  We honestly don't know what we'd do without the education and support we've gotten from The SITS Girls!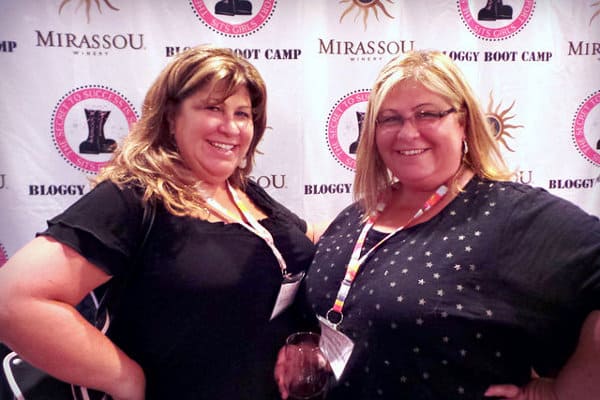 # 2. Having supportive and loving family and friends is something that I sometimes take for granted.  But over the last year or so with many things that have happened in my life, my family and friends have really stepped up to show me their support, whether it's by text, a phone call, a visit, a card, or just a nice big hug.
# 3. I am thankful for a baby boy kitten who 'adopted' our family, just yesterday.  This little guy came into our lives just 4 days ago when we heard him desperately meowing in the woods behind our house.  He was obviously lost and looking for his mommy.  He was so scared, that he wouldn't come up to me.  I was finally able to get him yesterday, take him to a vet to get him checked out and he's now a new member of our family!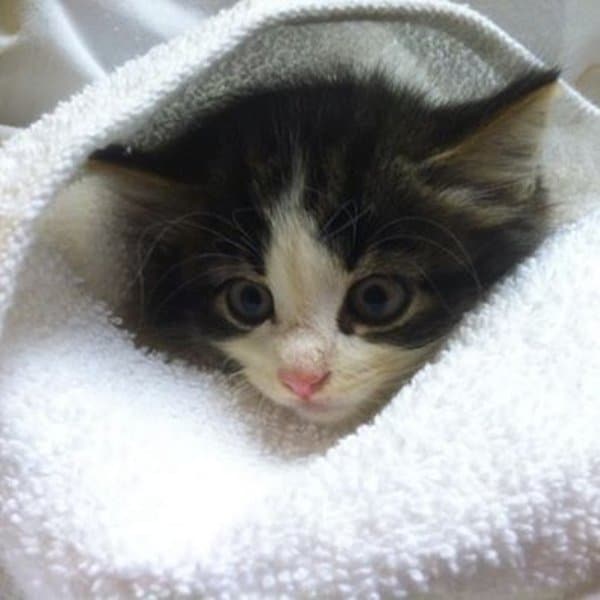 # 4. I am so very thankful for my health.  If I didn't have my health, I wouldn't have anything.  This is an area I need to work on as I get older.  Prevention is key.  My weight is something that's always been a struggle and something I need to address.  But thankfully, today, my health is good.
# 5. I am thankful for having the opportunity to go for my dreams.  Not everybody can work from home and go for what makes them happy.  I'm so lucky to be able to pursue my dreams of making money from home and yet still have a flexible schedule in order to accommodate my family's needs.
# 6. I am thankful for having both of my parents still in my life.  So many of my peers have already lost one or both of their parents.  I feel so very fortunate to still have both my Dad and my Mom still in my life.  They both mean the world to me.
# 7. I am thankful for where I live.  You've probably guessed by now that I live in Frederick, Maryland and absolutely love where I live.  Maryland is an awesome state.  There's something for everyone in Maryland.  I love the change of seasons here.  You know when it's fall when the leaves are turning and the air is crisp.  Winters can be very cold and snowy.  Spring is full of flowers.  And Summers can be downright hot.  But that's what I love about it!  You never get bored in Maryland.
# 8. I am thankful for feeling needed.  If you don't feel that you have a purpose in life, you don't feel needed.  Not feeling needed can be a very lonely place to be.  So I'm so thankful that I have my son and my husband who both show me every day that I'm needed.
# 9. I am thankful for my husband feeling better.  He is recovering from a bad bout of diverticulitis.  After not eating for a few days and a round of antibiotics, he's slowly feeling better and getting back to himself again.  I love that man and need him in my life!
# 10. I am thankful for having God in my life.  God is good!  Sometimes I don't feel as close to Him as I do at other times, but I ALWAYS know that He is there for me.  I can turn to Him anytime.  I'm so thankful for Him.
Wow!  That was very therapeutic.  I highly recommend doing a 'thankful' list of your own.  Maybe once a day, once a week or once a month.  It's a great exercise to make you realize how fortunate you really are!

Pam is married and has 1 son – a middle-schooler in his teen years. She followed Terri to Frederick in 1999. She absolutely loves going to yard sales and estate sales and finding hidden treasures.
read more...