Terri and I have always had thick, coarse hair since the day we were born. We have been told throughout our lives how lucky we are to have such pretty hair. I heard it so much that I took it for granted that my hair would always be thick, lustrous, and healthy. I found out recently that isn't always going to be the case unless I take steps to keep it that way.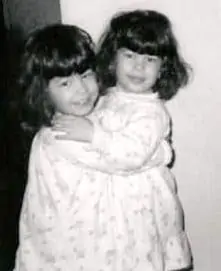 We've done so much to our hair over the years and it's always cooperated and remained healthy.
This is Terri in her 20s. Gorgeous, dark, thick hair.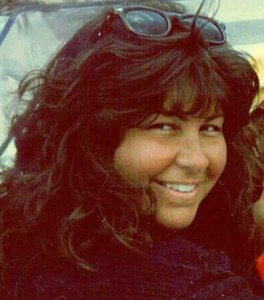 In the 80s, like most women, we went through the curly perm phase.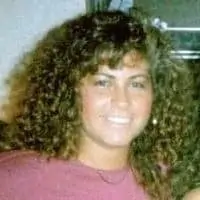 After the curly perm phase was over, it became very popular to have straight hair. That's the look Terri and I have gone with ever since, unless we're lazy and leave our naturally wavy hair to dry on its own. And to be honest, it's the best way to keep it healthy – let it dry on its own.
Last summer, I changed my hair color many times within a short time span. There were a couple of reasons for this:
I quickly get bored with my hair color and style. I have a love/hate relationship with it. Late last spring, I wasn't happy with my newly done highlights by my stylist. They just didn't show up enough and I wanted something more 'beachy' for the summer. I complained and she had me come back in within a week to re-do the highlights. She did them much lighter and much heavier than normal.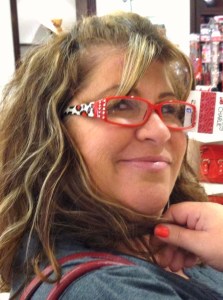 Later that summer, Terri and I were in an episode of Evil Twins, Sacrificial Lamb on the Investigation Discovery Channel. The twins that we portrayed in this story had very dark hair, so we had to get our hair colored dark. (On a side note, our episode has not yet aired, but we'll be sure to let you know when it does.)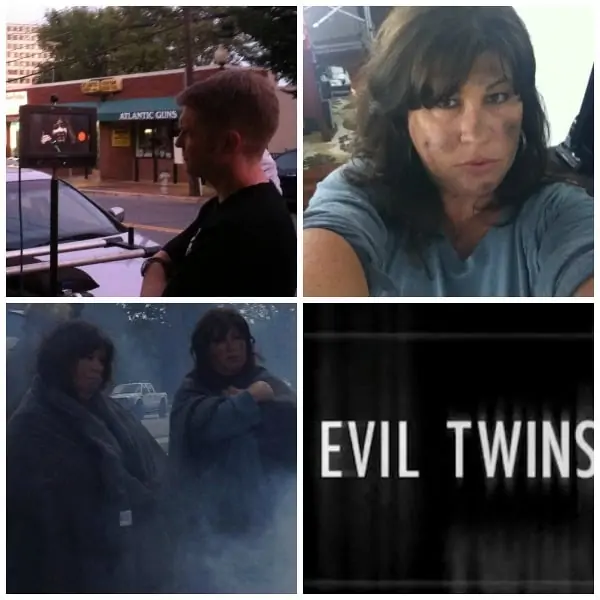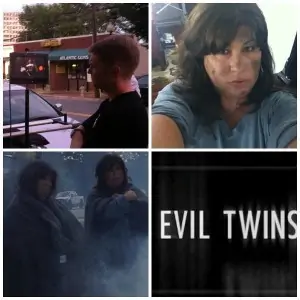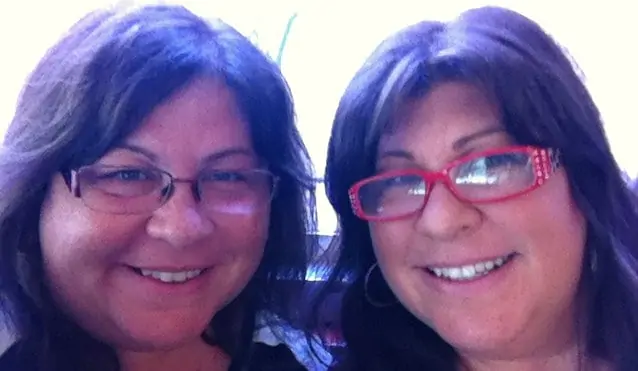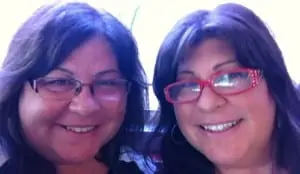 We both hated our dark hair, so as soon as the week-long shooting was over, we immediately went back to our stylist and had it highlighted again.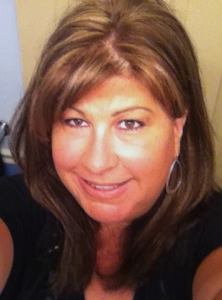 I was so happy to have my 'normal' hair back. However, the result of all of these color treatments in such a short amount of time took their toll and caused my hair to break on the top of my head. It really scared me. My hair wasn't invincible anymore. It forced me to pay closer attention to what I was doing to my hair and how I could get it back in good condition.
The first thing I did when it was time for a touch-up was to have my stylist color it dark again with no highlights. I felt that if I don't have any lighter color added in, that will keep it healthier.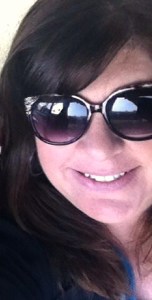 At this same time, I purchased some high quality hair products that I use daily to keep my hair from getting further damage.
Because I'm forty-something and my gray hairs grow out much faster than they used to, I realized that I cannot maintain a dark hair color. As soon as the gray hairs reared their ugly heads, the rest of my dark hair looked as if I was wearing a dark wig.
So, back to the drawing board. I waited as long as I could and asked my stylist to put some caramel colored highlights in my hair.
Here is where I am now.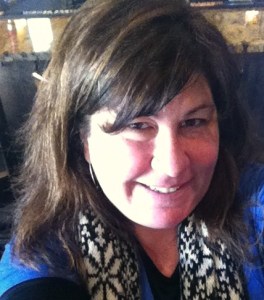 As you can see, the ends are still damaged, but I've found that repairing damaged hair takes time. I continue to use my arsenal of products and pay closer attention to how I treat my hair. I learned a huge lesson over the last 9 months:
Take. Care. Of. Your. Hair.
For me, it's the mane part of me that defines me, affects my self-esteem, and makes me feel womanly. Without my hair, I would be devastated.
So with that, here are 10 Ways to keep your hair healthy and beautiful through your 40s and 50s:
Use the proper hair products to protect your hair from the sun, heat tools, the elements, & processing. My stylist recommended an entire arsenal of products by (Arrojo) to use in a specific order. Yes, I know, stylists make money off of these products, but at this stage in my life, I'm willing to spend the money on better products if they are going to keep my hair looking the best it can. These products include an every day conditioner, a leave-in conditioner once a week, a deep conditioner to use periodically, a heat protectant spray, styling mousse, and Moroccan Oil (this stuff is like liquid gold!) to apply while your hair is still wet and

before you blow dry your hair. Keep in mind that whatever products you use, make sure that they cater to your hair type – thick, thin, curly, coarse, fine, color-treated, greasy, dry, etc.

Don't brush too often and use a wide toothed comb to de-tangle your hair when it's wet. This will help minimize breakage due to wet hair being more fragile and susceptible to damage.
Use heat tools as sparingly as possible. These include blowdryers, straight irons, & curling irons. If you must use these tools, especially the irons, ensure that the temperature setting isn't so high that it's literally burning your hair.
Wear a hat if you're in the sun a lot. Hats can protect your hair from the sun's damaging UV rays. Take time to try different hats until you can find the style and type that you like. This may sound silly, but if you like the way you look in a particular hat, you're more likely to wear it. Your hair will appreciate it. Bonus: hats are great for bad hair days.
Space out the times you color and process your hair. If you color and process your hair too often, it will dry out, get dull, and become damaged. Try to wait at least 3 weeks in between appointments.
Don't wash your hair every day. According to WikiHow "P

eople often make the mistake of thinking that they need to wash their hair everyday, but washing hair too often can actually dry hair out, or weigh it down with product. For most people, washing your hair three to four times per week is plenty. T

he longer, thicker, curlier, and more processed your hair, the longer it can go between washes.

If your hair gets oily very quickly and you must wash everyday, use a lightweight or "everyday" shampoo, as these contain milder detergents than others."

Don't rub a towel through your wet hair after a shower. Just press the towel in different places to blot it dry. As wet hair is more fragile and more easily damaged, blotting your hair with a towel as opposed to roughly rubbing the towel through your hair, will avoid frizz, and breakage.
Learn the proper techniques for blowing out your hair. If you use the proper brushes, blowdryer, and hair products, you can avoid having to go back over your hair with a straight iron or a curling iron. Ask your stylist to spend some extra time with you to demonstrate to you how to blow dry your hair correctly.
You are what you eat. WikiHow suggests, for healthy hair, to eat salmon, walnuts, oysters, sweet potatoes, eggs, spinach, lentils, greek yogurt, blueberries, & poultry. These foods contain high Omega-3's and other essential vitamins for healthy hair. They also recommend taking vitamin supplements, specifically biotin, vitamin A, vitamin E, vitamin B5, and Inositol. But always check with your physician before starting any new supplements.
Keep your stress levels down as much as possible. Stress can directly affect your body in numerous ways. Personally, for me, stress increases my anxiety and panic attacks, causing major stomach pains. For other people, I've seen stress cause their hair to literally fall out, including their eyelashes. Try not to sweat the small stuff. Your hair and the rest of your body will benefit from it.
So, here's to beautiful, luscious, shiny, healthy hair from here on out.
Please feel free to comment on this post if you have any other tips for keeping healthy hair.