This is a guest post, written by our friend, Mae, of Customaed!  Thank you Mae for your expert opinions as a mom of a baby and a kindergartner!
Disclosure: I received free products in order to host the Bright Starts sponsored Play Date. The opinions expressed here are my own.
Is there anything better than a child's laughter? Few things in life compare!
I recently had the pleasure of hosting a Bright Starts 'League of Little Laughers' play date.
Bright Starts provided several engaging toys for the kiddos to play with, and there were giggles galore!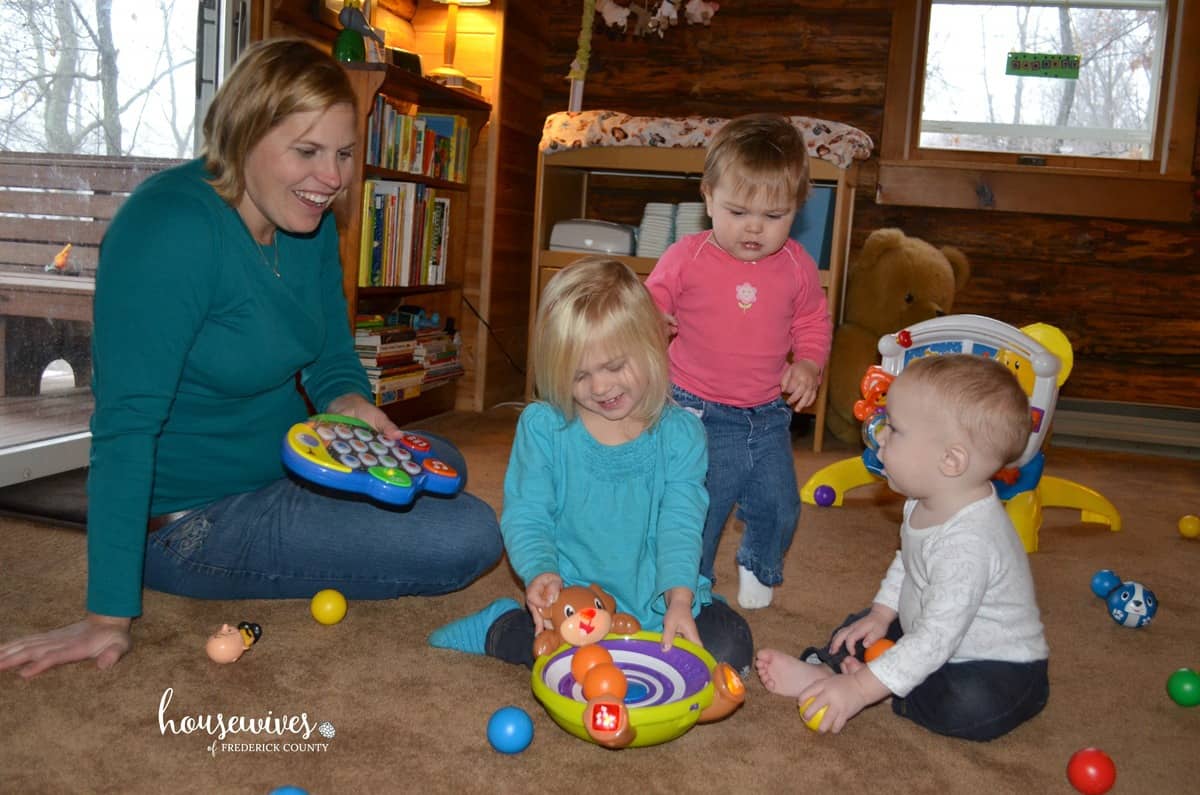 Bright Starts toys are colorful and FUN!
These are important qualities to look for in a toy when you're little.
As a mother, I'm more concerned with a toy's educational value.  Bright Starts toys appeal to both young and old alike!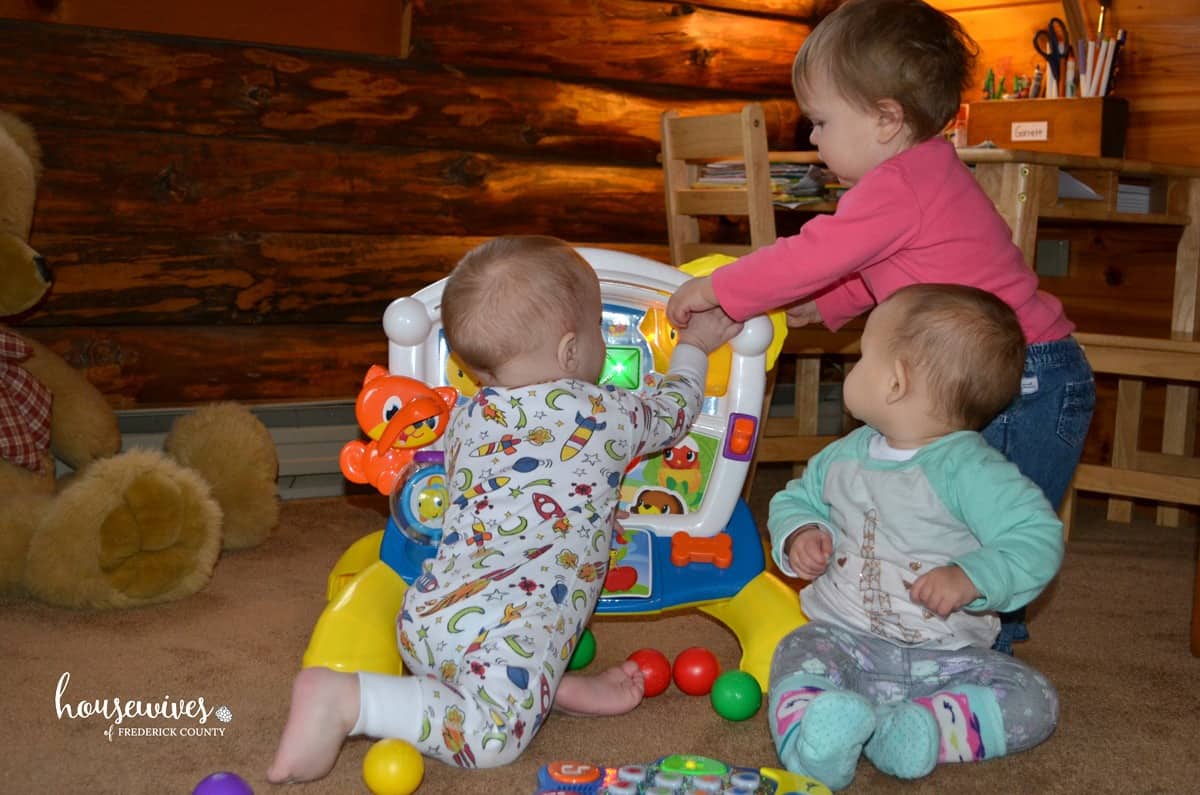 Bright Starts Learn & Giggle Activity Station
The Learn & Giggle Activity Station was the main attraction of all of the toys provided by Bright Starts!
Not only due to it's shear size (an impressive 24″ x 16″ x 7″), but it's packed with engaging activities for baby to explore and learn.
The activity center is large enough for baby to sit or stand while they play.
As a parent, I appreciate that the sound is available in two settings; low and medium.  In other words, even on the highest setting, there is nothing ear-piercing about this toy! The sounds are actually pleasing to the ear, and with over 65 melodies, sounds, and phrases, the center does not become annoyingly repetitive.
When each button, wheel, or page is touch activated, a sound and light show is triggered – shapes, colors, letters, numbers – there's a whole lot of activity going on here! The kids were definitely drawn to this impressive piece as their first discovery.  Purchase here.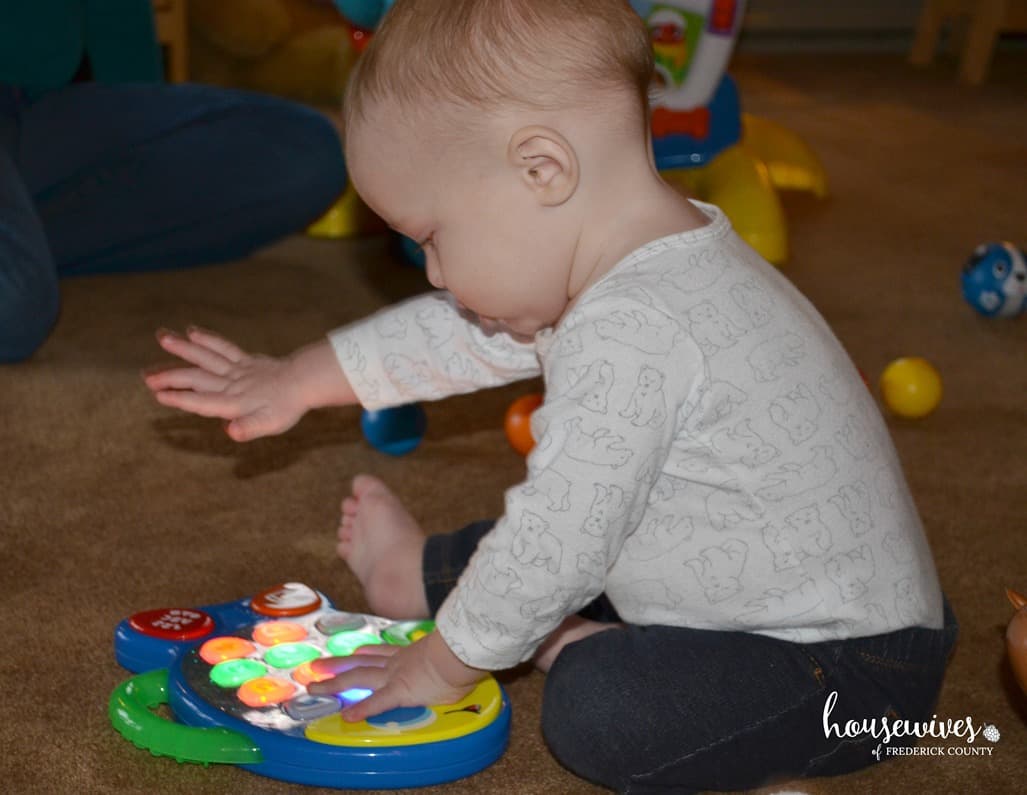 Bright Starts Learn & Giggle Fish
'You'll get hooked' on Bright Starts Learn & Giggle Fish!
It's the perfect way to help baby discover letters, numbers, and shapes while entertaining baby with lights and music!
There are two play modes on this little swimmer – music and learning (numbers, letters , shapes and colors).
To quote Bright Starts, "Bright colors and reflective scales will keep baby reeling in the fun!"  << Now that's punny! lol
Lots of colorful buttons and whimsical tunes.  There are lots of fish in the sea, but this one is sure to stand out! Purchase here.
Bright Starts Spin & Giggle Puppy
Bright Starts Spin & Giggle Puppy is a real crowd pleaser!
Of all of the toys highlighted in this post, this is my five year old's FAVORITE!
Place balls into the puppy's bowl, press the puppy's paws or press down on center of the bowl, and the puppy spins and wobbles! The balls spill out, the kids giggle and chase and refill the bowl. Purchase here.
Bright Starts Giggables
From the Bright Starts 'Having a Ball' collection, these adorable little balls of fun are the perfect size for baby to push and roll.  We received the puppy, but there are 6 silly characters to choose from. Purchase here.
In review, I would definitely purchase ALL of these toys!
Although the toys are recommended for ages 6-36 months, both of my kids (ages 9 months and five years) have played with them non-stop ever since we received them!
Custom Mae'd® is a one-person design studio located in Middletown, Maryland.  Mae's work has been featured on DisneyBaby.com, and she has worked with Major League Baseball's Boston Red Sox and the Texas Rangers.
Terri is married and has 2 sons – both high schoolers! She has lived in Frederick since 1994 and absolutely loves exploring and discovering new parts of our town.
read more...