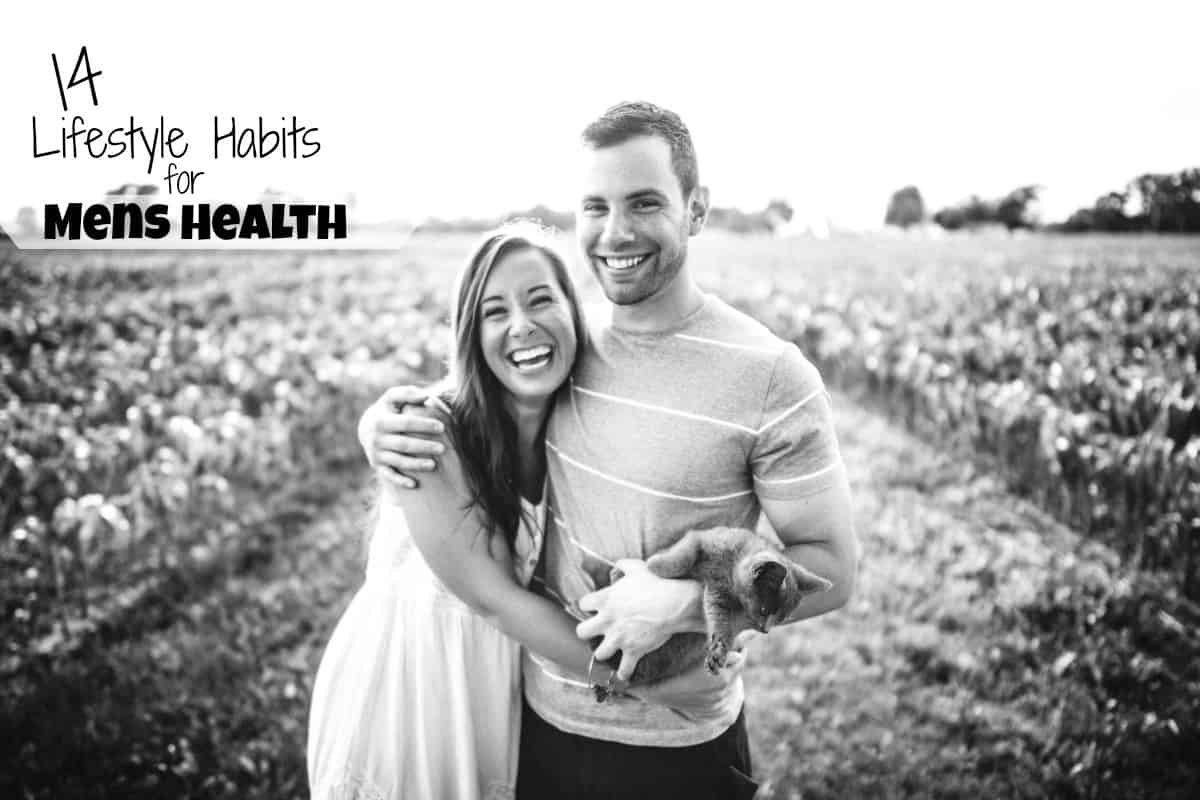 In this post, we're going to give you 14 of the best health habits to keep your man healthy & happy!
Obviously, we all have men in our lives who we love dearly.
For instance, we have our dads, our brothers, our husbands, our sons, our nephews, and our good friends.
However, for one reason or another many men don't tend to put their health as their number one priority.
On the contrary, most women I know are pretty good about going regularly to the dentist, getting their mammograms, their well woman exams, and so on.
But for men, it's not typically at the top of their list.
Well, that needs to change.
According to Livestrong and Mayo Clinic, these are the top 11 men's health issues:
Heart Disease
High cholesterol
Cancer – Lung, Skin, Prostate, Colorectal
Bronchitis
Emphysema
Stroke
Type 2 Diabetes
Motor Vehicle Accidents
HIV
Syphilis
Suicide
Luckily, there are ways to prevent these from happening!
Health Habits that men need to make
And because I'm just so darn awesome, I've provided you with a handy graphic that you can print out on your computer.
Post it up on the refrigerator to remind your man AND to remind YOU to remind your man to keep up on his health.
Yeah, I know, it can be a buzzkill at times, but it's either be the party-pooper or see your man suffer in his golden years.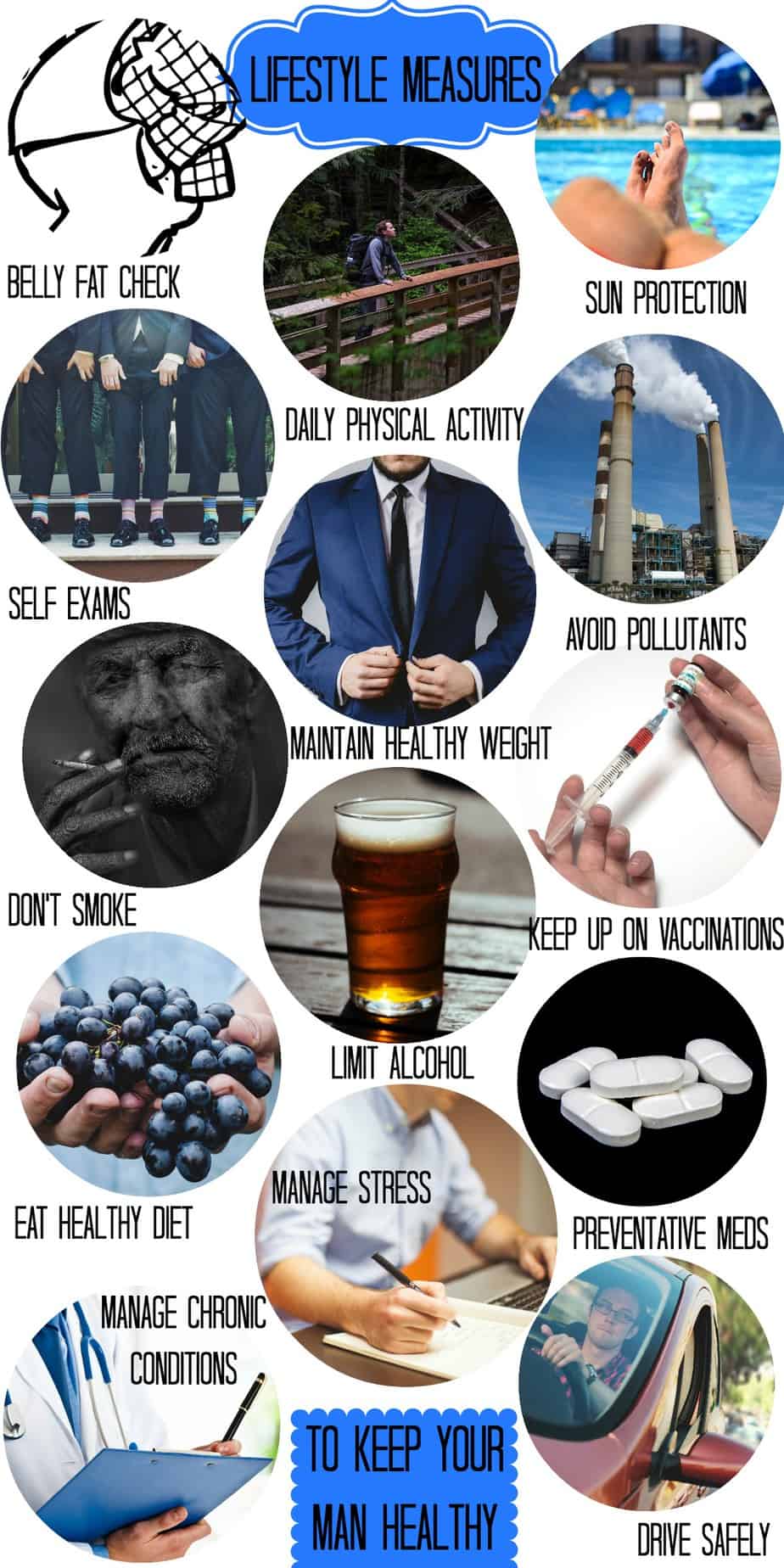 1. Health Habits: Belly Fat Check
Men are more likely than women to carry fat around their abdomens.
What's more, belly fat is more dangerous than fat in the hips and thighs because it settles around your organs.
Hence, this can cause heart disease, diabetes and stroke.
Men with a waist measurement of 40 inches or higher have an increased risk for these issues.
To measure your waist, relax and wrap a tape measure around your belly just above your hipbones.
2. Health Habits: Self-Exams
Testicular cancer is most common in men between the ages of 18 and 35.
Therefore, checking your testicles on a monthly basis is important for men of all ages.
Yes, this is kind of awkward to talk about, but here's how you do it:
Gently roll the skin of your scrotum around your testicles with your thumb and fingertips.
Your epididymis is the cord closer to your body that transports sperm.
That is normal.
However, if you notice any other bumps, lumps or areas of tenderness, report it to your doctor.
3. Don't Smoke
If you smoke or use other tobacco products, ask your doctor to help you quit.
In addition, avoid exposure to secondhand smoke as much as possible.
For help with quitting go to SmokeFree.gov.
To talk to someone about quitting, call the National Quitline at 1-800-QUITNOW (784-8669).
4. Eat a Healthy Diet
Include lots of vegetables, fruits, whole grains, high-fiber foods and lean sources of protein, like fish.
Als, eat less foods that are high in saturated fat, sodium, and sugar.
5. Health Habits: Manage Chronic Conditions
Follow your doctor's treatment recommendations for high cholesterol and high blood pressure.
If you have diabetes, keep your blood sugar under control.
And while you're at the doctor, find out if you should be checked for, and talk more in depth about, the following, based on your particular lifestyle and overall health:
Skin Cancer
Prostate Screening
Testosterone Levels
Colon Cancer
Abdominal Aortic Aneurysm
Depression
HIV
Syphilis
6. Exercise Daily
Choose sports or other activities you like to do.
Interestingly, physical activity on its own may lower the risk of certain types of cancer.
7. Health Habits: Maintain a Healthy Weight
Being overweight can increase your risk of heart disease and various types of cancer.
Therefore, balance the calories you take in from food and drink with the calories you burn off.
In addition, track your BMI (Body Mass Index).
A BMI over 30 is considered obese.
Work with your doctor on getting help to lose weight.
Obesity can lead to diabetes and cardiovascular disease.
8. Limit Alcohol
Only drink alcohol in moderation.
Excess alcohol can raise blood pressure and increase your risk of various types of cancer, including colon, lung, kidney and liver cancer.
9. Manage Stress
Feeling constantly on edge can cause your healthy lifestyle habits to take a back seat.
So, take steps to reduce stress.
Also, learn how to deal with stress in healthy ways, such as physical exercise.
10. Protect Yourself from the Sun
We all know that too much sun exposure can lead to skin cancer and premature aging.
Therefore, apply sunscreen and cover up whenever you're outdoors.
11. Health Habits: Avoid Pollutants
Minimize exposure to chemicals and outdoor air pollution.
12. Take Measures to Prevent the Flu & Pneumonia
Wash your hands often.
Get an annual flu vaccination.
If recommended by your doctor, get a pneumonia vaccination as well.
13. Take Preventative Medicines If Needed
If 45 or older, ask your doctor if you should take aspirin to prevent heart disease.
14. Drive Safely
Car crashes are a leading cause of fatal accidents among men.
Therefore, use common sense when driving:
Wear your seat belt.
Drive the speed limit.
Don't drive after drinking alcohol or after using any mind altering substances.
Don't drive while sleepy.
Men can drastically keep the odds in their favor by following the above lifestyle measures
However, to cover all their bases, men also need to keep up with doctor's appointments and screenings.
Health Screenings Men should request from their doctor:
Blood Pressure
Skin Cancer
Prostate Screening
Testosterone Levels
Colon Cancer
Diabetes
 Cholesterol
Abdominal Aortic Aneurysm
 Depression
Immunizations
HIV
Syphilis
Here's a great YouTube video from Mayo Clinic reinforcing the importance of men's health and preventative care:
Whew! This is quite a list of habits to keep up with!
But doing these things in order to prevent irreversible damage is key to a long, healthy, happy life.
It's SO worth being diligent and following these guidelines.
Because, we all want to live to see our children grow up, become successful and start a family of their own.
And we all want to spoil our grandchildren and live the 'Golden Years' in a happy and healthy way!
Lastly, for more motivation to be your best self, click on our healthy tips posts on:
Helpful Tips On Getting Yourself To A Healthy Weight
Massage Envy Urbana: Maintaining Total Body Wellness
3 Starting Points For Becoming The Greatest Version Of Yourself