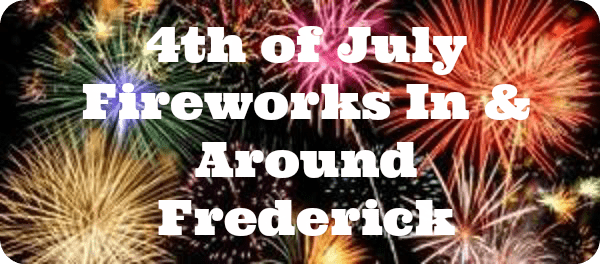 "Where are we going to see fireworks for the 4th of July?"
Do you find yourself asking this question every year?
As of this writing, we still don't know what we're doing.
BUT there are so many options we have in our area.
If you plan to stay in Frederick or within a short (less than an hour) drive from Frederick, where can you go to see some fireworks on the 4th of July?
We've compiled a list for you to make your life that much easier!
All of the events will be held on Saturday, July 4, 2015 unless highlighted in red.
2015 4th of July Fireworks In & Around Frederick County Maryland
FREDERICK'S BAKER PARK:
The largest July 4th event in Frederick is Frederick's 4th in Baker Park. We have been to this event many times. The event features regional and national entertainment beginning at noon on two stages of entertainment. Families from the surrounding region enjoy a day packed with rides, activities and entertainment. Dunk a Frederick celebrity or race a bath tub down Culler Lake – there is a little something for everyone. Just be sure to get there early and claim your spot. It's a very popular event and gets crowded early in the day.
BOONSBORO, MD

JULY 3, 2015

:

Independence Day Celebration. The Mayor and Council and the Boonsboro Park Board sponsor this event in Shafer Park. Festivities begin at 5 PM with music by the Rohrersville Band, activities for the children and delicious food for sale by local non-profit organizations followed by a spectacular fireworks display at dark. Lawn Chairs & Blankets are welcome. **Rain date is Sunday, July 5, 2015.
BRUNSWICK, MD

JULY 3, 2015

:

Independence Day Fireworks. Sponsored by City of Brunswick Location: Middle School Complex Time: 9:30 pm (Rain date July 5, 2015)
GAITHERSBURG, MD

:

Independence Day Celebration. Celebrate the nation's independence with friends and family as the entire community comes together for food music and fireworks. Festivities will include live music from Rollex, family activities, good food, and of course, a dazzling display of fireworks sure to delight audiences of all ages. Gates open for pedestrians at 5 p.m.
GERMANTOWN, MD

:

Germantown Glory Fireworks. Fourth of July fireworks display at South Germantown Recreational Park. Montgomery County will again host two Independence Day fireworks displays on July 4 — Germantown Glory at the Maryland SoccerPlex in the South Germantown Recreational Park in Germantown will start at approximately 9:15 pm on Saturday, July 4. Germantown Glory will kick off at 7:00 pm with a concert by the Tina Turner Revue featuring Suzette Dorsey. Low lawn chairs, blankets and coolers are welcome at both events. Food vendors will be on site. Alcoholic beverages are not permitted. The rain date for fireworks only is Sunday, July 5. No shuttle service will be available on July 5.
HAGERSTOWN, MD:
Just outside of Frederick, Fireworks at Fairgrounds Park. Presented by the City of Hagerstown. Bring your blankets or lawn chairs. Food and refreshment vendors on-site. No personal fireworks/sparklers, no alcoholic beverages, no remote controlled or aerial devices. Only service animals. 6 p.m. – Opening Ceremonies 6:30 p.m. – 9:30 p.m. Musical Entertainment by Inside Out and MPG-High Octane Blues (featuring original members of Roy Buchanan & the Snakestretchers)! Featuring Michael Walls "Pokey"m Mike Scheer, Malcolm Lukens and David Gabaldon.
MT. AIRY, MD

JULY 3, 2015

:
Celebrate Independence Day Event. Bigger Fireworks. Bigger and better Stage. 25 Porta Pots. Extra Field for Parking and Seating. Traffic and Parking Control. Many Food Vendors and Dessert Vendors. The Third Annual Celebrate Independence Day event for the Town of Mount Airy, Maryland will be coming to the Firemen's Activities Grounds this July 3, 2015. The Celebration will begin at 5:00 p.m. with live music from Star Crush and Otta The Blue. They will play until the sun goes down and it's time for the big event–the FIREWORKS! Remember to bring chairs to relax in or have a blanket to pitch along with a cooler of beverages, to celebrate Independence Day on the 3rd with our Mount Airy neighbors. You are welcome to bring a Frisbee or football to throw while the music is playing. There will be delicious food available for purchase. Corn Hole will be available courtesy of the Mt. Airy Main Street (MAMSA) and patriotic face painting will be available just for fun!
SHARPSBURG, MD:
Maryland Symphony Orchestra's Salute to Independence Concert at Antietam National Battlefield. Concert starts at 7:30 p.m. Fireworks at approximately 9:45 p.m. There is a minimum one hour to ninety minute traffic delay when leaving the event so be patient. Be sure to bring a blanket, plenty of water or soft drinks, and a flashlight. Sharpsburg Volunteer Fire Department and Emergency Medical Service sells food and drinks at the event. Be prepared for large crowds of up to 20,000 people. Limited parking is available in the park and additional parking can be found on Rt. 65 and Rt. 34 bordering the park. You have to walk to get into and out of the event. A shuttle bus is available to bring you closer to the event from Rt. 34, but there is still a 300 yard walk. Buses run from 3:00 p.m. to 11:30 p.m. The cost is $2.00 round-trip and children under five are free.
WAYNESBORO, PA

:

Waynesboro Summer Jubilee is a patriotic festival held each summer in Waynesboro, Pennsylvania, to celebrate the Fourth of July holiday. The celebration features a full day of free entertainment, patriotic exhibits and exciting activities for children and adults of all ages. The day begins with a 1 Mile Kid's Fun Run & 5K followed by a parade in the morning. The event offers live entertainment, food, drink, and craft vendors throughout the day, and concludes with the annual fireworks display at dusk. This year's event will be held on Saturday, July 4, 2015 in the area across from the Waynesboro Hospital.
WESTMINSTER, MD

:

Old Fashioned July 4th Picnic/Celebration/Fireworks. Onstage entertainment, children's games, food and crafts for sale. After 5pm parking fee is collected to offset cost of the fireworks. Fireworks sponsored by Kiwanis Club of Westminster begin at 9:30pm.

Whatever you end up doing and wherever you end up going, be safe and have fun!

Happy Independence Day America!!

Do you know of any other 2015 4th of July Fireworks celebrations in & around Frederick County Maryland that aren't listed above?

If so, let us know in the comments.

Pam is married and has 1 son – a middle-schooler in his teen years. She followed Terri to Frederick in 1999. She absolutely loves going to yard sales and estate sales and finding hidden treasures.
read more...