Recent circumstances have us all staying home, and for good reason!
Unfortunately, due to our current situation with the global COVID-19 pandemic, staying home has become our new normal.
At least for a little while.
However, all is not lost!
I'm here to give you 21 best ways you and your family can thrive while you stay at home!
Thrive While You Stay at Home!
Not only are we adults not used to staying home so much, but also our kids are going through a huge adjustment too.
They, too, are navigating a new landscape of distance learning from home.
In addition to going to school, my boy would normally be crazy busy with baseball, band concerts, 8th grade dances and doing things with his friends.
Needless to say, all of our lives have come to a proverbial screeching halt!
21 Best Ways To Thrive
So how can we thrive during this scary, unprecedented time we're currently experiencing?
In this post I'll be giving you and your family 21 ways you can thrive while staying home.
Stay at Home Survival Bundle 2020
I'd like to introduce you to the brand new "Stay at Home Survival Bundle 2020" from Ultimate Bundles.
Valued at $493.19, this bundle includes:
4 eBooks
11 Workbooks
Printables
5 eCourses
1 summit
BUT, their 2 day Flash Sale brings the cost all the way down to $19.97!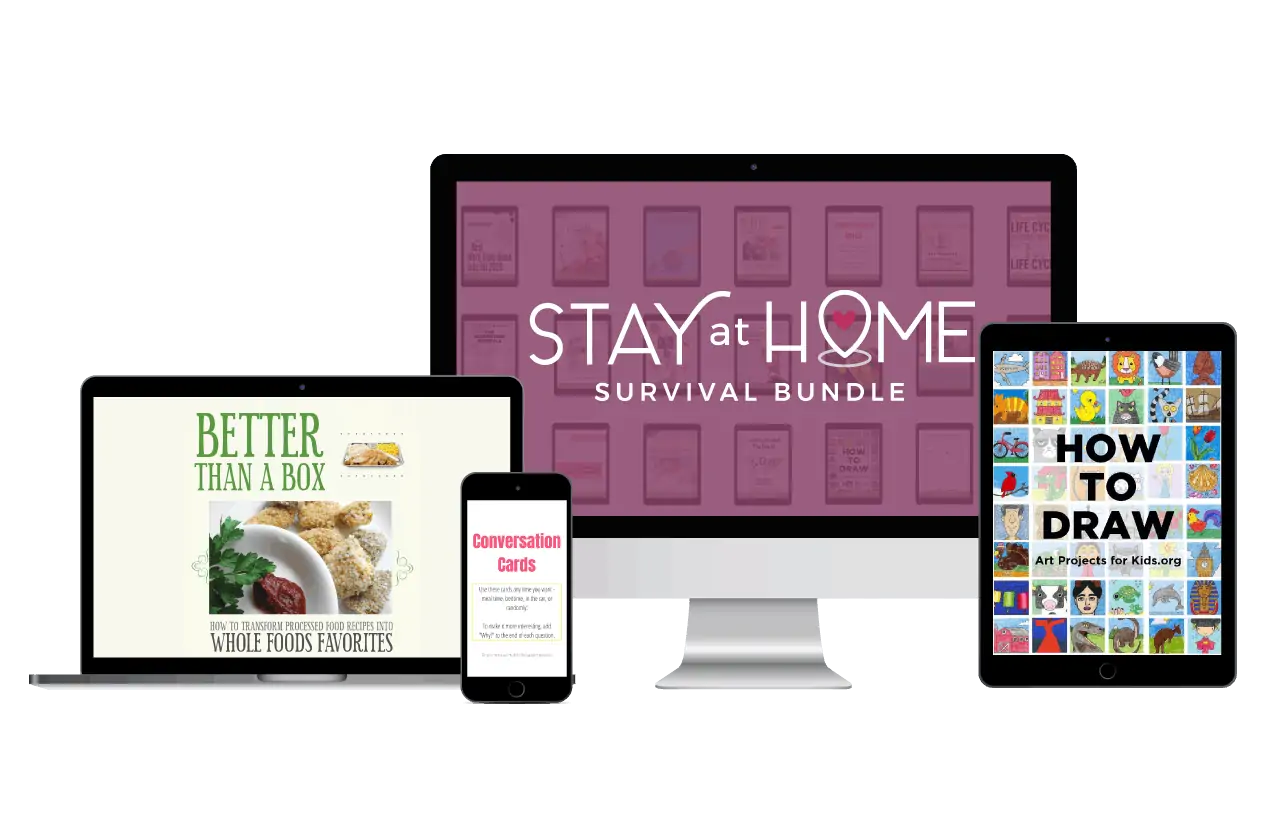 In the Stay At Home Survival Bundle, they've literally thought of everything!
Included in this bundle are:
Kids activities ($140.94 value)

Printable: Calendars for Kids
How to Draw Workbook
Workbook: Letters Around the World
Life Cycle Bundle Workbook
Workbook & eBook: Nature Journaling
Teaching Reading Through Play Workbook
Workbook: The Activity Gratitude Journal For Kids

Parenting Resources ($179.00 value)

eCourse: Back to Basics: The Screen Time Formula
Summit: Digital Homeschool Convention: America Homeschools Edition
Printable: Family Conversation Cards
eCourse: The Intentional Stay-at-Home Mom

Preparation & Organization ($92.82 value)

eBook: Better Than a Box
eCourse: Digital Scrapbooking for Abslute Beginners
Printable: Emergency Medical Information Set
eCourse: Spring Seasonal Living
eBook: Your Footprint: 64 Ways for you to Save the Planet

Self Care ($43.44 value)

Printable: Anti-Stress Mandalas Adult Coloring Book
eCourse: Gratitude Builds Fortitude 30 Day Challenge
Workbook: The Tired Mom's Guide to Getting It Done

Work at Home Resources ($36.99 value)

Workbook: Profitable Work at Home Starter Kit
eBook: The Best Work-From-Home Jobs for 2020: 144 Legitimate Remote Jobs That Are (Almost) Always Hiring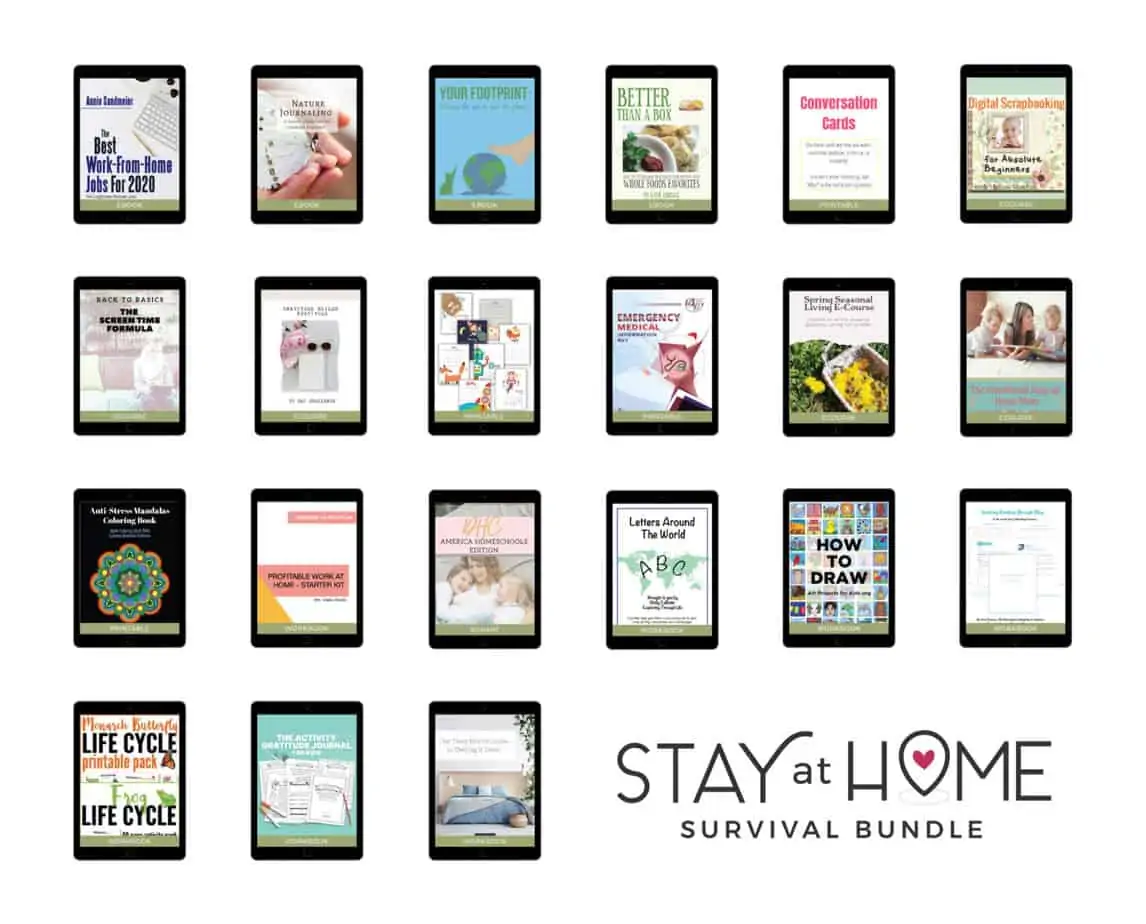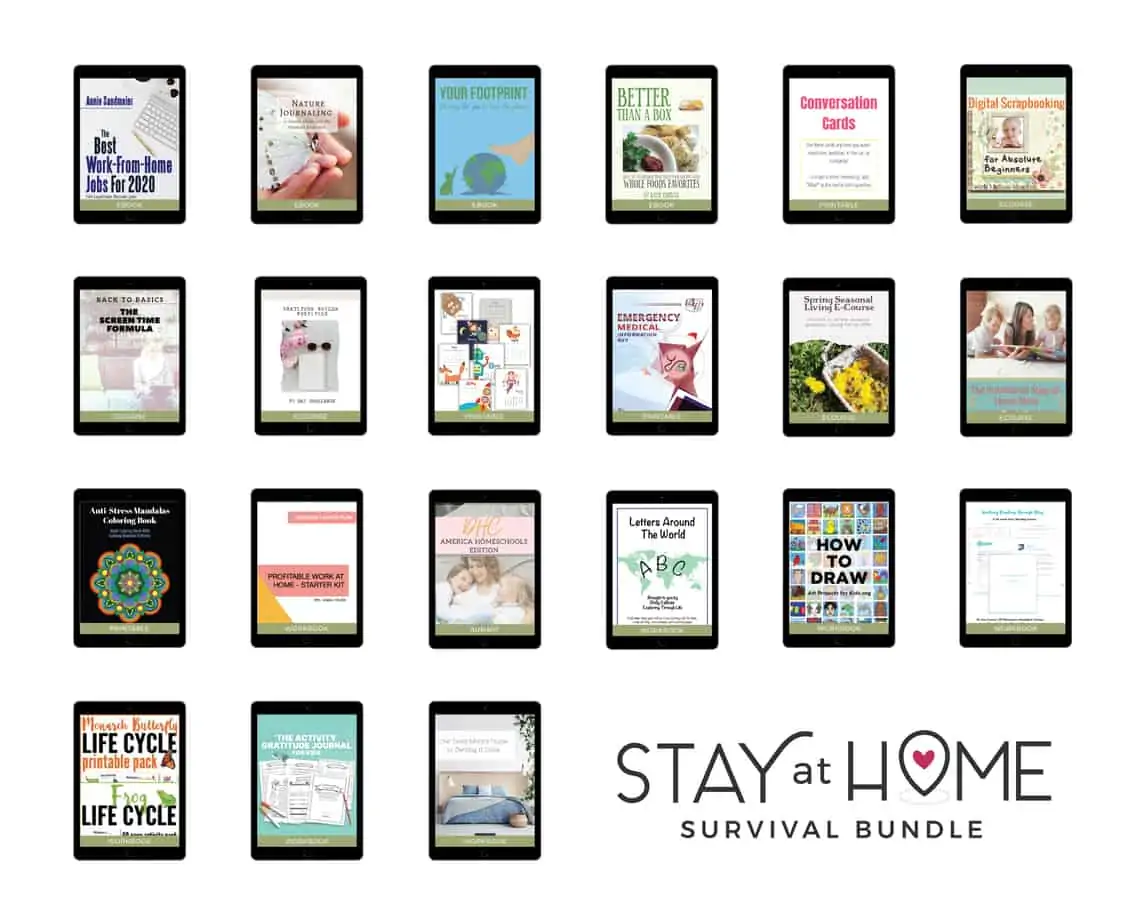 Again, this insanely amazing offer is only for 2 days:
Tuesday April 7th @ 12am ET until Wednesday April 8th @ 11:59pm ET.
Yup, only 48 hours.
So you need to act quickly on this one.
Why Do I believe in Ultimate Bundles?
Why am I promoting this product from Ultimate Bundles?
Because I personally purchased one of their bundles last year.
It was called the Ultimate Bloggers Toolkit and is an amazing resource to me!
I've learned so much from it and can go through it at my own pace because of the fact that it is all digital.
I downloaded all of the PDFs onto my hard drive and categorized them by topic.
With this Stay at Home Bundle you'll be able to do the same thing.
Why Do I think You Need This Bundle?

We all know that kids need structure.
Heck, we all need structure!
We human beings thrive on structure, even if we don't realize it.
Because staying productive while stimulating our minds, results in a happier, more self-assured person.
So, providing everybody with as many options as possible to choose from, will give us all a feeling of control and input into our daily schedule.
So here's your countdown! Don't miss out on this amazing bundle of stay-at-home goodness for the entire family!