Pam and I are just so blessed to have the wonderful, loyal readers that we have! So, we thought it was about time to host another GIVEAWAY!
You ask why? Well, because we love our readers!
Let me count the ways!
At the time of this writing, we have 3,878 Facebook fans, 1,657 Twitter followers, 1.5K Pinterest followers, and 1,681 Instagram followers! It's SO much fun to "meet" you – most of the time virtually, and at times in person!
"Reader Questions" on our Facebook page are SO valuable to the Frederick, Maryland community due to the fact that real-life personal recommendations are shared!
You help us stay in the loop! Many of you have given us a heads-up on local happenings, current events and great deals!
You have helped promote our blog by telling your friends about us! Sharing is caring! The more people that know about us leads to higher social media numbers, which leads to more opportunities for us as a blog, which leads to our ability to provide YOU with the best content on our blog!
You inspire us! Your comments, suggestions, and questions help us determine what to write about and what to research!
Your feedback is SO appreciated! When we pour our hearts into a blog post, and then you comment that it resonated with you in some way – well, this just makes it all worthwhile to us!
You have given us a reason to explore our town and enjoy it even more than ever!
What You Need to Do to Enter
Click on the one entry on Rafflecopter above to tweet the pre-written tweet on your Twitter page.
Note that you can tweet once a day, every day of the contest! Each tweet will count as one entry! But, PLEASE, be sure to come back to this post and go through Rafflecopter to do so, or it won't count!
Finally, go to the homepage of our blog and subscribe so that you don't miss any of our posts, and future giveaways! (Below is a screenshot of what it will look like when you go to subscribe – the green arrows won't be on the site.)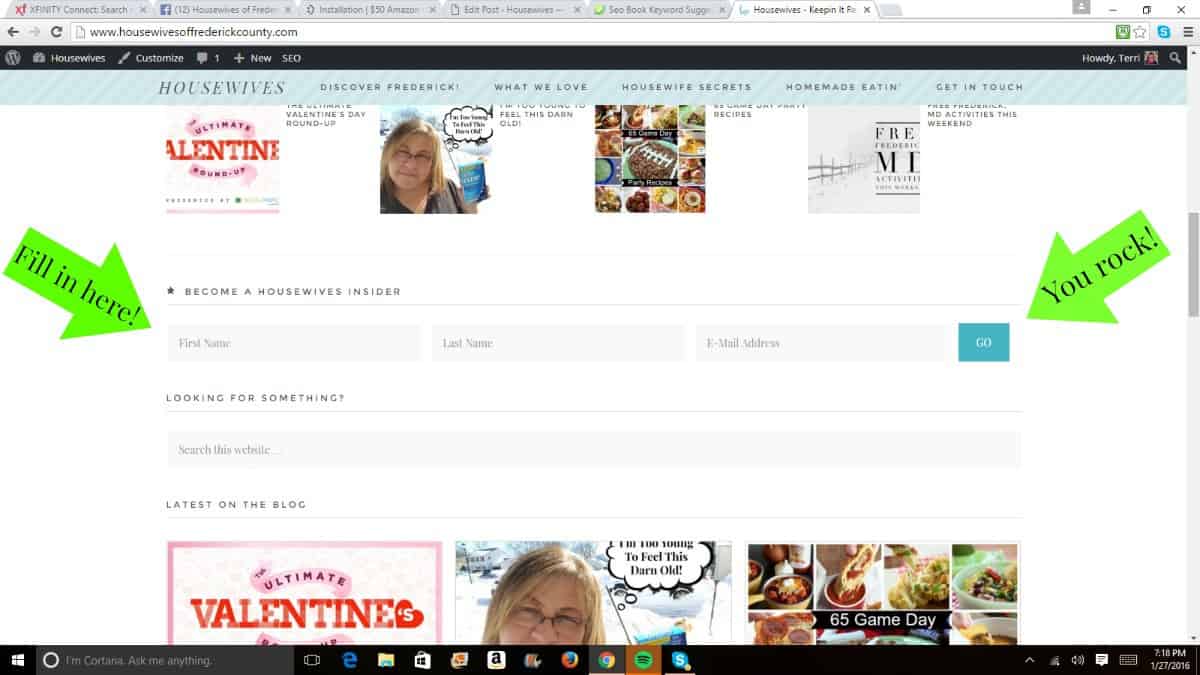 What We Will Do
This contest will run for 2 weeks. So, on the morning of February 11, 2016, the winner will be chosen via Rafflecopter.
We will then contact the winner, and if the winner agrees we will announce that they won on our Facebook, Twitter and Instagram pages!
Once we get in touch with you, we will discuss with you the best way of getting the prize to you.
What's The Prize?
So, don't be shy! This is an easy, peasy way to potentially win $50 on Amazon!
Good luck, and THANK YOU for being the best readers that a set of twin bloggers could ever ask for!
Facebook, Twitter, Pinterest, Instagram and Google+ are in no way affiliated with this giveaway. If you have any questions, please email us at pam@housewivesoffrederickcounty.com.
Terri is married and has 2 sons – both high schoolers! She has lived in Frederick since 1994 and absolutely loves exploring and discovering new parts of our town.
read more...