In this post we're going to give you 5 reasons you should dine at Ayse Meze Lounge in Downtown Frederick.
Ayse Meze Lounge prides itself as the best of Eastern Mediterranean cuisine in small dishes.
And I have to agree that they truly are the best I've ever had!
Ayse Meze Lounge goes above and beyond
If you're like me, you don't really like trying out new restaurants unless you know it's going to be good.
Many times, you can go online and search for the restaurant that you're interested in and find customer reviews, which can be really helpful if they're recent.
Well, I really believe that reviewing a restaurant comes naturally to me!
I mean, I am definitely a lover of food – to a fault – but the fact is I know good food!
So, with that said, let me tell you about a great new restaurant here in Frederick (recommended to me by my partner in crime, my twin sister Pam) – Ayse Meze Lounge.
1. The Location
Ayse (pronounced eye-shay) is located in Downtown Frederick, Md at 6 North East Street in what used to be Danielle's Restaurant.
The location, alone, is lovely, as it is along the same row of shops and restaurants called Everedy Square and Shab Row.
Ayse has easy, ample parking which is located behind the shops adjacent to the restaurant.
There is also a small parking lot devoted solely to Ayse customers directly behind the restaurant.
A short walk takes you to either the side entrance from the parking lot or the front entrance from the street (East Street).
2. The Atmosphere
The atmosphere in Ayse reminds me of any nice restaurant in Georgetown (D.C.).
Lots of brick, low lighting, a large bar made out of beautiful wood, at least one fireplace, a big screen TV in the bar area and just an overall comfortable ambiance.
3. The Friendly Staff
I had made a reservation for our party of four and we actually arrived about 20 minutes late, but when we walked in and announced our name we were seated immediately.
Soon after being seated, our waitress came to the table and talked to us about that evening's specials.
She was very knowledgeable about the menu and was able to answer any questions we had.
4. The Style of Dishes Served at Ayse Meze Lounge
The word Ayse is Turkish but the restaurant serves Turkish, Lebanese and Greek food.
If you've ever been to Isabella's in downtown Frederick, you have experienced their tapas style dining which means smaller dishes.
Ayse has this same style of menu that you can choose from.
Some of the dishes are larger and are closer to traditional meal sizes.
They also have the option of choosing a meal for the whole table which includes several courses.
Oh – and they do have a children's menu as well.
I decided to try a glass of their Greek Merlot (I can't remember the name of it) – it was the perfect choice for me!
5. The Amazing Food!
Our party chose the waitress' recommendations of Saganaki (melted kasseri cheese flamed with brandy and doused with lemon).
The Saganaki was served with hearth baked pita, and Sigara Boregi ("turkish pastry cigars") to start with.
First Round of Food
A waiter delivered our Saganaki first – served in a small skillet.
He lit it on fire and then doused it with lemon juice while the staff in the restaurant all yelled, "Opah!"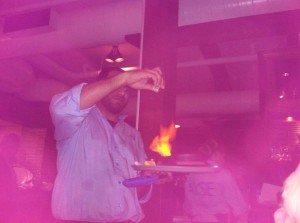 OH.MY.GOSH!!!
Once I took the first bite I knew that Ayse was a great choice for our evening out!
SO DARN GOOD!!!
Both dishes were hot, fresh and so delicious.
All four of us loved them!
Second Round of Food
Our next "round" was salads.
The men at the table each ordered the Coban salad (or as the guys called it, the Kurt Cobain salad).
Of course we girls had to taste it – the Coban consisted of tomatoes, cucumbers, red onions, bell peppers, olives, feta, gemlik olive oil all diced and mixed together perfectly!
The ladies each ordered the Greek salad which was just as yummy – spinach, romaine, tomatoes, cucumber, red onion, feta, olives, and lemon-garlic vinaigrette.
Third Round of Food
We then decided to order one of the larger dishes as our meal.
My husband and I each ordered the Biftek – grilled top sirloin steak, baby arugula-onion salad, roasted potatoes and Ayse steak sauce.
Again, each food item was hot and fresh – and delicious!
The steak was about 6 oz. so it was the perfect accompaniment to the other items that I sampled.
I like my steak cooked medium and my husband likes his well done – both were prepared perfectly.
Oh – and I also got a side of their Bruksel Lahanasi – crispy brussels sprouts, toasted walnuts, capers, currents, fried parsley, wildflower honey dressing.
I absolutely loved this dish!
I love brussels sprouts anyway, but this creation took it to a new dimension.
One of the people in our party tried this dish even though she normally does not like brussels sprouts and she said that if they were always cooked this way, she'd eat them all of the time 🙂
Dessert
We ended our meal by sharing a dessert that they had on their special menu for the evening – pumpkin cheesecake.
So delectable with an added touch of warm apple chunks on top.
Each one of us could not stop talking about how great everything was at Ayse.
Considering the quality of the food, the atmosphere and the great service, the prices are very reasonable.
Each couple spent about $100 on our evening at Ayse (keep in mind that each of us also had about 3 alcoholic beverages in the 2 1/2 hours that we were there also).
Would I go to Ayse again?
In a heartbeat!
As a matter of fact, the lady of the couple who joined us texted me this morning asking what my favorite dish was.
When you're talking about a restaurant the morning after you dined there, ya know it's good!
Here's a quick video tour of what Ayse is all about:
So, when you get the opportunity, and you want to spend a nice evening out, call Ayse (240-651-5155) and make a reservation.
You will not be disappointed!
For other great things to do in Downtown Frederick and beyond, click over to our posts on:
Everedy Square & Shab Row Frederick Md: Holiday Events
Fun Date Night Ideas in Frederick, Md
AR Workshop Frederick: We Made Something Really Cool!