Beach essentials for your girls weekend getaway are VERY different from beach essentials for a family getaway!
Beach Essentials For a No Kids, We're Adulting Trip
For example, you don't have to pack up the beach toys, kids' water shoes, eight thousand towels, two thousand snacks, sippy cups, kids' sunscreen, baby tents,…..and the list goes on!
Hey, don't get me wrong!
Clearly, I LOVE going to the beach with my family.
However, sometimes ya just need to go to the beach with ya girls!
As a matter of fact, this list is very timely because Terri and I are about to take a long weekend trip to Hilton Head Island, South Carolina with our two best girlfriends.
We're staying at our brother's condo, who doesn't know what he's gotten himself into!
Anyway, I needed to put together a beach essentials list for myself before I started to pack.
So what better way to do it than to write a blog post so all my girls out there in the internet world can benefit as well!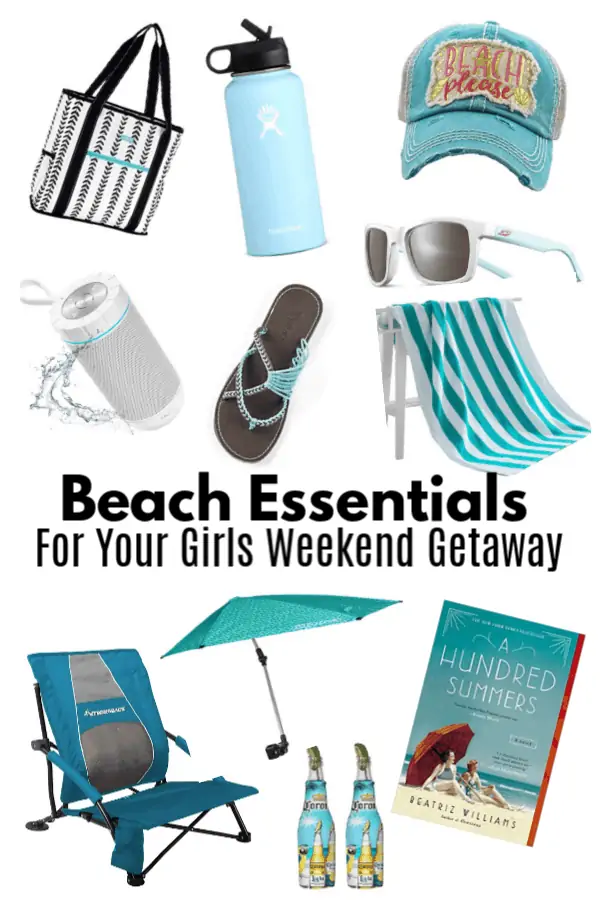 Beach Essentials List
I'm ordering my list based on the above (pinnable) photo, going in order from top to bottom and left to right.
Just click on each of the underlined links to get to the items.
I personally LOVE the Scout brand!
In fact, I have one of their Scout Original Deano extra large tote bags and use it all the time.
The Scout Cooler is big enough to fit your bottles, snacks and even non-perishable stuff like your sunglasses, wallet, sunscreen, book, and cell phone.
I truly believe every woman should have at least one Scout bag.
Not only are they very durable and eye catching, but also they're super practical and fashionable.
This Hydroflask water bottle is a must-have, not just for drinking water, but also for those beach cocktails you may be whipping up at the condo before heading out to the beach for the day!
In particular, this bottle is 32 ounces, has a built-in straw, comes in tons of colors, and will keep your drink cold for the entire day!
I'm in LOVE with this 'Beach Please' hat!
Not just because the saying is funny but I love the colors and it coordinates perfectly with my swimsuit.
Plus, you really can't totally rely on your sunscreen to protect your face.
Being in my middle-age years, I'm seeing more sun damage on my face that I wish I had protected more when I was younger.
Therefore, a hat at the beach is your friend!
Okay, so you have your beverage of choice, you've got your cooler of goodies and you have your hat.
Now you need some good tunes or a great podcast to play!
This portable outdoor waterproof bluetooth speaker gets great reviews!
What's on your playlist?
Who says beach flip flops have to be boring and plain?
Namely, these Plaka flip flops sandals are super cute and come in 8 different colors!
In addition, they're water resistant and have a nice thick sole for walking in the sand.
By all means, you cannot go to the beach without a pair of sunglasses.
These Julbo Beach Sunglasses come in 4 different colors.
They'll fit like a glove and protect your eyes from the elements.
Plus, you won't be squinting the entire day.
This cotton cabana striped beach towel is the perfect towel to bring to the beach with your girlies!
You'll feel like you're spoiling yourself when you wrap yourself in it after taking a dip in the sea.
And, it's only $10!
Having a good beach chair is crucial when going to the beach.
Especially if you plan to be at the beach all day, like we do!
Firstly, it has to be comfortable enough to be able to easily get in and out of it.
Secondly, it needs to easily be dragged down to the edge of the water to sit and get your legs wet while people watching.
This Strongback low gravity beach chair with lumbar support fits all of those requirements for me.
Also, if you're flying to your beach destination like we are, order it from Amazon and have it shipped directly to the beach condo.
Incidentally, my brother will be picking my chair up from the post office tomorrow.
Yes, I know you have the hat and the sunglasses and beverages to keep you chillin.
However, sitting out in the direct sunlight, especially on the beach, will expose you to some major sun rays!
This Sport-Brella Versa-Brella SPF 50+ Adjustable Umbrella with Universal Clamp is awesome!
I have one that I use to clip on to my chair while watching my son play baseball.
For the beach, it's great because you don't have to try to plant a big umbrella into the sand and worry about it blowing away with the first big beach breeze.
In addition, this clip on umbrella is nice and compact too!
Well, yeah, these are self explanatory.
Beer can get warm at the beach quickly.
If you're bringing a few bottles of beer for the day, these beer bottle sleeves will keep them nice and chilled.
Bonus: They're cute and beachy looking too!
You cannot go to the beach without a good beach read!
This book, A Hundred Summers, by Beatriz Williams, is a story that takes place in 1938 in the seaside town of Seaview, Rhode Island.
A young woman makes her annual summer visit that's different from any of her visits in the past!
Sounds intriguing and juicy!
Lastly, this is a no-brainer and one that I couldn't fit into my pinnable image, but you need to bring sunscreen!
My favorite sunscreen these days is Sun Bum.
I use it for my face and my body
It's non-comedogenic, paraben free, cruelty free, gluten free, PABA free, oil free, and hypoallergenic.
Plus, it's water resistant and will protect your skin from UVA rays.
Sun Bum also offers sun protection for your lips, as well as after-sun lotion.
So there's my list of beach essentials for your girls weekend getaway!
I'm so excited to be going on my own girls weekend getaway and will be sure to bring all of these items with me!
What beach will you be going to with your girls?
Be sure to tell us in the comments!
For more beach related posts, check out our write-ups on:
How To Get Beach Waves Using Sea Salt Spray
5 Reasons Folly Beach Should Be Your Next Summer Vacay
Massey's Landing: 10 Reasons To Stay At This Luxury Campground