This Valentines Day we're giving you the gift of choices with our local best 'Valentines Gifts For Her' gift guide!
Not only are we giving you high quality, unique Valentines Day gift ideas from some of the best businesses in Frederick, but also our readers get exclusive access to reader-only discounts!
See how much we love you?!
And to top it off, because most of our readers are women, we're including a printable 'Valentines Day Wish List' so you can give your significant other some not-so-subtle hints!
Just print it out, check off the places you want your sweetie to shop, & leave the wish list in a spot where they're sure to find it!
This post is sponsored by participating businesses. All opinions are my own.
Best Valentines Gifts For Her in Frederick Md
Undoubtedly, because Frederick is such a great place to live, we have so many amazing businesses to choose from when it comes to shopping.
Needless to say, it's a good problem to have, but sometimes the array of fabulous choices can get a little bit overwhelming.
For this reason, we decided to make your life a lot easier by steering you & your sweetheart in the right direction with our amazing list of Valentines gifts for her!
Our Frederick Best 'Valentines Gifts For Her' Guide & Why Shopping Local Matters
Without a doubt, we all know that shopping local greatly benefits our Frederick community and business owners.
Apart from this, why else does shopping in Frederick County matter?
Briefly, shopping local helps:
Frederick's economy
Our relationships with local business owners
To maintain Frederick's local & unique flavor
Improve customer service
Avoid the crowds in chain stores & malls
To enjoy a pleasant, stress-free shopping experience
Moreover, you'll have peace of mind, knowing that you've supported small business owners right here where we live!
How We Came Up With Our 'Best Valentines Gifts For Her' List
Needless to say, we've personally enjoyed so many great experiences with Frederick County businesses through the years.
Therefore, we felt it was high time we shared with you some of our all-time favorites, all wrapped up in a heart shaped bow, just in time for Valentines Day!
In addition, to make it even easier for you, we decided to only include one business exclusive to each category.
Clearly, we are super excited with who we were able to get on our list and we know you will be too!
Finally, without further ado, we give you our 2021 Best Valentines Gifts For Her in Frederick Md list!
1. Chocolate: Sage Cakery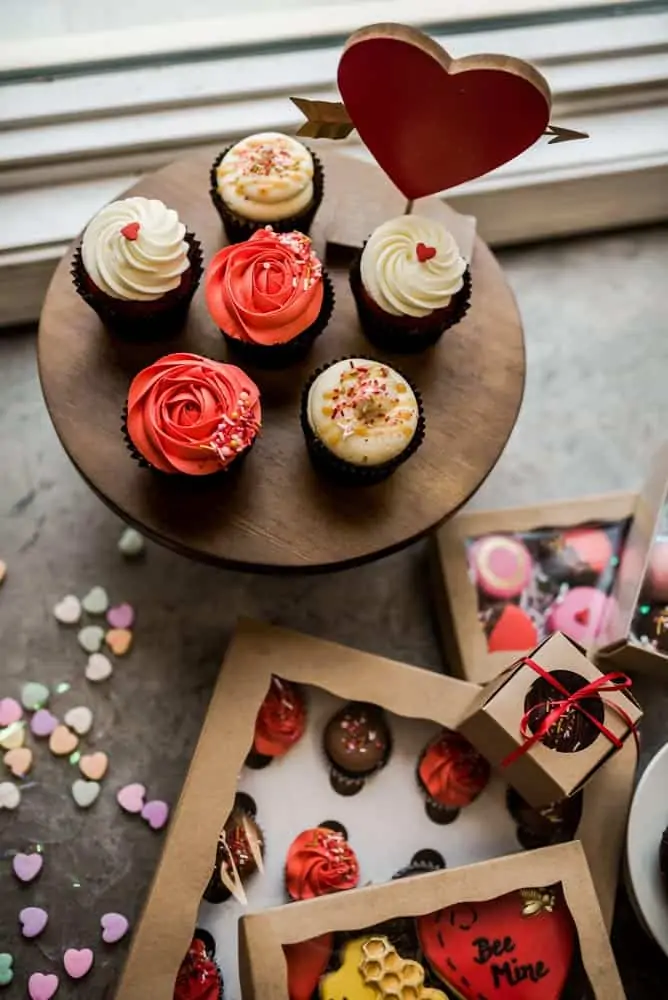 Sage Cakery
Nikkie Byrd – Owner
3401 Urbana Pike
Frederick, MD 21704
240-341-2710
Email: [email protected]
Coupon Code: Use discount code HWVDAY21 for 10% off your Valentines Day preorder if your order is placed by January 16th
Why We Love Sage Cakery As One of the Best Valentines Gifts for Her
We recently partnered with Sage Cakery's owner, Nikkie Byrd, for a Housewives of Frederick County mask giveaway.
Sage Cakery was kind enough to throw in a box of hot cocoa bombs to go along with our giveaway!
Needless to say, our giveaway attracted a ton of entries due to the popularity of this local gem!
AND, because it was right before Christmas, I purchased a few extra boxes of hot cocoa bombs for my family.
I gotta say, I now know why there's so much hype around this business: a community oriented owner & stellar products!
About Sage Cakery
"Sage Cakery is a from scratch bakery located in Urbana, Maryland. We use top notch, fresh ingredients to create quality products. We've got delicious little pieces of eye candy boxed up for gifting, and we can't wait to bake for you! (Offering cakes, cupcakes, macarons, cocoa bombs, cake pops, and more!)"
Valentines Day pre-orders will include:
Cake
Cupcakes
Cake Truffles
Hot Cocoa Bombs
Macarons
Heartbreaker Cake Truffle filled with salted caramel
Decorated cookies
Mini Cupcake "Box of Chocolates"
2. Beauty: Aura Salon Frederick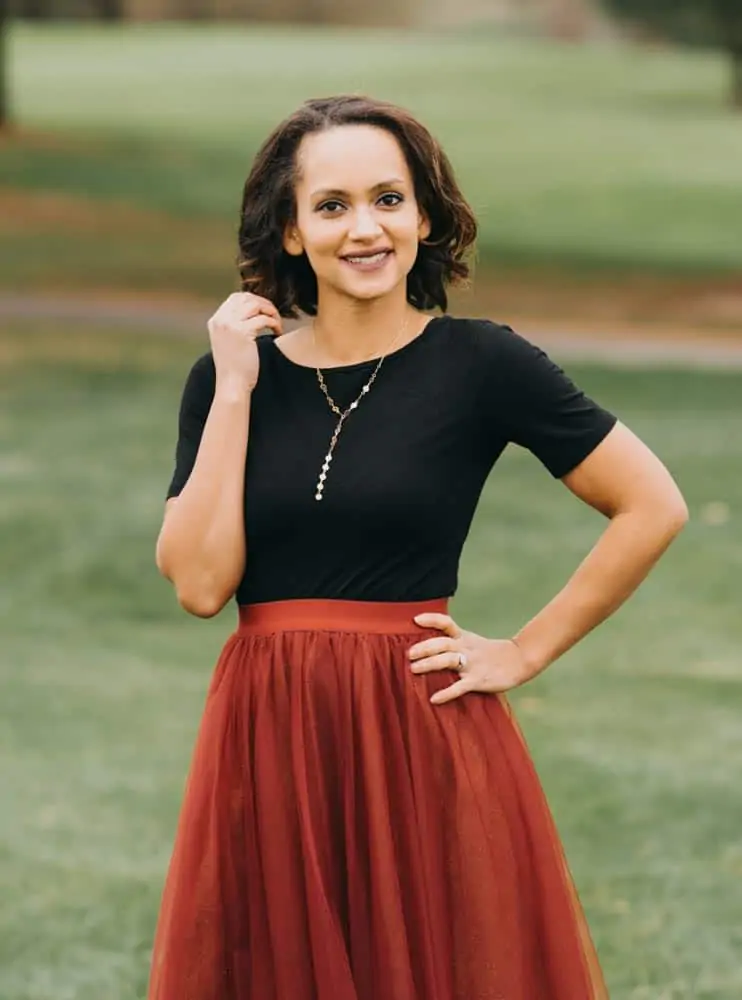 Keshia Knopf – Owner
Located inside of Sola Salons
4969 Westview Dr. Suite 105
Frederick, MD 21703
Phone: 240-409-3884
Coupon Code
: 10% off services for that special someone
code HousewivesVD
(enter code in new client form)
Why We Love Aura Salon Frederick as one of the best Valentines gifts for her
We had the pleasure of meeting Keshia almost 2 years ago (can't believe it's been that long!) when she offered to give Terri & me a free blowout in order to promote her Blowout Club.
I don't know about you, but when your hair looks good, all else seems good with the world!
Here's our Facebook post with some pictures of this super fun experience with Keshia!
About Aura Salon Frederick
"Aura salon provides one on one salon services in a clean, safe environment. From a simple haircut to hair color or smoothing services Aura Salon has you covered. Gift cards available.
3. Gourmet: Olive & Basket
Olive & Basket
Sharon Streb – Owner
5231 Buckeystown Pike
Frederick, MD 21704
(240) 439-4447
Email: [email protected]
Coupon Code: SWEET15 — 15% off your entire Valentines order in-shop or online
Why We Love Olive & Basket as one of the best Valentines gifts for her
Terri and I both absolutely love Olive & Basket!
It's a great place to go to pick up high quality, unique, consumable gifts for pretty much anybody in your life.
The owner, Sharon Streb, and her sister, Cindy are always so welcoming and accommodating whenever we visit their shop.
And we always leave with an armful of special gifts!
About Olive & Basket
"February 14th is just around the corner, and sweethearts all around the world are gearing up to shout their love from the rooftops. Need some Valentines gift ideas? Our sweet treats are the perfect delicious gift for any sweetheart in your life!
Either shop online or in-shop and we'll pack it all up in a lovely box. Let us help make your shopping easier during this challenging time!
There's a gift for everyone in your life…"
4. Flowers: Ory Custom Florals
Ory Custom Florals
Ory Webster – Owner
71 W Main St (Historic Main St)
New Market, MD 21774
Facebook: Ory Custom Florals
(301) 865-8860
Email: [email protected]
Coupon Code: FORMYVALENTINE (good thru Monday, February 15th 2021) 15% OFF PICK UP ORDERS – 10% OFF DELIVERY ORDERS, Valentines Day Code Orders require 5 day advance notice. Custom Orders 5 days advance notice.
Why We Love Ory Custom Florals as one of the best Valentines gifts for her
So, I've never had the pleasure of meeting Ory Webster in person yet.
However, just based on my online communication with Ory, as well as phone convos with his business partner Steven, I know they're good people!
I actually met Ory after asking an unrelated question on the local Facebook group, Everything Frederick.
However, I had already known about him after seeing all of the gorgeous flower designs he has created over the last year in that group!
Needless to say, he is extremely talented at his craft!
With the many years of flower designing experience, along with the numerous accolades Ory Florals has received, your sweetheart will be overjoyed with an Ory Florals bouquet!
About Ory Custom Florals
"FOR THE PERSON WHO APPRECIATES – "ORY" – CUSTOM, FRESH FLORALS, DESIGNED & DELIVERED FOR VALENTINES DAY. HINT, HINT!
ORY does amazing florals for DELIVERY ORDERS, HOLIDAYS, BIRTHDAYS, WEDDINGS and SPECIAL EVENTS. (see oryflorals.com) And since we are custom, if we don't have exactly what you love, just give us a day (pretty much.) Remember, We Deliver! (Or, your flowers can be picked up!)"
5. Clothing Boutique: Avenue 1028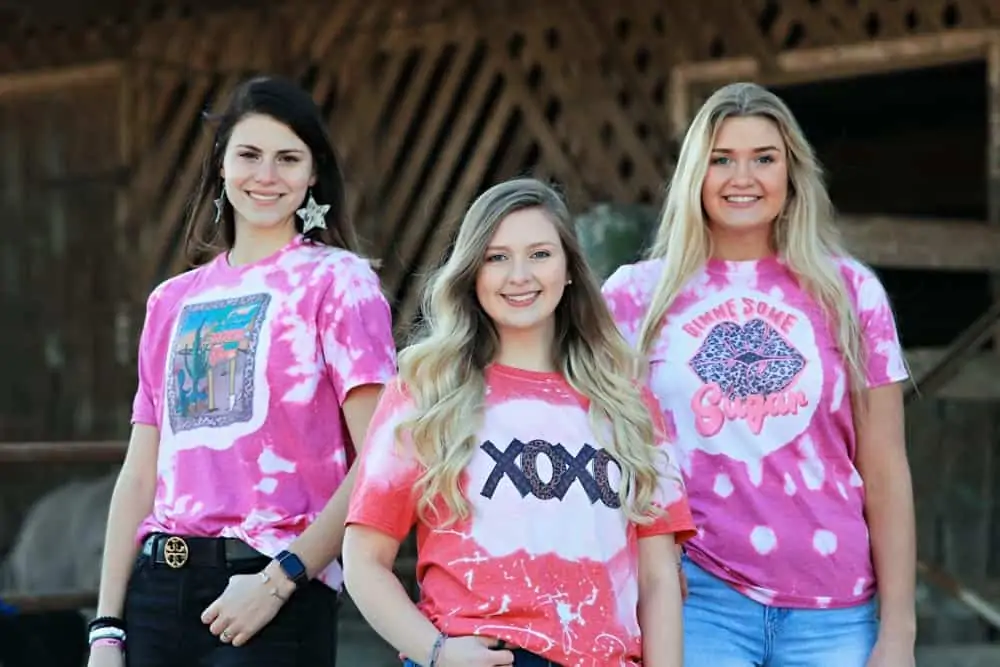 Avenue 1028
Karissa Kalbflesh
Online boutique
Email: [email protected]
Coupon Code: VALENTINE20 for 20% off (Effective 1/10/21 to 2/14/21)
Why We Love Avenue 1028 as one of the best Valentines gifts for her
First of all, who doesn't love to find affordable, trendy fashion?
From cardigans, shoes, graphic tees, sweaters, & accessories, Avenue 1028 is the perfect one-stop-shop for all of your fashion needs!
Plus, you can't help but love the owner, Karissa Kalbflesh, because she's a local, hometown girl and as sweet as can be!
About Avenue 1028
"Avenue 1028 is an online chic boutique located at Branded Studio in Middletown MD. We carry a variety of women's clothing, shoes and accessories. Our online boutique features affordable styles to keep up with the current fashion trends."
"Karissa, owner of Avenue 1028 started this business because of her love of fashion and design. Karissa has extensive knowledge of the fashion industry, and strives to bring fashion, positivity and community to our customers."
"Our vision is that all women are beautiful: and that beauty begins the moment you decide to be yourself."
6. Hometown Market: The Common Market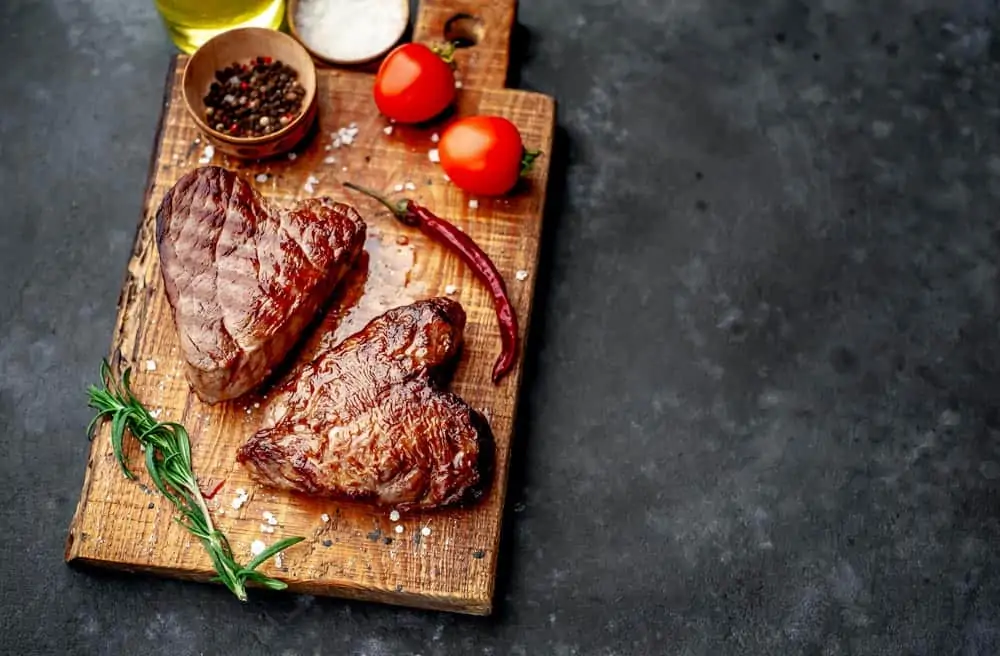 The Common Market
Susan Schulman – Marketing Manager
927 W 7th St
Frederick, MD 21701
(301) 663-3416
Why We Love The Common Market as one of the best Valentines gifts for her
We love the fact that The Common Market is a member-owned cooperative serving the Frederick area!
You can't get any more community-oriented than that!
In addition, with their amazing selection of high-quality natural foods, health products, and household supplies, you're sure to find that perfect gift for your sweetheart.
I've been going to The Common Market ever since they only had one store on Buckeystown Pike back in the 90's.
Recently, they opened up a 2nd location on 7th Street and I cannot wait to go there & shop to my heart's content!
About The Common Market
"Common Market is offering promotions on various items for Valentines Day including meal kits – cooked in house, as well as butcher boxes that can be cooked at home – since a lot of people won't be dining out. In addition, we'll have a lot of standard gift items: chocolates, flowers, jewelry, & bath salts, just to name a few."
7. Online Home, Style, & Lifestyle Boutique: The Fiddle Leaf Boutique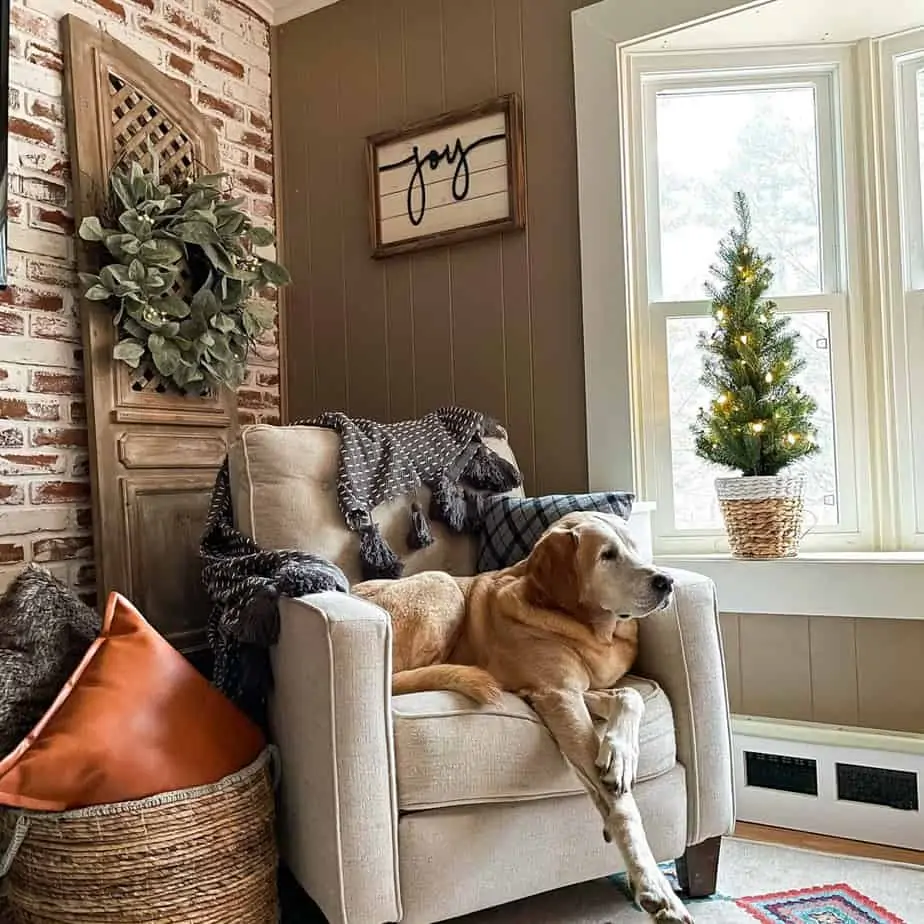 The Fiddle Leaf Boutique
Bryant Sigler – Owner
Online boutique with free and contactless local delivery (code: LOCAL)
Why We Love The Fiddle Leaf Boutique as one of the best Valentines gifts for her
I virtually met one of the owners, Bryant, recently on Instagram.
Over the past couple of months, I've really admired the photos they've posted in their feed.
It's gotten to the point where I can't wait to open my Instagram to see what new items they have to offer!
About The Fiddle Leaf Boutique
"The Fiddle Leaf Boutique is a military family-run business built around handcrafting and artfully curating products that enhance your world, arouse your senses, and elevate your lifestyle. You're sure to find a beautifully unique gift (and maybe something just for you) on our virtual store shelves this Valentines Day! "
8. Frederick Art: Ellen Byrne Prints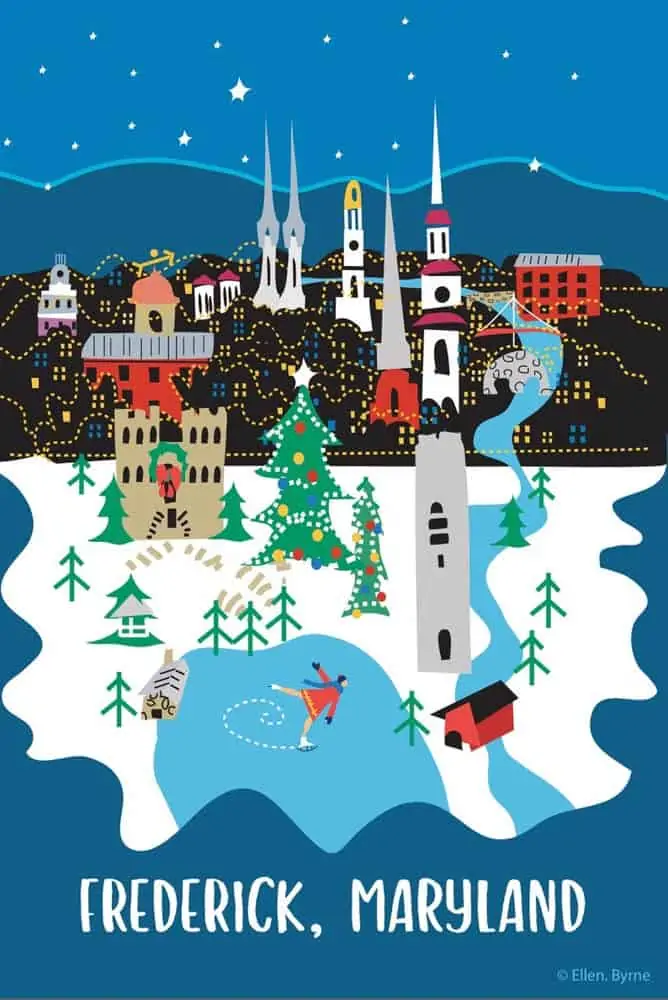 Ellen Byrne Prints
Local Frederick, Md Etsy Seller
Owner: Ellen Byrne
19 West Third St
Frederick, Maryland 21701
240-405-6317
Email: [email protected]
Why We Love Ellen Byrne Prints as one of the best Valentines gifts for her
One word: Frederick!
Not only that, but I also love the fun, funky, colorful, & joyous mood that her prints convey.
Ellen Byrne is super talented and has the credentials to prove it.
Check out her website at EllenByrne.com.
About Ellen Byrne Prints
"Ellen Byrne Illustration Prints and Products. "It all starts with the art!" FUN and Funky prints of contemporary life. Prints, placemats and tote bags. And SERIOUS Travel prints."
9. Self Care: Raw Blossom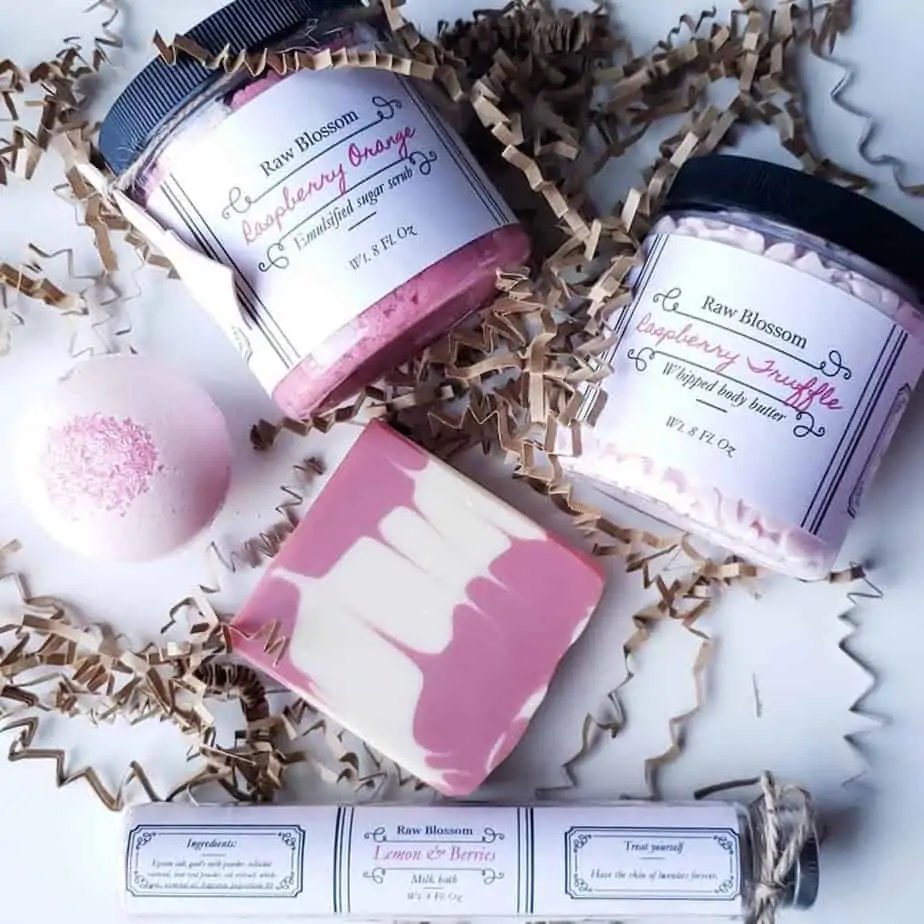 Raw Blossom
Local Frederick, Md Etsy Seller
Owner: Iryna Okunieva
Coupon Code: GIFTOFLOVE for 10% off
Why We Love Raw Blossom as one of the best Valentines gifts for her
I've always LOVED any bath & body products, especially ones that are natural, fun, & smell yummy!
Raw Blossom's 5-star ratings speak for themselves!
About Raw Blossom
Natural, palm free, sustainable luxury artisan suds, including:
Salt Soaks
Sugar Scrubs
Lotion Bars
Face Masks
Cold Process Soap
Gift Boxes
Moisturizers
Hair Care
10. Pottery: Ruthie Mason Pottery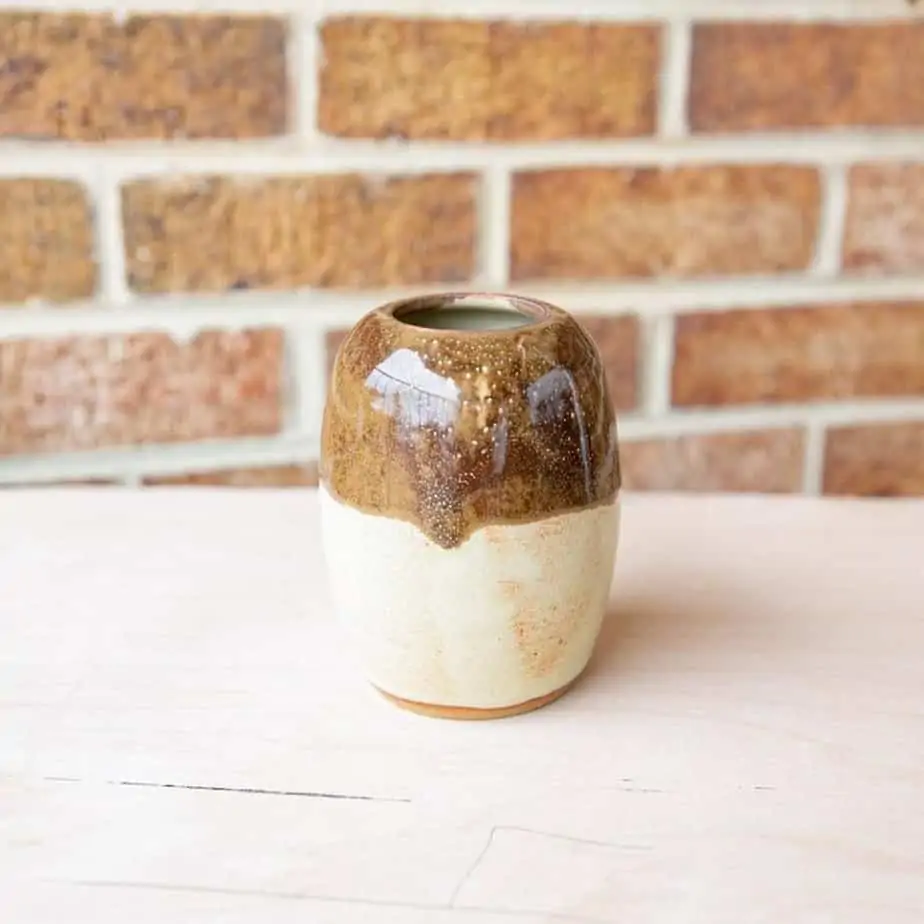 Ruthie Mason Pottery
Local Frederick, Md Etsy Seller
Owner: Ruthie Mason
Coupon Code: Valentines for 10% off
Why We Love Ruthie Mason Pottery as one of the best Valentines gifts for her
We haven't met Ruthie, but have always admired the gorgeous pottery pieces she features on her Instagram page.
About Ruthie Mason Pottery
Beautiful handmade mugs, dishes, bowls, vases, and planters.
11. Personalized Prints: The Inked Leaf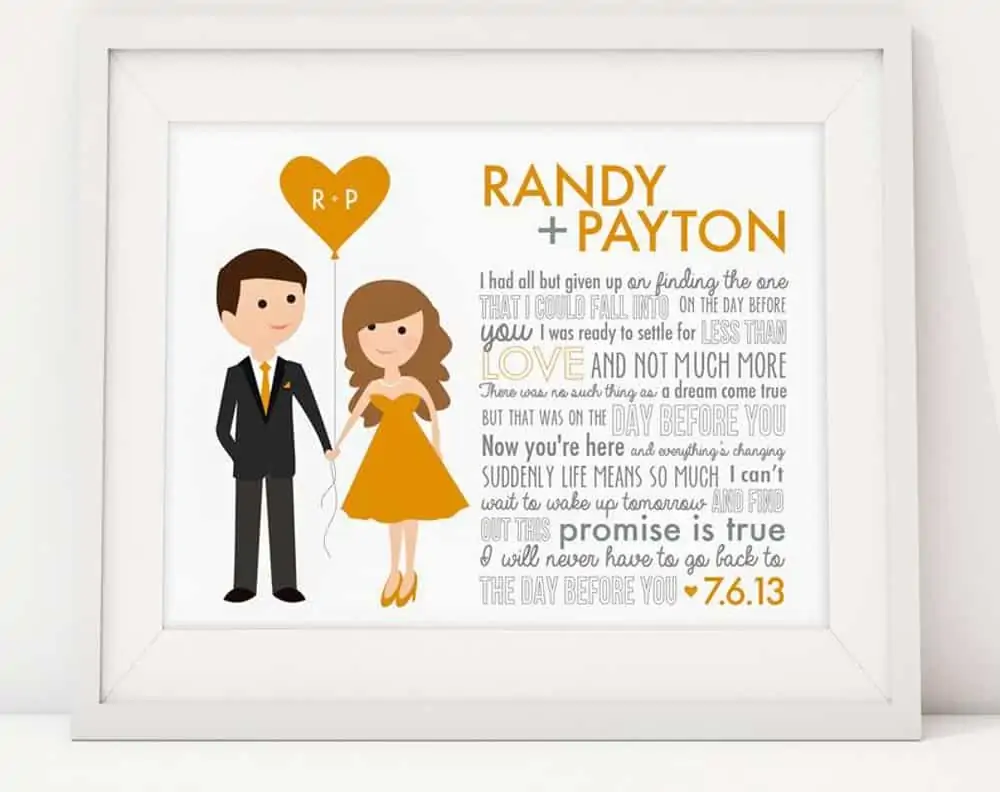 The Inked Leaf
Local Frederick, Md Etsy Seller
Owner: Sameeha Bricklemyer
Coupon Code: FEB14 for 14% off anything in her shop
Why We Love The Inked Leaf as one of the best Valentines gifts for her
Sameeha's style is whimsical, colorful & happy.
Her graphic design skills are amazing & I love the variety of pre-made & custom made items she offers in her shop.
About The The Inked Leaf
"The Inked Leaf is a custom design boutique offering illustrated portraits, home decor gifts, and printable invitations. Graphic designer Sameeha Bricklemyer offers an easy, personal shopping experience and a customer satisfaction guarantee."
So now that you have this amazing list of gift ideas for Valentines Day, you know what to do!
Print out this Valentines Day Wish List, check off the businesses where you want your significant other to shop for you, & put it somewhere he/she can easily find it!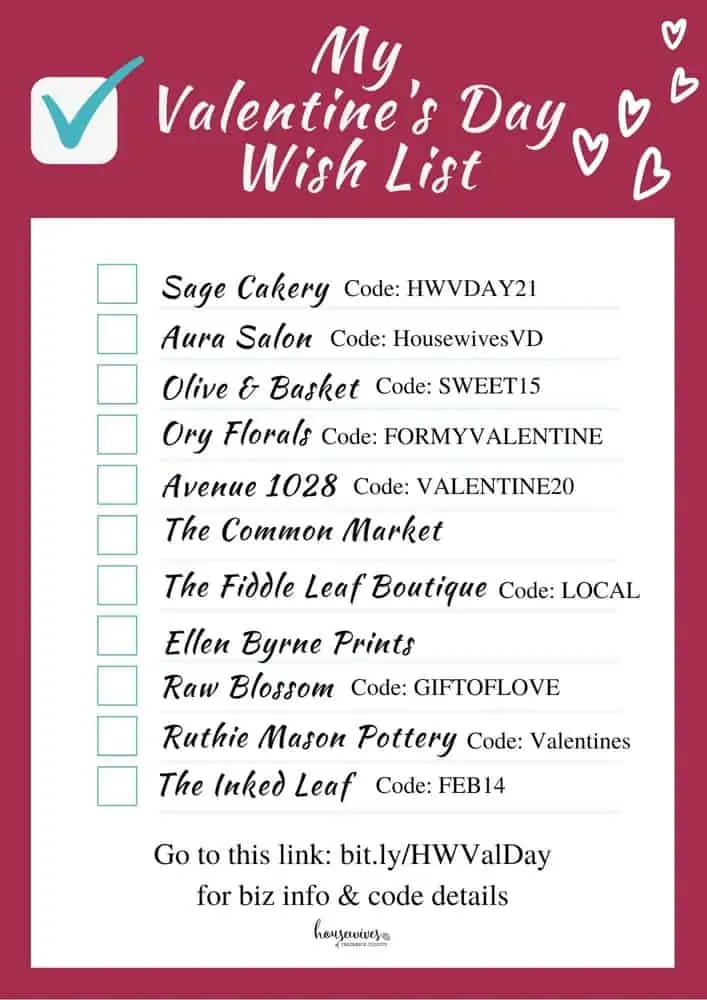 Click here to download your Valentines Day Wish List & print it out.
You can totally thank me later!
Happy Valentines Day everyone!
For more Valentines Day related posts, click on over to:
The History of Valentine's Day: Origins, Traditions, & Celebrations
A Chocolate Alcohol Drink for Valentine's Day: Chocolate Kiss Shooter!
The 7 Best DIY Valentine's Decor Ideas