My niece sparked this idea for me a few years ago.
Every year on her birthday, she'd post pictures of herself on social media enjoying freebies on her birthday.
One minute she's drinking a free Starbucks.
The next time I check Facebook, she's posting a picture of herself eating a free ice cream cone.
I thought to myself, what a great idea!
I mean, you only get a birthday ONE day a year!
Why not take advantage of as many freebies as possible?
If you don't, you have to wait 364 more days!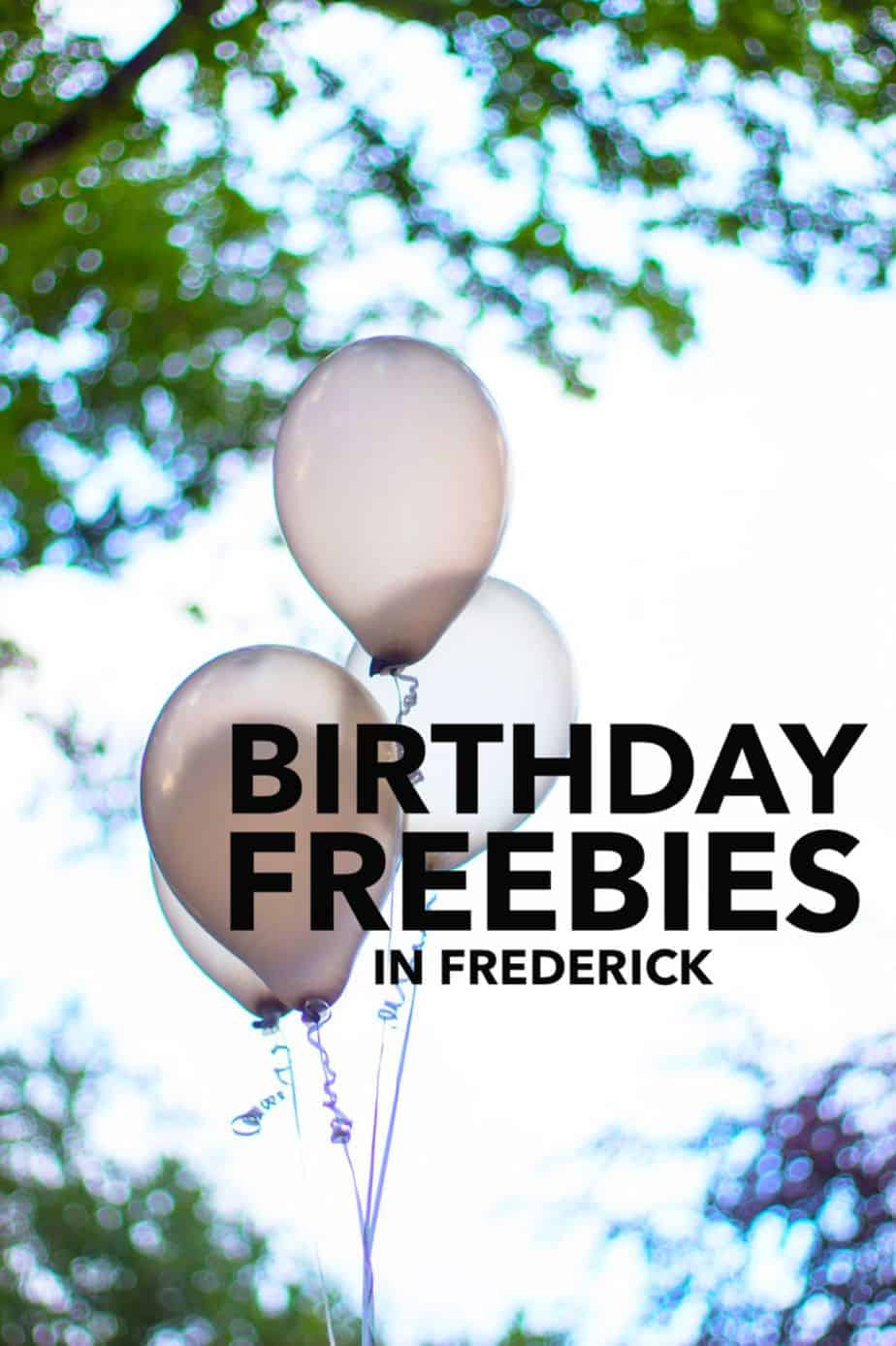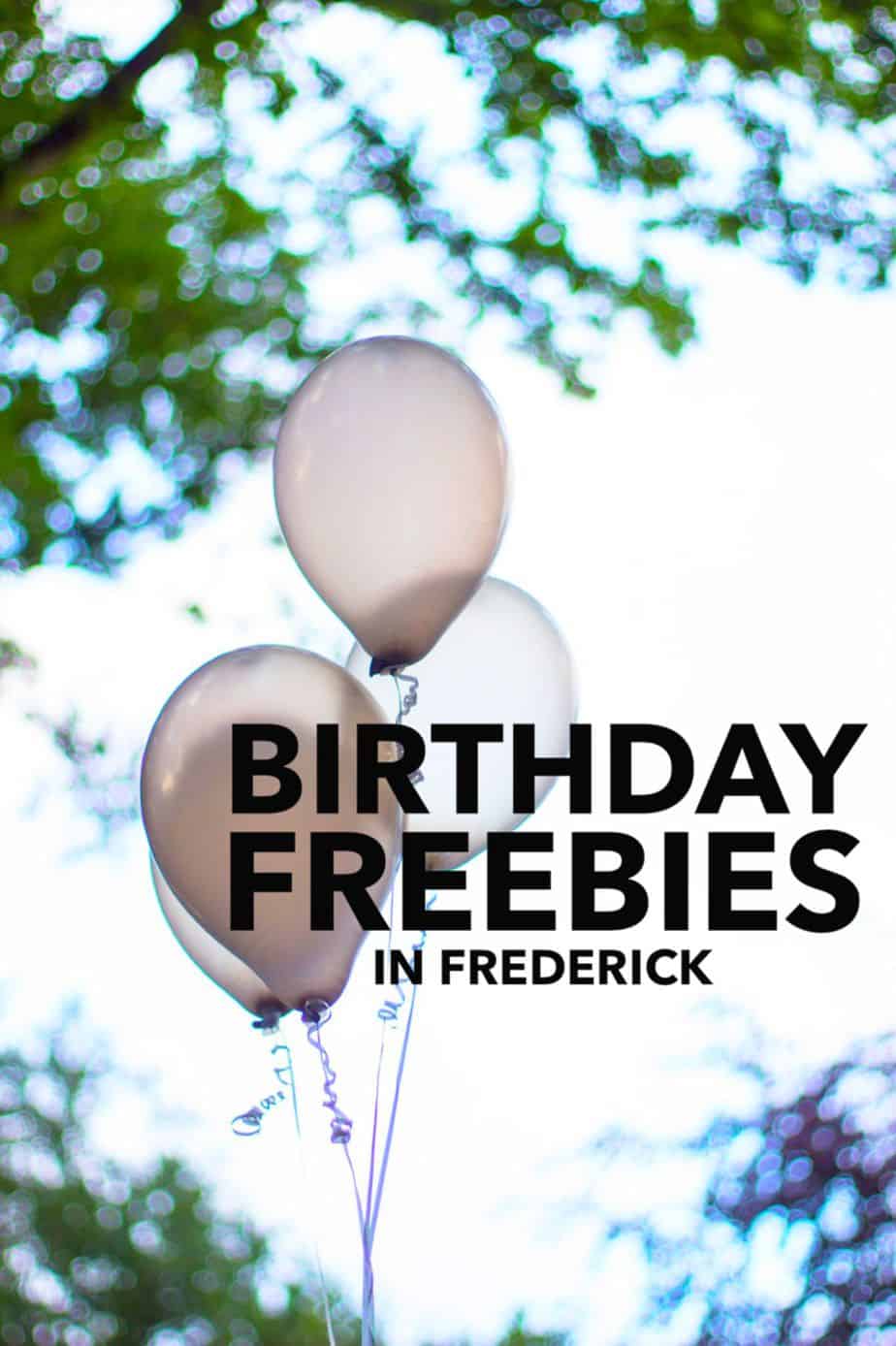 Birthday Freebies in Frederick
And what better time of year to post this list than on mine and Terri's birthday!!
Yes, you read that right!
It's our birthday!
Well, not today, but next week.
And you can be sure that we will be enjoying some of these freebies on that day.
I've compiled a list of places in Frederick that offer a birthday freebie.
Most require you to join their birthday or rewards club.
Others just require a valid I.D.
Some people prefer not to join the clubs because they require personal information.
But for those of us who don't mind getting 'club' emails sent with coupons and specials, this is for you.
When signing up for these clubs, make sure you do this well before your actual birthday so you can be prepared, with coupon in hand, to rack up the freebies.
So here ya go!
Breakfast Freebies
Bob Evans – Kids Meal
Denny's – Original Grand Slam Breakfast
IHOP – Rooty Tooty Fresh 'N Fruity Pancakes
Waffle House – Waffle
Lunch or Dinner Freebies
Baja Fresh – Burrito
Bennigan's – BOGO entrée & Brownie Ice Cream Dessert
Beef O'Brady's – Classic Starter
Bonefish Grille – Appetizer
Buffalo Wild Wings – Snack Size Wings
California Tortilla – Burrito
Famous Dave's – Meal
Firehouse Subs – Sub (with I.D.)
Honeybaked Ham – Sandwich
Jersey Mikes – Sub & drink
Moe's Southwest Grill – Burrito
Noodles & Co – Bowl of noodles (must be enrolled in their EClub for 60 days)
Olive Garden – Dessert or Appetizer
Outback – Aussietizer
Red Lobster – $5 off 2 adult entrees or appetizer
Red Robin – Gourmet Burger (once during birthday month)
Ruby Tuesday – Hhandcrafted burger of your choice
Sonic – Cream Slush, Tater Tots, or Drink
Texas Roadhouse – Appetizer or Sidekick of Ribs
Uno – Entrée
Wendy's – $1 off any Premium Combo
Snack Freebies
Auntie Anne's Pretzels – pretzel
Dessert Freebies
Applebee's – Dessert
Arby's – 12 oz Shake with purchase
Baskin-Robbins – Ice Cream & Birthday Cake Discount
Ben & Jerry's – Scoop of ice cream & $3 off ice cream cake
BJ's – Pizookie
Boston Market – Dessert with meal purchase
Brusters – BOGO coupon for waffle cone
Carrabba's Italian Grill – Dessert with purchase of entrée
Coldstone Creamery – BOGO coupon for ice cream creation
Cracker Barrel – Dessert
Dairy Queen – BOGO coupon for Blizzard
Glory Day's – Oreo Sliders dessert
Longhorn Steakhouse – Dessert
Maggie Moo's – Ice Cream Cone
Marble Slab Creamery – Ice Cream Cone
Menchie's – $5 coupon for registered guests to use 15 days before or 15 days after their birthday.
Quizno's – Cookie
Rita's Italian Ice – Italian Ice
Romano's Macaroni Grill – Slice of Chocolate Cake
T.G.I. Friday's – Dessert with purchase of entrée
Beverage Freebies
Dunkin Donuts – Beverage
Orange Julius – BOGO 20 oz Julius or Premium Fruit Smoothie
Smoothie King – BOGO coupon for free 20 oz smoothie
Starbucks – Handcrafted Beverage
I totally miss the days where you didn't have to plan ahead and you could just walk into a restaurant and say it's your birthday and get a free dessert with a happy birthday song.
Some restaurants may still do this!
Especially the non-chain, mom & pop type of restaurants.
If you know of any, please let us know in the comments so we can add them to our list.
The more, the merrier, right?
And, Happy Birthday!

Pam is married and has 1 son – a middle-schooler in his teen years. She followed Terri to Frederick in 1999. She absolutely loves going to yard sales and estate sales and finding hidden treasures.
read more...