Cents of Style, a U.S. woman-owned and run fashion company who's motto is "When you look good, you feel good", empowers women to be the best they can be!
And if my first outfit is any indication of this, I will be an empowered and happy customer for a very long time!
Cents of Style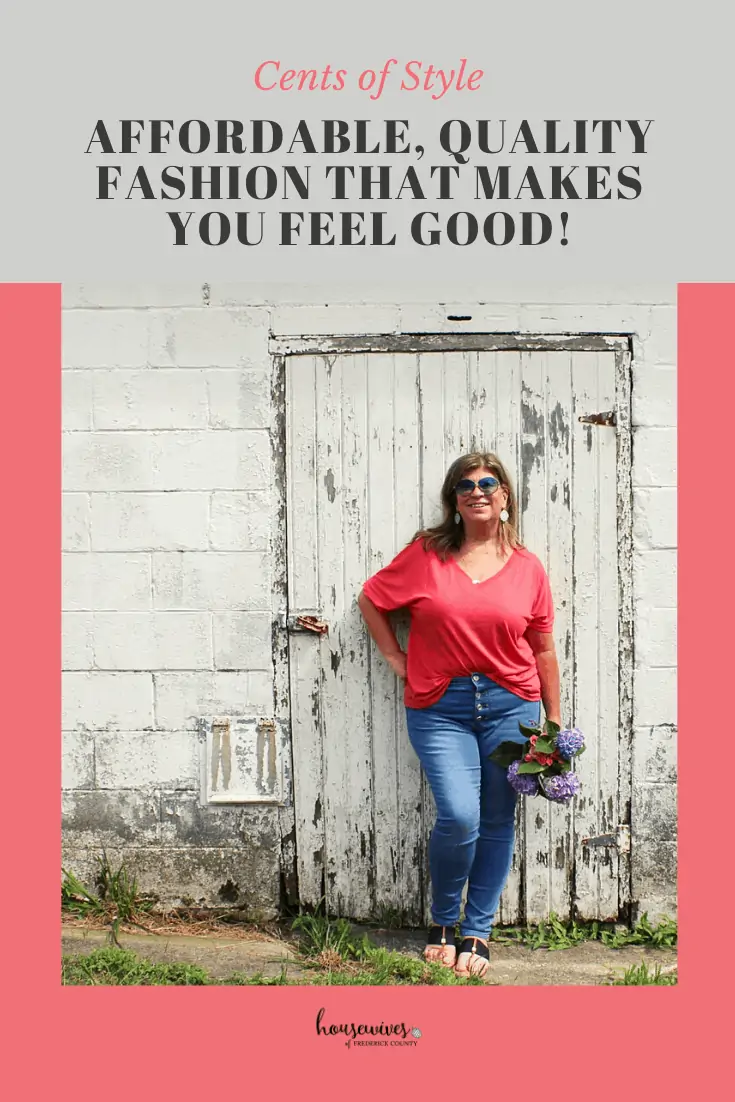 This company began in 2007 (where have I been?) by stay-at-home mom, Courtney Brown.
Courtney was looking for an outlet that would bring her personal fulfillment and empowerment.
Without a doubt, she had a knack for affordable & accessible fashion.
Therefore, she decided to take her natural abilities to the next level and start her own business.
At this time, Cents of Style, located in Bluffdale, UT, is an extremely successful company.
Moreover, it is made up of more than 30 women, mostly moms, who always put family first.
Particularly, Cents of Style sells:
Tops
Bottoms
Dresses
Outerwear
Accessories
Jewelry
Emma Cosmetics
Extended Sizes
What Drew Me to Cents of Style
What drew me to to this company is their:
Up-to-date, latest trends.
High quality.
Free shipping via USPS anywhere in the U.S. Shipping is $5 if you live in Canada.
Weekday Daily Deals:

Monday Item of the Week
Two For Tuesday
Wednesday 'What We Wear'
Thursday New Arrivals
Fashion Friday.

Sales:

New Markdowns
Clearance
Last Chance
Why I Love Cents of Style
As you can see from my photos, they offer high quality clothing and accessories that fit any woman's style and budget.
You probably already know this, but I'm a very casual girl 95% of the time!
However, that doesn't mean that I don't want to look good, put together and up-to-date!
For the most part, I'm a t-shirt and jeans kinda girl.
BUT, I do like my clothes to be flattering and fit me well!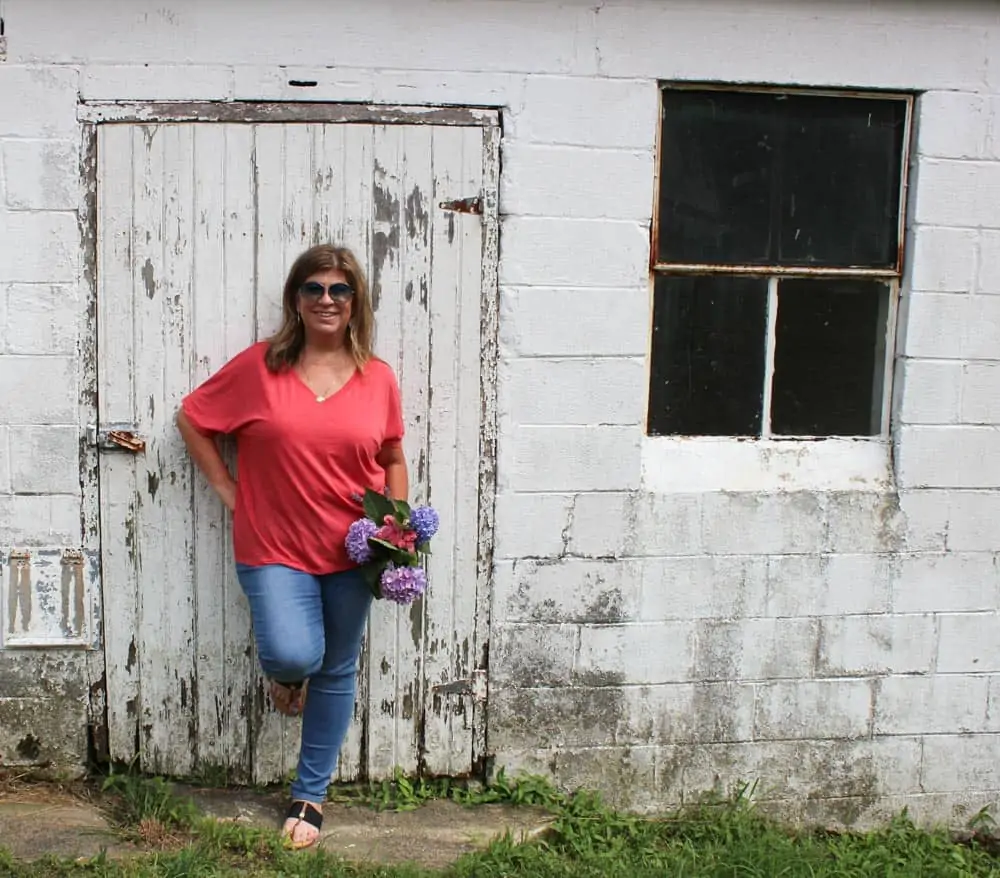 And now that I've tried out my first outfit with Cents of Style, I trust them enough to try styles that I don't typically wear, like a casual dress or a kimono.
Because, with Cents of Style, the possibilities are endless!
My Outfit Details
First, my earrings are the Cora Filigree Quatrefoil Earrings in White.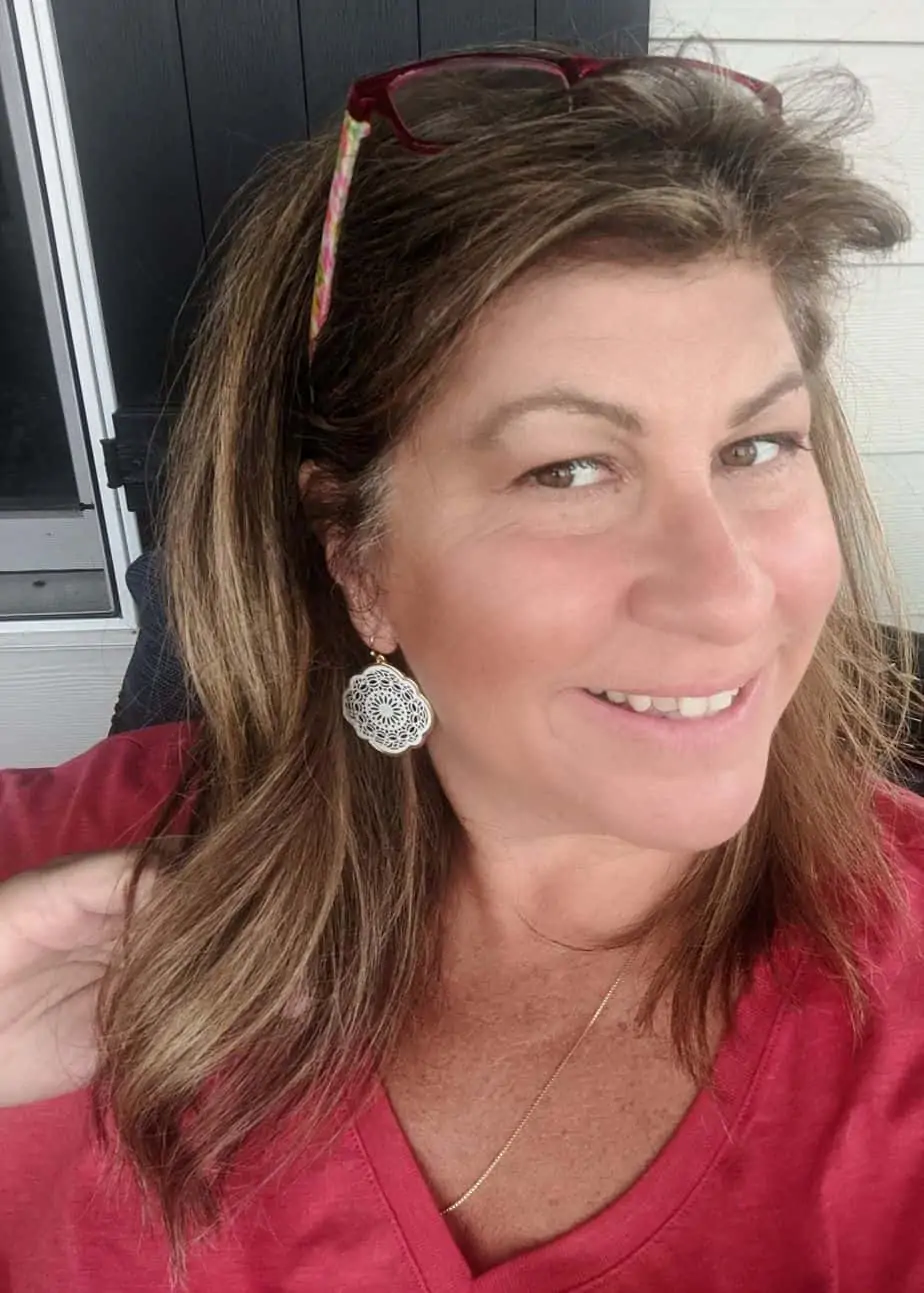 They come in Black, Navy, Gray, White & Tan.
Clearly, I love them because they're so lightweight and very summery!
In addition, I purchased them when they were on sale for only $5.
Second, my top is the Daisy Relaxed V-Neck T-Shirt in Heathered Red.
Got it on sale for $14.95.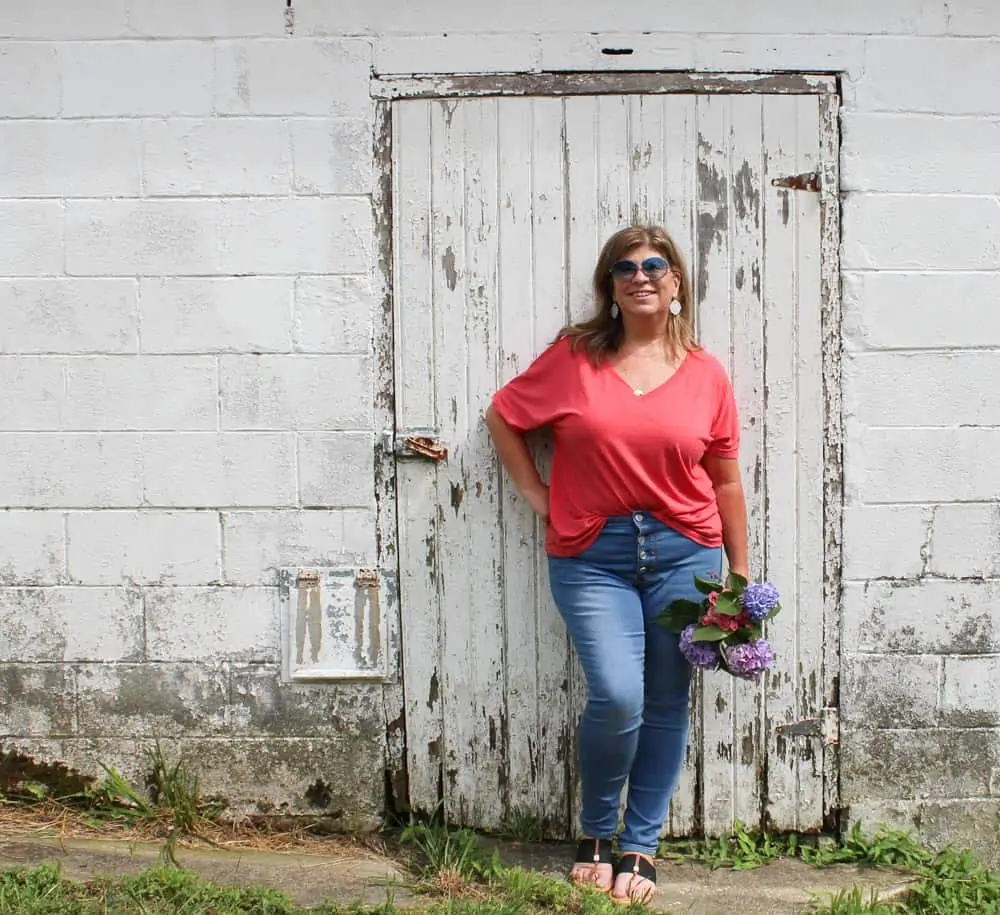 What I love about this top is that it's so versatile.
You can fully tuck it in, partially tuck it in, knot it on one side or wear it untucked.
Also, it comes in 20 different colors!
Third, my jeans are the Elliott High Rise Jeans.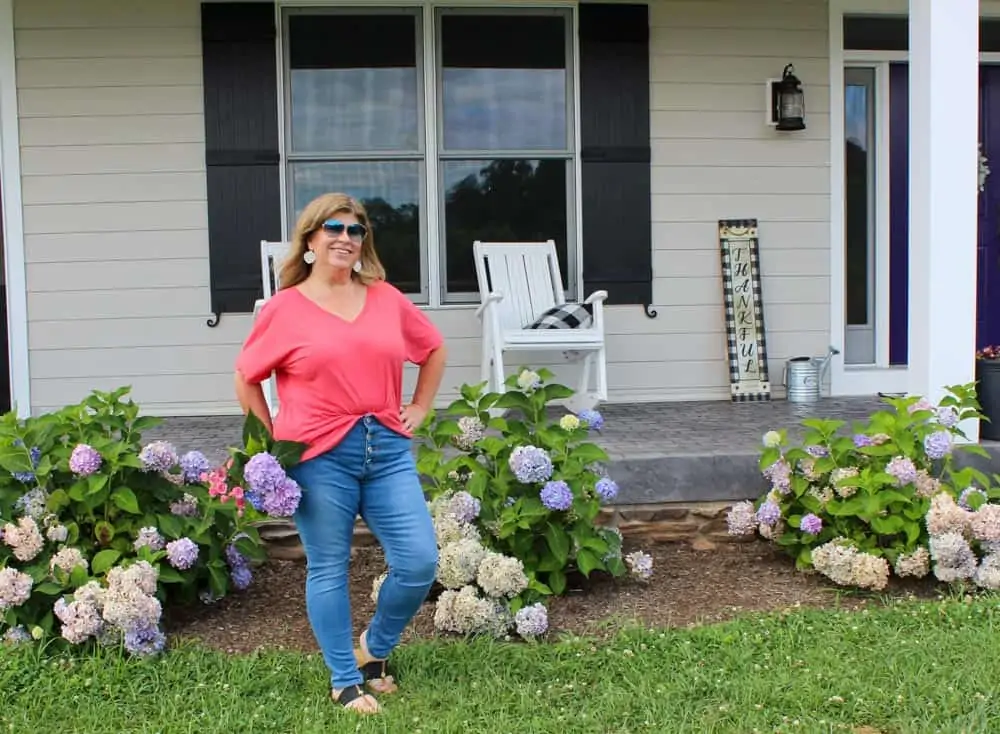 I absolutely LOVE these jeans!
They're super comfortable with just enough stretch to hug your curves.
However, unlike other stretch jeans I own, these won't get baggy in the crotch, making you have to pull them up constantly.
In addition, I love the intentional fading in all the right places to get that optimal flattering effect.
And the high waisted, button-up fly will make you want to tuck your shirt in and show off that shape of yours!
These jeans are currently $39.95 at Cents of Style.
But be sure to subscribe to their site so you can be the first to know when they're offering special deals!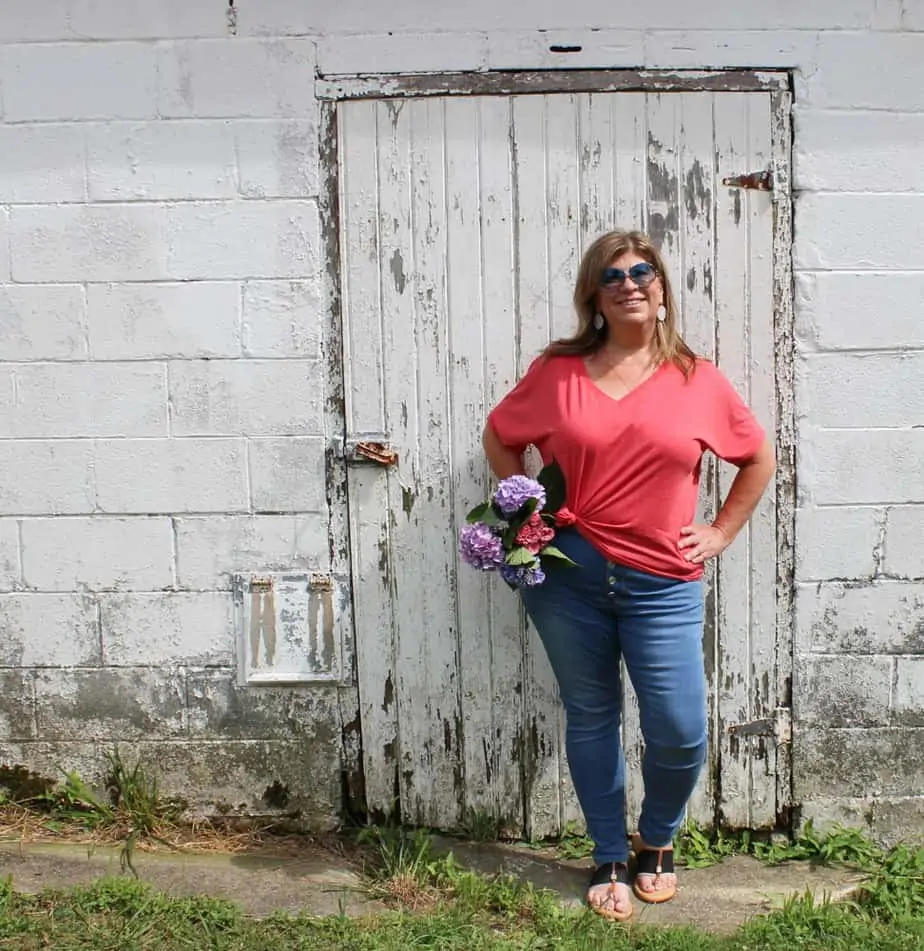 Also, follow us on Facebook where we post their deals at least once a week.
Check out Cents of Style and tell us what items spark your interest!
In the meantime, as I get more clothes from them, I'll continue to share my experience with you!