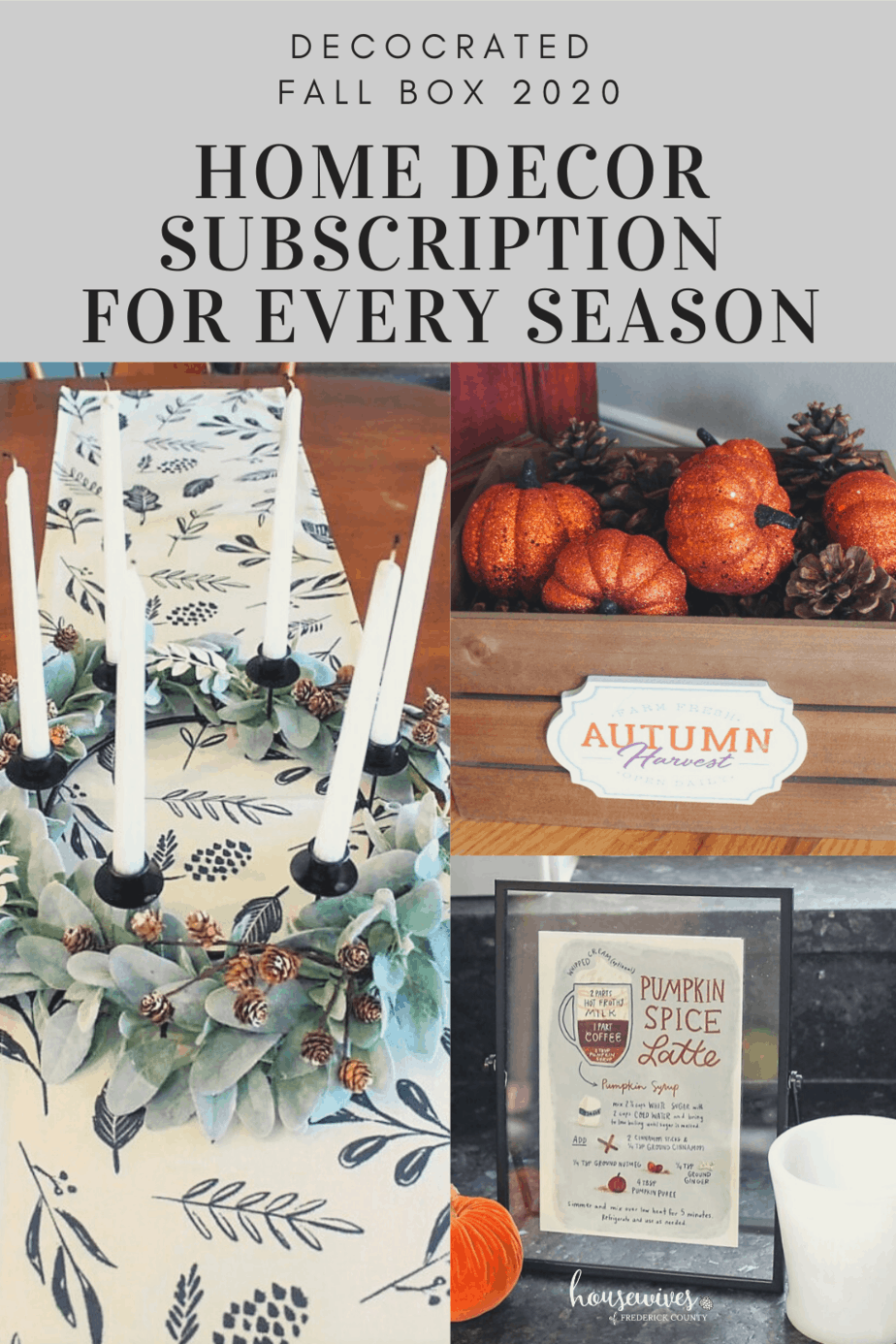 In this post I'm giving you the inside scoop on the high quality, seasonal & stylish home decor goodies that you get in your Decocrated Fall Box 2020!
Do you want to "Fall" back in love with your home this season?
Clearly, the reason I love Decocrated so much is because their seasonal boxes are full of curated, on-trend, versatile home accents to freshen up your home every season.
I don't know about you, but when one season is coming to a close, I am so ready to welcome the next season.
Definitely, the easiest way to do that is by switching out some of my home decor items.
There's just something about seeing new home accents in my entryway or kitchen or spread out throughout my home that makes me so happy!
Without a doubt, it uplifts my mood and inspires me to enjoy that season to the fullest.
Decocrated Fall Box 2020
So, my very first Decocrated Box was the Summer 2020 box.
Needless to say, I was super impressed with the high quality and style of the items I received!
On top of that, each season's items build upon and coordinate with the previous boxes' items!
What Do You get with Your Decocrated Fall Box 2020?
In particular, here's what you get with Decocrated:
1. A New Box Every Quarter
Each quarterly box contains 6 to 8 curated home decor pieces that can all be displayed in one room or spread out throughout your home.
2. Community: 3 Private, Members-Only Facebook Groups
The Decocrators

– Post all things Decocrated!

DecoHacks

– For those who #Decohacked their items and made them their own.

Decocrated Marketplace

– Love your Decocrated item and want an extra one? This is the group for you! Not your style? This is the place to find it the right home.
3. Members Only Shop
Exclusive access to curated collections that compliment your Decocrated decor.
4. Seasonal Add-On Boxes
Only subscribers can access add-on boxes throughout the year.
How Much Does Decocrated Cost?
Obviously, getting the annual membership is worth it because it will save you $32 for the year vs. the quarterly membership.
In addition, if you use my codes, you'll save even more money!
Therefore, use code HOUSEWIVESOFFREDERICKCOUNTY10 to get $10 off of your first box in your quarterly membership.
Furthermore, for an annual membership, use code HOUSEWIVESOFFREDERICKCOUNTY30 to get $30 off your annual membership.
Altogether, this will bring your annual price down to $257.99 which makes each quarterly box only $64.50!
The Decocrated Fall Box 2020
And now for what you've been waiting for!
Here are the items you'll get in your Fall 2020 box!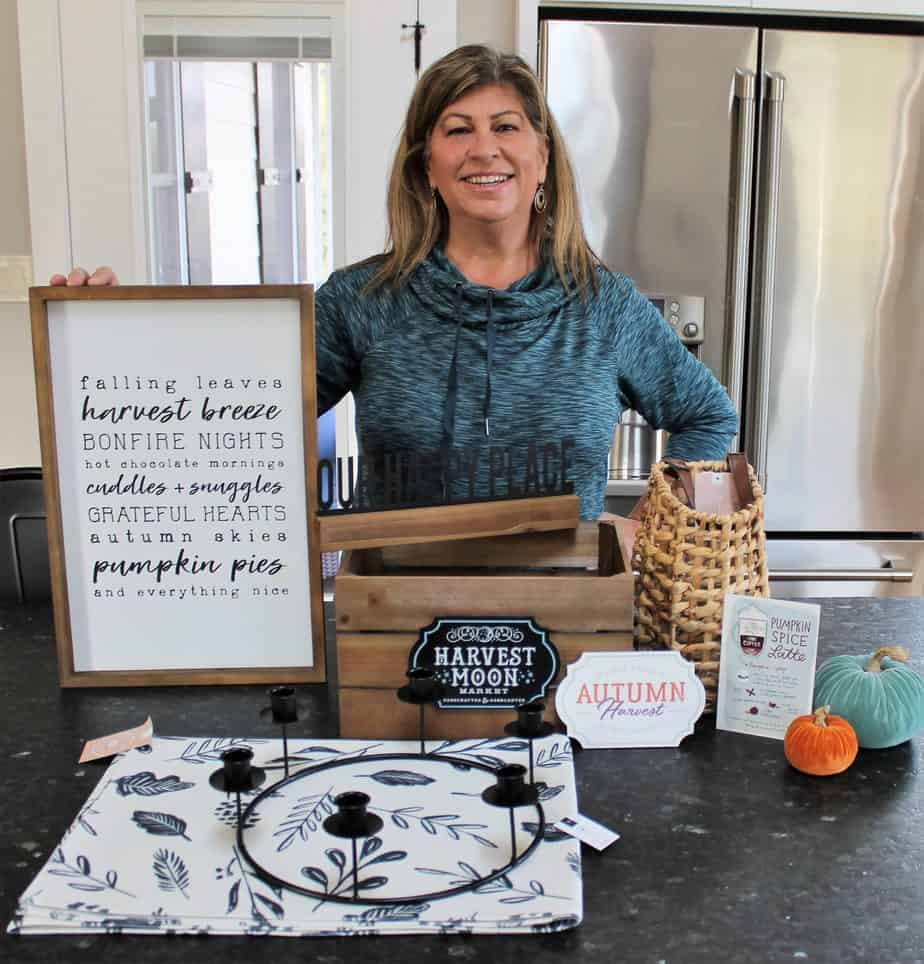 1. The Art Print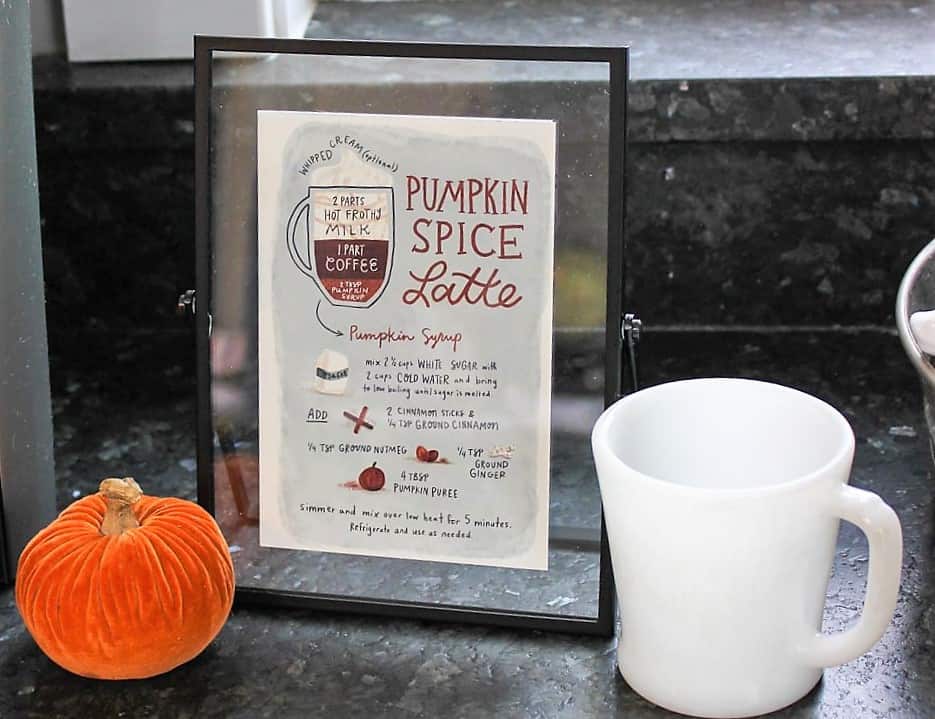 The curated art for the Fall 2020 season has been created by featured artist, Emily Doliner.
As is always the case, the art prints for each season are two-sided, with the Fall 2020 season being no exception.
One side is for Halloween and the other side has a Pumpkin Spice Latte recipe.
Yum! How perfect for the season!
2. The Crate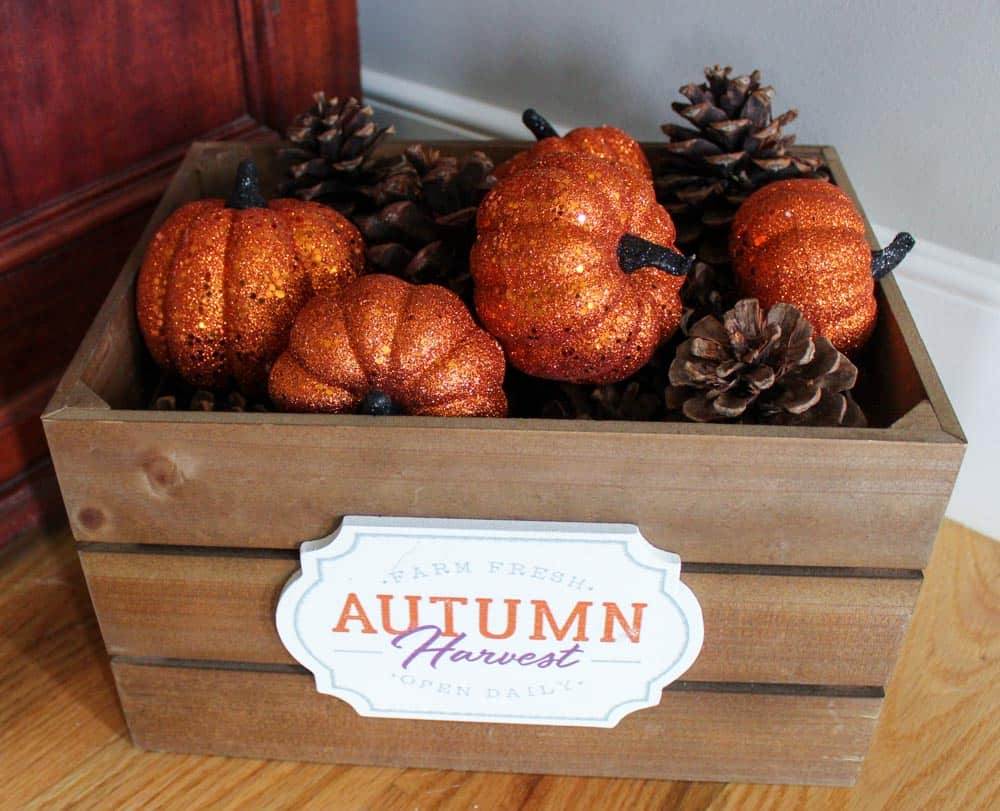 This crate is the holder of all things fall!
In my case, this fun crate is full of glittery orange pumpkins and vanilla scented pine cones.
I have it sitting in my foyer for all to see whenever they first walk into my home.
3. The Basket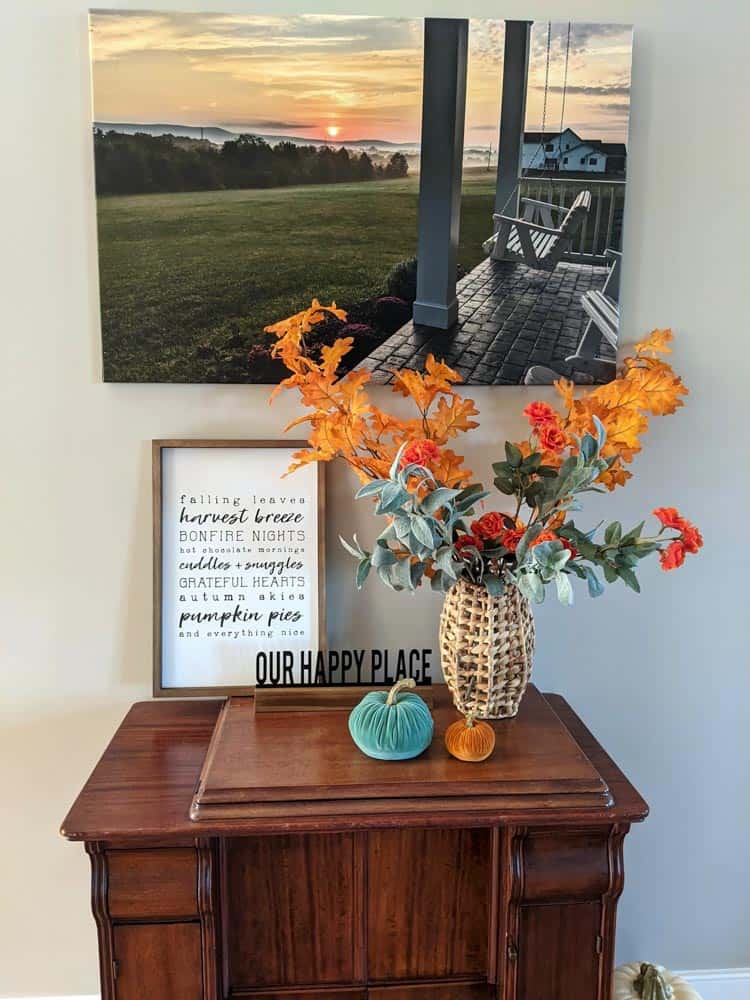 I absolutely adore this basket!
It is woven perfection with it's geometrical shape, a leather handle, and a flat back.
Clearly, it's perfect for either hanging on a doorknob, a hook, on the wall, or setting on top of a table.
I'm obsessed with Decocrated's Fall 2020 color scheme which includes burnt orange and a eucaluptus green.
Obviously, these pieces totally brighten up my home!
4. The Wall Art
Framed in a beautiful, solid wood, the message on this sign really puts you in a Fall kind of mood!
"Falling leaves
Harvest breeze
Bonfire nights
Hot chocolate mornings
Cuddles + snuggles
Grateful hearts
Autumn skies
Pumpkin pies
And everything nice!"
Excuse me while I get my big fluffy blanket and sip on some hot chocolate!
5. The Pumpkins
As with all of Decocrated's pieces, the flocked pumpkins are a really nice quality.
To demonstrate, these pumpkins have a solid weight to them with a resin interior and a soft velvety outside texture.
In addition, the colors are stunning!
6. The Metal Sign
I'm always calling our home our happy place!
Absolutely this 'Our Happy Place' sign is totally a sign of the times.
Pardon the cliche but home really is where the heart is!
7. The Centerpiece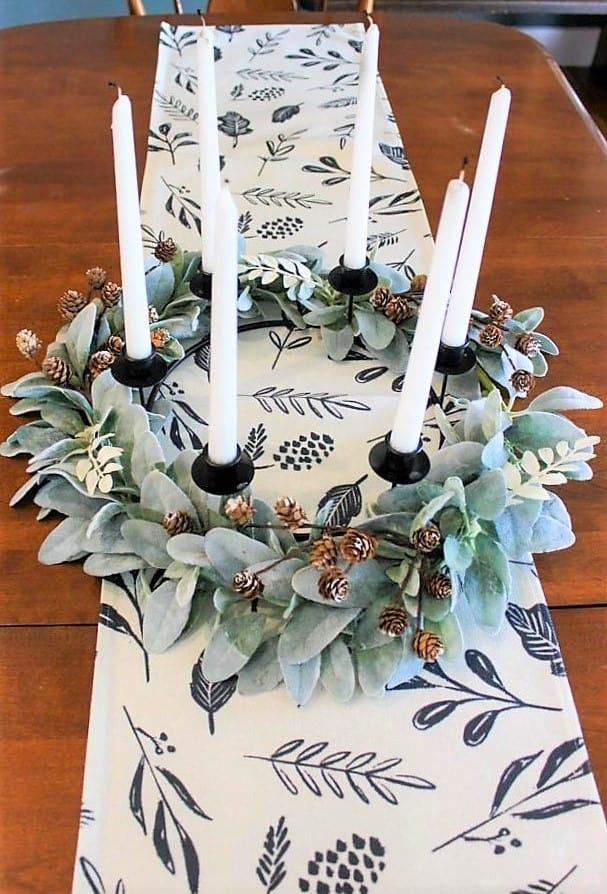 Love, Love, Love this centerpiece!
Who would think such a simple piece could be so versatile?
Particularly, I opted to use a lambs ear wreath to adorn it and included pine cone and leaf picks to pick up the pattern in the runner.
Indeed, a well rounded accessory!
8. The Runner
Last but not least is the 'free fallin' table runner!
With the pine cones and leaves pattern adorning it, this runner adds just enough of a fall vibe to transform your table into an autumnal dining experience!
My Decocrated Fall Box 2020 Review
In conclusion, what do I think of the Decocrated Curated Home subscription?
Admittedly, I'm slightly obsessed and totally hooked!
Unquestionably, I already cannot wait to get my Winter box!
However, in the meantime, I will thoroughly enjoy my fall decor to the fullest!
Finally, when you sign up, don't forget to use my discount codes: HOUSEWIVESOFFREDERICKCOUNTY10 and HOUSEWIVESOFFREDERICKCOUNTY30!
Happy Decorating!