I recently started a subscription box service, BloomsyBox, that delivers fresh flower farm bouquets to your door on a weekly, bi-weekly, or monthly basis.
After receiving my first flower farm bouquet, I am officially hooked!
These flowers have brought me so much joy and brightened up my home in so many ways!
Be sure to read through until the end to see pictures of my 2nd flower delivery!
Flower Farm Bouquets Delivered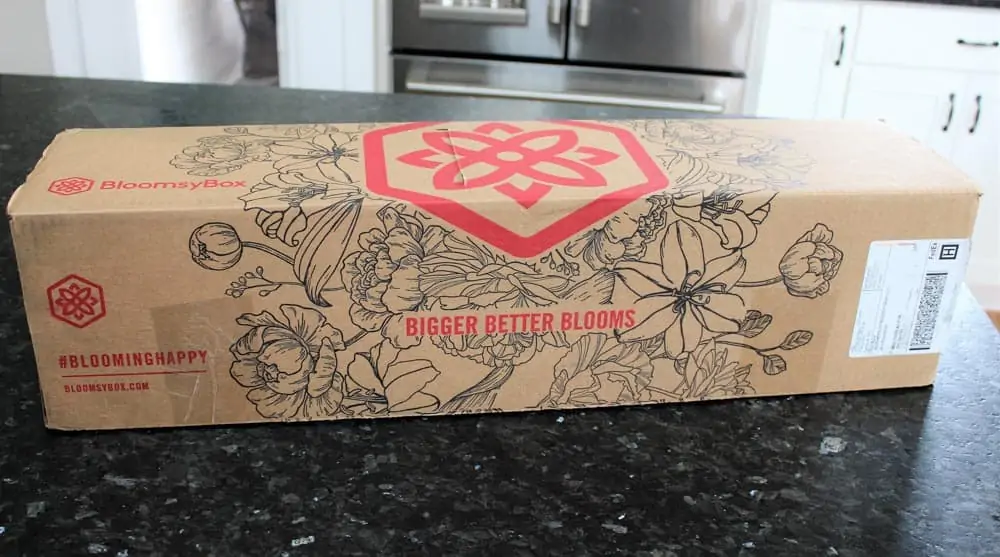 When you first order your subscription from BloomsyBox, you have the option to choose your delivery frequency:
Monthly Plans

Month to Month
3 Month Prepay
6 Month Prepay
12 Month Prepay

Bi-Weekly Plans
Weekly Plans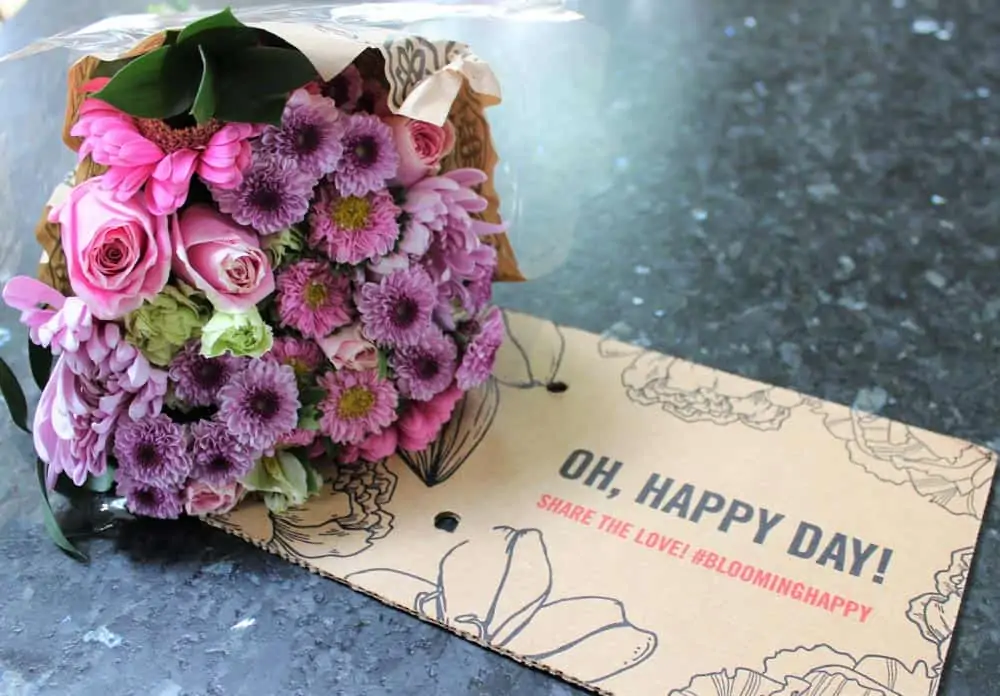 Then, you can choose your type of subscription.
For monthly plans, you can choose:
Original
Deluxe
Premium
Roses
Go to BloomsyBox's site to see examples of the flower farm bouquets you'll get based on the plan you choose!
They're all absolutely gorgeous and are shipped fresh from participating sustainable farms around the world!
Because they are directly shipped, your flowers will arrive at your door at the peak of freshness.
Each curated box includes a handcrafted, hand-tied bouquet designed by floral designers.
In addition, with your beautiful bouquet, you'll receive flower food and an informational postcard.
Free Overnight Shipping For Your Flower Farm Bouquets
All flower farm bouquets come with free overnight shipping, so the price you pay is the price you pay.
There's no additional hidden fees or extra shipping costs.
And speaking of price, the price of each bouquet is very reasonable!
Believe me, I am extremely frugal and would never buy a monthly subscription that wasn't worth the price.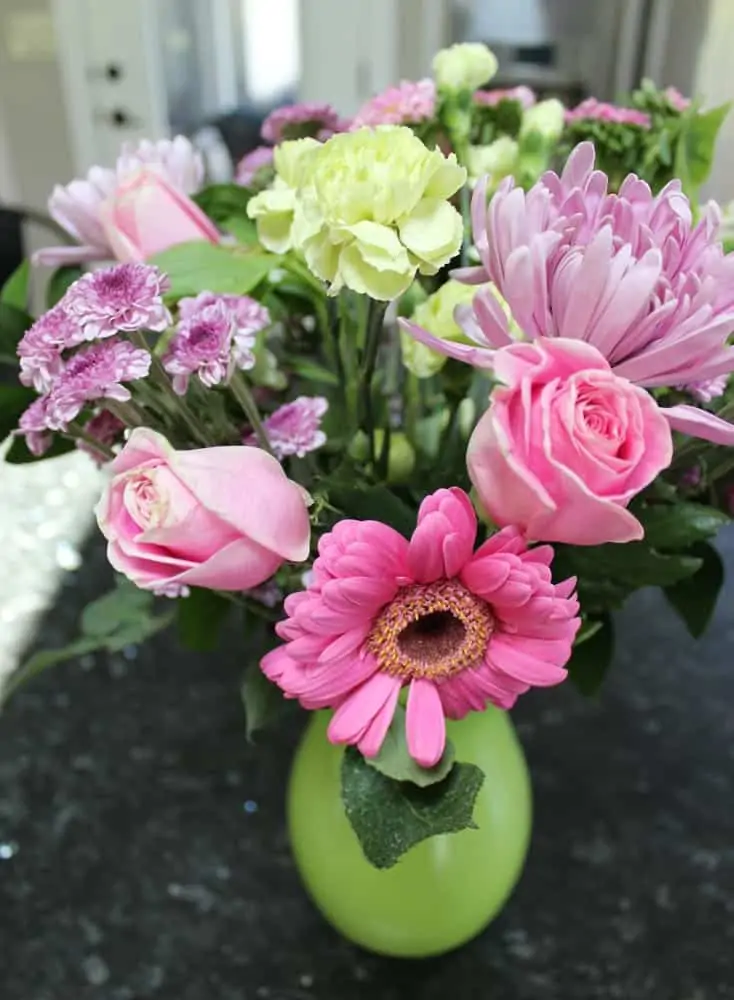 My First Flower Farm BloomsyBox Delivery
So now that we've gotten all the details out of the way, let me tell you how much I've loved my first shipment!
The day I received my stunning bouquet, I pulled out the first vase I could find in my cabinet.
Don't get me wrong, I don't think any vase could take away the beauty of these flowers.
Immediately, I posted a bunch of pictures on social media and everybody said how nice the vase coordinated with the flowers.
Needless to say, I enjoyed them in this vase for quite a few days.
But then I decided to start looking around the house for another vase that was even more worthy of these flowers.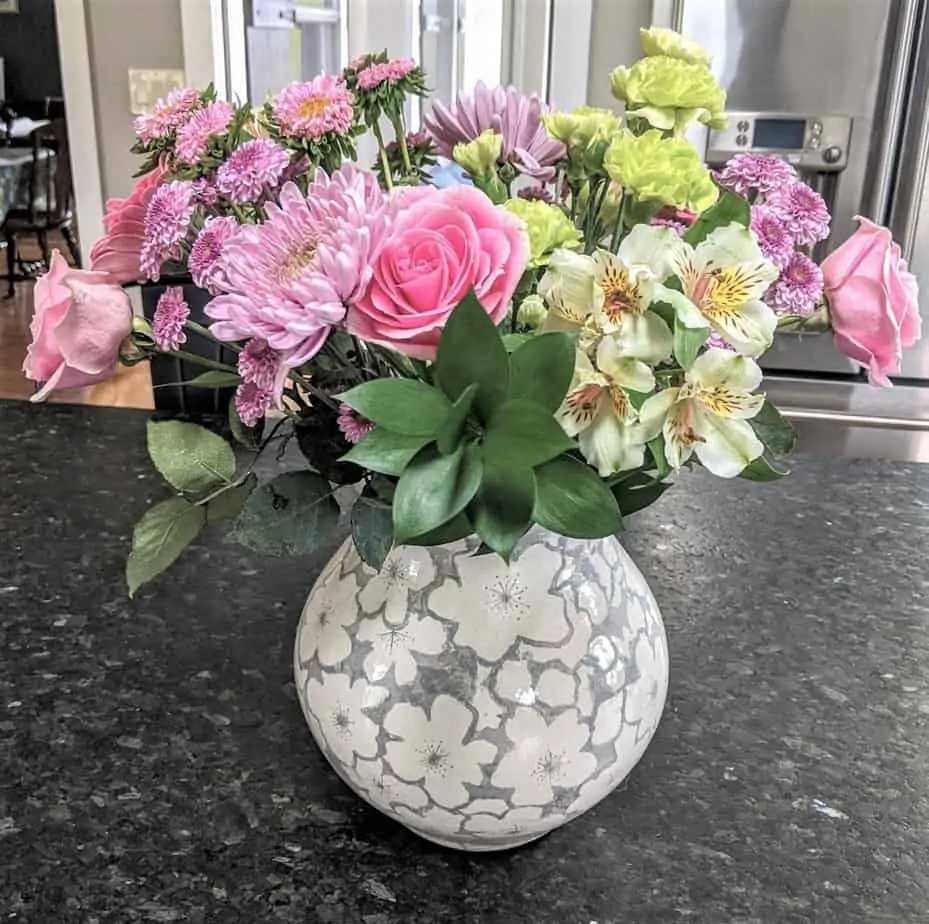 I found this huge vase out on my screen porch with nothing in it!
So I decided to transfer the bouquet into this larger vessel.
And oh what a difference it made!
Adorning my kitchen island beautifully, it just oozed brightness and cheer!
I wanted to keep them as fresh as possible for as long as I could, so I used some tips I found online.
Ways to Keep Your Flowers Fresher Longer
Along with the flower food that BloomsyBox provides with your delivery, there are ways to keep your flowers fresher for a longer period of time such as:
Place your cut flowers in the refrigerator at night – as long as you can fit them in the refrigerator, this is a great idea! Also, be sure to Google this for the specific type of flowers you have.
Drop a penny in your vase. The copper from the penny protects the flowers from certain bacteria and will keep them fresher longer.
Don't place your flowers in direct sunlight. The heat from the sunlight can cause them to wilt and fade. I never knew this!
Trim the stems diagonally every few days.
Change the water every day or so and use room temperature water.
Remove any dead leaves or dying flowers to prevent bacteria.
Keep your flowers away from fruit as fruit lets off ethylene gas which can negatively affect the freshness of your flowers. Interesting!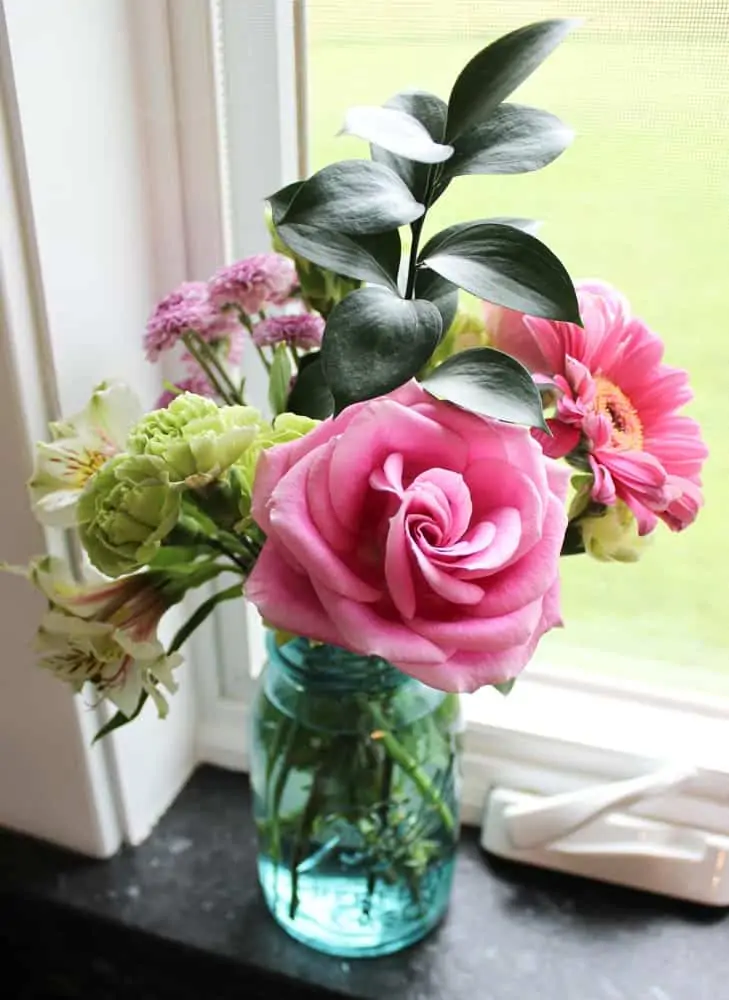 What To Do With Cut Flowers When They Start To Die
The familiar proverb, "all good things must come to an end" is so true in the case of fresh flowers.
Eventually, they will begin to lose their perkiness and start to die.
Because my big vase was starting to overwhelm my flowers as they started losing their freshness, I decided to switch vases yet again!
Clearly, I have fun moving my flowers around and trying different containers for them!
So now I can enjoy them in different rooms in the house.
I was able to fit some of them in this cute little trio of "Our Happy Home" vases on my kitchen windowsill.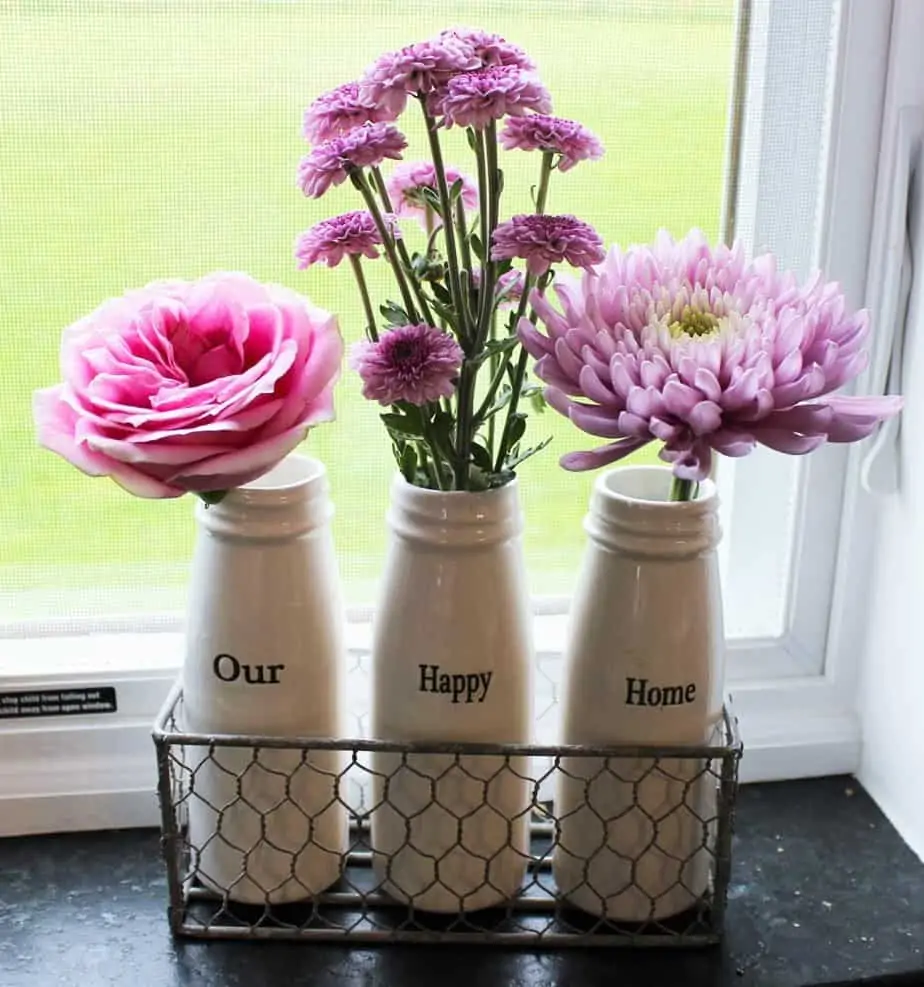 Also I've always loved my blue mason jars as holders for flowers.
So one jar is in our living room.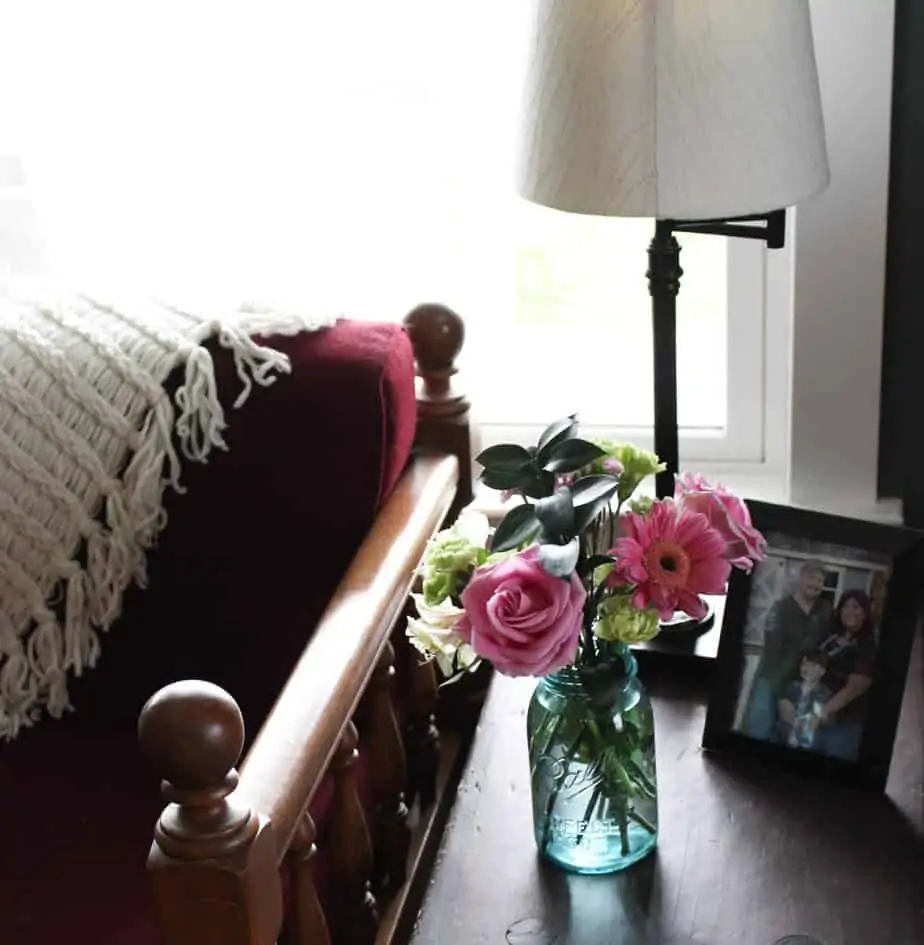 And another jar is on our screen porch.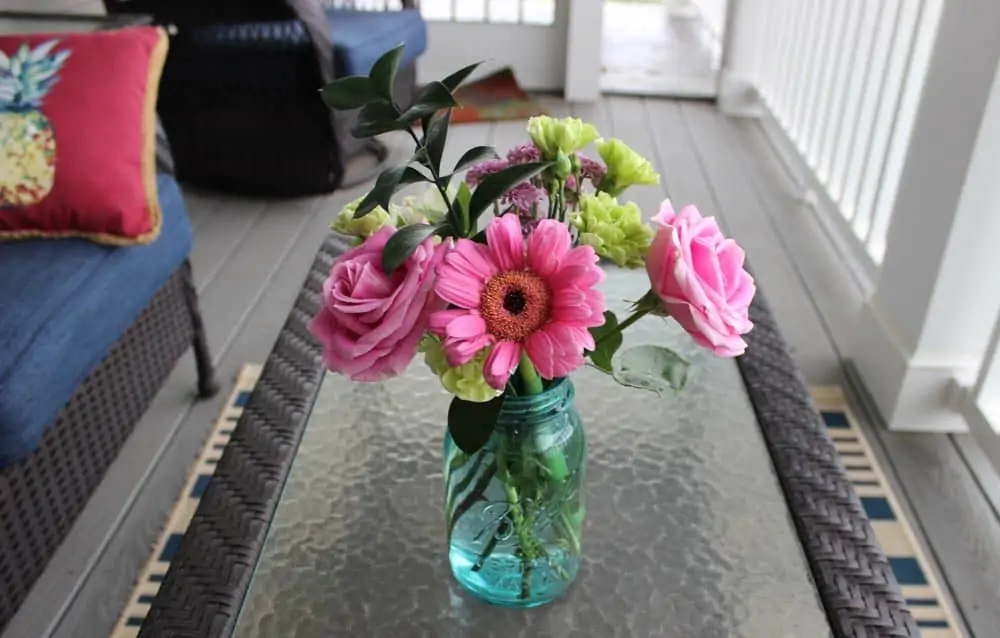 Not only can you order this subscription box for yourself, but also these are great for gifting to friends and family.
BloomsyBox even has an office program where you can subscribe to these flower farm bouquets to be delivered to your place of work.
I mean, seriously, who wouldn't want these gorgeous creations delivered to them on a regular basis?
And now I can't wait to see what next month's delivery will bring!
Update! My 2nd BloomsyBox Flower Delivery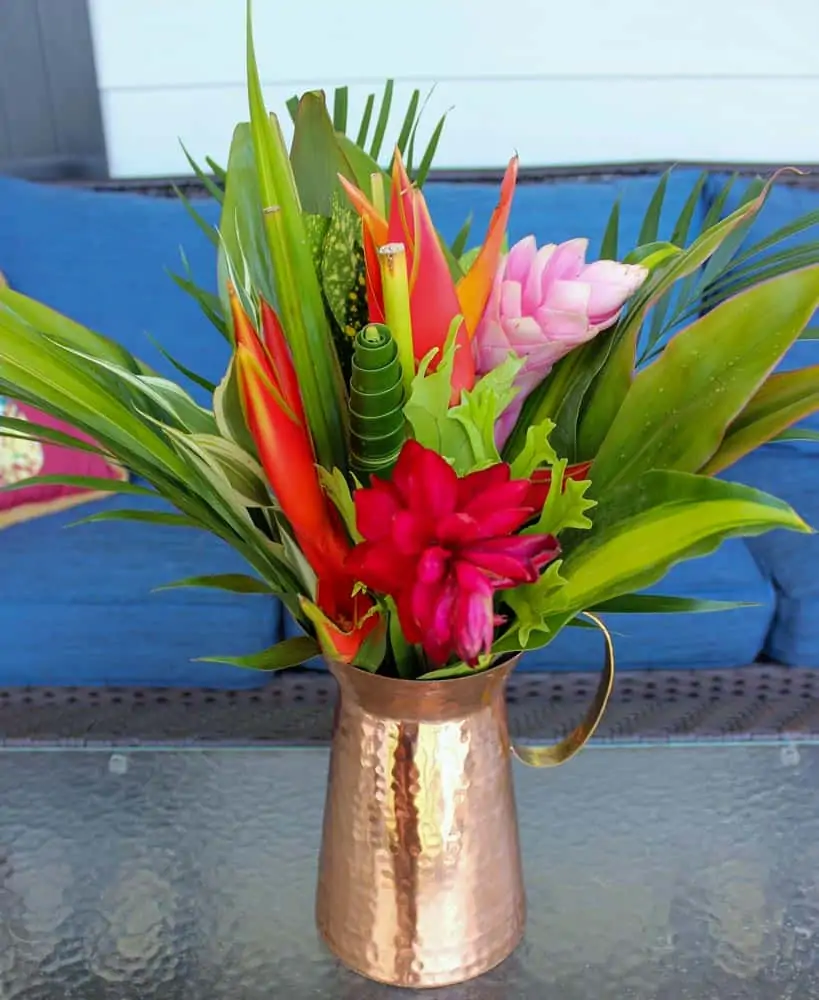 I wanted to follow up on this blog post to show you pictures of my 2nd flower delivery.
Oh my goodness, I'm so happy with them!
This tropical bouquet contains gorgeous Birds of Paradise flowers, stunning Ginger flowers, and bold tropical greenery!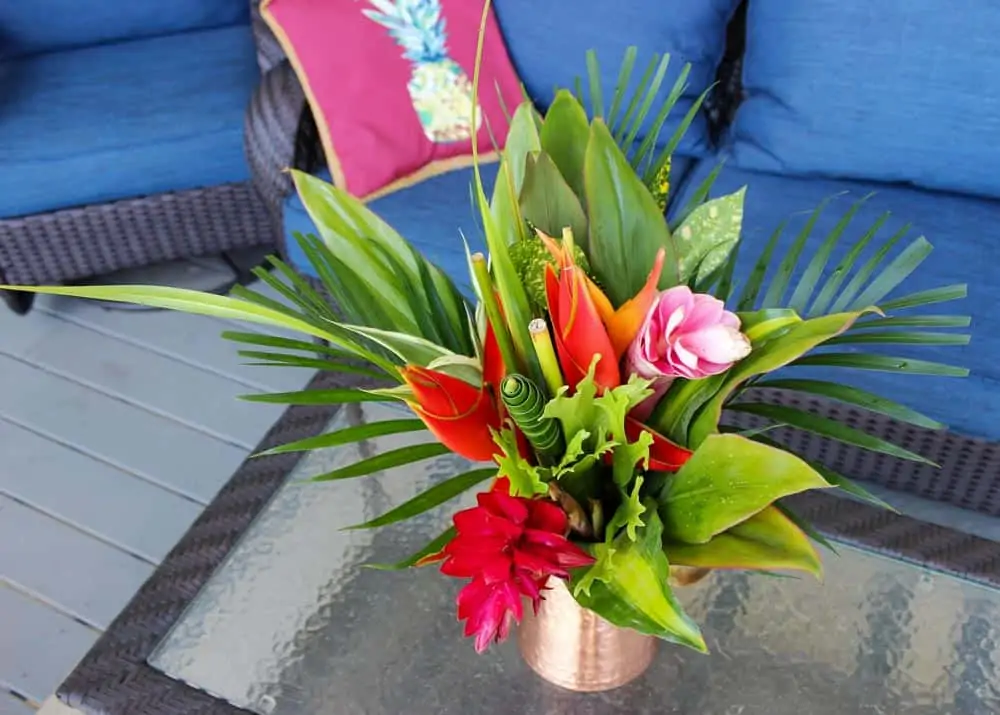 My flowers were hand-cut and sourced from Rainforest Alliance Certified farms dedicated to preserving the flora of the Amazon Rainforest.
Now, how cool is that?
And they just happen to totally match my theme on my screen porch with my red pineapple pillows.
It's like they know me!
I put them in a copper pitcher and it was like they were meant to be together!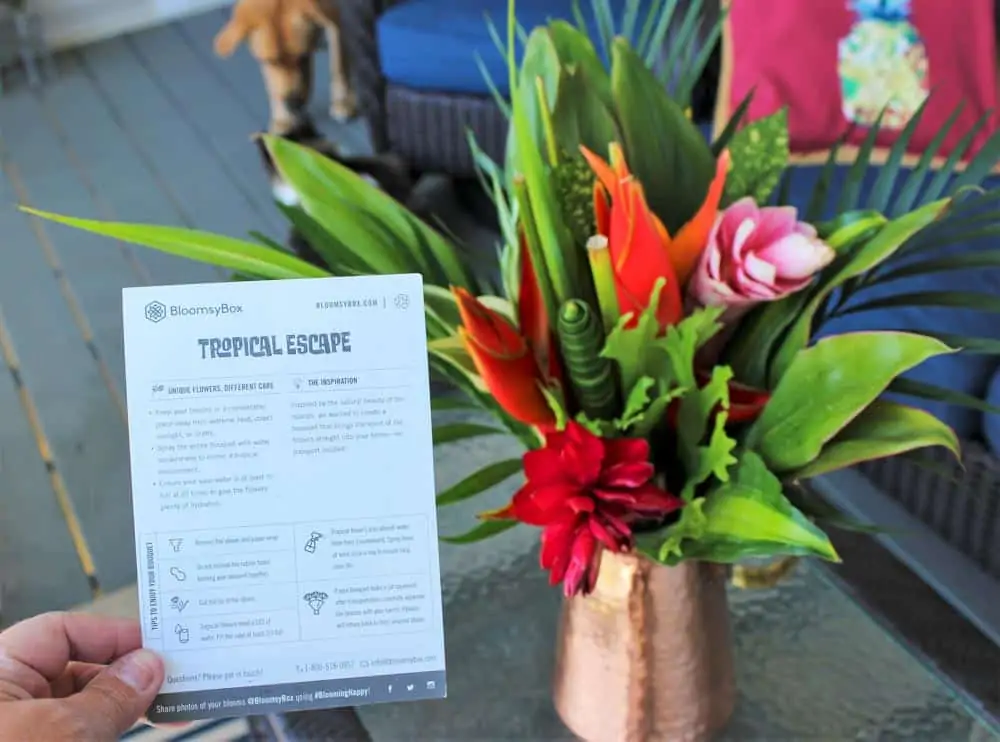 And, for other flower related posts, click on over to:
Flower Pens: Practical Teacher Appreciation Gifts
DIY Mother's Day Teacup Planters