As most of us know, Flying Dog is well known for it's huge variety of good craft beers brewed right on the premises here in Frederick Md.
But besides their amazing beer, they also offer private event rentals as well as a chance to learn more about craft beer through Flying Dog University.
Flying Dog Brewery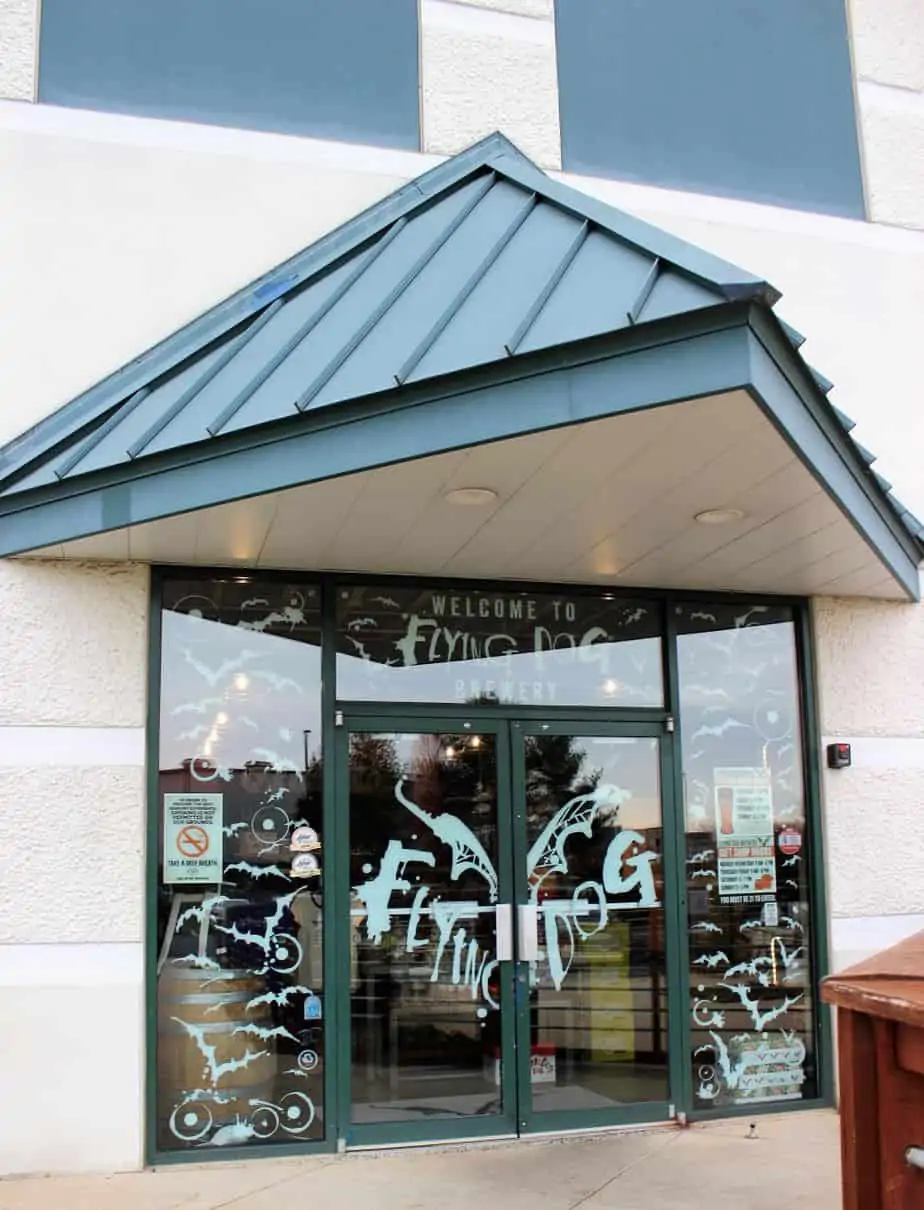 We were recently invited by Visit Frederick to go on a FAM (Familiarization) Tour at Flying Dog.
I jumped on this chance because as much as my husband and I, as well as our friends, enjoy a good Flying Dog beer, I have never actually been to the brewery.
Needless to say, I've waited 14 years to do this!
Hmmm, that's the exact age of my son.
However, don't be like me and wait 14 years to visit!
By all means, get a babysitter and go!
The Tasting Room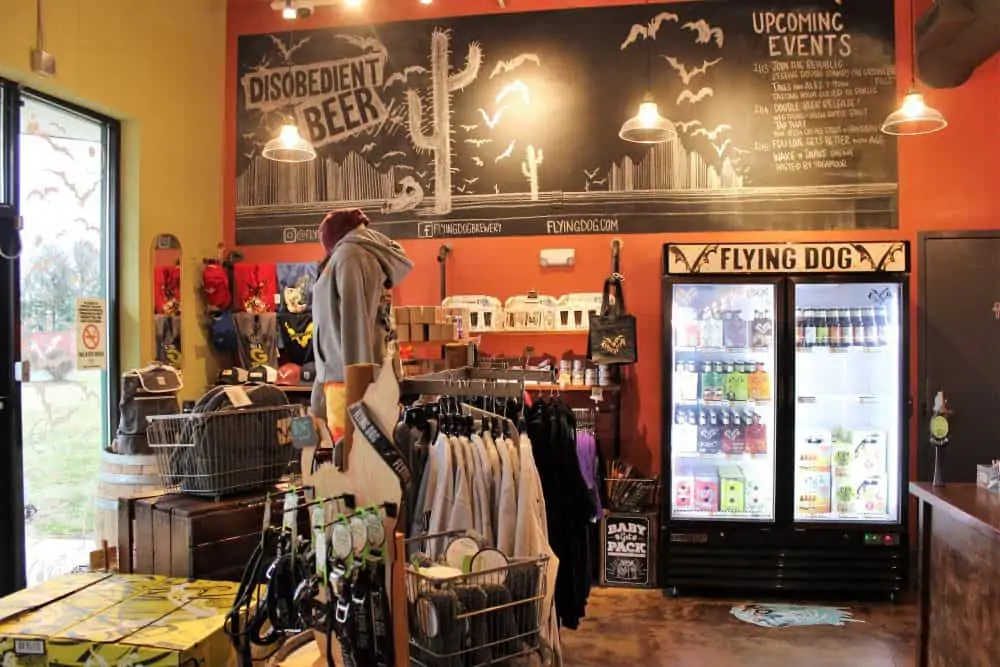 When you walk through the front doors, you are greeted by an abundance of fun Flying Dog merchandise including:
Dog collars (clever!)
Shirts
Bags
Hats
Hoodies
Jackets
Bandanas
Bottles
Koozies
In addition, they of course offer a nice chilled selection of their current craft beer offerings.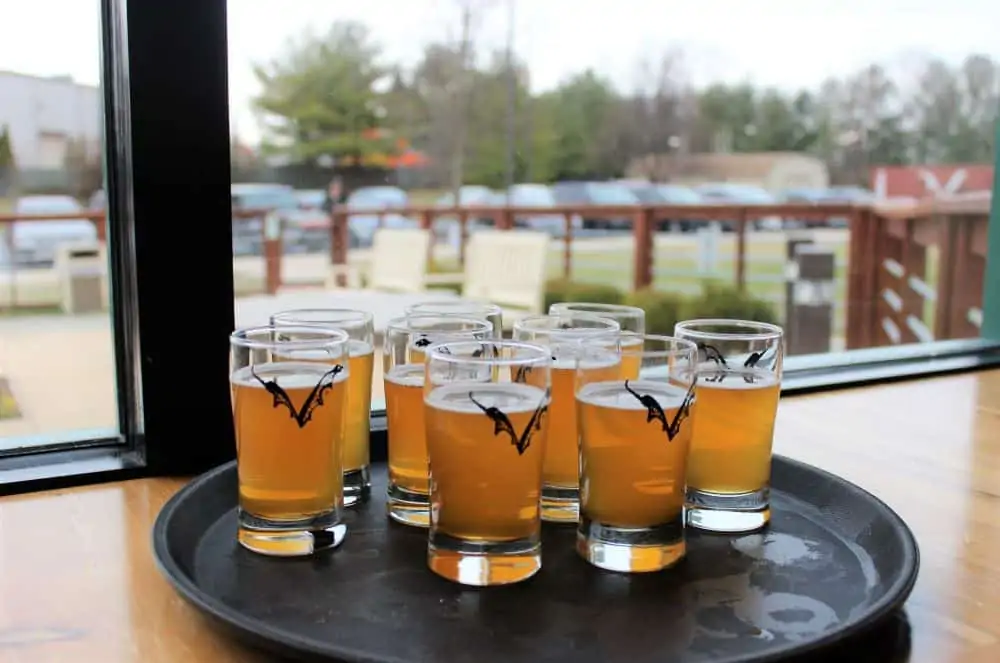 On this particular night, because of the FAM Tour, Flying Dog graciously offered all of their guests samples of their beer.
Why thank you, I think I will!
Above all, I love the way the Tasting Room is setup.
Large long wooden tables are central to the room, encouraging guests to belly up and enjoy a fresh brew while catching up with friends.
Additionally, there is seating lined up along the windows looking out to the outdoor patio.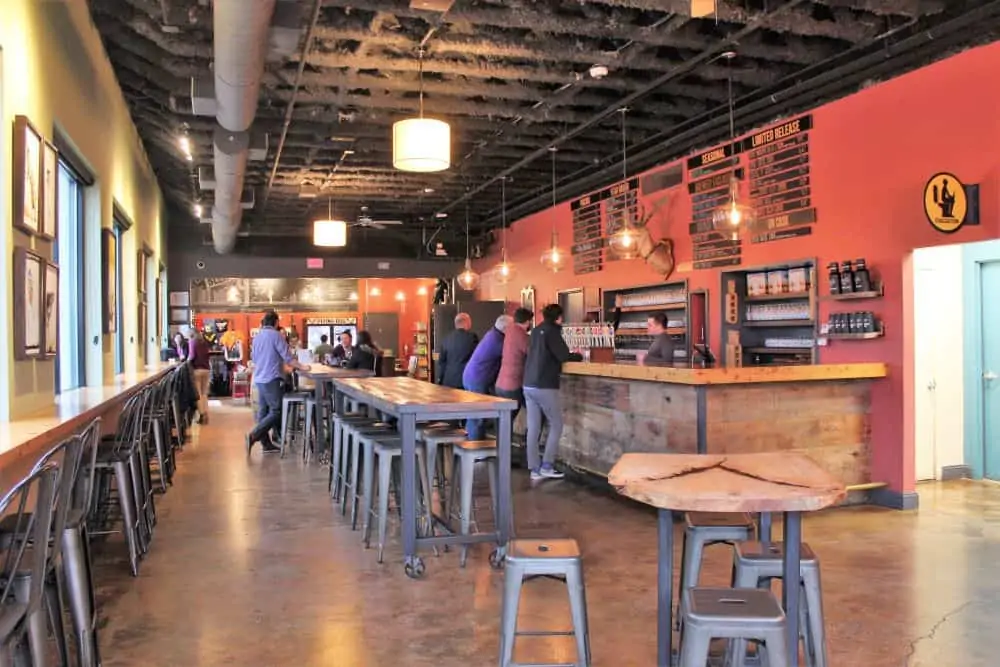 As well as that, if you want to get a little cozier, there are comfy chairs in the back corner of the Tasting Room.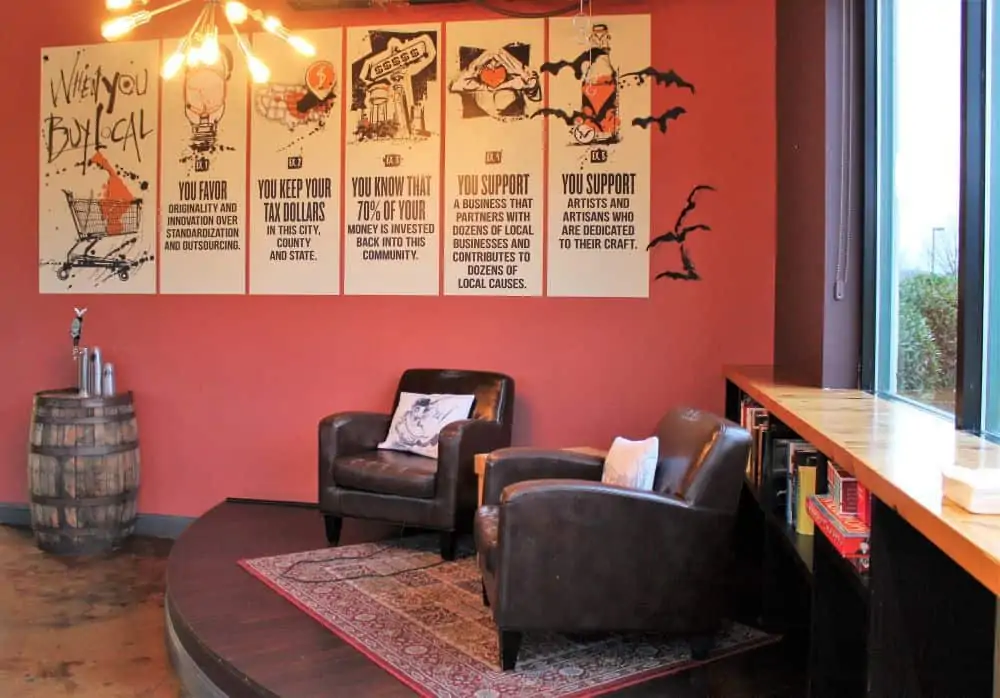 When you walk up to the bar, you'll notice the huge selection of Flying Dog beer on tap, as well as the "Magic Hangover Cure" bottles of water.
Great thinking Flying Dog!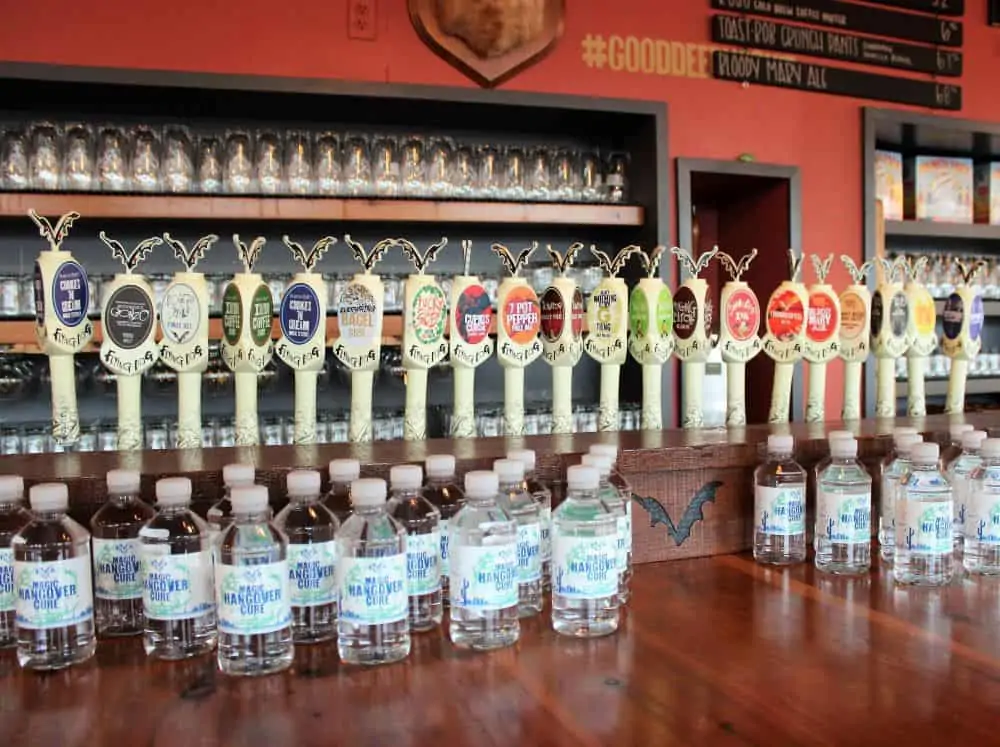 Flying Dog University
After our initial beer tasting and an introduction from the friendly staff, we were invited to the Flying Dog University Classroom.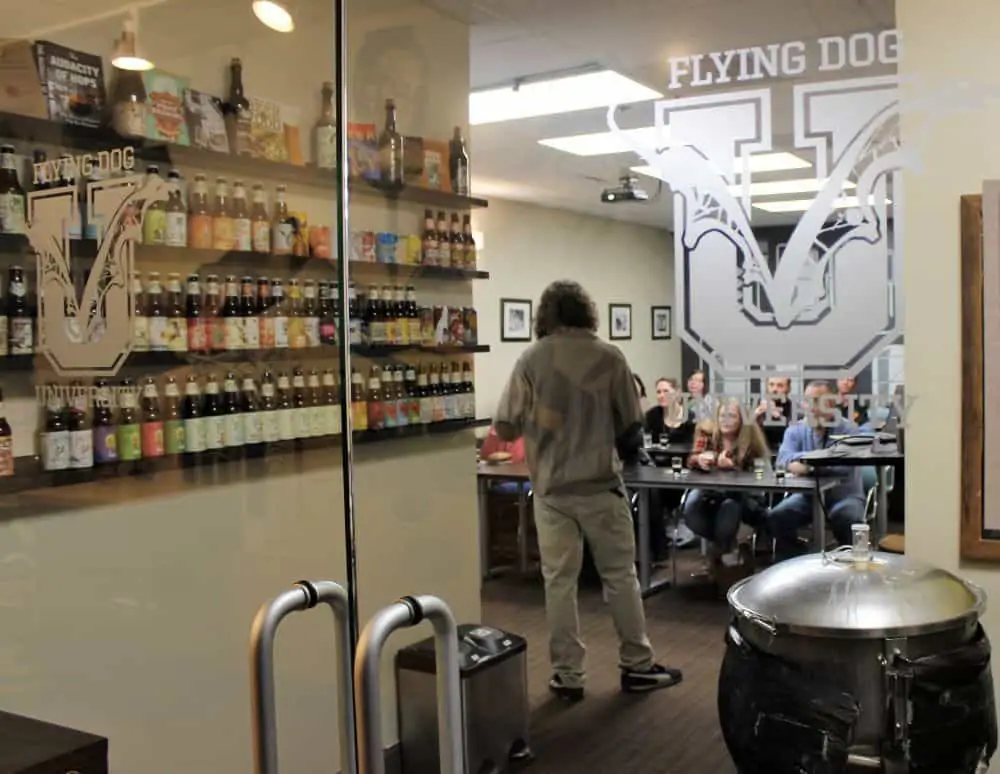 At this time, each attendee was given 2 more samples of beer with a slice of cheese and a square of chocolate to pair with our beers.
Needless to say, food and beer pairs very well together!
Let me tell you, just the aroma of the Kujo Cold Press Coffee Porter (the dark beer on the left) was heavenly!
The instructor explained how the freshly roasted coffee beans (from Vigilante Coffee Co. in Washington, DC) are immediately transported to Flying Dog in Frederick for the brewing process.
Obviously the chocolate went very well with the Kujo Porter.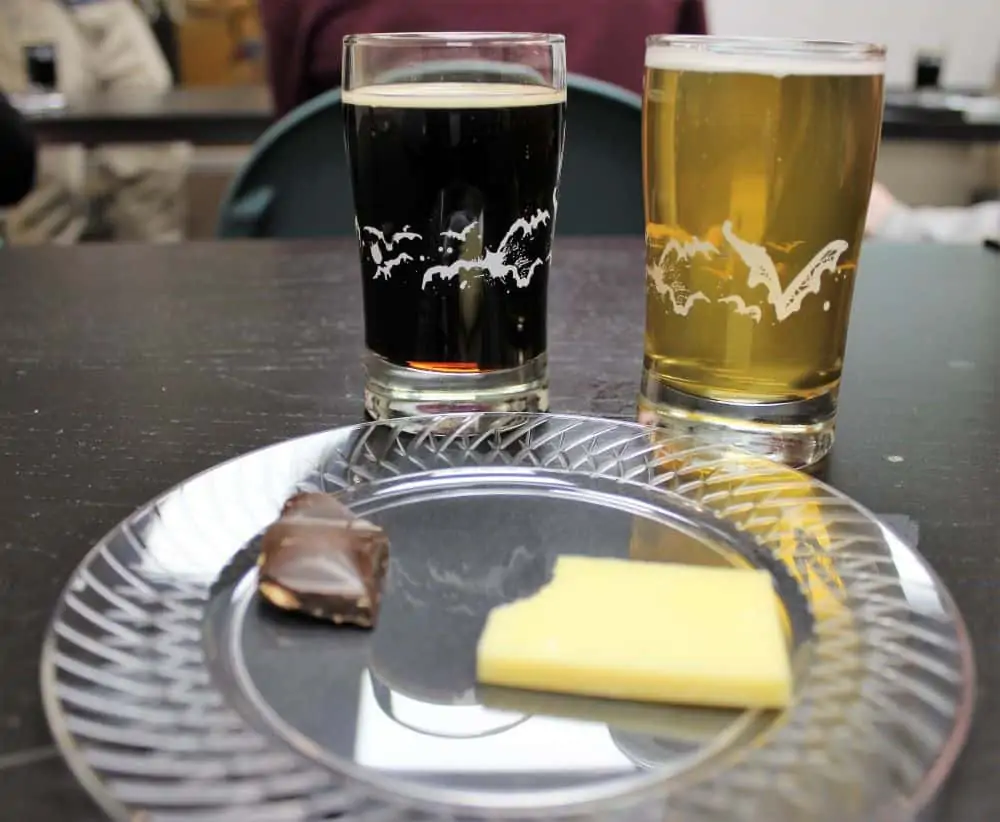 Classes at Flying Dog University are very reasonably priced, ranging from just $5 to $35 per class.
Most classes are 2 hours in duration.
Current classes offered are:
The Foundation of Beer: Beer 101 – An overview of beer history, an intro to the classic 4 brewing ingredients, basics of the brewing process, a definition of classic beer styles & an instructed beer tasting.
Craft Beer Explained: Beer 201 – An in-depth look at advanced brewing processes.
Beer & Sensory Training: Beer 301 – Compares beer & wine & gives tips on storing, aging & cooking with beer. Also, taste vs. smell, the importance of glassware, how cellaring can improve some beers, & guided tasting of classic food & beer pairings.
Advanced Sensory Training: Beer 302 – Breaks down how beer interacts with all 5 of our senses.
Beer Myth Busters – Uncovering the truth behind popular beer myths and legends.
Barrel Bash 2020 – A sneak peak of the year's barrel aged beers (held in January).
Love Gets Better With Age – Learn how the 2020 Horn Dog stacks up against the previous five years (held around Valentine's Day).
Cram Session – A quarterly cram session as we rehash our secret stash of newest additions to our beer family.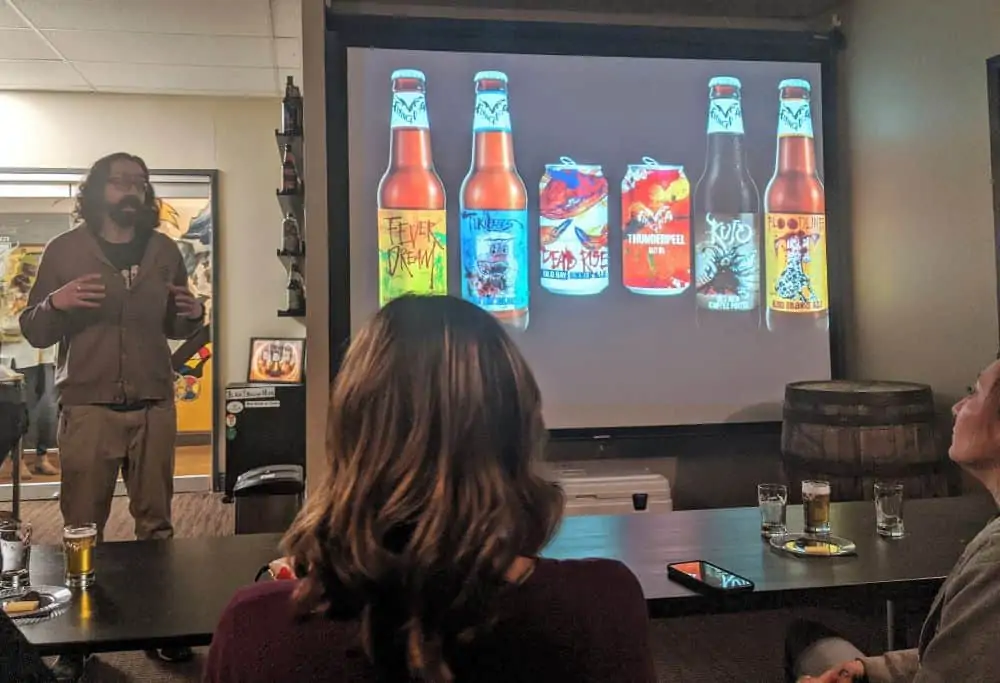 The Brewery Tour
Last but not least, It was time for our group to take the tour of the brewery and look "behind the curtain", if you will.
The hallway is filled with really cool artwork painted by the same artist who creates the labels on Flying Dog beer bottles, Ralph Steadman.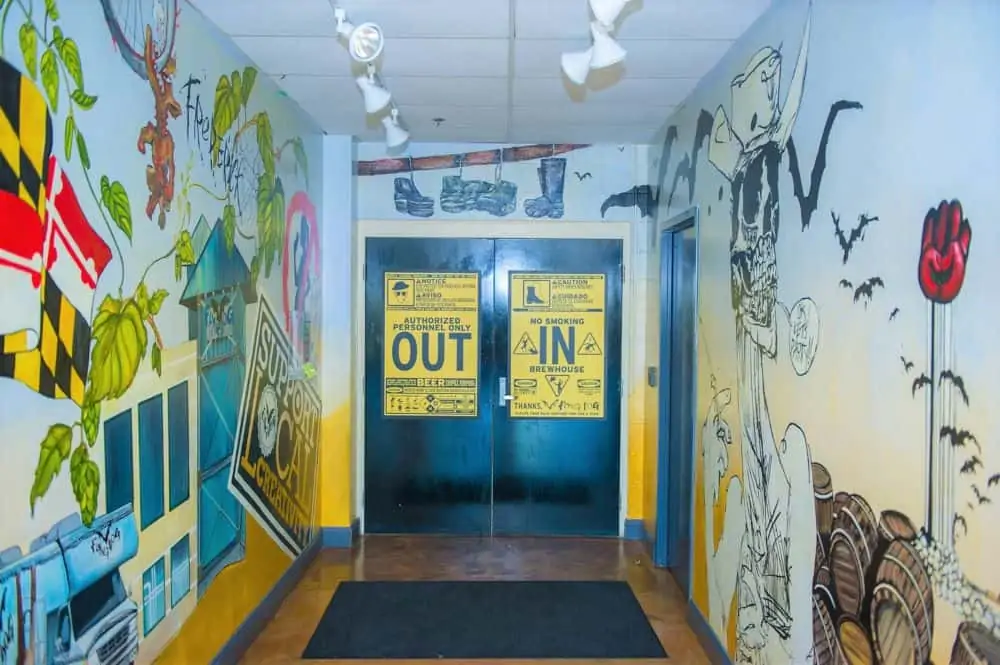 For our tour, we all had to wear safety glasses.
Clearly, this is not my best look, but hey, whatever it takes to see how this amazing beer is made!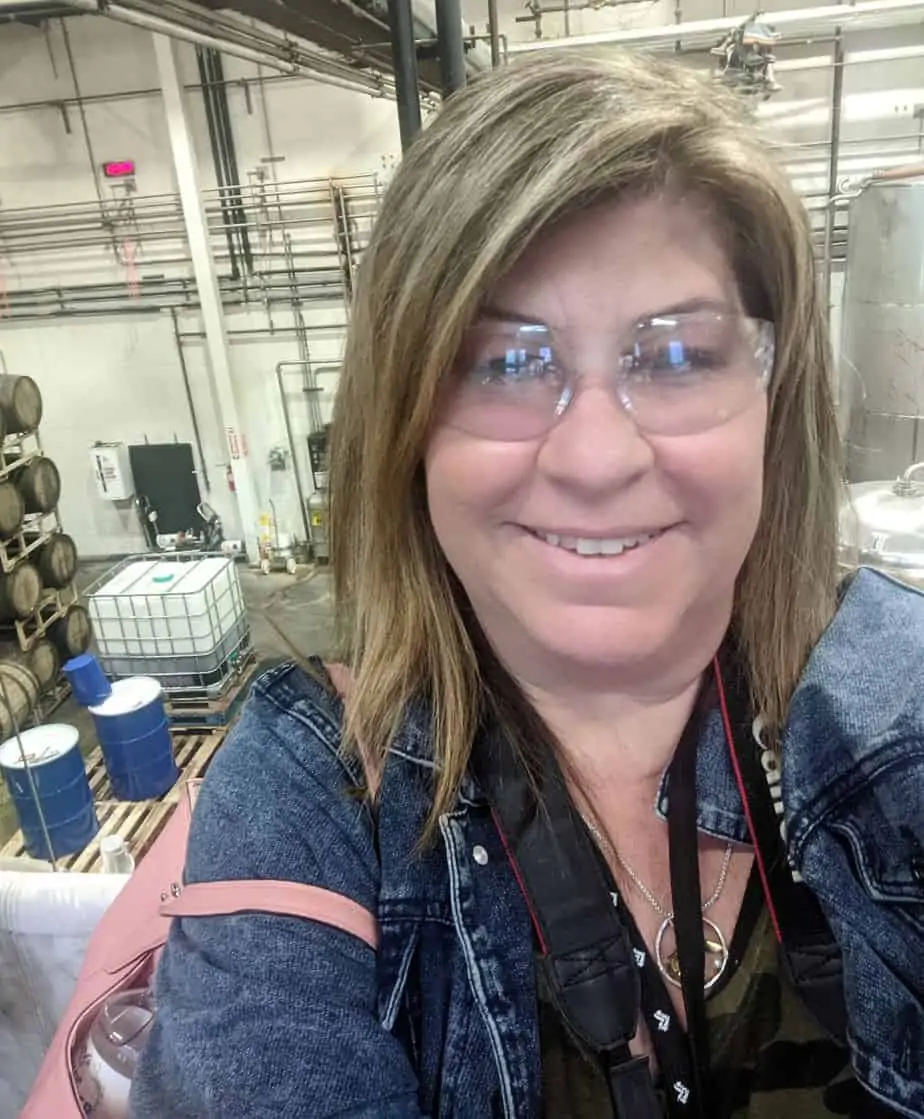 Without a doubt, witnessing the behind the scenes, day-to-day operations of the craft beer brewing process, the bottling, and their Quality Control measures, was fascinating.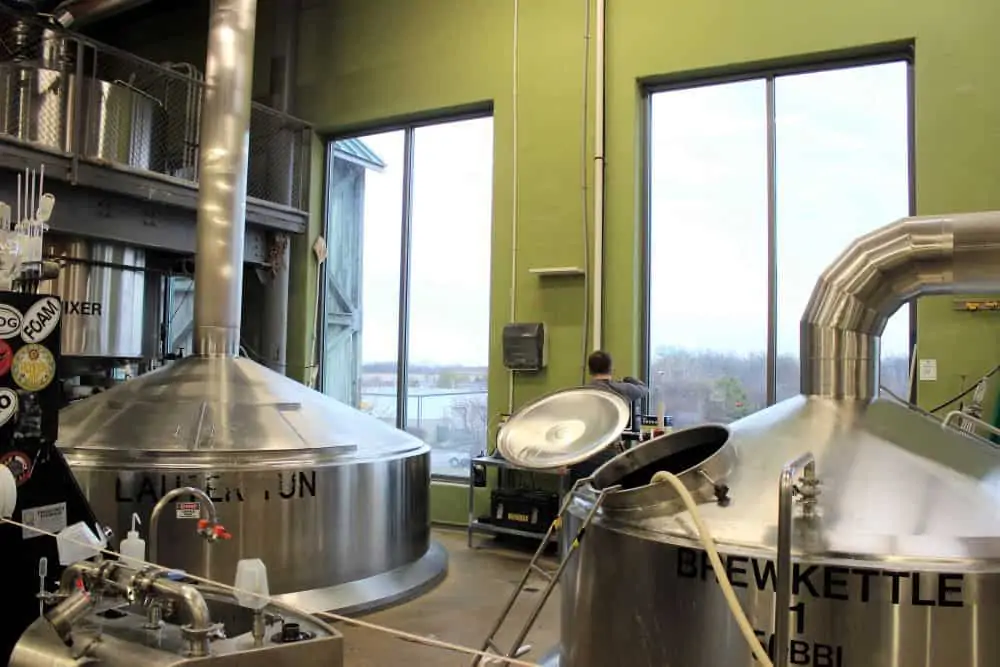 Not only would our tour guide explain the entire process at each stop of the tour, but also it was a great excuse to sample more beer.
I like this place!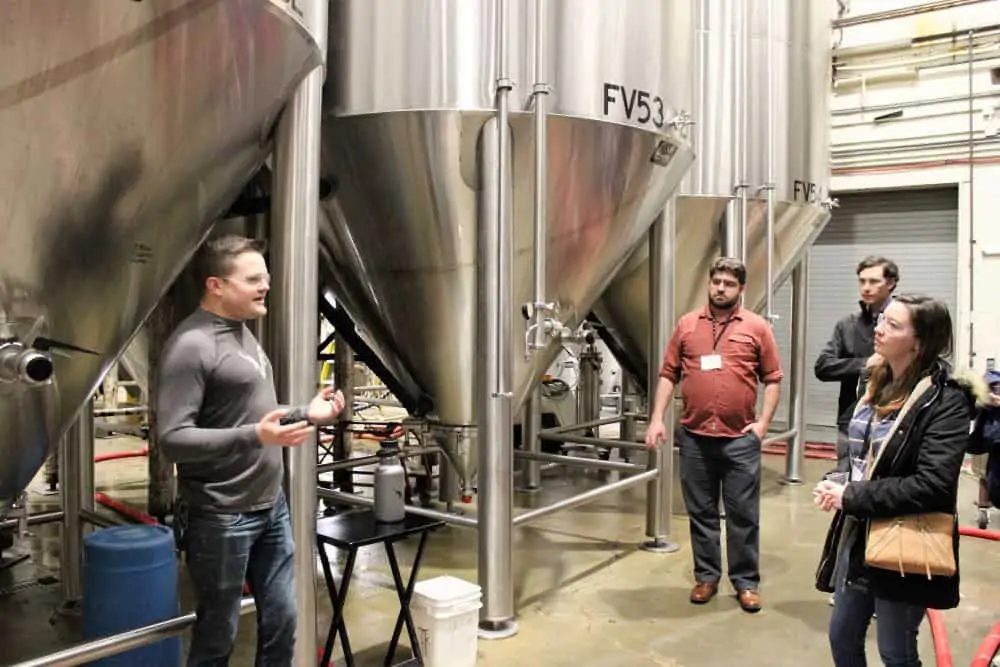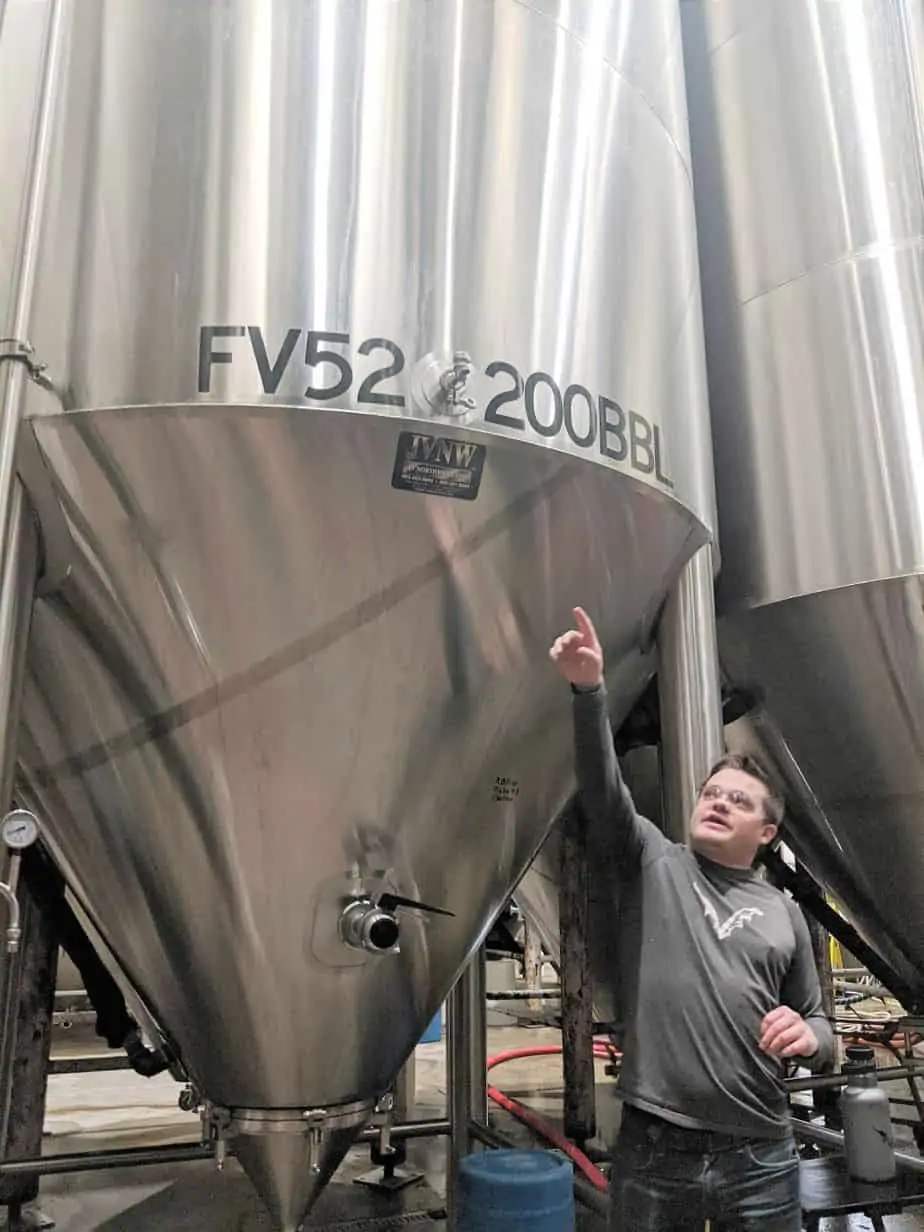 Interestingly, the boots that hang from the rafters of the brewery are boots of previous brewers.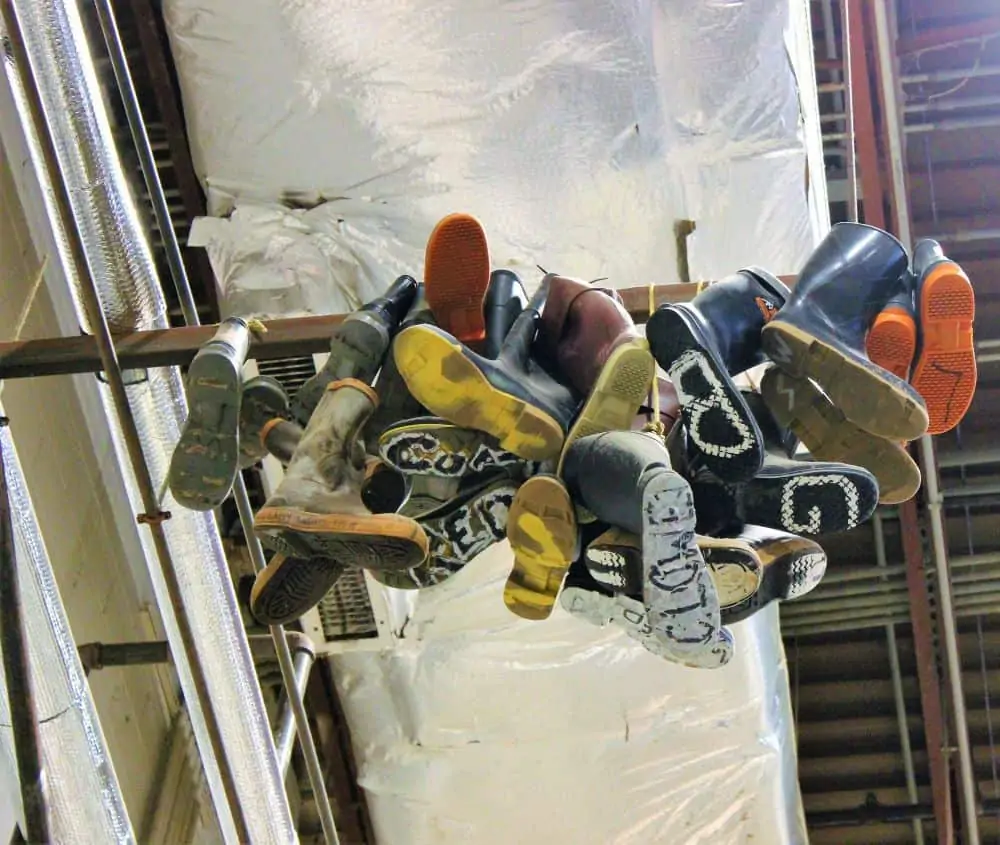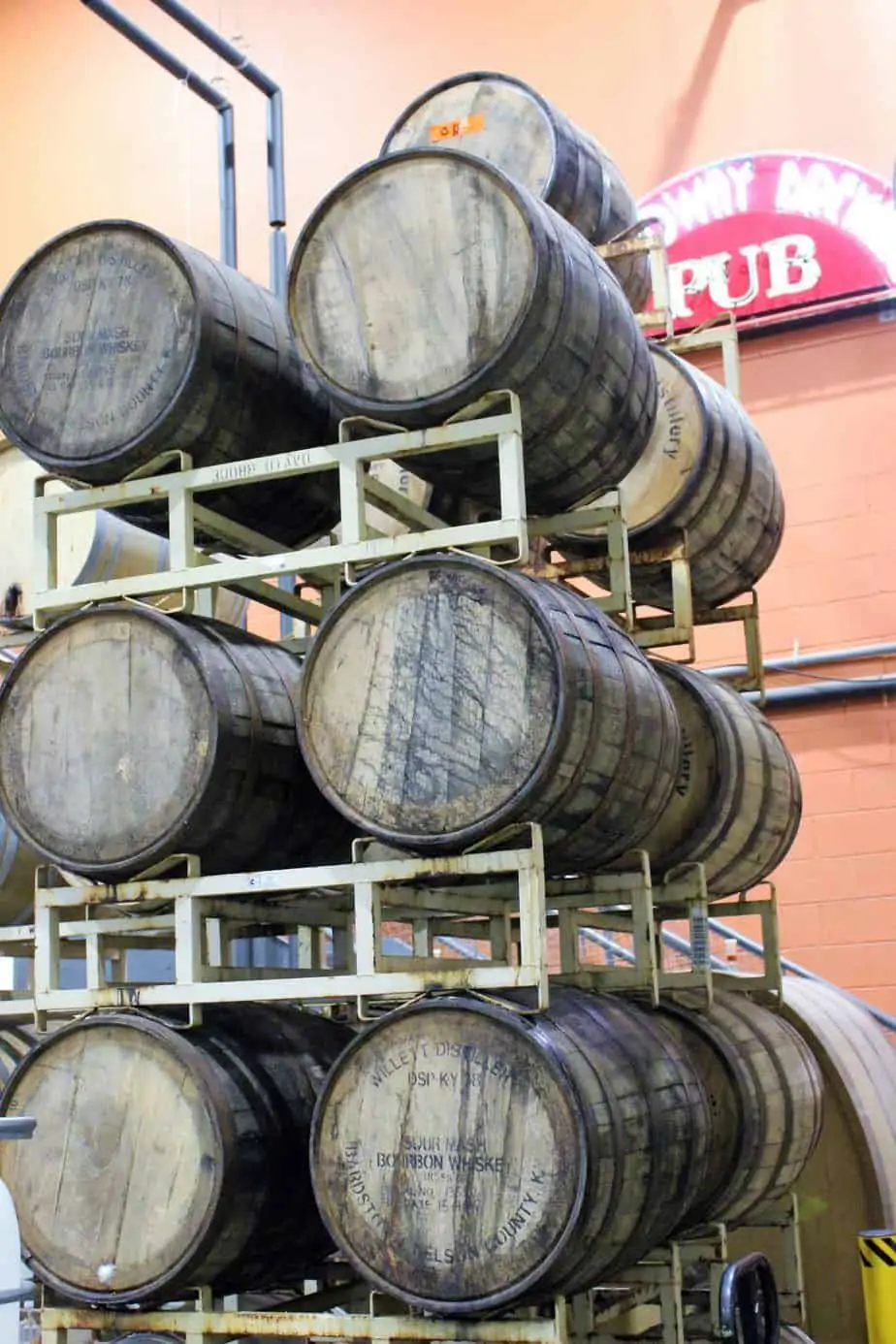 Flying Dog Private Event Rentals
So, who wouldn't want to have their next event at Flying Dog?
Indeed, you have options here:
Conference Room (Max capacity: 24) – Includes:

Large conference table
Dry erase boards
Markers
HDMI capabilities
A/V equipment
35 minute brewery tour

Classroom (Max capacity: 20) – Includes:

Classroom style setting with desks
HDMI capabilities
A/V equipment
35 minute brewery tour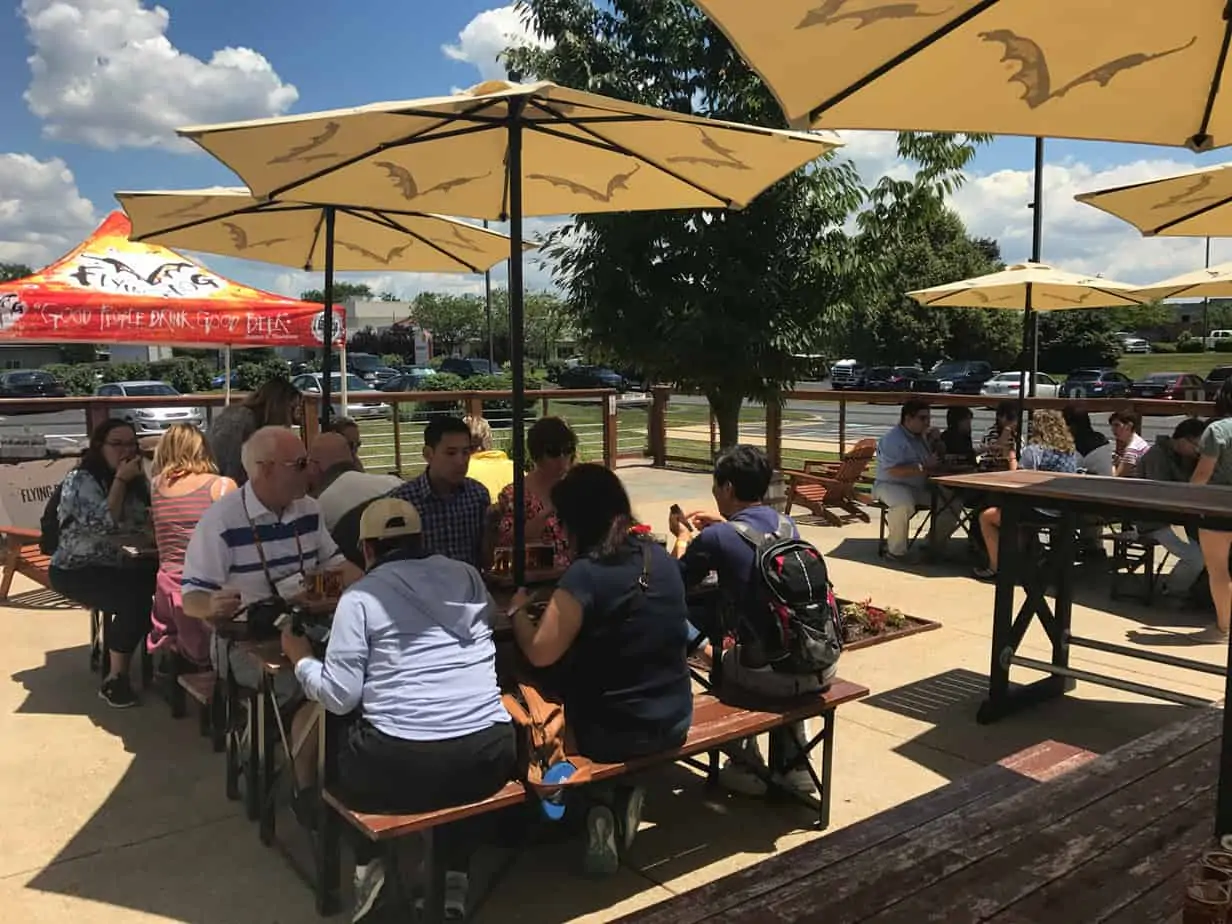 Half Patio Buy-Out (Max capacity: 50) – Includes:

Low picnic style tables with umbrellas
High cocktail tables
Lawn games
Heaters/Fire pits

Full Patio Buy-Out (Max capacity: 125) – Includes:

Low picnic style tables with umbrellas
High cocktail tables
Lawn games
Heaters/Fire pits

Tasting Room Buy-Out (Max capacity: 96) – Includes:

Projection screen
A/V equipment
Easel boards
Lastly, for more information regarding Flying Dog private event rentals, email Events Manager, Tori Meissner at [email protected].
Finally, I'd like to thank Flying Dog for hosting this FAM Tour.
I can now say that I've been there and can't wait to visit again with my husband and friends!