Disclosure: This is a sponsored post. All opinions are our own.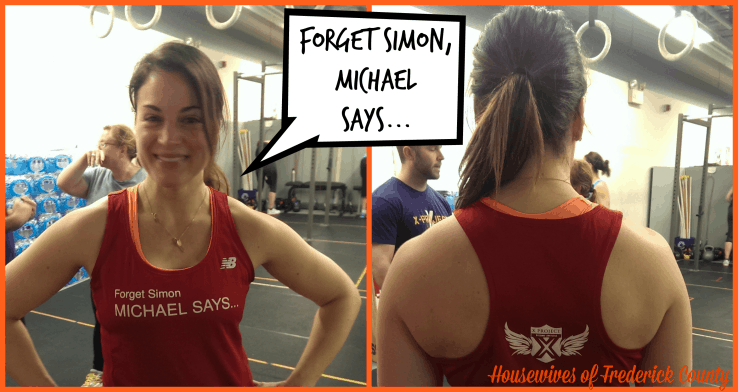 The gym that Pam and I work out at, The X-Project, is owned and run by Michael Gaines. Since Pam and I are 40-somethings (ya know it's the new 30-something, right?), we were definitely hesitant, before joining, to approach Michael about becoming a part of The X-Project family.
In both of our minds, it was a gym full of young body builders, and Michael was probably going to be a quick-talking, salesman who thought his sh*t didn't stink.
That ended up being true – I kid, I kid!!
We discovered, after about 10 minutes with Michael, that this young man is wise beyond his years, passionate, full of life, extremely driven and so giving.
This guy truly cares about each and every one of his clients, and treats each of us as part of his gym family.
I know I can speak for everyone at the gym when I say that Michael can be VERY effective when trying to get his point across.
He is very influential, motivating and inspiring.
Some of his "sayings" really stick – and you may hear them time and time again.
I will call them "Michael-isms".
So, without further ado, I'd like to share some "Michael-isms" with YOU – with a little help from some of my friends at The X-Project:
" You did one of those mock boot camp workouts? ……. Awww, that's cute."
"Just do you!"
"Simple solutions for complex problems."
"Smile or get the hell out!"
"You won't get results unless your outfit matches from head to toe."
"Have you been practicing these at home?"
"The only thing that matters is how ya look naked."
"You got this!"
"You're going to feel so good when you're done!"
"Never tell me you can't!"
"Eat 30g of protein within 30 minutes of waking up."
Evidently, Michael is just as disciplined at home as he is in the gym! He often writes his goals on the bathroom mirror – thank you Heather for sharing this with me!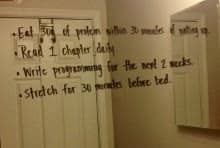 I love the ambition – so inspiring!
It turns out – a lot of us at The X-Project bring home these "Michael-isms" and share them with our spouses and families.
I'm sure that in many of our homes, you will hear "Well, Michael says…..".
And, because of this – a t-shirt was even born!
And, if you don't think that having extrinsic motivation is important, you are so wrong.
Just this past week, I decided that I needed to skip Wednesday morning's work-out to get some things done. I proceeded to "make up" for it by walking on my own time on Thursday evening.
While I'm very proud of myself for making that effort, I realize that the "work-out" I got on Thursday evening was nowhere near the work-outs we do together at The X-Project.
And, how am I able to reach my work-out potential during these tough classes? I owe a HUGE part of it to these very "Michael-isms", as well as the encouragement of my teammates.
So, tomorrow morning, try eating 30g of protein within 30 minutes of waking up and….just do you!!
Terri is married and has 2 sons – both high schoolers! She has lived in Frederick since 1994 and absolutely loves exploring and discovering new parts of our town.
read more...