Fried Chicken Tacos – um, yeah – I wouldn't choose to eat these normally.  They just don't really sound good to me.  BUT, let me assure you – they are SO FREAKIN' GOOD!  A few weeks back, my husband, my father, my brother-in-law, and my 3 brothers all went on their annual outing to a Washington Nationals baseball game in the Lexus Presidents Seats.  Described by the Washington National's website, "Lexus Presidents Seats have access to the Lexus Presidents Club. Inside the Lexus Presidents Club, members enjoy sophisticated comfort, exceptional service and enhanced amenities, highlighted by complimentary gourmet chef's tables and all-inclusive draft beer and house wine amidst the elegance of a fine dining setting. This private club also includes two window walls that offer an insider's view of the home batting cage and press conference room."
This is such a fun experience for them!  Their seats are usually REALLY close to the field, behind home plate.  But, one of the things that they love about this experience is the delicious food that is included.  You know the food must be pretty good when your husband is on a guys outing, that includes sports, one of his all-time top 3 sports, watching his FAVORITE pro baseball team, with all-you-can-drink beer……and the picture he texts me is of the food!
When Kenny returned home, he raved about one particular entrée he ate at the game.  You guessed it – it was the fried chicken tacos.  He loved it so much that he was compelled to replicate it for me and the kids.  Big problem though – he didn't have the recipe.  So, he went online, on a mission to find this particular recipe for fried chicken tacos!
Unbelievably, he was able to find what he thinks is the same recipe for what he ate at the game.  He found it on The Washingtonian's website, and it originates from a Boston-based chef named Michael Schlow.  He has recently opened up a restaurant in D.C. called Tico!
So, without further ado, I give you Fried Chicken Tacos with Fennel Slaw and Spicy Buttermilk!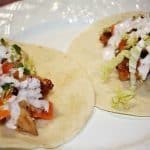 Print Recipe
Fried Chicken Tacos with Fennel Slaw and Spicy Buttermilk
Ingredients
- For the Chicken

- ½ pound

approximately boneless, skinless chicken thighs

- 1 cup buttermilk

- 1 pinch cayenne

- 1 pinch salt

- 1 pinch black pepper

- 1 cup flour

- ½ cup cornstarch

- ½ cup finely ground panko bread crumbs

- Special equipment: A heavy pot

canola oil, and a thermometer for frying

- For the Fennel Slaw

- ½ head of fresh fennel

thinly sliced

- ½ red or green jalapeño

thinly sliced

- ¼ red onion

thinly sliced

- ¼ cup thinly sliced carrot

- 1 tablespoon fresh cilantro

chopped

- 1 tablespoon lime juice

- 2 ounces extra-virgin olive oil

- Salt and pepper to taste

- For the Buttermilk Dressing

- ½ cup buttermilk

- ¼ cup sour cream

- Large pinch of cayenne or dried chile de arbol powder

- Salt
Instructions
Cut the chicken into thin strips.

Combine buttermilk, cayenne, salt, pepper in a bowl, place chicken in the mixture, and soak for 2 to 12 hours, depending on how much time you have. The longer it soaks, the more tender and flavorful it will be.

When you're ready to fry, set a heavy pot on the stove and heat oil until a thermometer registers 375 degrees.

Combine flour, cornstarch, and panko in another bowl.

Remove chicken from buttermilk and place in flour mix; coat evenly.

Place chicken strips in fryer and cook until golden brown, about 5 to 6 minutes.

Combine all Fennel Slaw ingredients in a bowl and marinate for 1 to 2 hours in the refrigerator.

Combine all Buttermilk Dressing ingredients in a bowl and mix until smooth.

To assemble the tacos:

4 six-inch corn tortillas

Fried chicken

Fennel slaw

Buttermilk

Cilantro and lime wedges to garnish

Char tortillas lightly on an open grill or griddle over high heat.

Cut the crispy fried chicken into small pieces and divide evenly on the tortillas.

Top with the fennel slaw, and spoon the buttermilk dressing on top.

Garnish with cilantro leaves and lime wedges (optional).
The recipe states that it makes 4 tacos, so plan accordingly.  Although it's Fall, we are still having some warm weather right now.  And, with the Nationals now in their 2014 postseason run, I think it's more than appropriate to make this recipe!  Who knows – maybe it will bring them good luck!  Dig in, and go Nats!!
Terri is married and has 2 sons – both high schoolers! She has lived in Frederick since 1994 and absolutely loves exploring and discovering new parts of our town.
read more...