If you're like me and you desperately want to find out how to get rid of forehead wrinkles, read on.
I tried Frownies products just for this purpose and they really do work!
How to get rid of Forehead Wrinkles
Women's Aging Issues
I tried Frownies products mainly due to the frown lines in my forehead, but also to start taking better care of my aging skin.
Being a woman in my fifties, I am in tune to the fact that getting older takes a natural toll on my body.
The gray hairs have been around for years and I've become accustomed to getting my hair colored in order to hide the grays.
Expensive, but a necessary evil.
In addition, weight gain is something else that happens when you get older.
I've had weight issues all of my life, but have found that it truly does get more difficult to lose weight as menopause looms.
I've known for a very long time that to lose the weight, I need to eat less calories than I burn off.
A lot easier said than done.
how to get rid of forehead wrinkles and Frown Lines
Over recent years, I've noticed on myself a very common aging issue – the dreaded forehead wrinkles & frown lines.
And the age old question: How to get rid of forehead wrinkles? pops into my head.
Crows feet and other fine lines don't bother me too much so far.
But the deep lines in my forehead really bug me.
I've tried a few different cream products to help reduce the visibility of my frown lines, but, until now, I hadn't found anything that really helped.
How to Get Rid of Forehead Wrinkles When You're A Stomach Sleeper
What makes things worse is that I am a stomach sleeper.
As much as I try, I cannot get to sleep until I am on my stomach, hugging my pillow.
Because of this, my face is literally smooshed all night against my pillow.
It makes sense that in time, the consequence of sleeping this way will result in lines in my face, as well as puffy eyes.
Research for How to Get Rid of Forehead Wrinkles
I decided to go online and research my options for reducing my deep frown lines and for reducing the puffiness in my eyes.
First, I googled "how to get rid of forehead wrinkles" and videos of women using all sorts of patches, including Frownies popped up.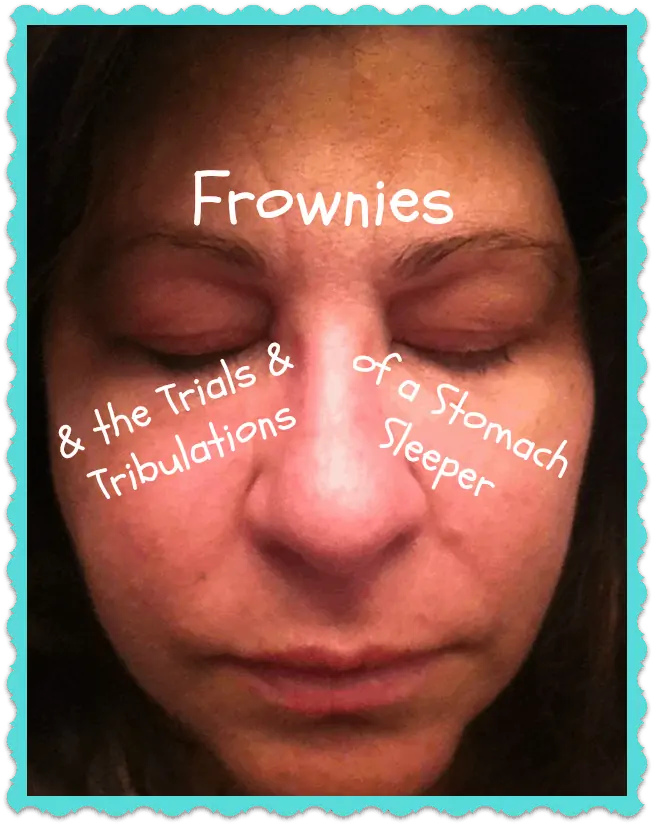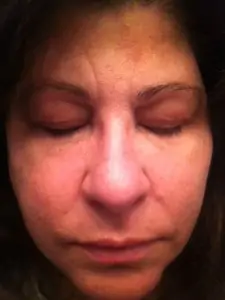 Bingo! I need to try Frownies!
Just the name alone tells me that they specialize in frown lines.
Hello! That's what I need!
Where to Buy Frownies
I had a hard time finding Frownies products in local stores.
Unfortunately, there aren't any stores near Frederick that carry Frownies.
So I went to my favorite online store, Amazon and ordered a box of the Frownies.
Frownies Facial Patches
After wearing these patches the very first night, I could see a visible difference in my frown lines.
They were still there, but definitely not as noticeable.
The directions say to wear for at least 3 hours or overnight.
I wear them overnight.
However, because I'm a stomach sleeper, they usually end up pulling off of my forehead.
BUT, they are still working for me.
The only thing is, you have to keep using them.
It's not magic.
They don't take away your lines forever, as much as I wish they would.
My husband told me I look like a Klingon when I'm wearing them.
But it doesn't matter because when I'm wearing them, he's already asleep anyway.
And I beg to differ.
I think I'd look more like a Klingon if I didn't wear the Frownies because my deep lines would get worse.
But if I were the Klingon pictured below, I probably wouldn't mind.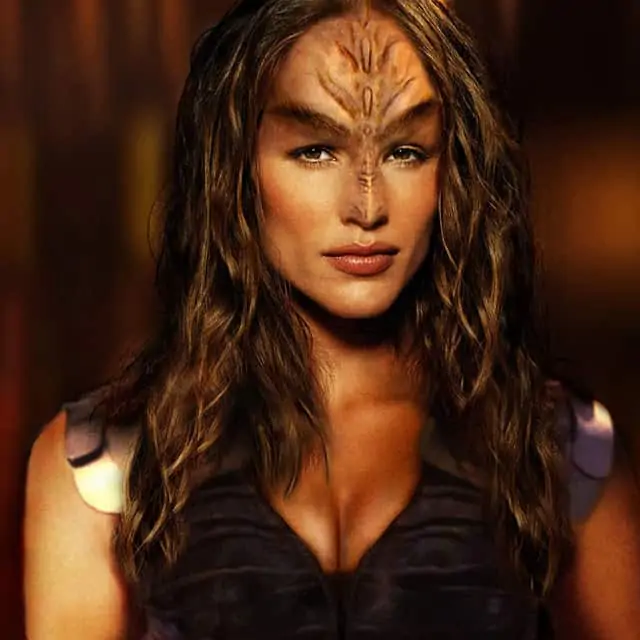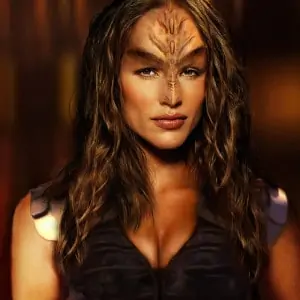 Other Frownies Products
Because I was so happy with the results that the facial patches were giving me, I wanted to contact the people at Frownies.
I asked them if they could send me more of their products so that I could write up a blog post review.
They happily obliged and sent me an entire kit full of wonderful products.
Frownies Eye Gels
They recommend that you use the eye gels 3 days in a row and then after that, use them once a week.
One issue I had with the Eye Gels was keeping them on my eyelids for 30 minutes.
You have to place them on your eyelids just the right way.
Because I have small eyes, the gels kept folding over.
So I had to re-adjust the placement every so often during the 30 minutes.
When I used the Eye Gels, I'd just lay back and watch TV.
The 30 minutes goes by fast.
The gels have a cooling sensation and really feel good on the eyelids.
My verdict: I believe they do work, but I didn't find a huge difference in the puffiness of my eyes.
I know I need to also drink more water and lose weight and that will also help.
I never tried them under my eyes.
These gels might work better for the under eye puffiness as opposed to the eyelid puffiness.
Again, my stomach sleeping habit does not help for puffy eyes.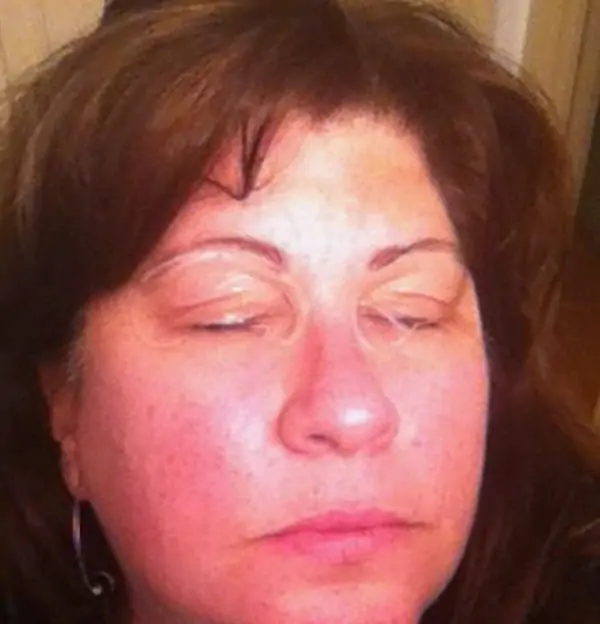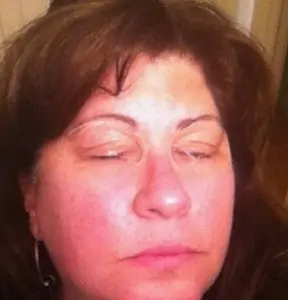 Frownies Complexion Wash
I keep this in my shower and use it to wash my face every day.
This Complexion Wash "is a concentrated soap-free glycolic wash that gently but deeply cleans the pores of imbedded oil, wax and trapped pollution build-up with enzymes from fruit sources.
The calming freshness of lavender essential oil and the cleaning power of soapwort and soap yucca help detoxify, balance, and clean the skin's surface without soap and detergent dryness.
A little goes a long way!" It really does.
You don't need much and I love the natural lavender oil scent.
My face feels totally refreshed!
And honestly, I do feel that it has given my face more of a glow, evened out the color, and reduced the redness in my face.
Frownies Immune Perfect Wrinkle Cream
After showering and using my Complexion Wash, I use the Frownies Immune Perfect Wrinkle Cream.
If you get this cream, don't be alarmed when you first use it.
It is brown in color.
At first I thought I got a bad batch of it.
But all of their products are "Truly, 100% Pure – never any artificial fragrances, synthetic chemicals, toxic preservatives, or any other unsafe ingredients.
Made only with the highest quality, organic nutrients available for your skin."
One of the reviews on their site says that this cream has a tint to it which gives your face an extra glow to it.
I'm down with that.
A natural glow is a good look for me.
I can't honestly say I see a huge difference in my face yet, but I have only been using it for about a week.
Check out the reviews for yourself though.
This cream gets high accolades from long-time users.
Frownies Immune Shield Vitamin E Serum
The Frownies Immune Shield Vitamin E Serum has "100% WHOLE Plant based ingredients containing whole form vitamin E, polypeptides, amino acids and phenols all great for fighting oxidation.
Stopping oxidation and skin damage is the fist step to younger looking skin.
The most difficult skin conditions like adult acne, dry irritations and fine lines around the mouth and under the eyes respond to Immune Shield.
Immune Shield is an after Sun care product addressing exposure to UV rays that cause redness (erythema) and leathery skin.
Vitamin E is a proven anti-oxidant that promotes healing and protects skin from scaring.
Vitamin E in Immune Shield will soften wrinkles, penetrate deep to promote softer younger looking skin.
When looking for topical vitamin E serum no other vitamin E product has this high percentage of active whole vitamin E as Immune Shield.
After showering, apply Immune Shield to any problem areas on the skin.
Also, use Immune Shield skin care serum for irritated areas or abrasions, and on any area needing healing after surgery.
Always consult your doctor as to when to begin applying whole, fully active Vitamin E serum to new scars.
Immune Shield's Vitamin E matrix is the most bio-available Vitamin E product on the market today."
I use this serum on my lips, which in the winter are always chapped.
Also, I use it on my fine lines and my acne scars.
I can't say that I see a miraculous difference, but over time I do believe that it can benefit me in the aging process.
Frownies Rose Water Hydrator Spray
Last, but not least, is the Frownies Rose Water Hydrator Spray.
This spray "compliments the pH balance of the skin and helps reduce the appearance of pore size as it begins to plump fine lines and wrinkles."
It is also an "antibacterial wrinkle treatment and helps prevent blemishes on the skin.
The anti-aging benefits of the rosewater and hyaluronic acid are a wonderfully refreshing pick up after exercising, during air travel or anytime a warm dry environment threatens to dehydrate and age your skin."
This spray can also be used with the patches and the eye gels.
Family Owned Business
Here's more about Frownies' history.
I really like the fact that they are a family business, they are all about natural ingredients, and they know the science behind it all to back it up.
Oh, and it doesn't hurt that Raquel Welch uses their patches, just like me!!
Here's to aging as gracefully as possible!!
Looking for other tips on aging gracefully?
Check out our post on How Eyebrow Threading Keeps You Looking Young and Arrojo Hair Products Equal Beautiful, Healthy Hair.