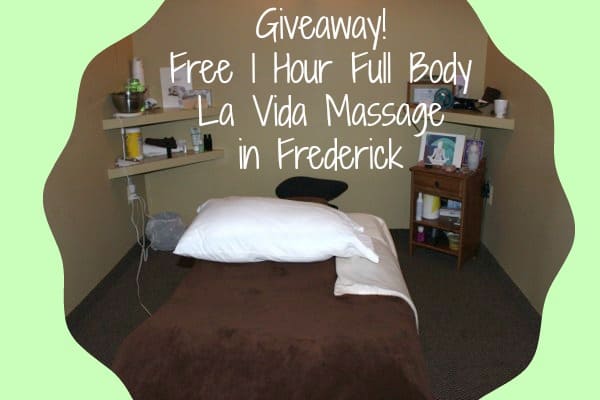 The Housewives of Frederick County and LaVida Massage are teaming up a giveaway!
We know you have questions, so here are your answers:
What are you giving away?
We're giving away a one hour full body massage with LaVida Massage in Frederick! This is a $60.00 value!  Please note: this does not include the therapist's tip at the end of the massage.  It is customary to tip 20% of the value of the service.
Do I have to purchase anything to enter?
No, you do not have to purchase anything to enter.
What are my odds of winning?
Your odds of winning are based on your number of entries.
What date do the entries start and what date do they end?
The entries will start on Wednesday, June 11, 2014 and will end at midnight on Tuesday, June 17, 2014.
When will the winner be announced?
The winner will be announced on Wednesday, June 18, 2014.
Who is eligible to enter?
U.S. residents 18 years and older are eligible to enter.
I'm new to Rafflecopter. How does it work?
It's so easy! Watch this 52 second video.
How do I submit an entry?
Click on the below Rafflecopter link to ENTER! You have the option to submit up to 7 entries per person through Rafflecopter. The winner will be randomly chosen.
a Rafflecopter giveaway

How will the winner be notified?
The winner will receive an email indicating that they have won.
How will the winner claim their free massage?
Once the winner is announced, they can contact LaVida Massage in Frederick by phone (240-310-9355) and schedule their appointment.
How long does the winner have to come forward to claim their prize?
The winner has 30 days to respond. If no response after the 30 days (by July 18, 2014), the prize will be awarded to another randomly chosen winner.
How many entries are allowed per person?
Each person has up to 7 ways of entering. Because we want to be fair to those who have genuinely followed the instructions in submitting their entries, we will be checking to ensure that the entries were submitted honestly before announcing our winner.
Can you tell me more about LaVida Massage in Frederick?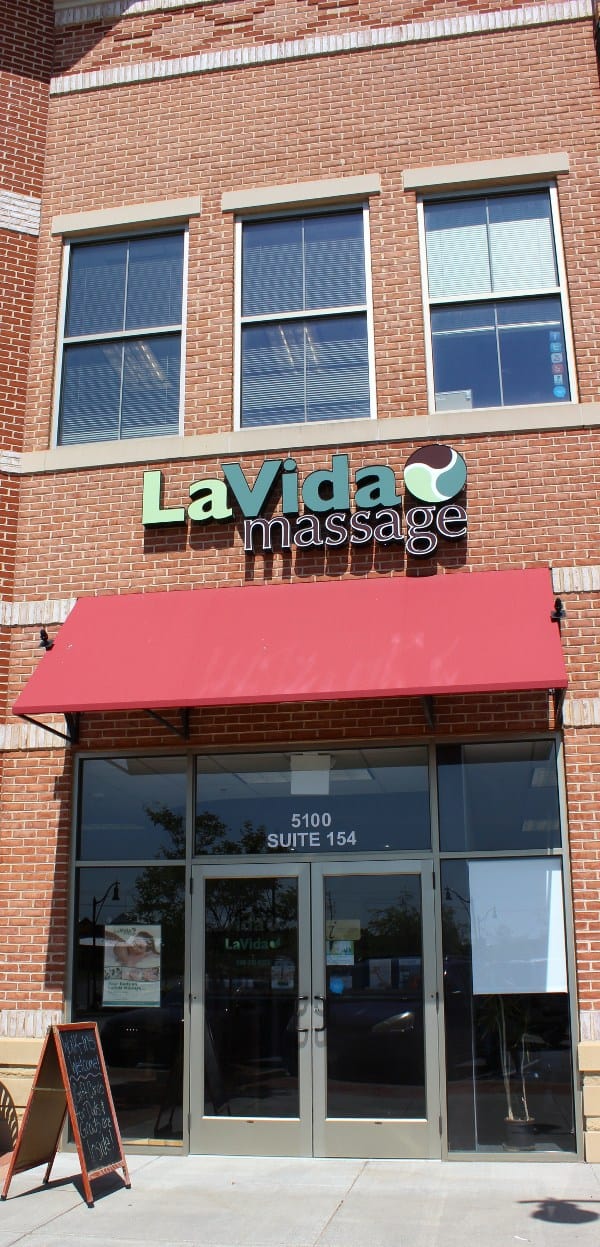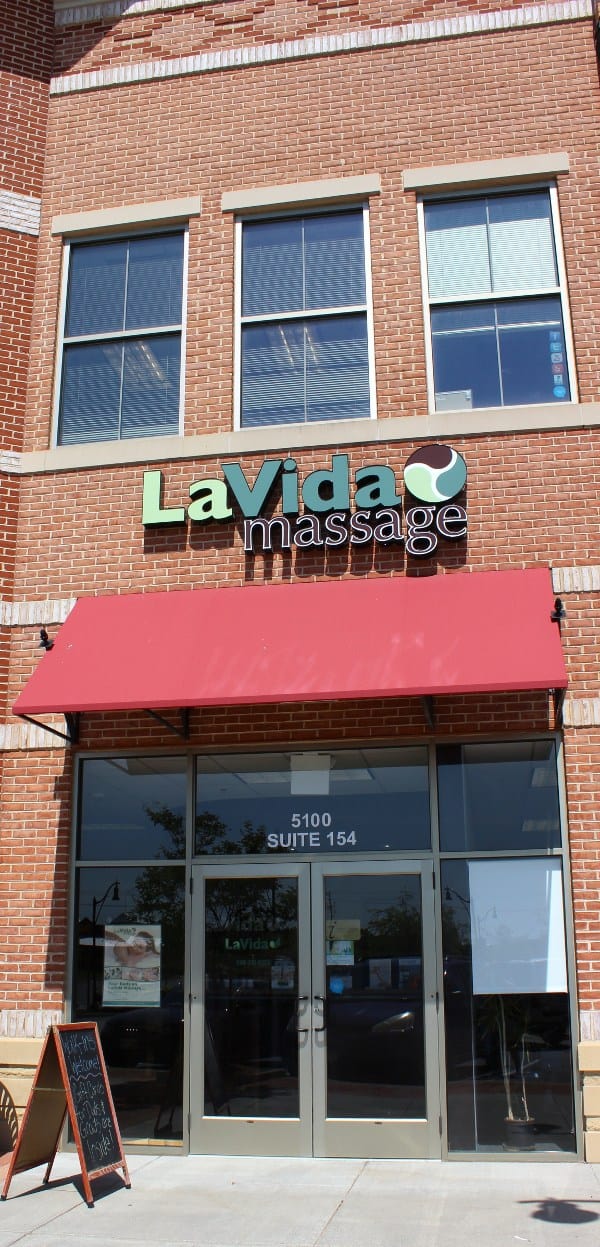 LaVida Massage is a "unique massage center that promotes health and wellness by providing therapeutic massage services for the whole family.  LaVida Massage is a comfortable, elegant yet friendly atmostphere that everyone can enjoy. "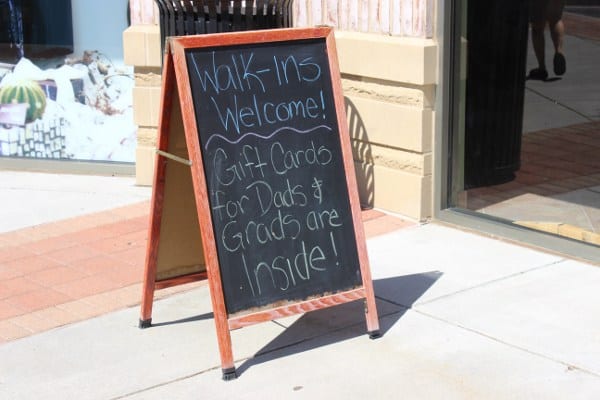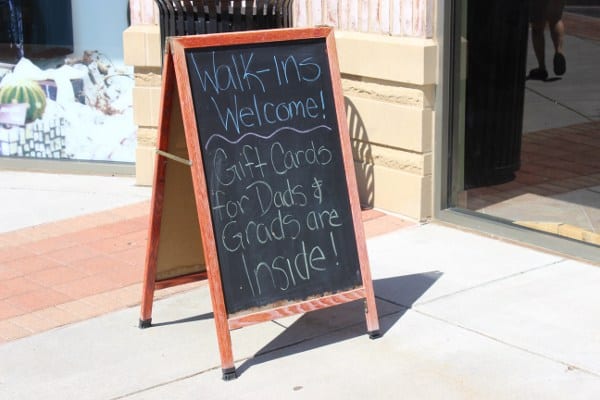 LaVida Massage is a franchise with stores located all over the country.  But just because it's a franchise, that doesn't mean that you won't be supporting a local business owner.  Jennifer Feeney, the owner and operator of LaVida Massage in Frederick, is a Fredericktonian herself.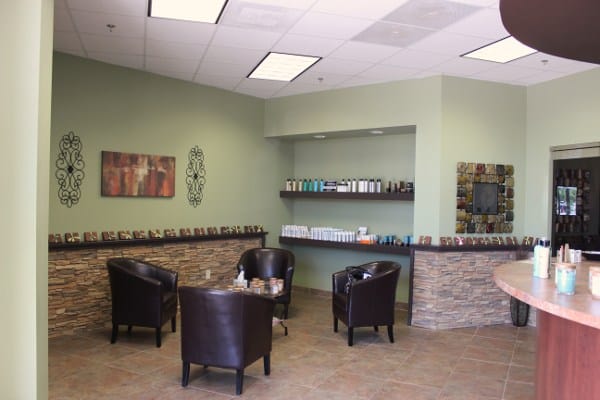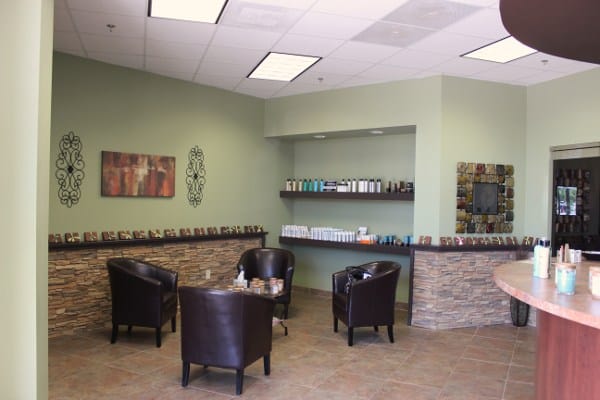 LaVida Massage in Frederick offers Relaxation/Swedish, Deep Tissue, Couples, Prenatal, Orthopaedic, Sports, Chair, and Hot Stone massages.  They also offer Reflexology, Trigger Point Therapy, Cranial-Sacral, Aroma Therapy, Biofreez, and Reiki Healing.  Their esthetic services include the LaVida Signature Facial, Designer Peel, Waxing, Jet Peel, and Ultrasonic Facial.  And, that's not all!  On top of all of this, they do Body Treatments/Wraps, Air-Brush Spray Tans, and Brow/Lash Tints.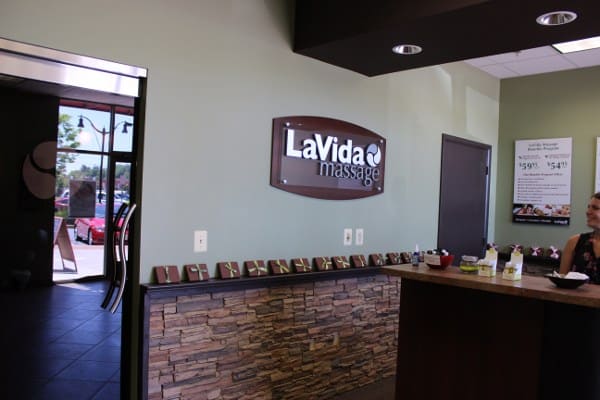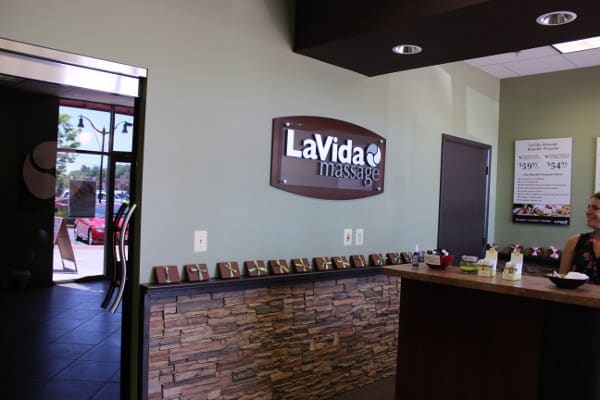 The health benefits of being a regular LaVida Massage customer are many – increased circulation and flexibility, enhanced sleep quality, greater energy, improved concentration, reduced fatigue and stress, decreased anxiety, enhanced immunity, improved body motion, relief from tension headaches, lower heart rate, and help with injury rehabilitation.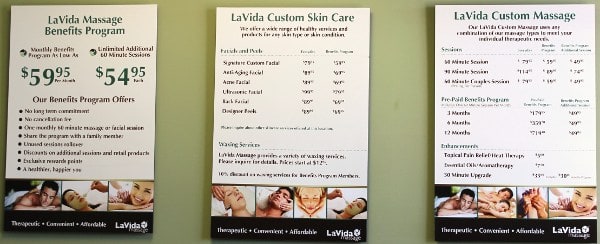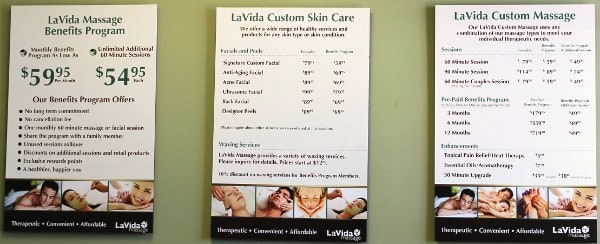 LaVida Massage offers a monthly Benefits Program that includes one 60 minute monthly custom massage session or esthetic service, their Family Share Plan (inquire with La Vida for details), discounts on retail products, Reward Points earnings, rollover of unused sessions, a no-fee cancellation, and no long-term commitment.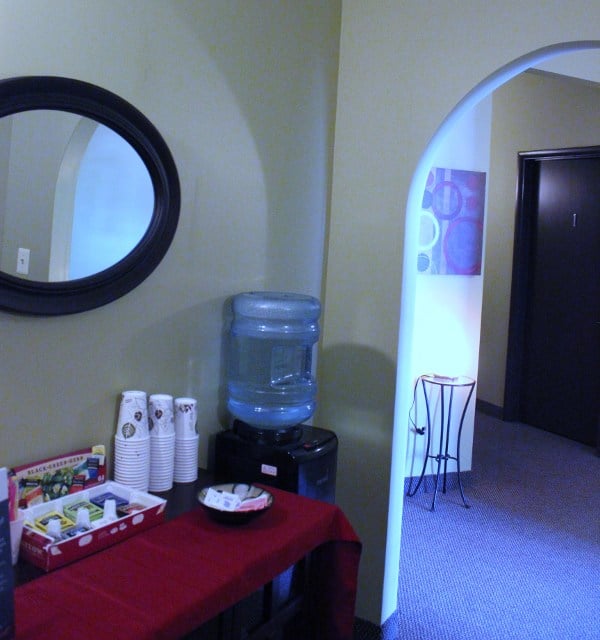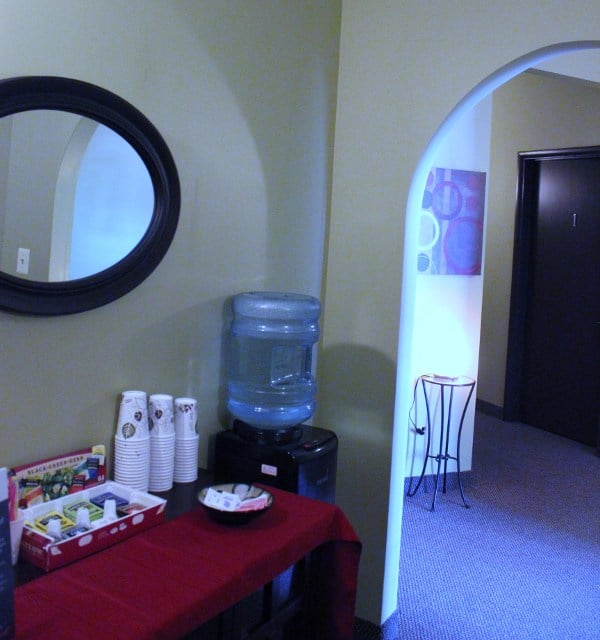 Terri and I were invited to LaVida Massage in Frederick to each receive a one hour full body massage.  When we received the invitation, we jumped at the opportunity to check LaVida Massage out and get a 'first-hand' (pardon the pun) experience with how LaVida Massage operates.  We were not disappointed.  From the moment we walked through the door, we suddenly forgot about the outside world and entered a tranquil, quiet, and soothing atmosphere.  We were directed to their pre-massage waiting area where there was comfortable seating and water and tea to drink.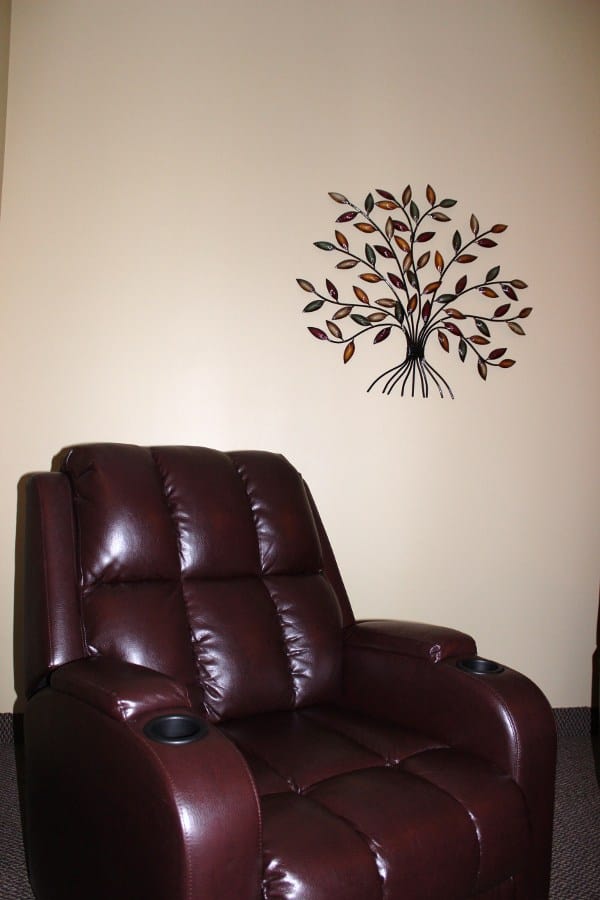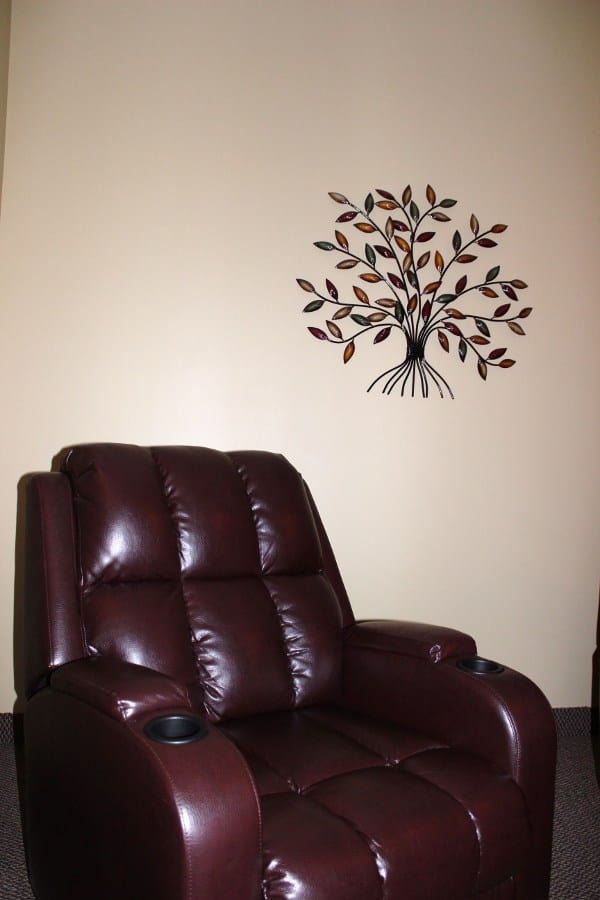 I was given a female therapist, Jill.  Terri was given a male therapist, Byron.  We were escorted to our separate rooms to begin our massages.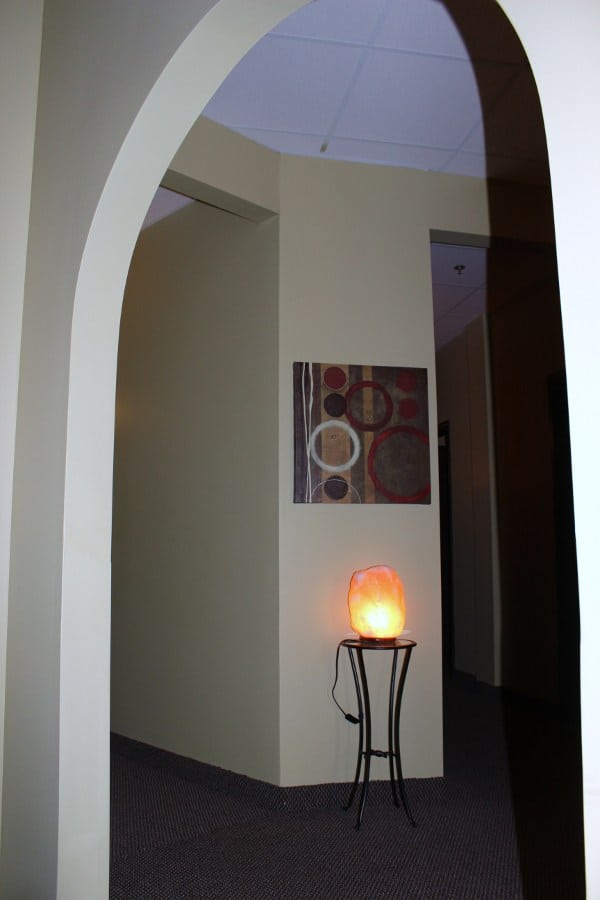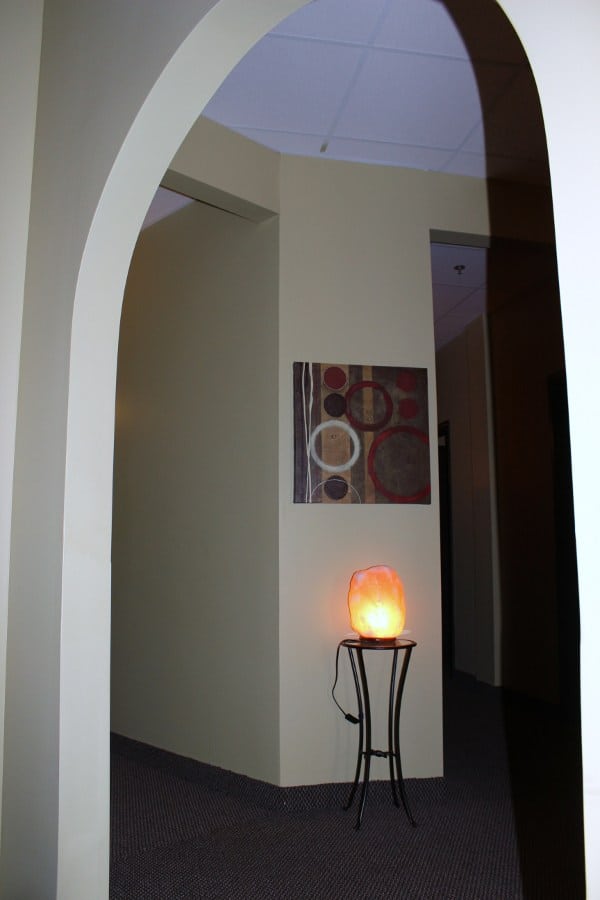 The rooms were very peaceful and quiet with white noise in the background, along with very comforting and relaxing music playing.  Jill asked if I had any areas that I would like for her to concentrate on or avoid and I told her no.  She instructed me where to put my clothes and belongings and told me that I can disrobe to my comfort level and get on the massage table, under the covers, face down.  Just typing this, I can see how, for some people, this would be very uncomfortable to do.  I've had full body massages before, so I knew the routine and was totally comfortable with it.  I didn't know Jill, and was fine with the fact that she'd be giving me a massage.  She's trained at it and was very professional.  Terri, on the other hand, had never gotten a full body massage plus she got a male therapist.  She was nervous before getting her massage, but Byron was very sensitive to this and assured her that her experience would be pleasant and comfortable.  Terri enjoyed having conversation with Byron during the massage, so the massage therapists here are flexible and will cater your experience to your personality!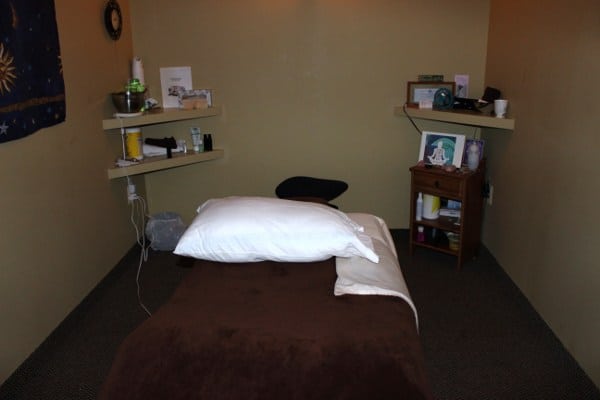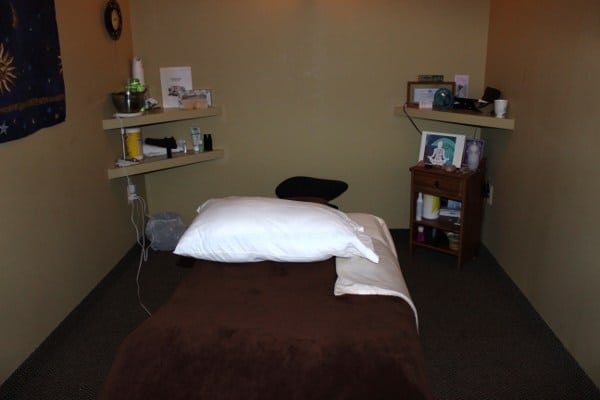 I really liked the fact that I could keep my personal belongings in the room with me.  I've been to other places in the past where I was given a key to a locker and had to put my belongings in the locker.  Because I had my nice camera with me and my purse, I was happy that it could stay with me.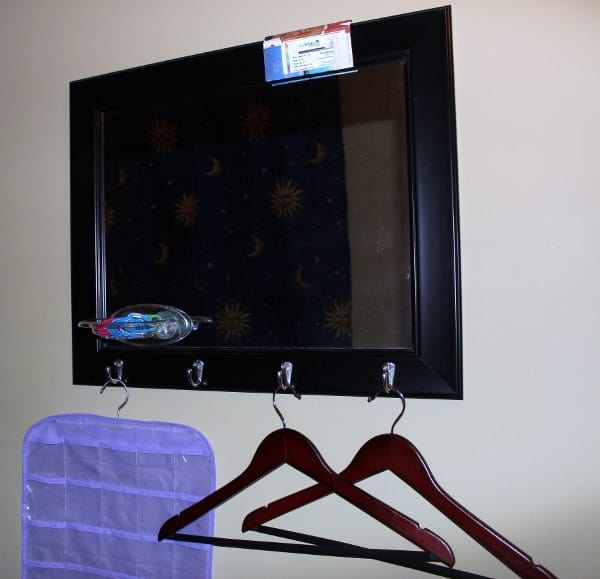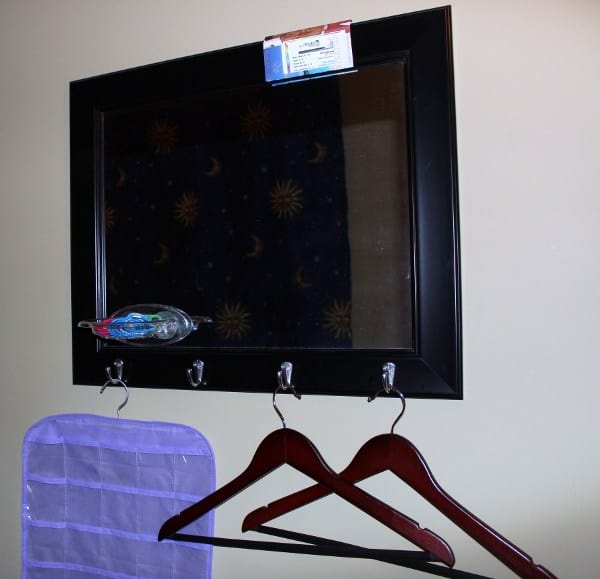 The massage was amazing.  At first I was a little uptight and it took me some time to deeply relax.  But I was impressed with the fact that Jill worked with me on getting as comfortable as I could, giving me a pillow instead of putting my face in the hole of the massage table.  She also asked if I needed the heat to the massage table turned up or down.  And whenever I would instinctively help her by adjusting my body so she could get to where she was massaging, she would gently tell me to stop and let her do the work.  Whenever I get massages, I don't like to talk.  I want to enjoy the massage as fully as I can without socializing with the therapist.  Jill followed my lead and only spoke whenever necessary.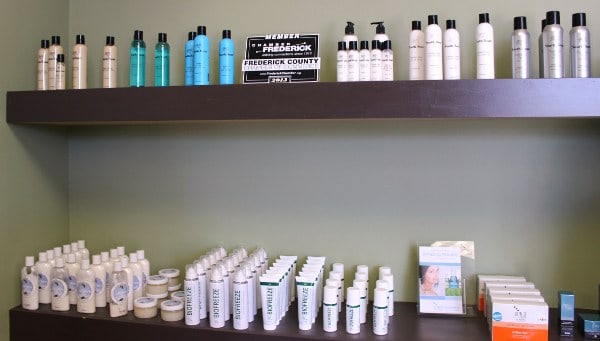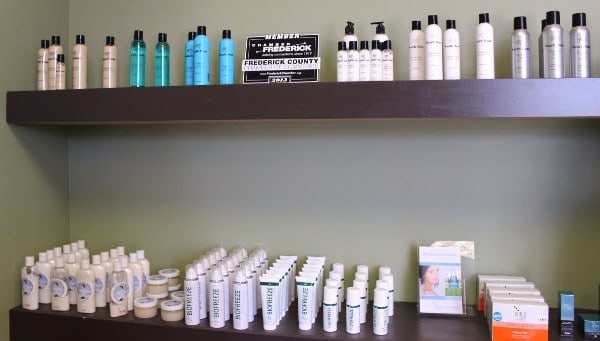 After the massage was done, I wished I could have at least another 30 minutes to enjoy.  But maybe next time.  They told me that some people come in for 120 minute sessions.  Wow!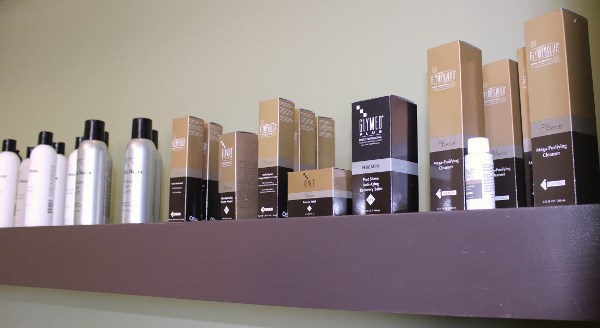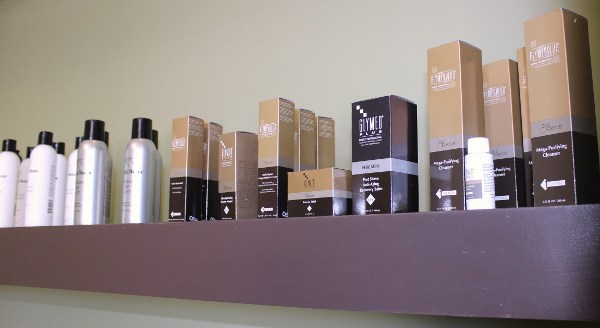 LaVida Massage sells products for anti-aging and healthy skin, aromatherapy soy candles, and Jane Iredale cosmetics.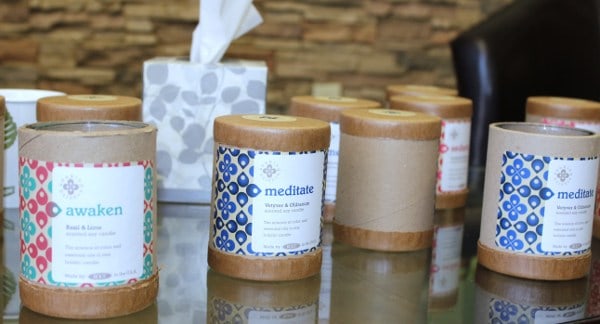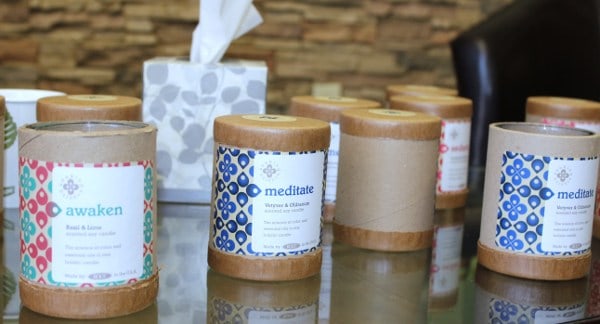 One thing to remember is to tip your therapist.  20% of the cost of the service is the customary tip amount.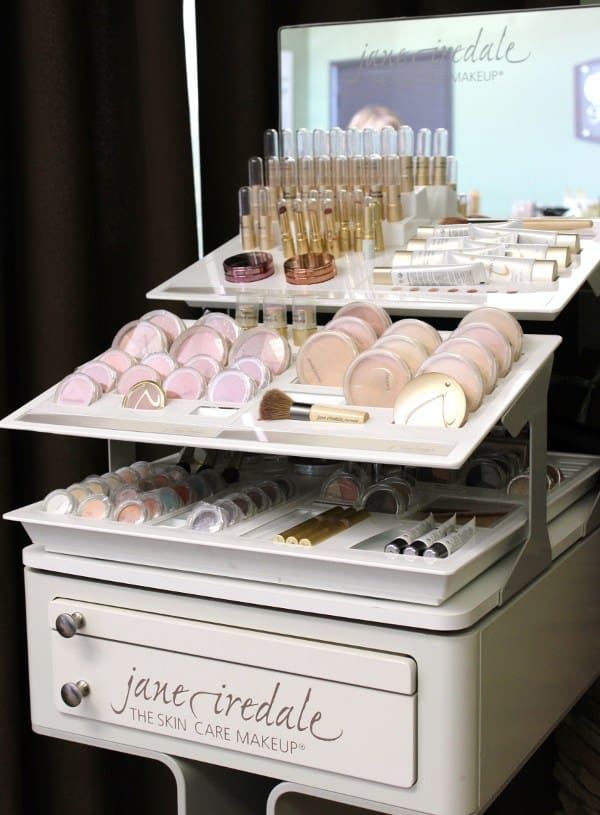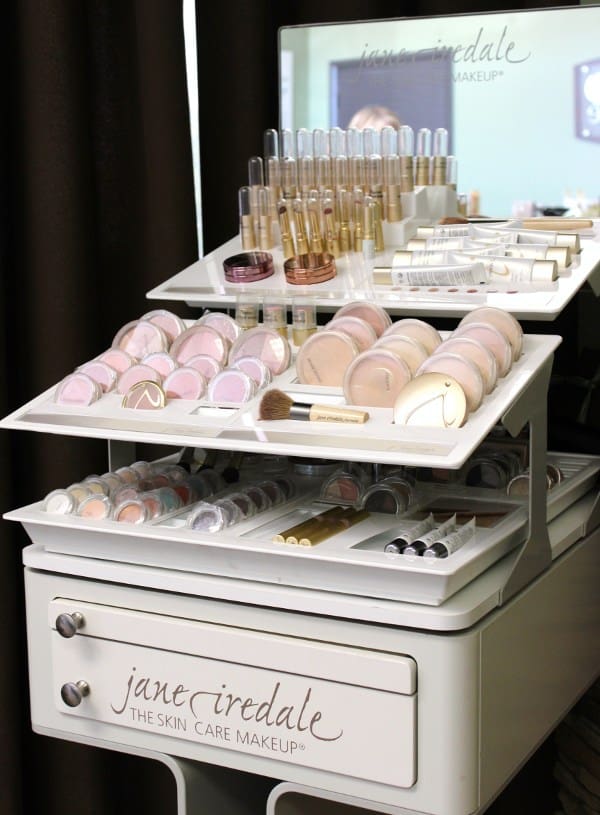 Here is LaVida Massage Frederick's contact information:
LaVida Massage
5100 Buckeystown Pike
Suite 154
Frederick, MD  21703
Westview Village
240-310-9355
www.lavidamassage.com
You can also find them here on Facebook, Twitter, and Instagram.
Good Luck Everybody!

Pam is married and has 1 son – a middle-schooler in his teen years. She followed Terri to Frederick in 1999. She absolutely loves going to yard sales and estate sales and finding hidden treasures.
read more...