The Braddock Inn is rich in history.
It was established in Braddock Heights, Maryland in 1903 as The Camp Schley Inn.
Nestled alongside the transport route developed and used by the famous General Braddock of the French and Indian War, The Camp Schley Inn was a popular stop for dignitaries, summer visitors and boarders.
Through the years, The Camp Schley Inn, later named The Braddock Inn, served as a boarding house, a restaurant, a hotel, and even a ski lodge.
Because the town of Braddock Heights was once a bustling resort town where people flocked to enjoy the gorgeous views, the cooler weather, and the popular attractions, The Camp Schley Inn was the perfect spot to frequent.
The inn has changed hands several times throughout its 112 years of existence.
Local townspeople have maintained high hopes that this historic inn be preserved as one of Braddock Heights most memorable remaining landmarks.
New owners, Carlo & Heather Dan intend to keep the hopes alive.
In May of 2014, they purchased what is now called The Braddock Inn.
They immediately got to work gutting and tirelessly renovating the inn from top to bottom, ensuring that this historic spot will remain a fixture in Braddock Heights for years to come.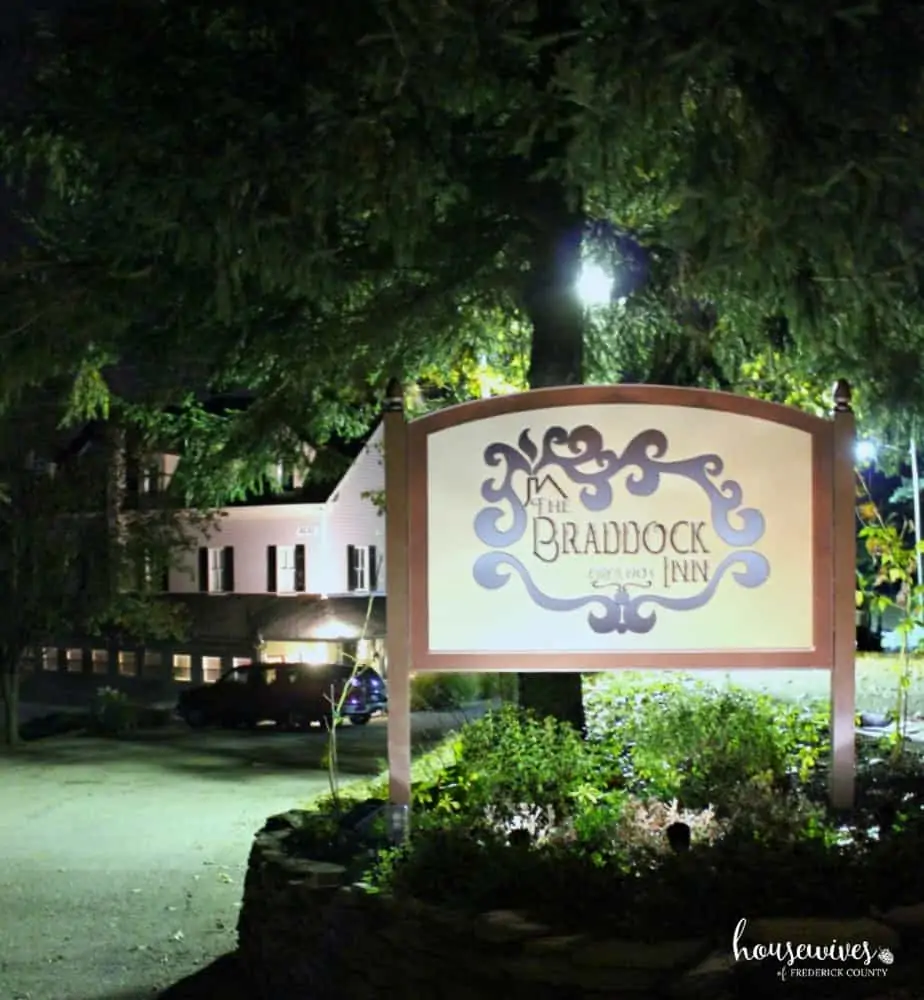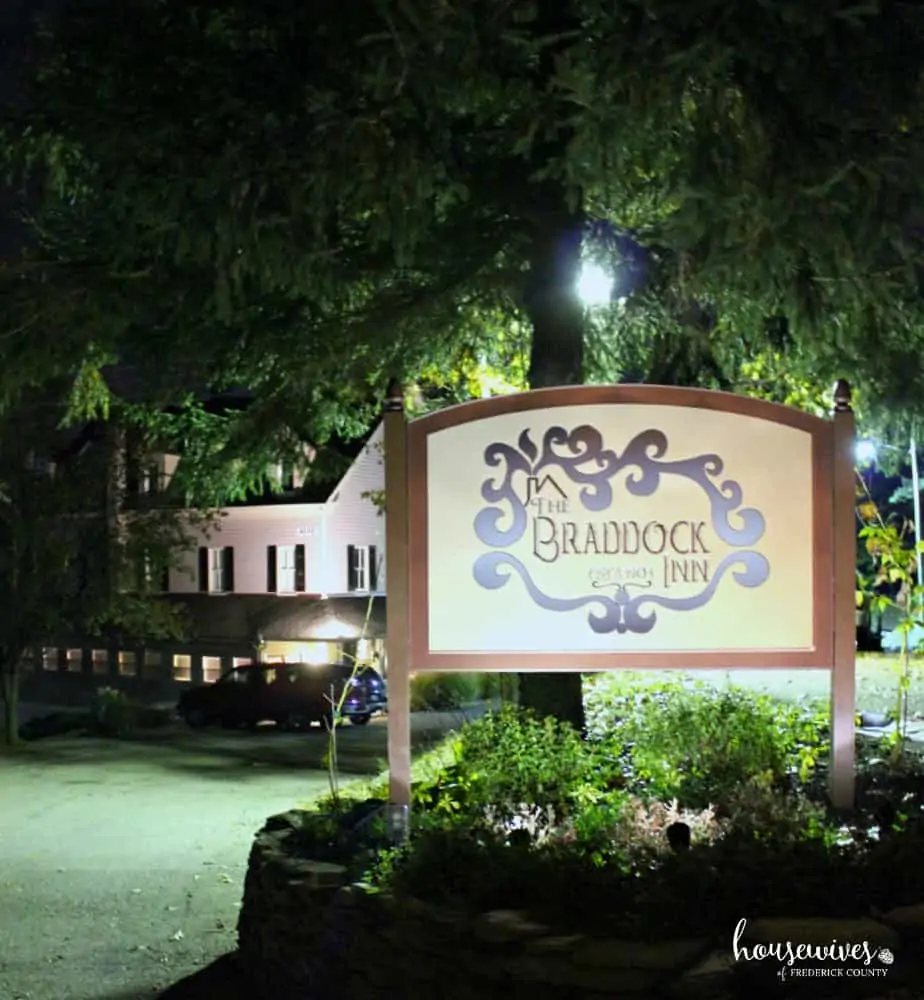 How to Revitalize a Historic Inn & Preserve Its Past
So how do you revitalize a historic inn and preserve its past?
Well, take a lesson from Carlo and Heather.
It takes a lot of hard work and perseverance.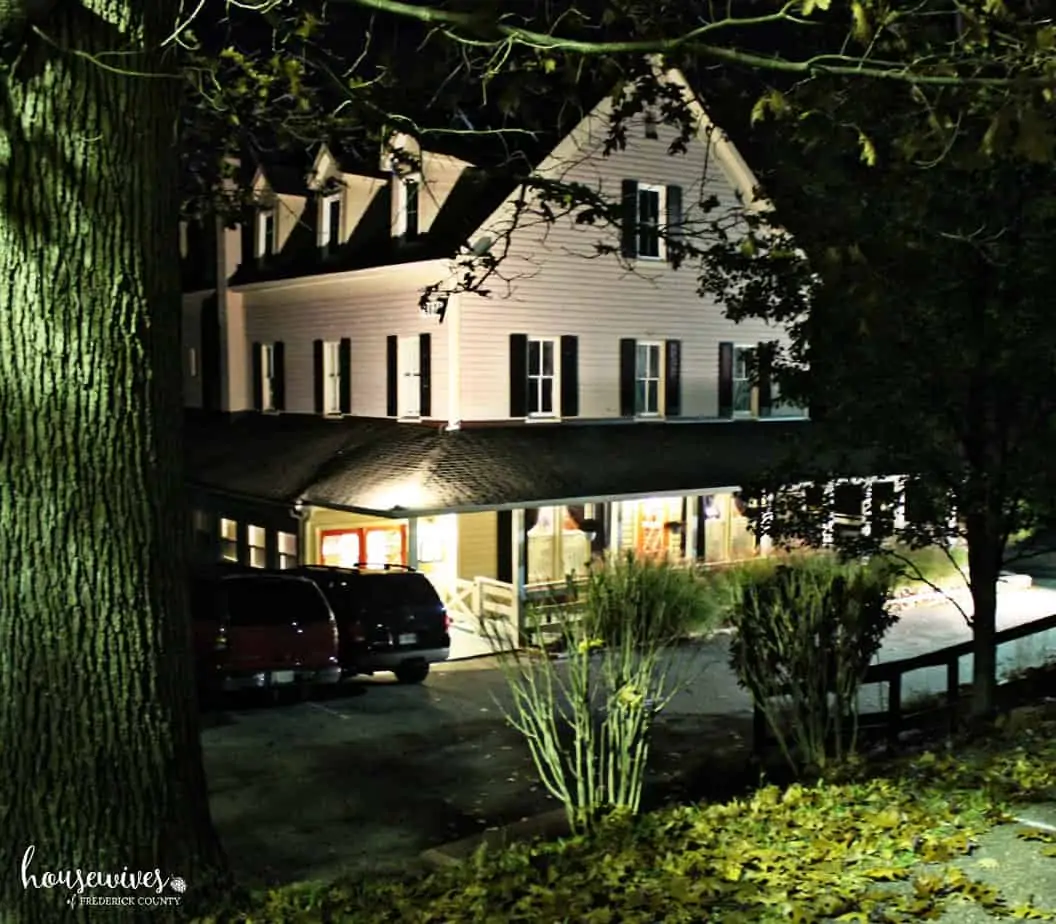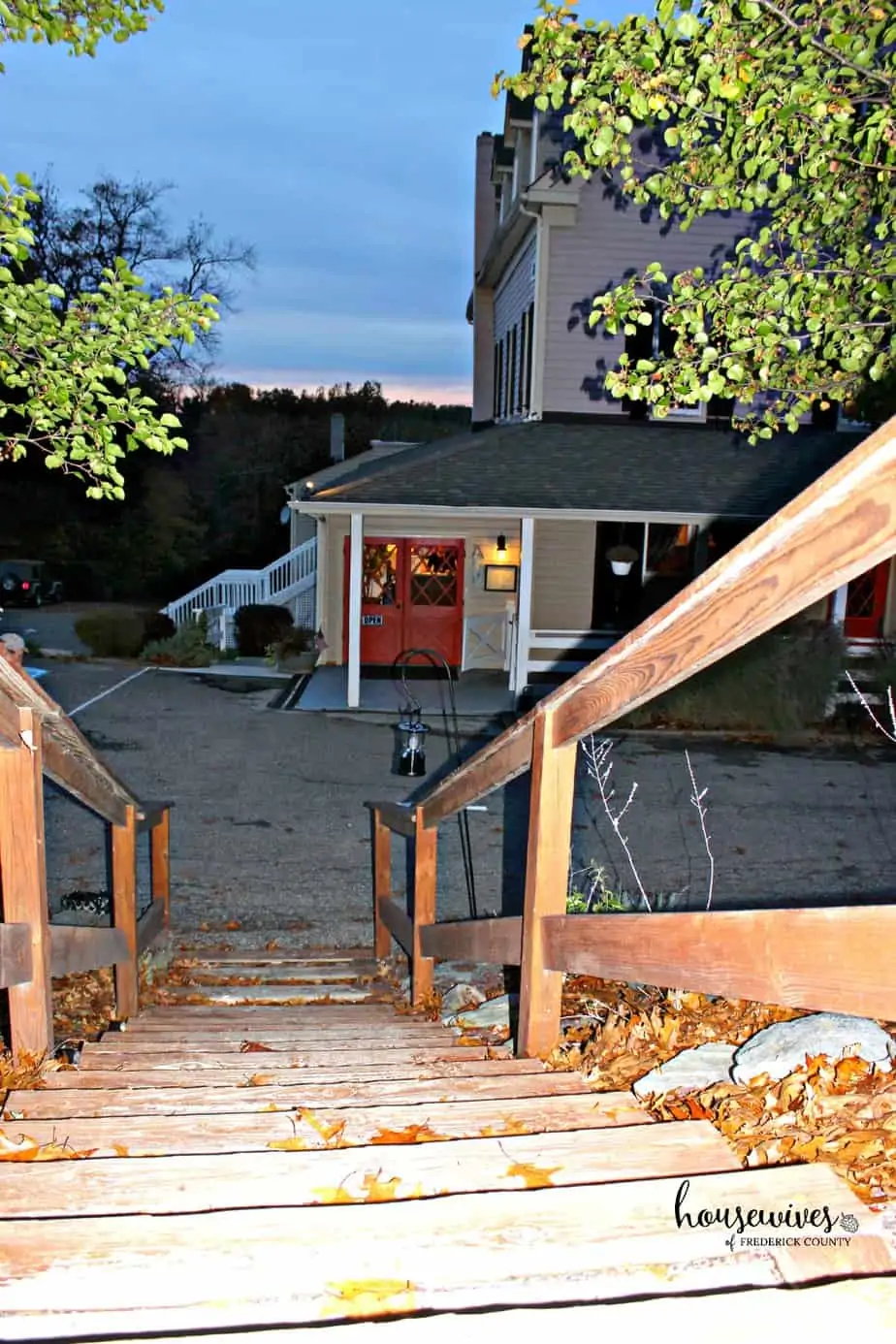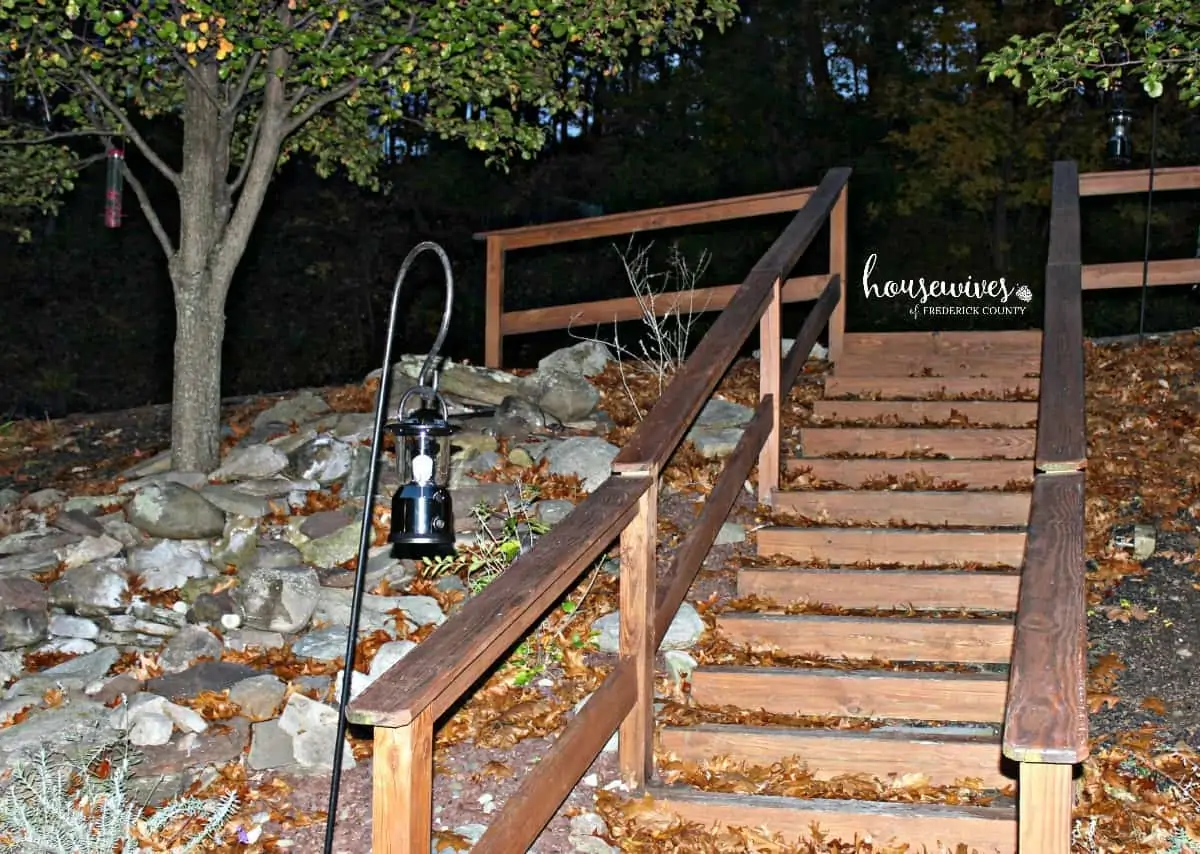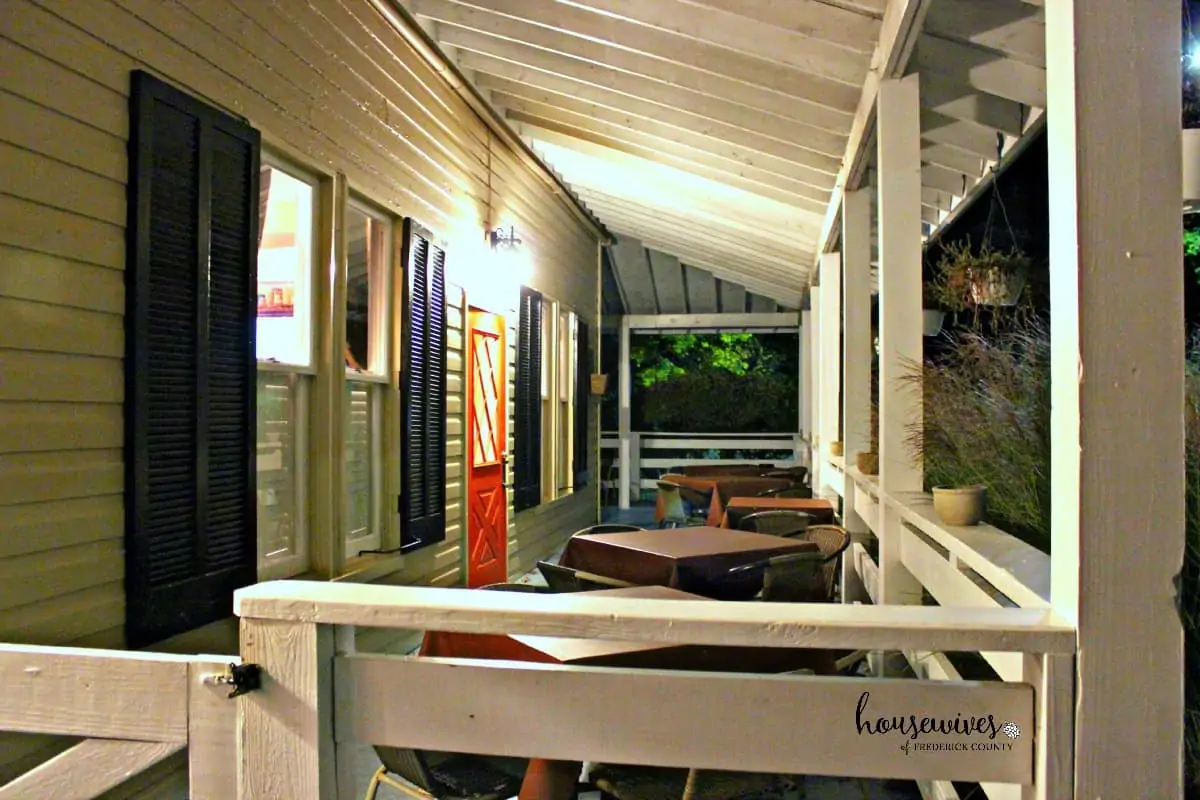 1. Be PASSIONATE and Prepared to Devote 110% of Your Time, Money, Energy, Blood, Sweat and Tears Into Your Project.
Ever since purchasing the building, Carlo and Heather have devoted every waking moment cleaning out, renovating, and upgrading the building.
Because the previous owner had owned the building for over 45 years and had leased it out to several restaurateurs through the years, it was in need of a LOT of TLC.
From painting to refinishing the beautiful wood floors to ensuring the structure is sound to re-grouting the kitchen floor, adding a smoker to the kitchen, replacing all of the kitchen equipment, furnishing the dining rooms with artwork, curtains, tables and chairs, having a porch sale to sell off years and years of accumulated and outdated electronics, tables, and old equipment…….and the list goes on and on.
As you can see from the photos below, it's truly been a labor of love.
And it's paid off.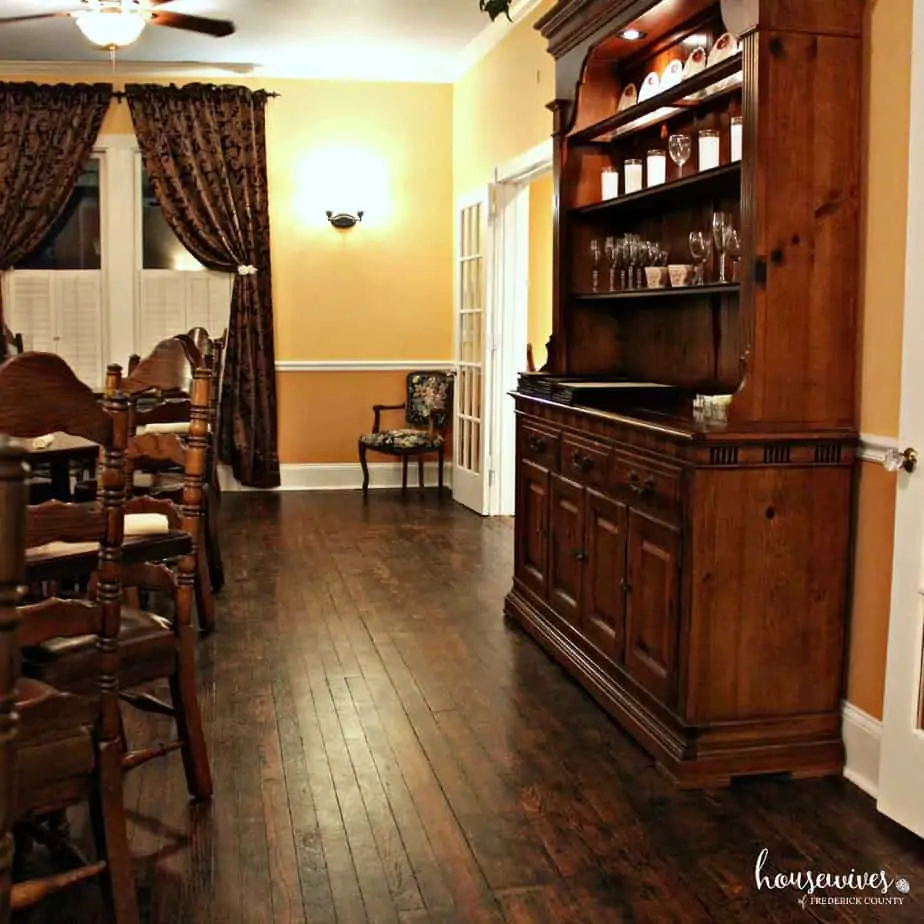 2. Have Enough Experience & Knowledge to Successfully Own and Operate a Restaurant.
The Braddock Inn's Owner and Operator has plenty of experience, and then some!
He started out working his way up from bus boy to General Manager at the Melting Pot in Rockville, working under Barry Berkowitz, a hospitality master.
After leaving Melting Pot, Carlo enrolled in culinary school and graduated Summa Cum Laude from The Art Institute of Washington.  He was the honors fellow for German Master Chef Edwin Scholly and performed his externship under Chef Scholly at AIW's in school restaurant, Culinaire.  Carlo also completed his level two certification with the International Sommelier Guild.
Since graduating, Carlo has been a manager at Vapiano's in Washington, DC, spent 5 years as Service Captain at Volt, mastering the steps of fine dining service and learning from Chef Bryan Voltaggio, AND worked as Service Director at Jack Rose Dining Saloon in Adam's Morgan.
With all of this experience in fine dining, fine spirits, and hosting, Carlo is the trifecta of what a successful restaurant needs.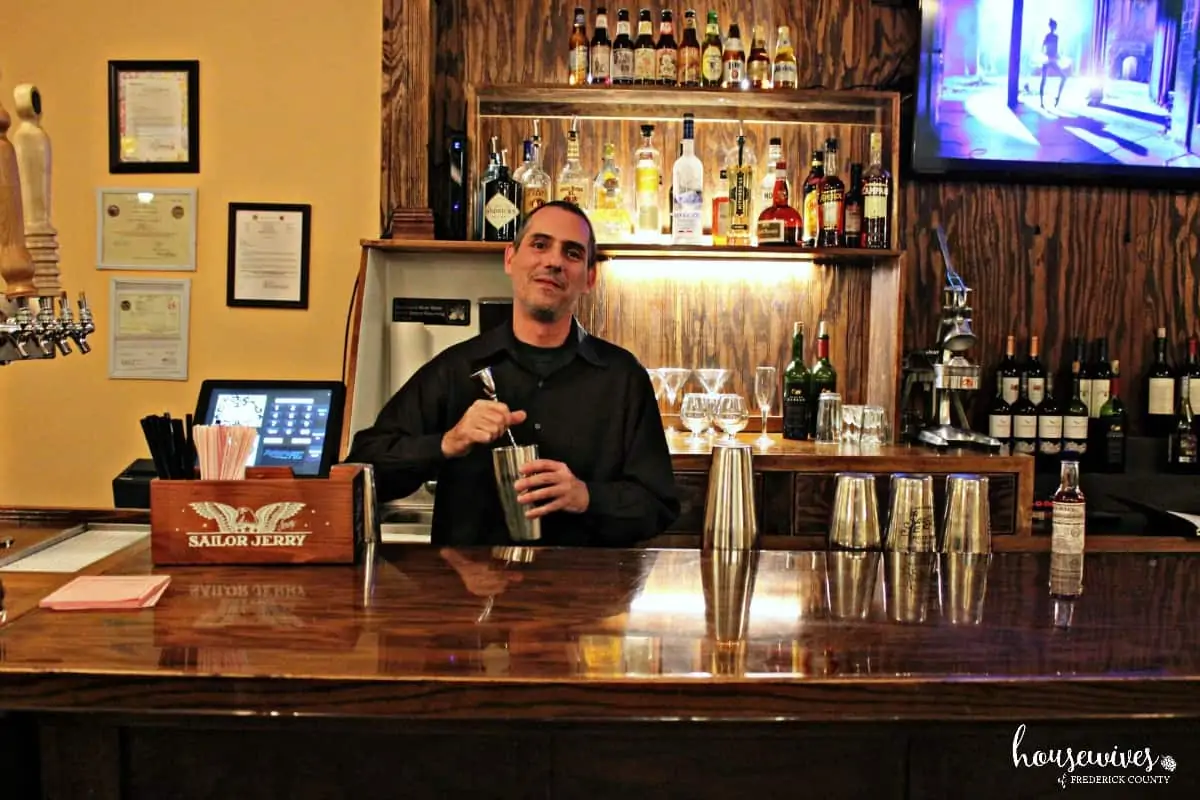 3. Serve Outstanding Food & Drinks.
The Inn operates a scratch kitchen run by Chef de Cuisine, Sam Neubauer.
The menu is eclectic, seasonal, and smoke driven drawing from Sam's southern heritage and Carlo's Cuban roots.
Chef Sam has experience working as Sous Chef for Whisky Creek Golf Club, then worked with Chef Bryan Voltaggio as a manager for Lunchbox in Frederick.  He also worked at Family Meal as a prep cook and then at Volt doing garde manger (pronounced gard man-ZHAY). He then worked as Sous Chef for Jack Rose Dining Saloon and lastly, was a cook for one of Richard Sandoval's restaurants, Masa 14.
My hubby and I decided to have our 12th anniversary dinner at The Braddock Inn.
This was our first visit there since Carlo & Heather reopened it.
And it didn't disappoint!
I'm no food writer by any stretch of the imagination.
But I do know good food when I see it and taste it.
The dishes my husband and I were served were freaking amazing!
How's that for descriptive?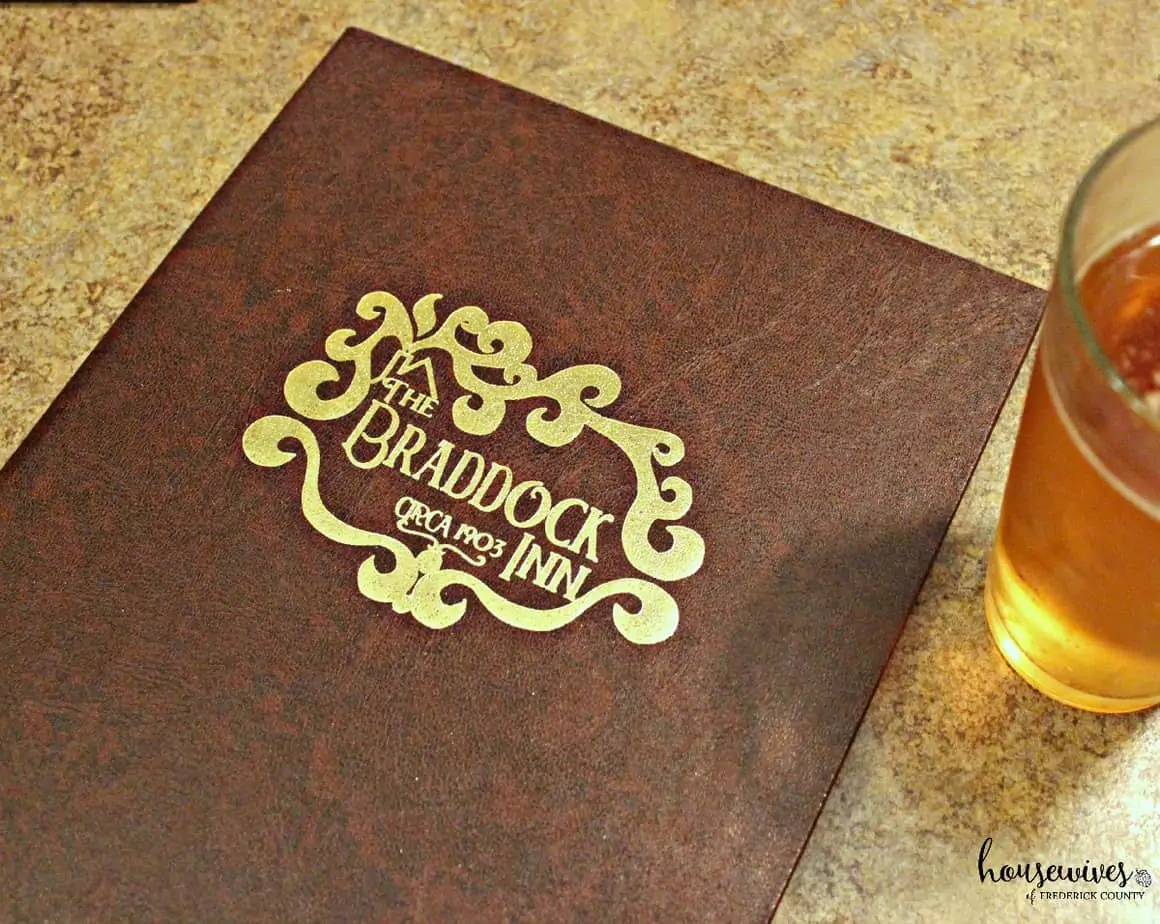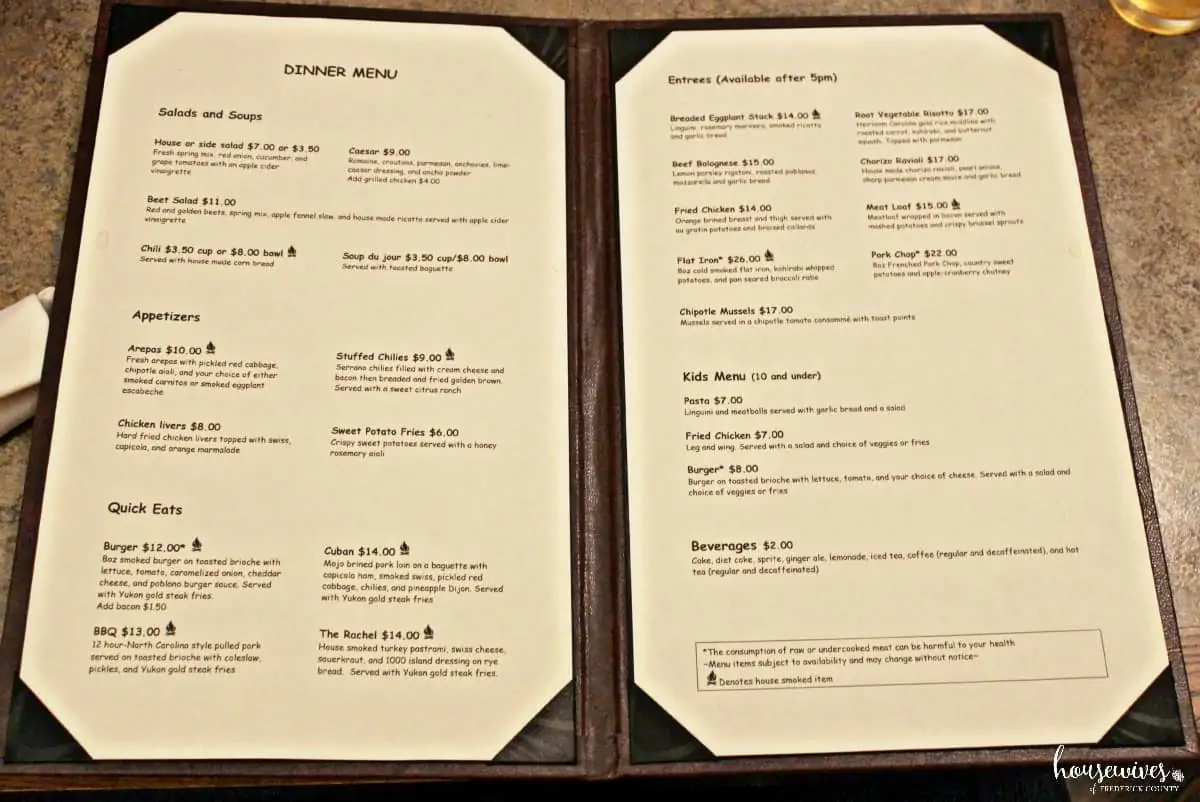 We first enjoyed an appetizer of Stuffed Chilies: Serrano chilies filled with cream cheese and bacon, then breaded and fried golden brown. Served with a sweet citrus ranch. So. Freakin'. Good!
I apologize for the blurry picture below.
We had already dug into it and I was enjoying it so much I didn't take the time to make sure the picture was in focus.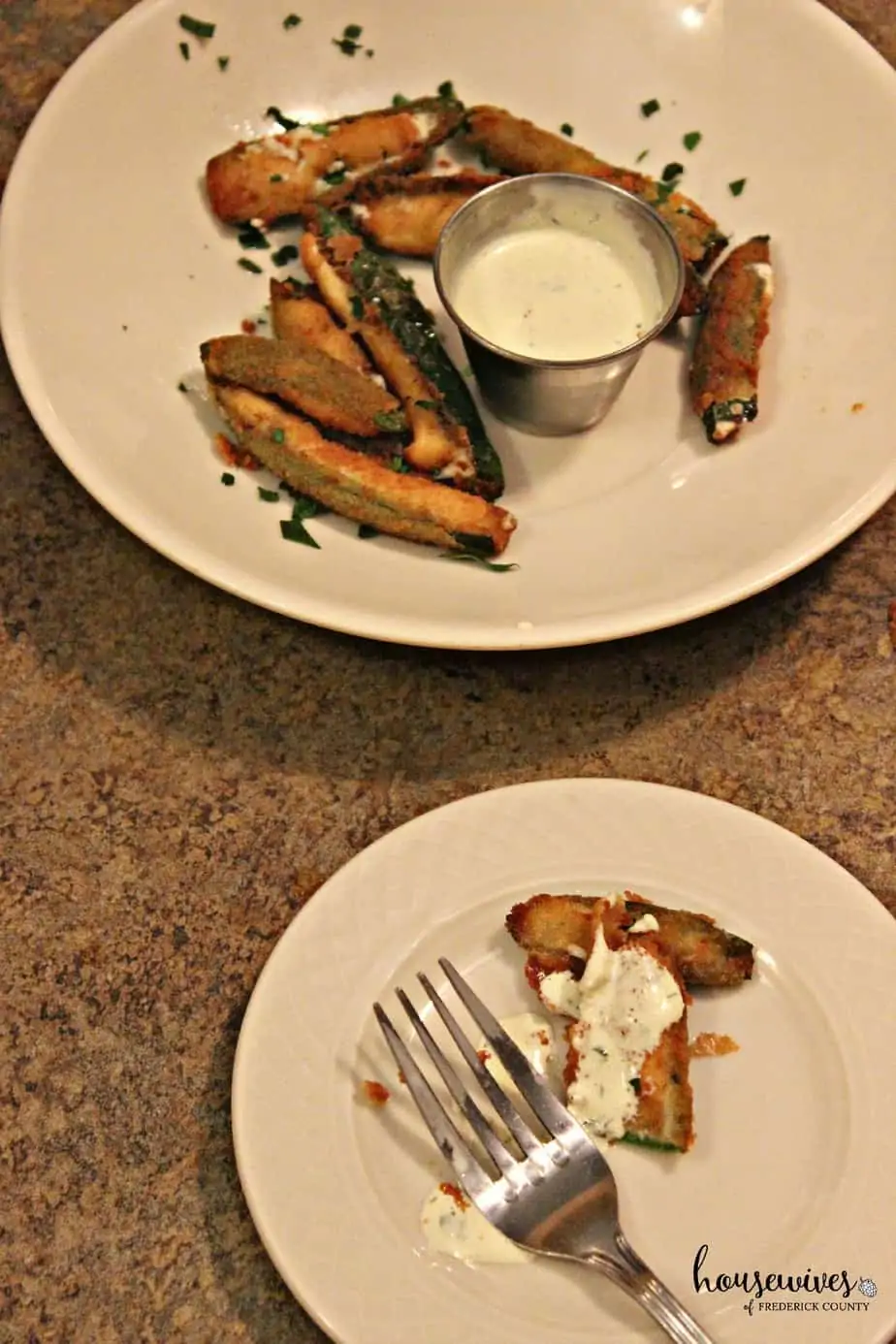 For his entree, my husband ordered the Meatloaf wrapped in bacon served with mashed potatoes and crispy brussels sprouts.
To. Die. For!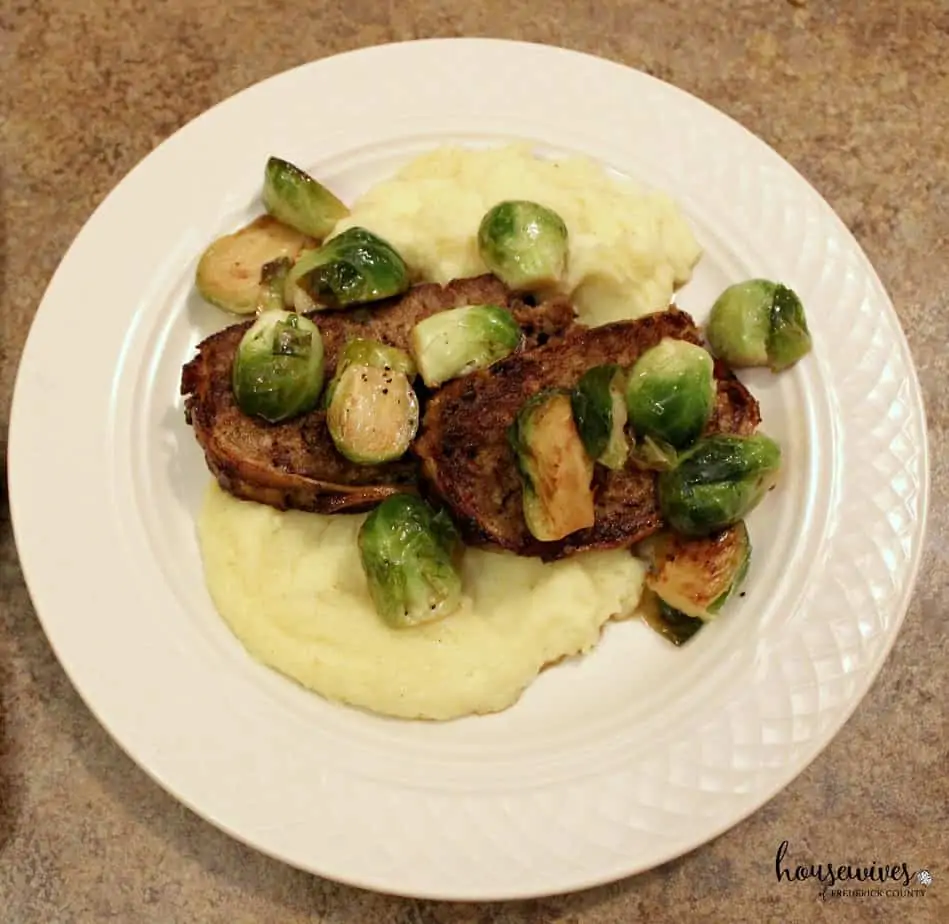 For my entree, I ordered the Flat Iron, cold smoked with kohlrabi whipped potatoes and pan seared broccoli rabe.
Out-of-this-world-melt-in-your-mouth-goodness!
I realized halfway through our meal that neither of us felt the need to season our meals with salt and pepper.
Our meals were already seasoned to perfection.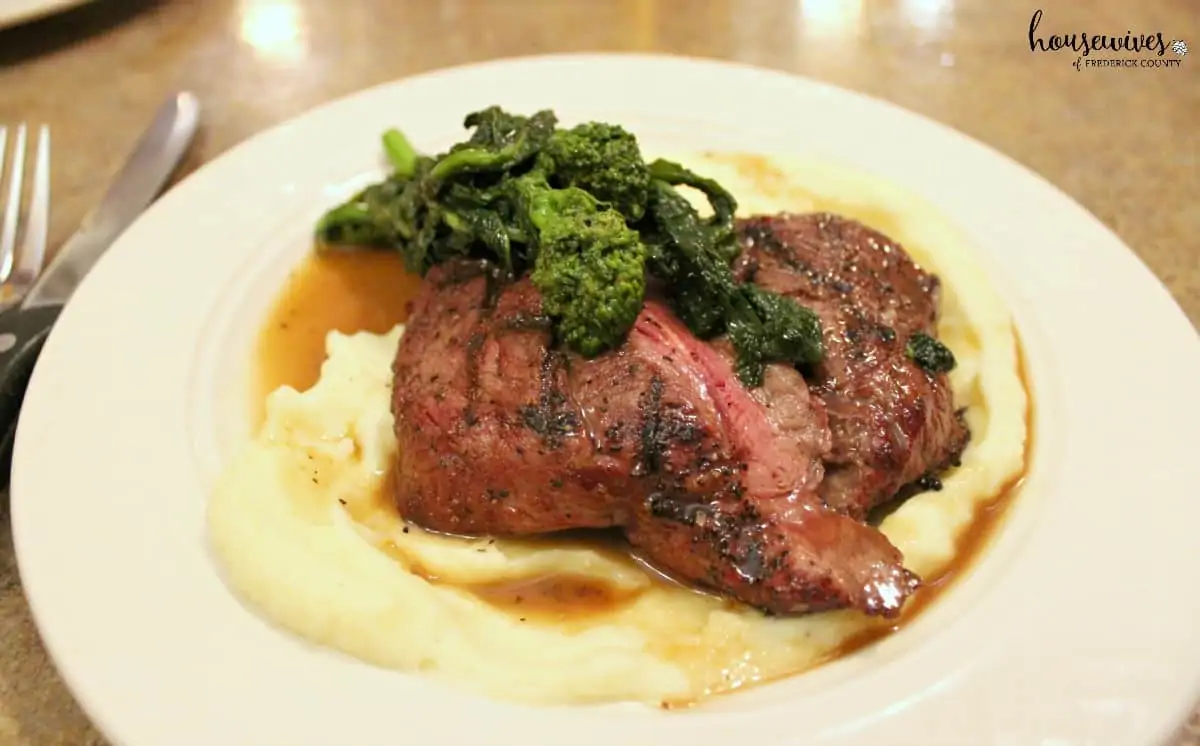 The Braddock Inn's drink menu is impressive as well.
They offer a nice selection of bottled beers, as well as draft beers from a new local Braddock Heights Microbrewery, Steinhardt Brewing.
They also have a nice list of cocktails and an impressive wine selection.
On our next visit I might try one of their yummy looking cocktails.
A Moscow Mule maybe?
For dessert, I ordered the Cremeux, a milk chocolate pudding with a peanut butter, caramel crumble and bourbon.
Exquisite!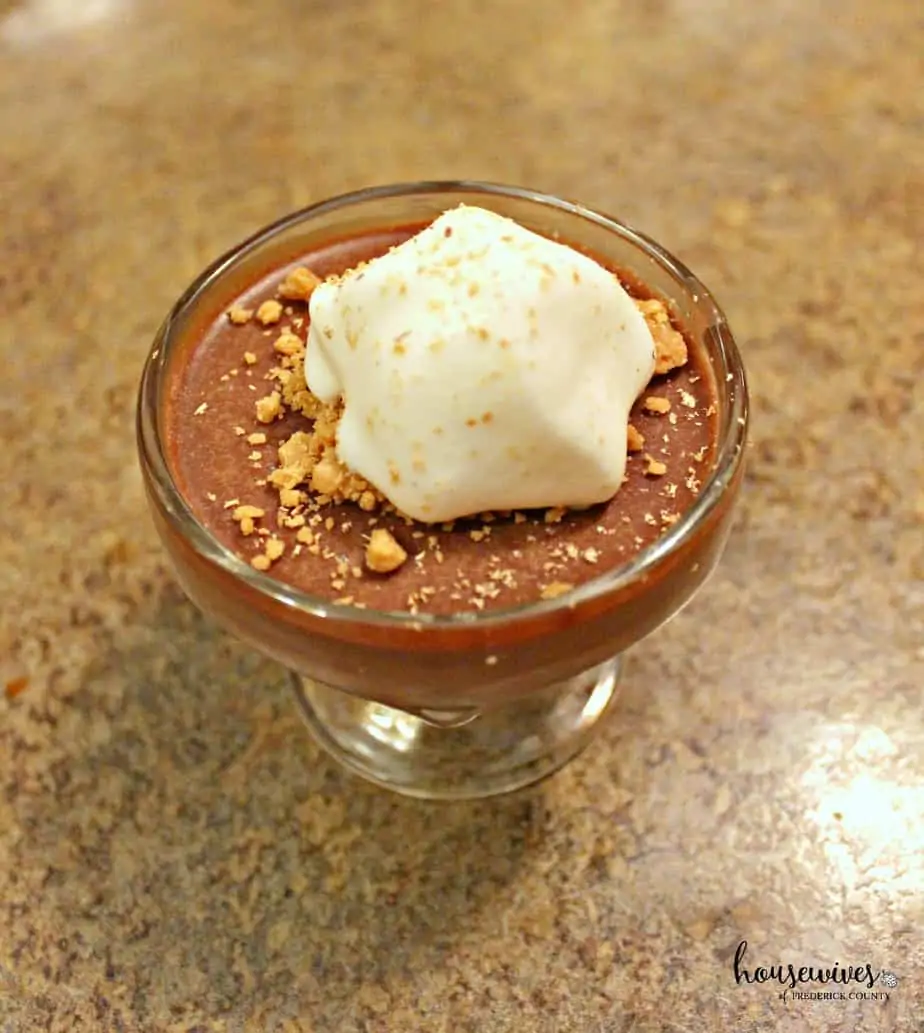 And my husband's dessert was the Apple Bacon Bourbon Crisp.
Heavenly!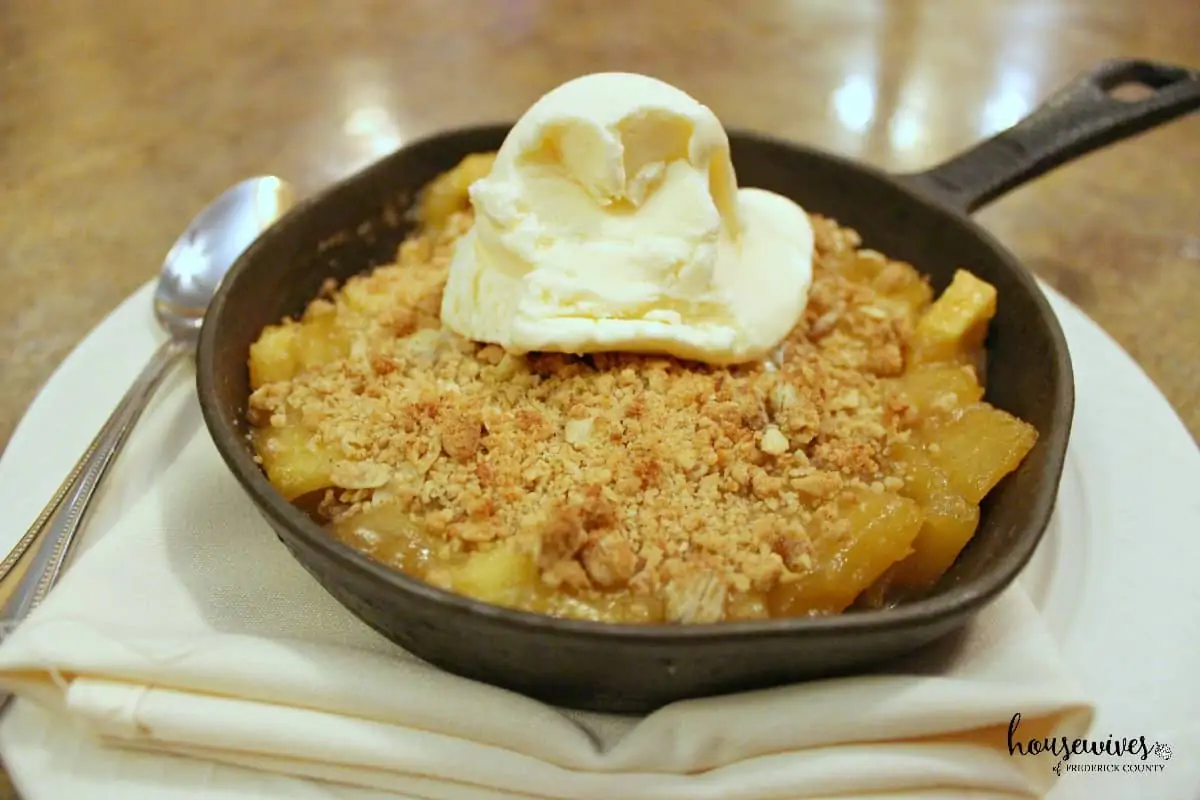 4. Live In, Support & Embrace The Community You're Serving.
Carlo and Heather live in Braddock Heights and fully embrace their community.
The Braddock Inn has a section of Braddock Heights memorabilia brought in by the Braddock Heights Historical Society.
There are photos and memorabilia from days gone by.
There are bowling pins from the old bowling alley, tickets from the old amusement park, roller skates from the old skating rink and so much more.
The Braddock Inn will be hosting a Braddock Heights Community Dinner & Auction to benefit the Braddock Heights Historical Society.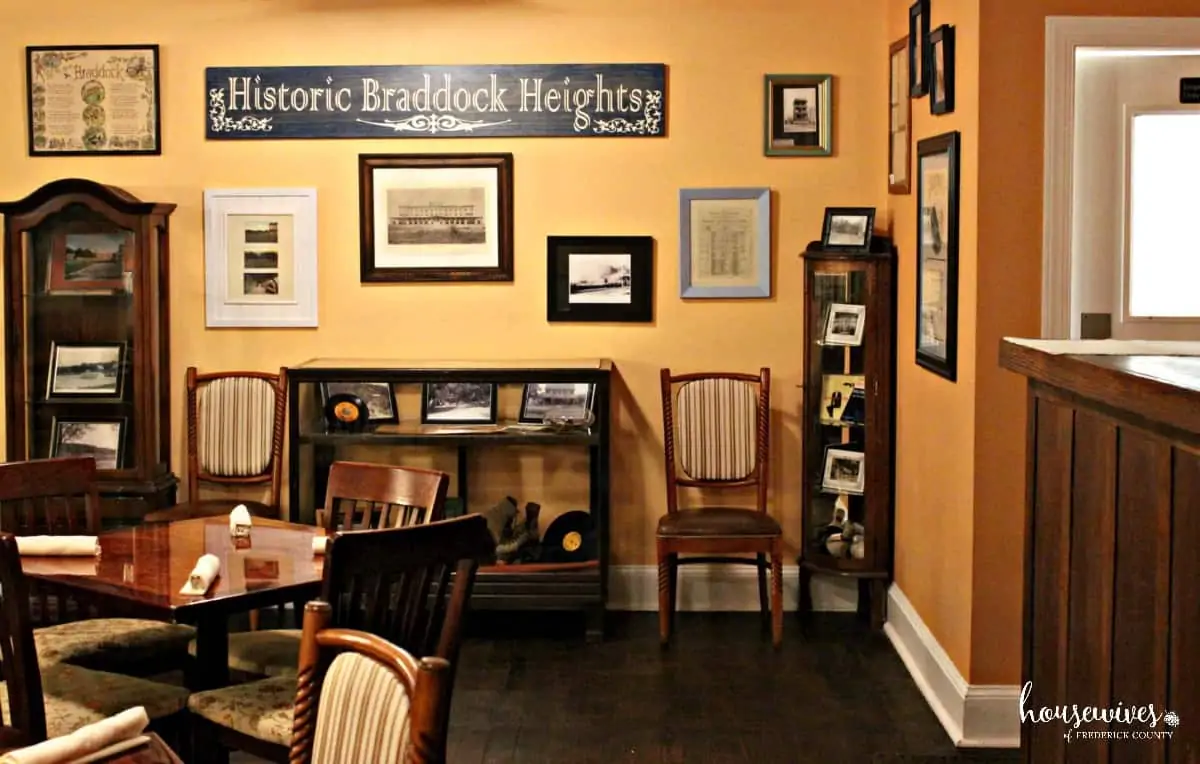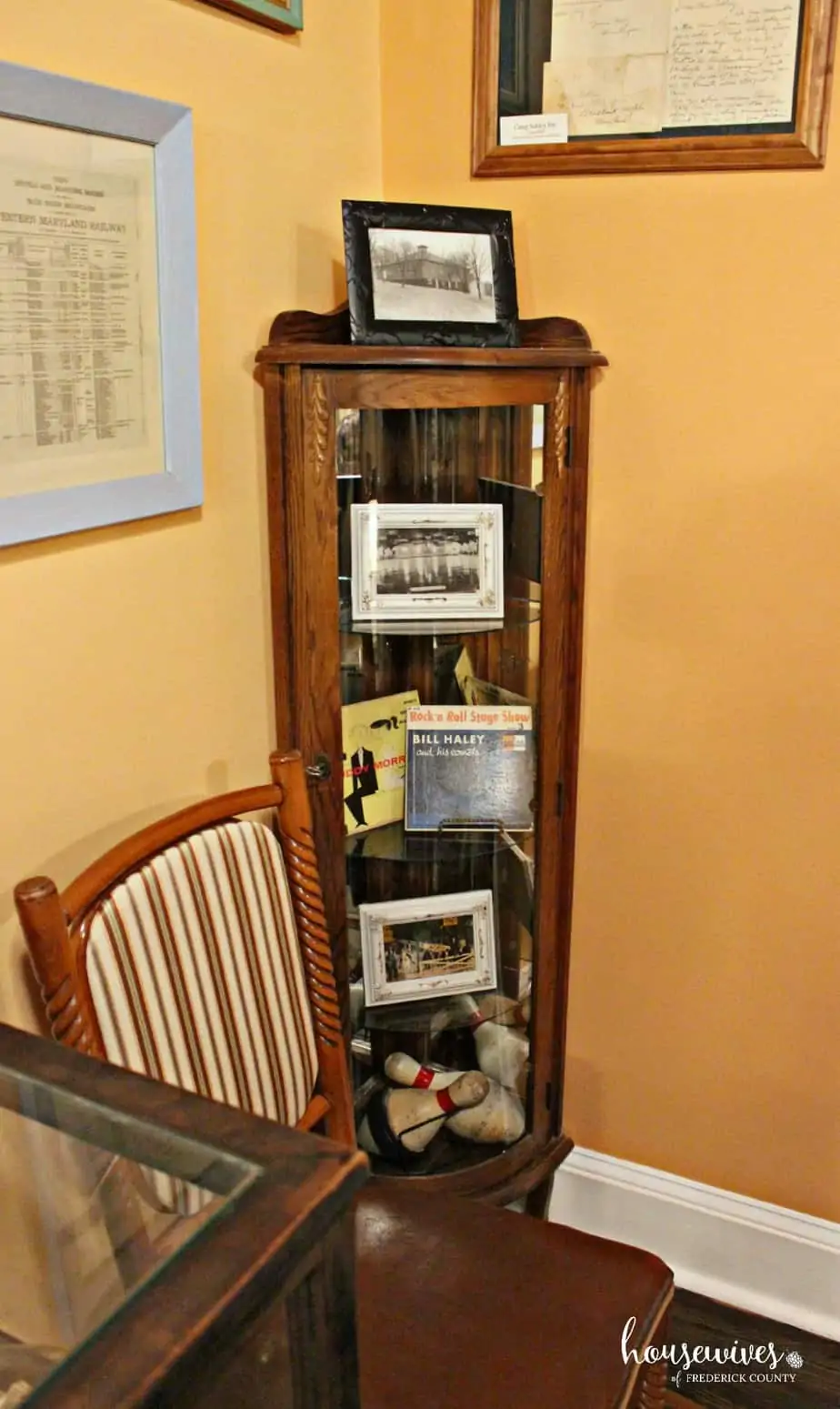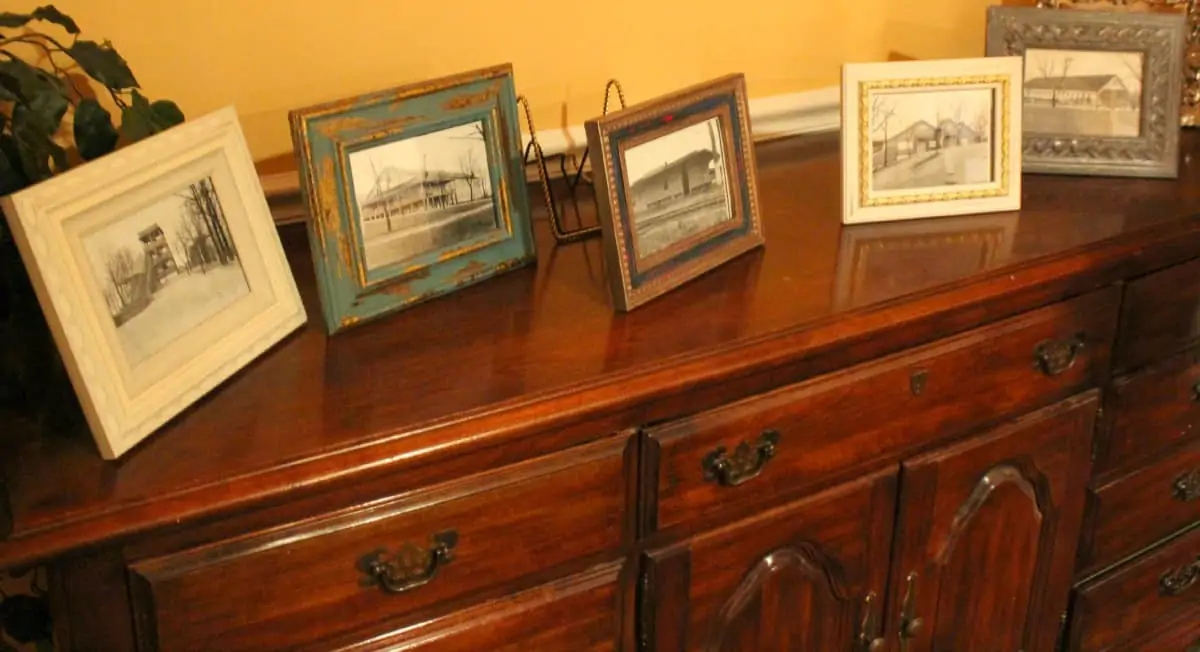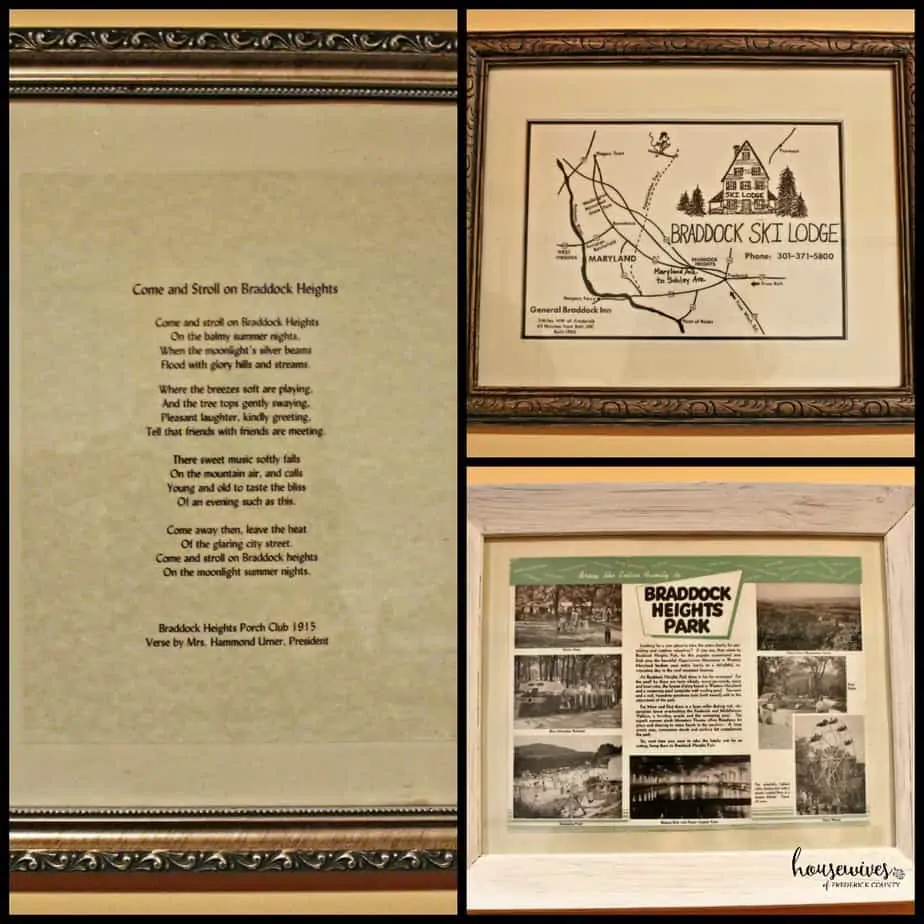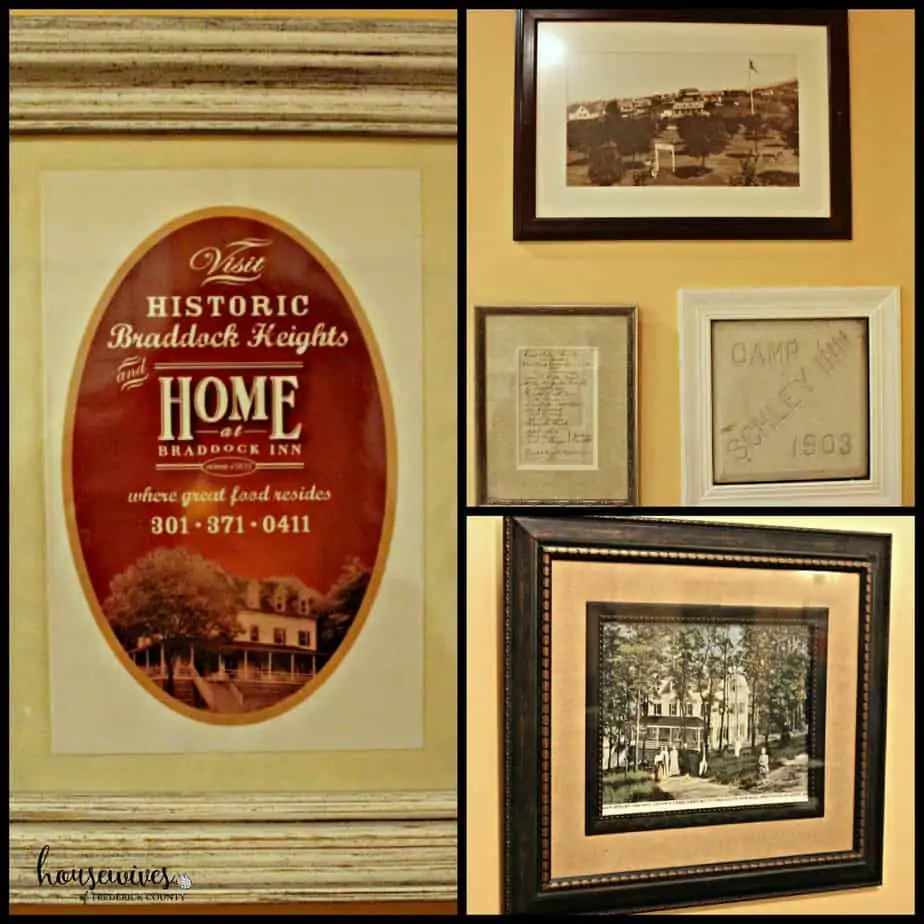 In the words of the owners themselves, "The Braddock Inn has no pretensions to fine dining.  It is a family owned and operated neighborhood restaurant that is casual and comfortable enough to bring your family to, yet has all the accoutrements to make it a lovely date night locale as well."
Check out their website to see their menu.
Also, follow them on Facebook so you can be tempted by the photos of their amazing dishes.
Have you been to The Braddock Inn yet?
If so, let us know your experience!
I promise, you won't be disappointed.
This historic inn has been revitalized and it's past preserved for many more years to come!