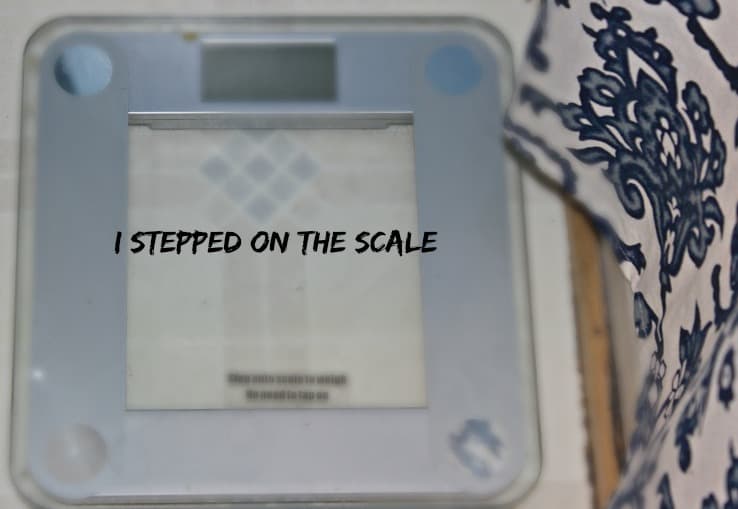 Last week I committed one of the most terrible sins possible out of the good book of Michael Gaines.
I stepped on the scale.
I weighed myself.
Ever since Terri & I joined The X-Project back in January, the owner and Head Coach, Michael Gaines has drilled into our heads 'Do not weigh yourself!'
At that time, I was totally fine with that.
I was the heaviest I had ever been in my life (except when I was pregnant).
The LAST thing I wanted to do was step on the scale.
BUT it's been almost exactly 6 months since the day we walked into The X-Project and began our fitness journey.
It was somewhat of a slow start.
Terri & I were averaging 2 days a week either because of snow days or sick days or days we just weren't 'feelin' it'.
But then the weather started improving.
Spring hit and the 'snow day' excuse wasn't gonna fly anymore.
I started making it to the gym 3 days a week.
A funny thing happened.   I could feel myself getting stronger and stronger.
Fast forward to last week when I was about to step into the shower.
I was feeling confident and that damn scale was sitting right there, taunting me, as if to say, 'Come on!! Are you chicken? It's been forever! Show me what you got!'
As if I was in slow motion, I tapped the scale with my foot and then stepped both feet onto it.
I looked up at the ceiling, waited a few seconds and looked back down at the scale.
What I saw really pissed me off.
Are you freaking kidding me?
The number on the scale was probably 7 pounds more than what I was hoping or expecting to see.
I told myself I wasn't going to let this get to me.
Just keep on keepin' on!
But that didn't happen.
It was really getting to me.
I thought about all of the hard-ass workouts I've CRUSHED over the last 6 months.
I've also changed my eating habits to include more protein.
I went to the gym the next morning and walked up to Michael's desk.
He said 'How's it going Pam?'
I was so sad at that moment.  I told him that I weighed myself.
Before I could get one more word out of my mouth, Michael started doing what Michael does best.
He began to preach.
I can't even remember verbatim what he said because I was listening through the tears streaming down my face.
The dam had been broken and I couldn't stop crying.
But the bottom line message I got from Michael, and one that he's told me over and over before, was that weighing on the scale should NOT be a measurement of my fitness journey progress.
What's so much more important is how much stronger I'm getting, how much less tired I am, how much more confidence I have, how much better my clothes fit me, how I measure in inches, how much healthier I'm getting, and how much better my performance is in the gym.
And all of that leads us back to tracking.
Tracking my protein intake, tracking my workout performance, tracking my body measurements, and all of the other things that REALLY matter in the real world.  NOT what that damn scale says.
When I think back on that dreadful day that I weighed myself, I realize that I HAVE lost a solid 8 pounds.
Doesn't sound like much for 6 months of working out, but I'm also taking into account my increase in muscle mass, which weighs more than fat.
Michael had Kyle, the Functional Movement & Strength Coach, measure me with a body fat caliper.
He recorded it and is saving it for an undisclosed time for when HE decides I can be re-measured, so he can show me that I really AM progressing.
Kyle also took a picture of me front and back.  Something I still hadn't done.
I taped the pictures in my notebook and will be comparing these to NEW pictures down the road.
Kyle gave me a really good pep talk too.
He's been there.
Everybody at that gym has been there.
Everybody has their own story to tell.
Now that I've got 6 months under my decreasing belt, I can see that the journey to getting fit isn't a perfect or orderly path.
There will be peaks and there will be valleys.
The key is to not give up.  Keep trying. Accept the support offered to you – and at The X-Project there is more support and encouragement than any other gym I've ever worked out at before.
I WILL NOT GIVE UP!
I will trust in what Michael tells me.
Slow and steady wins the race.
I'm not going anywhere anytime soon, so I might as well be patient and enjoy the ride!
And as for that scale?
Well, it can stay in my bathroom for now.
But I won't be stepping on it anytime soon.
As a matter of fact, Michael told me that if he ever hears that I've weighed myself again, he's going to make me bring the scale into the gym so he can smash it with a sledgehammer.
Ah, I think I love him!

Pam is married and has 1 son – a middle-schooler in his teen years. She followed Terri to Frederick in 1999. She absolutely loves going to yard sales and estate sales and finding hidden treasures.
read more...