In this post, we're giving your our first-hand experience with eyebrow threading at Maven Beauty Bar.
Eyebrow threading sounds intimidating, but once you read our experience, you will be sold on it!
Eyebrow Threading
Aging sucks. The end.
But really, as a woman in my 40's, it is TOUGH to come to the realization that I can't really hide the signs of aging.
Fighting the signs of aging
I'm fighting the good fight, but the struggle is SO DAMN REAL!
One of the signs of aging that I'm noticing about myself is my eyebrows.
In my younger years, I cursed my thick, dark eyebrows.
I tweezed them to half of their normal thickness.
In addition, I envied the girls who weren't "blessed" with the super-fast-hair-growth gene!
But now?
After years of tweezing, I have some sparse areas in my eyebrows AND I'm noticing some hairs that are white!
Ewww. This is just not acceptable.
Eyebrow Threading at Maven Beauty Bar
So, what's a desperate, 40-something woman, who's grasping at any piece of youth she can possibly keep, to do?
THAT's where Maven Beauty Bar in Frederick, MD came into the picture!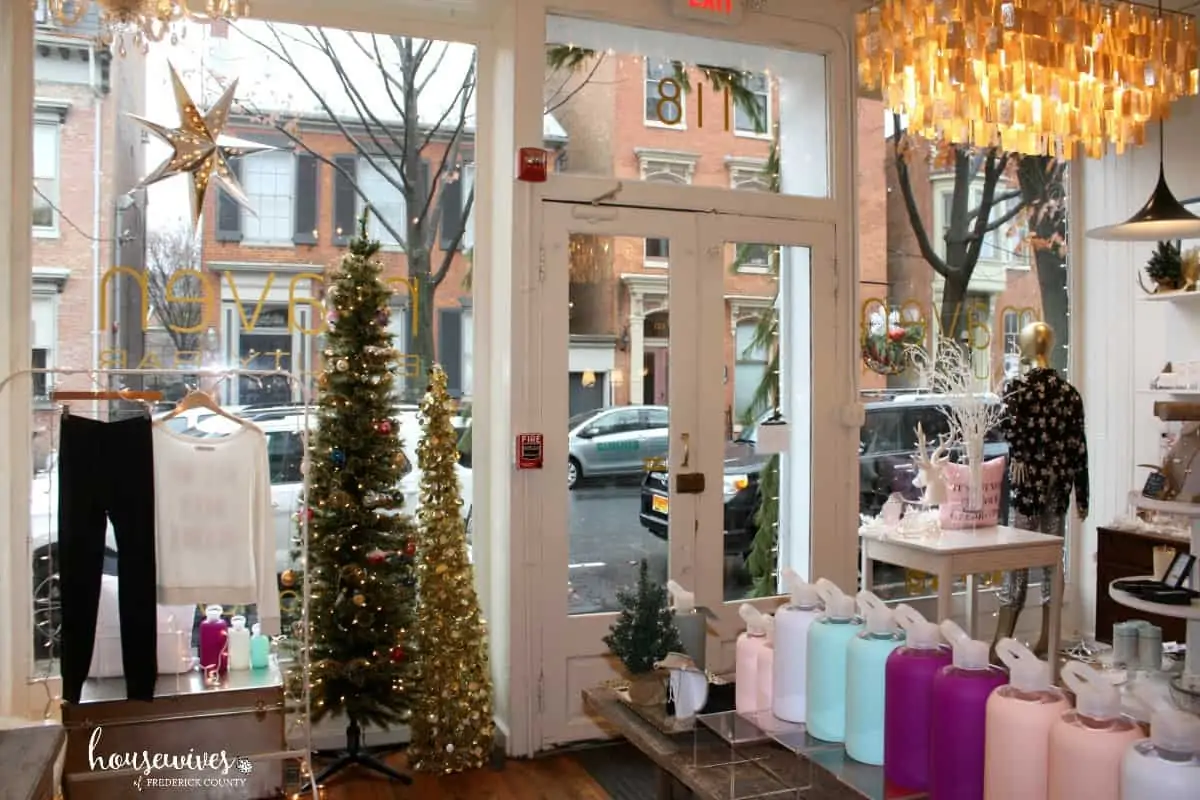 I've been so intrigued by the before and after pictures of other women who have gotten their brows done at Maven!
I mean, I've gotten my eyebrows waxed before, but I was looking for something more polished and precise.
So, Pam and I made an appointment to see what all the hype is about!
What is Maven Beauty Bar Like?
Honestly, we were both a little nervous that we were going to walk into Maven Beauty Bar and feel completely out of place.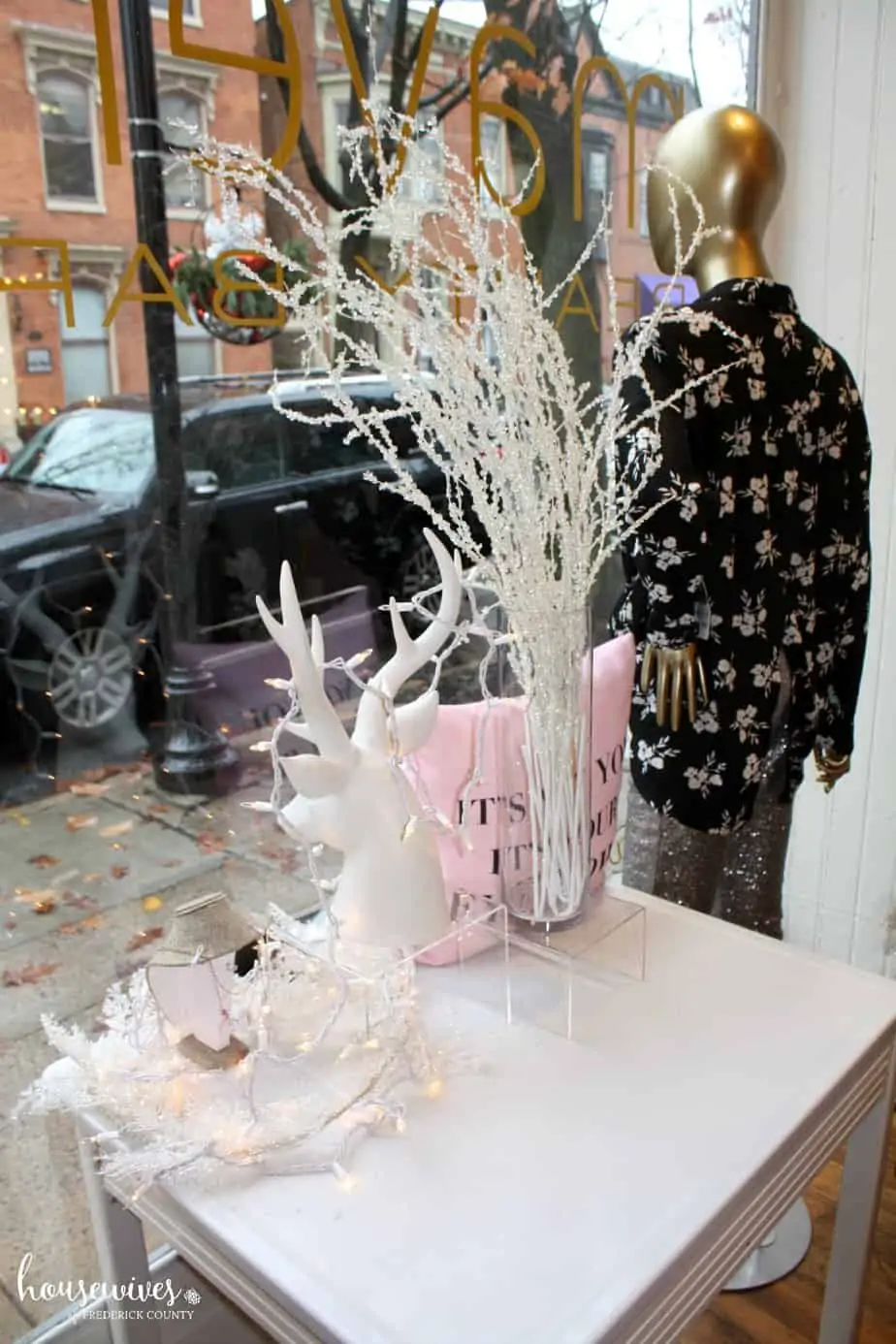 Is it too upscale for us?
Will people there be snotty and intimidating?
We soon discovered that the answer to both of those questions was a relieving "no".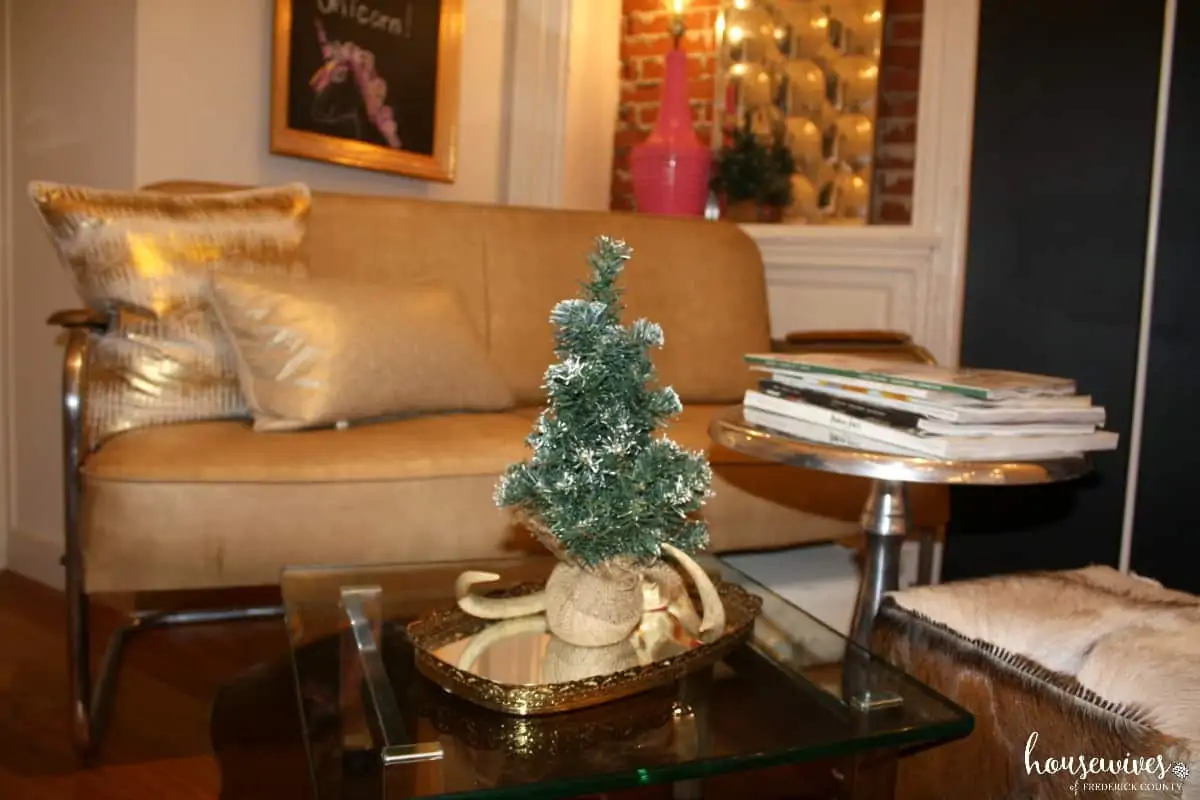 According to Rebecca, the owner of Maven,
"That's a big reason I opened.
I wanted to offer great brands that you couldn't find anywhere else with exceptional service in an un-intimidating environment.
It's so intimidating to go to a department store with all the women just waiting for you to come up to their counter.
I know because I worked them for more than 15 years.
I was the one hiring, firing, training and driving those businesses.
So I know what the environment was like.
I wanted to bring the expertise and level of service to Frederick without the pretentiousness."
LOVE that!
The shop, itself, is absolutely charming!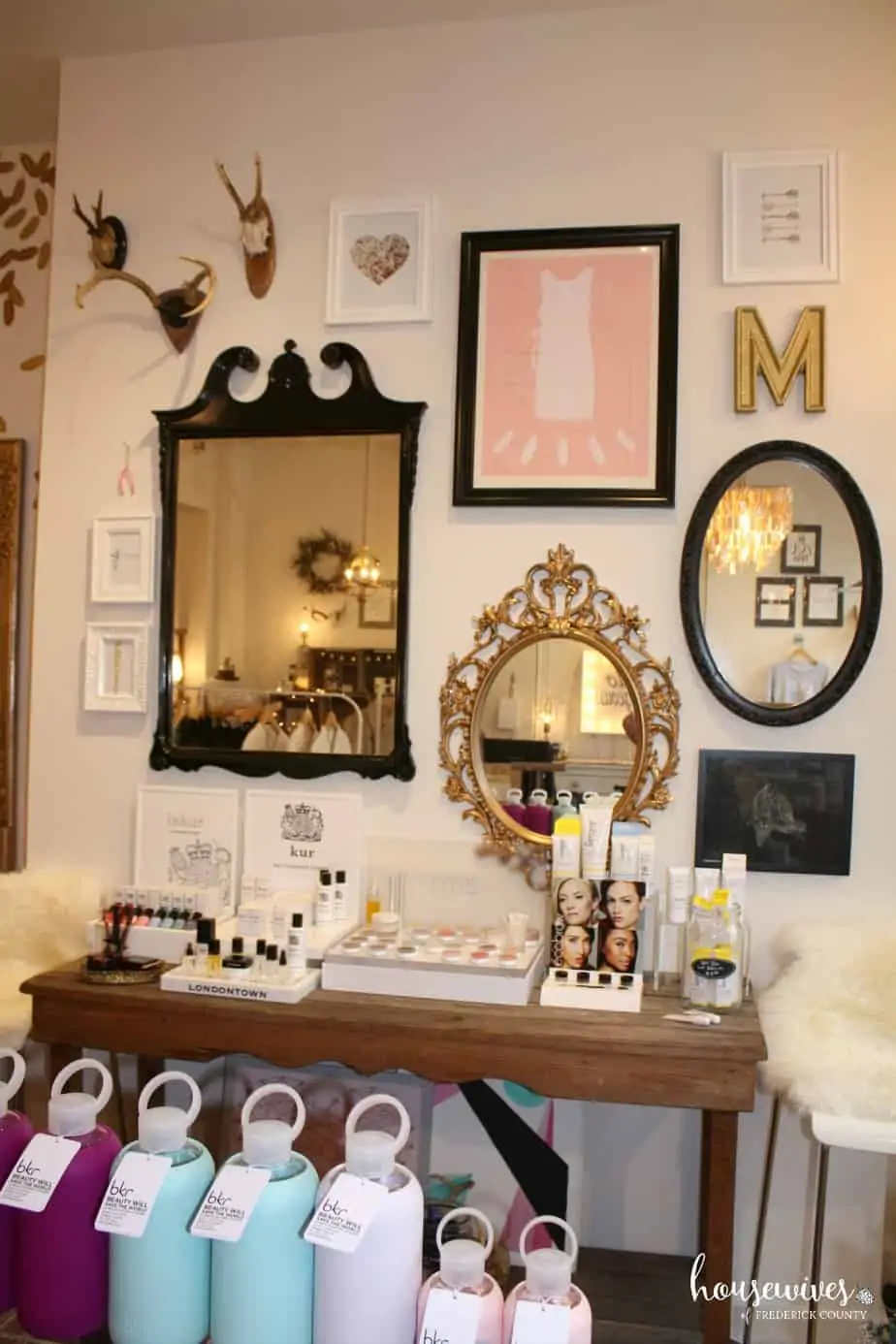 The Eyebrow Threading Technique
Rebecca performed the eyebrow threading technique for both Pam and me.
According to WiseGeek.org:
"Eyebrow threading involves twisting a piece of thread, usually cotton, into a double strand.

This double stranded thread is used to pick up a line of hair and then remove it, creating a very clean, precise hairline.

Eyebrow threading is the technique preferred by Indian movie stars, who are often distinguished by their crisp brow lines."

For anyone who may be concerned about pain, eyebrow threading is no more painful than tweezing or waxing.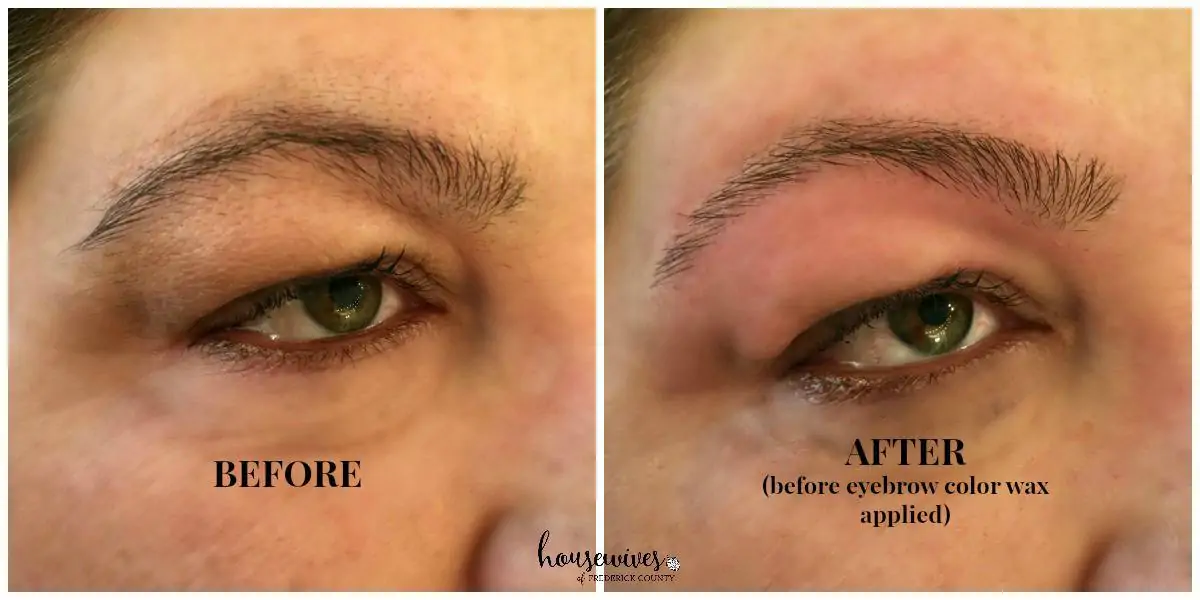 The Before & After Eyebrow Threading Results
The above picture is a before and after shot of me.
Ok, first of all – any eyelid lift surgeons in the house?
The one on the left is before the eyebrow threading and the one on the right is after.
This was before Rebecca added the colored eyebrow wax.
R
ebecca spent such quality time with both of us.
Rebecca's Impressive Credentials
While talking with her we learned of her impressive background.
In her words, she was beauty obsessed from a very young age.

She has worked with brands like Bobbi Brown, Shiseido and Yves Saint Laurent.

Having been trained by some of the world's best artists in the biz, she found her niche as a cosmetic buyer for Nordstrom.

It was here that her passion for new up and coming brands flourished.

She was able to learn the beauty business inside and out.

Rebecca held several executive level positions with some of the world's top global beauty brands and became a mother to three girls.

It was then that she finally realized a life long dream of having her own beauty bar.

Here Rebecca and her beauty mavens are not only able to offer valuable skincare and make up advice, but impart guidance on living a healthy lifestyle.

Non-Toxic Products at Maven Beauty Bar
Rebecca is incredibly passionate about living a non-toxic lifestyle, however is able to find that balance as well.

Speaking of a non-toxic lifestyle – all of the products in Maven are non-toxic and as close to chemical-free as you can get!
Makeup Application
Nicole, one of Rebecca's employees, was also at Maven when we were there.
She was super sweet and applied fresh make-up on my face after my brows were done.

She did an excellent job and used colors that I wouldn't have normally chosen for myself, but I loved them!

How to keep your eyebrows youthful
SO, how DO we "maturing" ladies keep our eyebrows young?
Don't overpluck! It's so tempting to pluck the gray/white hairs, but be careful because you may cause your eyebrows to look even more sparse!
Keep them well-groomed! Ideally, grooming your eyebrows by a professional is best. You can, of course, tweeze stray hairs in between appointments.
Use a product to color any grays/whites and sparse areas! Try to stay as close to your natural color as possible. Some people use an eyeliner pencil, eye shadow, eyebrow gel, even dye (just don't go all Groucho Marx on us!). Rebecca used a colored eyebrow wax on our brows, and it stayed all day!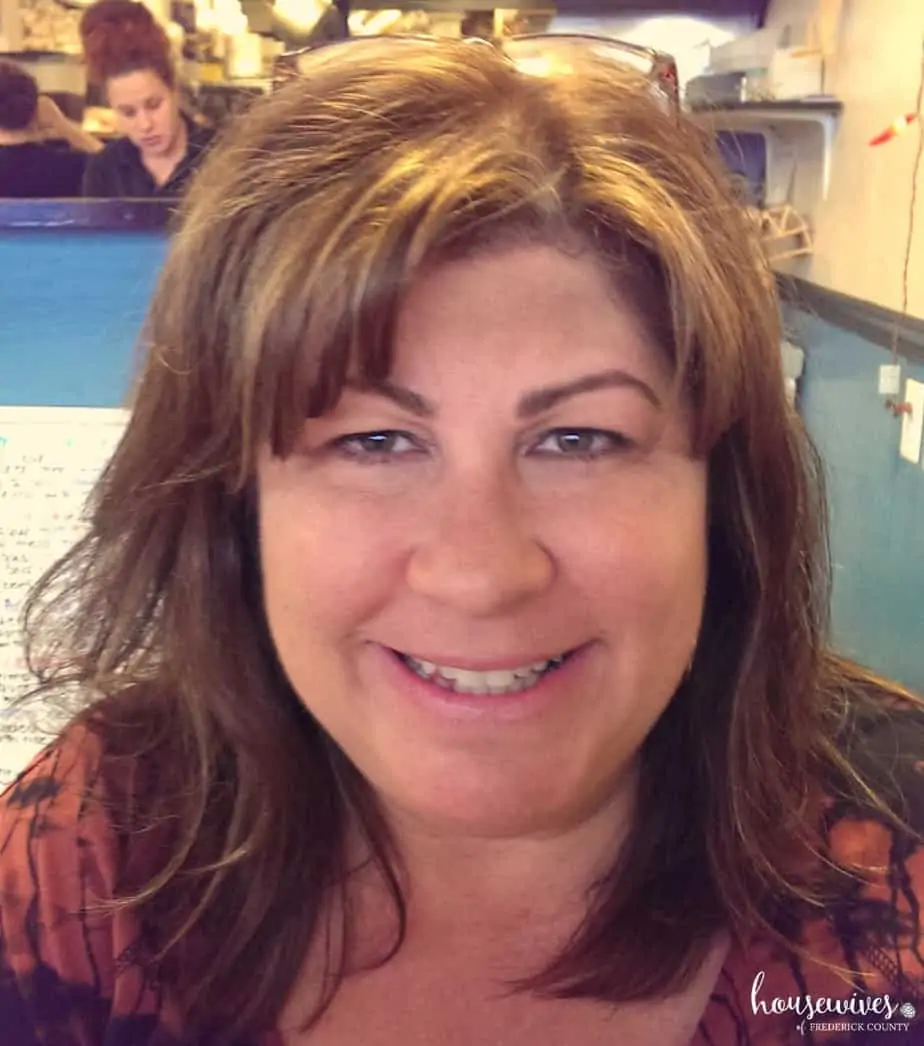 Rebecca used Ecobrow Defining Wax in the color of Penelope.
Growing older, especially for a woman, can be challenging.
But, I'm so thankful for beauty professionals and for good products that help us find even a splash of the fountain of youth!
Maven BEAUTY BAR is an eco-chic make up & skincare shop featuring organic and natural beauty brands.
Maven's BROW BAR is coveted by many for the unique threading technique used to naturally and precisely shape the brow.
They're located at: 118 E Patrick St Frederick, MD 21701 (240) 578-4192