Le Parc Bistro in Downtown Frederick is one of our town's hidden gems!
It's a cozy, white table cloth, sit by the fireplace kind of place with amazing french cuisine!
Le Parc Bistro is an unpretentious French Restaurant
Downtown Frederick is awesome for it's shopping, arts, entertainment, Carroll Creek, people-watching, dog-friendliness….I could go on and on.
But, the BEST thing about Downtown Frederick, in my opinion?
The restaurants!
I pride myself on being "in the know" about everything Frederick.
Hence, the reason for having a blog called Housewives of Frederick County!
But, part of the beauty and charm of Frederick is that it's ever-changing, yet it maintains it's historic allure.
That's so exciting to me.
So, I've recently discovered a restaurant in Downtown Frederick that isn't brand new, but it's new to me!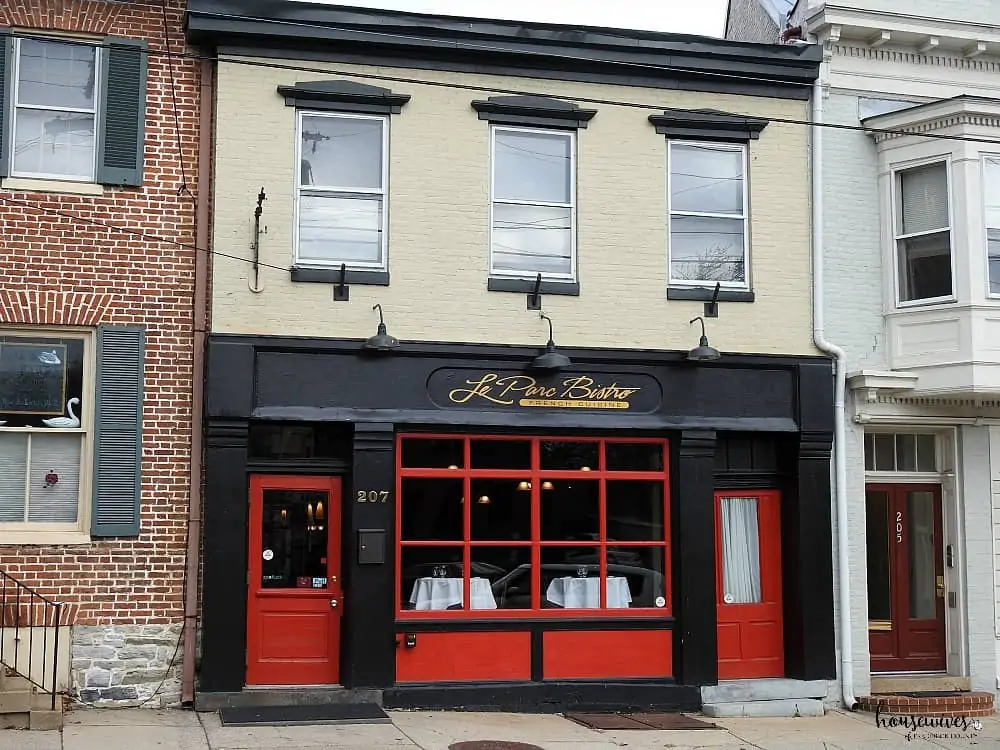 About Le Parc Bistro
Le Parc Bistro opened it's doors in March of 2015.
I did a little research on the building that Le Parc Bistro is in, and found that the building itself was originally built circa 1880 and is located in the Frederick Historic District.
I had heard through the grapevine that Le Parc Bistro was very good, so I suggested to my husband that we try it out for our anniversary.
Le Parc Bistro's Location
One thing that I loved about going to Le Parc that evening, was that it was just a little off the beaten path in Downtown Frederick.
It's located at 207 W. Patrick Street (at the corner of Patrick and Bentz Streets).
So, it's walking distance from Baker Park and even the theatres on Patrick Street (Maryland Ensemble Theatre and The Weinberg Center).
But, because it's not in the "heart" of Market Street, parking is not an issue.
As a matter of fact, they even have their own parking lot behind the restaurant, with a back entrance.
Very quaint!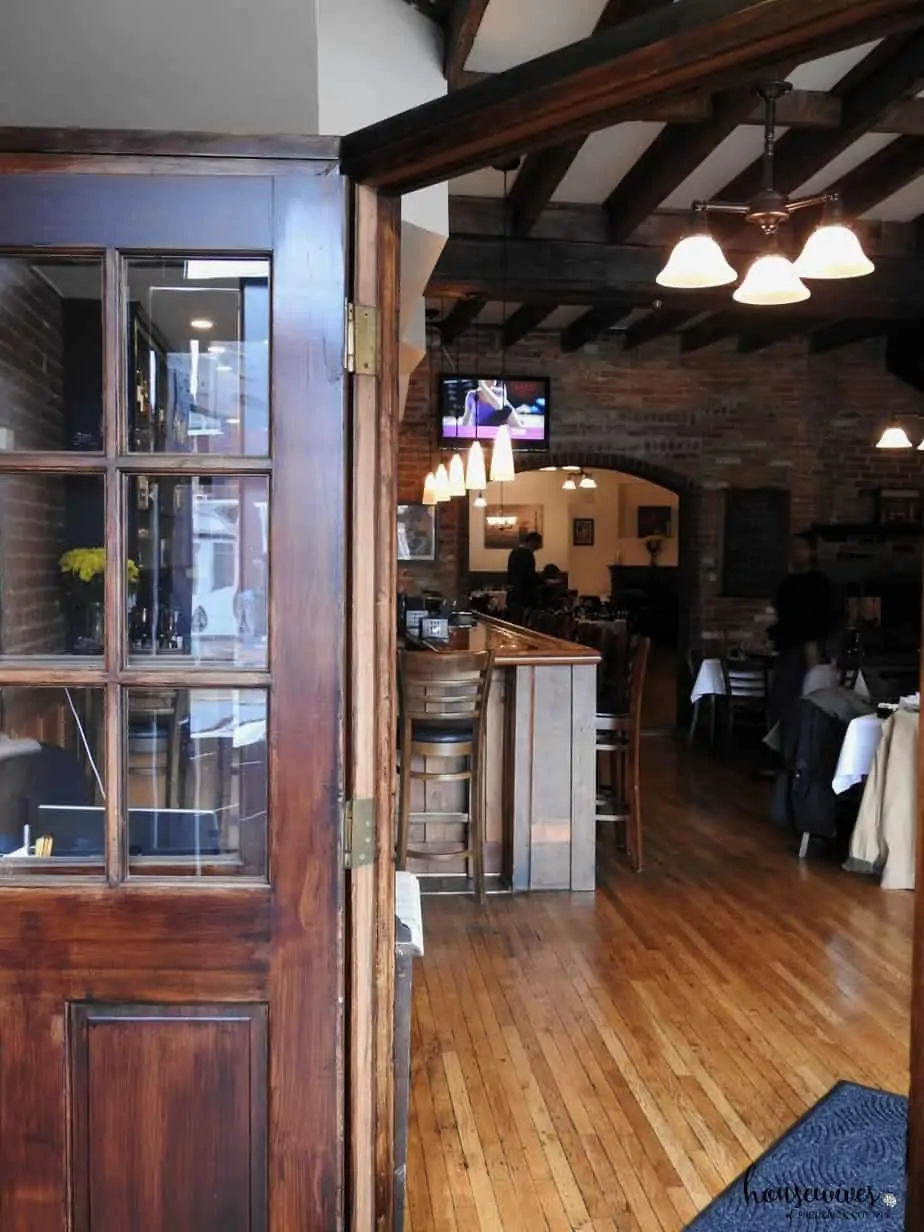 The Ambience is cozy and warm
When you walk into Le Parc, you automatically discover why it's special.
From the white tablecloths, to the brick walls, the gorgeous fireplace, and the beautiful bar.
It all creates such a cozy, inviting ambience.
The piano player (Fridays and Saturday evenings) adds such a special touch!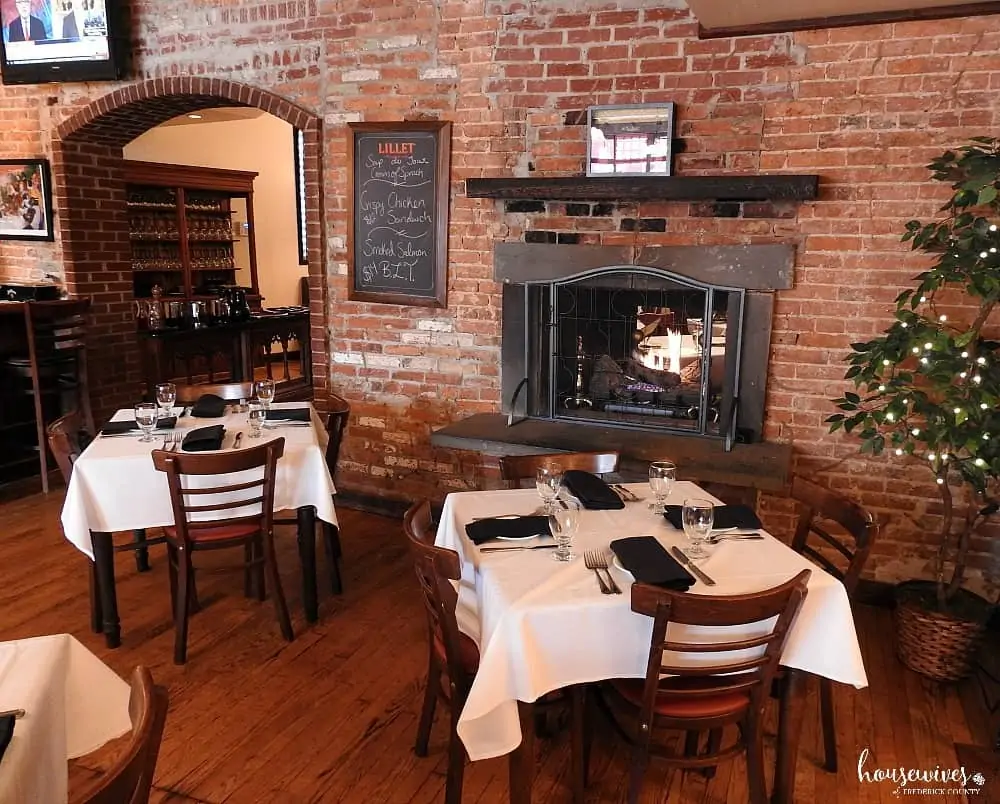 You Won't Leave Hungry
Not gonna lie, whenever I think French restaurant, I imagine leaving the restaurant still hungry.
Typically, French cuisine is served beautifully but tends to be smaller portions compared to other types of fare.
But, not Le Parc Bistro.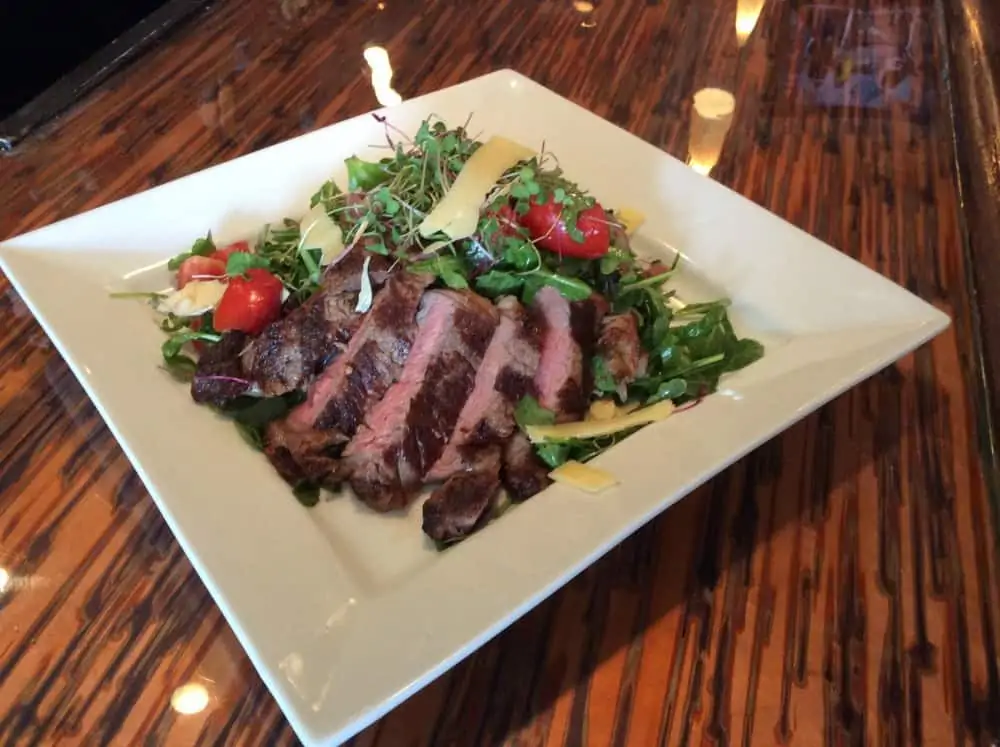 Le Parc stands out amongst many of the nicer restaurants I've been to.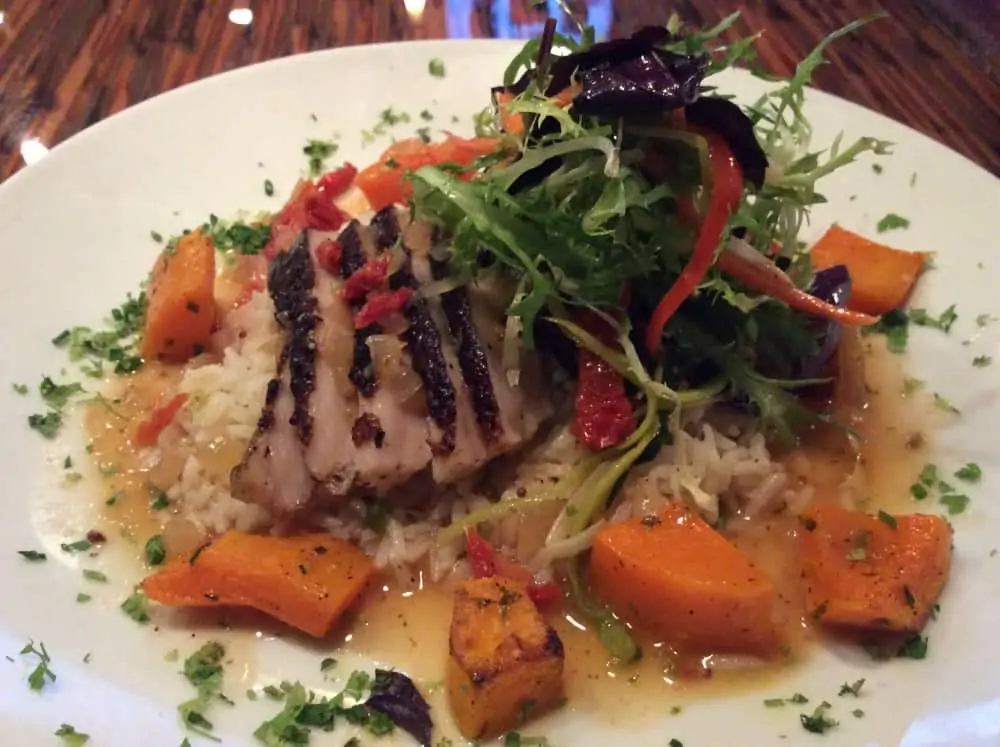 Le Parc Bistro is the Trifecta of good restaurants
I got the opportunity to speak with Stuart, the CEO of Le Parc.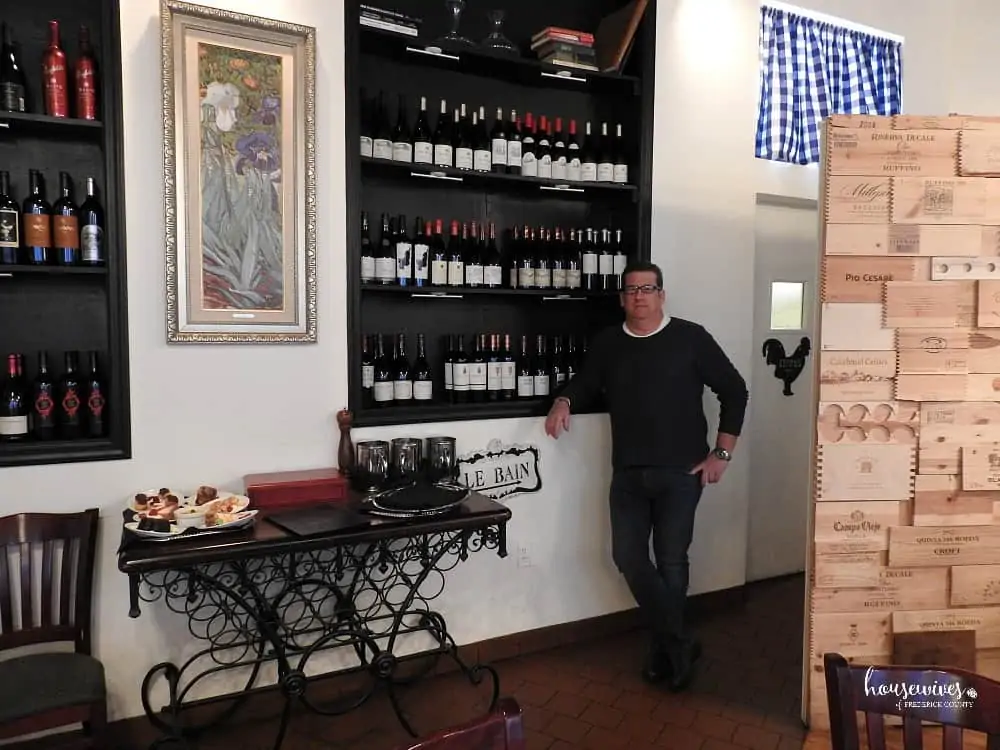 He expressed that he wants guests to:
Enjoy his restaurant because of it's non-pretentious atmosphere.
Fill up with their delicious food & great portion sizes.
Feel the unique historic Frederick vibe that it eludes!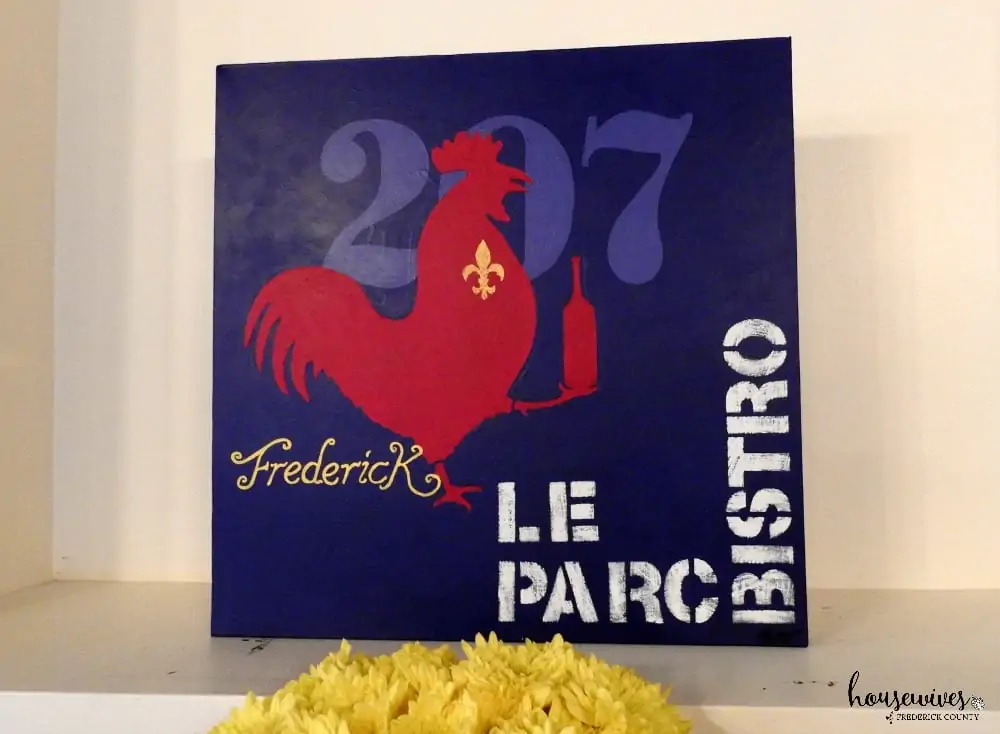 He has totally hit the mark!
Celebrate your special occasion
After being seated, we mentioned to Stuart, who seated us himself, that we were celebrating our wedding anniversary.
As we were looking at the many selections on the menu, he surprised us by delivering two glasses of champagne to our table!
We started out with an appetizer of Mussels Marinier (Mussels with White Wine, Garlic, Fine Herbs and Butter).
SO delicious!
My husband isn't completely sold on eating mussels, but LOVED these!
I decided on the Filet Mignon, a char crusted tenderloin steak served with dauphinoise potatoes and bearnaise.
For my husband's entree, he chose Chicken Mediterranean, a sauteed chicken with artichokes, tomato, capers and white wine served with fettucini.
My filet was cooked EXACTLY the way I like it (medium), and everything on my plate was so delectable!
My husband loved his as well!
For dessert, my husband and I shared the Creme Brulee.
This is one of my favorite desserts, and Le Parc did NOT disappoint!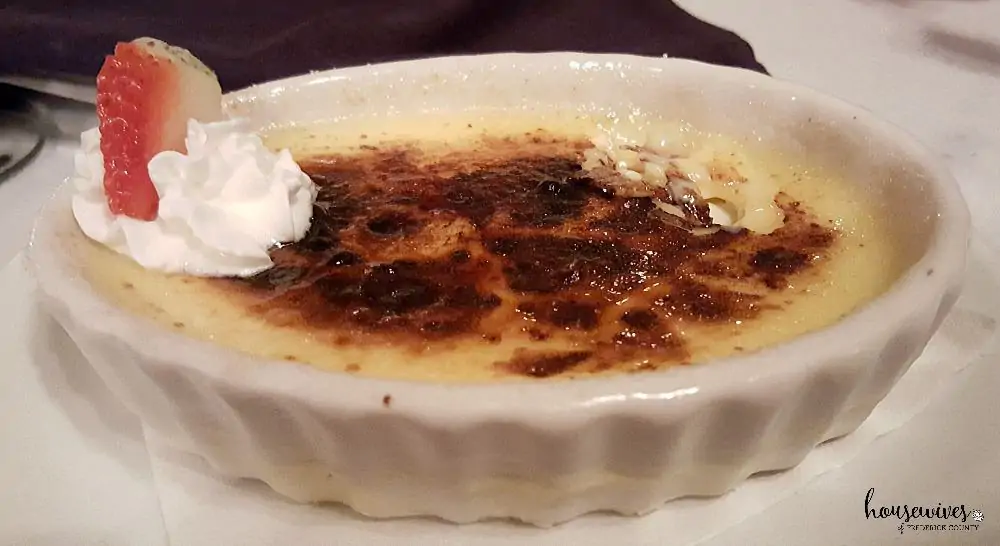 We returned for lunch
Pam and I returned to Le Parc for lunch on a recent weekday afternoon.
The lunch menu has some of the same offerings as the dinner menu, but also has more traditional lunch-time options, such as sandwiches (crab cake sandwich anyone?), crepes (when in France…) and omelets!
We shared the Crispy Brussels Sprouts and Confit Carrots with Candied Walnuts and Sour Raisin Vinaigrette as an appetizer.
If you haven't had these, they are a must-try!
Let's just say I would've licked the plate clean if that kind of thing wasn't frowned upon!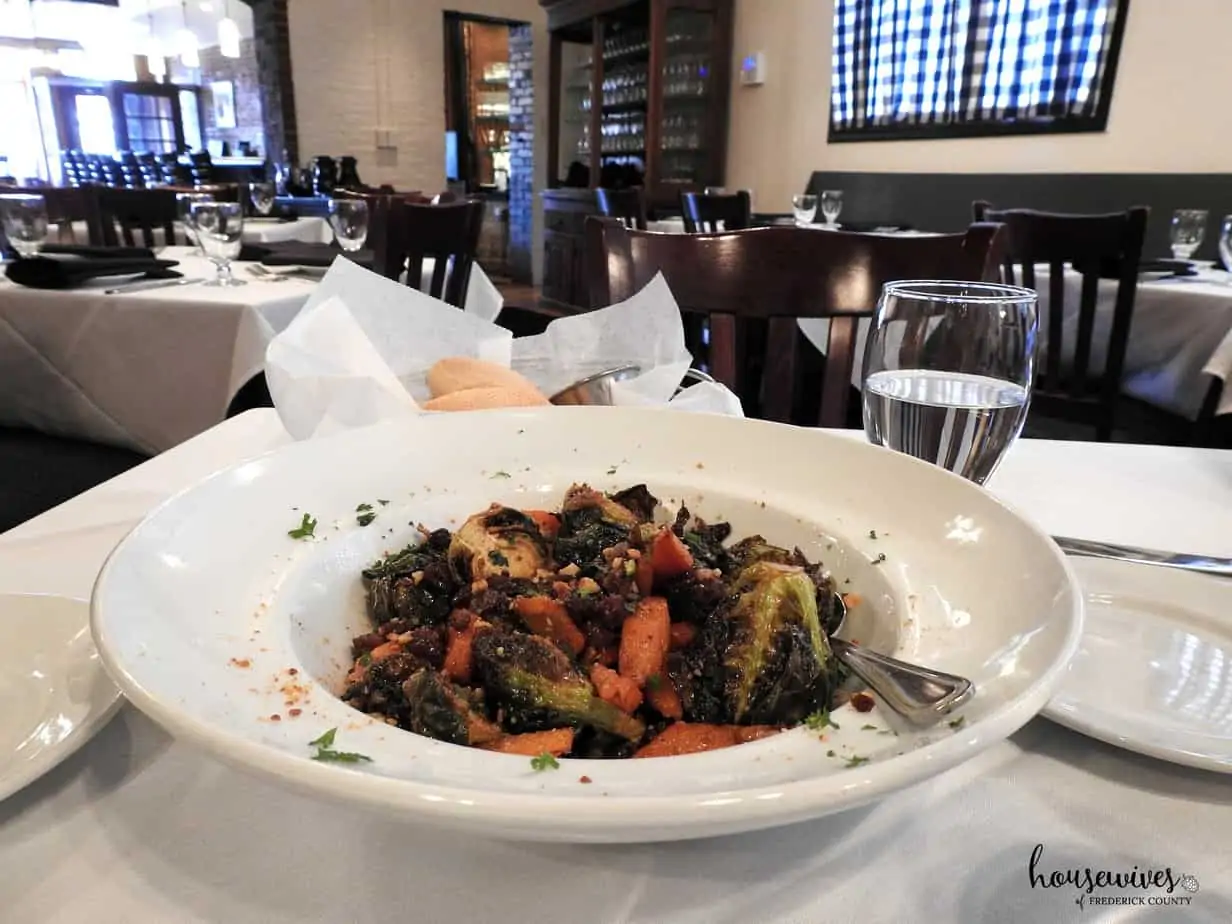 Both Pam and I each ordered the Le Parc Cobb Salad for our entrees.
Keep in mind this is NOT the typical family restaurant Cobb salad.
It is served beautifully and generously with shrimp, lobster, bacon, tomato, avocado, hard cooked egg, creamy house dressing and fresh, crispy greens.
I will never look at Cobb salad the same again – SO fresh and yummy!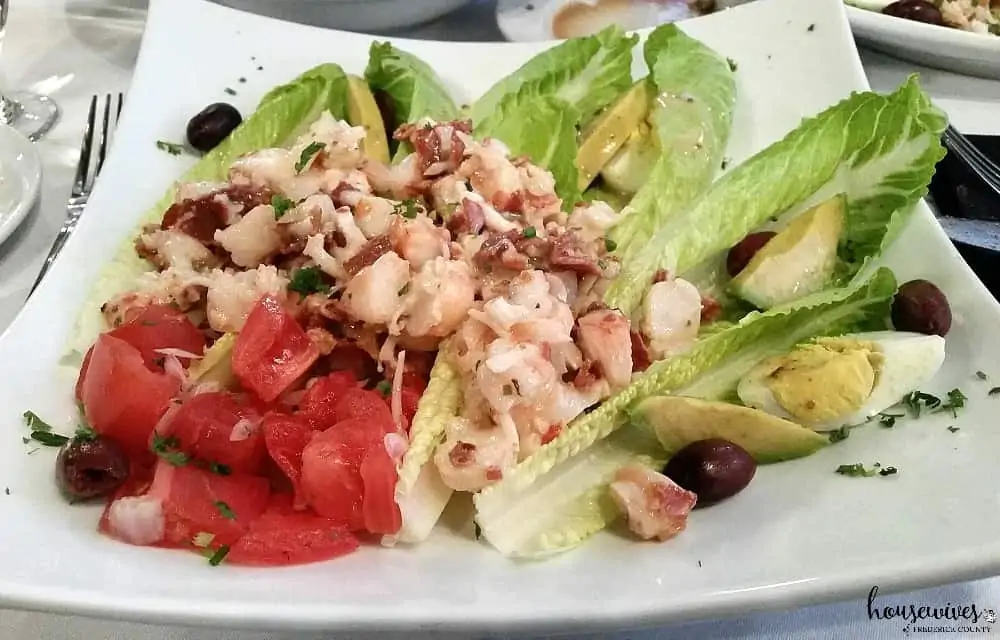 In the spirit of sharing our experience with our readers, each of us got our own dessert (c'mon, SOMEONE has to do it!).
I HAD to get the Creme Brulee again (it's that good!), and Pam got the chocolate molten cake.
I tasted hers and it was absolutely sinful – warm and fudgy.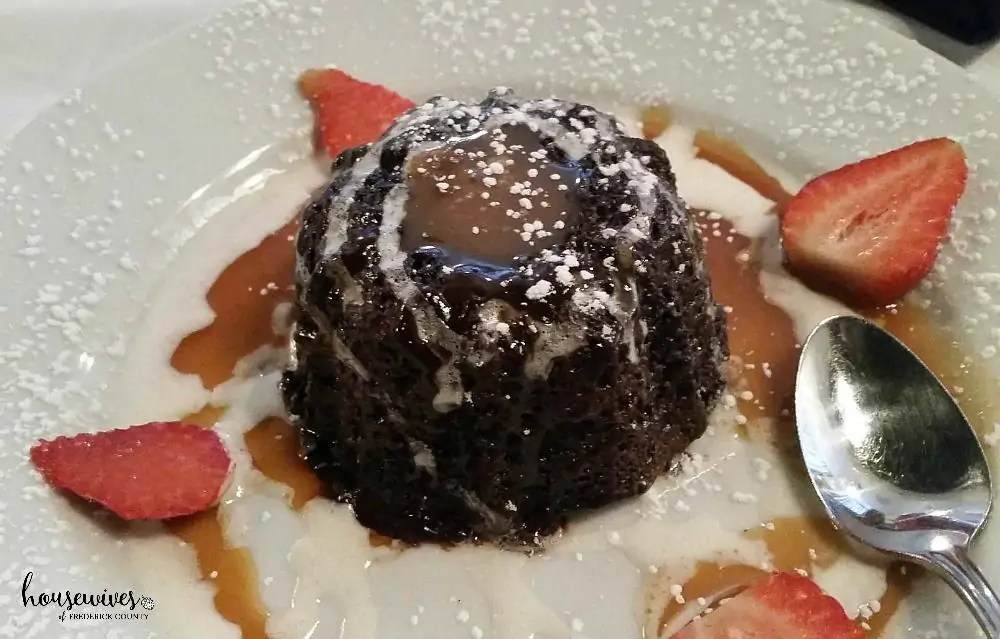 Le Parc Bistro's Bar and Daily specials
Le Parc Bistro prides itself in being a French restaurant and wine bar, offering about 75 different bottles of wine on the menu (most being French and California wines), as well as glasses of wine to enjoy.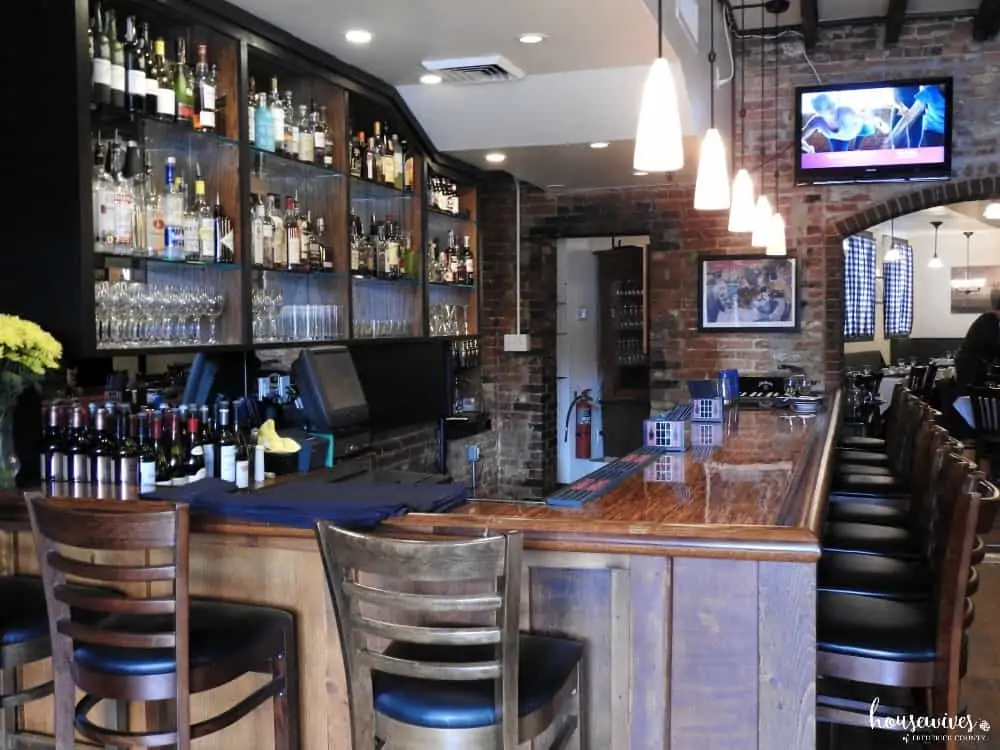 Daily promotions at Le Parc Bistro include:
Mondays: Half-price bottles of wine
Tuesdays: Martini's $5.99
Wednesdays: Three-course Chef Dinner $25.00 (the menu changes weekly)
Thursdays: Steak Frites Night $19.95 (Char Crusted Boneless Ribeye Steak served with Pommes Frites and Catsup, normally $32.00)
Fridays and Saturdays: Live Piano
Saturdays: Brunch
Sundays: Closed
Le Parc also has Happy Hour (M-F, 4-7, $5 wine, $4 mixed drinks, $3 beers) and Daily Specials!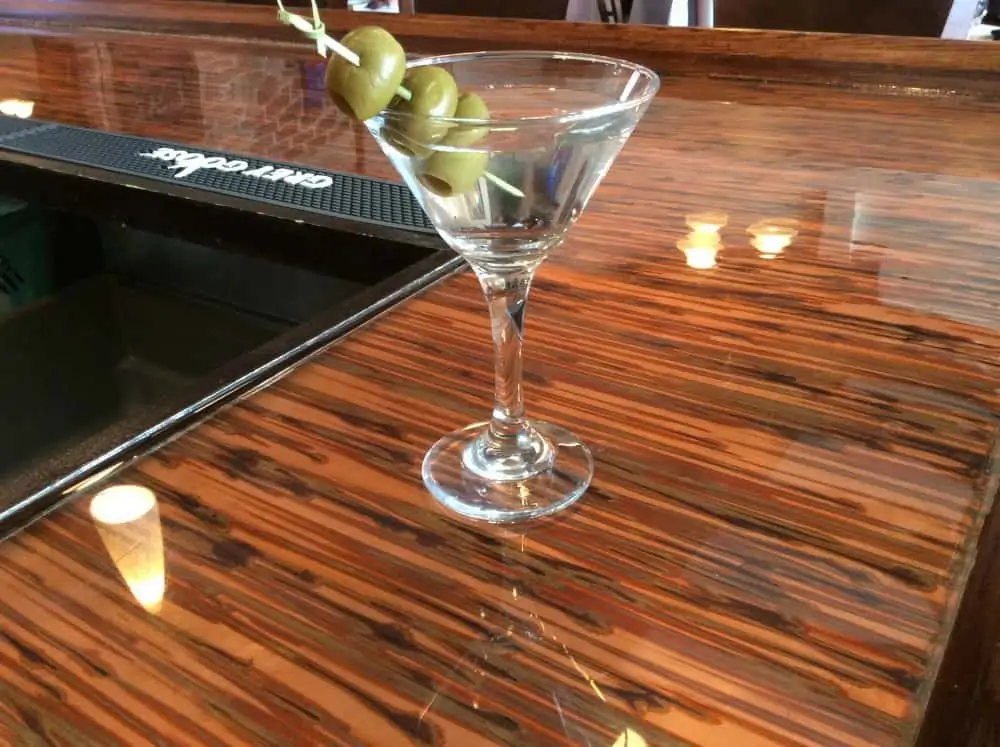 I absolutely LOVE Le Parc Bistro.
When I spend money to eat out,
I want it to be a special experience with delicious food.
THAT'S what you get at Le Parc Bistro!
Bon Appetit!
Follow Le Parc Bistro on Facebook too to keep up on their specials and events!