I've compiled a little gift guide of nine Mothers Day gifts delivered that are sure to put a smile on her face!
Whenever Mothers Day rolls around, it's tough, especially for the guys out there, to figure out what to get that special mom in their lives.
Whether it's your mom, your daughter, your sister, your mother-in-law, your stepmother, or your wife, I guarantee that these gift ideas will make her happy.
Mothers Day Gifts Delivered
I purposely chose practical gift ideas that can be used especially for her!
AND because they're all from Amazon, you can have them delivered to directly to you to wrap and present as a gift.
OR you can even have them delivered straight to the mom in your life!
Pampering Mothers Day gifts Delivered from Amazon
These gifts aren't something to cook with or clean with.
Instead, all of these gifts will make her feel extra special.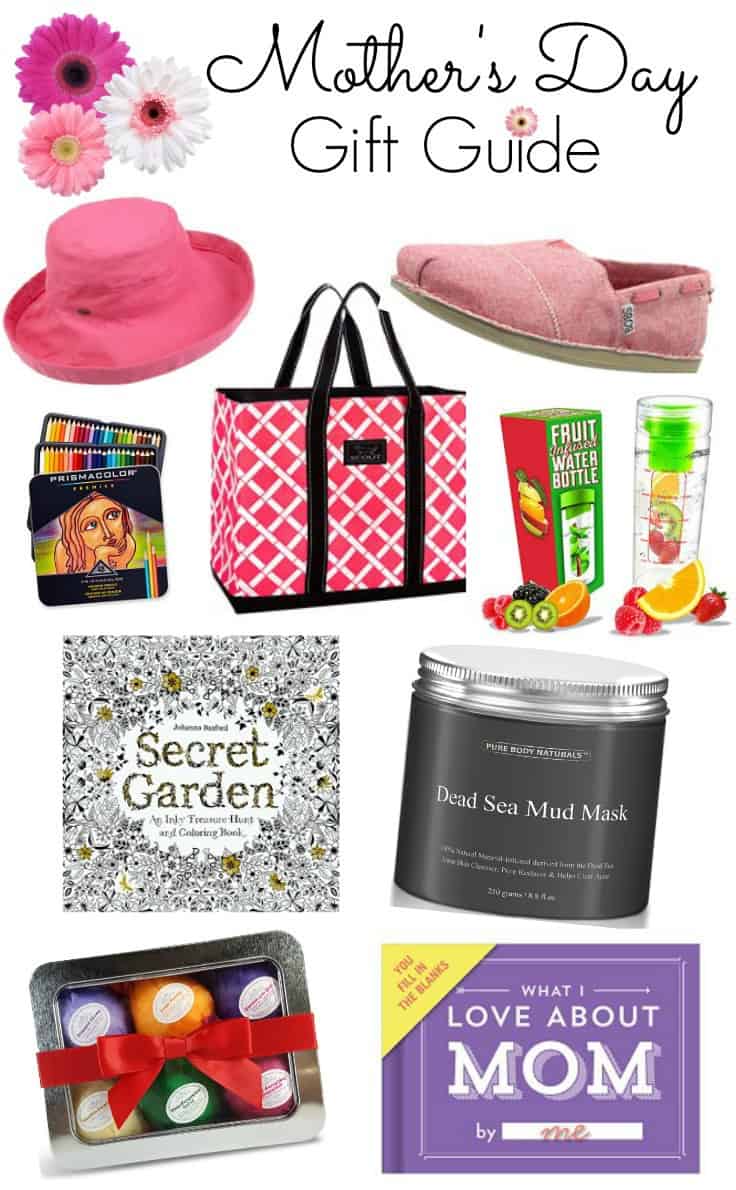 Every item in this gift guide is from Amazon.com and each item has stellar reviews!
In addition, I already have several of the items in this list, so I can tell you first-hand that they're great gifts!
Amazon prices are super competitive.
You'll typically get your item from Amazon cheaper than from anywhere else.
So pull your chair up to your computer, click on the links below, and have your gifts delivered straight to your front door in record time.
1. Wide Brim Hat
2. Slip-on Flats
3. Colored Pencils
4. SCOUT Tote Bag
5. Fruit Infuser Water Bottle
6. Adult Coloring Book
7. Facial Mask
8. Bath Bombs
9. Mom Book
Share this list so you get what you want!
I personally LOVE everything on this list and really hope that I get a couple of these items for Mother's Day (hint hint to my hubby and son!)
UPDATE! My Hubby and son came through and got me the SCOUT bag, the coloring book, colored pencils, bath bombs and the fruit infused water bottle!
I'm one lucky Mama!
So go ahead and share it with your significant other and/or kids, circling exactly what you want.
Believe me, you're helping them out!
Happy Mother's Day to all of the wonderful Mamas out there!
For more Mom related posts, click on over to:
10 Quick & Healthy Dinner Ideas For The Frazzled Sports Mom
Easter Bunny Cake Recipe Like Mom Used To Make
Mother's Day Advice For Married Men