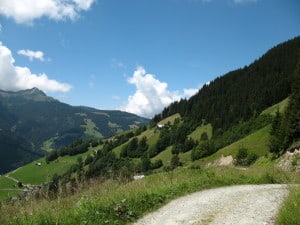 "Raindrops on roses and whiskers on kittens
Bright copper kettles and warm woolen mittens
Brown paper packages tied up with strings
These are a few of my favorite things"
Aw, these words from a song in "Sound of Music" are near and dear to my heart.  Not only is this movie such a great memory from my childhood, but my son got the opportunity last year, at this time, to play Kurt in Olney Theatre Center's "Sound of Music"!  What a beautiful story it is!
These words have inspired me to put together a list of my favorite things!  I'd like to share my tried-and-true, go-to places here in Frederick, MD!  So, here goes:
Dentist – Ballenger Creek Dental Associates – Dr. Mark LeMonnier is in practice for himself.  My family and I have been seeing Dr. LeMonnier for our dental needs for about 15 years now.  He's competent, easy to talk to, fair and reasonably priced for any out-of-pocket fees.  His staff is the best too!
Primary Care Physicians – Frederick Primary Care Associates – I see Dr. Rebecca Herman-Smith and my husband sees Dr. Edward Fisher.  We both love the way these physicians take their time with us and genuinely care for our well-being.  I, personally, love Dr. Herman-Smith's nurse too – she is so approachable and puts me at ease (I hate going to the Dr's!).
Hair Salon – PK Hair Studio – Pam, several of our friends, and I have been going to this salon for years.  It's family owned and run, very personable, extremely reasonably-priced and they provide excellent service.  Maria does most of the women/girls who come in while her husband Tin cuts the men/boys' hair.  We have nicknamed Maria our magician!  If you tell her what you want her to do, you leave there with exactly what you wanted!
Restaurant – Santa Rosa – if you want a place that is easy to get a table quickly, excellent service, excellent and authentic Mexican and Salvadorean food all for a very reasonable price, then you must try Santa Rosa!  Pam's and my families have been coming here for many years and we will keep coming back.  They know what we're going to order before we even tell them!  Let me know what you think if you try it!
Grocery store – Bottom Dollar and Giant – OK, so these 2 stores are kind of polar opposites.  Bottom Dollar is nice and cheap and has all of the staples you need.  Giant is not so cheap but if you shop the sales and use coupons it's better, but Giant has a very nice selection and has all the bells and whistles.  Wegmans, of course, is a beautiful store but it's just not as convenient for me.  What I really want is a Trader Joe's here in Frederick!!!!
Lab and Xray – FMH Crestwood – I kinda hate to even list this one, because I don't want my little secret to get out!  This place is just the best.  If you need to get labwork, x-rays, rehabilitation, etc. you really need to visit this facility (if your health insurance approves of this provider)!  They also have a Women's Center here 🙂  This facility is very new, so it's modern, spacious and beautiful.  I have never experienced a crowd here (unlike other local labs) and the staff is superb.
Gym – Planet Fitness – OK, I haven't been to the gym in …. well, I'd rather not say, but let's just say I need to get back!  I LOVE this gym!  It's kind of a no-fuss, just get in and get out kind of gym.  First of all, the main color is purple – you just can't go wrong with the decor!  It's very inviting, has everything you need (except daycare – only drawback for people who may need that), very nice equipment and it's cheap as heck!  $10/month – what what!!!
Boutique – Camillions – love this place!  If you love Vera Bradley, Brighton Jewelry and accessories, Yankee Candles, Chamilia, Trollbeads, Biagi and more, then you need to check out this store.  They are very personable and have always given me a special deal (i.e. throw in something free) when I have purchased anything there.
Auto Mechanic – East Street Citgo – this is a very unassuming place, and you kinda feel like you're going back in time because it's like a little old gas station.  But, if you ask for Mr. Shin he will treat you right.  He is timely, does the job right and very reasonably priced!  We heard of him through other personal recommendations and now he is our go-to mechanic.
Bagel place – ZiPani Breads and Cafe – mmmm!  My mouth waters just thinking about this place.  What do I get every time?  The Turkey and Herb Bagel Sandwich on a toasted Everything Bagel – yum!  They have a great selection of other kinds of bagel sandwiches, bagels, cream cheeses, regular sandwiches, coffees, teas, desserts, etc.  Plus, they have a nice, quaint seating area.
Well, there ya have it.  Quite a random list of some of my favorite things here in Frederick!  Give some or all of these a try and if you get a chance let me know what you think.  Pam would probably be able to come up with a completely different list of favorite things too, so if you like this post let us know 🙂   So…..
"When the dog bites
When the bee stings
When I'm feeling sad
I simply remember my favorite things
And then I don't feel so bad!"

Pam is married and has 1 son – a middle-schooler in his teen years. She followed Terri to Frederick in 1999. She absolutely loves going to yard sales and estate sales and finding hidden treasures.
read more...