I had so much fun creating my Ultimate Gift Guide For Her and my Ultimate New Years Eve Party Gift Guide For Him & Her (By the way, there's still time to shop!) that I had to make at least one more guide to finish off the year.
I had some leftover New Years Eve items that I just had to share with you but couldn't fit them all on one guide.
So I saved all of the party related items for an entertaining guide.
New Years Eve
I grew up in the '70s and one of my favorite things to play with was those paper dolls sticker pads.
I found out that they still sell them!
Here's a Melissa & Doug Play House! Reusable Sticker Pad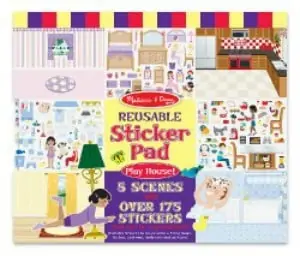 THIS is how I feel when putting together these gift guides.
I guess it's therapeutic for me, because I could do this all day.
ANYWAY! I digress!
If you're hosting a New Years Eve party OR even attending one and you'd like to bring a hostess gift, any of the items on this guide would be totally appropriate.
Below is the list with all of the links. Just click on the items that you're interested in and the link will take you directly to it.
His & Hers Wineglass Charms – I love these so much better than the kind that looks like a little bracelet that you put on the base of the stem of your glass. Plus, these charms work on any type of glass, even the stemless ones.
Drink! Beverage Dispenser from Relish Decor – I love anything that's got a saying on it these days. This dispenser is great for holding and displaying a NYE signature drink for your guests.
Tickle & Kiss Glassware from Silk & Burlap – LOVE the mustache & smooch lips on these glasses. And how perfect for New Years Eve!
New Years Eve Party Straws – These are uber cute & fun! Some are midnight clocks, some say 2016 and some say Happy New Year.
Santa's Mustache Cookies from Sugar Dot Cookies – Because, edible photo props! Sugar Dot cookies are so delicious too!
Ring in the New Year Napkins – Not everything has to say Happy New Year, but napkins are a great, low cost festive party item to have at your gathering.
New Years Eve Party Gift Bags – How clever and cute are these!? You don't want to send your guests home on an empty stomach and most likely you'll have a ton of leftovers. These snack bags are the perfect little party favor for your guests to bring home with them. Before they leave, just hand them their bag and let them fill it with what they want.
Mason Shaker Kit from Silk & Burlap – Because, MASON JARS! We're all about mason jars. Just look at our logo.
Chalkboard Photo Prop Signs – These are perfect to 'prop' up in a corner along with your photo booth props. This way, you don't have to explain to all of your guests what to do. It's self-explanatory.
New Years Eve Photo Booth Props Kit – This kit has all the New Years Eve props your guests need to make for some really fun photos.
So there ya have it!
Any must-have items for entertaining on New Years Eve that I didn't include?
Let us know in the comments.
Here's to a healthy and prosperous 2016!
Cheers!