This post was sponsored by Hasbro's Joy For All brand as part of an Influencer Activation for Influence Central. All opinions expressed in my post are my own.
"Where there is love there is life." ~ Mahatma Ghandi
This quote by Mahatma Ghandi rings so true, especially as we get older.
As our parents gave us unconditional love, support, and attention growing up, there comes a time where our roles become reversed.
But providing companionship to your aging parent can sometimes be challenging, especially when your elderly loved one can no longer take care of a real pet.
Providing Companionship To Your Aging Parent
Our Mom has been a pet lover all of her life.
She still fondly remembers her very first dog as a little girl, Lady.
Our family has always had pets through the years.
When Mom had to go into a nursing home a couple of years ago, she had to give up her beloved cat, Sophie.
It was very difficult to see the sadness in her face whenever she'd talk about her cat.
That's why when I heard about Hasbro's Joy For All Companion Pets, I was so excited!
As soon as I received the Companion Pet Golden Pup and the Companion Pet Orange Tabby Cat, I brought them to my Mom at the nursing home.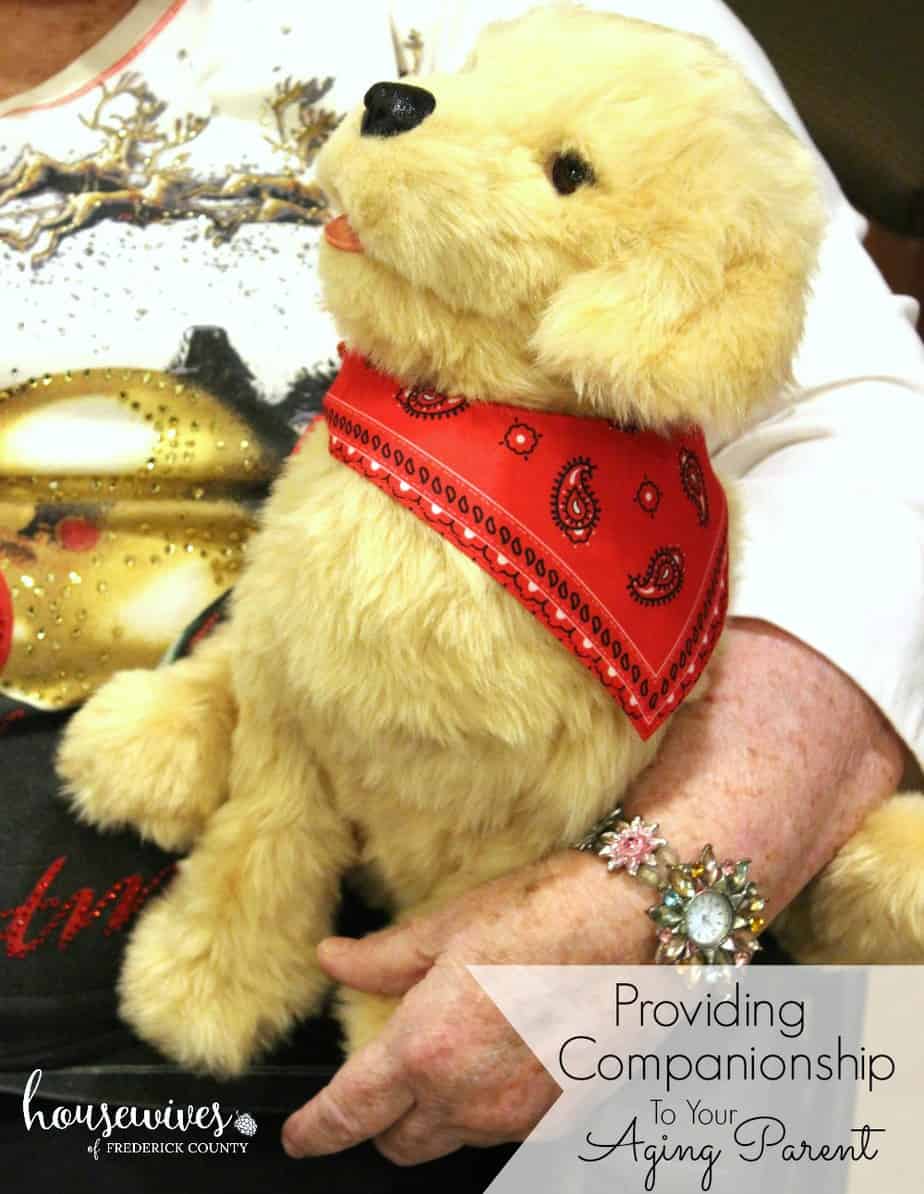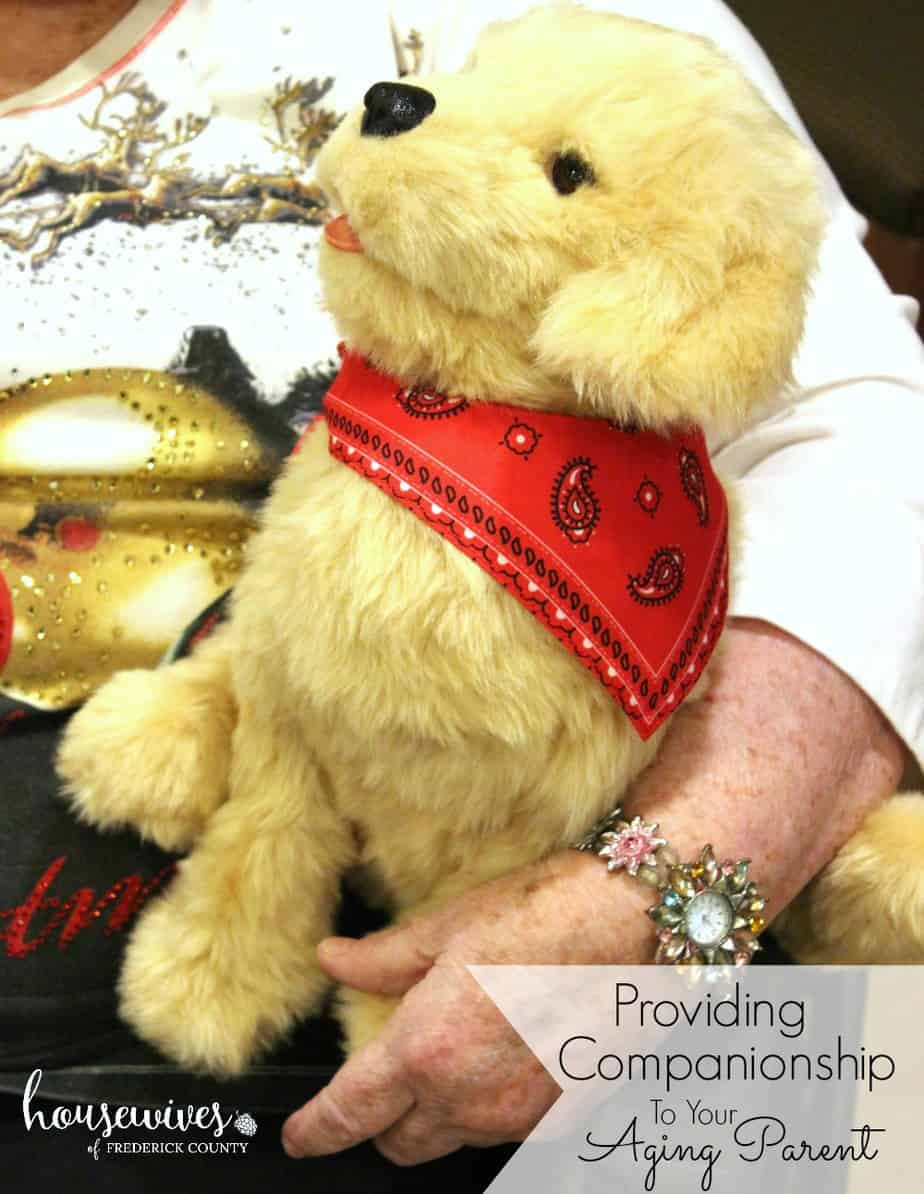 She was immediately enamored with both pets.
As we sat in the living area of the nursing home, we attracted an increasing amount of attention from the other residents, the nursing home staff, and visitors.
Every single person who stopped to visit with the pets named at least one person in their lives who these pets would be perfect for.
One of the staff members couldn't put the companion pet pup down, expressing how, because she is highly allergic to dogs, she can't have one of her own and this pet would be the perfect solution for her.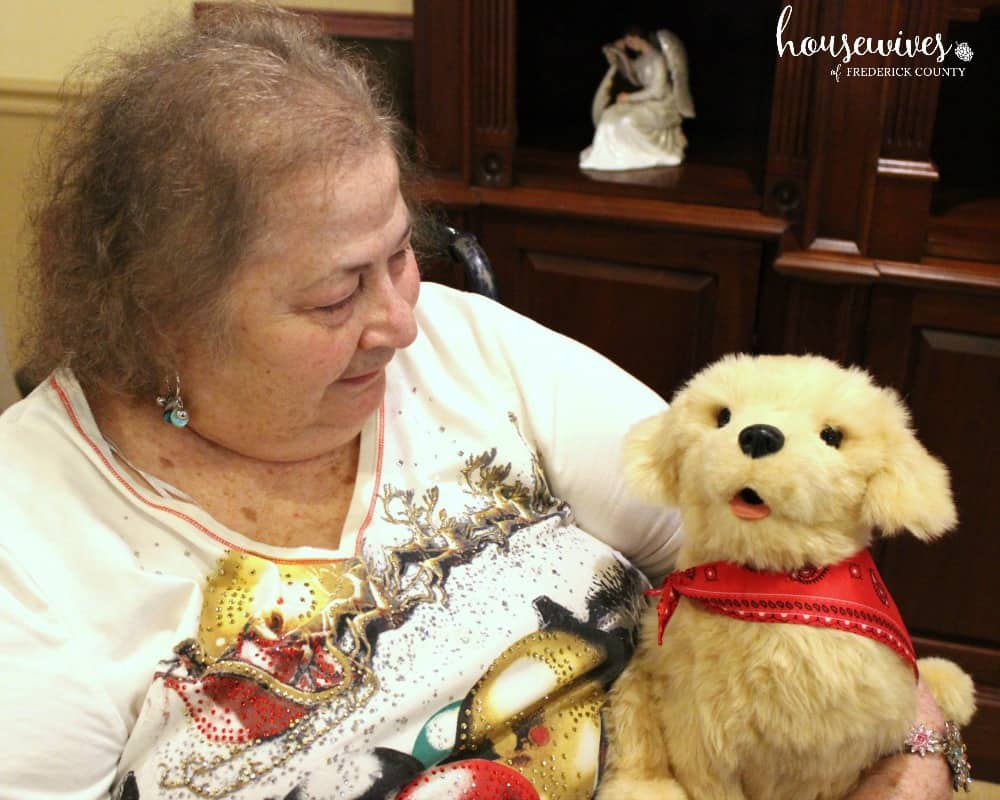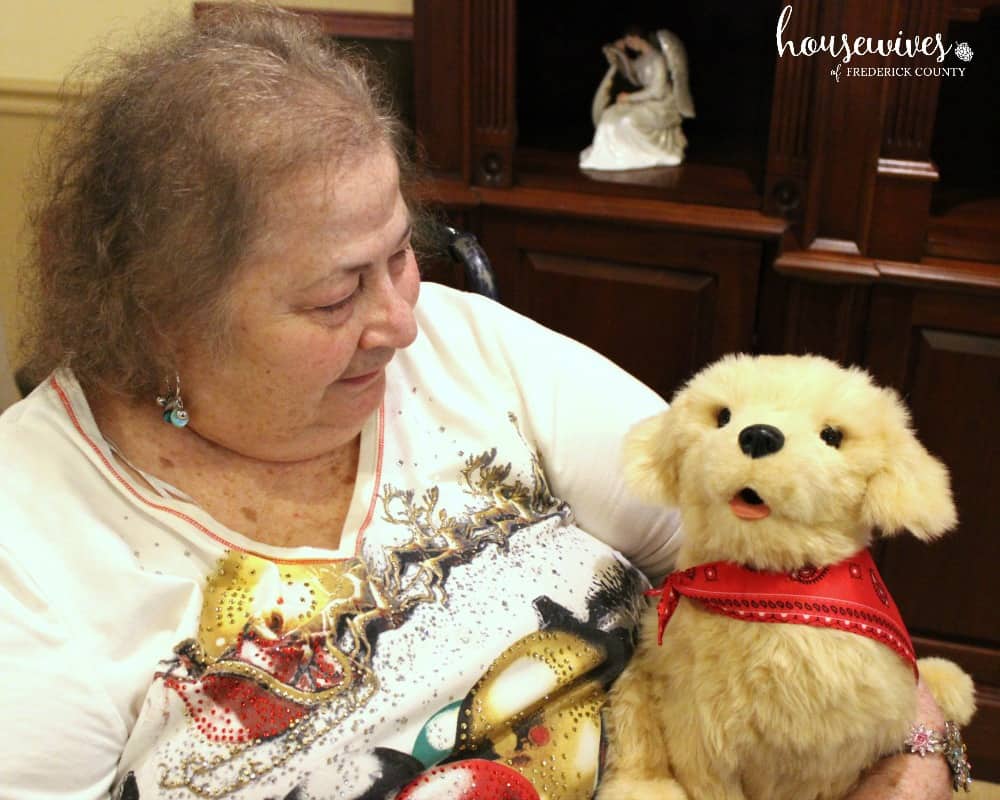 These companion pets provide a unique two-way interaction between them and their happy owner with built-in sensors that respond to motion and touch.
They're the next best thing to the real thing with an added benefit of not having to clean up after them or feed them!
Companion Pet Pup
The Companion Pet Pup responds to voices with adorable pup-like sounds, using Hasbro's BarkBack technology.
The bark isn't over powering. It's just loud enough to make him cute and command your attention.
The pup will also look toward you when you speak to it.
This little guy was looking around like crazy because so many people were talking to him and about him.
His built-in sensors will respond to motion and touch.
You can even feel his little heartbeat.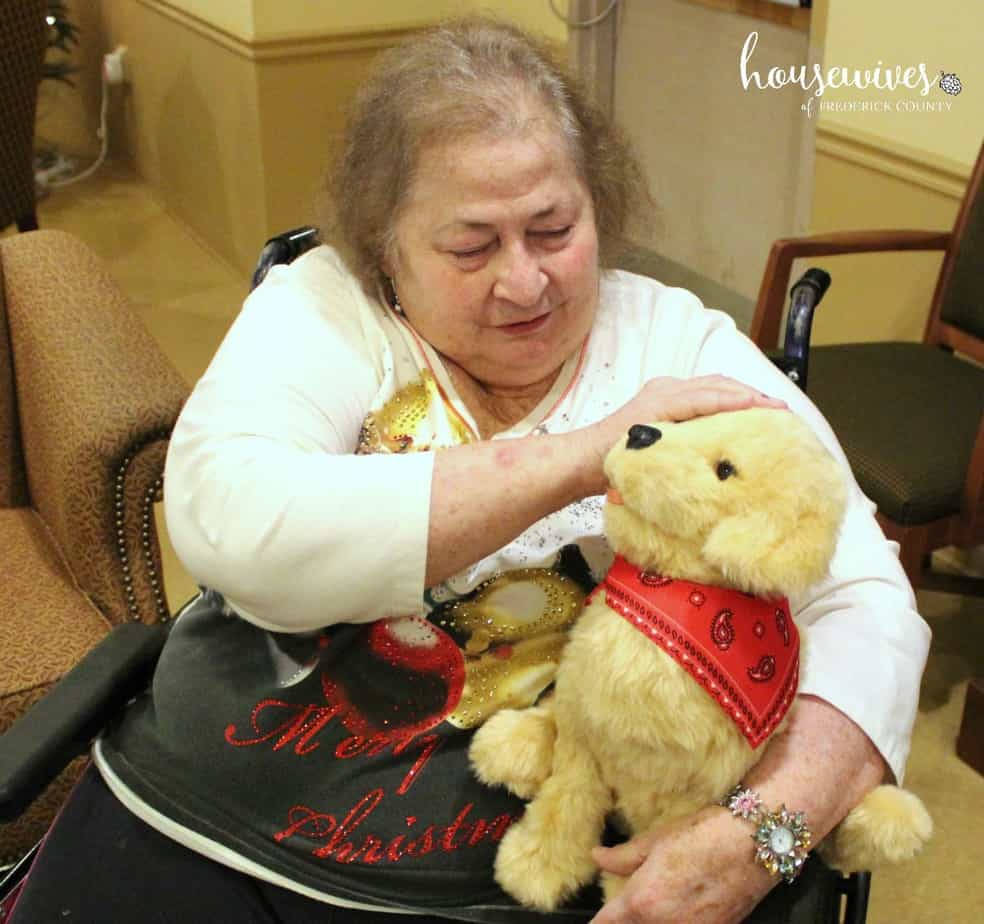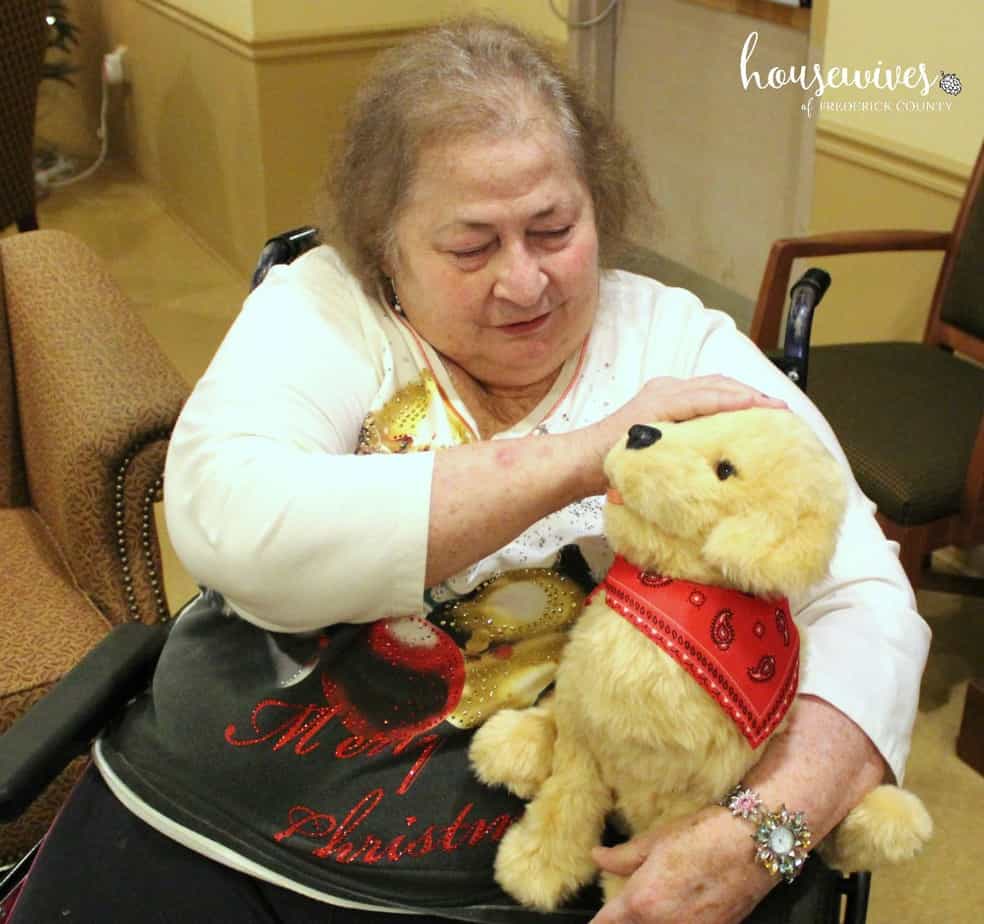 Click on the video below for a little sample of what he can do:
Companion Pet Cat
The Companion Pet Cat will respond to petting, hugging, and motion by meowing, rolling on its back for you to pet its tummy, and purring. Its eyes will even open and close.
The purring technology is so realistic and enhances its lifelike qualities.
The cat comes with a brush for brushing its fur.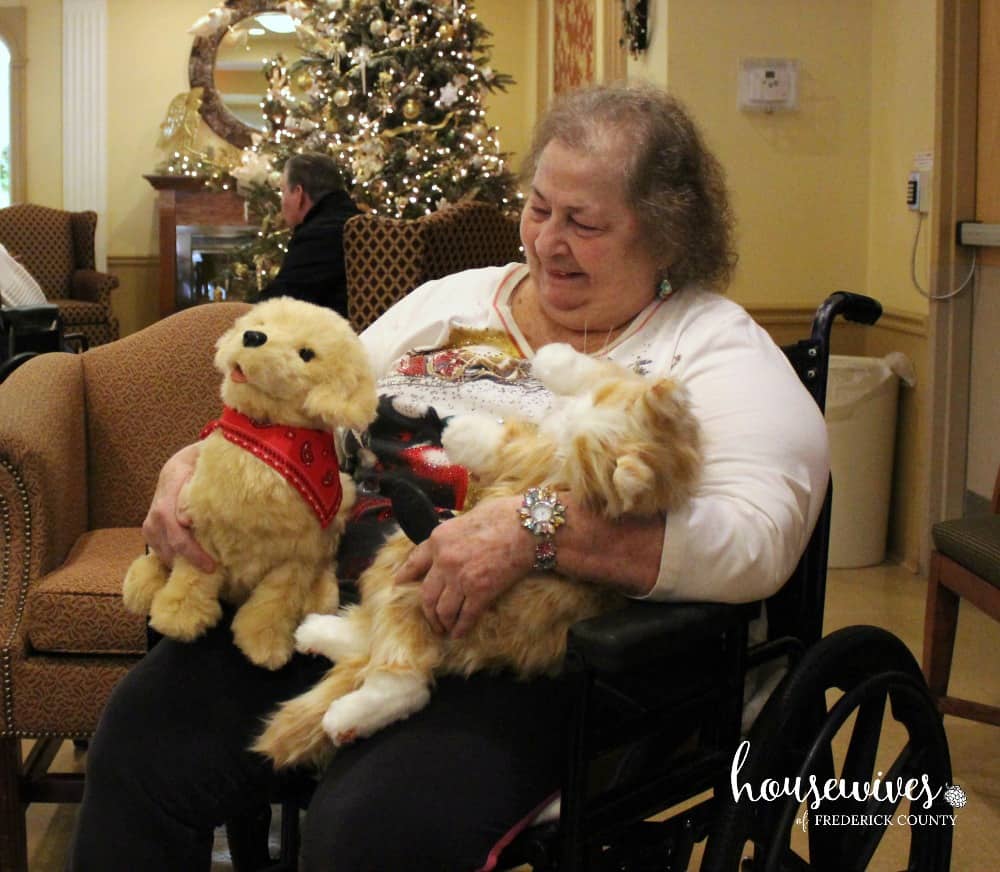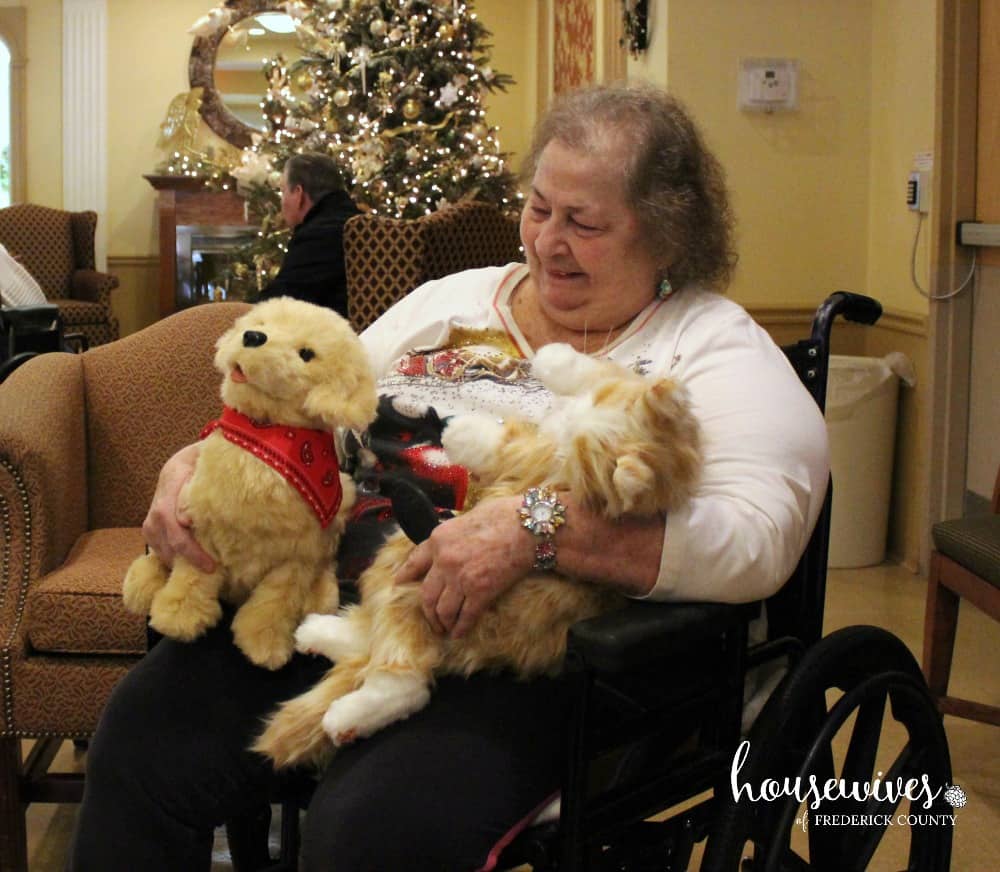 Use the power button under your pet's tummy to power on, off, or mute.
Four (4) 1.5V C alkaline batteries are included with each companion pet.
Each Companion Pet has realistic, soft fur.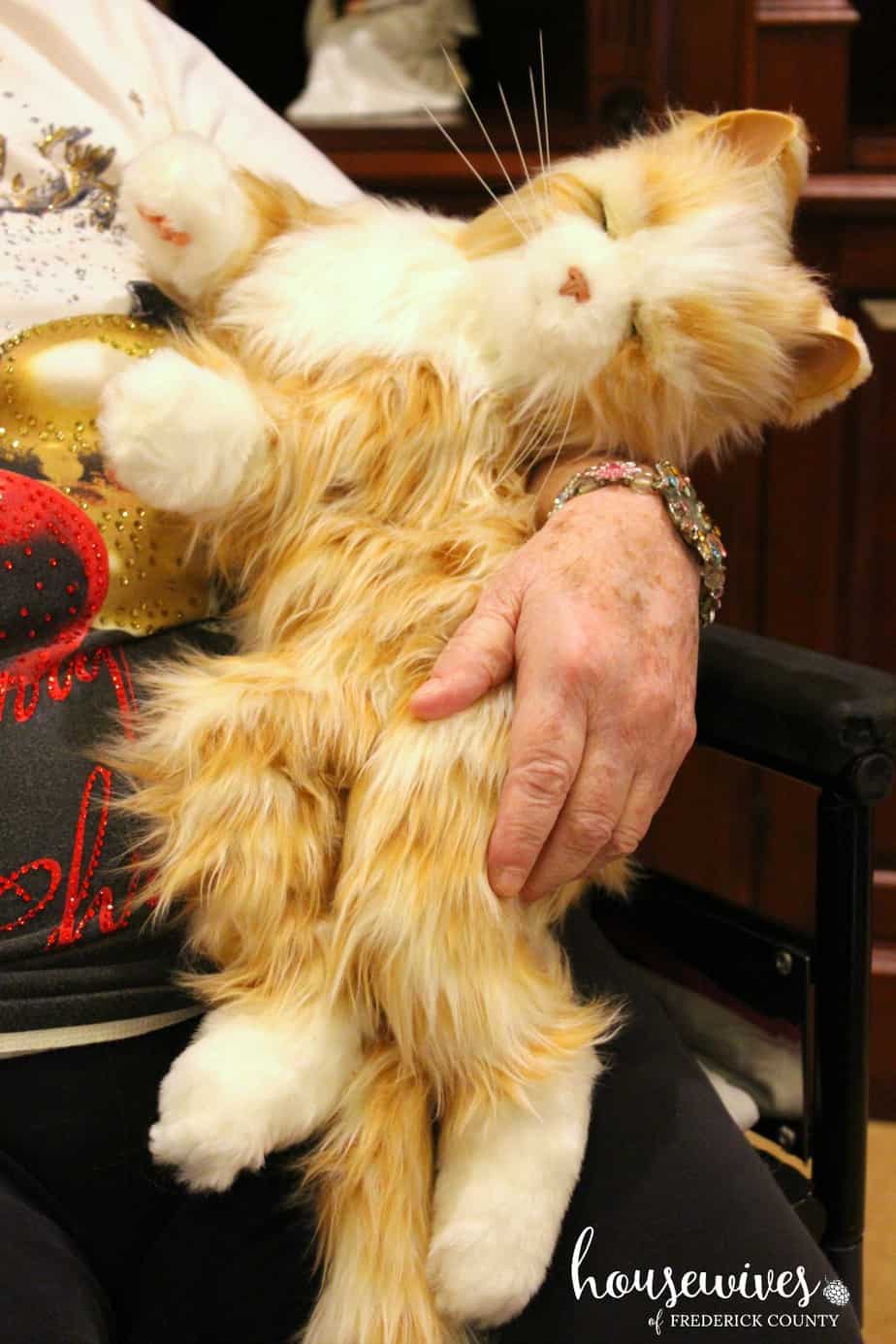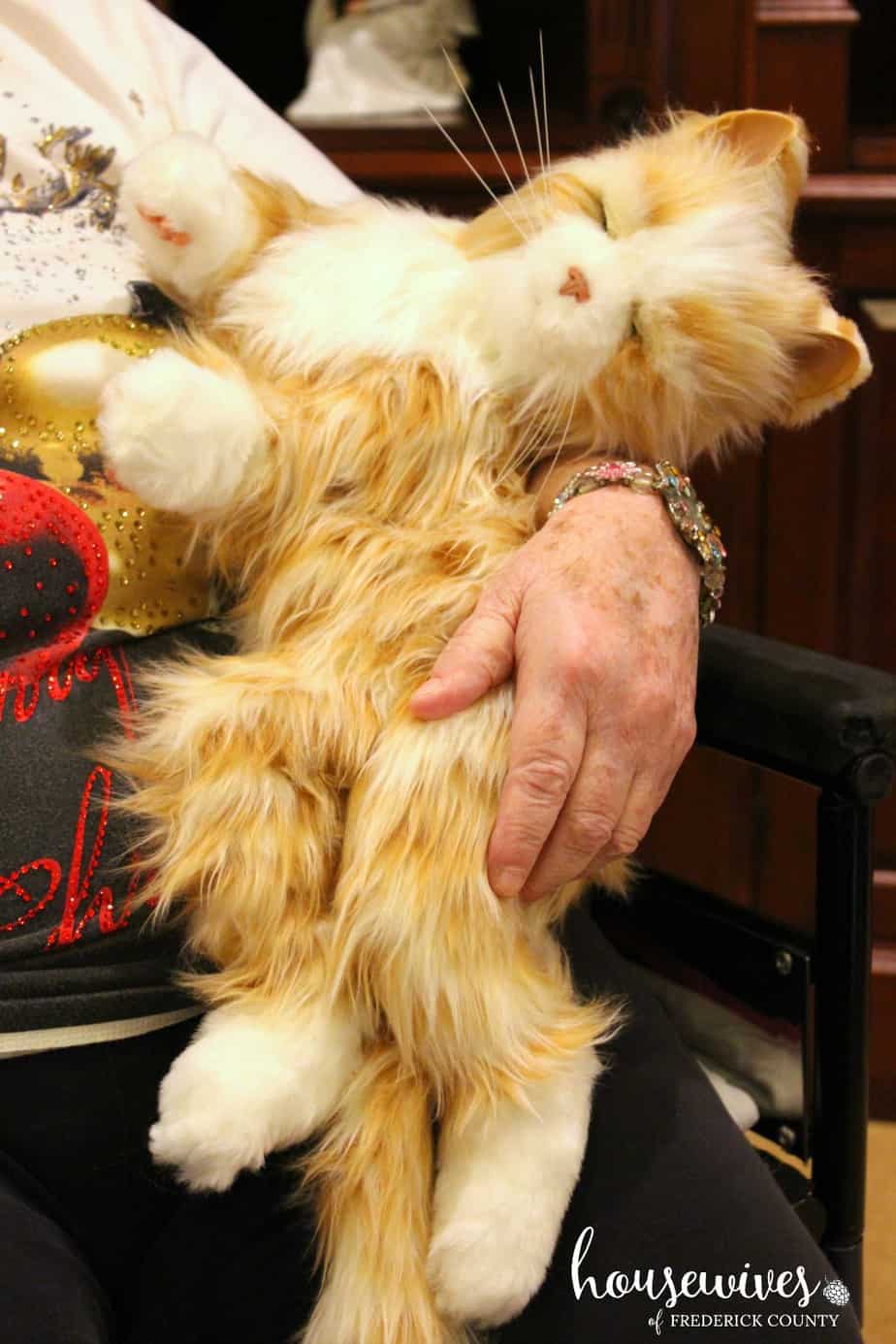 The loving and joyful look on my Mom's face made me so happy, knowing that whenever I'm not there with her, she'll have her pets to keep her company.
Before I left that day, she had already come up with their names.
The cat is "Precious" and the pup is "Muffin".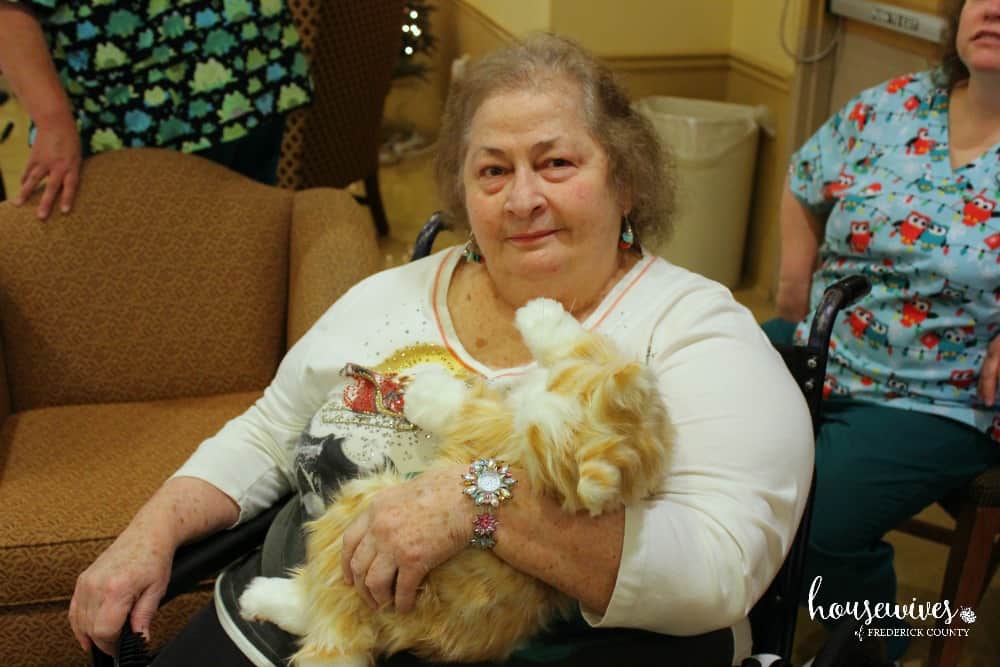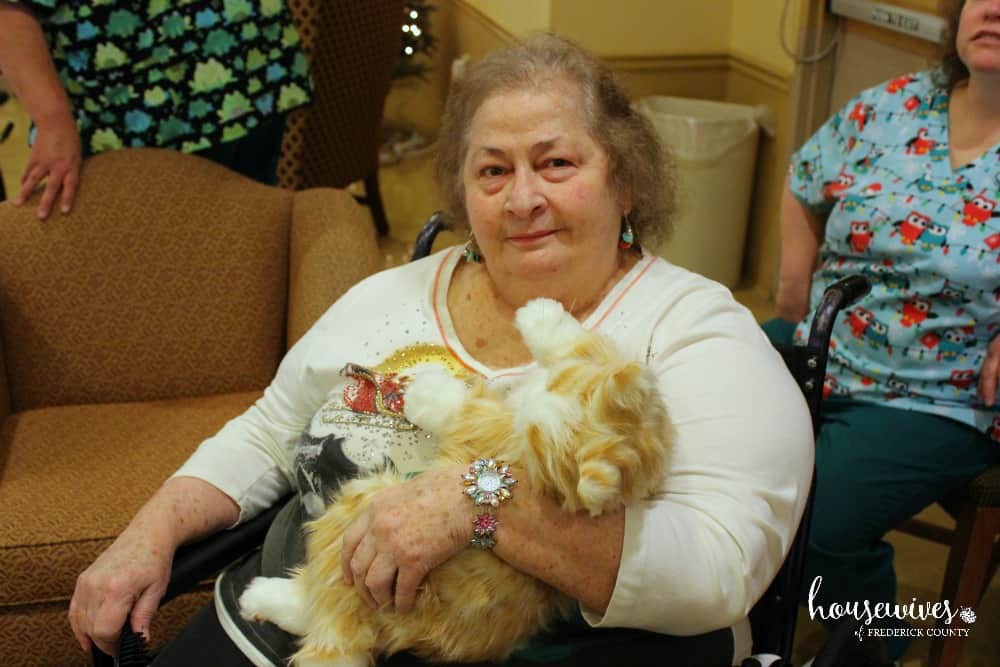 My Mom tells me how often people stop by her room now to spend time with her new companion pets.
It seriously warms my heart to know that she's having fun with her companion pets, bringing smiles to everybody's faces.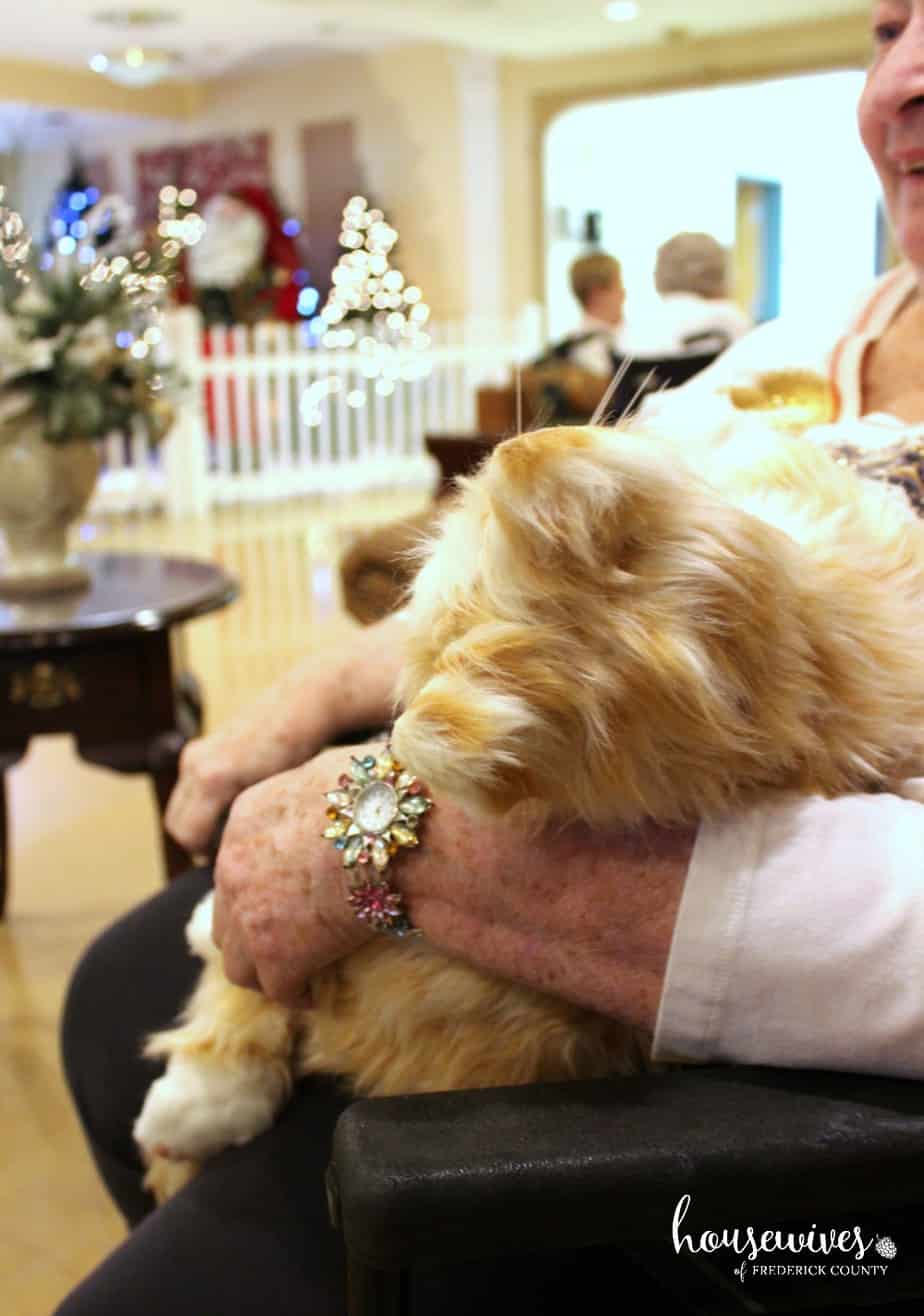 To get a Hasbro Joy For All Companion Pet of your own go to JoyForAll.com today and use promo code: JOY2016 for 10% off your purchase!

Pam is married and has 1 son – a middle-schooler in his teen years. She followed Terri to Frederick in 1999. She absolutely loves going to yard sales and estate sales and finding hidden treasures.
read more...