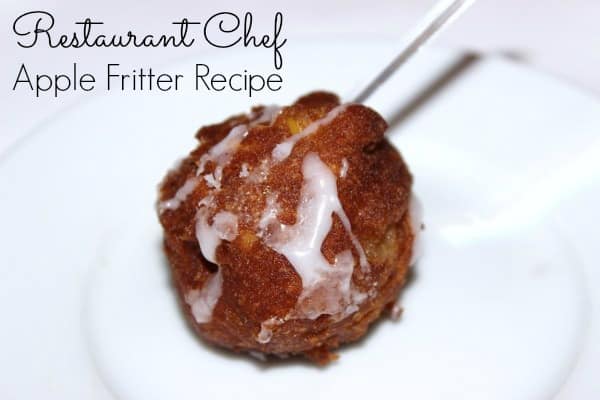 I am now presenting you with my Restaurant Chef Apple Fritter Recipe.
The restaurant is Chef Geoff's in Washington, DC.
The Chef is Executive Chef, Jerome Sharpe.
And the apple fritter recipe is ta die for!
This is going to be a quick and dirty post since you already know the back-story of how I got my hands on this recipe in the first place.
If you didn't get a chance to read my pumpkin soup post, here is the CliffsNotes version: Terri & I were invited to a presentation from Braun, hosted by Chef Geoff's.
Executive Chef, Jerome Sharpe, treated all of the guests to a comfort food demo with a 5 course meal.
The 5th course?
These delectable apple fritters.
Restaurant Chef Apple Fritter Recipe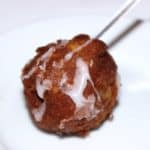 Print Recipe
Restaurant Chef Apple Fritter Recipe
Ingredients
- 1 cup all purpose flour

- 1/2 cup sugar

- 1 teaspoon salt

- 2 teaspoons baking powder

- 2 teaspoons cinnamon

- 1 teaspoon ground ginger

- 1/4 teaspoon ground cloves

- 1/8 teaspoon ground nutmeg

- 1/4 cup apple butter

- 1/4 cup milk

- 1 granny smith apple

diced

- 1 egg

Glaze:

- 2 cups powdered sugar

- 2 tablespoons milk
Instructions
Combine all dry ingredients.

Stir in apple butter, milk, and eggs.

Fold in diced apple.

Heat oil to 350 degrees.

Use a small ice cream scoop and scoop batter into oil and fry for abut 2 minutes until browned.

Flip and cook 2 minutes more on the other side.

Remove fritters to a paper towel covered plate to drain oil, then to a cooling rack.

Once cooled, drizzle with glaze.

Let glaze set, then turn over and drizzle opposite side.
Normally I would prepare the recipe myself and review it's difficulty level.
However, since these were made for me by an Executive Chef, I can't say how easy they are to make.
But based on the directions, they look pretty darn easy.
And the finished product?
Perfection!
As you can see, they are made to be small.
After the previous 4 courses we enjoyed, this apple fritter was the perfect size.
Bon Appetit!

Pam is married and has 1 son – a middle-schooler in his teen years. She followed Terri to Frederick in 1999. She absolutely loves going to yard sales and estate sales and finding hidden treasures.
read more...