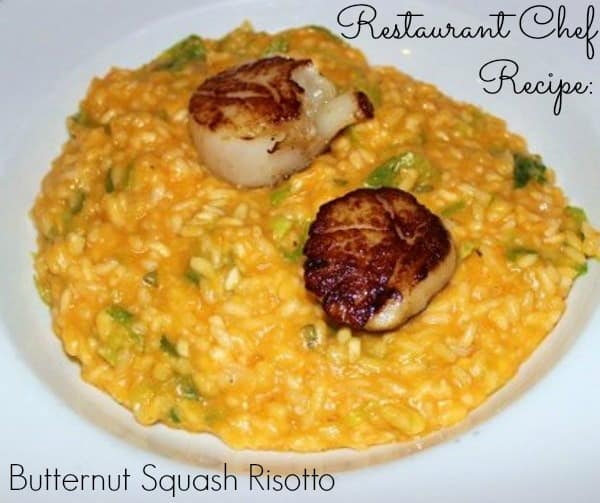 As promised in my Pumpkin Soup & How to Easily Get an Accurate Temperature post, I am now presenting you with my Restaurant Chef Recipe: Butternut Squash Risotto.  The restaurant is Chef Geoff's in Washington, DC.  The Chef is Executive Chef, Jerome Sharpe.  And the Butternut Squash Risotto recipe is ta die for!
This is going to be a quick and dirty post since you already know the back-story of how I got my hands on this recipe in the first place.  If you didn't get a chance to read my pumpkin soup post, here is the CliffsNotes version: Terri & I were invited to a presentation from Braun, hosted by Chef Geoff's.  Executive Chef, Jerome Sharpe, treated all of the guests to a comfort food demo with a 5 course meal.  The 4th course?  This amazing butternut squash risotto.
Restaurant Chef Recipe: Butternut Squash Risotto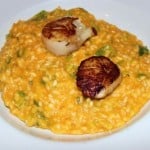 Print Recipe
Restaurant Chef Recipe: Butternut Squash Risotto
Servings:
4
to 6 servings
Ingredients
- 1 quart water + 1 cup

- 2 tablespoons canola oil

- 6 ounces white onion

small diced

- 2 cloves garlic

finely chopped

- 2 cups arborio rice

- 1 cup dry white wine

- 1 pound cooked butternut squash

small diced or pureed

- 1 teaspoon ground cinnamon

- 4 tablespoons butter

- 7 or 8 leaves fresh sage

chopped

- 1 cup grated parmesan cheese

- 3 teaspoons kosher salt

- 3 tablespoons white granulated sugar

you can use more or less depending on the sweetness of the squash
Instructions
Bring water to a simmer in a saucepan and then reduce heat to low.

Heat oil in a medium size pot over medium-high heat.

When oil is hot, add the onions and garlic and soften about 2 to 3 minutes.

Add 2 tablespoons of butter.

Once butter is melted add rice and toast 2 to 3 minutes.

Add wine and cook it out completely, stirring with a wooden spoon occasionally for 2 to 3 minutes.

Ladle in water in intervals, a couple of ladles at a time stirring constantly.

Allow liquids to evaporate each time.

Risotto will cook in about 18 minutes total.

Stir in squash the last 3 minutes of cook time.

Season with cinnamon, sugar and salt.

In the last minute of cooking, stir in remaining butter, sage leaves and cheese.

Serve immediately.
Normally I would prepare the recipe myself and review it's difficulty level.  However, since this was made for me by an Executive Chef, I can't say how easy it is to make.  But based on the directions, it looks somewhat easy.
And the finished product?  Perfection!  Chef Sharpe added a couple beautifully seared scallops on top of the risotto.  It was delicious!
Bon Appetit!

Pam is married and has 1 son – a middle-schooler in his teen years. She followed Terri to Frederick in 1999. She absolutely loves going to yard sales and estate sales and finding hidden treasures.
read more...