So, it's January. It's a new year. I need to lose some L B's. For some reason, as 2014 rolled in, I kept saying in my mind that I want 2014 to be MY year of taking responsibility! I'm 47 years old, and darn it, it's about high time I start acting like an adult and, as actor Tom Arnold recently reported on his new weight-loss, I need to "stop eating like a jerk!"
With that being said, Pam and I both decided to join Weight Watchers last week! Yeah, yeah – BEEN there, DONE that! BUT, this time it's different. For one, 2014 is my year of taking responsibility. No more saying things like, "I just REALLY want an ice cream sundae! Alright, just this time and then I PROMISE I will get right back on a diet!" But for another thing, Weight Watchers has this new, cool plan out that you can opt to do the 'Simple Start' for a 2 week trial period and then decide if you want to continue with that plan or go on their usual plan of counting points.
Without going into too much detail, the Simple Start plan has a list of "free" foods that you are allowed to eat as much as you want of. These foods are pretty much all of the healthy basics – lean meats, whole grains, fruits, veggies, non-fat dairy and a little healthy oil added in. You can find out more about this plan on the Weight Watchers website. You also get 7 'points plus' points each day to use for the little extras that you may "need" – i.e., pats of butter, a little honey added for flavor, etc.
I have been on this plan for 4 days now and it is SO doable! Keep in mind, I haven't been able to stick to any type of diet for years. So, I am so happy with this plan. But, I have to admit – I've got it REALLY good at home. My husband is 100% supporting me in my journey and has decided that he would like to shed some weight too. He almost always prepares dinners, and loves to cook – so, many times I can tell him what I'm in the mood for, and a few hours later it's what's in front of me for dinner! Yes – I am spoiled – I love this man!
My husband loves Food Network recipes and found a recipe for dinner this evening that fit right into the Simple Start plan! The recipe is actually called Spicy Kale and Corn Stuffed Chicken Breasts, but I have re-named it Spicy Spinach and Corn Stuffed Chicken Breasts because our grocery store was out of kale. Here is the recipe:
Spicy Spinach and Corn Stuffed Chicken Breasts
Nutrition Information Per serving: Calories: 386; Total Fat 15 grams; Saturated Fat: 4.5 grams; Protein: 53 grams; Total carbohydrates: 7 grams; Sugar: 1 gram Fiber: 1 gram; Cholesterol: 160 milligrams; Sodium: 878 milligrams
Ingredients
- 4 tsp olive oil

- 5 1/2 oz. frozen chopped spinach

,

about 2 cups

- 2 cloves garlic

,

finely chopped

- Kosher salt

- 1/3 cup frozen whole kernel corn

- 2 oz. pepper jack cheese

,

grated (about 1/2 cup)

- four 8-oz. boneless skinless chicken breast halves

- Freshly ground black pepper

- 1/2 cup low-sodium chicken broth

- 1 tsp. all-purpose flour

- 1 1/2 tsp. fresh lemon juice
Instructions
Directions

Heat 2 teaspoons of the oil in a large skillet over medium heat. Add the kale, garlic and 1/4 teaspoon salt and cook, stirring, until the kale is softened and the garlic is fragrant, about 5 minutes. Add the corn and cook, stirring, until warmed through, 2 to 3 minutes more. Transfer to a bowl to cool slightly, and then stir in the cheese.

Insert a thin paring knife into the thickest part of the chicken breast and cut down the side to make a 3-inch pocket. Repeat with the remaining chicken breasts. Then evenly stuff with the kale mixture.

Heat a large nonstick skillet over medium-high heat until very hot, 3 to 4 minutes. Rub the chicken breasts with the remaining 2 teaspoons oil and sprinkle with a total of 3/4 teaspoon salt and 1/4 teaspoon pepper. Add all 4 chicken breasts to the skillet and cook until golden brown, about 2 minutes. Then lower heat to medium. Continue cooking, turning once halfway through, until just cooked through, about 14 minutes more. Insert a small paring knife into the top of the chicken to test for doneness. If any pink areas remain, cover the skillet and continue to cook until opaque.

Transfer the chicken and any bits of filling that fell into the skillet onto 4 plates. Stir the broth and flour together in a small bowl and then add to the skillet. Cook, stirring, until thickened, about 2 minutes. Remove from the heat, stir in the lemon juice and season with salt and pepper. Spoon the pan sauce over the chicken.
OH.MY.GOSH. It was so, darn good! Even both of my boys liked it! Ya know when you go to a restaurant and you leave with that gourmet taste in your mouth that actually makes it ok that you just spent way too much money on a meal? Well, that's the same taste you will have after you eat this recipe – but without spending way too much money! Now, THAT's a beautiful thing!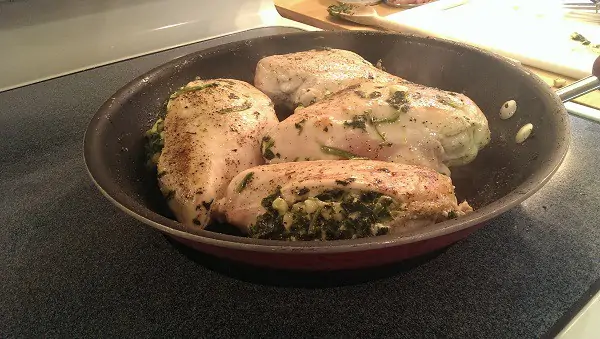 The pepper jack cheese would need to go into your points plus tally if you are following the Simple Start plan. Other than that, you are on-plan with this recipe! We paired it up with homemade potato wedges baked on a cookie sheet with a little olive oil, salt and pepper. Yum!!! I even added some Old Bay spice to my potato wedges – my new obsession!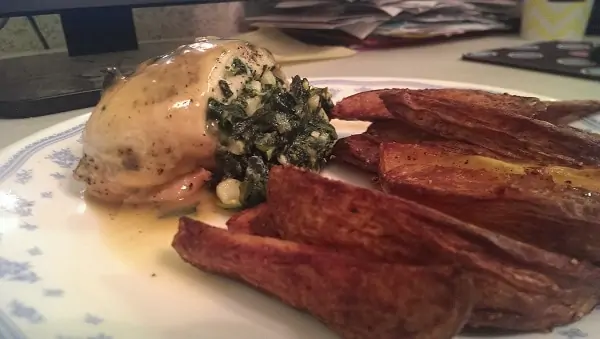 So, there ya have it! A great dinner that you can include in a great lifestyle eating plan! Now, THAT'S a great way to start the year!