On Sunday, October 14, 2012 I will be walking in the Step Out Walk To Stop Diabetes at Baker Park in Frederick, MD. My grandmother and aunt both suffered greatly from this disease. It is because of this that I have a personal reason for participating in and donating to this wonderful organization.
Step Out: Walk to Stop Diabetes is the signature fundraising walk of the American Diabetes Association. Formerly Step Out: Walk to Fight Diabetes and America's Walk for Diabetes, the event has been taking place for more than 20 years and has raised more than $150,000,000 to Stop Diabetes!
More than 150,000 participants from over 130 walk events across the country came together last year to raise over $20 million.
I will be walking with the Plamondon Walkers Team. I have raised $268 toward my goal of $400. You can help make that number grow by making a donation and supporting ADA!
To donate to my page, please enter this link http://main.diabetes.org/goto/pam.stultz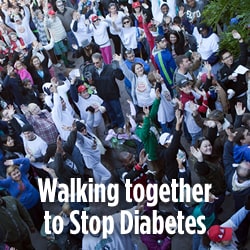 If you would like to join me in the walk, here is the Event Information

:
Date: October 14, 2012
Location: Baker Park
Time: Check in/Registration at 12:00 p.m. Walk begins at 1:00 p.m.
Event Contact: Kayla Twain, ktwain@diabetes.org
For more information, call 1-888-DIABETES or Contact Us.
As of today, September 27, 2012, these are Frederick's fundraising stats:
| | |
| --- | --- |
| Fundraising Goal: $230,000.00Achieved to Date: $37,875.40Days to Event: 17 | Number of Teams: 73Number of Participants: 332 |
Step Out Walks vary in length and each has its own local flavor, but some common themes can be found across all events:
Red Striders: A Red Strider is someone living with type 1, type 2 or gestational diabetes that participates in our events. They are given a Red Strider hat and are recognized in other ways. They are a reminder of why we walk. You may hear folks declaring "Go Red Strider" when seeing a walker wearing one of the Red Strider hats.

Champions: Participants who raise $1,000 or more become "Champions to Stop Diabetes." They are committed to doing everything they can to Stop Diabetes and are truly the backbone of our fundraising efforts. Once a participant sets their fundraising goal at $1,000 or higher, they receive the full support of their ADA staff partner to help achieve their goals. Each Champion receives a medal and other perks at and leading up to the event.

Teams: Teams come in all sizes—two or more people make a team! There are all types of teams as well: corporations, families, clubs & organizations, and school groups build teams to walk for those who have been touched by diabetes.
There are many faces and aspects to Step Out: Walk to Stop Diabetes that all contributed to a community committed to doing their part to prevent and cure diabetes once and for all.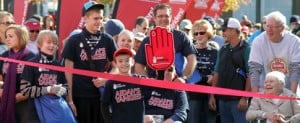 Thank you for "stepping up" to support my participation in Step Out: Walk to Stop Diabetes! Your donation funds many lifesaving programs, including research to prevent, manage and find a cure for diabetes.

Pam is married and has 1 son – a middle-schooler in his teen years. She followed Terri to Frederick in 1999. She absolutely loves going to yard sales and estate sales and finding hidden treasures.
read more...