We're comin' down the home stretch people!  Christmas is 4 days away!
I am SO happy to say that I am more ready for Christmas this year than I think I've ever been!
One of the last things I generally do is buy stocking stuffers.  As a kid, I remember getting my stocking was one of my FAVORITE things about Christmas morning!  It was always chock full of surprises, and even if it was just a simple lip balm it was so special, because it came from my stocking!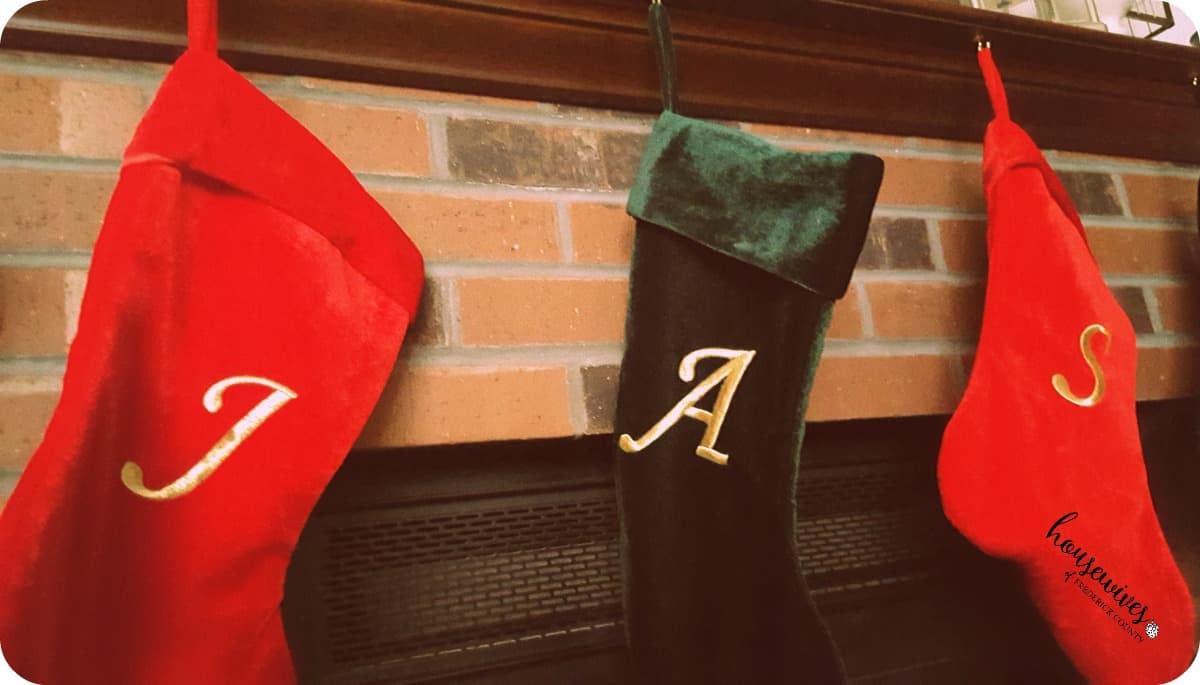 My boys have told me that they, too, always look so forward to going through their stockings.
This year, my boys are both teenagers! I'm actually having a bit of a harder time coming up with fun things to put in their stockings that aren't too "juvenile" for them.
SO, in true Housewives of Frederick County style, we have done our research for you!  We've come up with 55 last-minute stocking stuffer ideas!
Some of these ideas came from perusing online, but some also came from our FANTASTIC readers!
I've listed them in categories according to age, with some of the ideas being generic and some being specific.
For Young Kids
Candy, candy, candy!  And, of course, Christmas-themed candy is popular (think Reese's Christmas Trees)!
Matchbox cars
Fun, character Pez Dispensers with candy
Your gift recipient's favorite gum
Fun toothbrushes and mini toothpastes
Playing cards
Personalized Christmas tree ornament
Christmas tree ornament of your gift recipient's favorite character (i.e., Mickey Mouse, Teenage Mutant Ninja Turtles)
Socks – especially socks that they wouldn't normally get throughout the year, with crazy patterns and colors
Hair accessories
Anything Crayola
Jewelry
Any toy your child would like that's small enough to fit in a stocking
Bubble bath
Bath toys
For Older Kids (anything from the list above too!)
Flavored lip balm or gloss
Amazon gift cards (they can buy exactly what they want from the comfort of home!)
iTunes gift cards (iTunes is a music-lover's dream)
Lotion (Bath and Bodyworks always has a ton of fun scents!)
Gift card(s) to your gift recipient's favorite store(s)
Cosmetics
Nail polish
Mini Hand Sanitizers (again, Bath and Bodyworks always has fun, great scents!)
Purse-sized packs of tissues with fun designs on them
Mini Whitman Sampler boxes
Scratch-off Lottery ticket(s)
Batteries (for all of the electronics that kids use!)
Portable Cell Phone Charger (if you're a parent of an older kid, I don't even have to explain this one!)
Mechanical pencils (one of my sons LOVES these)
Pocket knife (depending on the age and maturity of the kid)
Travel-sized items or samples of grooming items
Mini Mag Light Keychain
Fun lanyard if your child uses one for the house-key
Gift Certificate for an event or service (think manicure for the girls; paintball for the boys)
Hygiene items, like deodorant, perfume/cologne, shampoo/conditioner, shower gel, hair products, etc.
Accessories for cell phone, like a new phone case, fresh earbuds, selfie-stick, etc.
A cool beanie
Sunglasses
Wallet (with money inside!)
For the "Grown-Ups" (anything from the lists above too!)
Small fruitcake
Bottle opener (there are some fun ones out there, even ones that have sounds!)
Wine opener
Mini bottles of liquor
Gag gifts or "Adult" toys (send the kids out of the room if you're including these!)
Kitchen gadgets (small enough to fit in a stocking of course)
Scarf
Truffles from a fave candy shop
Coffee
Scented candle
A koozy or a cup cozy
Hand mirror
Golf balls
Cufflinks
Nice pen
Organic soap
Frankly, the lists go on and on, depending on who your buying for!  Think about putting things in a stocking that your loved one wouldn't normally buy or get throughout the year – things that are decadent and special!
What are YOUR go-to stocking stuffers?
Ultimately, the gift of quality time with each other is the BEST present or stocking stuffer anybody could ever ask for!
Merry Christmas everybody!  Savor the Season!
Terri is married and has 2 sons – both high schoolers! She has lived in Frederick since 1994 and absolutely loves exploring and discovering new parts of our town.
read more...