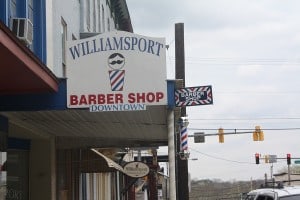 We here at Housewives of Frederick County love to talk about the treasures that Frederick County, MD has to offer. But, to be frank, we really don't want to limit ourselves, or our readers for that matter, to places strictly within the borders of Frederick County. I mean, who doesn't like to take that occasional little day trip excursion to explore areas right outside of your hometown?
So, Pam and I have decided to add a new category to our blog – Day Trip Destinations! The first place we would like to highlight is none other than our very own cousin's place of business – Williamsport Barber Shop Downtown! Williamsport (Maryland) is about a half hour drive from Frederick, so it actually takes relatively no time to get there (find out more about Williamsport here).
My mom, aunt and I decided to visit my cousin (Tammy) at her shop about 2 weeks ago. The shop is located in the downtown area of Williamsport and as soon as you see the sign you feel the retro vibe of this quaint establishment.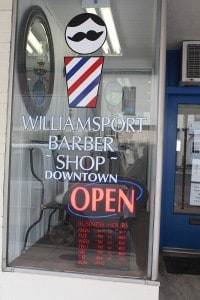 I honestly cannot word it better than Tammy herself from her website "Williamsport Barber Shop is an Old-World gentleman's barber shop that offers today's gentlemen a haven where he can sit back, relax and experience the "World Class" art of grooming and services in a gentleman's club atmosphere, which is masculine and therapeutic.
Our goal is to become a trusted destination; whereby, the clients can come to refresh their minds and bodies, replenish their energies, and network with their colleagues and friends.
Our mission is to provide a comforting, yet stimulating, Old-World gentleman's club atmosphere in which customers will be able to relax both their bodies and minds through a wide range of services. Williamsport Barber Shop Downtown establishes itself as a "World Class" provider to which clients can always come to escape the stress of life."
Our Services Include:
Haircuts and styles for men and boys
Men's hair color
Relaxing hot lather shave
Men's relaxation facial
Men's manicure
Massage (coming in June)
Drop off Dry Cleaning
Due to recent expansion we are looking for additional talent. We are adding the massage therapy and pedicures the end of May/June.
When walking into the shop, you get this immediate sense of a small town business that is "down to earth" and where people come back time and time again. There is a strong feeling of family and friends in and around the Williamsport Barber Shop Downtown. This was evident when Tammy, my mom, my aunt and I walked down to the corner of the same block that Tammy's shop is in to a little restaurant called
Desert Rose Cafe and Catering
(which, by the way, I had THE best tuna sandwich ever). We were greeted like family members and treated as such.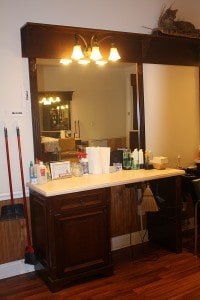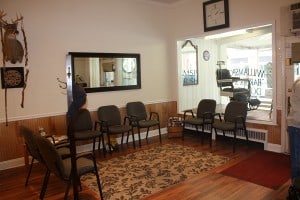 So, if you'd like to take a short excursion just outside of Frederick and get a hair-cut for a boy/man in your life – head to Williamsport, MD to the Williamsport Barber Shop Downtown! And, if you do, tell Tammy her twin cousins sent ya!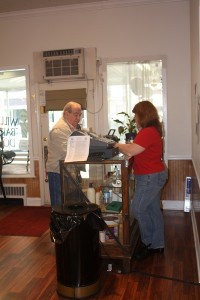 Wanna see more posts like this delivered straight to your Inbox? Go to the Subscribe box at the top of our blog and enter your email address! Share this post on Facebook, Twitter, and Pinterest.
Terri is married and has 2 sons – both high schoolers! She has lived in Frederick since 1994 and absolutely loves exploring and discovering new parts of our town.
read more...