Ah, Valentines Day!
It's a holiday that brings out the best, but also has potential to bring out the worst in any relationship!
You want to tell yourself that Valentines Day isn't a big deal.
It's just another day.
But deep down inside it really means so much.
It's a day where you show your loved one just how much you appreciate and care for them.
So when it comes to what you get her for Valentines Day, well, ya just better get it right!
Know that the gift has to be somewhat personal and romantic.
It's not one of those "it's the thought that counts" situations. Believe me!
This is definitely not the holiday to get her a vacuum cleaner or a new frying pan.
So, whether you are the gifter or the giftee, I've made it so much easier for you to get through this annual holiday unscathed.
The Ultimate Valentines Day gift guide!
Valentines Day Gifts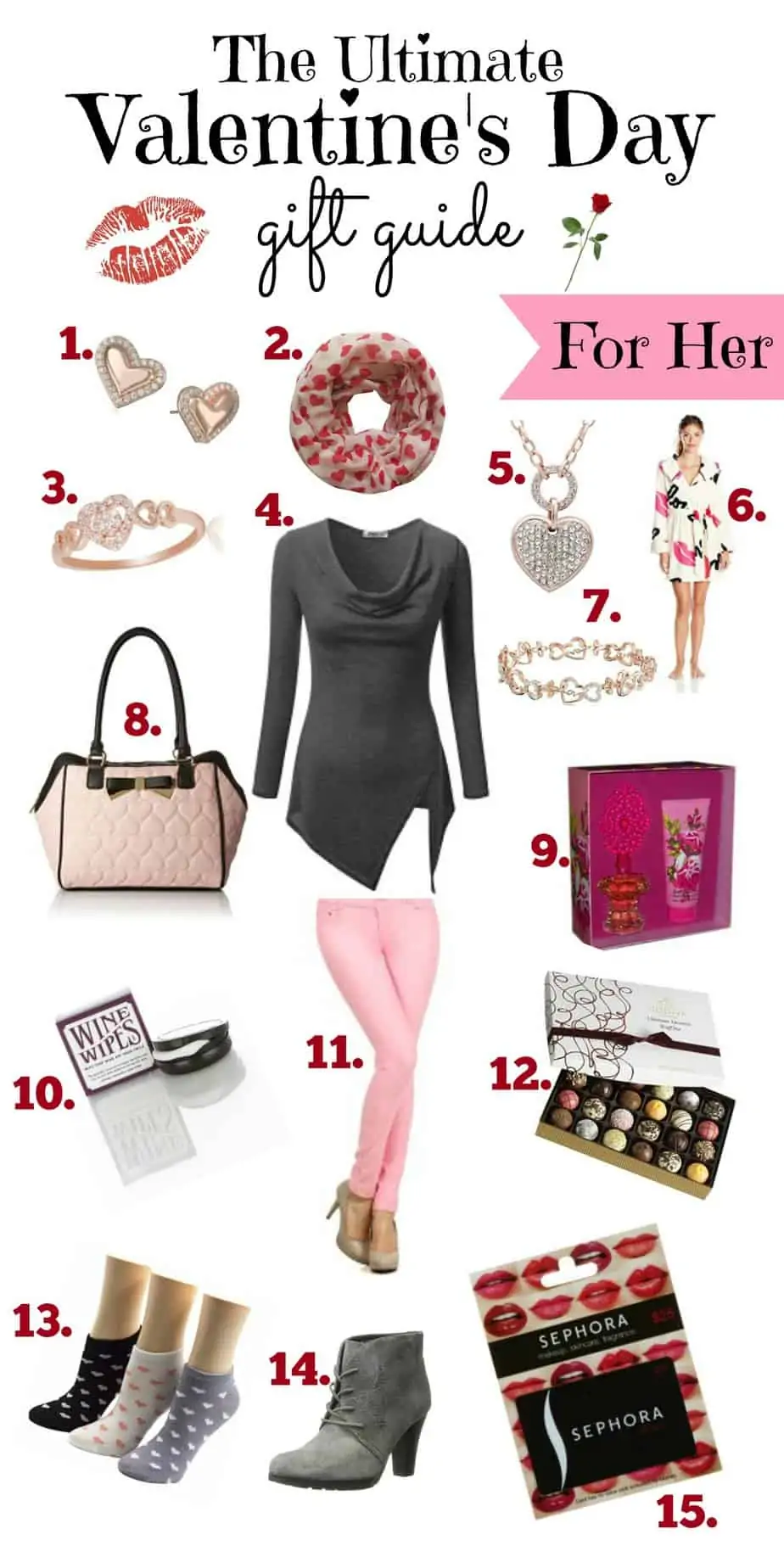 Because I'm a girl, and I've had my fair share of Valentines Days, I pretty much know what gifts will make her happy, and in turn, keep you out of the doghouse.
I guarantee that getting one, a few, or even ALL of these gifts will make your woman very happy!
Note: This post contains affiliate links. That means if you click on a link and make a purchase we may receive a small commission. Thank you!
All of the items in this gift guide are from Amazon.com.
That means you can sit behind your computer, click on a link or links below, and have it delivered straight to your front door in record time.
PLUS, Amazon prices are super competitive. You'll typically get your item from Amazon cheaper than from anywhere else.
Here is a list of the items shown in the above image:
Rose Gold Heart Earrings – 18K Rose Gold-Plated Sterling Silver Cubic Zirconia Heart Stud Earrings
Heart Scarf – Lina & Lily Hearts Print Women's Infinity Scarf
Rose Gold Colored Heart Ring – Fashion Plaza Heart Shape Simulated Diamond Ring. NOTE: Keep in mind this ring is costume jewelry, not fine jewelry. Hence the really good price. It's gotten great reviews on Amazon.
Cowl Neck Top – J. Tomson Long Sleeve Draped Cowl Neck Knit Top with Slit
Rose Gold Heart Necklace – Paialco Women's Heart Pendant Necklace, Long Cable Chain 32″, Rose Gold
Love & Kisses Robe – Betsey Johnson Women's Pop Art Plush Robe
Rose Gold Hearts Bracelet – 925 Sterling Silver Infinity Heart White Gold Plated Diamond Adjustable Bracelet
Be Mine Betsey Johnson Purse – Betsey Johnson Be Mine East West Satchel Bag
Betsey Lotion & Perfume Set –

By Betsey Johnson For Women. Set-eau De Parfum Spray & Body Lotion

Wine Wipes – 1 compact of 15 wipes
Pink Jeans – Iconoflash Women's Pull-on Colored Jeggings, Cotton Blend
Godiva Chocolates – Godiva Chocolatier Ultimate Dessert Truffles Gift Box, 24 Count
Heart Print Socks –

3 pairs of Crew Socks Hearts

Charcoal Lace Boots – White Mountain Women's Snack Boot
Sephora Gift Card – Sephora offers a vast and diverse selection of prestige beauty products online & in 250 stores nationwide.
If you're the gift recipient reading this post, go ahead and pass it along to your significant other.
I've found over the 12 years I've been married, that for most men it takes so much pressure off of them if you let them know straight-up exactly what you want.
It's a win-win situation.
You get what you want and he feels good about what he got you.
Either way, don't take Valentines Day too seriously.
What matters most is the love you have for each other!
Happy Valentines Day!