I've come to realize, as the years have marched on, that everybody has SOMETHING!
I think many people tend to look at others and think that the grass must be greener on the other side.  That other people's lives are just so perfect, and their lives are so charmed that they don't have to deal with the struggles that we deal with.
But, most of the time, if you peel back the layers of that onion, you end up finding out that these people who you thought were so lucky actually have problems of their own.
Somehow that may make you feel like you're not abnormal, and you're not so persecuted.
And that we all have SOMETHING.
We are all warriors.
Many of us deal with mental health issues.  Even minor depression can rock your world.
Pam and I feel so lucky to have been given the opportunity to be ambassadors for Erin Pelicano jewelry.  One of her pieces is a necklace called Warrior.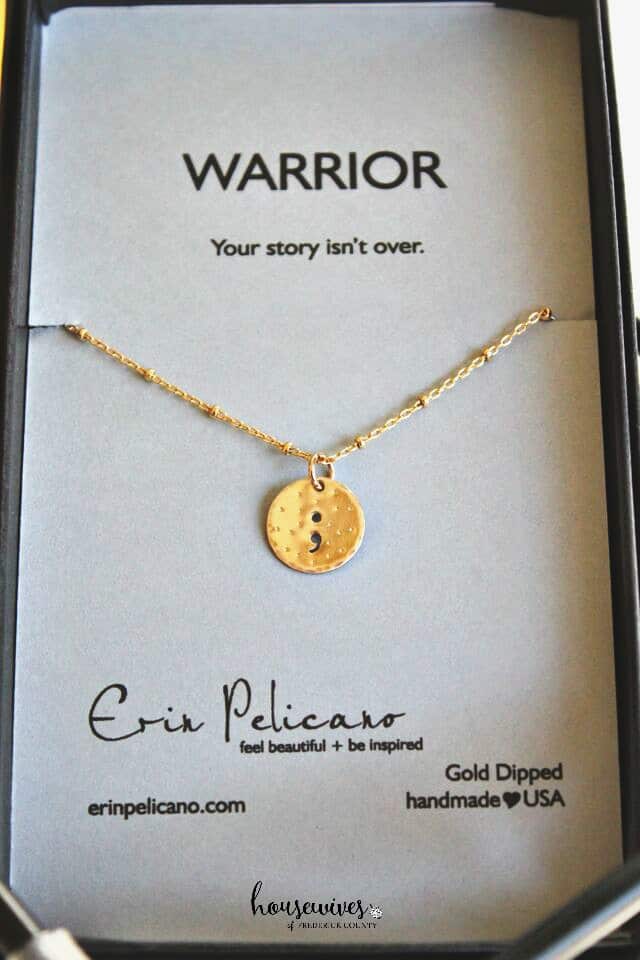 This piece is particularly special and represents the strength and awareness of each and every person that has faced or been affected by Mental Health issues and Addiction Struggles.

A delicate pendant with a hand hammered design and cut semicolon. Handmade sterling silver or gold filled components on an 18″ sterling or gold dipped beaded chain. Pendant measures approximately 12mm."
On the card that the necklace is attached to, it reads, "Your story isn't over."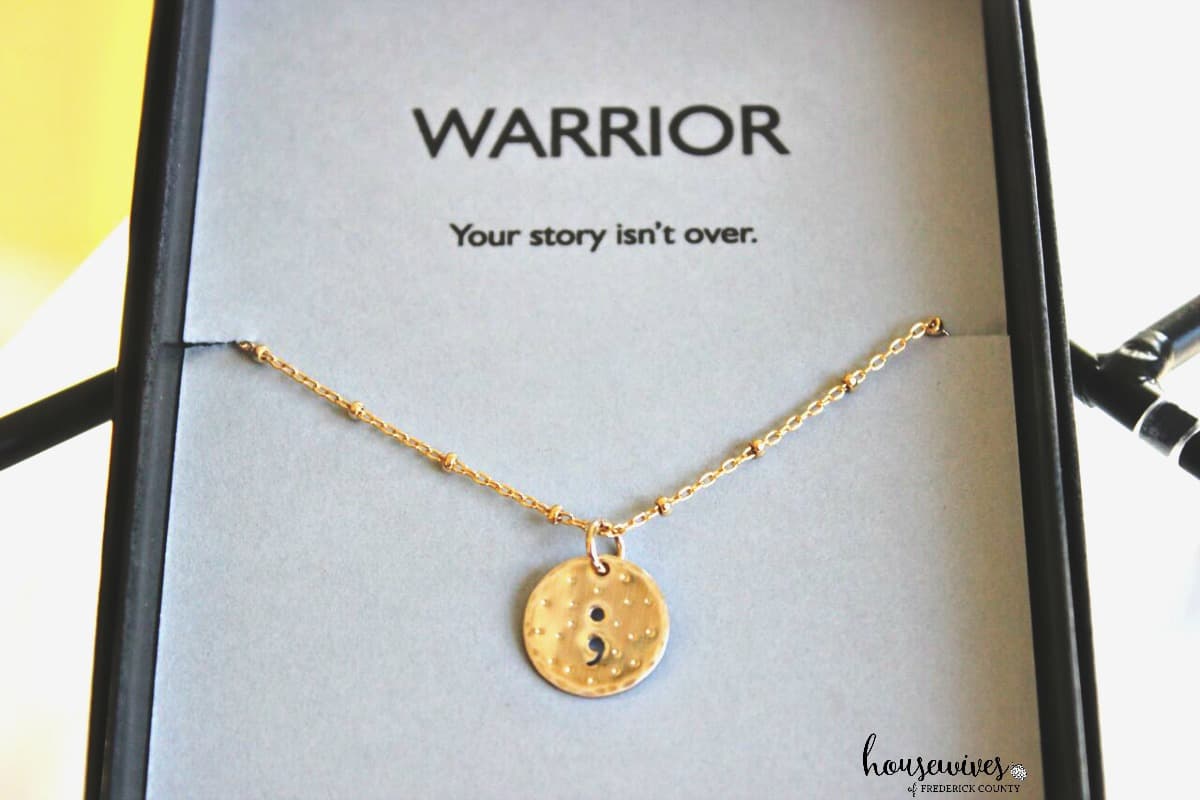 If you're not familiar with what the semicolon represents, check out ProjectSemicolon.org.
According to their site,
PROJECT SEMICOLON IS A GLOBAL NON-PROFIT MOVEMENT DEDICATED TO PRESENTING HOPE AND LOVE FOR THOSE WHO ARE STRUGGLING WITH MENTAL ILLNESS, SUICIDE, ADDICTION AND SELF-INJURY. PROJECT SEMICOLON EXISTS TO ENCOURAGE, LOVE AND INSPIRE. STAY STRONG; LOVE ENDLESSLY; CHANGE LIVES"

This began in the spring of 2013, when Project Semicolon Founder, Amy Bleuel wanted to honor her father whom she lost to suicide. Through the semicolon symbol many related to the struggle of depression, addiction, self-injury and suicide and their will to continue on. The title, "Project Semicolon," also represented a goal – to believe that this is not the end but a new beginning."
I just love the idea of what the semicolon represents!
For anybody who feels that they need someone to talk to, or needs help with coping – please see the resources below:
National Hopeline Network :: 1.800.SUICIDE (784-2433)
National Suicide Prevention Lifeline :: 1.800.273.TALK (273-8255)
For hearing and speech impaired with TTY equipment :: 1.800.799.4TTY (779-4889)
Español :: 1.888.628.9454
National Child Abuse Hotline :: 1.800.4.A.CHILD (422-4453)
National Domestic Violence Hotline :: 1.800.799.SAFE (799-7233)
Rape, Abuse, and Incest National Network (RAINN) :: 1.800.656.HOPE (656-4673)
The Trevor Project (LGBTQ) :: 1.866.4.U.TREVOR (488-7386)
National Eating Disorder Association :: 1.800.931.2237
Specifically for Frederick, Maryland readers – below are a few good places to start for assistance:
National Alliance on Mental Illness
Frederick County Mental Health Association
If you recognize somebody in the throes of a dark mental place, advocate for them and help them get the support that they need.
And never, ever give up – on yourself, or on others who may be struggling.
We are all warriors.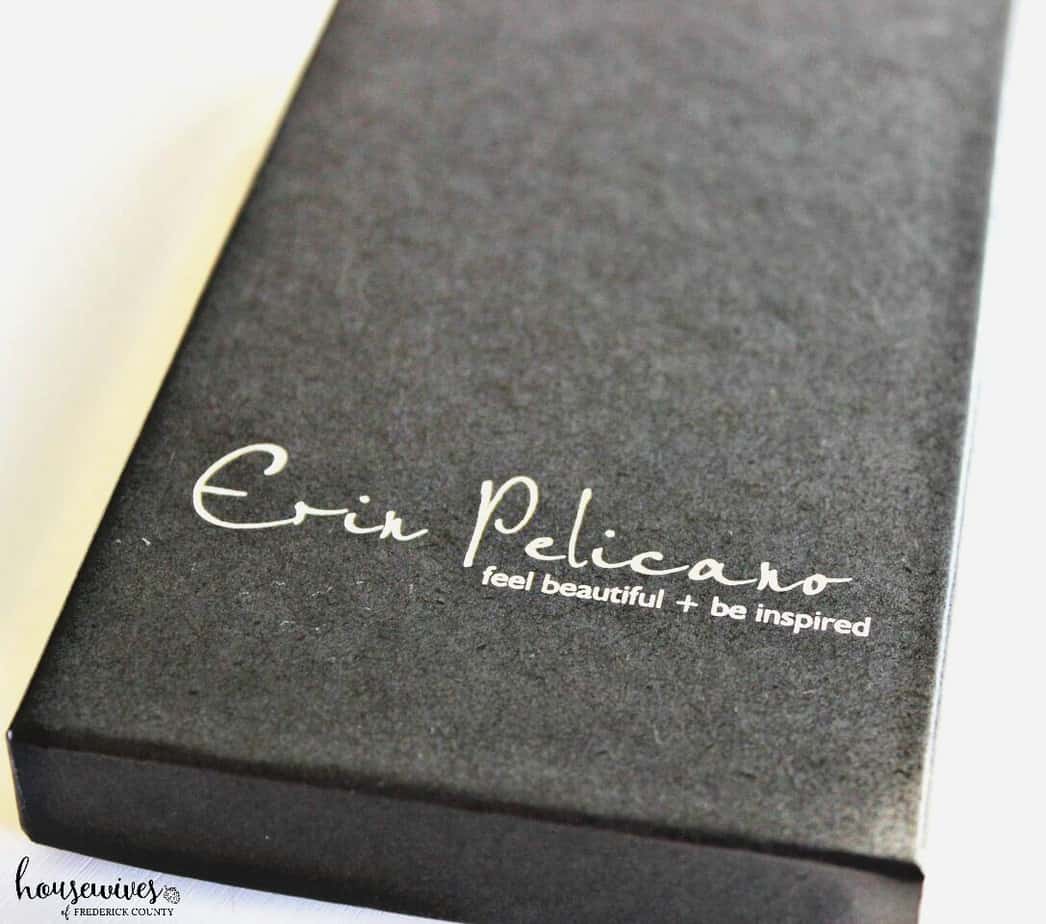 This post was sponsored by Erin Pelicano.  All opinions are my own.
Terri is married and has 2 sons – both high schoolers! She has lived in Frederick since 1994 and absolutely loves exploring and discovering new parts of our town.
read more...