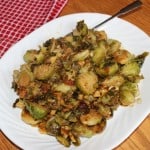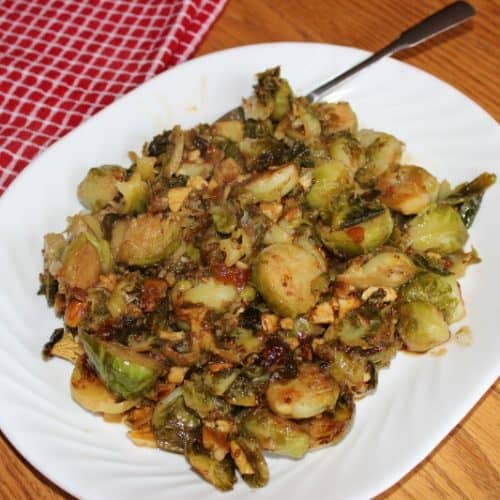 Print Recipe
Pan Fried Brussels Sprouts with Chestnuts – 4 Weight Watchers Points Plus Value
4 Weight Watchers Points Plus Value
- 4 Tbsp olive oil

- 2 lbs small brussels sprouts

trimmed and halved lengthwise

- Kosher salt & pepper

- 1/3 cup apricot jam

- 3 Tbsp white wine vinegar

- 1 Tbsp whole-grain mustard

- 4 cloves garlic

thinly sliced

- 1/2 cup jarred chestnuts

sliced
Bring 1/2 cup water and 2 Tbsp oil to a simmer in a large skillet. Add the brussels sprouts, season with 1/2 tsp salt and cook, covered, stirring occasionally, for 5 minutes.

Meanwhile, in a small bowl, whisk together the jam, vinegar, mustard and 1/2 tsp pepper.

Uncover, increase the heat to medium-high and cook until the water evaporates, about 2 minutes. Drizzle the remaining 2 Tbsp oil over the sprouts, add the garlic and cook, tossing occasionally until the brussels sprouts are golden brown and tender, 2 to 3 minutes.

Add the jam mixture and the chestnuts and cook for 1 minute.