If you're like us and you like to change it up a little bit, you're looking for some amazing, new Christmas dessert recipes to make for your family!
So, we put out an all points bulletin to our fellow bloggers for the best Christmas dessert recipes they could give us.
As usual, we received a ton of delicious, mouth watering recipes.
Best Christmas Dessert Recipes
But we had to narrow it down to the best of the best!
So we came up with 17 delicious & gorgeous Christmas dessert recipes to proudly display on your family table!
1. Gluten Free Brownie Pudding Toffee Trifle – Christmas Dessert Recipes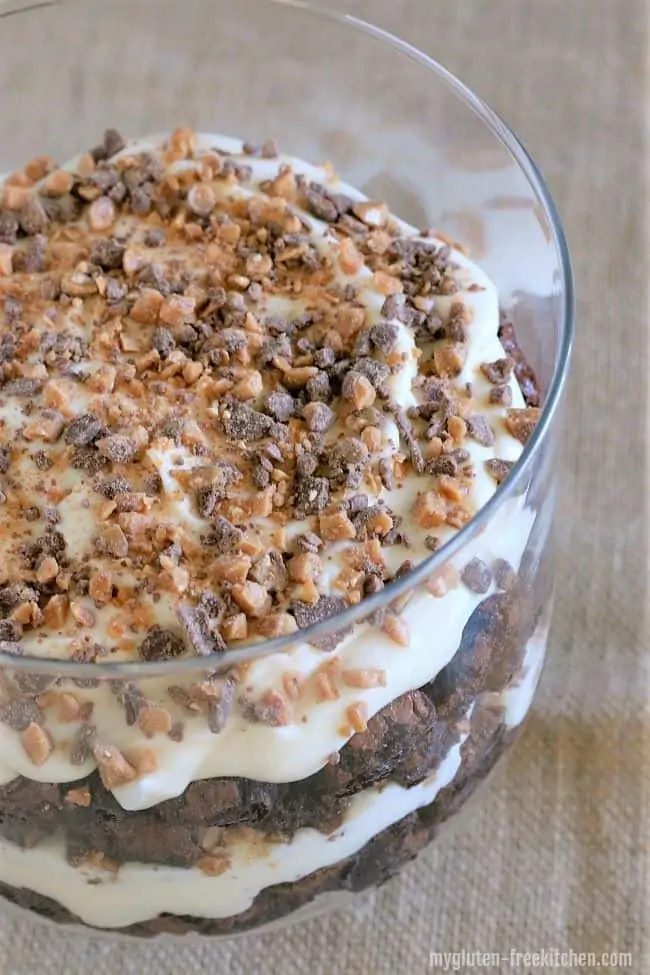 Our first sweet recipe comes from Michelle at My Gluten-Free Kitchen.
And just because this Brownie Pudding Toffee Trifle is gluten-free doesn't mean the taste is at all compromised!
Michelle says "Layer upon layer of chocolatey goodness in this gluten-free brownie toffee trifle! It looks complicated, but it's actually an easy recipe with just a few ingredients and is always a hit at holiday parties."
2. Vegan Marshmallow Peppermint Fudge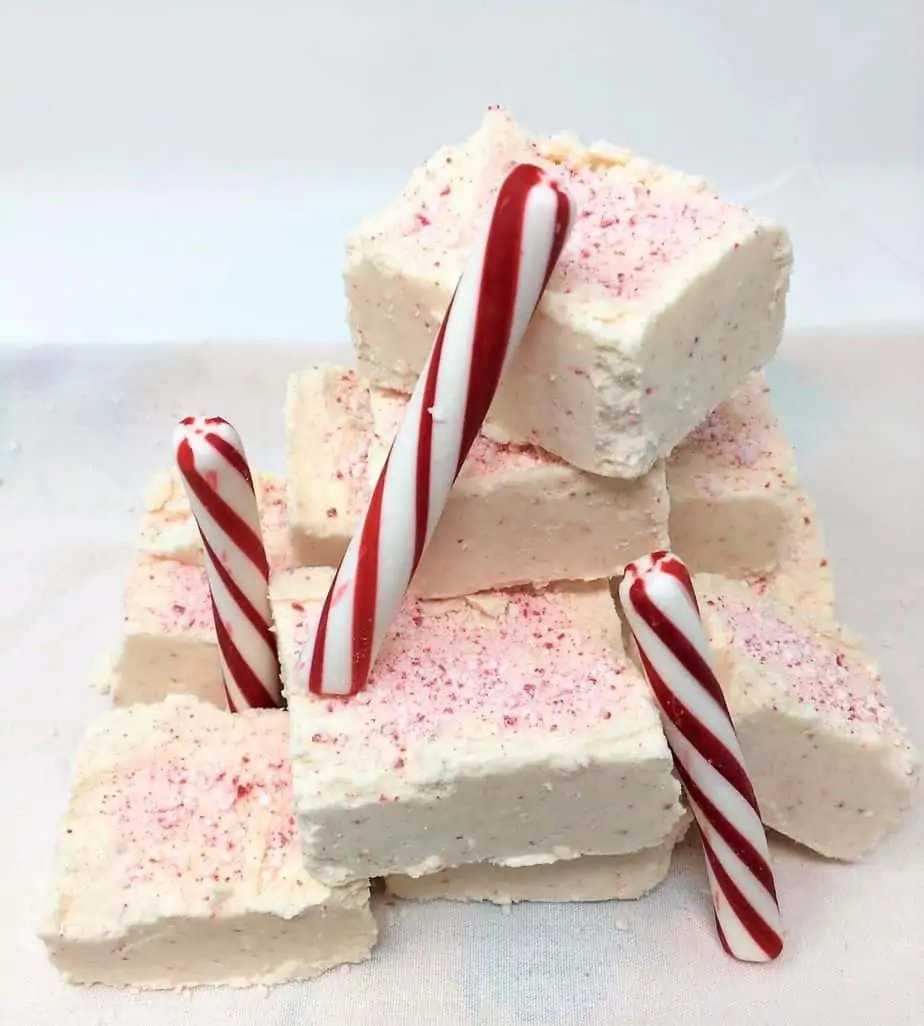 Our 2nd of our magnificent Christmas dessert recipes comes from Jessica at Any Reason Vegans.
And again, just because this Marshmallow Peppermint Fudge is vegan doesn't mean it's not absolutely divine!
Jessica says, "This candy cane fudge is perfect for the holidays. Only a few easy vegan ingredients needed."
3. Easy No Bake Oreo Truffle Balls Recipe – Christmas Dessert Recipes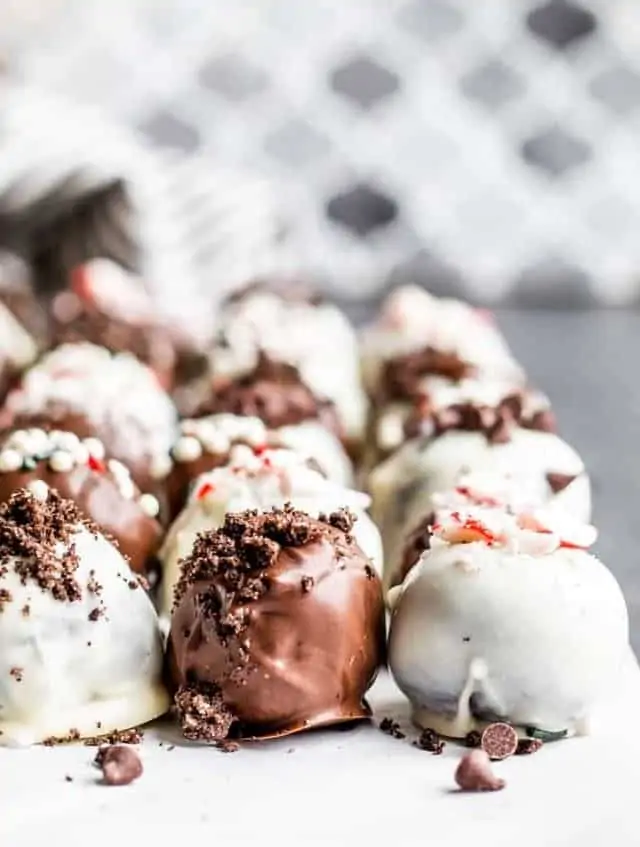 The 3rd of our Christmas dessert recipes comes from Caitlyn with Erhardts Eat.
These Oreo Truffle Balls look perfect for keeping out on the kitchen island and just letting people swing by and pop one in their mouths.
Caitlyn says, "Only a few ingredients, no baking, and super tasty?! Yeah, this Oreo Truffle Balls recipe is pretty much perfect for Christmas or any holiday!"
4. Holiday Peanut Butter Balls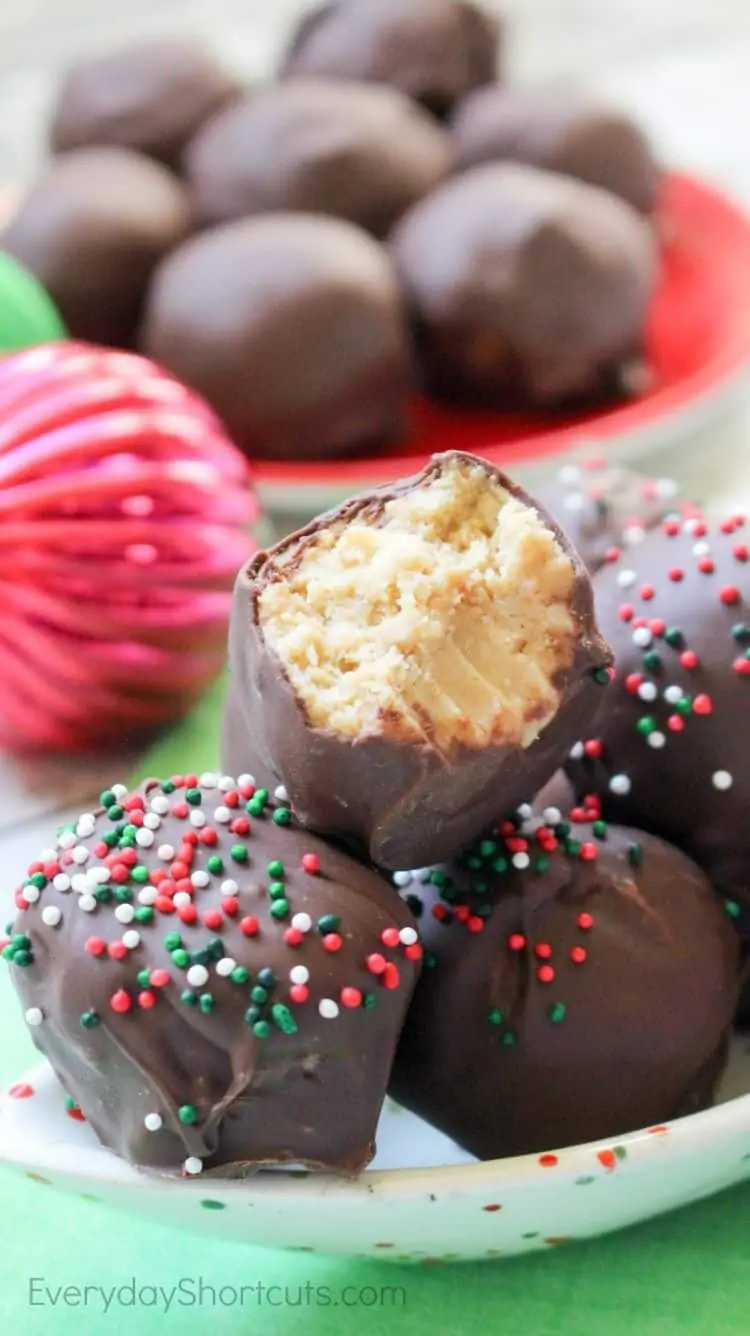 Our 4th homemade indulgence comes from Alison at Everyday Shortcuts.
Now I have to tell you that the combination of peanut butter and chocolate has always been a major weakness of mine.
When I bite into it I forget where I am, it's so good!
This Peanut Butter Balls recipe looks like something I'd be all over!
Like, I'd be hiding them in a secret hiding place so I could have them all to myself.
An interesting ingredient is rice krispies cereal!
5. Nut Roll with Chocolate – Christmas Dessert Recipes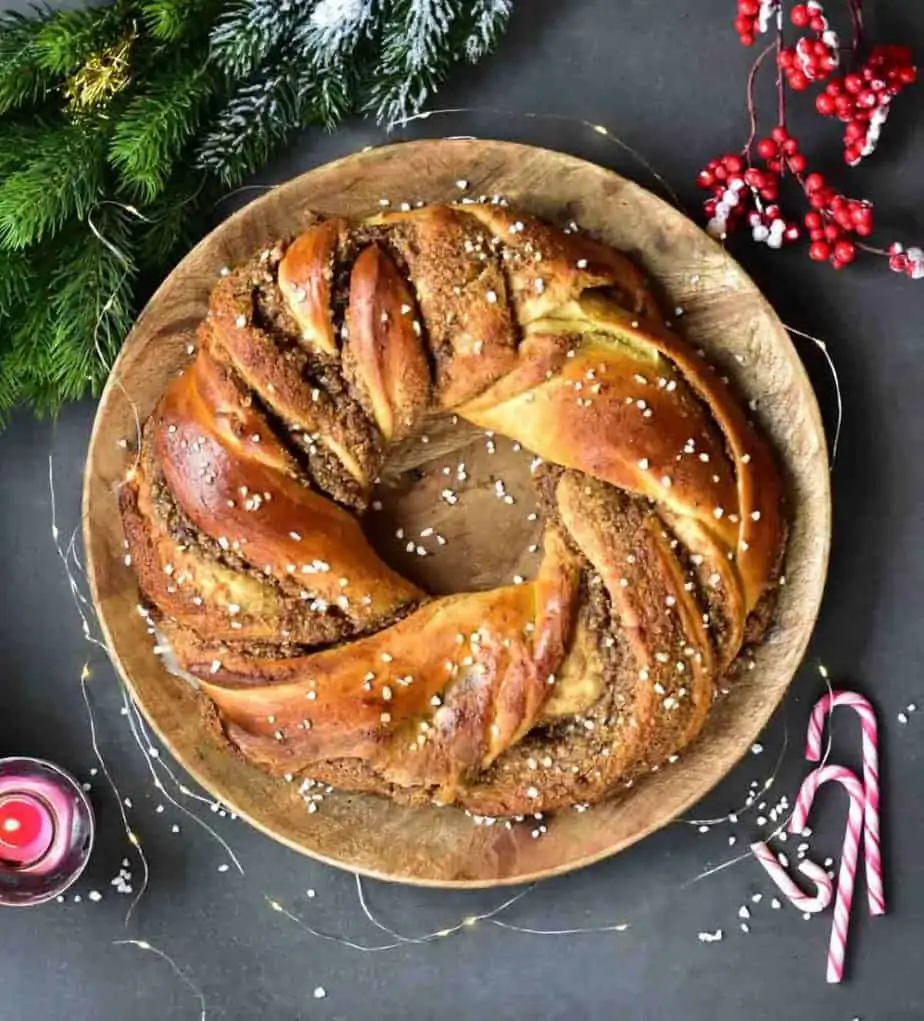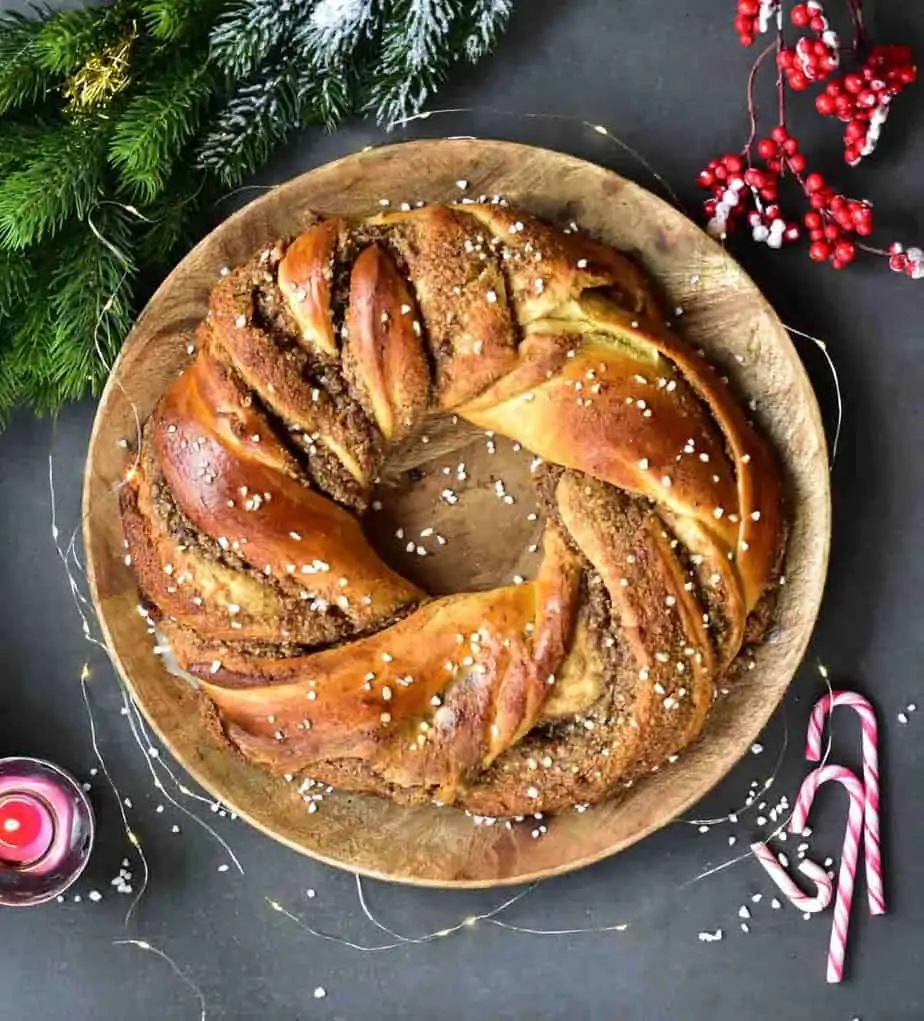 This 5th baked decadence comes from Aleksandra at Everyday Delicious.
Not only is this Nut Roll with Chocolate gorgeous for your Christmas table, but it looks absolutely delicious with a buttery rich dough and a chocolate, nut filling.
6. No-Bake Raffaello Coconut Balls Recipe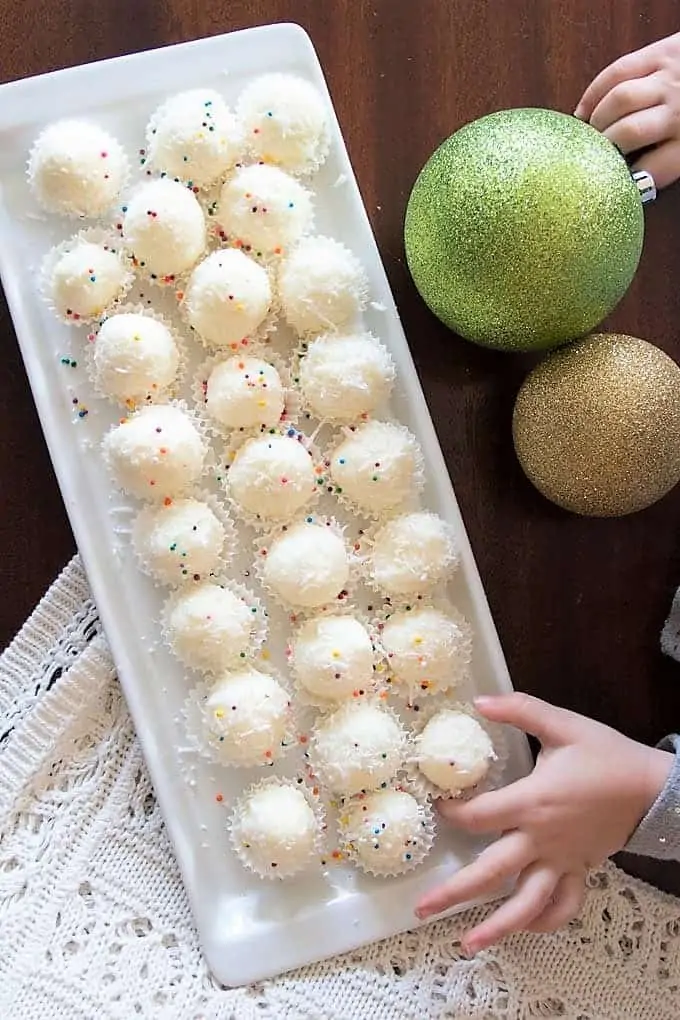 Our 6th piece of heaven on a plate comes from Jane & Sonja with Sustain My Cookie Habit.
They say, "These Raffaello coconut balls are one of our favorite recipes to make. They're quick, fool-proof and can be made the day before."
7. Cranberry Orange Spice Cake – Christmas Dessert Recipes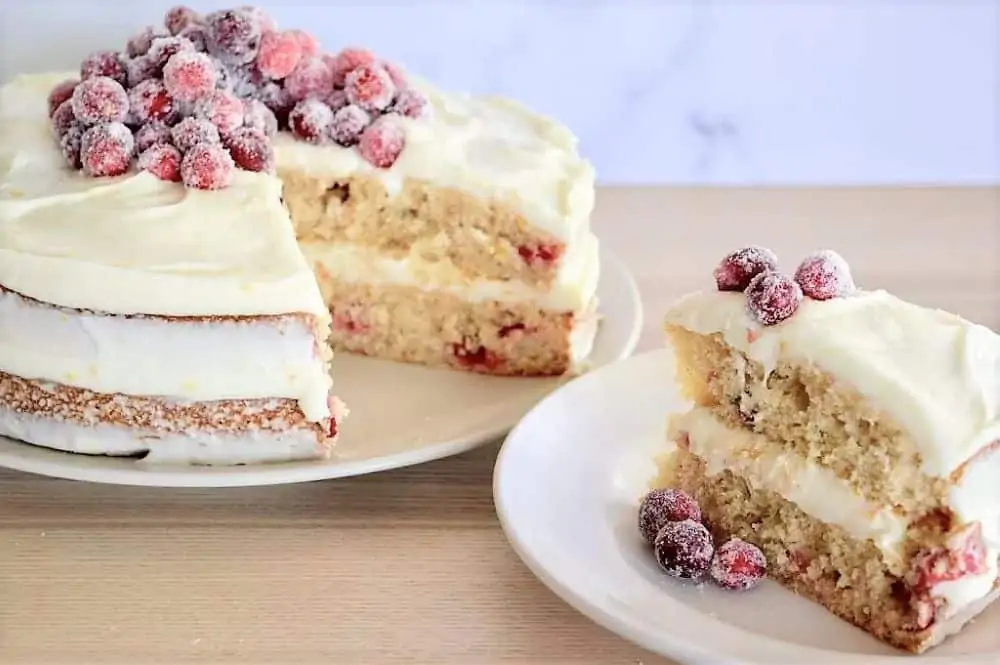 This beautiful festive cake recipe comes from Angela with This Delicious House.
Made with fresh cranberries and oranges, this cake has a cream cheese frosting and is topped with sugared cranberries.
I'd say it's the epitome of Christmas in the form of a scrumptious cake.
8. Butter Tart Bundt Cake with Brown Butter & Maple Glaze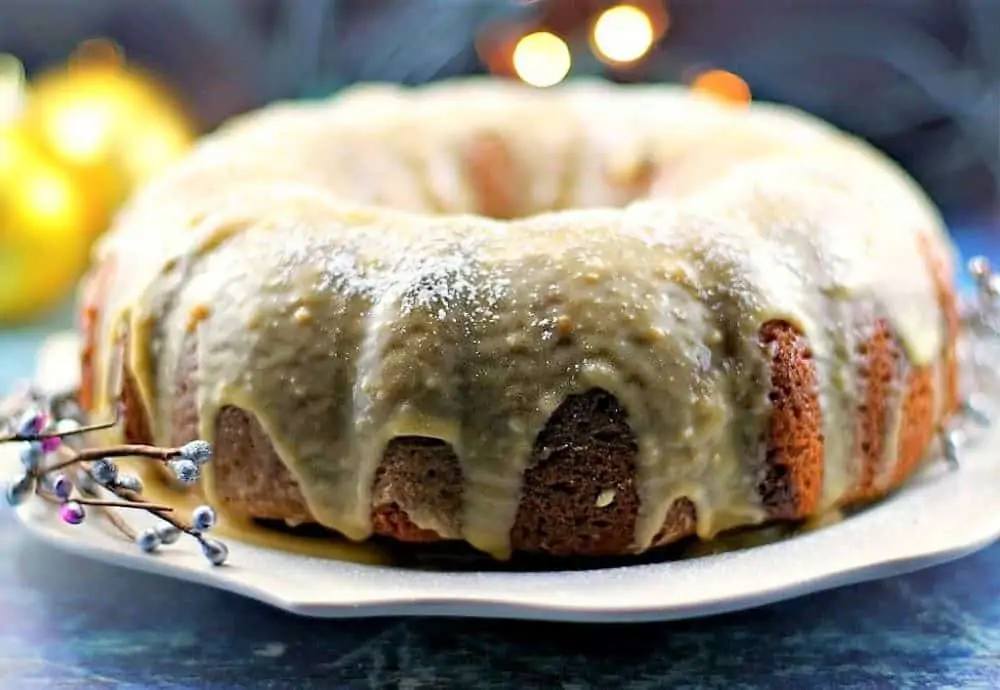 Next up on our Christmas dessert recipes list is this Butter Tart Bundt Cake brought to us by Terri (not our Terri) with Food Meanderings.
Terri says, "Butter Tart filling is swirled into this delicious butter tart cake, then it's smothered in a creamy brown butter maple glaze. A delicious butter tart in the form of a cake! The perfect dessert for your Christmas dinner."
9. Eggnog Cake with White Chocolate Ganache Whipped Cream Frosting – Christmas Dessert Recipes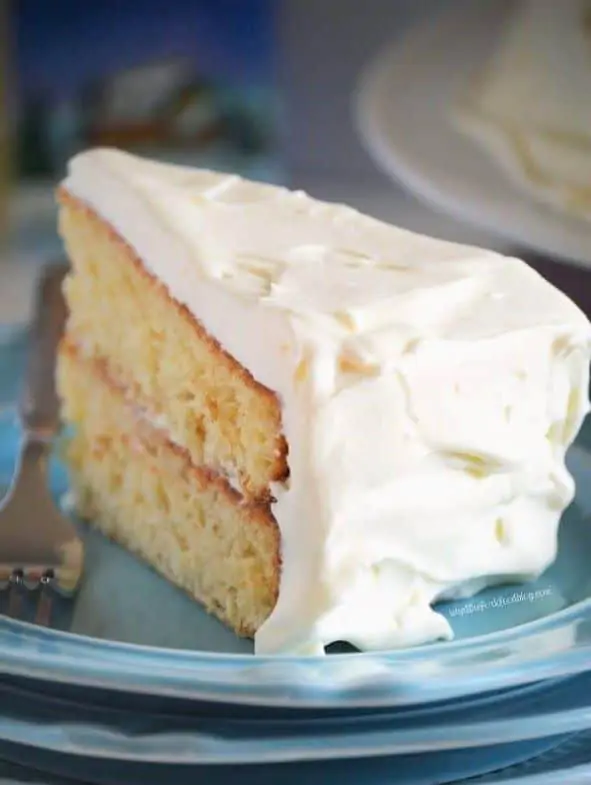 #9 is brought to us by Shay with What the Fork.
Shay says, "This Gluten Free Eggnog Cake with White Chocolate Ganache Whipped Cream Frosting is the epitome of Christmas Desserts. Dense eggnog cake with a light, sweet, creamy and airy whipped cream frosting flavored with white chocolate ganache. It's perfect for any holiday get-together."
10. Fruit Pizza Christmas Wreath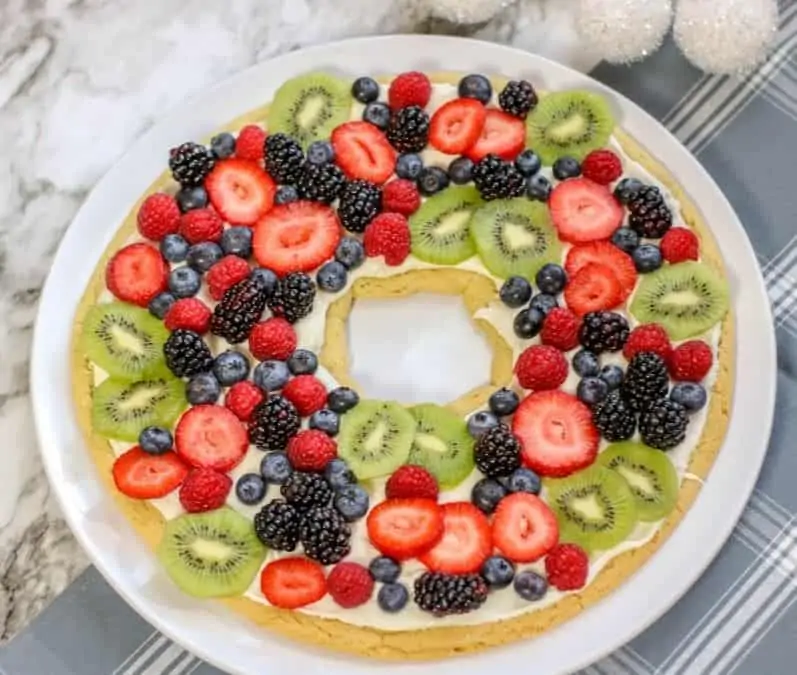 This oldie but goodie fruit pizza recipe comes to us by Angela with Marathons & Motivation.
I love how clever she turned a regular fruit pizza into a Christmas wreath. Very festive!
Angela says, "The holiday season can be very hectic. I do love cooking and baking but, I often find myself short on time. So, this is why I love my Fruit Pizza Christmas Wreath recipe! It is super easy to make, but it is so festive and always a hit at a holiday celebration!"
11. Strawberry Panna Cotta – Christmas Dessert Recipes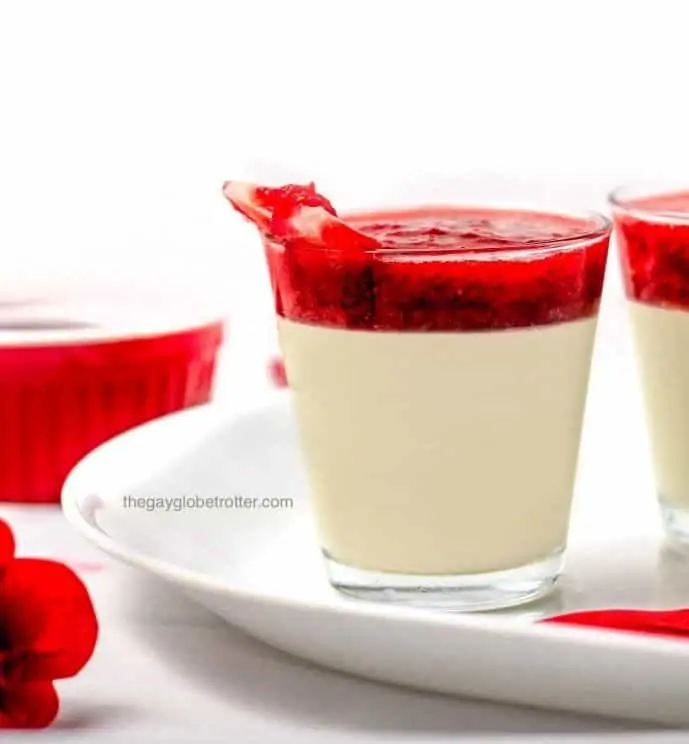 Lucky number 11 comes from Bailey at The Gay Globetrotter.
We love how they're made in individual servings and can prepared ahead of time and then displayed on a tray. Self-serve at its best!
Bailey says, "Strawberry Panna cotta is a deliciously rich, creamy, and easy make ahead dessert that's perfect for Christmas! It's topped with a quick homemade strawberry coulis for the perfect festive pop of color."
12. Cannoli Cake Recipe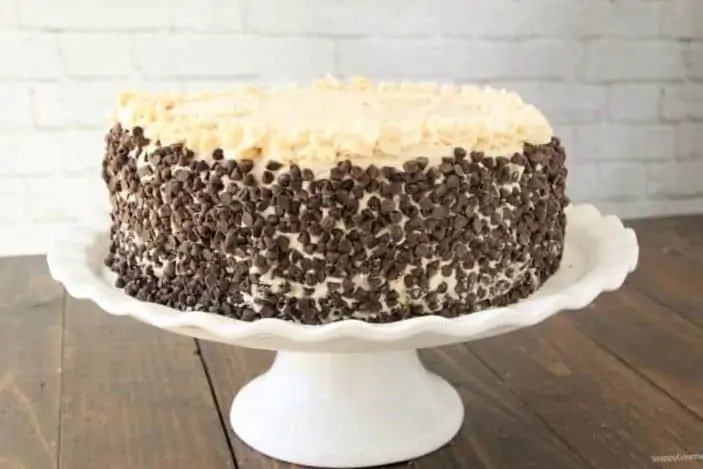 This decadently rich Christmas dessert recipe comes from Lisa with Snappy Gourmet.
Being Italian and loving cannoli as much as I do, I would LOVE to try this cannoli cake recipe!
Lisa says, "An easy from-scratch Italian cake with cannoli filling perfect for the holidays."
13. Instant Pot Arroz Con Dulce – Christmas Dessert Recipes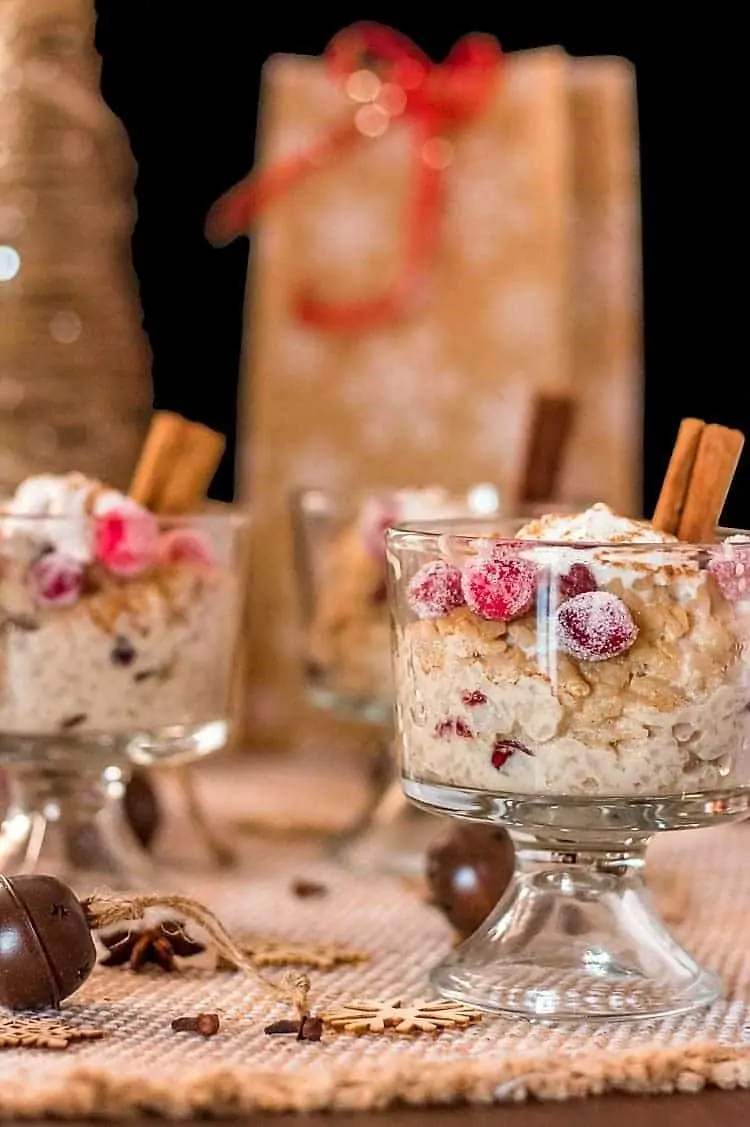 This Arroz con Dulce recipe is brought to us by Tamara with Beyond Mere Sustenance.
Love me some rice pudding!
This is a fancied up version for the holidays and it looks positively delightful.
Tamara says, "Fragrant with warm spices and ginger, this Instant Pot Arroz con Dulce (Puerto Rican Rice Pudding) gets its creamy richness from coconut milk and eggs, and it's gluten and dairy free. Topped with sugared cranberries, it's gorgeous on your holiday table!"
14. Chocolate Chestnut Pots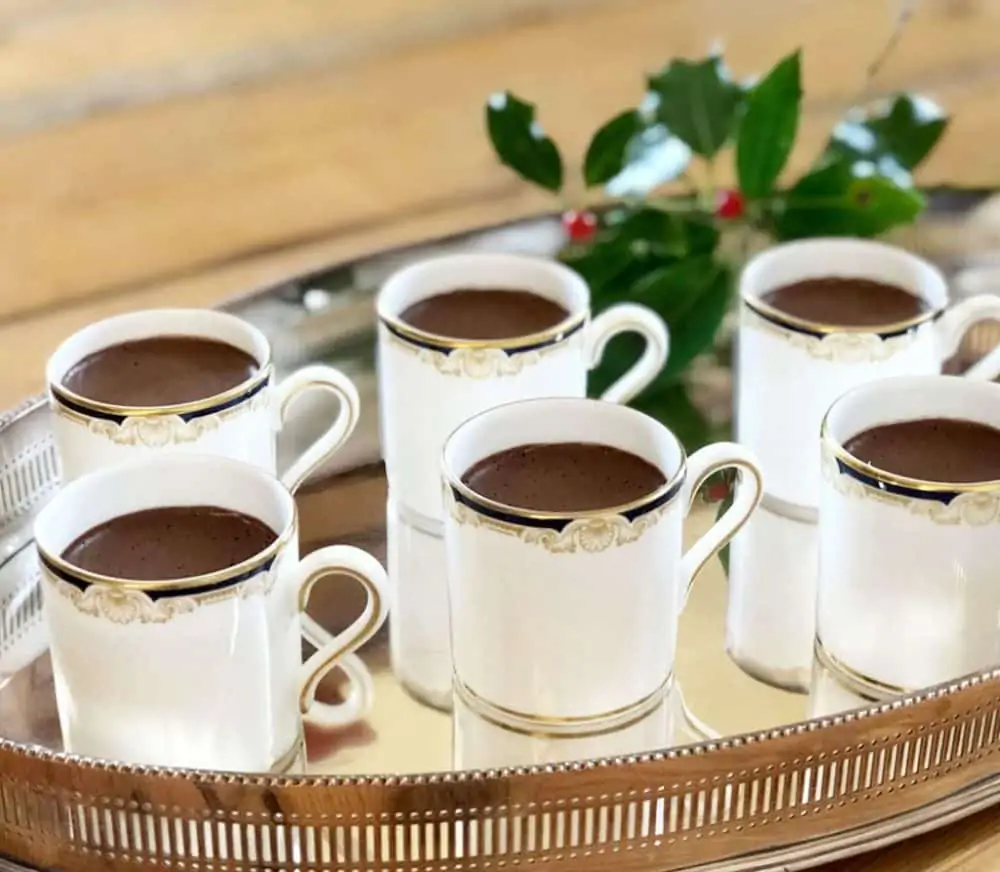 This next Christmas dessert recipe comes from Emma at Emma Eats & Explores.
If this isn't the most beautiful, enticing presentation, I don't know what is.
I'm loving the individual servings on a tray idea!
Emma says, "Chestnuts roasting on an open fire – such a Christmassy feeling and these chocolate chestnut pots are a family Christmas favourite. Made with no refined sugar and grain and gluten free they're a pretty healthy choice too!"
15. No-Bake Eggnog Cheesecake – Christmas Dessert Recipes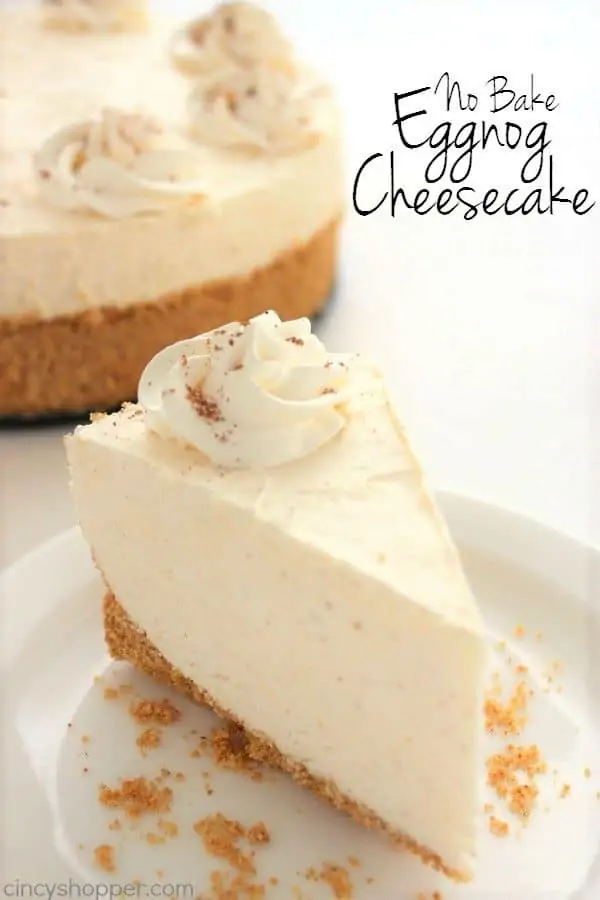 This eggnog cheesecake recipe comes to us by Jen with Cincy Shopper.
Yes, cheesecake is yet another strong weakness of mine.
I'm finding out after writing this post, that most desserts are a weakness of mine!
This recipe is easy to make and doesn't even require baking.
16. Yule Log Cake Recipe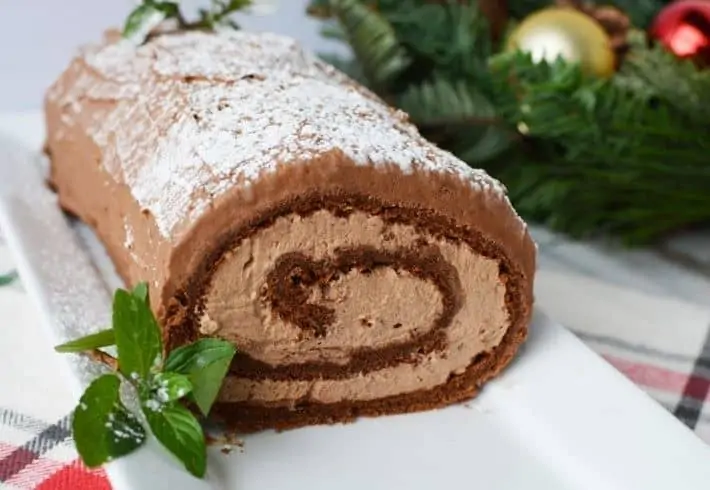 This lovely Yule Log Cake recipe comes from Kimberly with The Savvy Mama Lifestyle.
Kimberly says, "The Yule Log is a classic dessert that's been made for generations. It's a delicious roll style cake."
17. Mini Gingerbread Bundt Cake – Christmas Dessert Recipes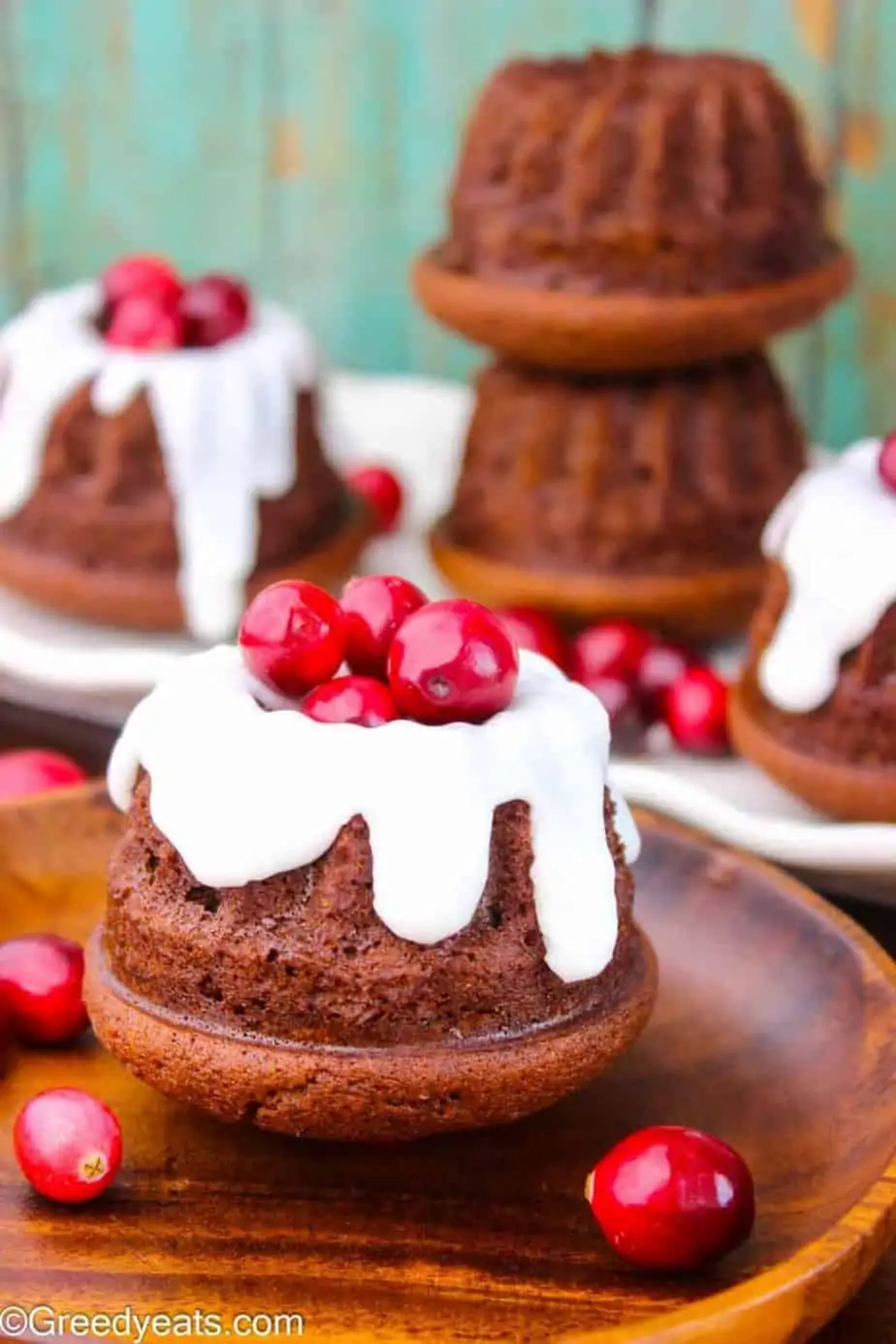 And finally, the last but not least of our best Christmas dessert recipes comes from Neha with Greedy Eats.
From Neha, "Flavored with robust molasses and warm winter spices, this moist and fluffy Gingerbread Bundt Cake recipe will rule your heart for ages!"
So now you have 17 more Christmas dessert recipes you can add to your choices!
We hope everybody has an absolutely wonderful Christmas and a very Happy New Year!
For more delicious Christmas recipe posts, click on over to:
17 Best Christmas Cookie Recipes For Your Holiday Season
Christmas Morning Breakfast Ideas
10 Awesome Gift in a Jar Ideas