Ever thought of hosting an at home wine tasting party but don't even know where to start?
Without a doubt, I felt that way too until my desire to host a wine tasting outweighed the anxiety of how to go about doing it.
After reading this post, you'll know the 8 essentials for hosting an epic at home wine tasting of your own.
Therefore, the stigma will be gone.
With social media constantly raising the 'entertaining-at-home' bar with all of the perfect images of perfect people having a perfectly wonderful time in a perfectly decorated home, the intimidation factor is real.
BUT it doesn't have to be.
Indeed, as long as you plan ahead, you can far exceed your guests' expectations with minimal anxiety.
How To Host An At Home Wine Tasting

1. Pick a Theme For Your At Home Wine Tasting
First, what will your theme be? Here are a few theme suggestions:
Choose one varietal of wine using several different winemakers.
Sample wines specifically originating from one wine region.
Taste all reds.
OR, taste all whites.
Sample several wines from one winemaker.
Terri and I had an easy decision picking our at home wine tasting theme. We were fortunate enough to meet and get to know David Mirassou from Mirassou Winery.
Nicest guy in the world.
Undoubtedly, he knows A LOT about wine making as his family has been making wines for six generations.
Clearly, knowing that the Mirassou family is the oldest wine making family in America, and the fact that Terri and I have been treated to our own wine tasting with Mirassou, we were confident in our theme choice.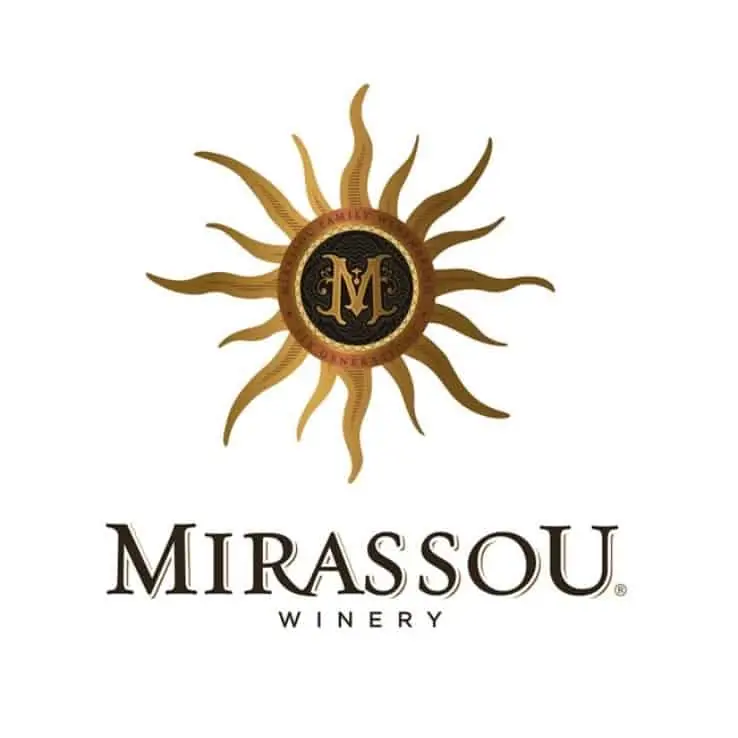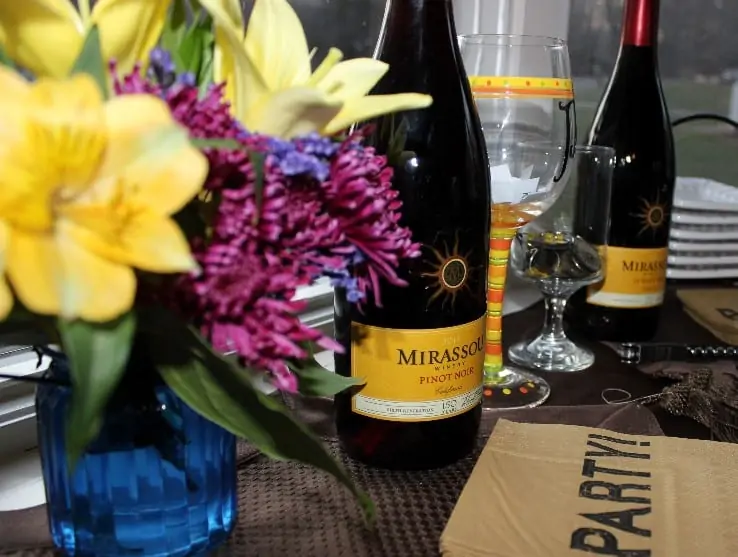 2. Choose Your Guests
Make it an intimate gathering.
No more than 6 couples. If there are more than 12 people, it can start to get a little chaotic and you lose that intimate atmosphere.
Obviously, invite people you know well and get along with. That's kind of a no-brainer, but don't host an at home wine tasting for people you don't know well and are trying to impress. You want to be relaxed and have as much fun as everybody else.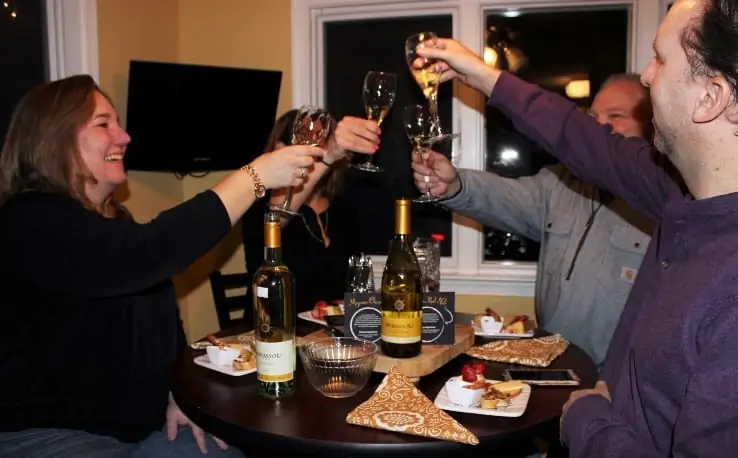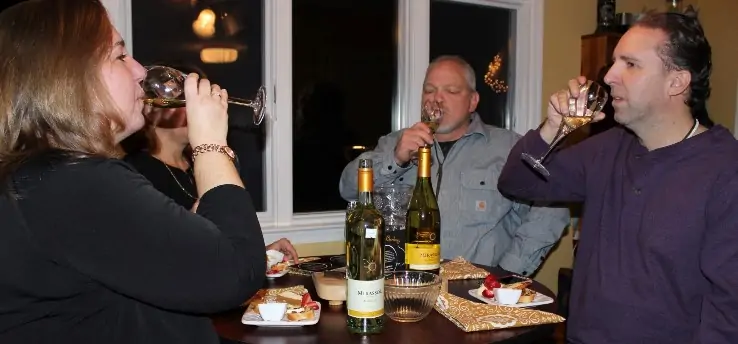 3. How Much Wine Do I Need For My At Home Wine Tasting?
Choose 4 to 8 varietals of wine that fit into the theme.
One 750 ml bottle of wine equals about 25 ounces. For a 2 ounce taste of wine, each bottle can pour up to 12 tastes.
Have enough wine for after the tasting for each guest to enjoy 1 to 2 glasses of their favorite varietal (An average glass of wine equals 5 ounces, so about 5 glasses per bottle).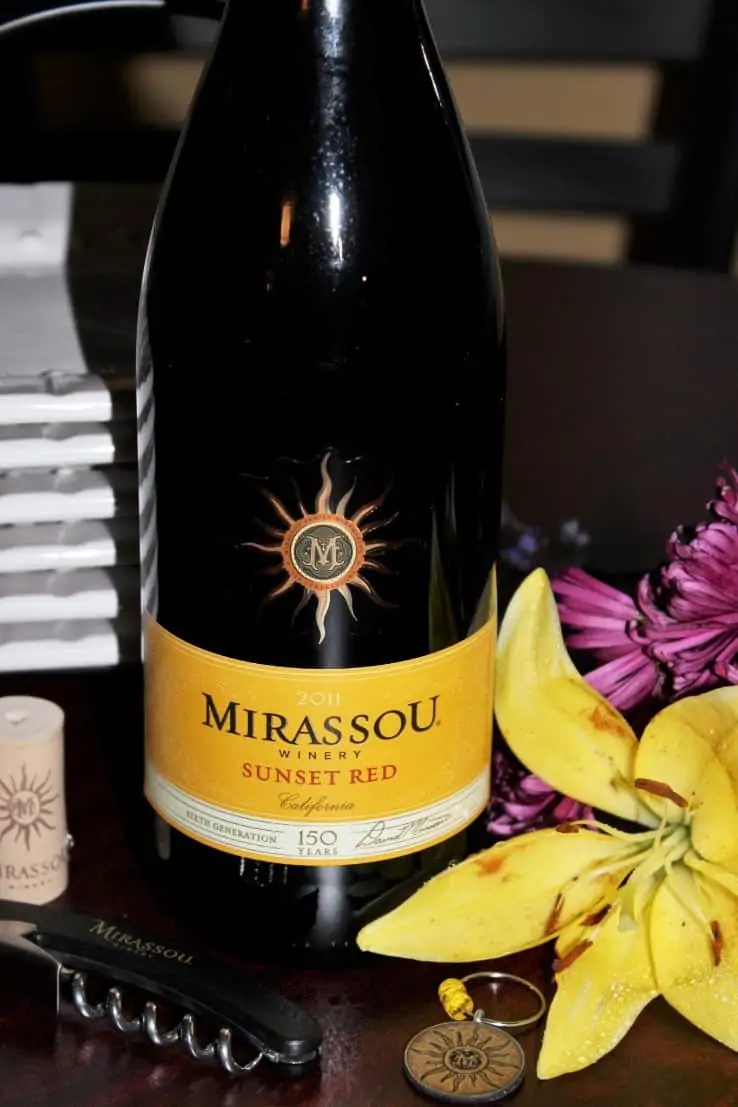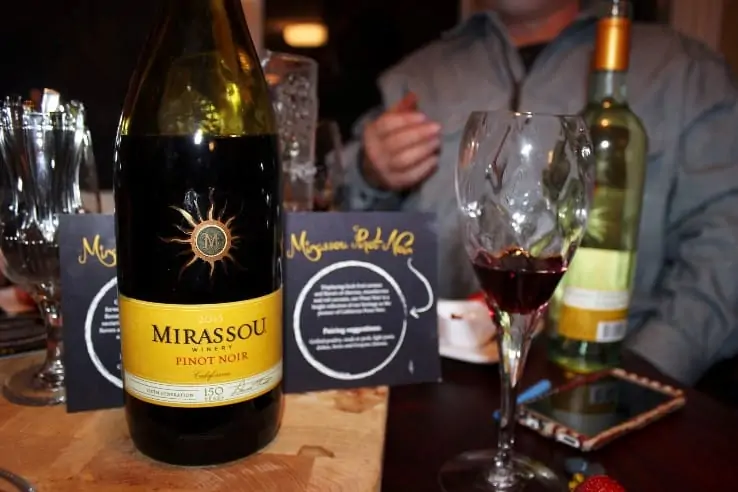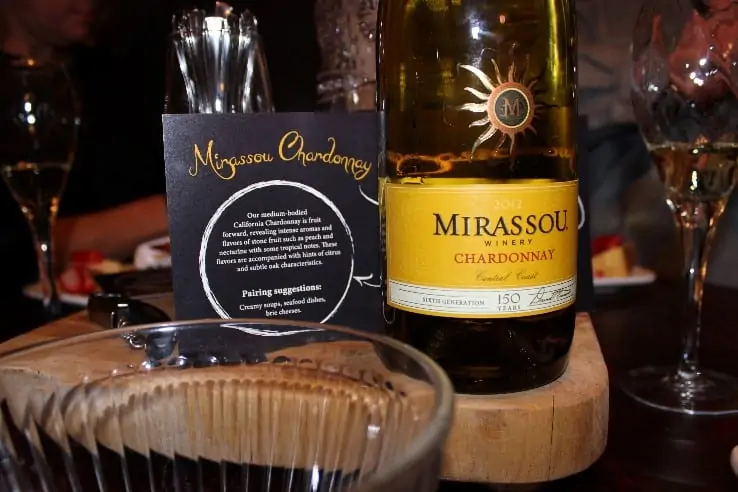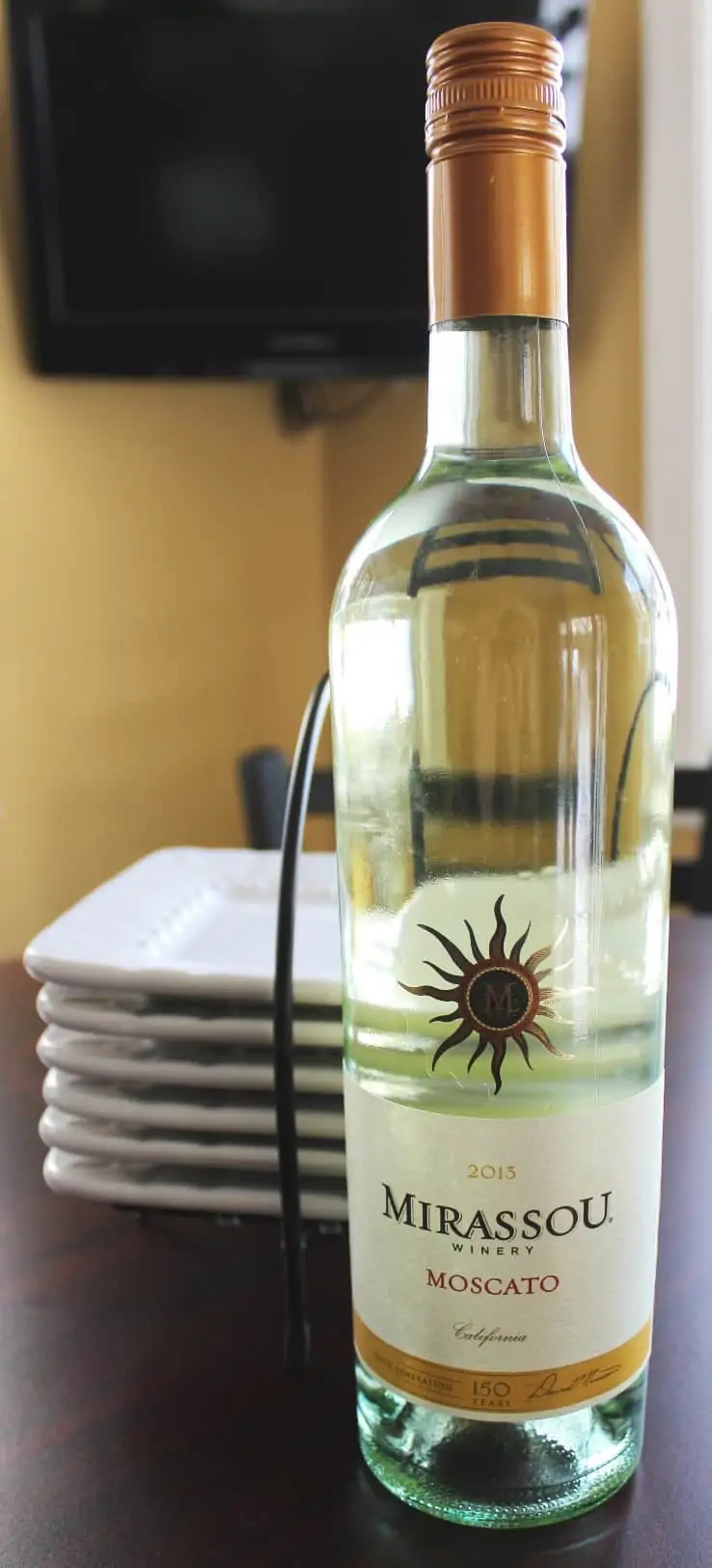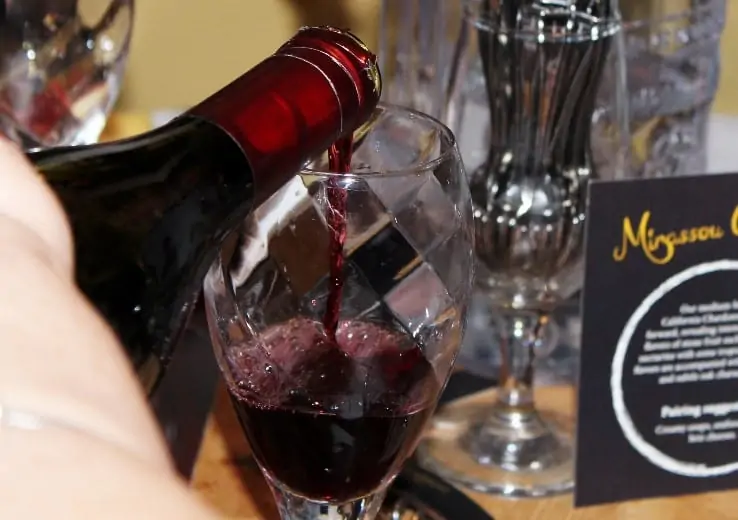 4. Set the Scene
Have everything readily available to you and your guests, so that when it's time to start tasting the wines, everything will flow smoothly, especially the wine!
Therefore, to set the scene, you'll need:
The Wine (of course)
Glass Charms – so nobody loses their glass
Appetizer plates for your food pairings
Dump bowl or bucket – for emptying your glass before pouring the next varietal of wine
Small pitcher of water – for rinsing glasses between tastes
Fresh Flowers – don't set them directly at the wine tasting table because the scent of the flowers could interfere with the tasting.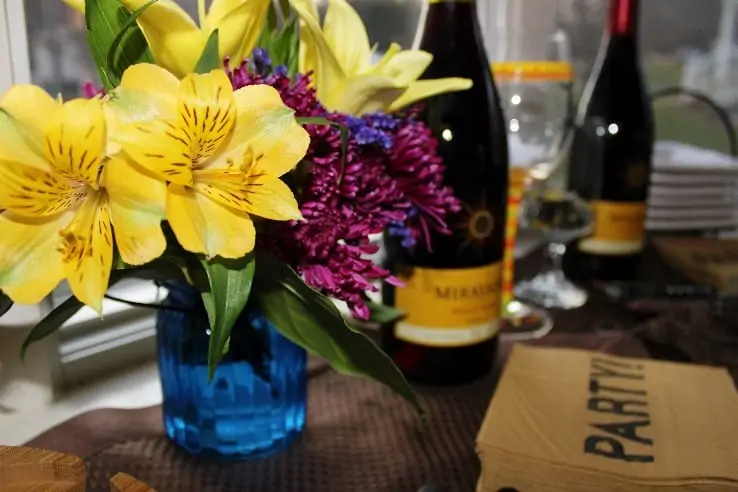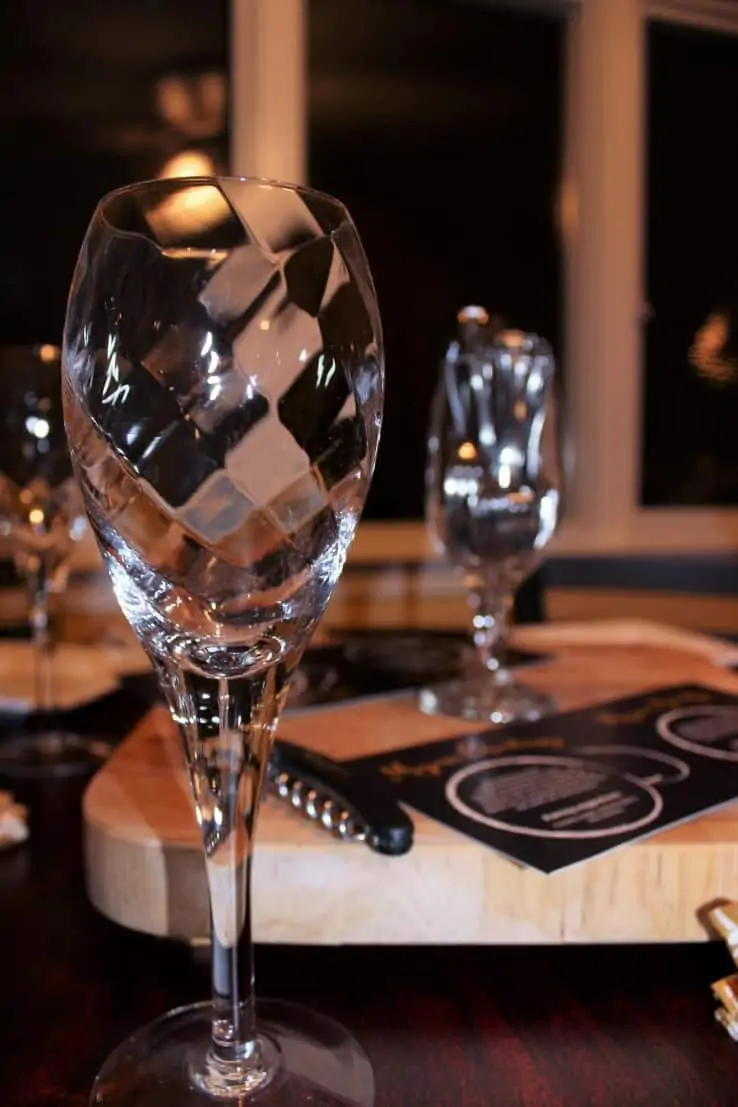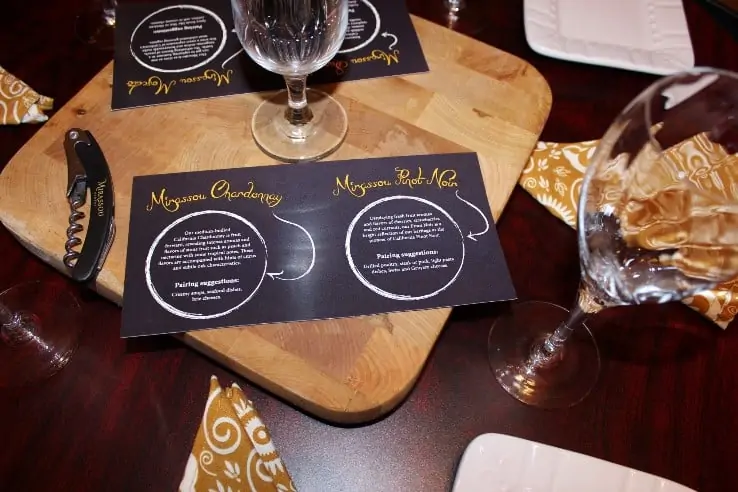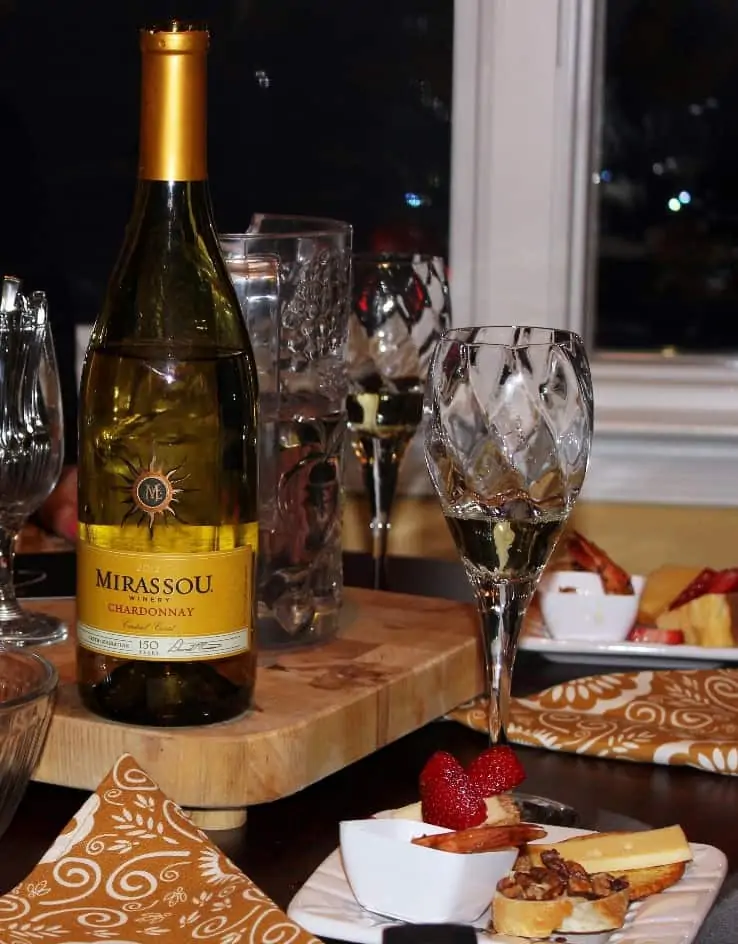 5. Choose Your Food & Wine Pairings
In this case, our wine tasting consisted of 4 Mirassou Wine varietals:
Chardonnay
Pinot Noir
Sunset Red (now called Red Blend)
Moscato
In addition, if you look up these 4 different varietals of wine online, you'll find a ton of food pairing ideas.
As a result, it was actually a little overwhelming.
Therefore, my advice would be to go straight to that particular winemaker's website first and read what their food/wine pairing suggestions are.
For Mirassou, you can click on each wine for food & wine pairing suggestions or click on their Food & Wine Recipes section.
Although these sections helped me, I still felt like I wanted to make the pairings as simple as possible so that the attention would be more on the wine and not on the food.
Finally, after all of my research, here is what we served:
Chardonnay: Seasoned shrimp (we bought a platter already made up from Wegmans) with warmed alfredo sauce (also bought from Wegmans).
Pinot Noir: Small pieces of toasted bread with a slice of brie cheese and toasted walnuts on top.
Sunset Red (now called Red Blend): Crackers with sliced of gouda cheese on top.
Moscato: Bites of cheesecake with fresh sliced strawberries on top.
Needless to say, the small bites were a hit with our guests and really blended well with each wine tasting.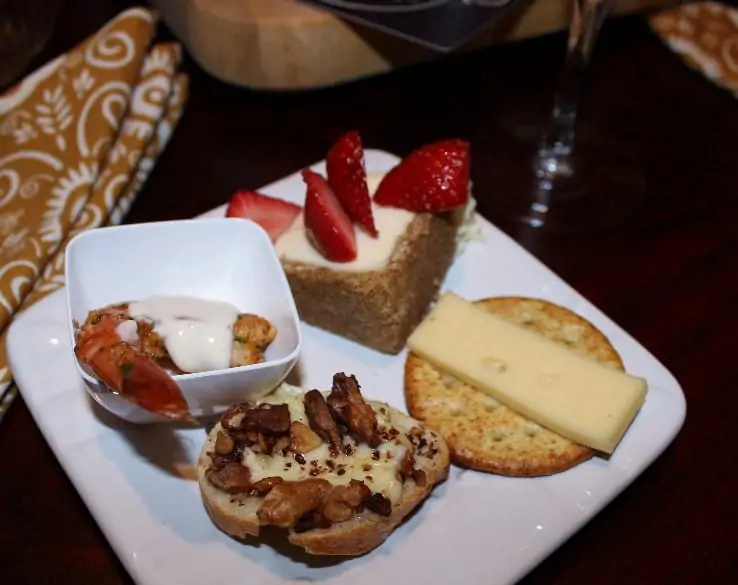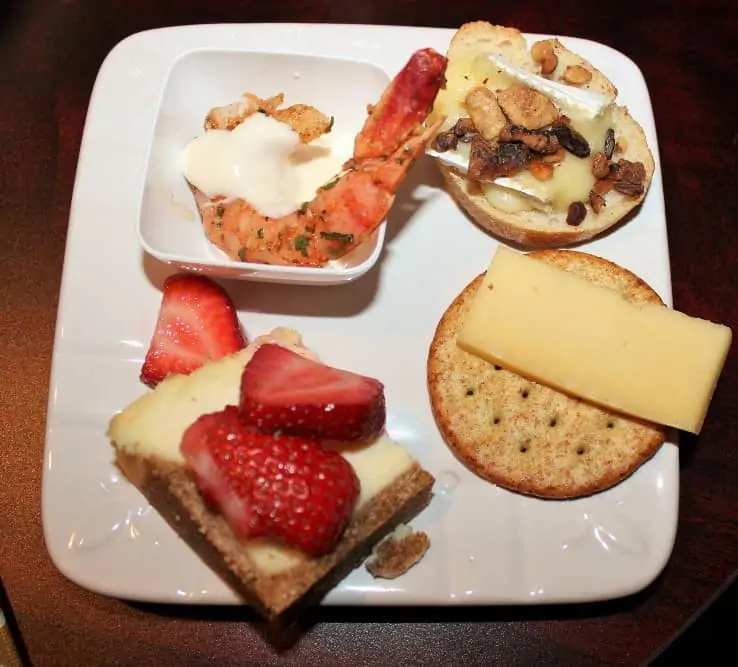 6. Provide Information About the Wines Your Guests Will Be Tasting
Educate your guests on:
Where the wines are made
How the wines are made
Food pairing suggestions
Flavor and note characteristics
How the wine should be stored
The proper temperature of the wine
Viticulture (How the grapes were cultivated) Notes
How to taste the wine:

Observe the color
Swirl the wine gently in your glass
Sniff the aroma of the wine
Take a sip of the wine and swirl it around in your mouth
Savor the taste
You can learn a lot about Mirassou Wines on their website, including this Our Wines section.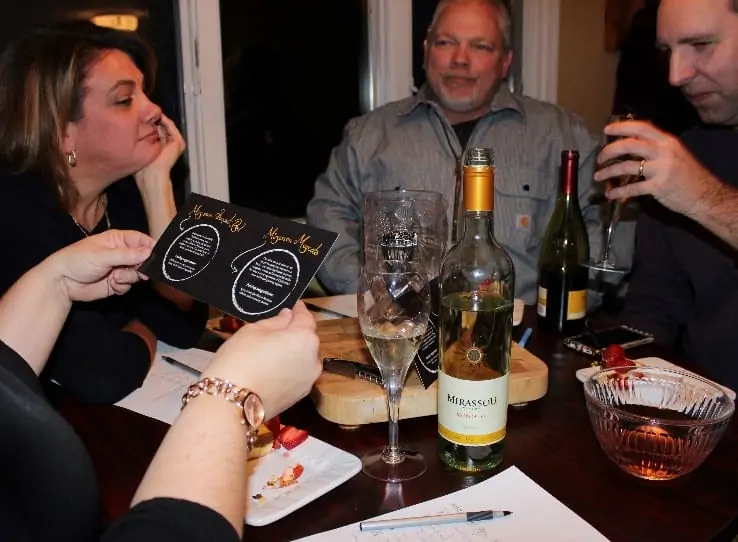 7. Have Your Guests Take Notes
Provide a wine scoring sheet for each guest so they can take notes on each wine and choose their favorite.
You can find printable scoring sheets all over the internet or make your own.
For example, Mirassou provides an entire At-Home Entertaining Kit on their Facebook page. This kit includes not only scoring sheets, but also recipe cards, a wine tasting mat, and a wine & food pairing chart.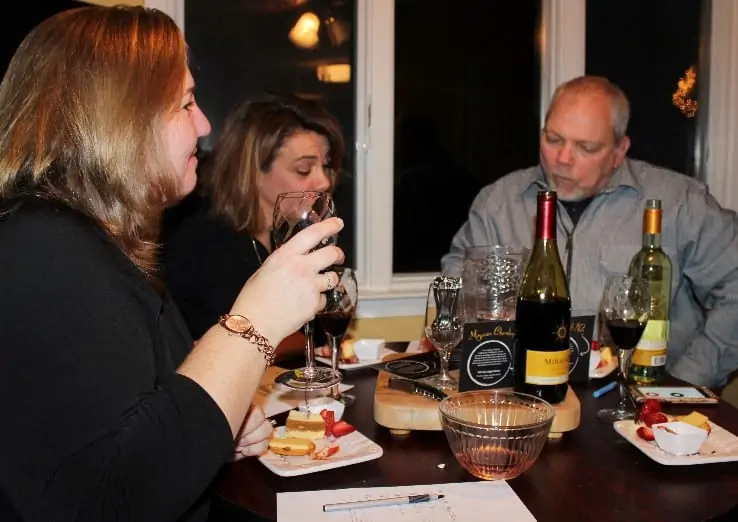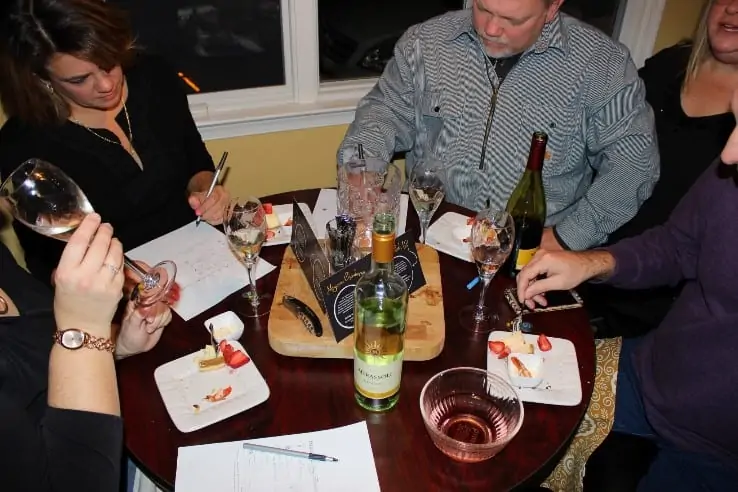 8. Provide Fun Extras
Throw some cute wine charms in an empty wine glass for everybody to take and use. We used Mirassou wine charms that have chalkboard surface on one side for each guest to write their initials.
Make a 'signature' cocktail using one of the wines. Your guests will enjoy the cocktail after the wine tasting has ended. I made a yummy Raspberry Chardonnay Cocktail recipe that I found on a wonderful blog called Krystal's Kitsch
Do a fun giveaway. We drew names out of a wine glass and gave away wooden Mirassou plates/wine glass holders and Mirassou corkscrews.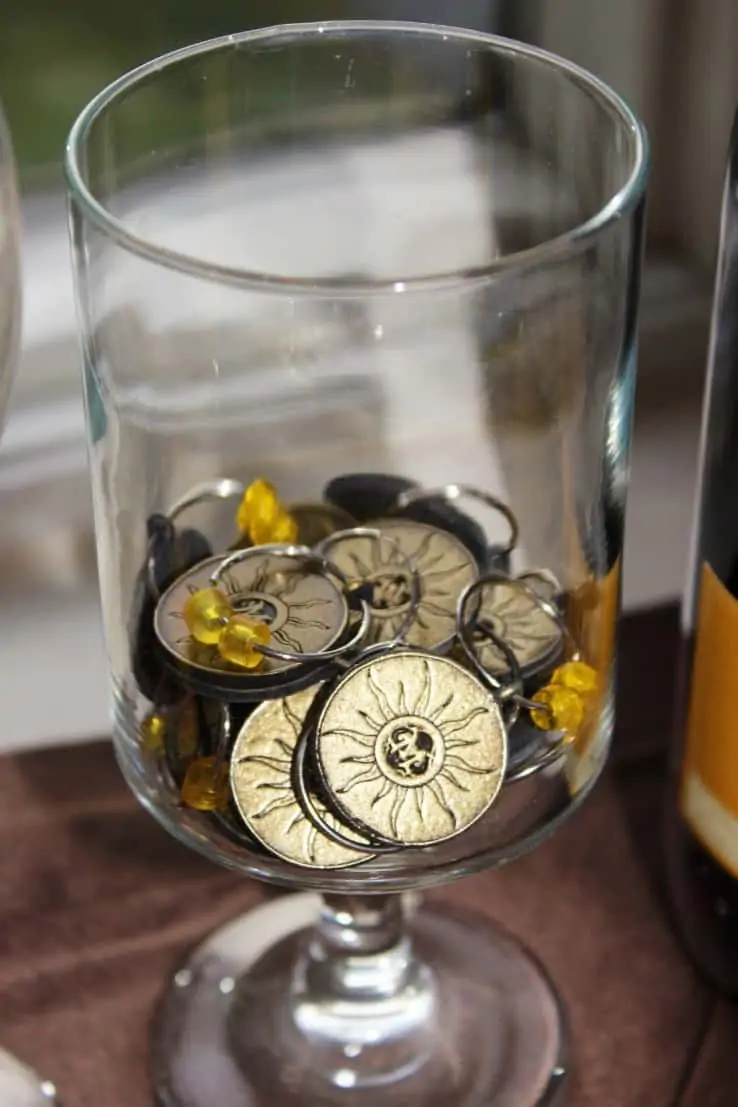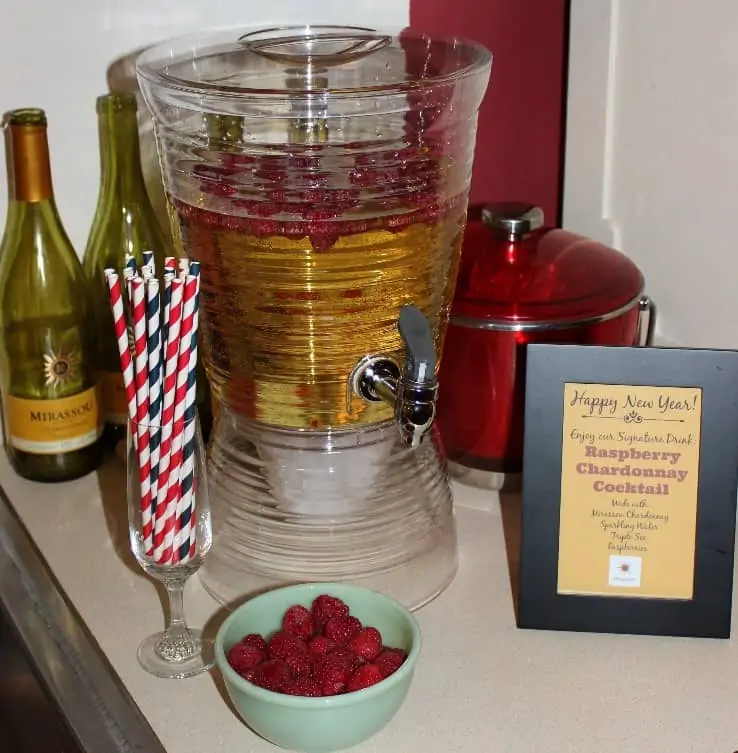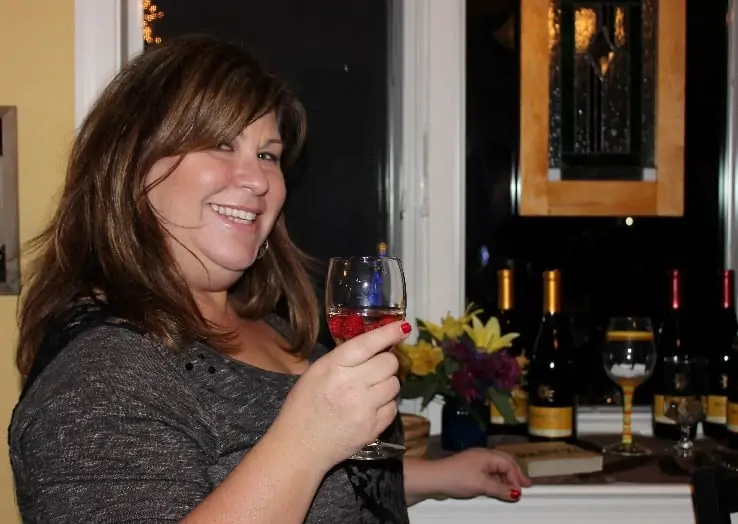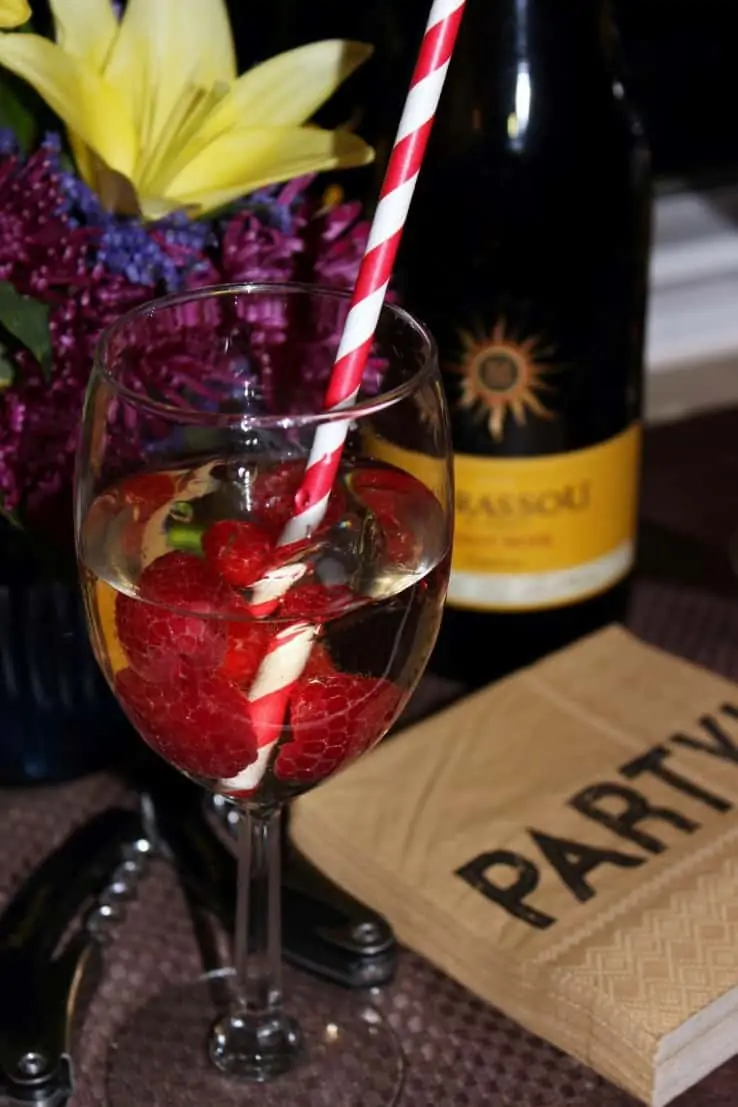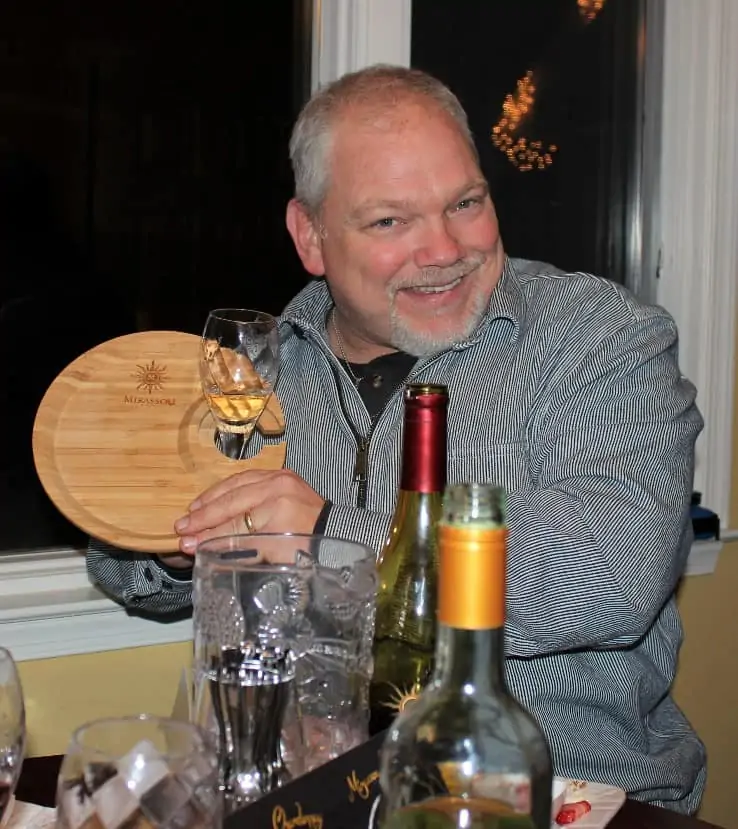 What's Your Wine Tasting Personality?
On the whole, our group's wine tasting personality is Sophisticated based on the Sunset Red being their favorite choice.
Who knew I had sophisticated friends!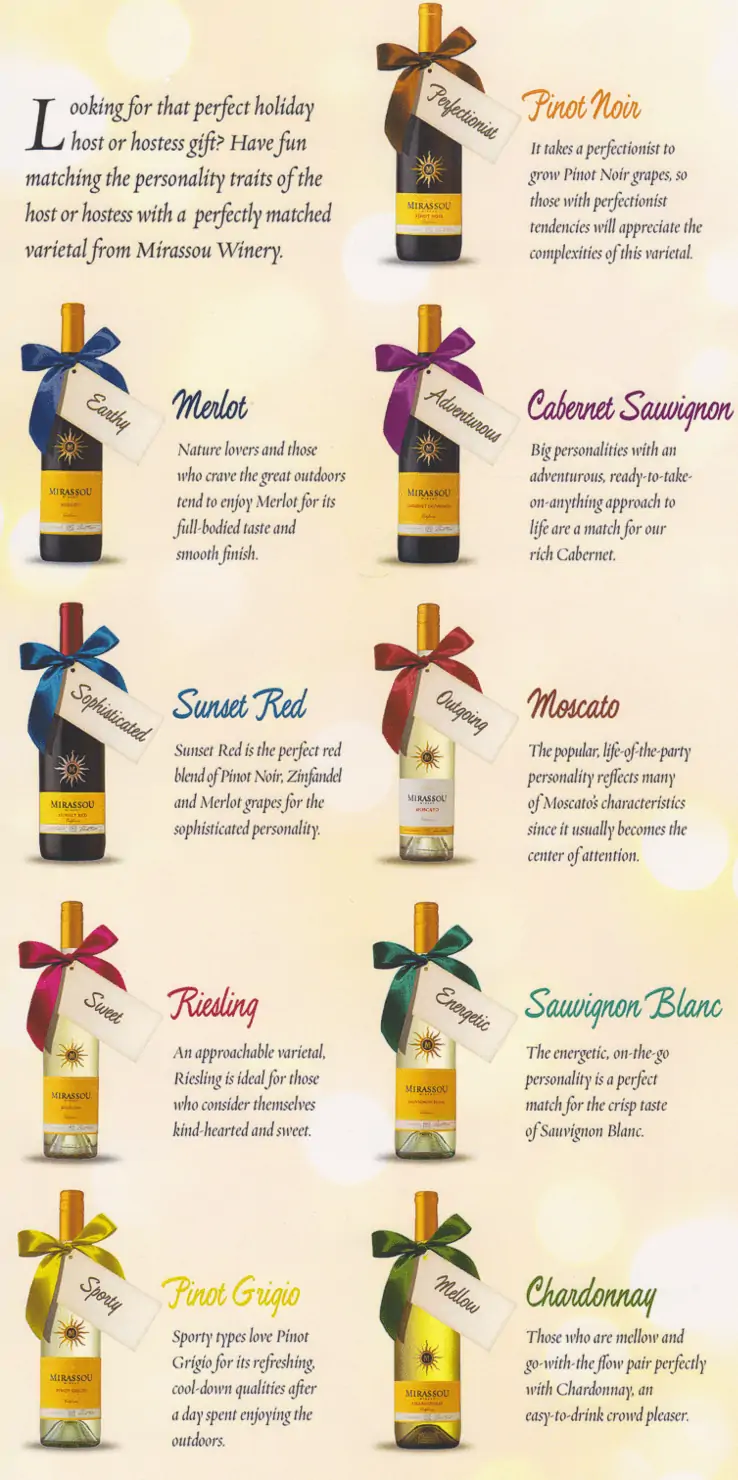 Lastly, if you've been thinking about hosting a wine tasting at home but have been apprehensive about it, don't be!
It's a lot easier than you might think, as long as you plan ahead using these 8 essentials.
AND it's SO much fun!
Cheers!
For other wine related posts, go to:
Big Cork Winery: 5 Reasons You Must Visit
Linganore Winery: What Happens At The Winery, Stays At The Winery
7 Reasons You Need To Eat At The New Hometown Harvest Kitchen