Did you know that there are several farms you can go blueberry picking in Frederick Md and the surrounding area?
Blueberry picking season is the perfect time to load up the kids in the car and head out to the country to spend some quality family time!
And the bonus is that you'll come home with, literally, the fruits of your labor!
Blueberry Picking in Frederick Md

Sure, buying blueberries at your local store is 'easier'.
But actually taking the time to drive out to a blueberry farm and hand pick your own blueberries fresh off the bush, creates an entire experience!
Not to mention, the berries are so much tastier than store-bought.
When Does Blueberry Picking Start in Maryland?
Here in Maryland, blueberry picking season starts around the 3rd week of June.
But don't wait too long because it ends around the first week of August.
I mean, when you think about it, it's a pretty short window of time to take advantage of this fun time of year when blueberries are plentiful.
What To Wear Blueberry Picking
So, my son and I decided to go blueberry picking last summer without preparing in advance what we should wear.
After that visit, I told myself that the next time we go, we will be totally prepared.
Needless to say, the hot summer months here in Maryland can be very sticky and buggy.
So, having the proper attire can make a big difference!
Therefore, here's what you should wear when you go blueberry picking:
Wear Comfortable, Lightweight Clothing When Blueberry Picking
While blueberry picking, you're going to be walking a lot and bending over, so you want to be as comfortable as possible.
Also, most likely it'll be in the throes of our hot summers here in Maryland, so lightweight, loose fitting clothing is key.
Wear Closed Toe Waterproof Blueberry Picking Shoes
Although it's most likely hot out and you'll want to wear sandals, I suggest closed toe, waterproof shoes because the ground could be wet & muddy.
And where there's berries, there's bugs, so it's best to keep your feet covered.
For this reason, I really like Crocs (Amazon).
Particularly, they're lightweight and the perfect gardening shoe, which is basically what you're doing – walking through a big garden.
Wear Sunscreen When Blueberry Picking
We all know this, but it's a good reminder to slather some sunscreen on before you head out to the farm.
Typically there isn't any shade where you'll be picking berries.
I really like the Sun Bum sunscreen products (Amazon).
Bring a Blueberry Picking Bucket
So, most pick-your-own farms will provide a bucket or basket for you to carry around to gather your picked berries.
However, if you're like me and you prefer to be hands free, this picking pail (Amazon) is a great solution!
Indeed, it's great for those of us who have arthritis in our hands and can't carry a bucket for long periods of time.
Use Bug Spray While Blueberry Picking
Preferably, get a travel size tick repellent (Amazon) so you can keep it in your pocket and reapply when the bugs start bugging ya!
Wear a Wide Brim Hat with UPF When Blueberry Picking
Wide brim hats with UPF are great for protecting you from the sun.
Plus, you can spray the actual hat with bug spray as opposed to spraying your hair.
Also, they're just plain cute!
Finally, if you don't already have this classic children's book, Blueberries for Sal (Amazon), you gotta get it.
Read it to the kids before you go blueberry picking.
It'll get them more excited about their upcoming excursion!
Where To Go Blueberry Picking in Frederick Md & Beyond
Based on local word-of-mouth, the following list of blueberry farms are the best places around to pick your own!
I've ordered this list alphabetically and included a link to each website or Facebook page, as well as each farm's address and phone number.
In addition, keep in mind that every farm has their own days and hours of operation.
So it's very important that you call them to confirm their hours before you load the family up in the car to go pickin!
Lastly, I've given the driving time from the city of Frederick.
For example, there are 2 farms in Thurmont, which are in Frederick County but not the actual city of Frederick.
1. Butlers Orchard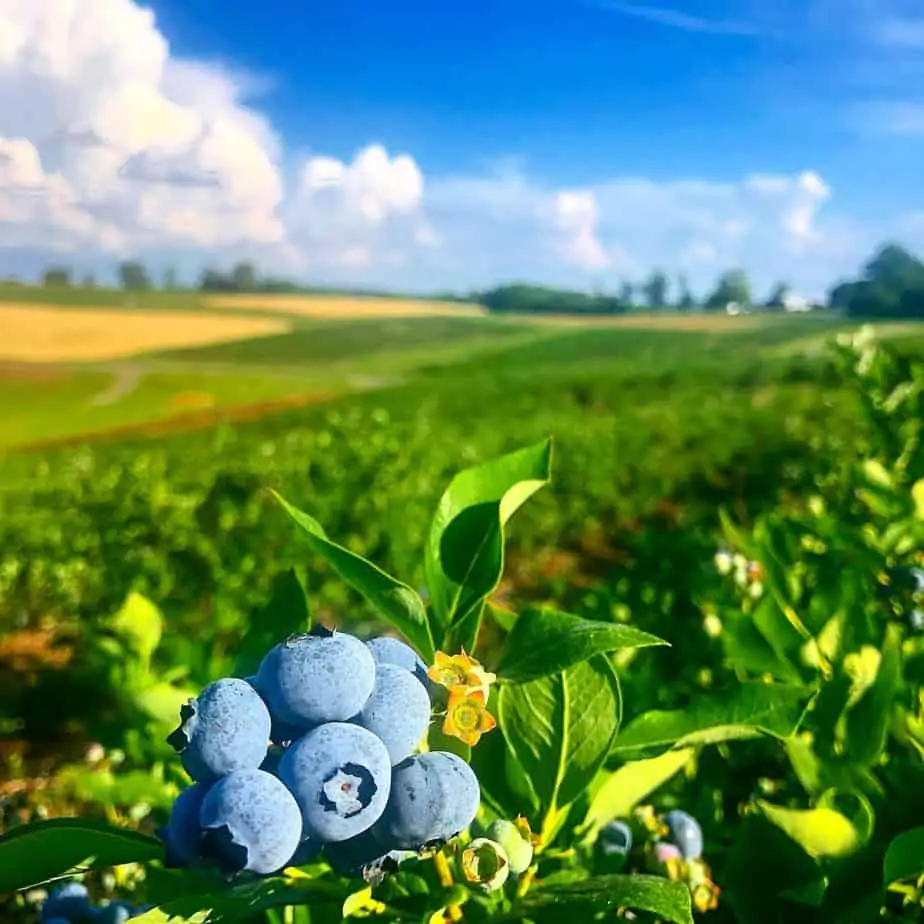 Butler's Orchard (35 minutes from Frederick)
22222 Davis Mill Rd
Germantown, MD 20876
(301) 428-0444
2. Catoctin Mountain Orchard
Catoctin Mountain Orchard (23 minutes from Frederick)
15036 N Franklinville Rd
Thurmont, MD 21788
(301) 271-2737
3. Eagletree Farm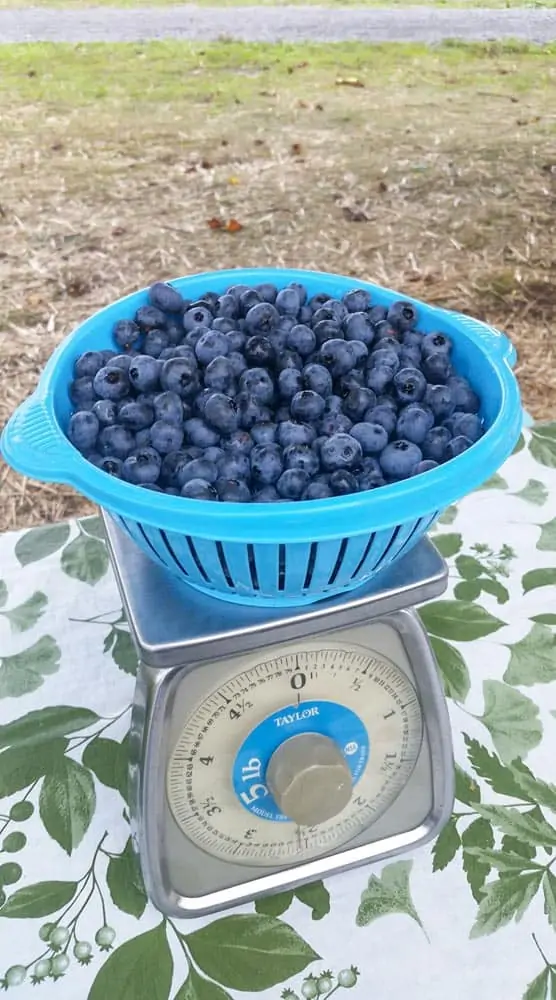 Eagletree Farm (35 minutes from Frederick)
15100 Harrison Hill Ln
Leesburg, VA 20176
(703) 777-5208
If anyone wants to pick this year, season starts late June, the number to TXT for reservations is 703-851-0699.
4. Frog Eye Farm
Frog Eye Farm (25 minutes from Frederick)
19600 Frog Eye Rd
Knoxville, MD 21758
(301) 799-8645
5. Glade Link Farms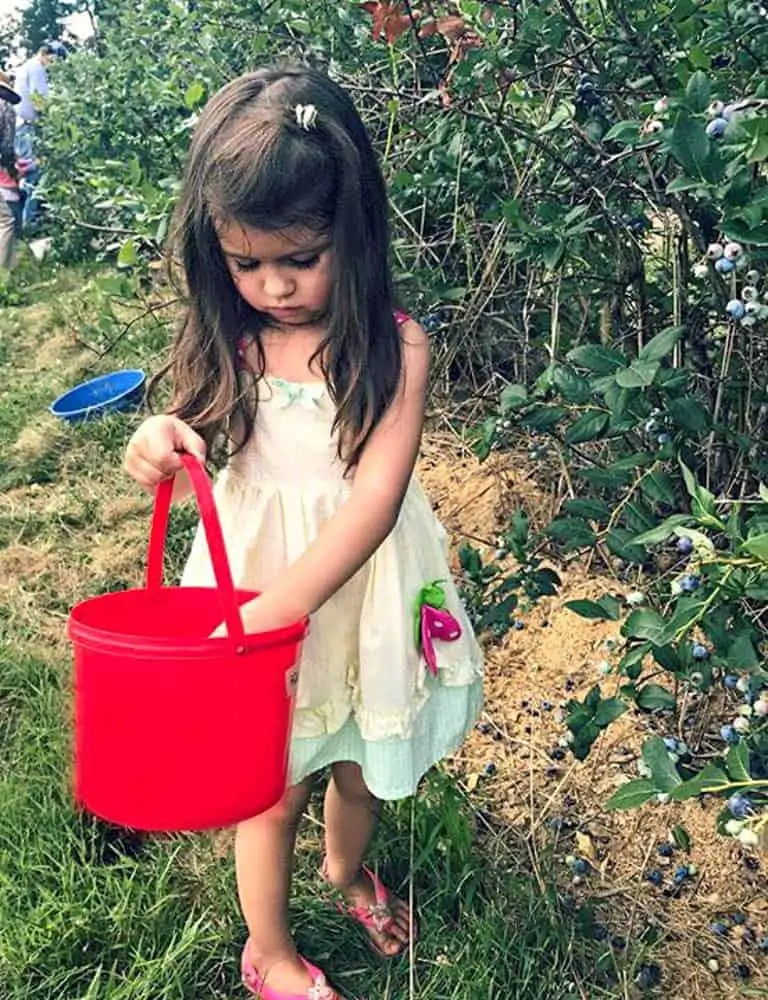 Glade Link Farms (24 minutes from Frederick)
12270 Woodsboro Pike
Keymar, MD 21757
(301) 898-7131
6. Homestead Farm
Homestead Farm (43 minutes from Frederick)
15604 Sugarland Rd
Poolesville, MD 20837
Email: [email protected]
7. Larriland Farm
Larriland Farm (26 minutes from Frederick)
2415 Woodbine Rd
Woodbine, MD 21797
(410) 442-2605
8. Mt. Joy Berry Farm
Mt. Joy Berry Farm (40 minutes from Frederick)
351 Speelman-Klinger Rd
Gettysburg, PA 17325
(717) 359-7246
9. Pryor's Orchards
Pryor's Orchards (20 minutes from Frederick)
13841B Pryor Rd
Thurmont, MD 21788
(301) 271-2693
10. Rock Hill Orchard & Woodbourne Creamery
Rock Hill Orchard & Woodbourne Creamery
28600 Ridge Rd
Mt Airy, MD 21771
(301) 831-7427
11. Sycamore Spring Farm
Sycamore Spring Farm
6003 Elmer Derr Rd
Frederick, MD 21703
(301) 788-6980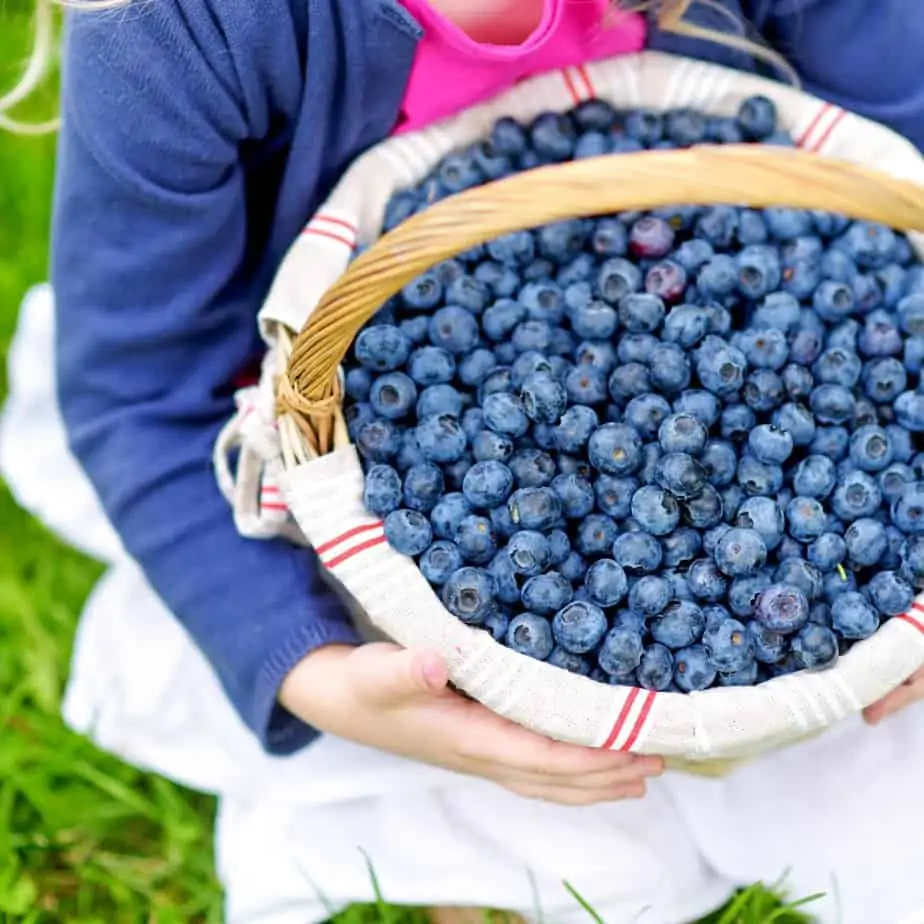 Lastly, ya gotta have some blueberry recipes after spending your precious time hand picking your blueberries.
Lucky for you, I just happen to have some amazing blueberry recipes on hand!
Blueberry Banana Smoothie Bowl
No Bake Red, White, & Blue Cake (from Home. Made. Interest.)
Berry Scone Recipe (Fantabulosity Blog)