Having a piece of custom jewelry handmade and reinvented to fit exactly what you're looking for can seem unattainable.
Because having a unique-to-you, symbolic piece of custom jewelry can be the most meaningful and impactful way to remember a loved one or share a special bond, you want it to be just right.
So, finding a legit person who can help you bring your vision to life is super important.
Custom Jewelry: Handmade & Reinvented with InBloom Jewelry
Recently a reader on our Facebook page asked if we could post her question: "ISO a very talented, trustworthy and reasonable (did I mention trustworthy??) jeweler to create a piece or two from 3 generations of jewels."
We received a great response with several of our readers recommending Stacey Krantz with InBloom Jewelry.
This reader's question was very timely because my Mom had passed away less than one month prior.
I was grieving her, as well as my Dad, who also passed away less than 2 years ago.
So, I decided that I really wanted Stacey to design a piece of custom jewelry that I could wear all the time to commemorate the love I had for both of my parents and the love they gave to me throughout my life.
No pressure, right?
Well, Stacey was up for the challenge.
As a matter of fact, it's totally in her wheelhouse and an area where Stacey shines the most.
After several conversations and meetings with her, she designed a pendant that I will cherish forever and literally hold close to my heart.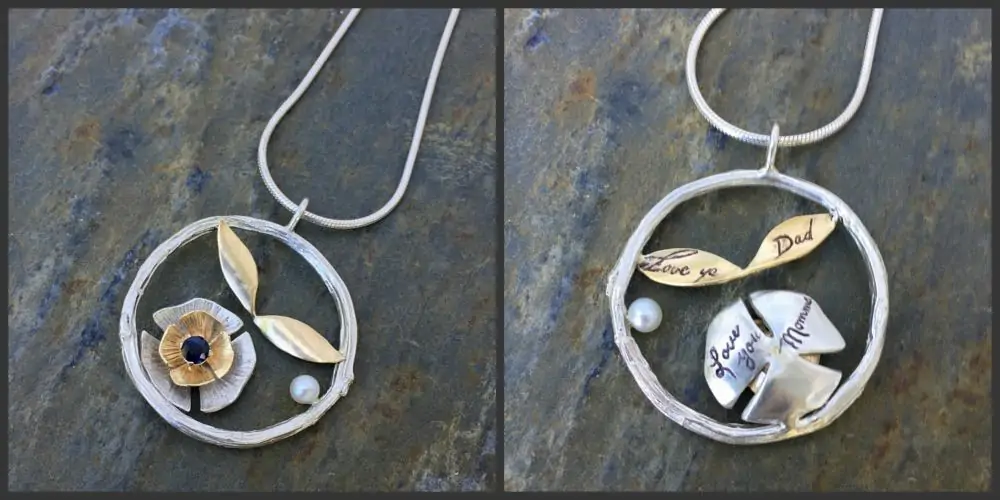 The flower represents my Mom with the sapphire being her birthstone.
And the bird represents my Dad with the pearl being his birthstone.
The writing on the back is my parents' actual handwriting that Stacey hand engraved using images from cards they had written to me.
I love it so much that I wanted to share more information about Stacey and InBloom Jewelry with you!
I asked Stacey a number of questions that I felt a potential new client would want to know.
So, without further ado, here's Stacy:
1. How long have you been making custom jewelry?
I started making jewelry in the early 90's to boost my college income.
I fell in love and never looked back, this is my 20th year in business.
2. How do your custom jewelry designs/creations stand out from other artisans? What is your style or niche?
My focus over the past twenty years has been mastering traditional metal and goldsmith techniques.
I build my pieces by hand in the studio, as opposed to most jewelers who either sell standard mass produced jewelry or use CAD and other digital technologies to design and build their pieces.
Although I have created custom designs for my customers in many different styles, my design language is centered in, and inspired by the softer organic shapes and forms of the natural world.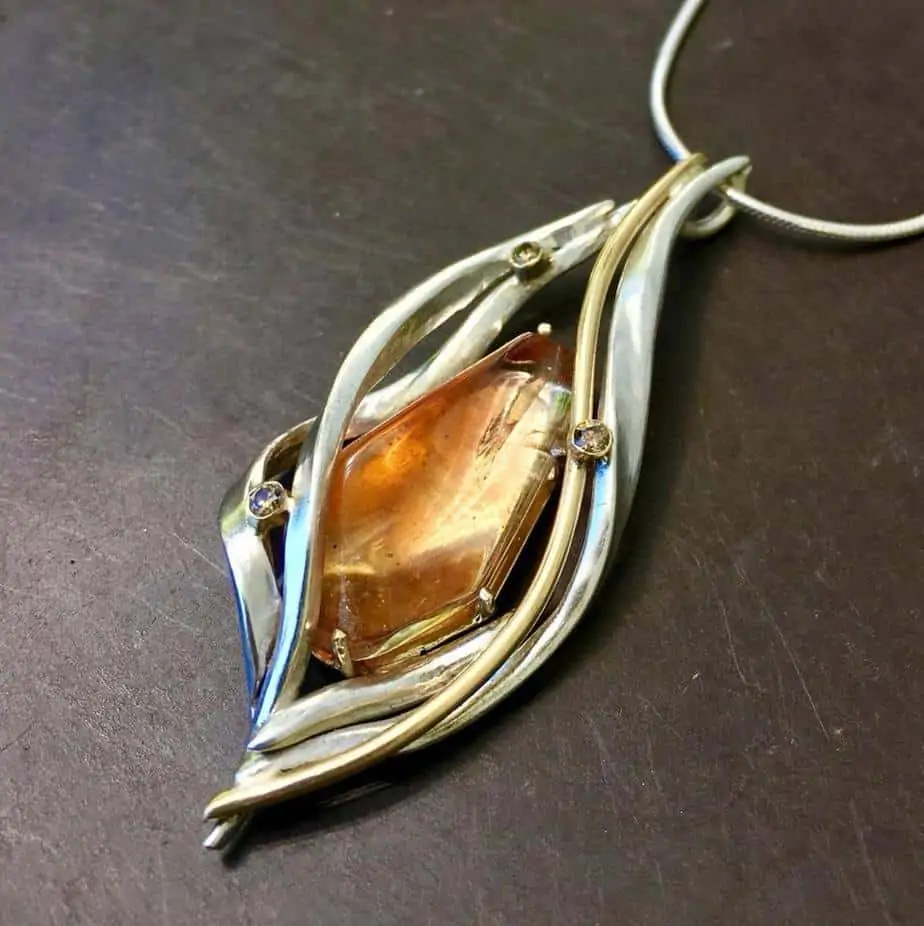 3. What does does your typical client "look like"?
I offer a unique service in that I am able to redesign customers' existing jewelry.
I am able to, in a way, "recycle" heirlooms or pieces they no longer wear into something new.
Most of my clients are women or couples, more often in middle age, who have collected lots of items over the years and want to celebrate a milestone, or just reinvent some of their pieces and enjoy them again.
4. What excites you most about what you do?
5. What is the typical price range for your custom jewelry designs?
I offer designs in all price ranges to accommodate any budget.
On the lower end, customers can shop my standard designs in silver from $60-300.
Clients can also customize my standard fine jewelry designs with their stones, these typically run between $500-2,000.
At the higher end, I can work with them to design a completely original fine jewelry design, usually anywhere from $1,500-5,000.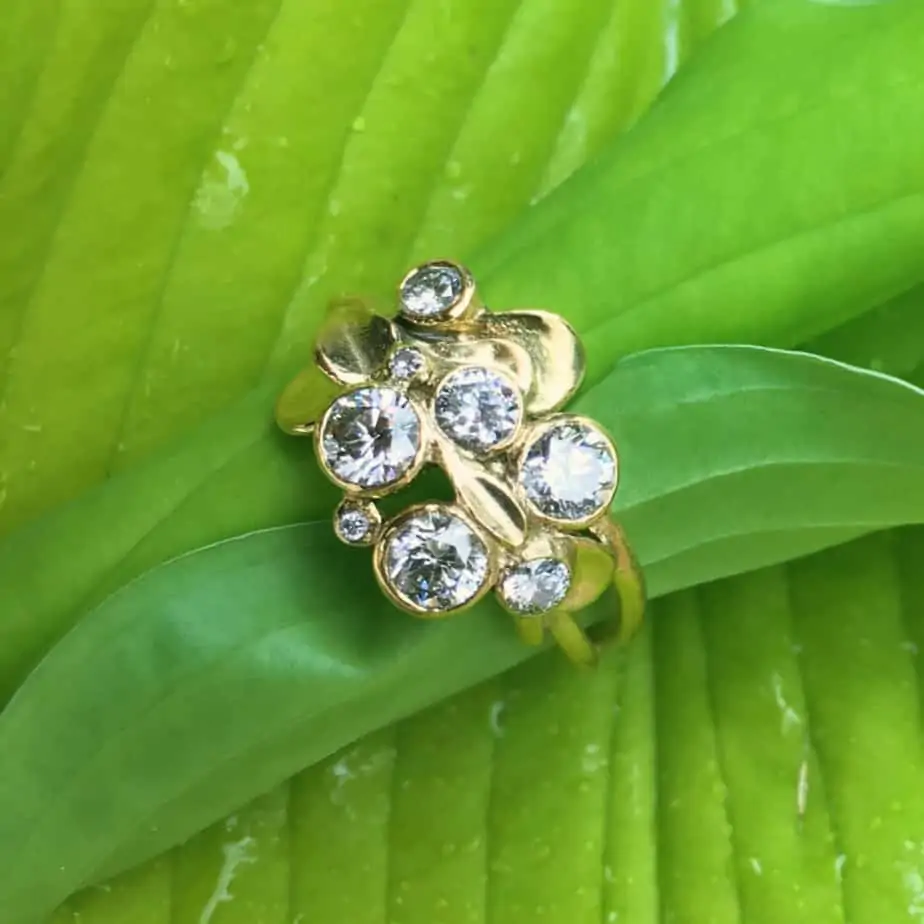 6. What classes have you taken to obtain your skills as a custom jewelry artisan?
Over the years I have studied under masters in many aspects of traditional jewelry making.
I started at the Maryland Institute College of Art Jewelry Center with Shana Kroiz, acknowledged as one of the country's leading experimental enamelists and jewelry educators.
More recently I studied wax-carving under Kate Wolf, a 37 year veteran wax carver, jewelry maker, and former Director of Production and master model-maker for the Franklin Mint.
I have also completed several week long intensives in advanced stone setting techniques under Blaine Lewis, widely recognized as the premier diamond-setting instructor in the U.S. today, and founder and director of New Approach School for Jewelers.
Then in 2017, I completed a week long private instruction course with Sam Alfano, world recognized Master Engraver and pioneer of engraving education.
7. When creating a piece for a client, describe the entire process from beginning to end.
First I meet with a client to discuss project ideas.
At the first appointment we would decide on a general budget and time frame.
I also do any measuring or sizing I need, assess and document condition, size and quality of existing stones to be used and/or scrap metal value to credit towards the new project.
Next, I would meet with the client a second time in order to confirm the design.
I typically present sketches along with wax or metal models of the final piece.
Once the client is satisfied with the design, I build the final piece.
On some occasions I may meet with the client once more during the process for a fitting appointment or to finalize other small details, then we will schedule a delivery time.
8. What is your most popular piece to date?
My most popular ring design is the three stone asymmetrical branch ring; a great "canvas" for setting customers' gemstones. It's easy to accommodate different styles and sizes and looks really dynamic on the finger.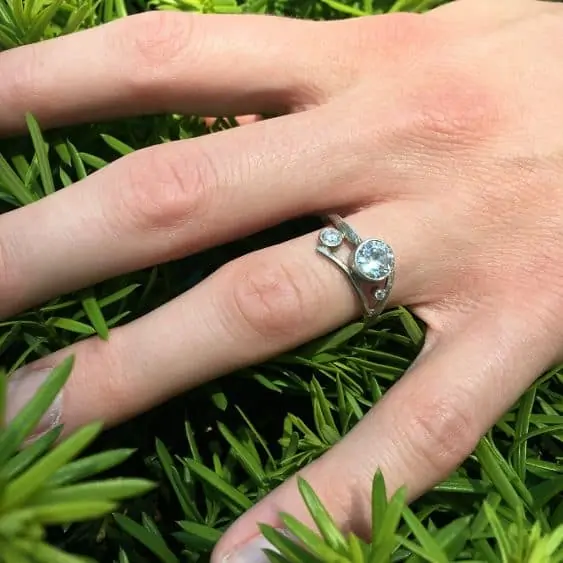 9. What has been your most memorable piece?
It would be hard to choose one particular piece.
The most memorable moments are delivering a finished project that carries special meaning and feeling the emotions that surface.
Jewelry is so personal.
It tells our stories and can powerfully evoke the feelings we have for families and our lives.
Helping customers honor loved ones or special relationships and seeing the power of what the finished piece means to them is unforgettable.
10. Do you get a lot of clients through word of mouth?
Absolutely, I'd say almost all of my business comes from direct referral.
Word of mouth is always the best way to meet new clients because the entire process is an experience.
I think with something as personal and sentimental as jewelry, it is important for my clients to feel a sense of reassurance that their treasured pieces are in good hands.
Likewise, our customer service is of the utmost importance.
We strive to make sure each client feels connected to every step of the process.
11. What percentage of your clients are local vs long distance?
A very large majority, I would say about 90% of my commissioned pieces are created for those in Frederick or Maryland.
12. What do you want your client to walk away with once their piece has been created?
My goal is to understand the intention and meaning behind the vision my clients have when they walk in the studio and translate that into a physical piece of jewelry that not only honors those feelings but also looks beautiful and wears well.
13. Describe your studio where all the magic happens.
My studio is located in Braddock Heights, about 15 minutes from downtown Frederick.
I love the scenic views from the mountains and the peace of our entry garden.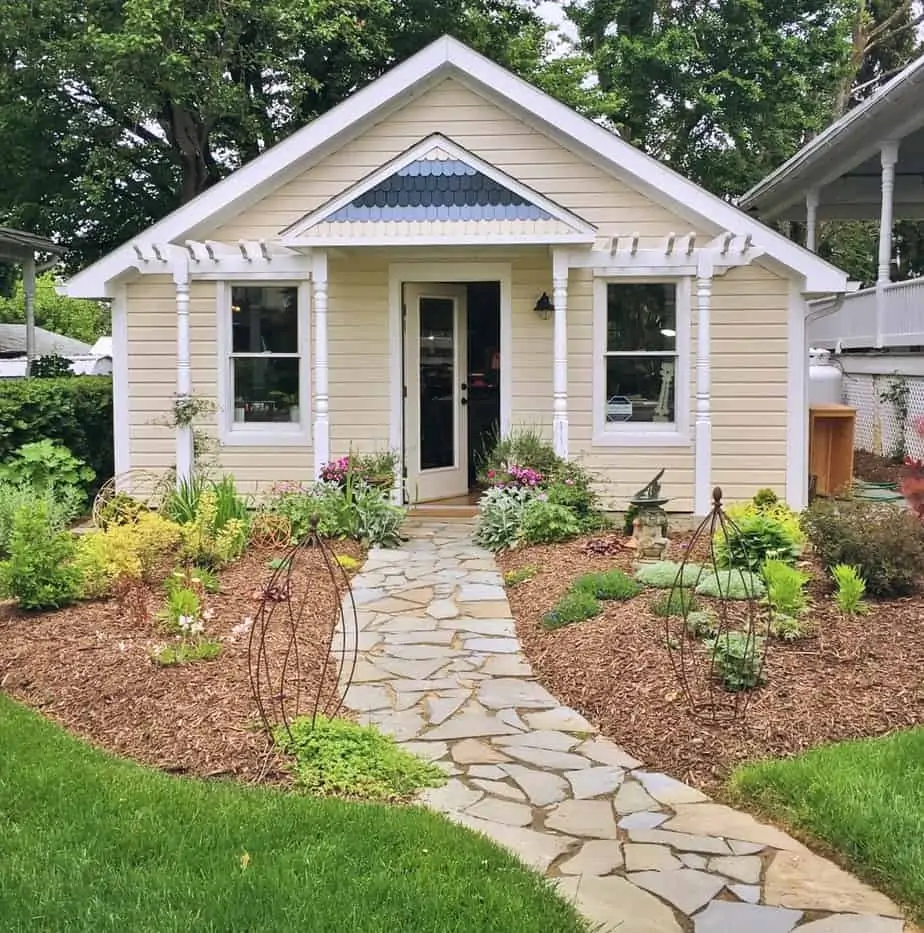 I built the studio with a beautiful light-filled gallery showroom at the entrance where customers can shop and I can meet with my clients.
The back room is my workshop, I have a beautiful antique jewelers bench and plenty room for soldering and welding stations.
I love having the space to spread out my tools and supplies through the workshop and am prone to have several new designs laid out in process at any given time!
14. Do you have any specials or events throughout the year?
Yes we do!
Actually we will be starting an end-of-summer clearance sale from August 15th through September 15th.
I will be hosting an open studio event to feature sale items from August 17th-19th.
We host sales and promotions a few times a year as well as a holiday open studio that runs daily in the month of December and features between 6-12 other local artists.
Customers can subscribe to InBloom Jewelry to hear about cyber sales and in studio events.
OR you can shop directly through our InBloom Jewelry website.
And if you're local and want to see the pieces in person, come in and shop at the studio, now located in Downtown Frederick:
InBloom Jewelry
100 E Patrick St
Frederick, MD 21701
(301) 835-7929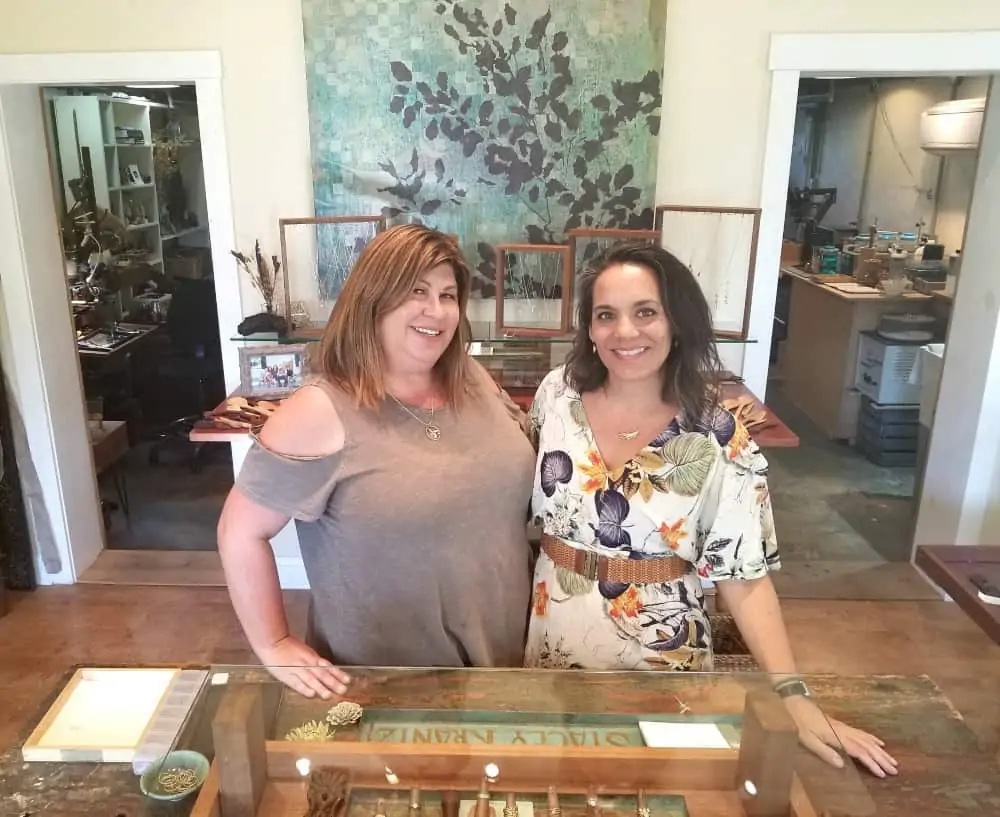 I would like to personally thank Stacey for creating a piece of jewelry for me that has truly captured my love for my parents!
Oh, and I HAD to get earrings to coordinate with the necklace!
So, I brought in some gold pieces that I've collected over the years that I never wear.
Stacey had the gold melted to use along with some sterling silver to create my beautiful earrings.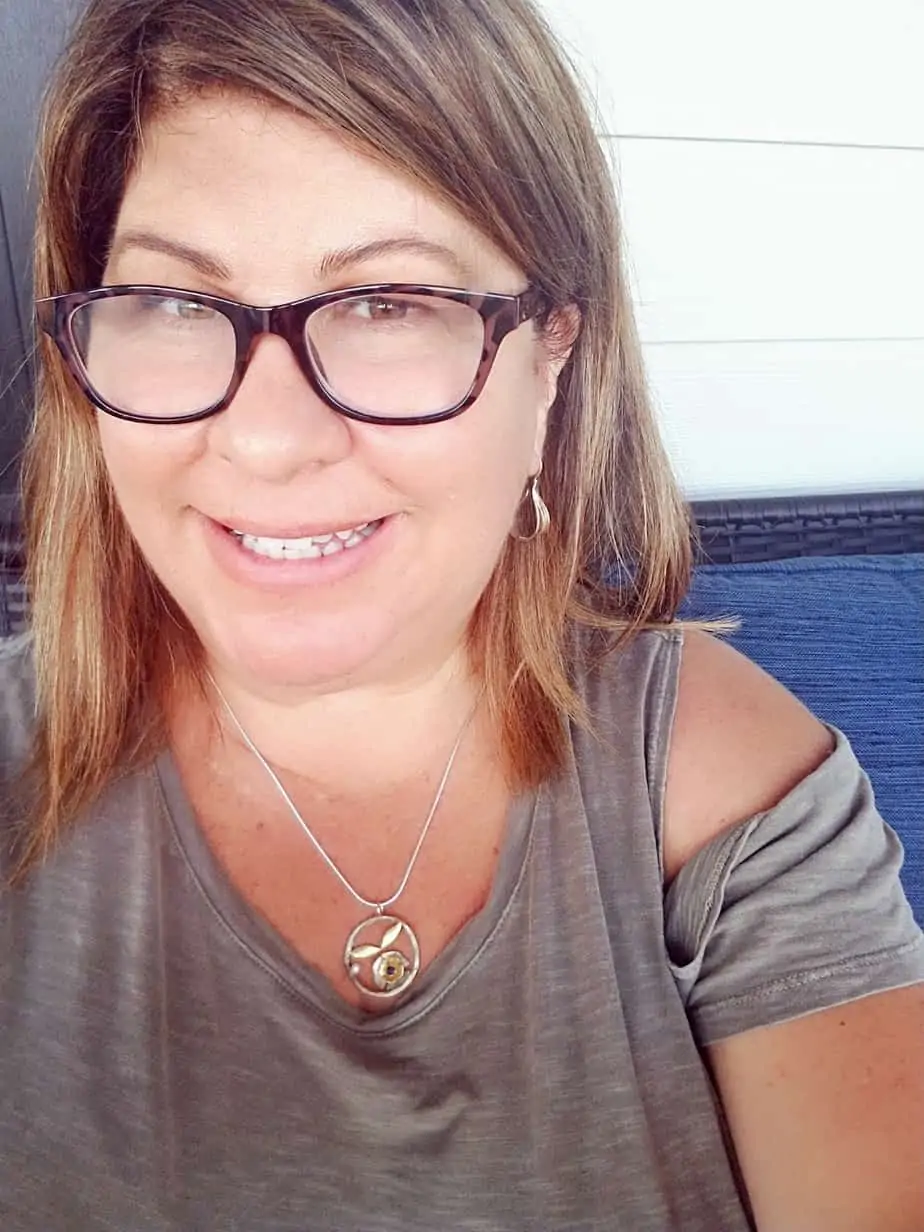 I have a feeling Stacey and I will get to know each other really well!