We searched all over the internet to find amazingly fun animal live cams from locations right here in Maryland and DC.
Obviously, you can watch really cool live streaming webcams from all over the world.
For example, there are live webcams of tropical beaches, wild bears fishing in rushing streams, and even African wildlife.
However, we have some pretty cool animals to watch in real-time located right here in Maryland and DC.
Fun Animal Live Cams in Maryland & DC
Although I was able to find several local animal live cams, most of them did not have audio.
So, my one stipulation was that the video had to be accompanied by sound.
Because, if you don't have sound, you really can't get the true experience of feeling like you're practically sitting there with the animals.
Surprisingly, it was a challenge to find live video with audio.
Before Watching
So, when I did find a live cam with audio, I felt like I discovered a needle in a haystack.
It's unbelievable the difference it makes to actually hear the sounds of the outside air blowing, the animal noises and in some cases, the water flowing.
It should be noted that before watching these animal live cams, some of them:
You'll need to manually un-mute the little speaker button on the bottom left of the screen.
The animals are moving around and sometimes sleeping, so you won't always see them in action.
Will have a short ad before you can access the live stream.
Animal Live Cams in Maryland
1. Blackwater National Wildlife Refuge (NWR)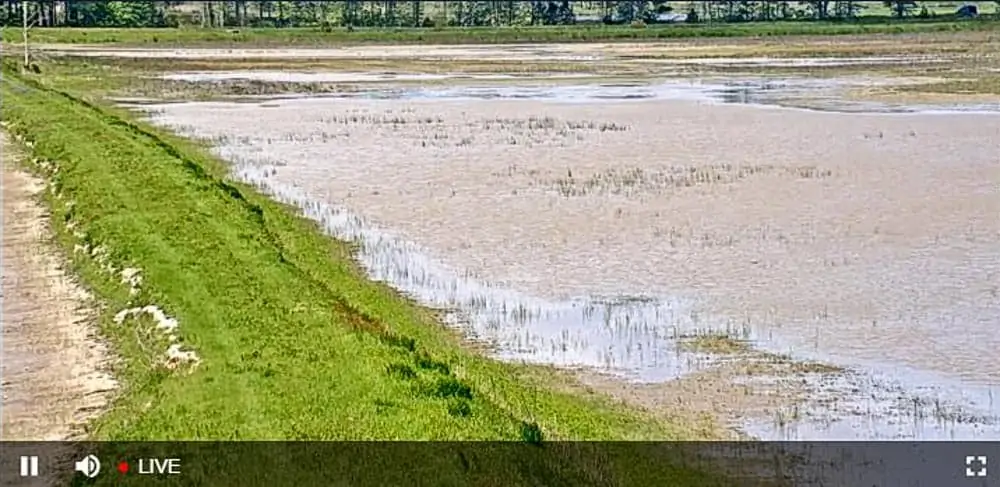 Dorchester County Maryland's Blackwater National Wildlife Refuge has been a Refuge since 1933.
Moreover, this Refuge attracts ducks and geese who migrate along the Atlantic Flyway.
Particularly, some species of waterfowl who frequent here are:
Tundra Swans
Canada Geese
Snow Geese
Over 20 species of ducks including:

Mallards
Black Ducks
Wood Ducks
Blue-Winged Teal
Green-Winged Teal
Wigeon
Pintails
In addition, other wildlife seen at Blackwater NWR include:
Eagles
Ospreys
Over 250 species of birds
35 species of reptiles and amphibians
165 species of threatened and endangered plants
Numerous mammals
The Butterfly and Beneficial Insect Garden
The once-endangered Delmarva fox squirrel
2. Osprey Nest at Severna Park High School in Severna Park, MD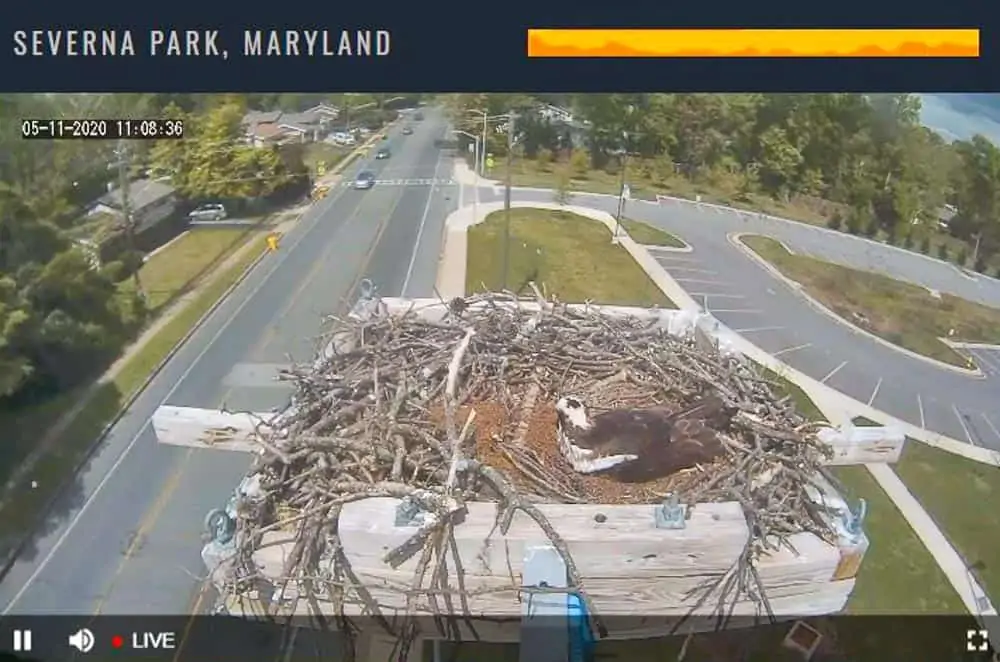 The Severna Park osprey nest has been occupied by Oscar & Olivia, an osprey couple who come back to nest year after year.
Years ago, their nest's original location was on a light pole on the athletic field at Severna Park High School.
However, after the ospreys flew south in 2014, the light pole was removed for construction.
Needless to say, when Oscar & Olivia returned, they tried to build a new nest on top of a construction crane.
Clearly, this didn't work out too well for the construction crew.
So when Oscar & Olivia once again flew south for the winter, BGE erected a dedicated osprey platform.
Without a doubt, they've been enjoying this platform ever since, which allows them a safe and long-term nesting location.
3. Osprey Nest at Blackwater National Wildlife Refuge (NWR)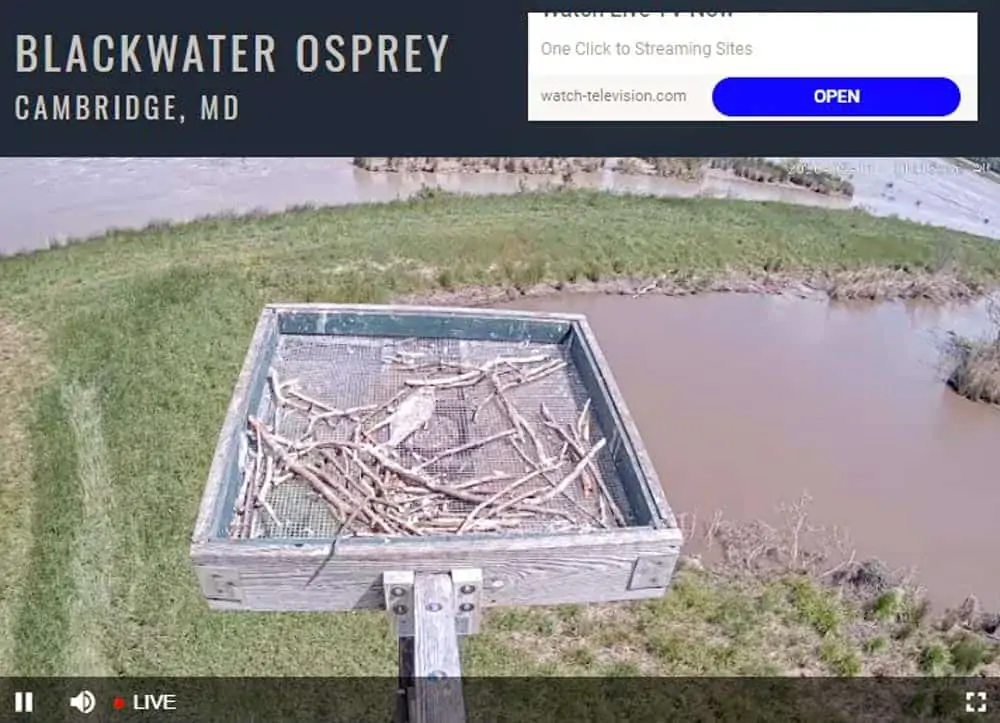 Another osprey nest cam can be found at Blackwater National Wildlife Refuge in Cambridge, Md.
Although we couldn't find the names of this couple, it looks like they've made their home in the perfect spot to catch fish and start a family!
4. Shark Cam at the Baltimore Aquarium
Every day at the Baltimore Aquarium from 10:00 am to 8:00 pm you can enjoy, from the comfort of your home, the sights and sounds of:
Blacktip Reef Sharks
Jellyfish
A variety of brightly-colored saltwater reef fish
Indeed, I love the sounds of the bubbling water and seeing all of the colorful fish happily swimming with the sharks.
5. Eagle Cam at Port Tobacco River Park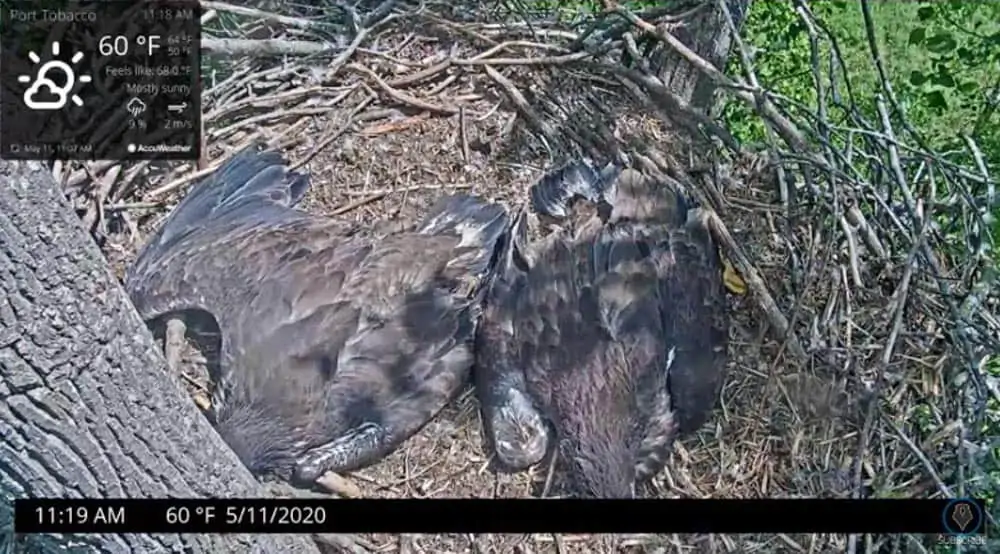 The Port Tobacco Eagle Cam in Charles County Maryland live streams a wild eagle nest which has been in this location for two years.
These guys are chillin'!
6. Great Blue Heron's Nest On Maryland's Eastern Shore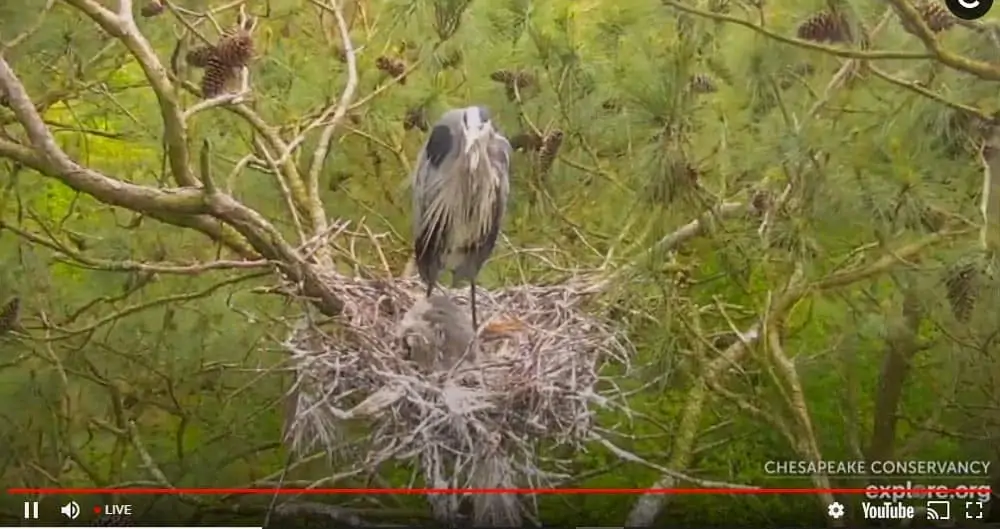 This Great Blue Heron's Nest on Maryland's Eastern Shore overlooks a rookery, which is a colony of nests high up in the tress.
Home to as many as 50 herons on 10-12 nests, this rookery sits 100 feet off the ground in a number of pine trees.
Viewing hours are 24 hours a day.
7. The North East River at Sandy Cove Ministries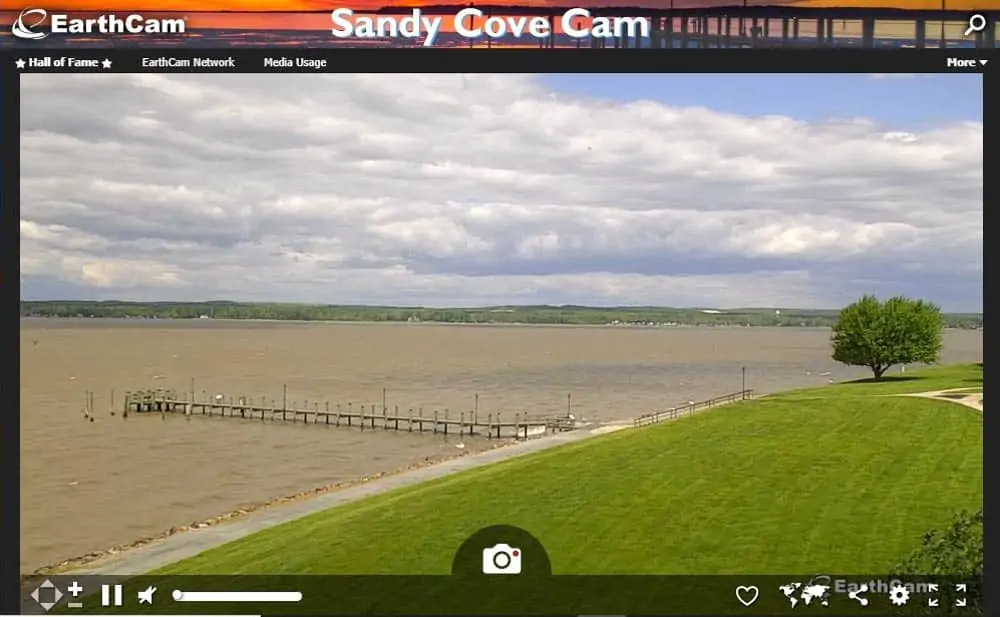 The Chesapeake Lodge at Sandy Cove Ministries is located at the North East River as it flows to the top of the Chesapeake Bay in North East, Maryland.
Absolutely, click on this live cam to watch the beautiful sunset and and see local wildlife including:
8. Puppies at the Warrior Canine Connection in Boyds, Maryland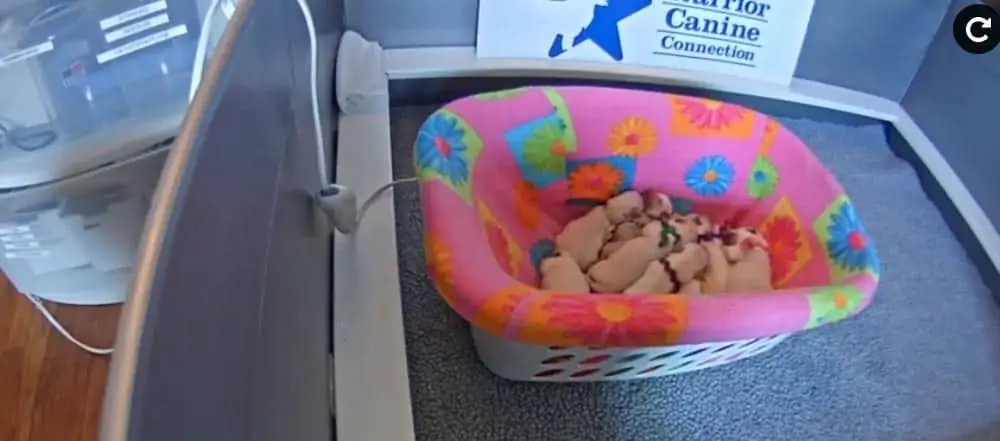 The Warrior Canine Connection, located in Boyds, Maryland, has a service dog training program consisting of Golden and Labrador Retrievers.
Each dog is carefully bred, nurtured and trained to excel at their future roles of being partnered with combat Veterans with disabilities.
We're including links to all of their animal live cams because these puppies are just too darn cute!!
You'll notice that there is a speaker on the bottom left of the video screen and it says it's on but I couldn't hear the audio.
However, I'm hoping this is just a glitch and the sound will be turned back on because….puppies!!
First, the above photo is in their nursery.
Second, this next photo is in the puppy whelping room where the puppies nurse on their mother.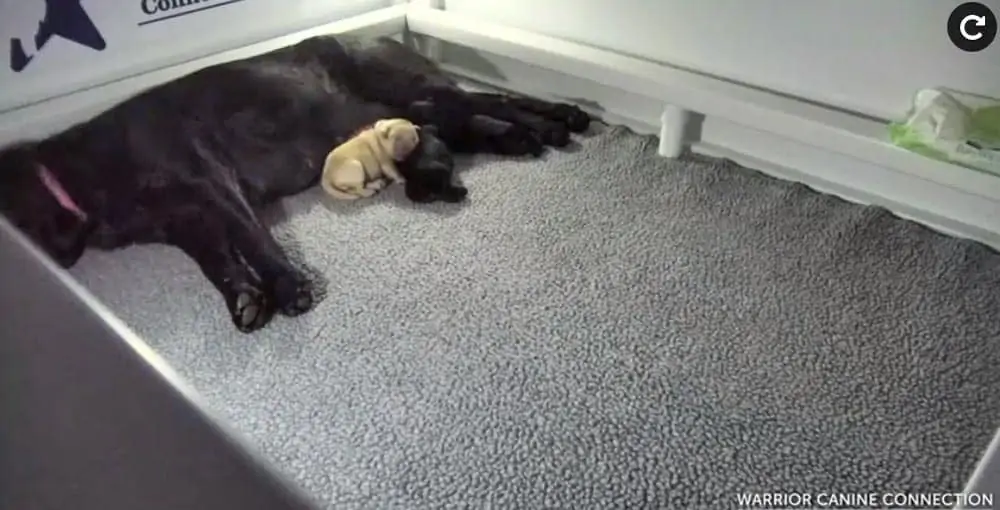 Third, below is a link to the puppy playroom.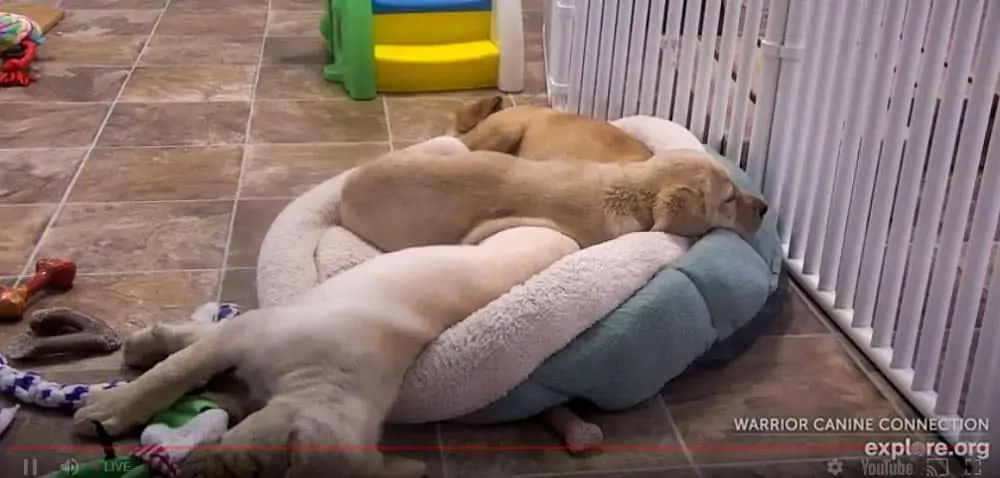 Animal Live Cams in Washington DC
1. The Lion Cam at The National Zoo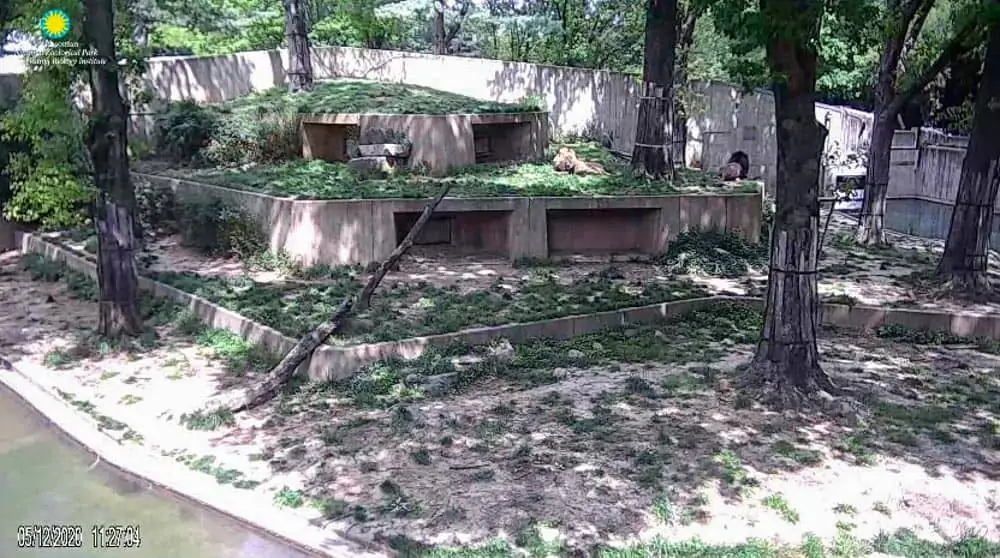 The Lion Cam at the National Zoo in Washington DC is really cool!
Yesterday when I first wrote this post I hadn't yet seen any lions on this cam
However, I could hear the birds chirping and I actually heard a lion roaring.
Obviously, they were being camera shy.
But I checked again today and could see this guy proudly lying in the sun!
2. The Giant Panda Cam at The National Zoo

The Giant Panda Cam at the National Zoo in Washington DC is so much fun!
They're so stinkin' cute!
Check out our little video here:
It should be noted that there are two cameras, Cam 1 & Cam 2, showing the Giant Pandas frolicking, eating, and sleeping.
Therefore, just click on the tabs on the top left to go back and forth between cameras.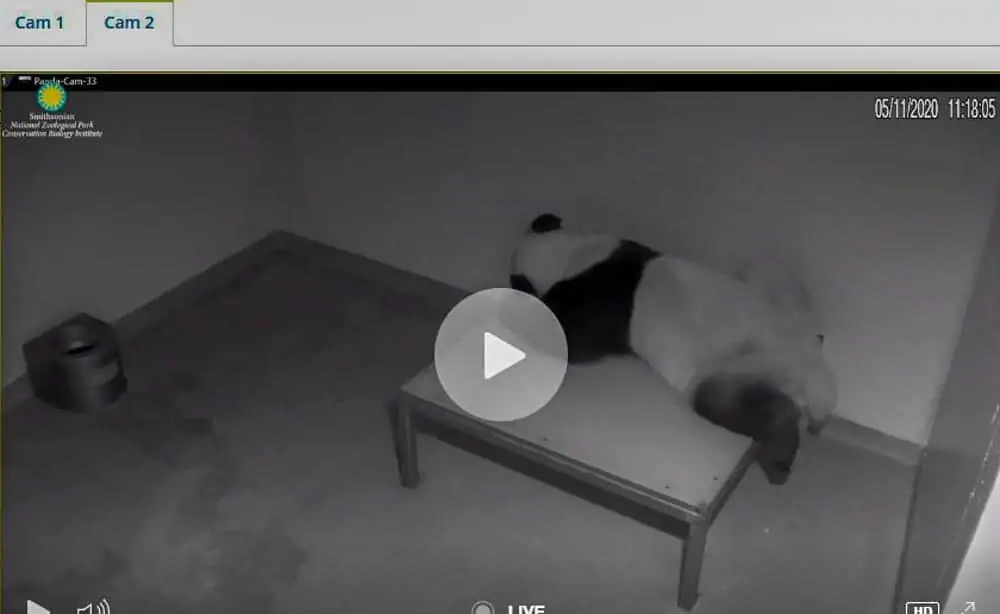 For more fun things to do from home, click on over to:
25 Fun Things To Do At Home That'll Keep You From Getting Bored!
21 Best Ways to Thrive While You Stay At Home!