We've all had deviled eggs, but have you ever tried deviled eggs with crab meat?
Surprisingly, being from Maryland, I've never thought to add crab meat to my deviled eggs.
However, my husband told me that he had heard of something called Humpty Lumpty deviled eggs, which includes crab meat.
Needless to say, I went online to search for Humpty Lumpty deviled eggs and couldn't find anything.
So, I decided to make my own recipe using ingredients I knew would go really well together.
Maryland Deviled Eggs with Crab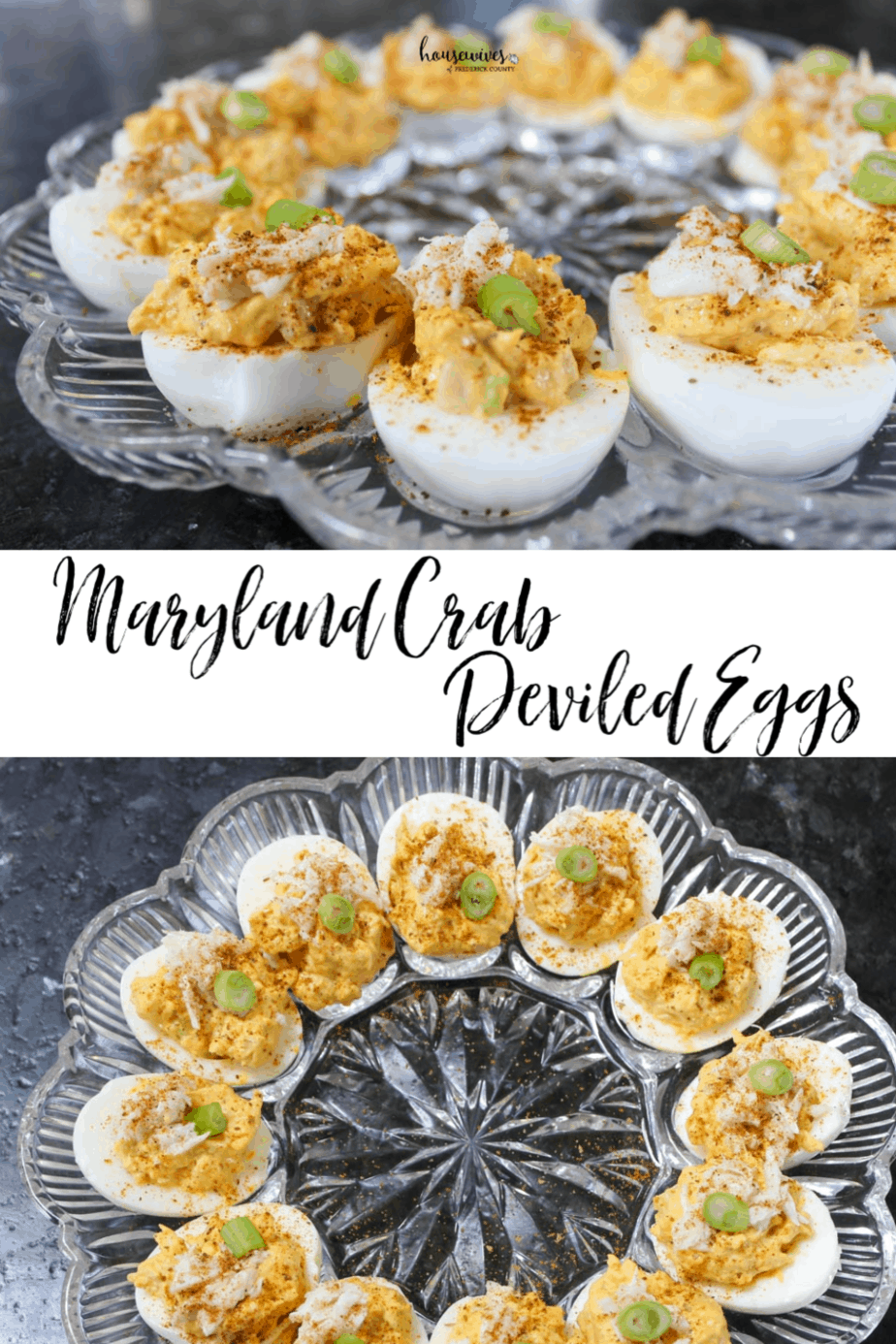 This Maryland Deviled Eggs with Crab and Old Bay recipe basically includes the same ingredients I'd use to make traditional deviled eggs.
Except, of course, you'd add the crab meat and Old Bay seasoning.
In addition, because of the crab meat, I added some lemon juice and some sour cream to the list of ingredients.
Make Them Fancy
Before reading any further, be sure to fill out the email subscription info below to get our free printable PDF: Tips for How to Make the Perfect Crab Deviled Eggs!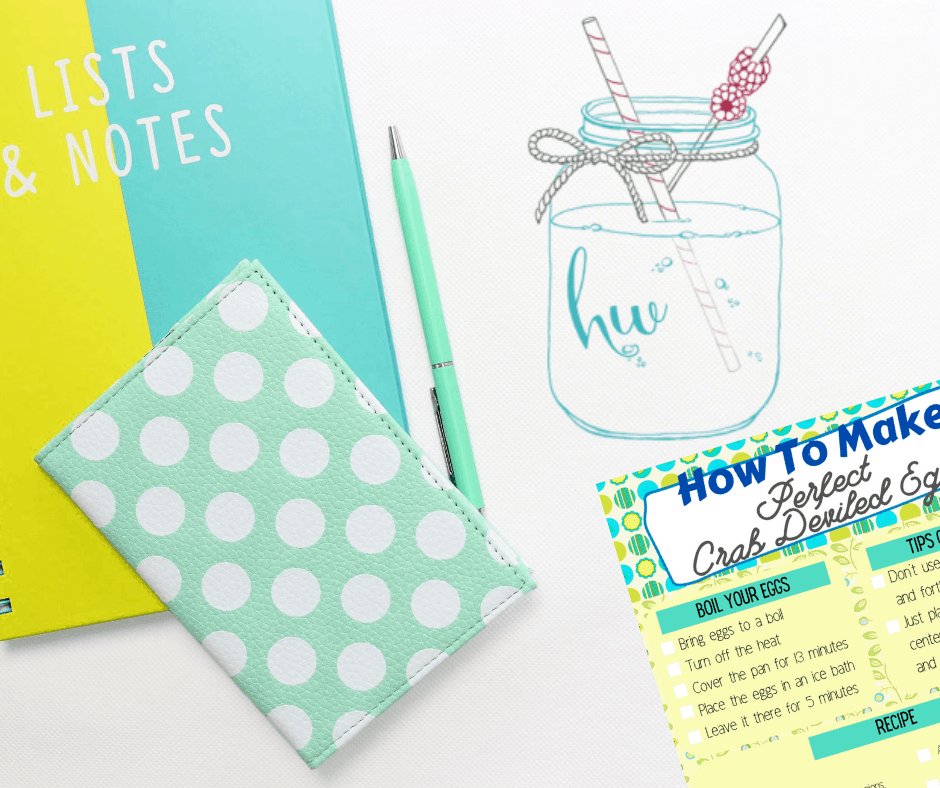 I consider this recipe to be in the 'fancy deviled eggs' category because of the crab meat, Old Bay Seasoning and a slice of spring onion on top.
But don't let the fancy word fool you because this recipe is just as easy to make as any other deviled egg recipe.
How Do You Boil Eggs So They Peel Easily?
First step is to boil your eggs.
Apparently, the best way to boil eggs so that the egg shells peel off easily is to first bring them to a boil.
Then, turn off the heat and cover the pan for 13 minutes.
After the 13 minutes, place the eggs in an ice water bath for 5 minutes.
I don't always follow this method because I'm stubborn.
But after having a hard time peeling these eggs, I've decided to adopt that method from now on.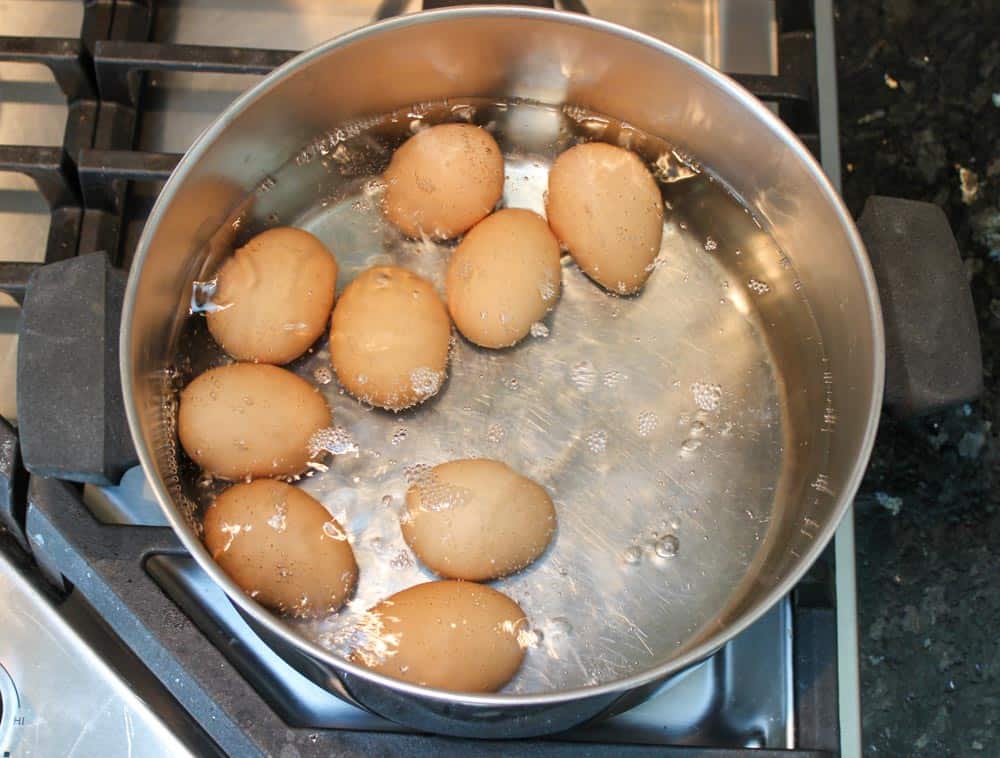 How Do you Make Deviled Eggs From Scratch?
Making deviled eggs from scratch is very easy and they're always better when you make them at home.
Prepare Your Ingredients
While boiling your eggs, your next step is to place most of your ingredients in a large bowl.
In our case, this includes diced celery, diced spring onions, mayonnaise, sour cream, Old Bay Seasoning, mustard, and lemon juice.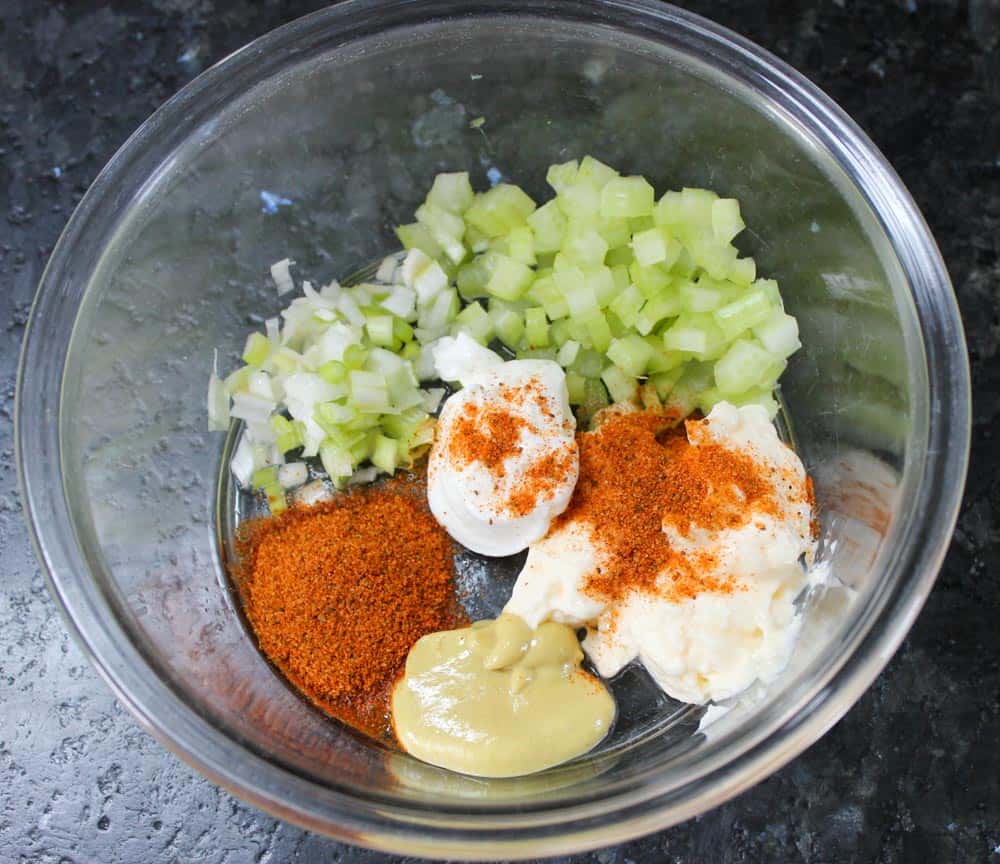 Cut Eggs in Half Lengthwise
Once you peel your eggs (darn sticky shells!) you will cut them in half lengthwise.
Pro tip: Don't use a sawing, back and forth motion to cut your eggs in half.
Just place the knife in the center (lengthwise) of the egg and press down.
Scoop Out Egg Yolks
Then, use a small spoon to gently scoop the egg yolks out of the egg whites.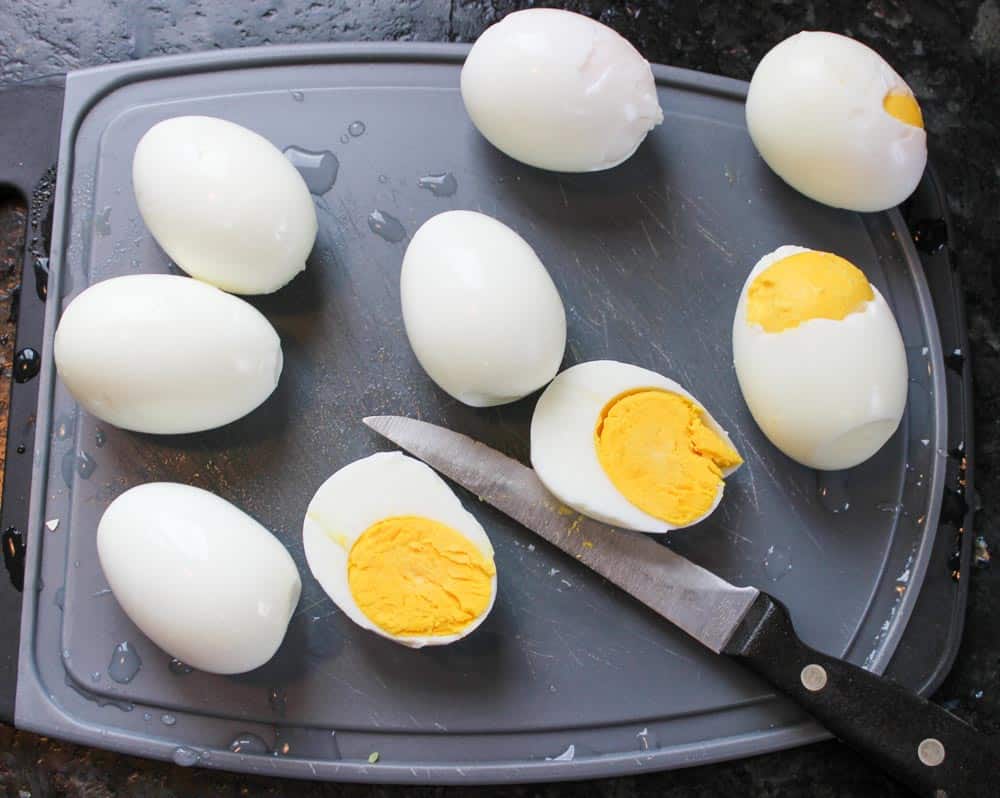 Use A Good Serving Tray
Place your egg white halves onto a deviled egg serving tray.
I used this exact Anchor Hocking Egg Plate (Amazon) which is perfect for 12 deviled eggs.
But if you're planning on having any deviled eggs leftover, or you will be transporting them, you'll want something with a lid.
This Rubbermaid Egg Keeper with Lid (Amazon) would be perfect!
Add Egg Yolks To Bowl of Ingredients
After this, add your egg yolks to your large bowl of ingredients and mix well, making sure to fully mash the yolks and blend it all together.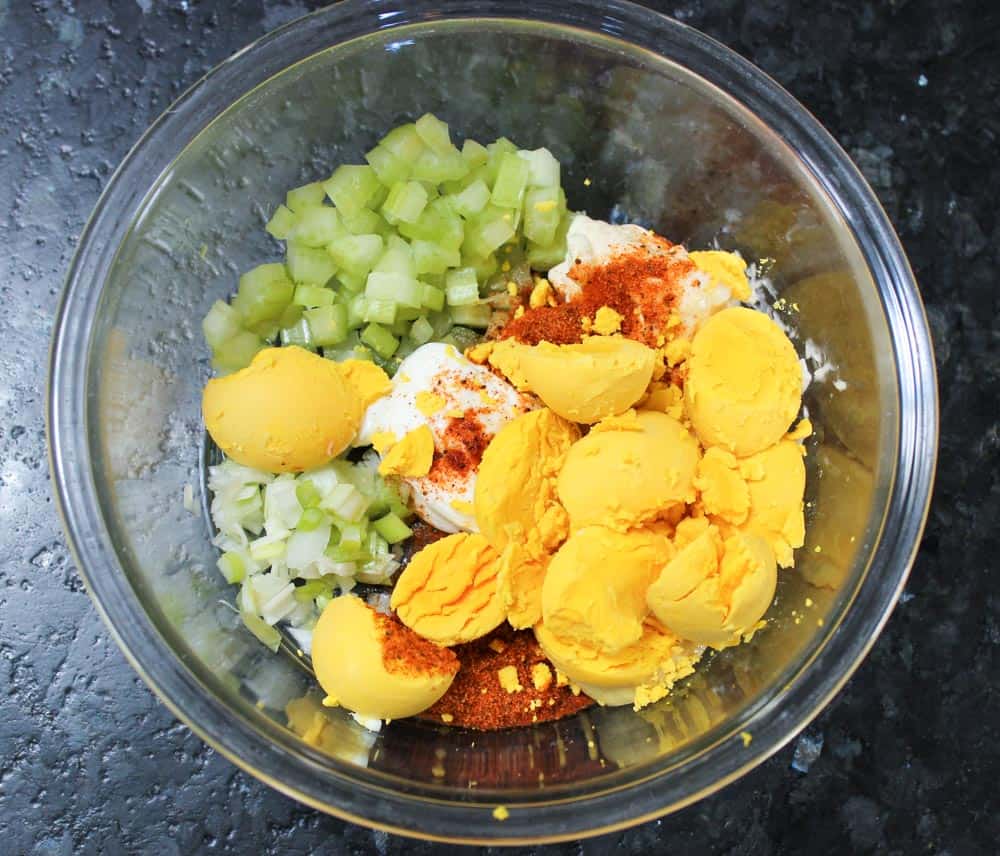 Fold in Crab Meat
Once you fully blend your egg mixture, add the crab meat and fold it in.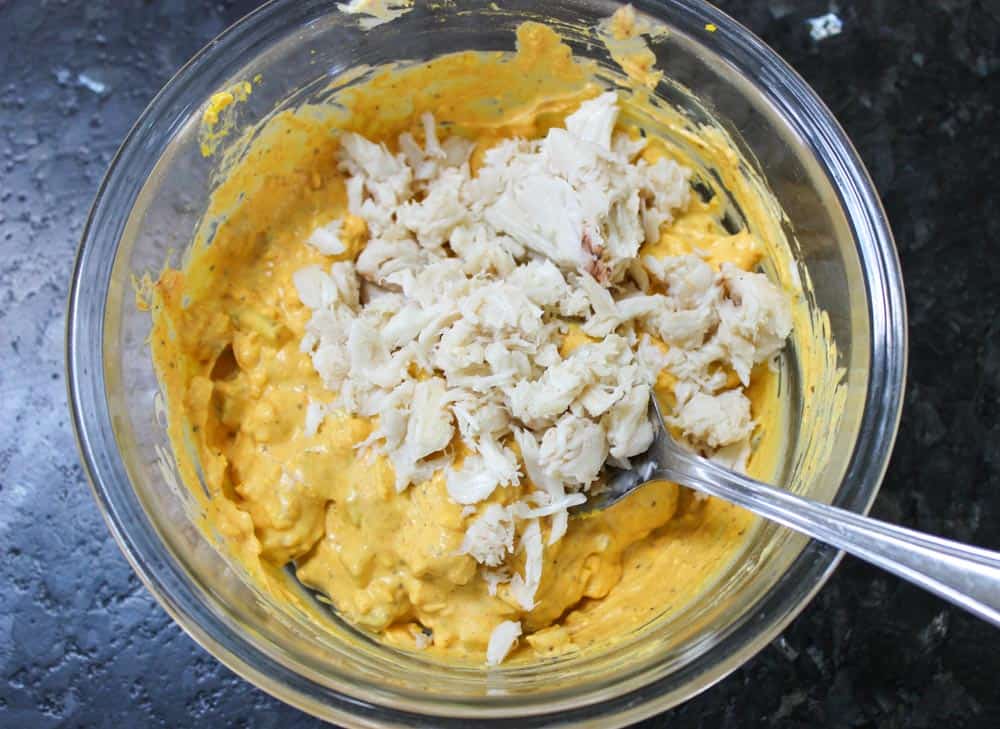 Stuff Your Eggs
Last but not least, and this is the fun part, use two small spoons:
One small spoon will scoop the yolk mixture out of the bowl.
The 2nd small spoon will scrape the yolk mixture off of the first spoon into the egg white neatly without making a mess.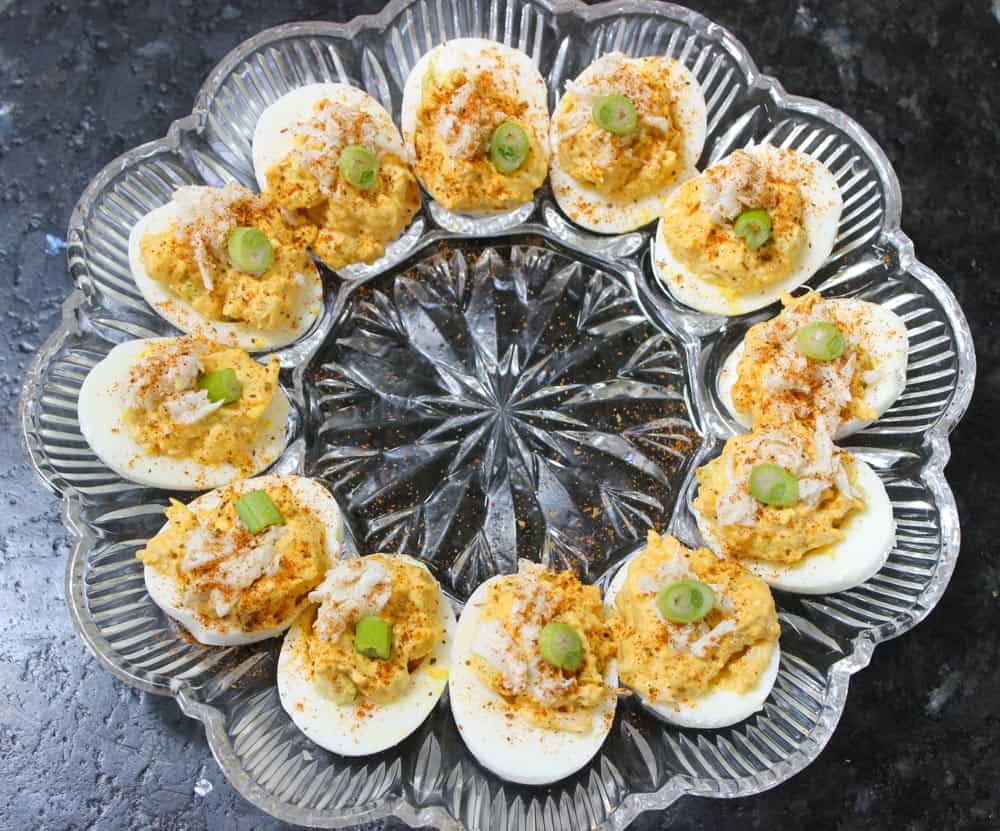 Do this for all of your egg whites and then go back with the rest of the filling to add more.
Be sure to pack the yolk mixture into the egg white well because there is more than enough to go around.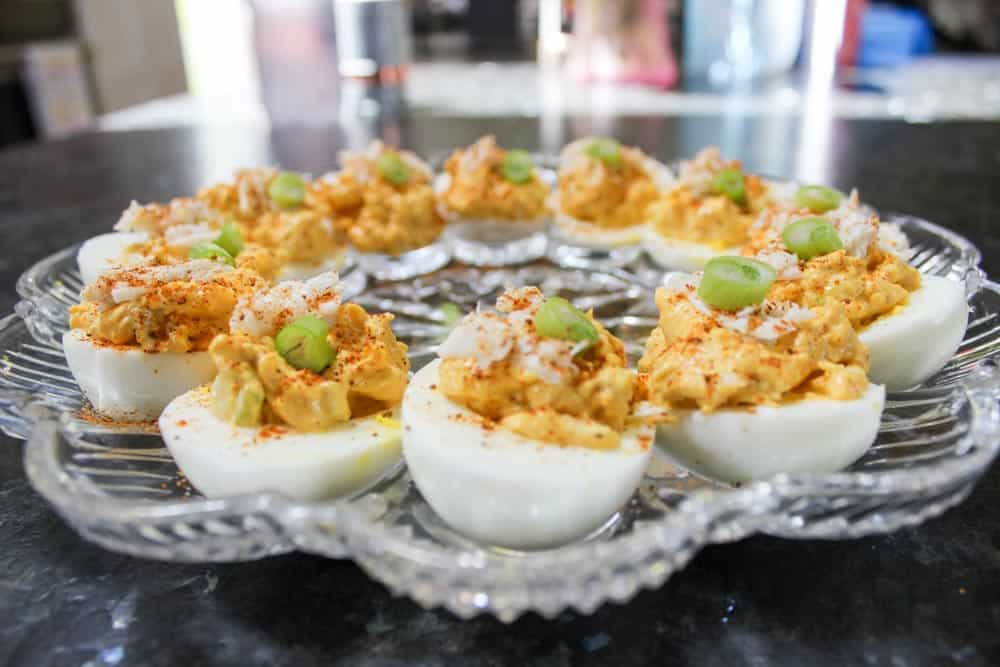 Add Your Garnishes
Finally, you'll use some leftover crab meat to add on top of each deviled egg, sprinkle a little (or a lot!) Old Bay Seasoning on top, and then add your cute little slice of spring onion.
Now that's what I call fancy!
And more importantly, they are absolutely delicious!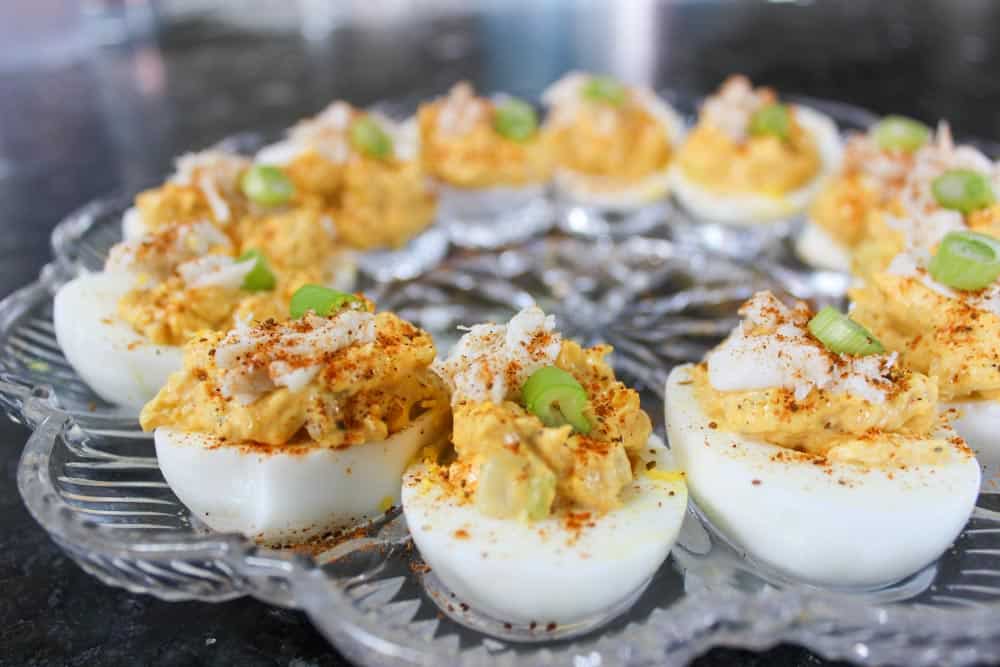 Without a doubt, my husband loved them!
In addition, because my twin sister Terri lives next door, I offered her family some too.
Needless to say, they're already gone within 24 hours.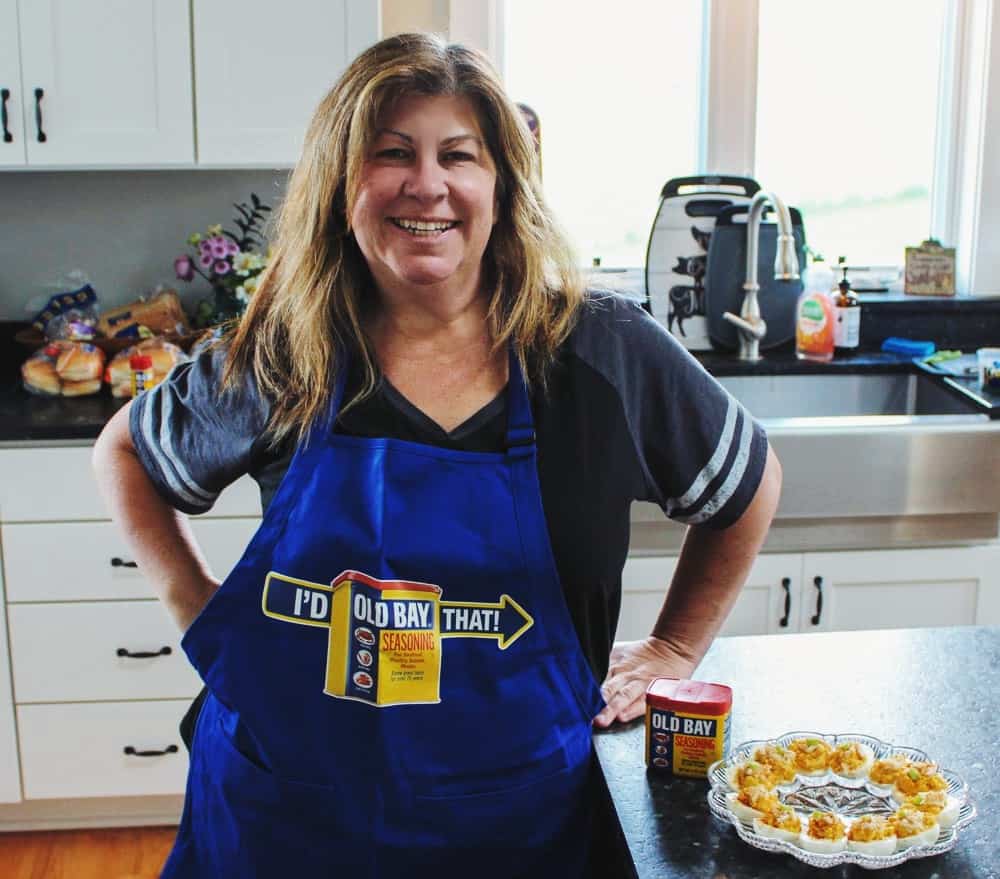 Maryland Deviled Eggs with Crab & Old Bay Seasoning Recipe
*IMPORTANT NOTE: Because the traditional deviled egg recipe does not have crab in it and the crab can be hidden by the egg mixture, please be sure that if you bring this to a gathering that you label it to say it has crab meat in it! Due to seafood allergies, this is extremely important.*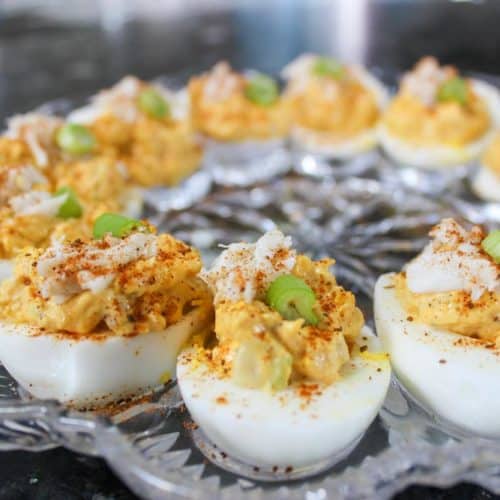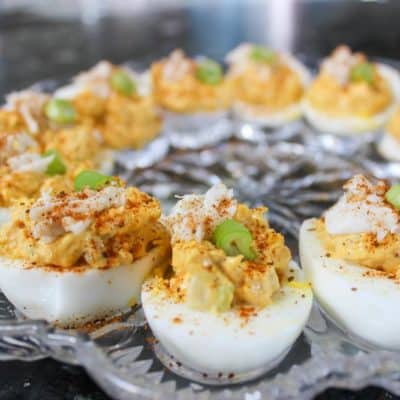 Maryland Deviled Eggs with Crab & Old Bay Seasoning Recipe
Deviled eggs are taken to the next level with crab meat and Old Bay Seasoning.
Ingredients
6

Eggs, hard boiled

5

ounces

Crab Meat

1

stalk

Celery, diced

1

Spring Onion, diced

4

tbsp

Mayonnaise

1

tbsp

Sour Cream

1

tsp

Lemon juice

1

tsp

Old Bay Seasoning

1

tsp

Mustard

Salt & Pepper to taste
Instructions
While eggs are boiling, add all ingredients, besides the crab meat, into a large bowl.

Peel hard boiled eggs and cut in half lengthwise.

Gently remove egg yolks from the halved eggs and add the yolks to your large bowl of ingredients.

Place halved egg whites onto a deviled egg serving tray.

Mix bowl of ingredients thoroughly until yolks are mashed and blended well.

Then fold crab meat into your yolk mixture.

Gently scoop small amounts of yolk mixture into each egg white half.

Be sure to pack yolk mixture well into each egg white half as you will have more than enough to fill all 12 halves.

Once you're done filling the egg whites, add a pinch of crab meat to the top of each egg.

Then sprinkle some Old Bay Seasoning as a garnish on top of the yellow parts of the deviled eggs.

Finally, add a slice of spring onion (preferably the green part) onto each deviled egg.
Notes
*IMPORTANT NOTE: Because the traditional deviled egg recipe does not have crab in it and the crab can be hidden by the egg mixture, please be sure that if you bring this to a gathering that you label it to say it has crab meat in it! Due to seafood allergies, this is extremely important.*
For more delicious Maryland crab meat recipes, click on over to:
Maryland Hot Crab Dip: A Traditional Maryland Favorite
Crab Cakes Recipe with Remoulade Sauce
Maryland's Grand Prize Cream of Crab Soup Recipe