This lamb chops recipe with mint & shallot sauce is very easy to make and guaranteed to impress your family!
And the best part is, it's really healthy and Weight Watchers friendly at only 6 SmartPoints for a serving size of 2 lamb chops.
Lamb Chops Recipe
I found this lamb chops recipe on the Eating Well website.
When you print this recipe out and you see that mint jelly is an ingredient, you may be a little bit apprehensive.
However, mint and lamb have gone together for a very long time, starting centuries ago in England!
And to be honest, it's the combination of the mint jelly with the shallots, and beef broth that really take this to the next level!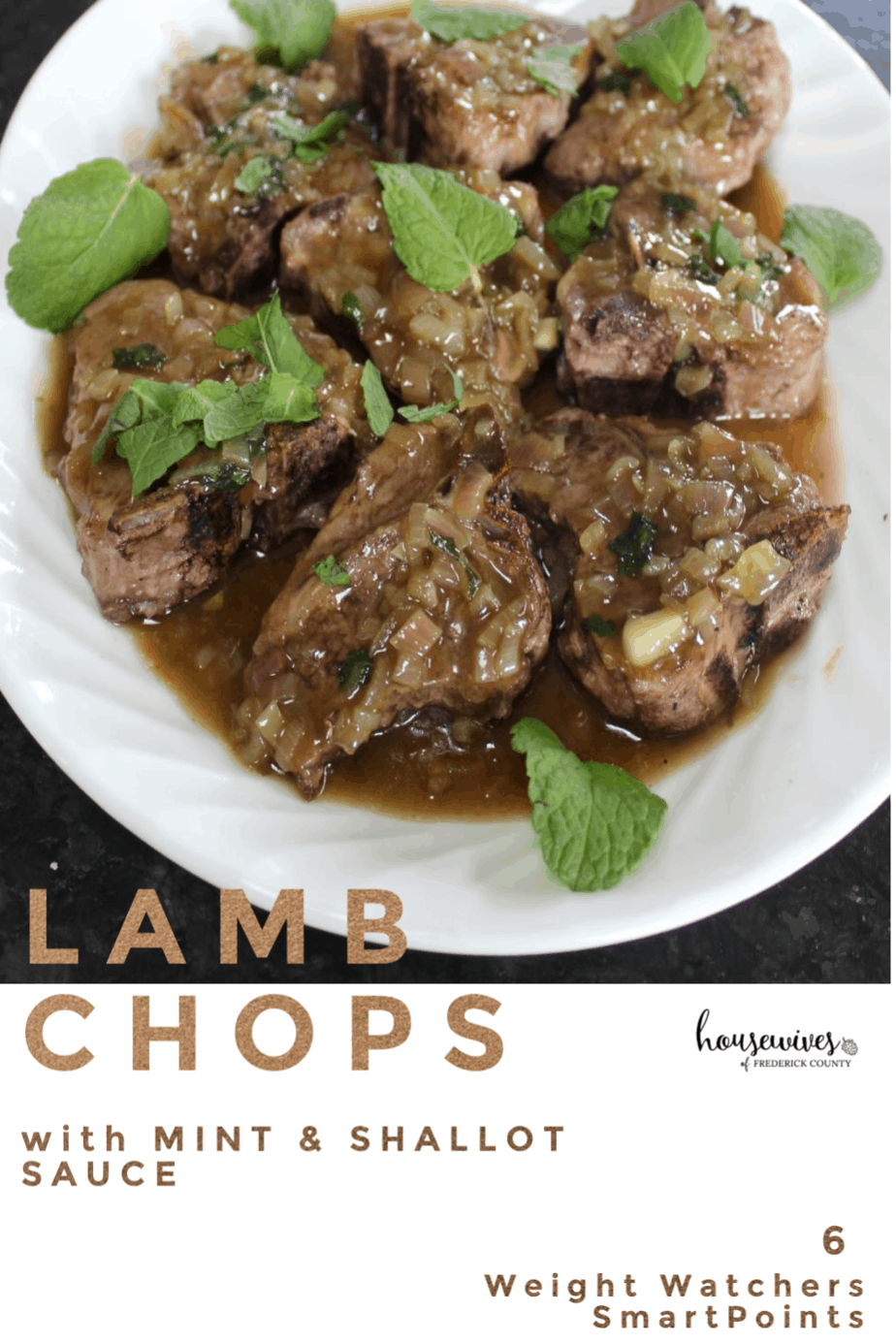 Step by Step Instructions
I absolutely love step by step instructions, especially with pictures because you can visualize what you need to do in order to make this lamb chops recipe.
It totally takes the mystery out of it and offers you the realization that, yes, you can make this recipe.
Steps 1 Through 3
As you can see from the below first 3 steps, you'll start out with 8 lamb chops in need of the fat being trimmed.
After trimming the fat, place the lamb chops into a large cast iron frying pan.
Your pan needs to be something that can go into the oven.
I highly recommend you get a very large cast iron skillet like this 17″ Lodge Seasoned Cast Iron, 2 Handle Skillet from Amazon, so that all of the lamb chops fit at once.
Brown just one side of the lamb chops in the frying pan.
While doing this, go ahead and slice up your shallot.
I included a picture of the shallot before slicing it.
Maybe I'm not the only person who didn't realize a shallot was basically just a very small, slightly longer onion.
For some reason I thought shallots looked like big scallions.
So, I learned something today!

Steps 4 Through 6
Steps 4 through 6 are also very easy.
While waiting for the lamb chops to brown in the frying pan, you can measure out the apple juice and mix the corn starch in.
You'll need this mixture for later when you prepare the mint & shallot sauce.
Once the one side of the lamb chops are brown, place the entire pan into your oven at 450 degrees.

Steps 7 Through 9
They should bake in the oven for around 11 minutes or until they get to an internal temperature of at least 140 degrees.
Your lamb chops should be medium-rare at this internal temperature.
If you prefer your lamb chops to be medium or well done, I recommend baking them for an additional 5 to 10 minutes.
After taking your lamb chops out of the oven, remove them from the pan and place them on a serving dish.
Cover them loosely with tin foil to keep them warm.
Then use the same pan on top of the stove to saute your minced shallots.
But be sure to use pot holders because the pan handle will be very hot!
Lastly, add your corn starch mixture, beef broth, and mint jelly.

At this point, all you have to do is snip some fresh mint and add a tablespoon to your shallot & mint sauce.
Pour the sauce over top of the warmed lamb chops.
Then sprinkle a 2nd tablespoon of fresh mint on top of the sauce.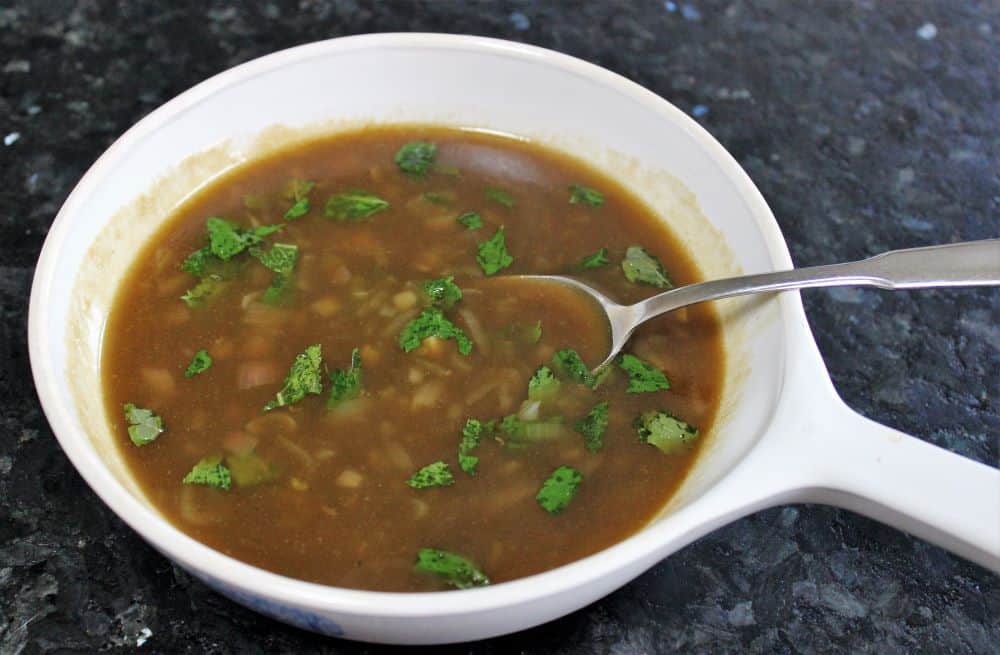 I've added the full recipe here for you to print out:
Lamb Chops Recipe with Mint & Shallot Sauce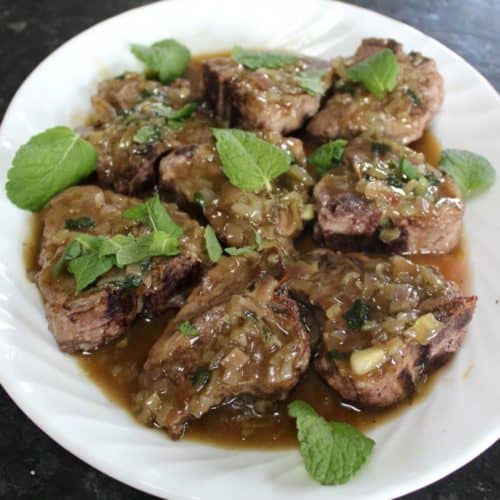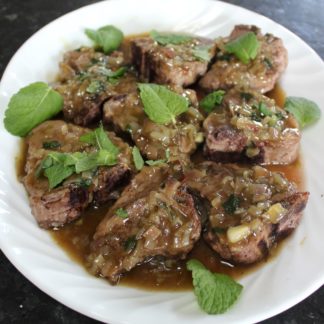 Lamb Chops Recipe with Mint & Shallot Sauce - 6 Weight Watchers SmartPoints
A deliciously flavored, tender lamb chops recipe with a mint & shallot sauce. Only 6 Weight Watchers SmartPoints for 2 lamb chops.
Ingredients
1/3

cup

Apple Juice

1 1/2

tsp

Cornstarch

8

Lamb Loin Chops, approximately 1 1/2 lbs

,

trim any extra fat

1/2

tsp

Kosher Salt

1/2

tsp

Pepper, freshly ground

1

tsp

Canola oil

1

Shallot, finely chopped

1/3

cup

Beef Broth, reduced sodium

2

tbsp

Cider Vinegar

2

tbsp

Mint Jelly

2

tbsp

Fresh Mint, minced
Instructions
Preheat oven to 450 degrees F.

Mix apple juice & cornstarch in a small bowl and set aside.

Trim the fat off lamb chops and sprinkle with salt & pepper.

Heat oil in a large ovenproof skillet over medium-high heat.

Add lamb chops to heated skillet and cook until browned on one side.

Flip lamb chops and place entire pan into the oven.

Bake lamb chops for approximately 11 minutes or when a meat thermometer in one of the lamb chops reaches 140 degrees (for medium-rare).

Transfer lamb chops to a serving platter and cover loosely with tin foil.

Place skillet back over medium-high heat on your stove-top (use a pot holder) & add shallot.

Cook shallot, stirring constantly, until browned and softened.

Add beef broth, vinegar, and mint jelly and bring to a boil. Use a fork to break up the jelly until it dissolves into the sauce.

Cook, whisking constantly, until the liquid has reduced by half.

Stir in the cornstarch mixture and bring sauce to a simmer.

Stir constantly until the sauce is thickened.

Remove sauce from heat and stir in 1 tablespoon of fresh mint.

Pour sauce over top of the lamb chops and then sprinkle another 1 tablespoon of fresh mint on top.
Notes
6 Weight Watchers SmartPoints for 2 Lamb Chops
Nutrition Info:
197 calories, 7.5 g total fat, 2.3 g saturated fat, 11.2 g carbohydrates, .3 g fiber, 8 g sugar, 19.9 g protein
How The Lamb Chops Recipe Turned Out
Gotta admit, I was a little bit nervous serving these to my husband and son.
It's been years since I made a recipe with lamb chops I didn't know how they'd turn out.
But if my son's plate was any indication as to how they would receive this recipe, it was going to be just fine!
He piled 3 lamb chops onto his plate along with a side of broccoli.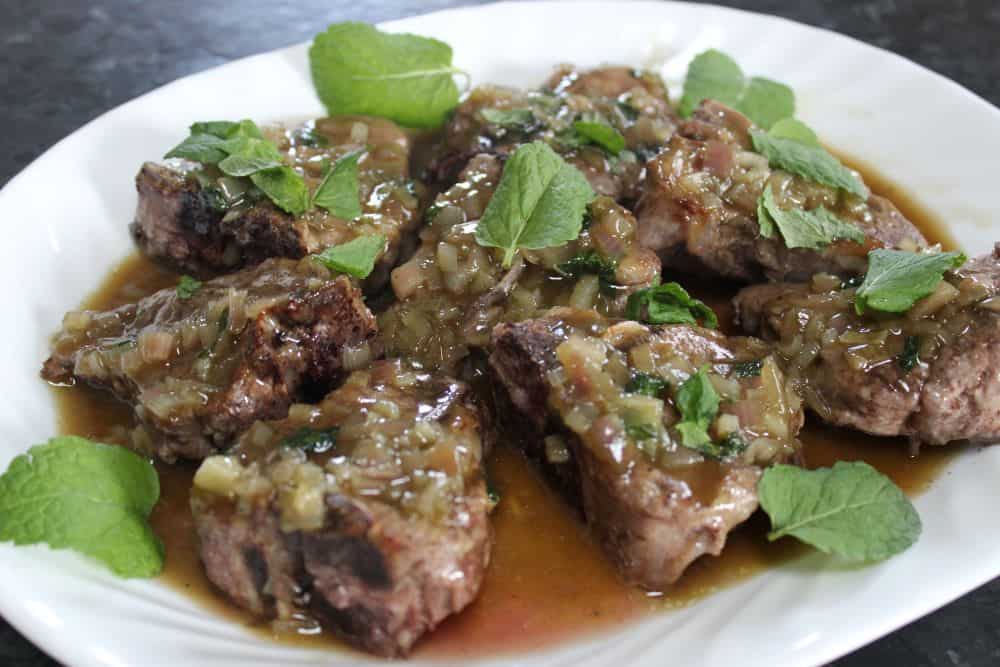 I nonchalantly looked at him in the corner of my eye as he took his first bite.
Keep in mind that this was the child who would rather starve than eat any food he didn't know or trust.
He's now 14 and has gotten so much more adventurous with his food – thank goodness!!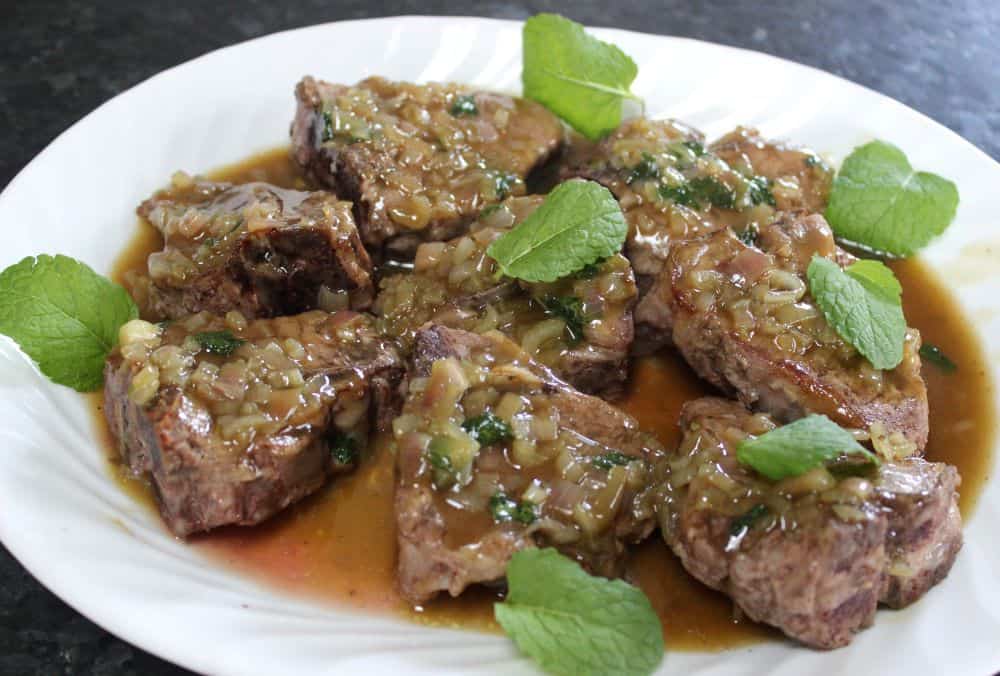 I casually asked, "How do you like it?"
And both of them said "It's good!"
Ah, those two words make me very happy!
Between the 3 of us, we finished all 8 lamb chops!
For more delicious Weight Watchers friendly dinner recipes, click on over to:
Middle Eastern Turkey Kebabs & Cucumber Yogurt Dip – 6 Weight Watchers Points
North African Meatball Stew – 5 Weight Watchers Points
Grilled Lamb Loin Chops with Spinach Lentil Salad – 8 Weight Watchers Points