Sunflowers are natures way of saying "Stand up straight, face the sun, and be happy!"
I recently visited Valley View Acres in Middletown, Md for the sole purpose of seeing their beautiful fields of sunflowers.
Sunflowers at Valley View Acres
Not gonna lie, lately I've been having some major FOMO seeing sunflower photos all over Facebook and Instagram.
And when I found out that there's a farm right here in Middletown where I can visit to enjoy rows and rows of sunflowers, I just had to stop by and take some pictures of my own!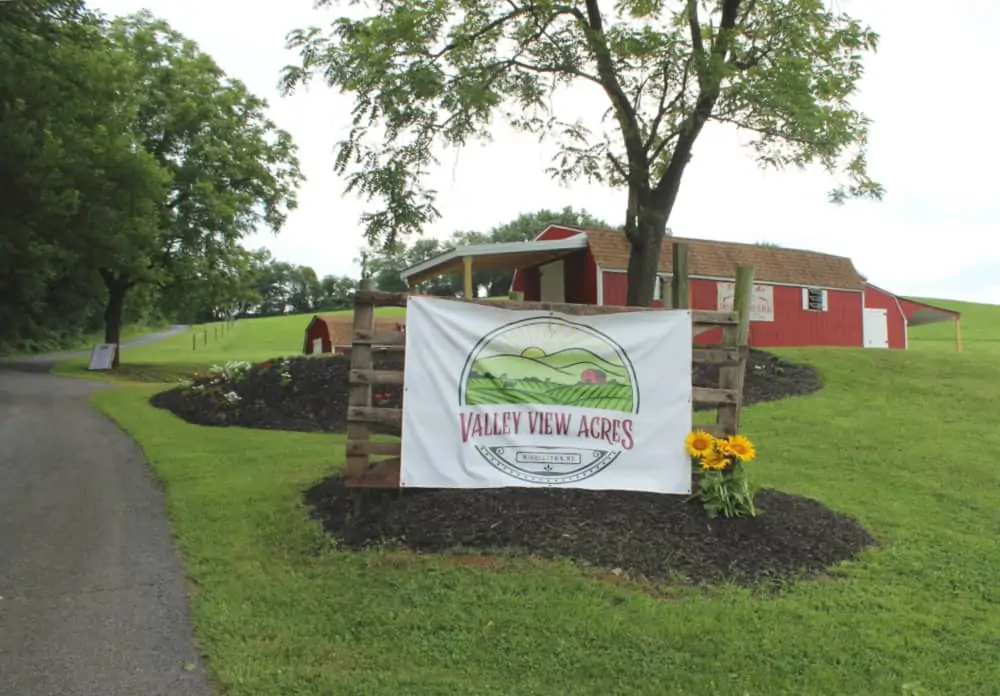 About Valley View Acres
Being a relatively new venue, with the flowers having been planted in 2018, Valley View Acres is the ideal location for any sunflower lover.
Located on a ridge overlooking Middletown Valley, the summer sun, wide open space, and breathtaking views make for a sunflower growing trifecta!
Because the reception from the Frederick County community was so positive in 2018, the owners decided to start an annual, multi-weekend Sunflower Festival.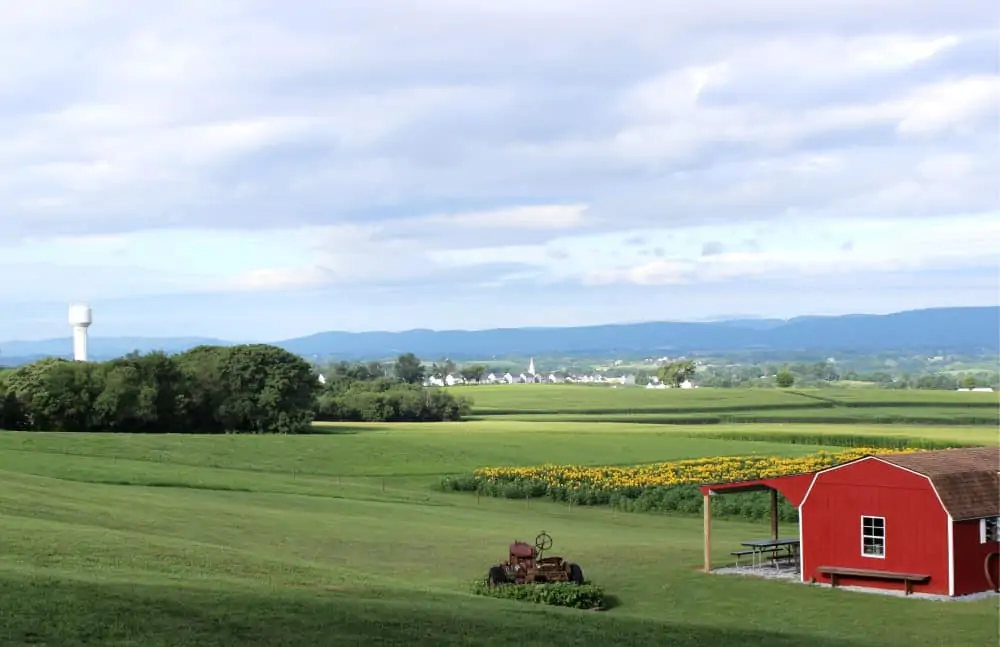 Sunflower Festival
With 3 outbuildings, 2 separate fields of sunflowers, a huge field of wildflowers, and an amazingly picturesque location, Valley View Acres' Sunflower Festival is the perfect excuse for families to take a ride out to the country and enjoy the great outdoors!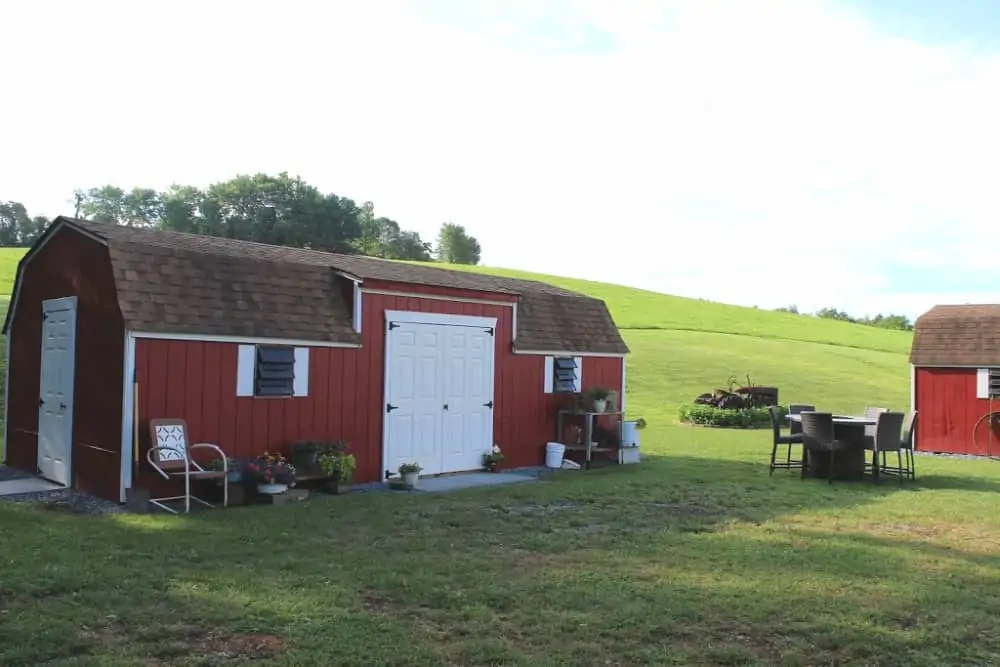 This year, hopefully sometime in mid July 2021, Valley View Acres will be open to the public.
That is, as long as the sunflowers stay in bloom.
Be sure to follow them on Facebook for updates on their opening dates & peak blooming times.
Admission is only $3 and kids 5 & under are free.
Sunflowers are $1 a stem and wildflowers are $2 a bunch!
While there, enjoy some ice cream, food, drinks, crafts and areas for kids to play.
Also, be sure to sit a spell so you can soak in Valley View Acres' amazing views!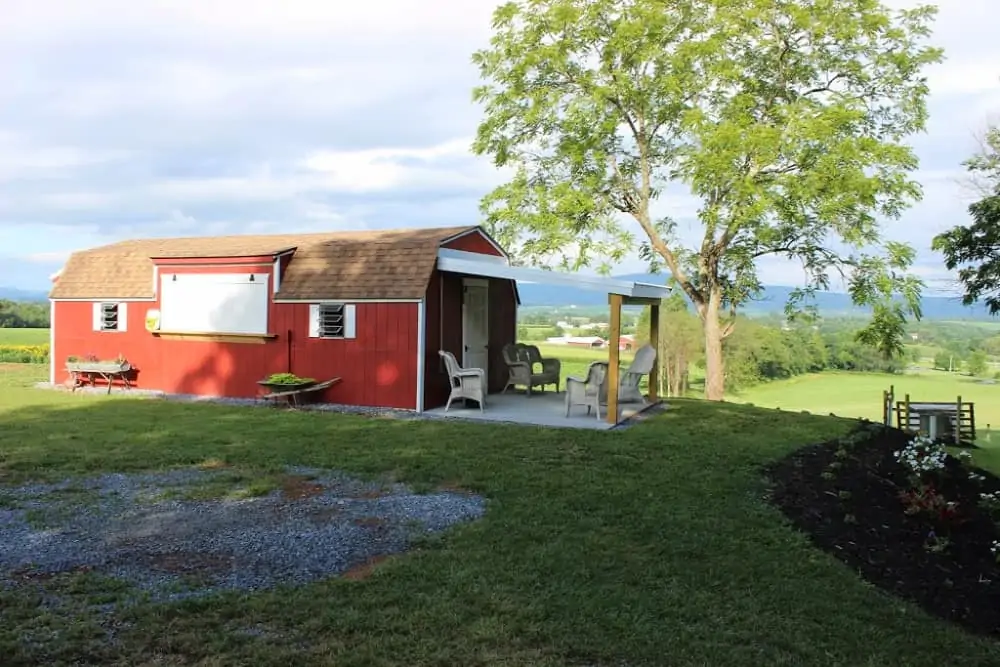 Sunflowers Are The Star Of The Show
But the star of the show is and always will be the sunflowers!
Although they all look very much the same and they all stand to attention facing in one direction, they also each have their very own individual personality.
As seen in the below picture, the sunflower in the back row really needs attention!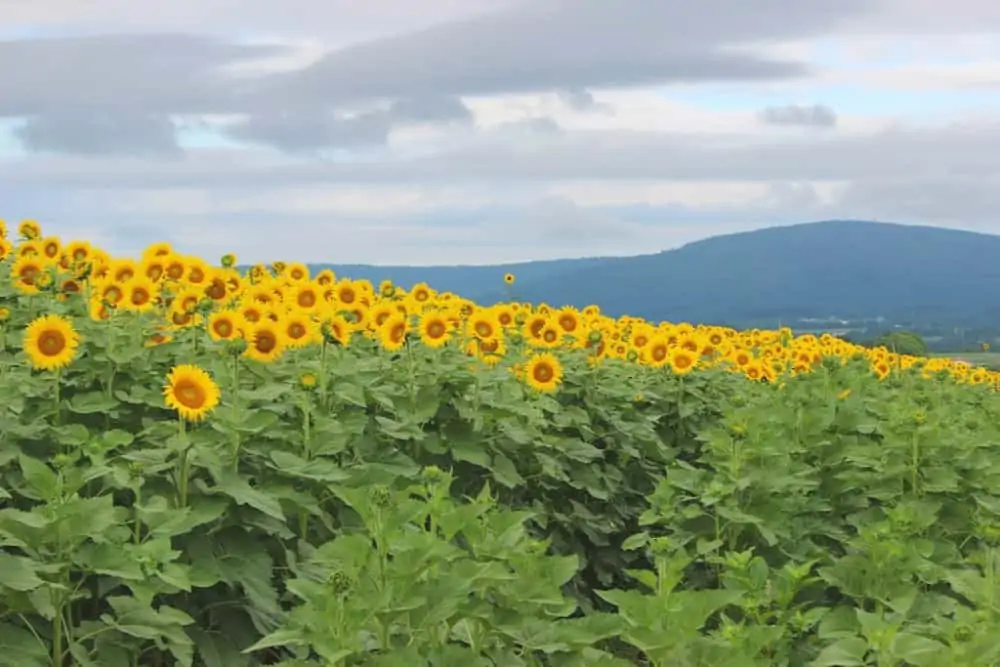 As I was taking pictures of the sunflowers, the butterflies were floating from flower to flower and the bees were happily buzzing around.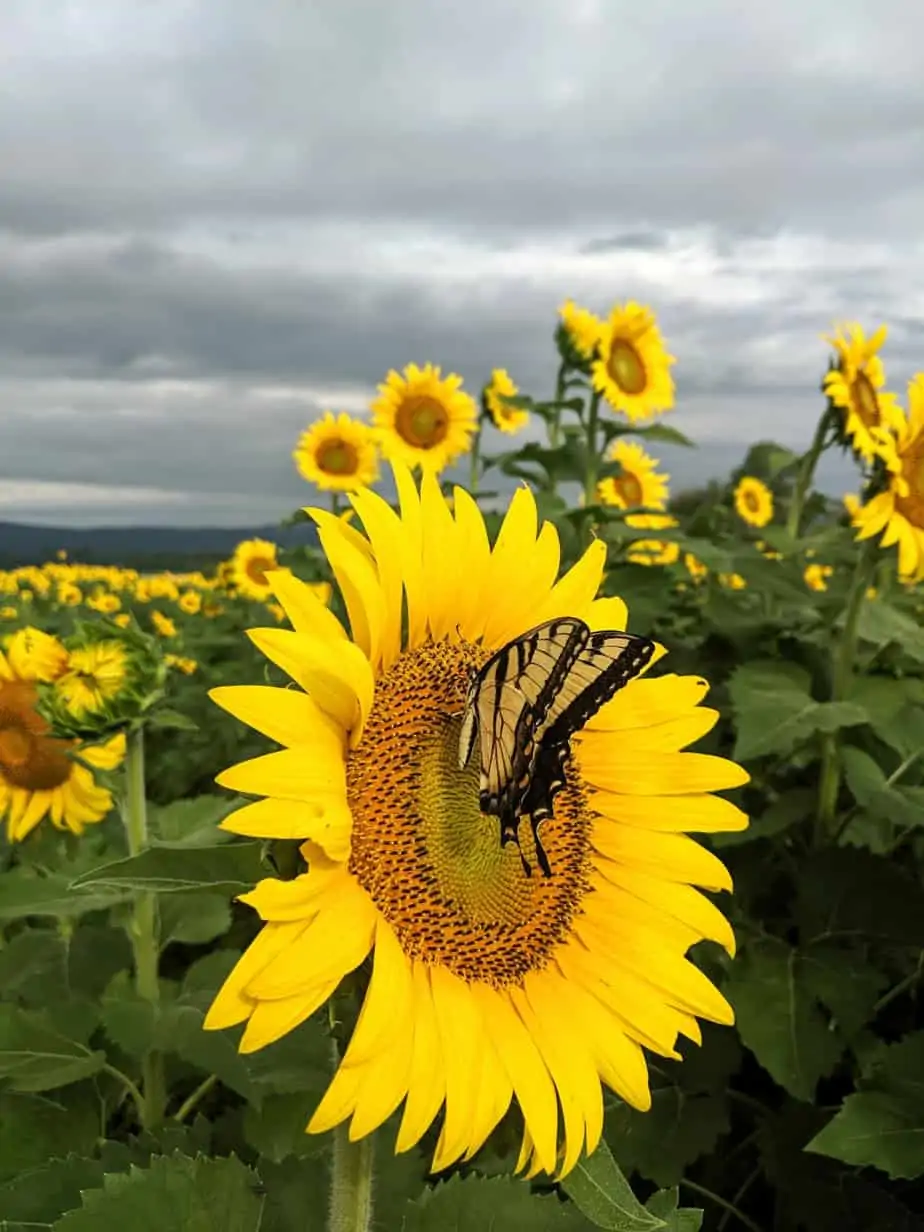 The overall feeling I got when I parked my car and headed over to the sunflower fields, was just pure peace and joy!
Sunflowers are like God's way of creating a huge, bright smiley face to brighten anyone's day!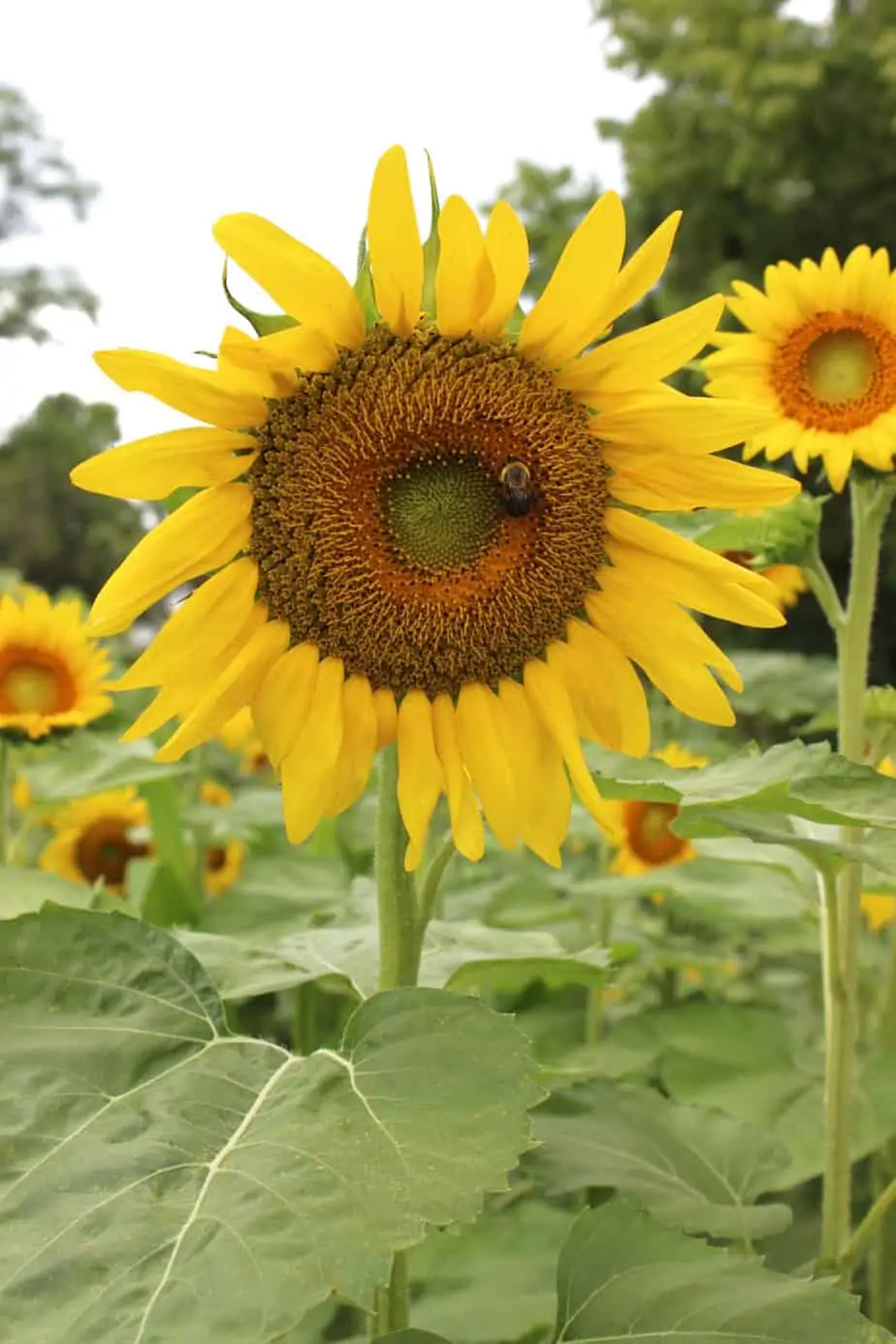 And today it totally brightened my day AND Terri's day because I brought her a bunch of sunflowers for her to display in her new kitchen.
I'm nice like that!
What To Bring To The Sunflower Festival
Finally, if you plan to go to the Sunflower Festival, here are some tips:
Bring a good pair of pruning shears so you can cut the flowers you want to bring home (they will have some for people to use, but they go fast).
Wear a good pair of walking shoes that are preferably closed toe. These Crocs LiteRide Pacers are perfect for walking around the fields and super easy to clean when you get home.
Spray yourself with a little bug spray before heading out to the fields.
Don't forget your camera! You'll kick yourself if you do! I have a Canon DSLR and absolutely LOVE it! It takes amazing photos, like the ones in this post!
Have a vase of cold water in your car to immediately put your cut flowers in so they don't wilt. This gorgeous watercolor yellow sunflower vase would be perfect for your fresh cut sunflowers!
Bring cash. They don't take credit cards. They will have an ATM available.
Leave your pets at home (except service dogs).
I'd like to thank Amanda at Valley View Acres for allowing me to stop by and take photos and bring some of their beautiful sunflowers home!
If you take a trip out to Valley View Acres yourself, please share your photos with us in the comments!
We'd love to see them!
In the meantime, here are a few of our other local destination posts:
South Mountain Creamery – Cows, Ice Cream, & More!
Buckeystown, MD: Something For Everyone!
Mountaindale – A Log Cabin Community in Frederick