Buckeystown Md is a gorgeous, historic town located in Frederick County.
When I worked down in Montgomery County, I used to bail out off of Rt. 270 and cut through Buckeystown Md to get home.
I always loved it because it was a much more scenic and serene route to drive, especially on a Friday afternoon after a hard week of working.
However, something I've never done until recently was actually visit Buckeystown Md and learn it's history.
After finally taking a visit to Buckeystown Md, I realized there truly is something for everyone in historic Buckeystown Md.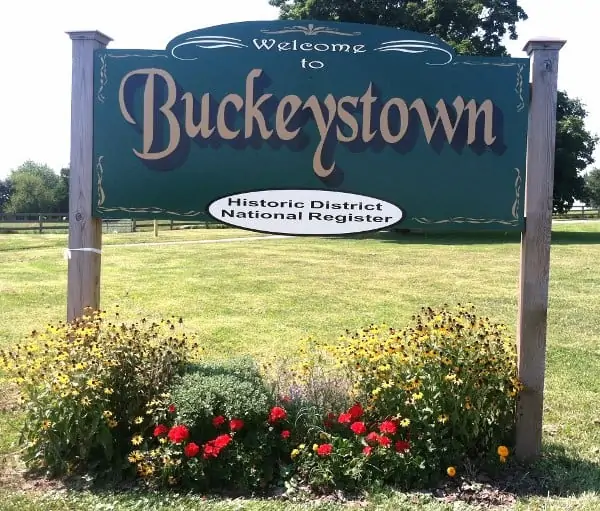 Buckeystown Md has a rich history & Family Friendly Things To do
History of Buckeystown Md
To learn about the history of Buckeystown Md, I went to Wikipedia:
"The Buckeystown Historic District includes the majority of the small town of Buckeystown, Md, an unincorporated community located in Frederick County, Maryland, USA.
It is named for George Buckey, a tanner, and his brother, John Buckey, a blacksmith and tavern owner.
Buckeystown is on the U.S National Register of Historic Places and the Maryland Civil War Trail due to its rich history and beautiful examples of Queen Anne and Victorian style houses, along with a small commercial center.
The land Buckeystown now sits on was once called "Good Luck."
A road that stretched from Pennsylvania to Florida bisected the town and sealed the area's fate: it was the perfect place for enterprising families to settle.
The town grew due to the prosperity of several businesses which took advantage of the natural resources the location provided.
Two mills were located along the Monocacy River, which runs behind the southside of town, the tannery and an ice creamery utilized a natural spring, and a brickworks used the naturally occurring lime.
Buckeystown enjoyed 100 years of prosperity from the mid-19th century to the mid-20th century.
Several wealthy families began to dominate the town's social scene.
These families built the lavish mansions and proud stone homes which still grace the main streets today.
Buckeystown's early industrial center gradually faded, leaving a well-preserved residential district with a particular emphasis on the 1870-1910 period.
The main thoroughfare, currently known as Buckeystown Pike or Maryland State Highway 85, was used during both the Revolutionary War and the Civil War.
Soldiers marched through town towards decisive battles, following brave leaders including Stonewall Jackson and General Robert E. Lee."
Buckeystown Md Park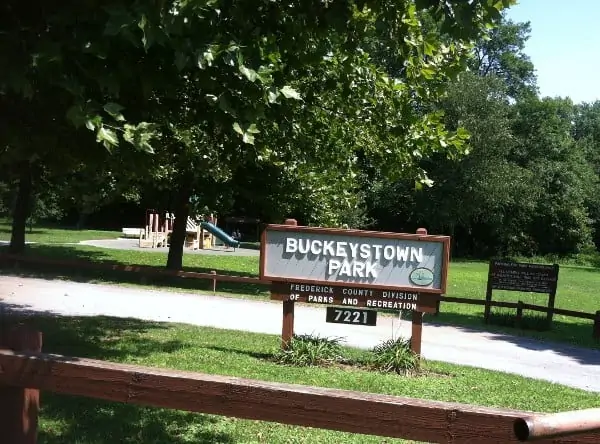 The first place Terri and I visited was Buckeystown Park.
This park is open year round and is situated right alongside the Monocacy River.
As you can see, it's a beautiful park with nice tall shady trees, a pavilion with picnic tables, horseshoe pits, a nice playground, grills, and access directly to the river.
Monocacy River offers fishing and boating, which my family has taken advantage of several times by canoe.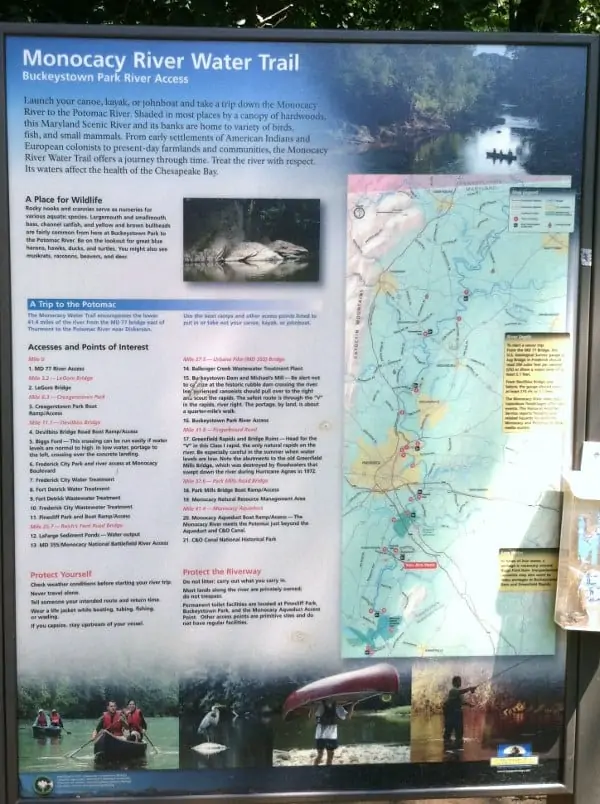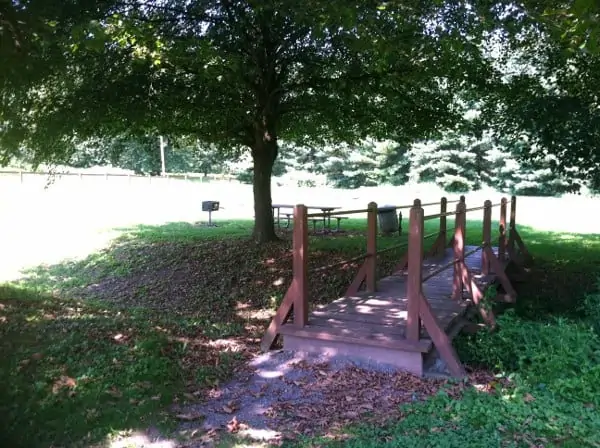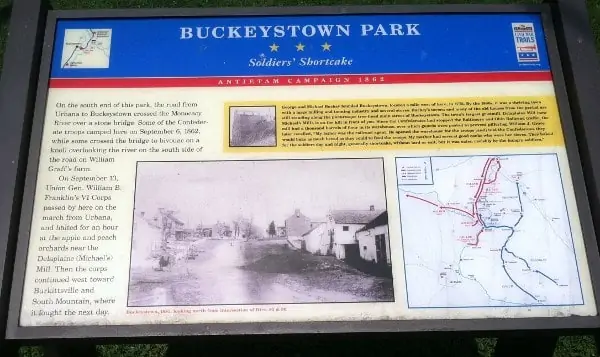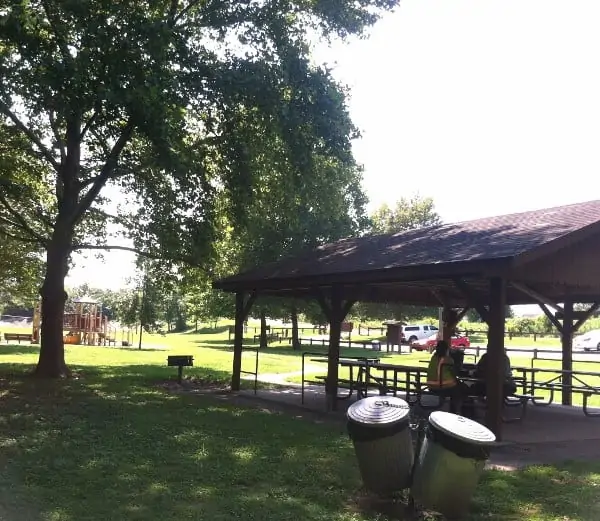 The Manor House in Buckeystown Md
As Terri and I drove out of the park, we passed a huge stone home up on the hill (pictured below) with an old stone retaining wall.
Although it was tough to get a good look at it since it sits on a narrow curve on Michael's Mill Road, it is absolutely gorgeous.
The Manor House was built in 1839 and was the home of the owners of Michael's Mill.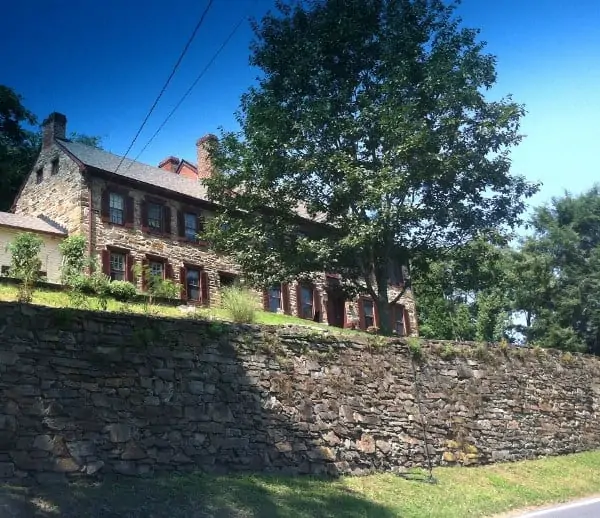 The Original Michael's Mill
On the other side of the curve is the building below, which currently houses J.J. Crewe & Son, Inc. a compressor engineering and fabrication shop.
It is the original Michael's Mill.
One of the earliest mills in Frederick County, Michael's Mill operated from 1739 to 1957.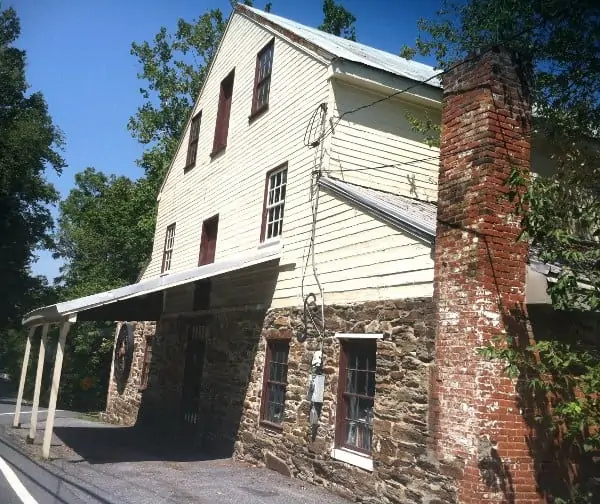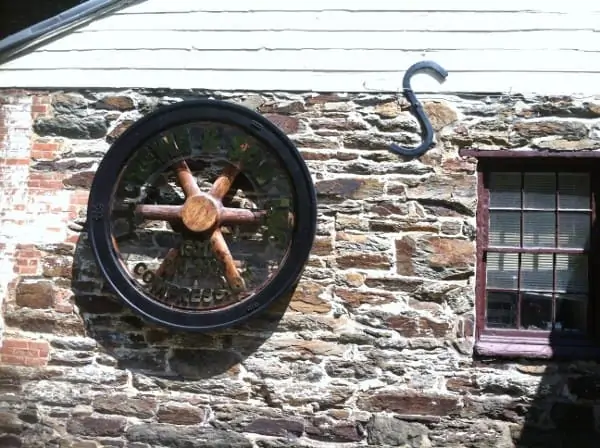 To read more information about Michael's Mill, check out MillPictures.com.
Monocacy River
The beautiful Monocacy River runs parallel to Michael's Mill Road.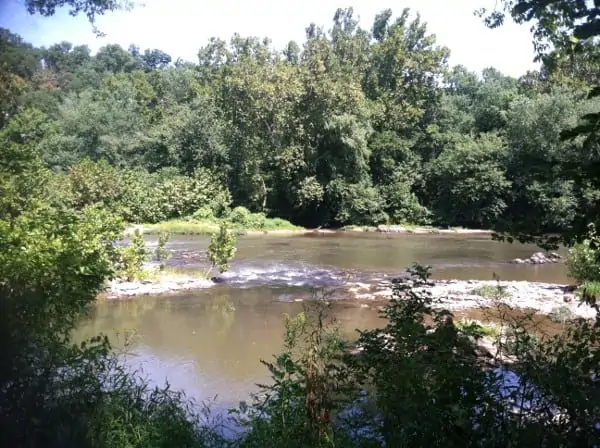 Click on this link to give you a little sampling of how beautiful this river is: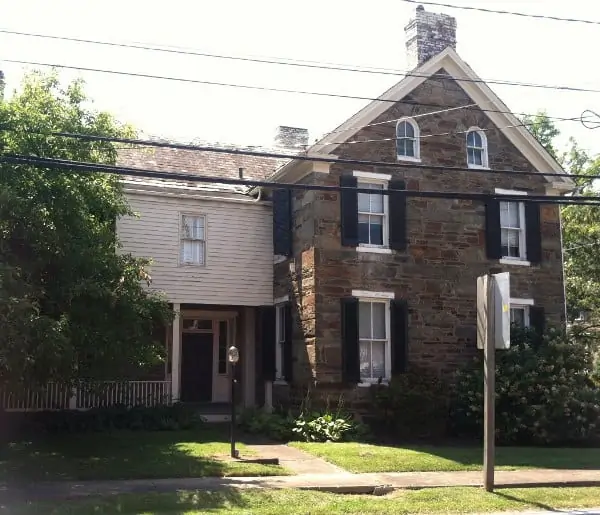 The picture above is a gorgeous private residence located in the center of Buckeystown Md.
Buckeystown Pub
Our next stop was to Buckeystown Pub for a little lunch.
Terri and I have recently discovered this 'best kept secret'.
It's definitely a 'pub' type of atmosphere – very casual.
They offer the typical pub fare and alcoholic beverages.
On the weekends they have karaoke nights and during the warm months they have live bands out on their patio.
The outdoor patio is very inviting with picnic tables, a tiki style bar, large fans inside the ceiling of the shelter, a nice big stage for the bands, and in the lawn area: horseshoe pits and corn hole.
We went to Buckeystown Pub a couple of weekends ago and got the All You Can Eat Crabs while sitting outside on their patio and listening to a great band.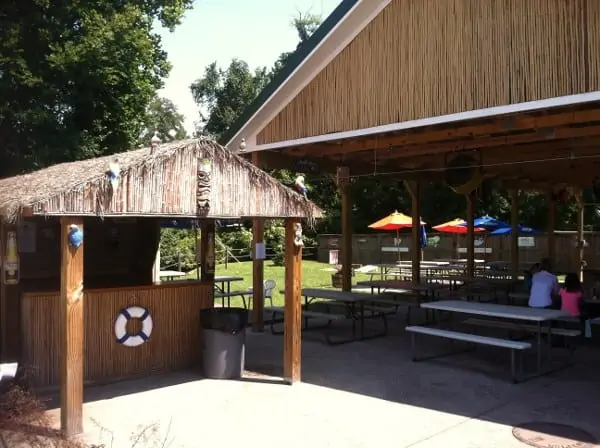 Buckeystown Pub used to be Tobery's Meat Market years ago.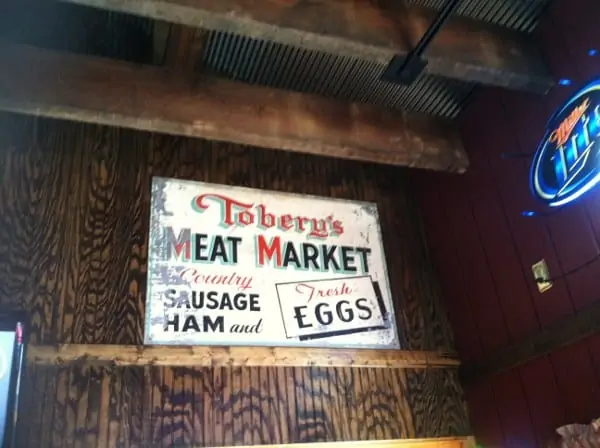 After lunch, we got back in the car and took a drive through the town.
Maynes Tree Farm in Buckeystown Md
We stopped at Mayne's Tree Farm first.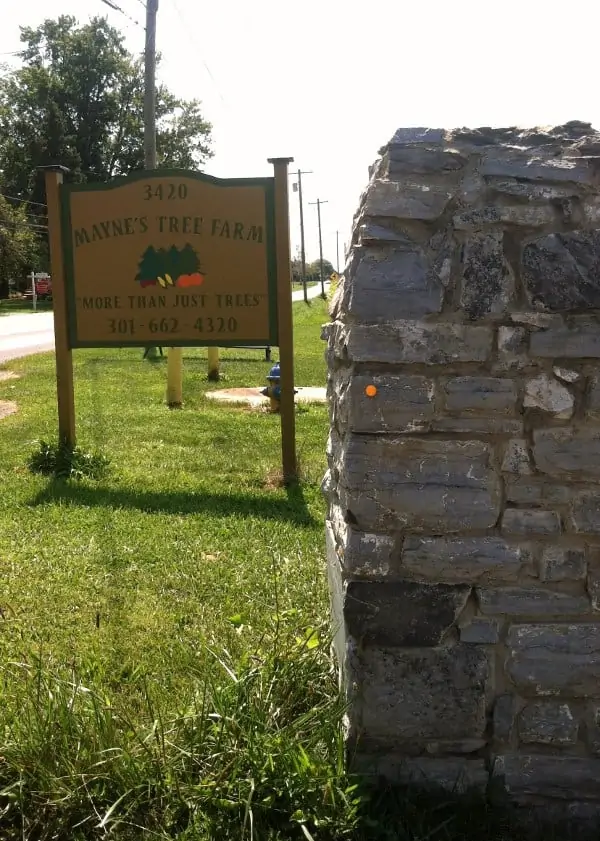 My family visits this farm every year during the holiday season to cut down our own Christmas tree.
They offer tractor rides out to the trees, you cut down your own, hitch a tractor ride back to the entrance, they bundle it up for you, you put it on top of your car, and you're on your way!
Mayne's also has a pumpkin patch in the fall along with other fall activities.
And throughout the year they offer fresh produce, including picking your own strawberries.
Town of Buckeystown Md
As you drive through town, you can't help but notice the gorgeous church (pictured below), Buckeystown United Methodist Church.
Situated literally in the heart of the town of Buckeystown, this church was originally built in 1866.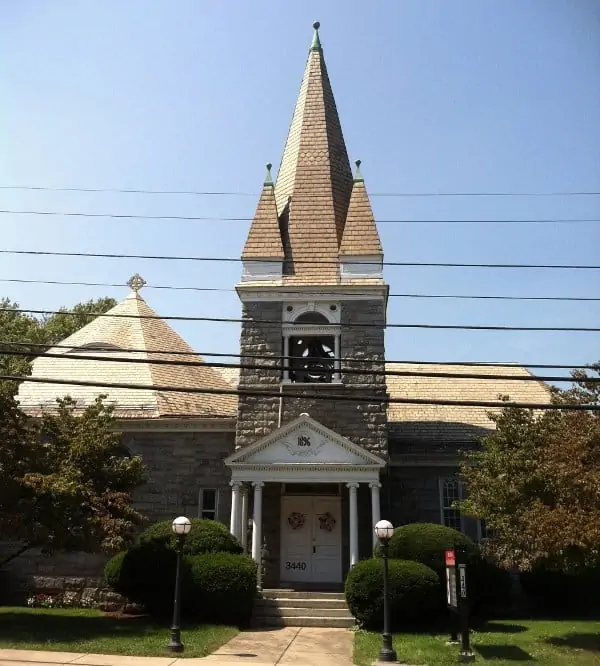 Driving through the streets of Buckeystown Md, you can see that many of the historic victorian homes have plaques next to the front doors, indicating the year they were built.
Below is a majestic former residence that has now been converted into an antique store, Martin's Field Antiques.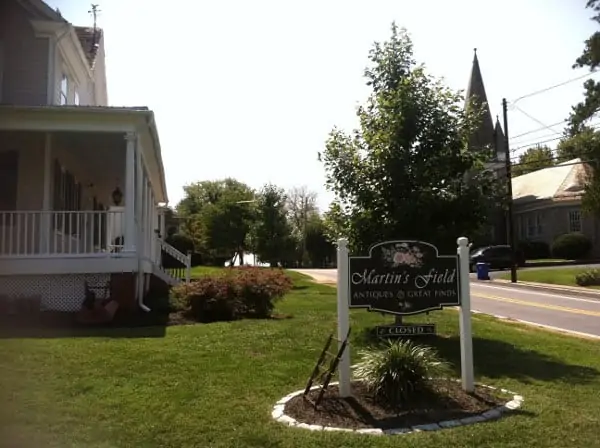 Historic Architecture
There are some absolutely gorgeous mansions in this town.
The house below was built in 1896 by John Baker, the son of William Baker, an entrepreneur of Buckeystown.
It has beautiful Queen Anne architecture.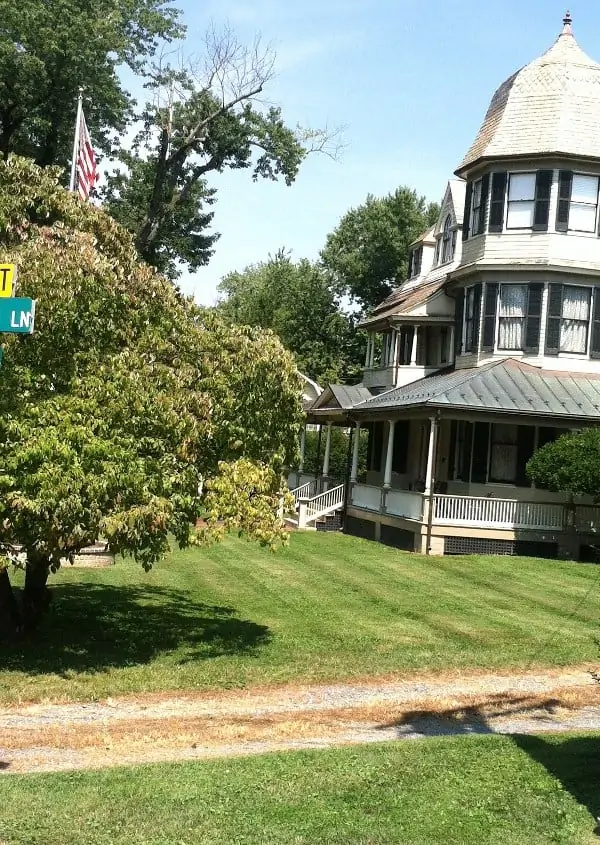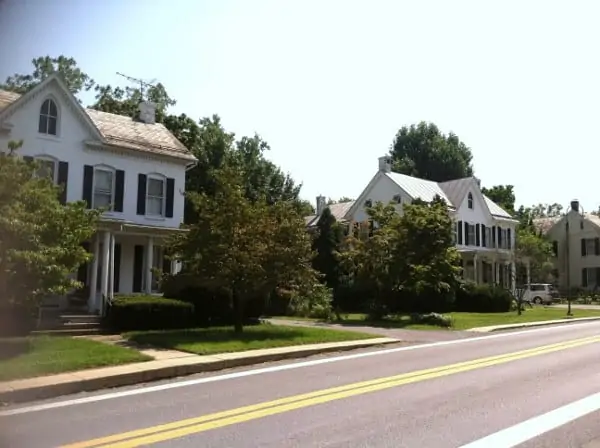 Below is a photo of what used to be the Frederick Inn Bed & Breakfast.
We're not sure who is currently occupying it.
This beautiful home was originally built in 1897.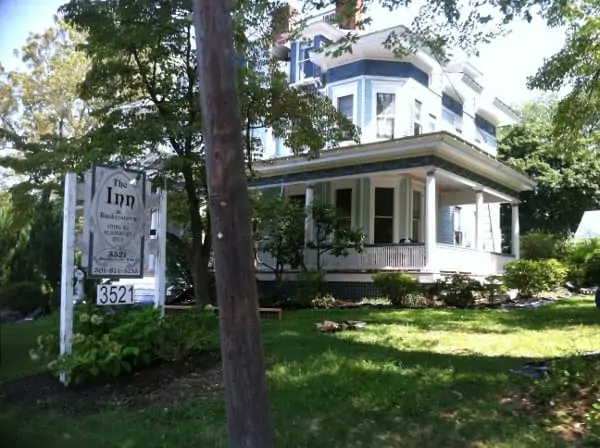 Below, just one of the many historical homes in Buckeystown Md.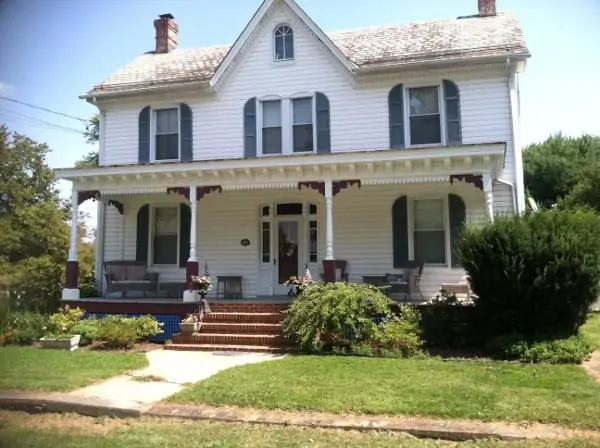 National Register of Historic Places
The next picture is a plaque indicating that Buckeystown has been placed on the National Register of Historic Places by the United States Department of the Interior.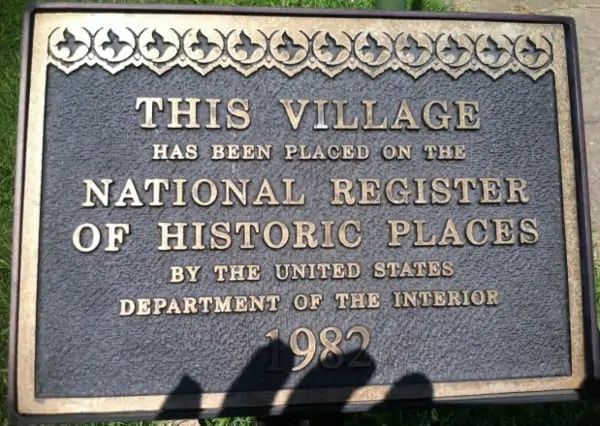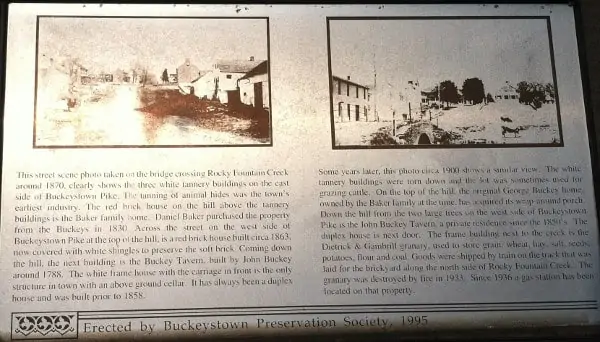 To read what the above marker says and learn a little bit more about Buckeystown's history, go to HMdb.org – The Historical Marker Database.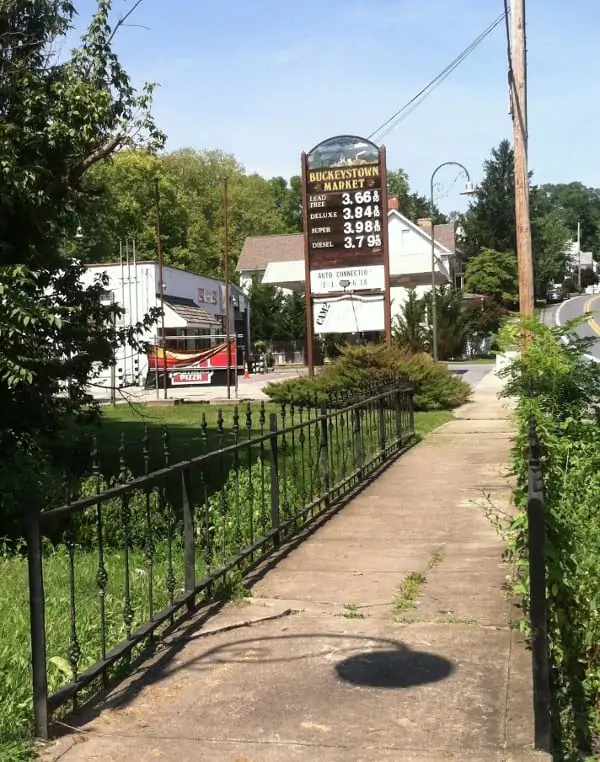 The bridge in the above photo crosses Rocky Fountain Creek.
At the other end of this short bridge is DJ's Catering & Services.
We haven't tried it out yet, but their food looks amazing!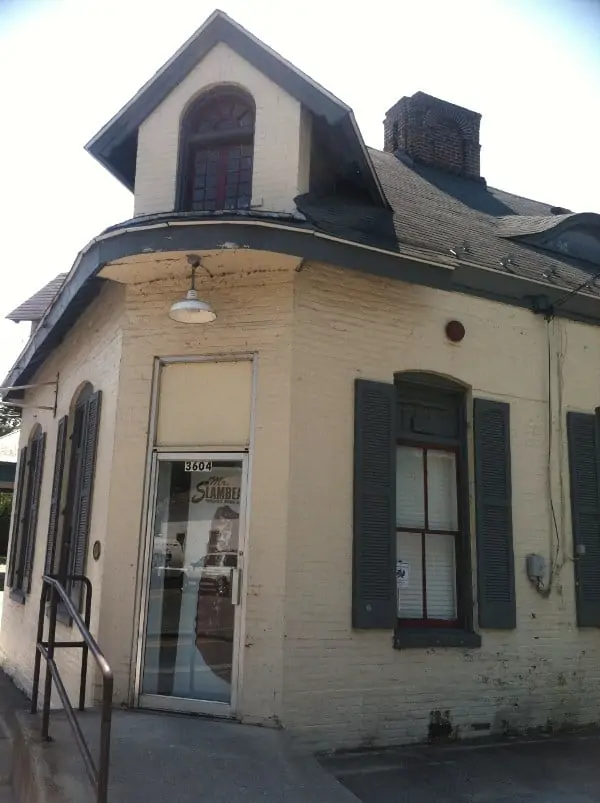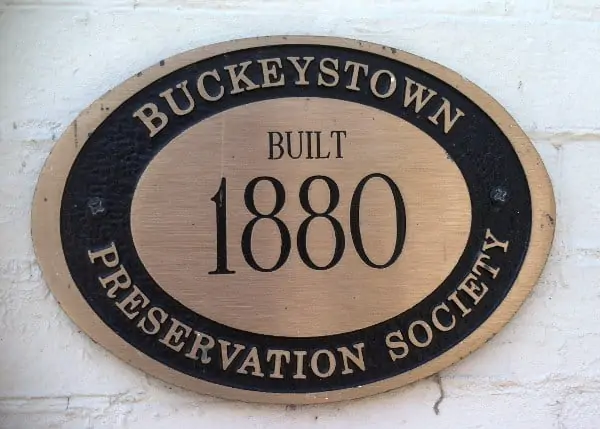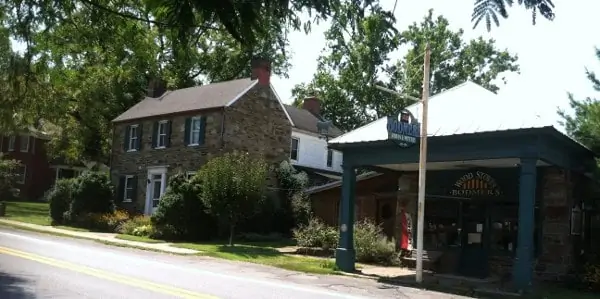 The building to the right in the above photo used to be a gas station.
It is now Bodmer's Pottery.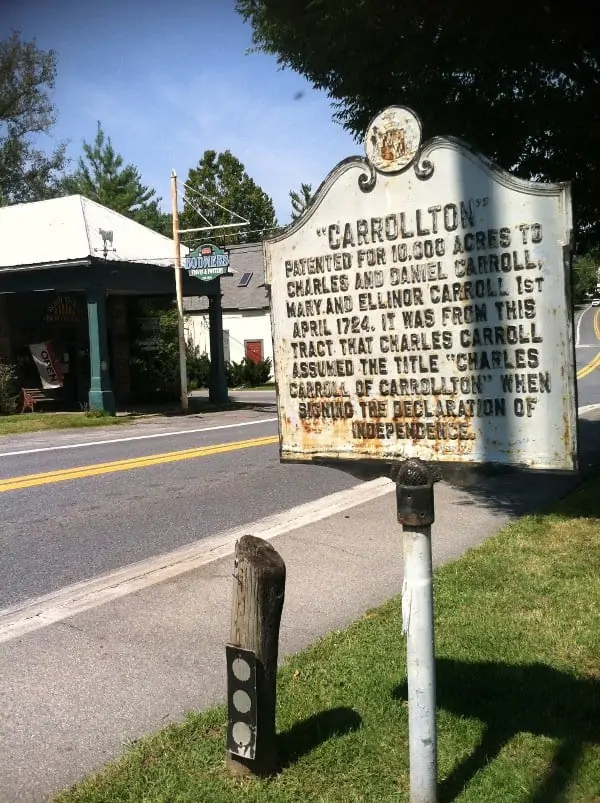 "Carrollton" Patented for 10,000 acres to Charles and Daniel Carroll, Mary and Ellinor Carroll 1st April 1724.
It was from this tract that Charles Carroll assumed the title "Charles Carroll of Carrollton" when signing the Declaration of Independence.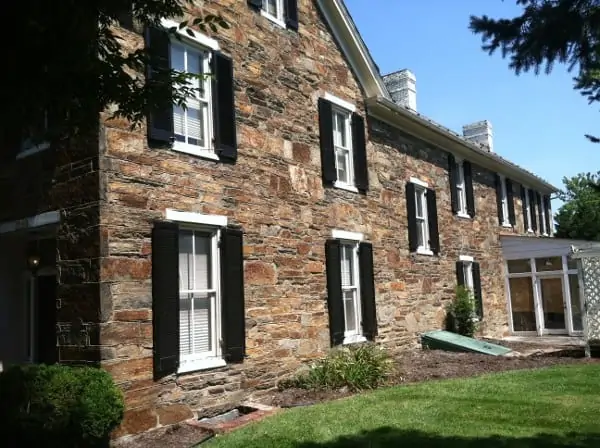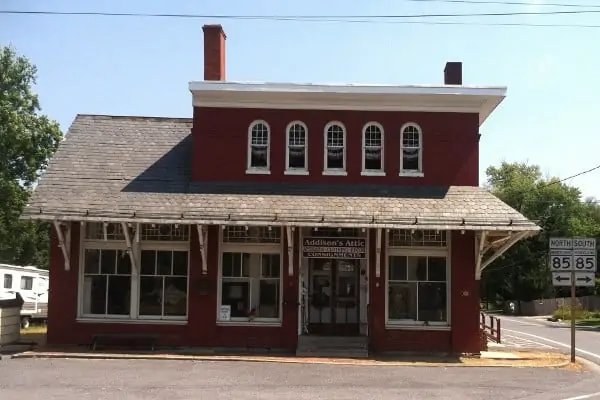 The above photo is of the Old General Store, built in 1905.
It is now The Dibs Collection, an antique and home decor store, open the 3rd weekend of every month, supporting Madison House Autism Foundation.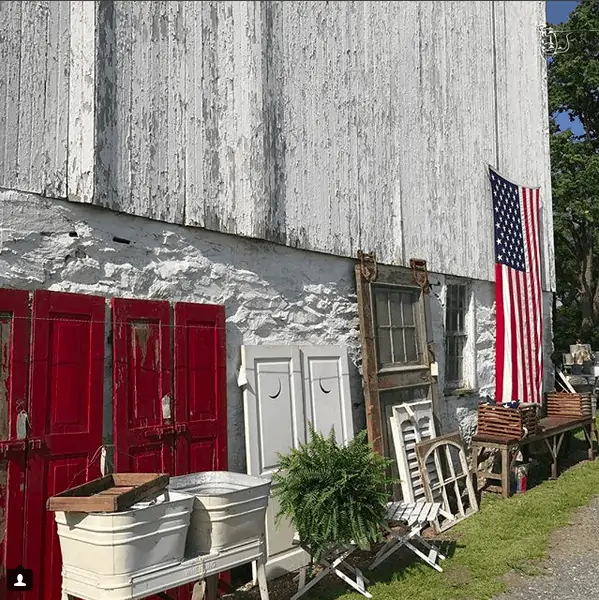 And you can't visit Buckeystown Md without visiting Chartreuse & Co.
This old farm has 3 large barns that are converted into a vintage-shabby-chic-finds paradise for weekend shoppers all over the DMV.
They're open the 3rd weekend of every month.
So, be sure to mark your calendars and check them out!
Hedgeapple Farm
And last but not least on our afternoon tour of historic Buckeystown Md is Hedgeapple Farm.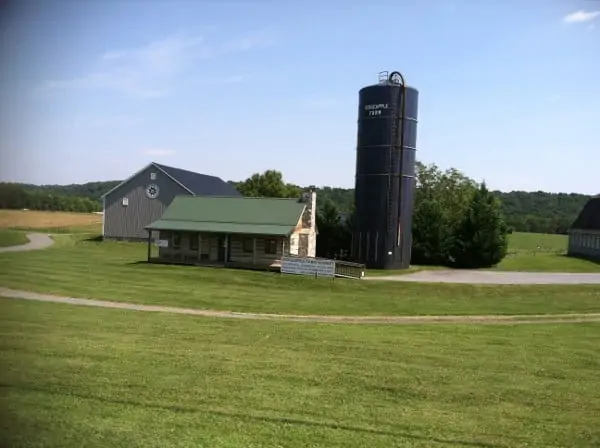 This farm dates back to the year 1731.
It is currently a dairy and beef farm owned and run by the Jorgensen family.
"Outreach programs and tours are conducted several times throughout the year to educate not only beef producers, but also members of the general public who are interested in farm life and the operation itself."
This is just a small sampling of what the small historic town of Buckeystown Md has to offer.
So, the next time you're just passing through, take some time to stop and explore the town yourself.
And get a bite to eat at Buckeystown Pub.
Crabs, beer, music and fun are their specialty.
Don't forget to tell them the Housewives of Frederick County sent ya!