Sweet corn pudding is one of my favorite side dishes to eat any time of year!
Particularly, this dish always makes it's appearance at family picnics or the end-of-year baseball team party.
My family loves corn pudding but we've never had it with fresh strawberries on top.
So I had to test it out on them and see what they thought.
If you're not sure what 'macerated' means, don't worry, I didn't know either.
However, it just means "soften or become softened by soaking in a liquid".
Who knew?
I've macerated strawberries for years and never even knew it!
Sweet Corn Pudding
This recipe is an easy side dish or dessert to prepare for these beautiful spring days leading into summer.
Sunshine Sweet Corn Available Since April
Did you know that Sunshine Sweet Corn grown in Florida has been available since April in local grocery stores?
Yup, I didn't know that until now.
I always thought I had to wait until the summer months to enjoy fresh corn.
But lo and behold, I walked into the grocery store just the other day and there it was!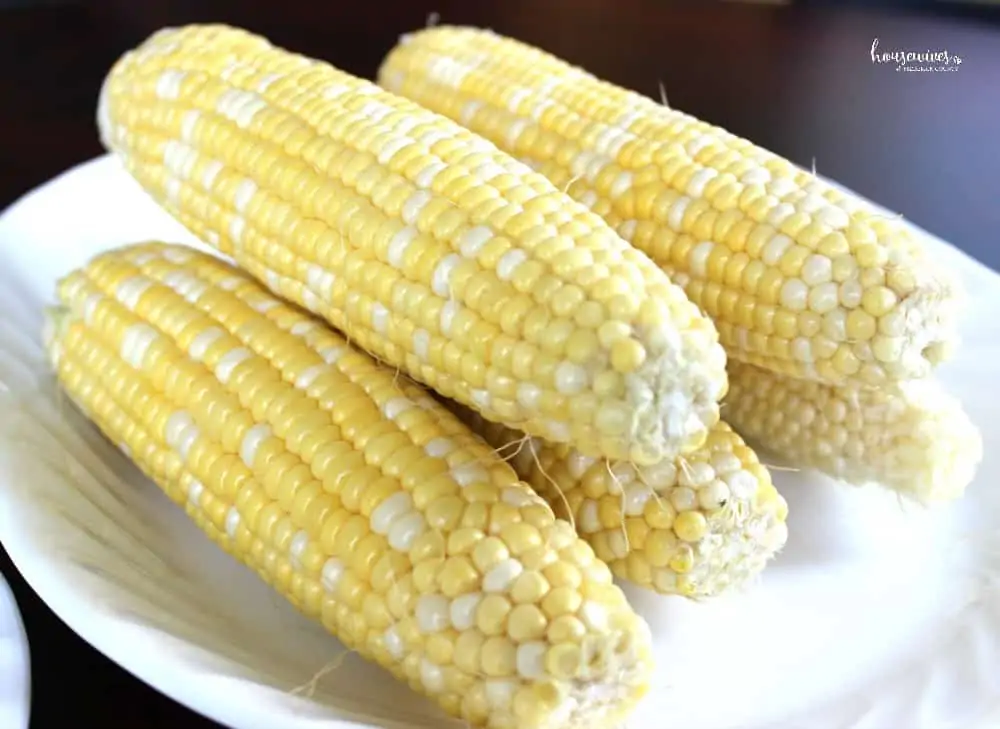 Benefits of Sunshine Sweet Corn
I've always loved any form of corn, so I'm an easy sell when it comes to it's benefits.
But Sunshine Sweet Corn has totally raised the cream-of-the-crop bar.
Not only is it your best guarantee for a delicious, sweet tasting corn in April and May, but it's an easy addition to your spring and summer meals.
Sunshine Sweet Corn is non-GMO, extra tender, and regulated for quality control.
You really can't get any better than that!
And to entice you to make it yourself, I included all of the mouth watering pictures I took before eating it.
Gotta admit, taking the pictures before I could actually eat this sweet corn pudding was very difficult!
Sweet Corn Pudding with Macerated Strawberries Recipe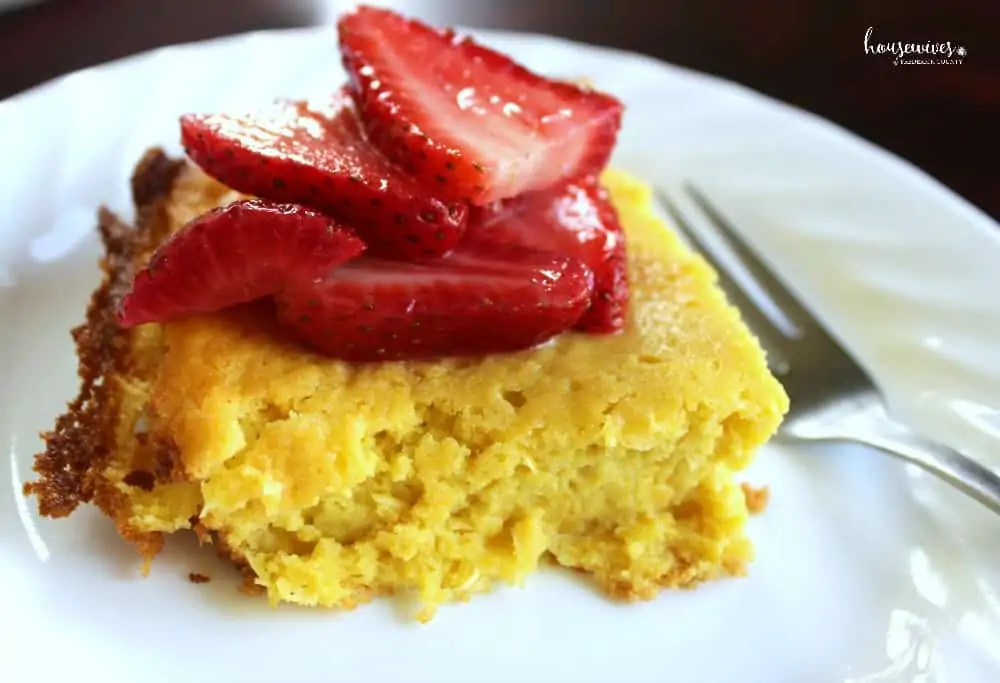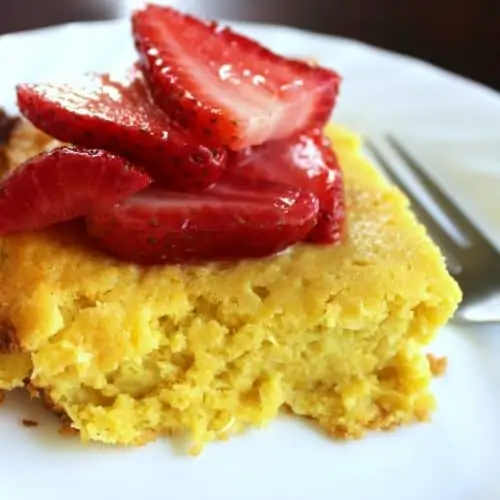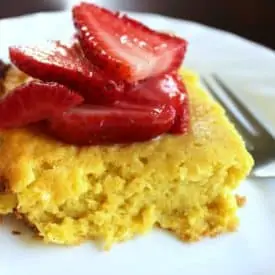 Sweet Corn Pudding with Macerated Strawberries
Deliciously moist sweet corn pudding with sugary sweet sliced strawberries on top!
Ingredients
- 6 ears Sunshine Sweet Corn

- 4 large eggs

- 1 cup heavy cream

- 1/2 cup sugar

- 4 tablespoons melted butter

- 3 tablespoons flour

- 3 tablespoons mascarpone or sour cream

- 2 teaspoons baking powder

- 1 tablespoon salt

- Macerated Strawberries*
Instructions
Preheat oven to 350 degrees F.

Butter a 13 x 19 inch baking pan.

Cut kernels from cobs to make about 4 cups; set aside 1 cup.

In a large food processor container combine 3 cups of the corn kernels, eggs, cream, sugar, butter, flour, mascarpone, baking powder and salt.

Whirl until smooth.

Stir in remaining 1 cup corn kernels.

Pour into a buttered baking dish.

Bake until top turns golden brown, 45 to 50 minutes.

Let stand 15 minutes.

Serve warm, topped with Macerated Strawberries.
Notes
*Slice 1 pound of strawberries and place in a bowl.
Sprinkle with 2 tablespoons sugar, cover and set aside for 30 minutes.
Refrigerate up to 1 day.
If you don't have a food processor, this Hamilton Beach Food Processor on Amazon gets great reviews!
This thing shreds cheese, slices veggies, purees pestos and dips, processes cookies for dessert crusts, and even makes nut butters!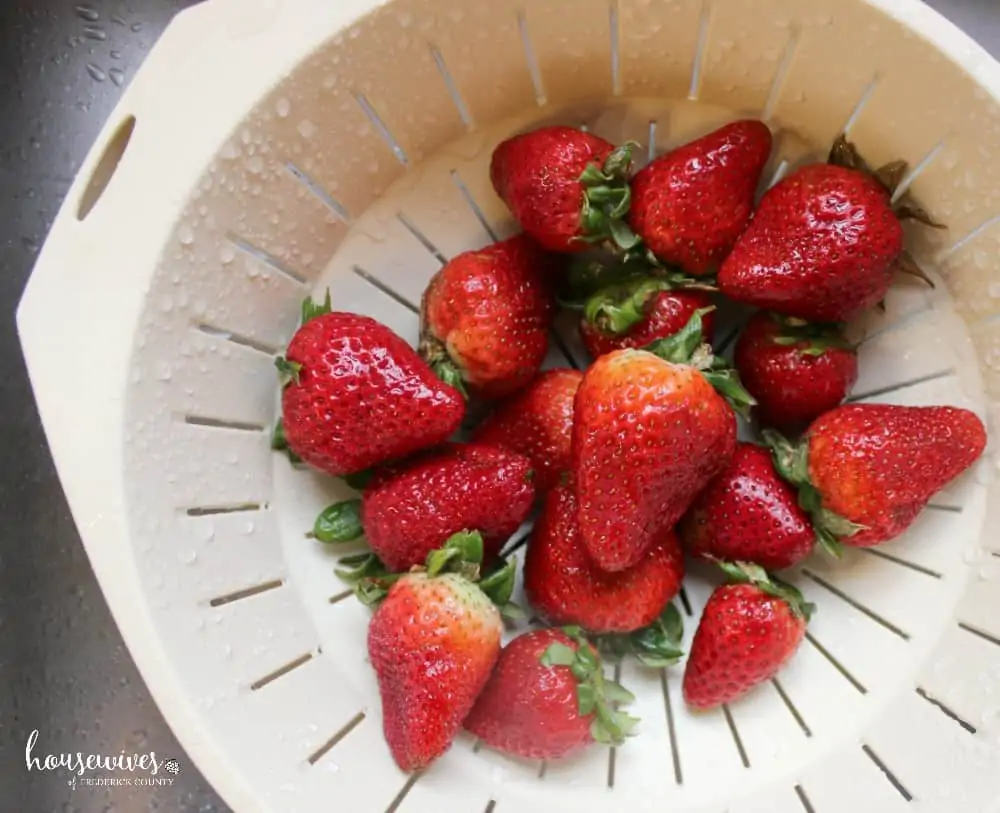 Recipe Tips
The combination of the macerated strawberries with the Sunshine Sweet Corn was exquisite!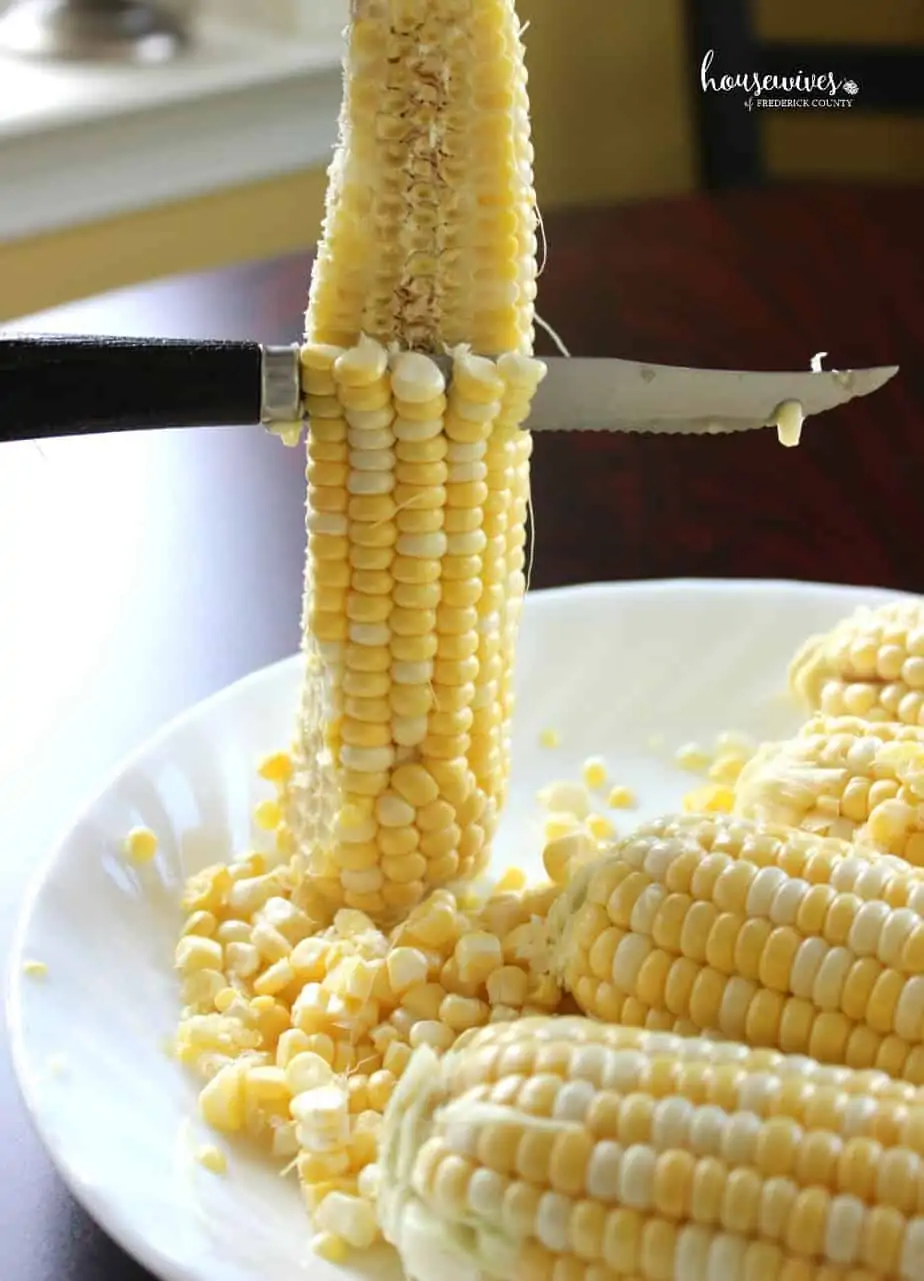 Cutting the corn off the cob is very easy.
Just hold the ear of corn vertically, with your hand at the very top of the ear, on a sturdy surface and slice the corn off the cob.
But you can make your life WAY easier by getting one of these Kuhn Rikon Corn Zippers (Amazon).
I had NO idea they made these!
After watching the video showing how easy it is to use and the great reviews, I've decided I need one in my life!
Especially since my son can only currently eat corn off the cob due to his braces.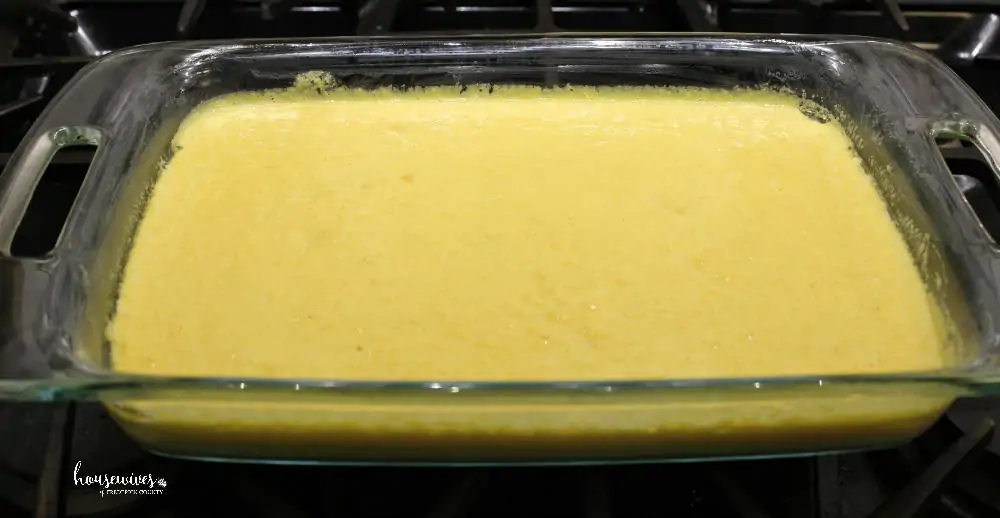 So, back to the recipe tips.
I put about a tablespoon of butter in the bottom of the baking pan and used a paper towel to spread it evenly across the bottom and sides of the pan.
If you don't have a 13 x 9 inch baking pan, this Wilton non-stick pan with a deep clear cover gets great reviews on Amazon and it's only $13.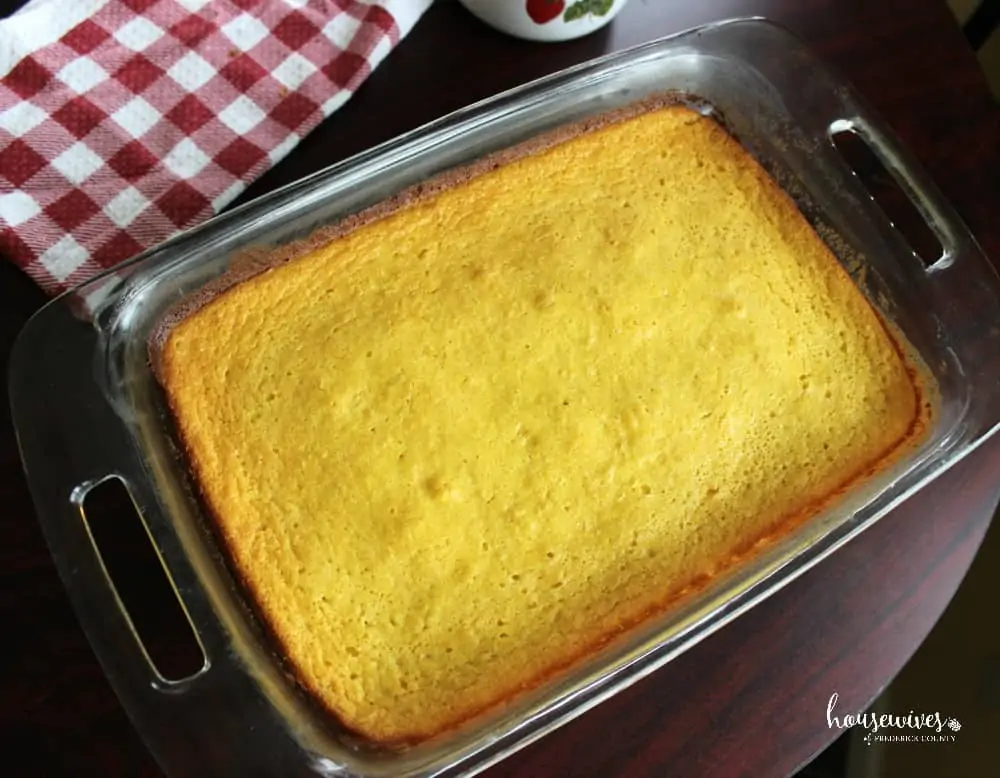 Take it out when you see that the top is a golden brown color.
As you can see from the above picture, the edges were beginning to brown.
Perfect time to take out of the oven.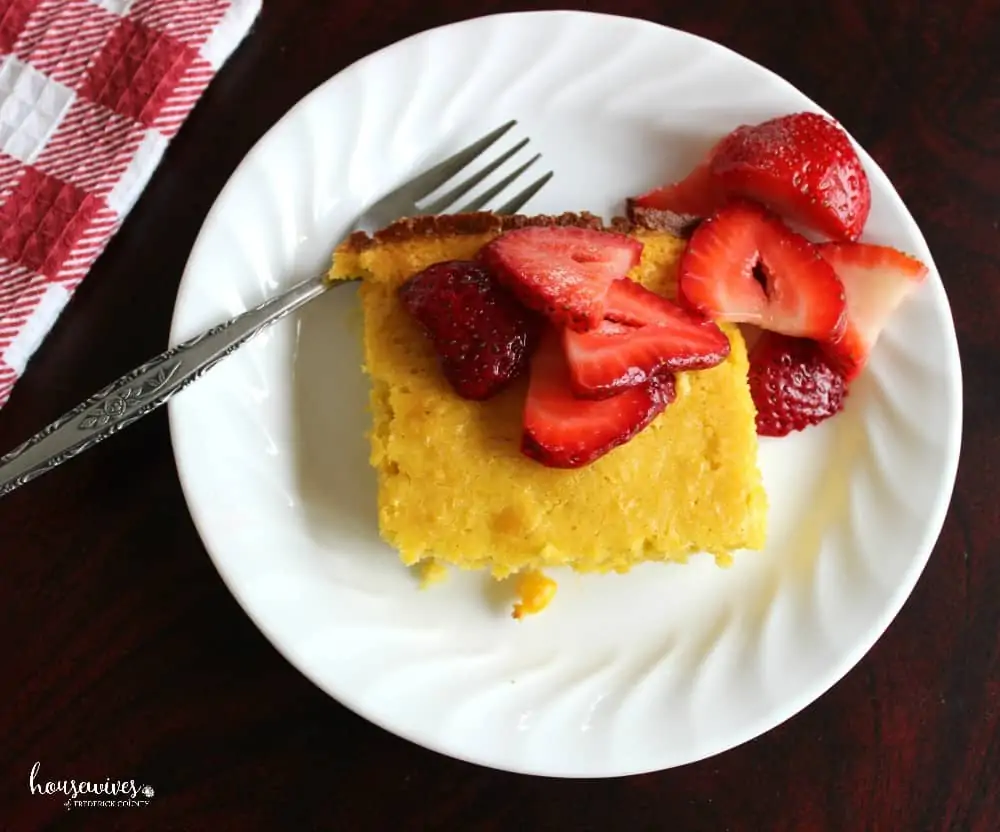 A full tablespoon of salt sounds like a lot of salt to add to the recipe.
But after trying my first warmed serving of this yummy corn pudding with the macerated strawberries on top, I realized it was the perfect amount of sweet and salty.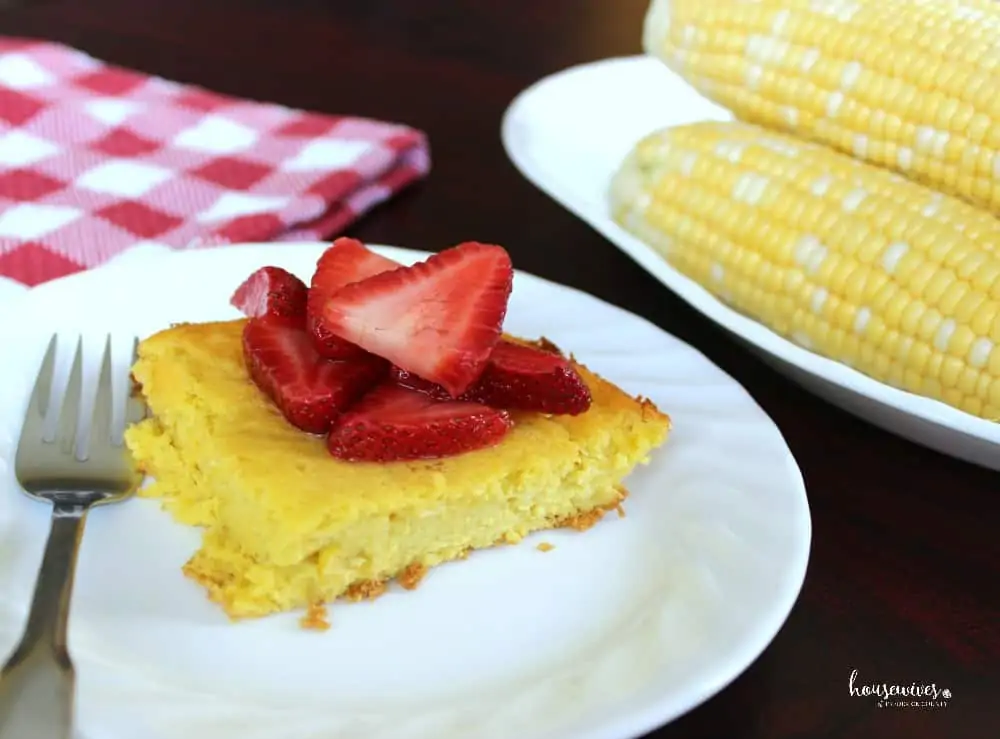 My Family Loved It!
My husband and son devoured it, which is always an indicator for me to put this recipe, along with other Sunshine Sweet Corn recipes, in my handy dandy recipe binder.
I love how pretty this binder is and it's way more practical for me vs. a recipe box since I typically print out recipes on 8 1/2 X 11 size paper.
Looking for more summer themed desserts?
Check out this cookbook on Amazon, Rustic Fruit Desserts: Crumbles, Buckles, Cobblers, Pandowdies & More.
As the title implies, this cookbook has close to 75 dessert recipes involving fresh fruit!
For more delicious dessert recipes right here on our blog, check out our posts on:
Raspberry Crisp – 7 Weight Watchers Points Plus Value
Fruit Tart Recipe with Oranges: Fresh & Easy Dessert
Lemon Squares – 3 Weight Watchers Points Plus Value