I've always LOVED lemon bars!
Why? Because the tangy, lip-puckering, lemon topping with the crisp-crusty bottom makes for the perfect dessert bar.
What makes these lemon bars extra special is the fact that they're only 3 WW SmartPoints per serving!
WW Lemon BARs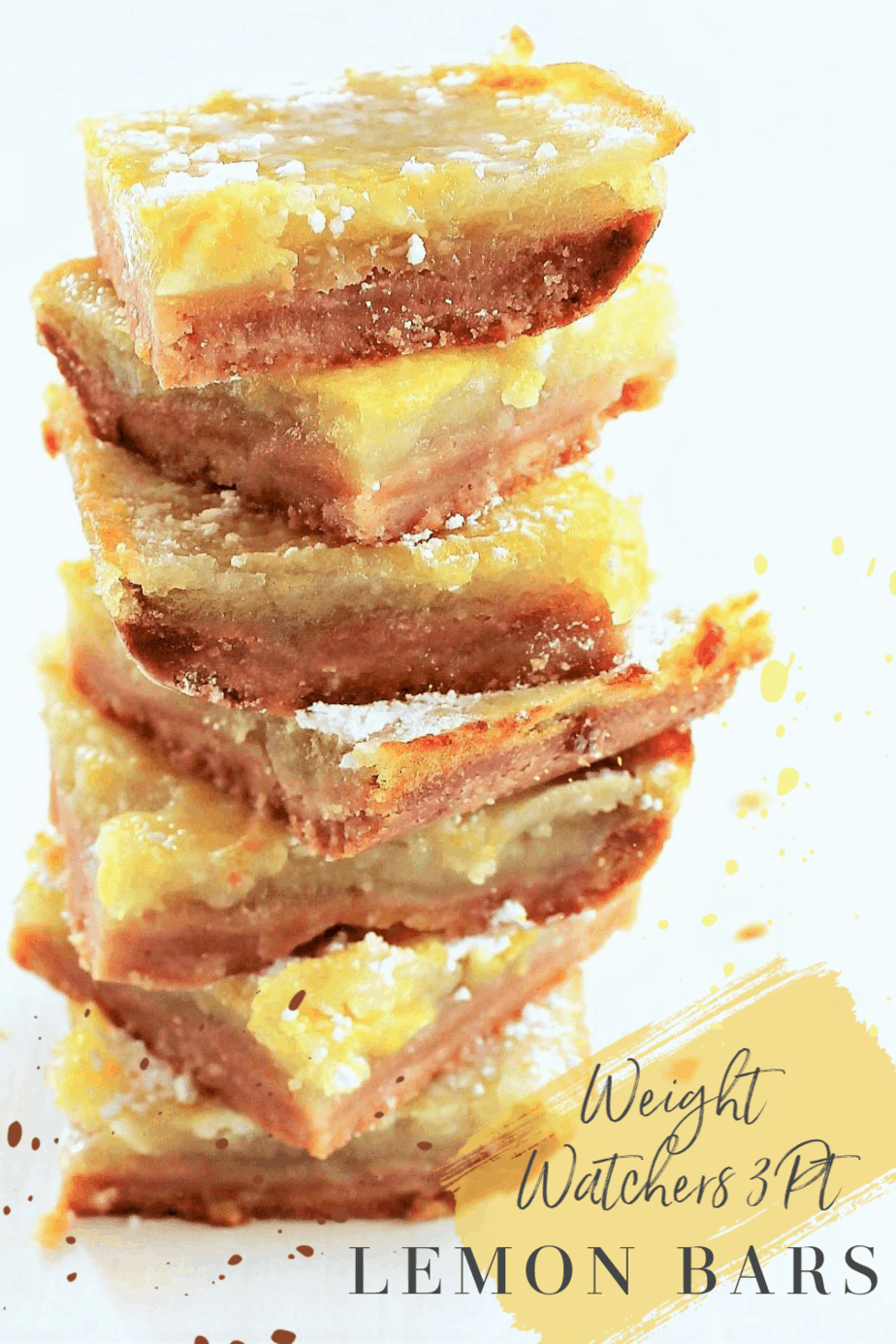 For some reason, in my entire lifetime, I've never made them myself, until now.
This site contains affiliate links. I may receive a commission for purchases made through these links. As an Amazon Associate I earn from qualifying purchases.
[View our Disclosure Policy Here]
Because I aim to be health-conscious as much as possible, I wanted to make a Weight Watchers friendly version of one of my favorite desserts.
And if you want to know why I always choose WW recipes, here's a recent article in Business Insider about how effective the Weight Watcher's Diet is.
Half the WW Points of Conventional Lemon Bars
This recipe is HALF the WW points of the conventional lemon bars recipe, without losing ANY of the taste!
I promise!
They're so tasty that they've inspired me to make more WW dessert recipes.
I found this Weight Watchers: Best Ever Desserts cookbook (Amazon) featuring 150 cakes, pies, cookies, bars, breads, & tarts!
No Artificial Sweeteners
Another beauty of this lightened up version is that there are no artificial sweeteners.
So, no weird aftertaste like some other lightened up dessert recipes.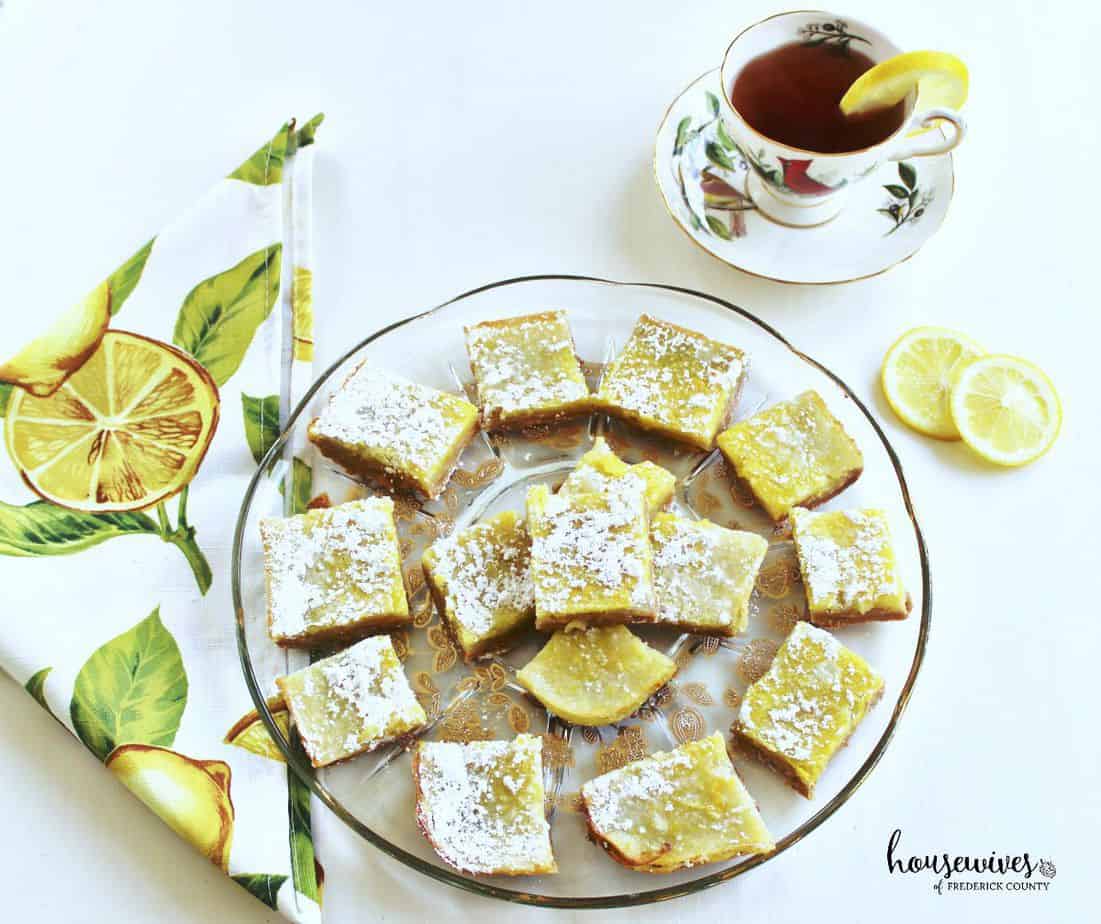 Furthermore, they're just as delicious as any other lemon bars I've ever had.
WW Lemon Bars recipe:
Print Recipe
WW Lemon Bars – 3 SmartPoints
Lip-puckering, lemony goodness on a pine nut crust, these lemon bars are divine and only 3 WW SmartPoints per bar!
Ingredients
- 3.4 ounces all-purpose flour

about 3/4 cup

- 1/4 cup powdered sugar

- 3 tablespoons pine nuts

toasted and coarsely chopped

- 1/8 teaspoon salt

- 2 tablespoons chilled unsalted butter

cut into small pieces

- 2 tablespoons canola oil

- Cooking spray

- 3/4 cup granulated sugar

- 2 tablespoons all-purpose flour

- 1 teaspoon grated lemon rind

- 1/2 cup fresh lemon juice

approximately 4 lemons

- 2 large eggs

- 1 large egg white

- 2 tablespoons powdered sugar
Instructions
Preheat oven to 350 degrees.

Weigh or lightly spoon flour into dry measuring cups; level with a knife. Place flour, 1/4 cup powdered sugar, pine nuts, and salt in a food processor; pulse 2 times to combine. Add butter and canola oil. Pulse 3 to 5 times or until mixture resembles coarse meal. Place mixture into the bottom of an 8-inch square glass or ceramic baking dish coated with cooking spray; press into bottom of pan. Bake at 350 degrees for 20 minutes or until lightly browned. Reduce oven temperature to 325 degrees.

Combine granulated sugar and next 5 ingredients (through egg white) in a medium bowl, stirring with a whisk until smooth. Pour mixture over crust. Bake at 325 degrees for 20 minutes or until set. Remove from oven, and cool completely in pan on a wire rack. Cover and chill for at least 2 hours. Sprinkle bars evenly with 2 tablespoons powdered sugar.
This recipe calls for grated lemon rind.
I attempted to do it with my old fashioned box grater.
It worked, but it wasn't ideal.
The next time I'll use one of these Citrus Zester & Cheese Graters (Amazon).
These save space in the kitchen, are dishwasher safe, and are much easier and less awkward to use than the box graters.
Get a Food Processor
In addition if you don't have a food processor (Amazon), do yourself a big favor and get one!
It will more than make up for its cost if you like to bake like I do.
Plus, it'll give you more excuses to whip up some new recipes along with some old favorites!
Groupon is also a great place to go for deals on food processors.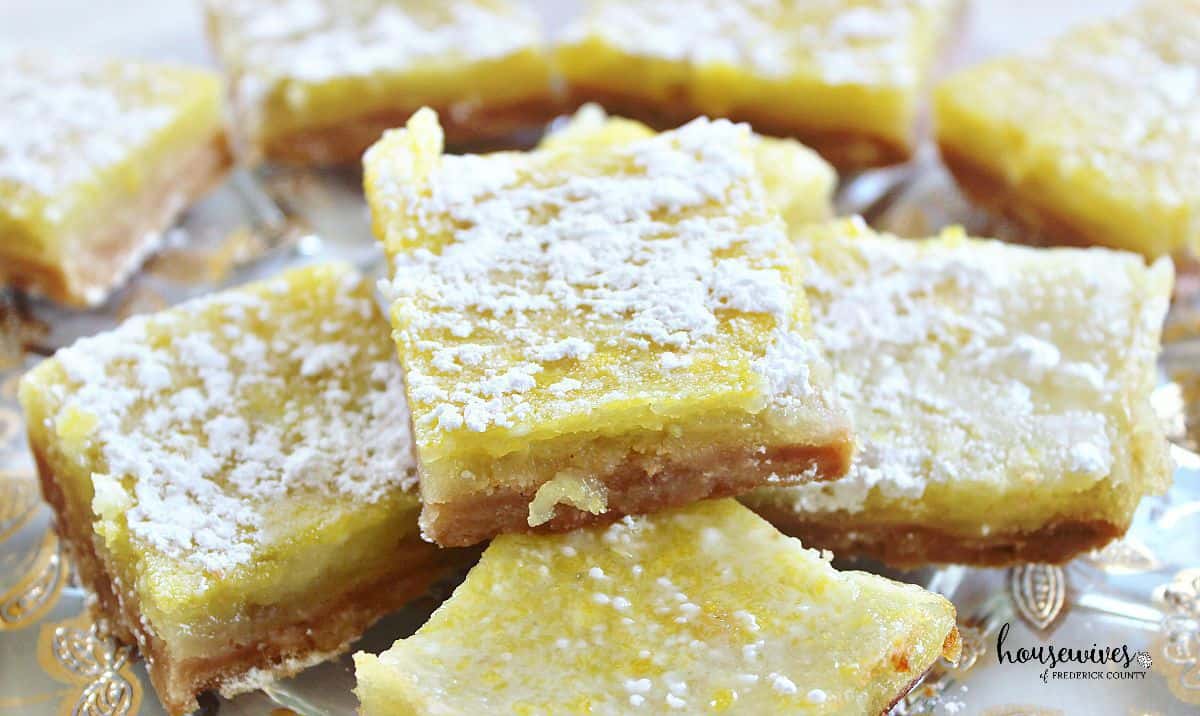 As you can see from my pictures, they turned out great.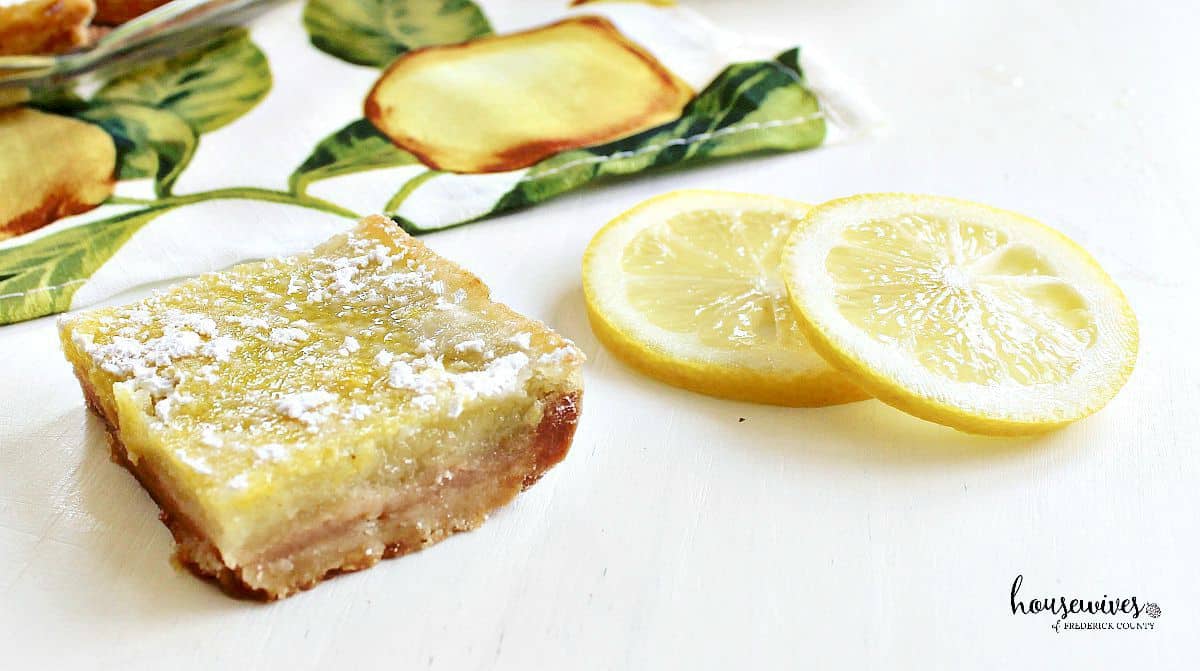 Pine Nuts Make a Great Lemon Bars Crust
The ingredient that surprised me the most was the pine nuts.
I've never seen a lemon bars recipe with crushed up pine nuts in the crust.
But they really turned out great.
The crust is crisp-flaky, just the way I like it!
And, by the way, if you're looking for pine nuts and don't feel like going on a wild goose chase like I did, they sell them on Amazon.
These Farm Fresh Nuts Pine Nuts (Amazon) have gotten great reviews.
They ain't cheap, but take it from me, you're not going to find them cheaper or better quality than these.
You can justify buying them because you can use pine nuts in a ton of recipes:
And the topping is just as tangy, lemony, lip-puckering and lightly sugary as the best lemon bars out there.
Presentation Is Everything
Lastly, don't forget your presentation!
Presentation is everything when you make something as good as these lemon bars.
This 3 Tier Collapsible Dessert Presentation Tray (Amazon) is the perfect display for your lemon bars!
It's also great for displaying cupcakes, cookies, petit fours, or even crackers and cheese.
The possibilities are endless and you'll get a lot of use out of it!
Finally, if you're looking for more healthy, delectable recipes, I highly recommend The Skinnytaste Cookbook: Light on Calories, Big on Flavor.
The author, Gina Homolka, is a fellow blogger, just like us!
Her recipes are amazing!
She includes all of the nutrition information on each of her recipes, so you can calculate WW points or any other diet you may be on.
Here are some other fun finger-food desserts on our blog:
No Bake Cereal Chocolate Cookies – 4 WW SmartPoints
Popcorn Snack Bars – 4 WW Points Plus Value
In the meantime, I'll be in my kitchen partaking in another little no-guilt square of heaven!