If you're looking for places nearby to either get Easter dinner in Frederick Md to go OR dine-in options, you've come to the right place!
Yes, cooking your very own Easter dinner at home is wonderful, but a lot of us have been cooking WAY more lately than ever before.
So why not splurge for Easter and get all your delicious food made to order so you have more time to enjoy this special holiday?
Easter Dinner in Frederick Md
Needless to say, we're so lucky to live in an area with amazing restaurants, caterers, and bakeries to satisfy any discriminating palate!
As a matter of fact, the choices are almost overwhelming, but in a good way!
Some of the places on our list offer buffets, while others offer family style dinners.
So, what do you like to eat for Easter dinner?
Ham
Turkey
Leg of Lamb
Prime Rib
Seafood
Game Hens
Fried Chicken
You name it, Frederick's got it!
What if you prefer Easter brunch instead?
Well Frederick's got that too.
Easter Brunch in Frederick Md
If you'd rather eat your big meal earlier in the day so you can still have time to hide the Easter eggs and watch the kids go on a hunt with their baskets, brunch options include:
Scrambled Eggs
Omelets
Bacon
Sausage Patties
Breakfast Potatoes
Waffles
Pastries
Quiche
French Toast Casserole
French Toast
Fruit
Appetizers & Side dishes
Some of the below restaurants and caterers offer a la carte appetizers and sides.
Let's say you want to prepare your own main entree like this Lamb Chops recipe or Grilled Lamb Loin Chop Shish Kabobs, but don't feel like bothering with the appetizers and side dishes.
You can order your appetizers, side dishes, and even desserts a la carte at a few of the places on our list.
Desserts
And speaking of desserts, we have a few bakeries on our list who will take care of your sweet tooth, offering:
Easter Cookies
Pies
Parfaits
Cupcakes
Cakes
Cheesecakes
Chocolate Dipped Strawberries
Cookie Decorating Kits
Chocolate Boxes
Easter Baskets
Chocolate Bunnies
Brownies
For your convenience, we have organized our list in alphabetical order and included clickable links, addresses, phone numbers, & menus.
Keep in mind that make-ahead orders and early reservations are highly encouraged, as they will book up very quickly.
So scan the list and make your plans now before you miss out on the goodness that our town has to offer!
Finally, while you're perusing the menus, check out our post on Fun Easter Traditions & Projects For The Entire Family.
Do you celebrate all of these traditions?
One of my favorites is the Easter Bunny Cake my mom used to make when I was a child.
1. Bob Evans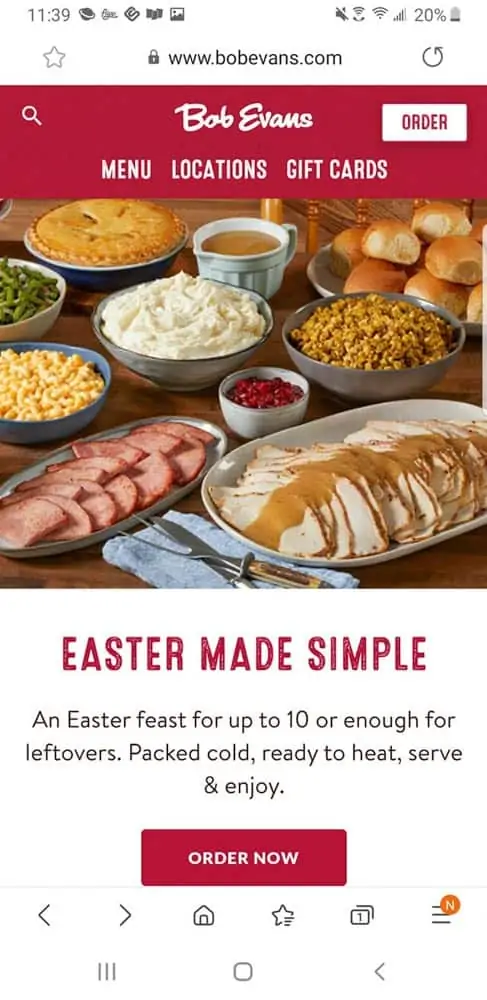 Bob Evans
1505 Garrett Dr
Frederick, MD 21702
(301) 698-8184
2. Brewers Alley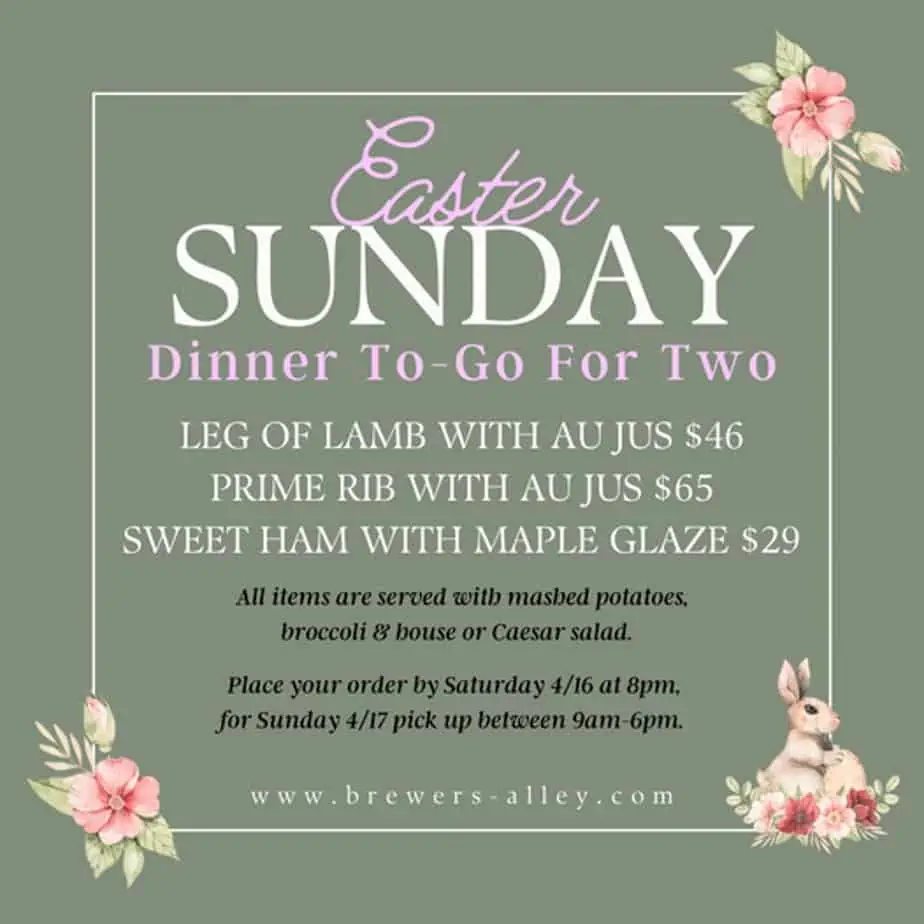 Brewer's Alley
124 N Market St
Frederick, MD 21701
(301) 631-0089
3. Carriage House Inn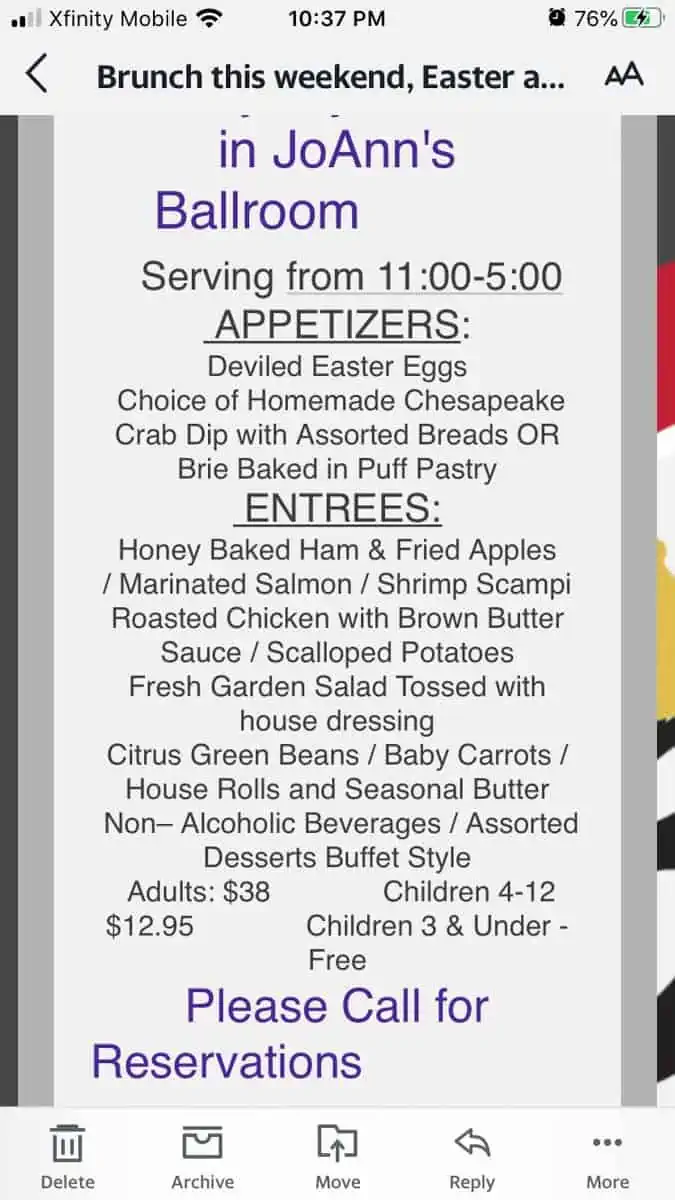 Carriage House Inn
200 S Seton Ave
Emmitsburg, MD 21727
(301) 447-2366
4. CarterQue BBQ & Grilling Co.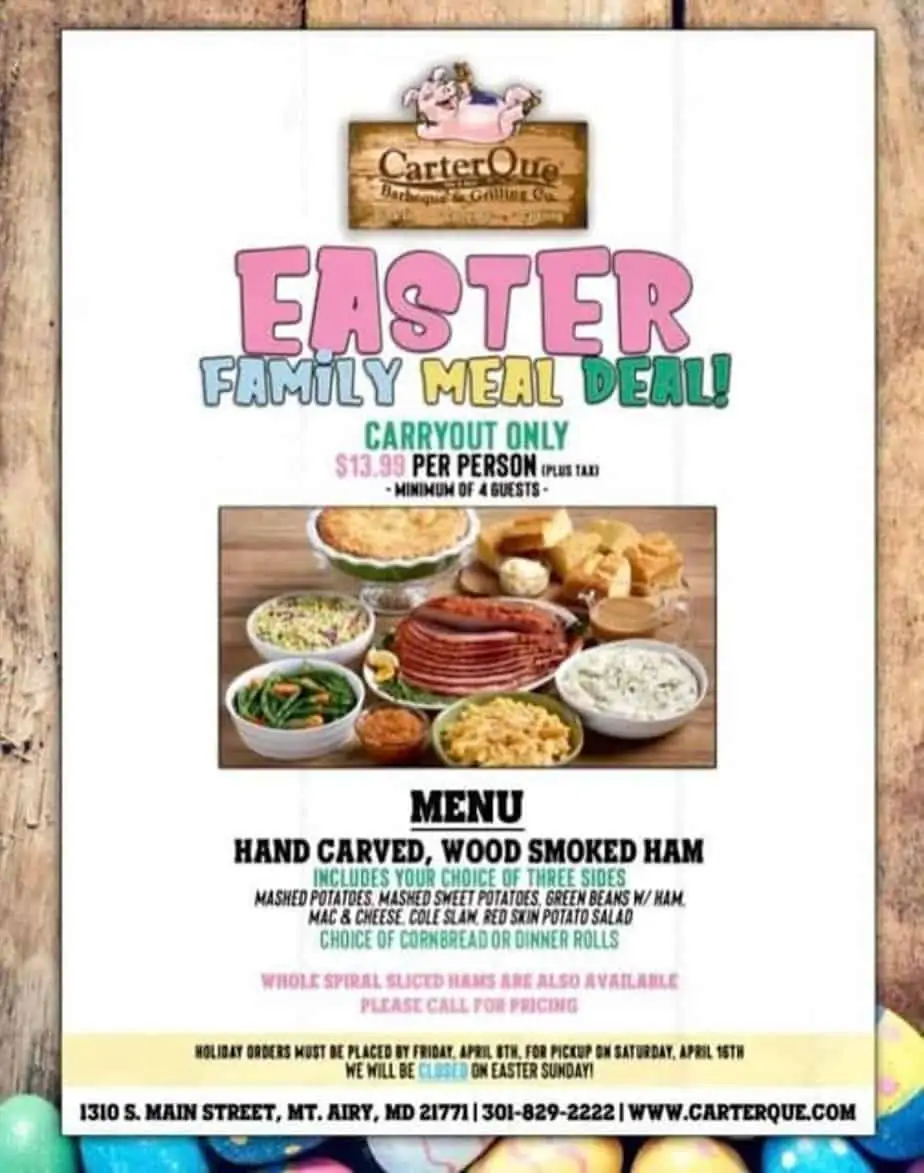 CarterQue BBQ & Grilling Co.
1310 S Main St
Mt Airy, MD 21771
(301) 829-2222
5. Dutch's Daughter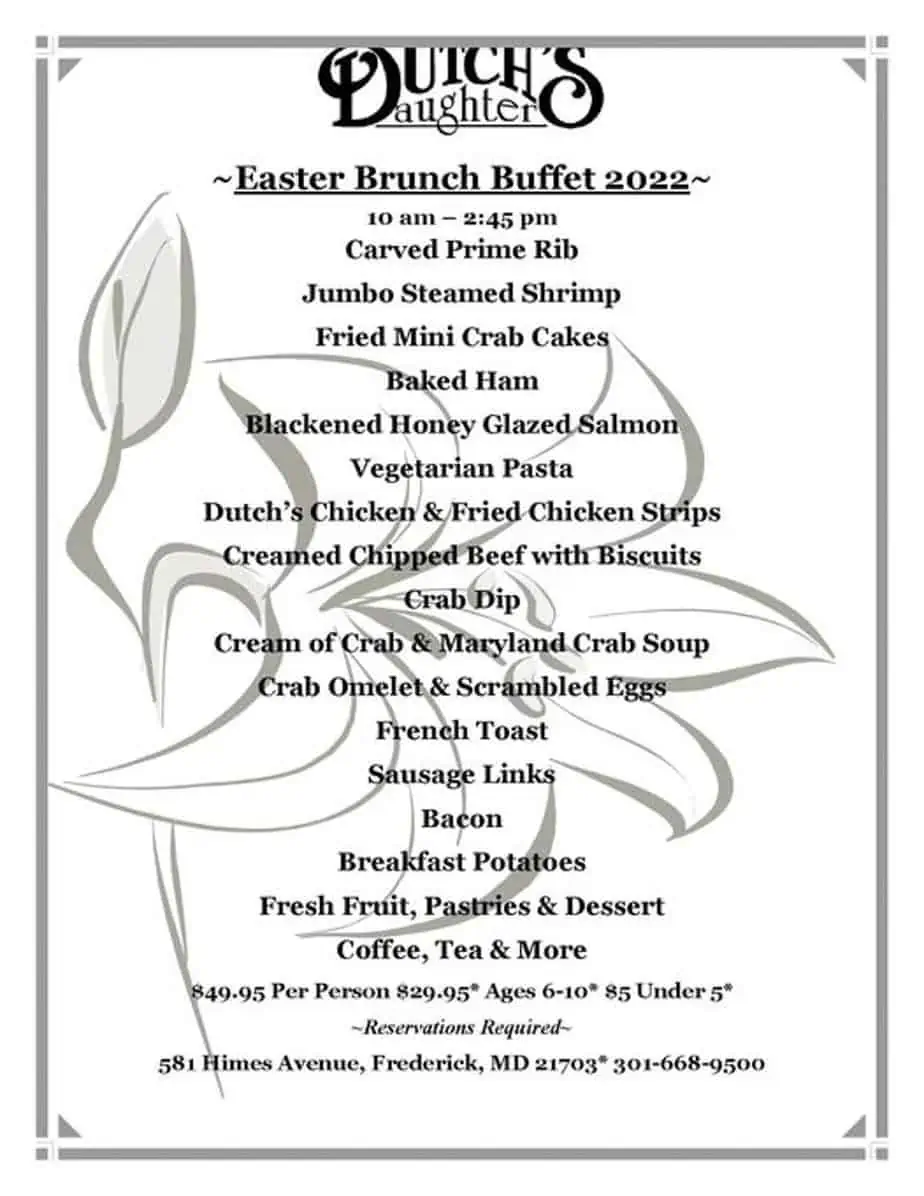 Dutch's Daughter
581 Himes Ave
Frederick, MD 21703
(301) 668-9500
6. Hillside Turkey Farms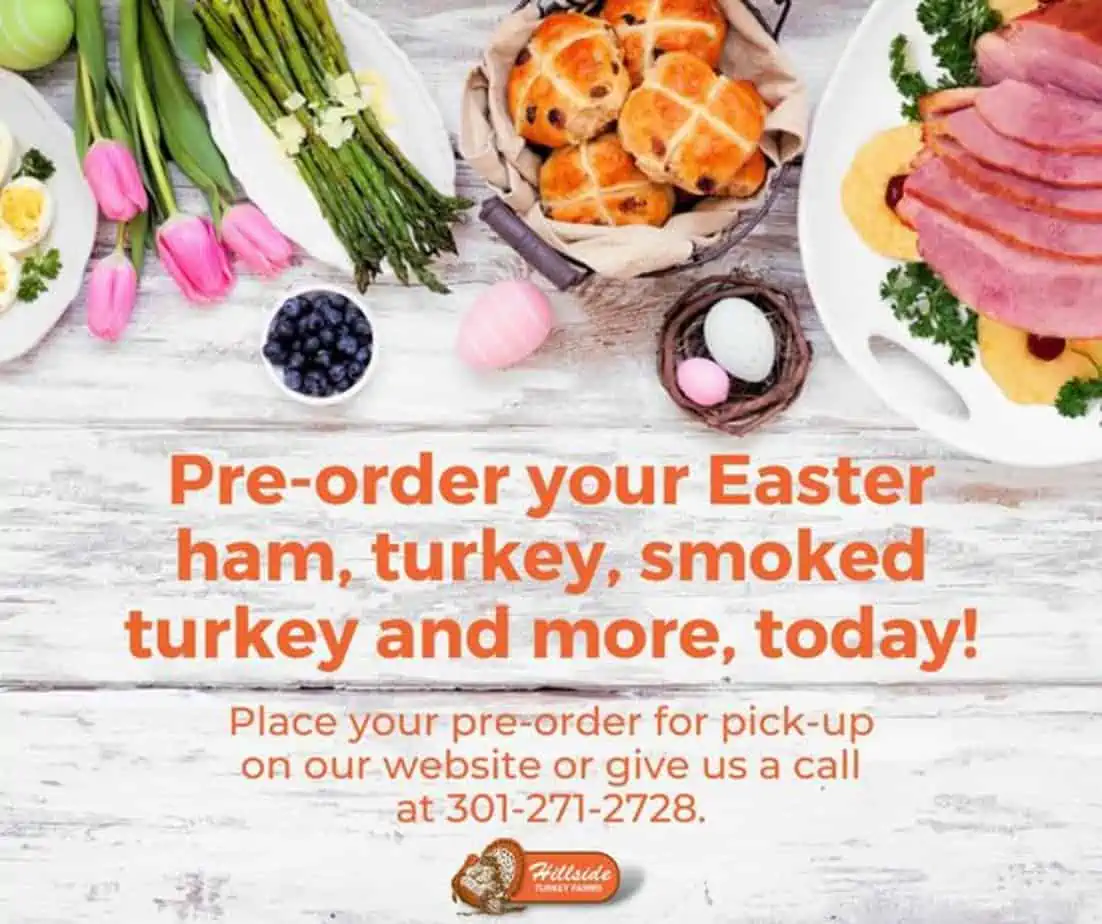 Hillside Turkey Farms
30 Elm St
Thurmont, MD 21788
(301) 271-2728
7. Monocacy Crossing
Monocacy Crossing
4424A Urbana Pike
Frederick, MD 21704
(301) 846-4204
8. Pistarro's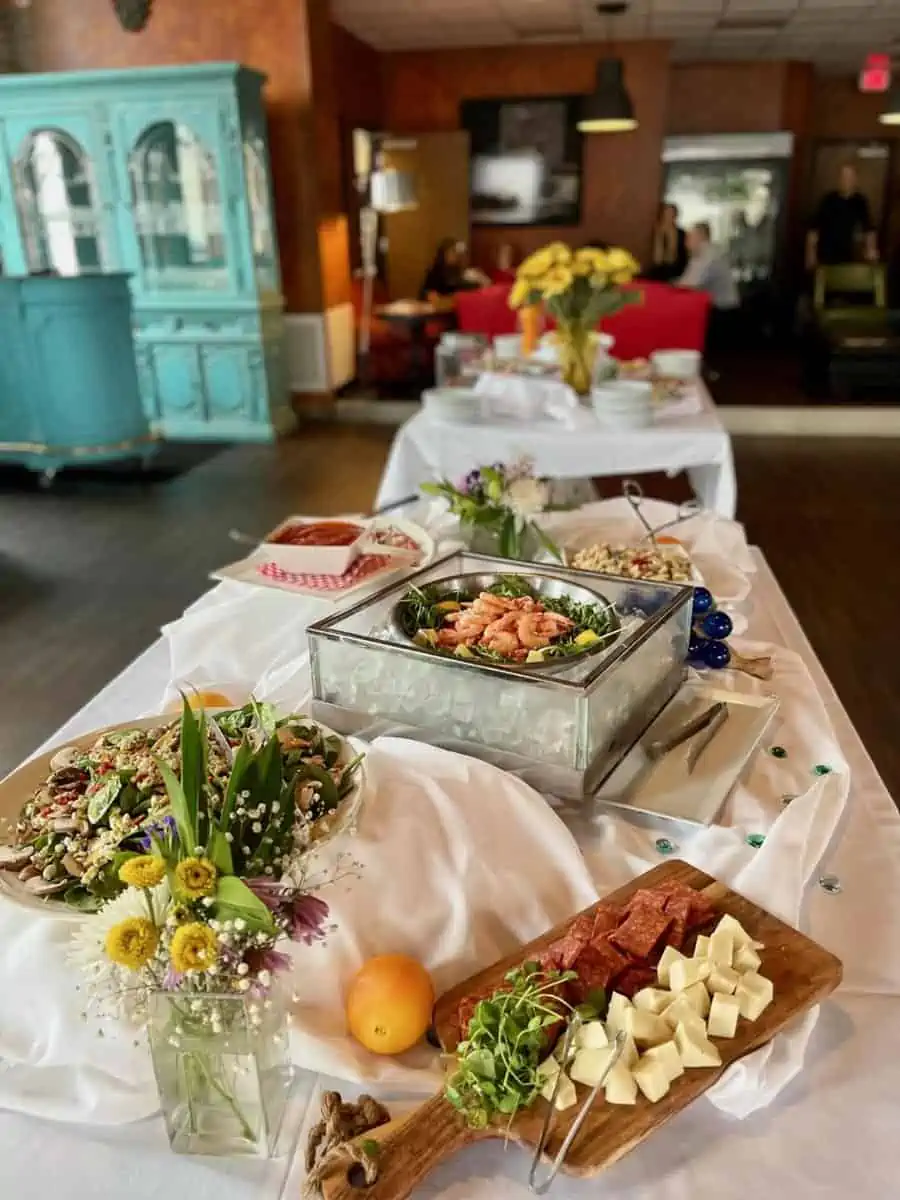 Pistarro's
221 N East St
Frederick, MD 21701
(301) 378-9536
Easter Sunday Buffet
April 17, 2022
Fresh fruit and berries
Italian cheese platter
Easter ham with honey mustard
Garden salad with chianti vinaigrette
Pesto pasta salad
Caprese salad
Roasted beet salad
Peel and eat shrimp w/ cocktail sauce
Scrambled eggs
French toast sticks w/ maple syrup
Smoked bacon and sausage
Pistarro's breakfast potatoes
Roasted leg of lamb. au jus
Atlantic salmon w/ lemon-caper butter
Grilled Italian bbq chicken
Penne Pasta alla vodka
Saffron rice pilaf with spring peas
Mashed Yukon gold potatoes
Fresh asparagus
$39.00 per person
Kids 12 and under $18
9. The Savory Spoon Catering Co.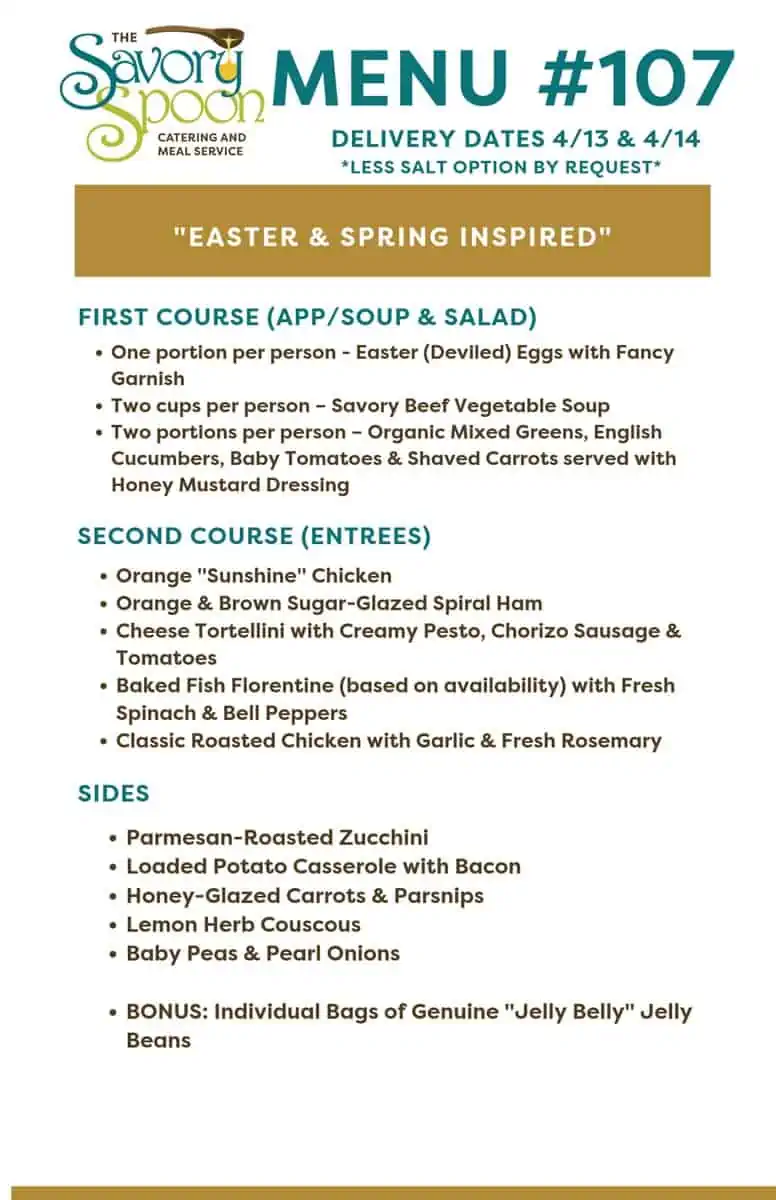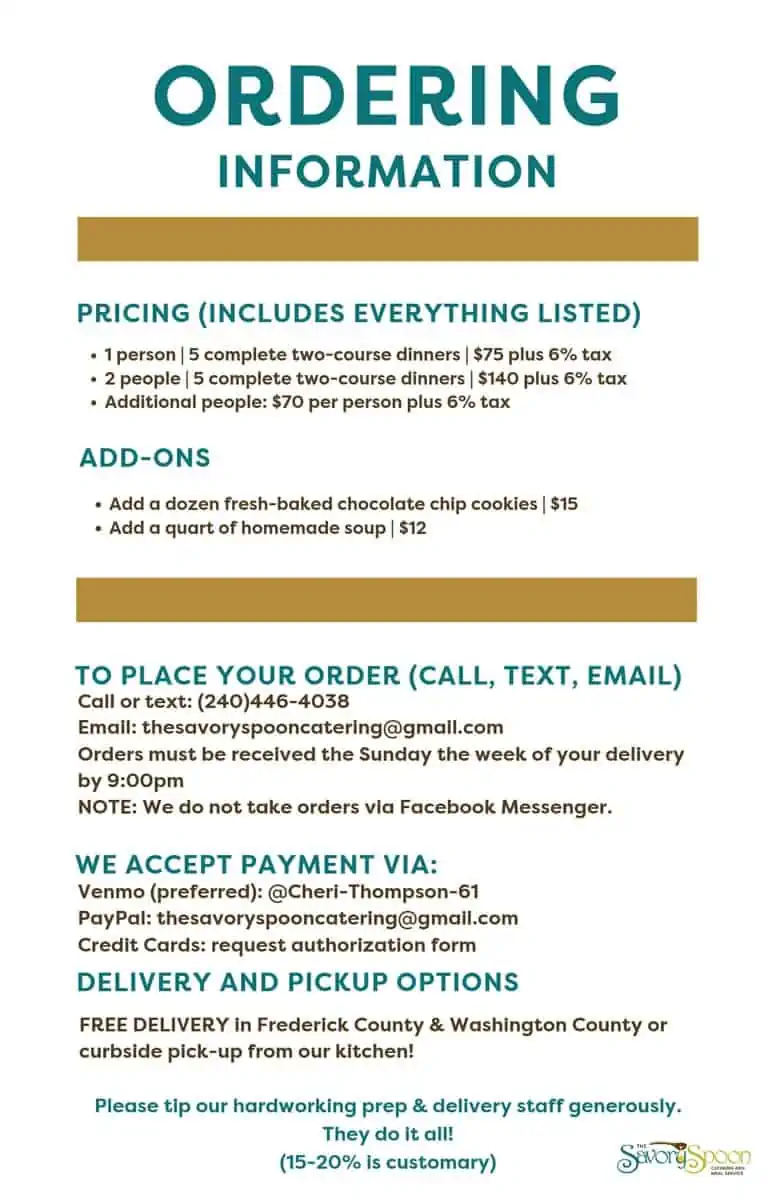 The Savory Spoon Catering Co.
285 Montevue Ln
Frederick, MD 21702
(240) 446-4038
10. Two Sweet LLC
11. Wilcom's Inn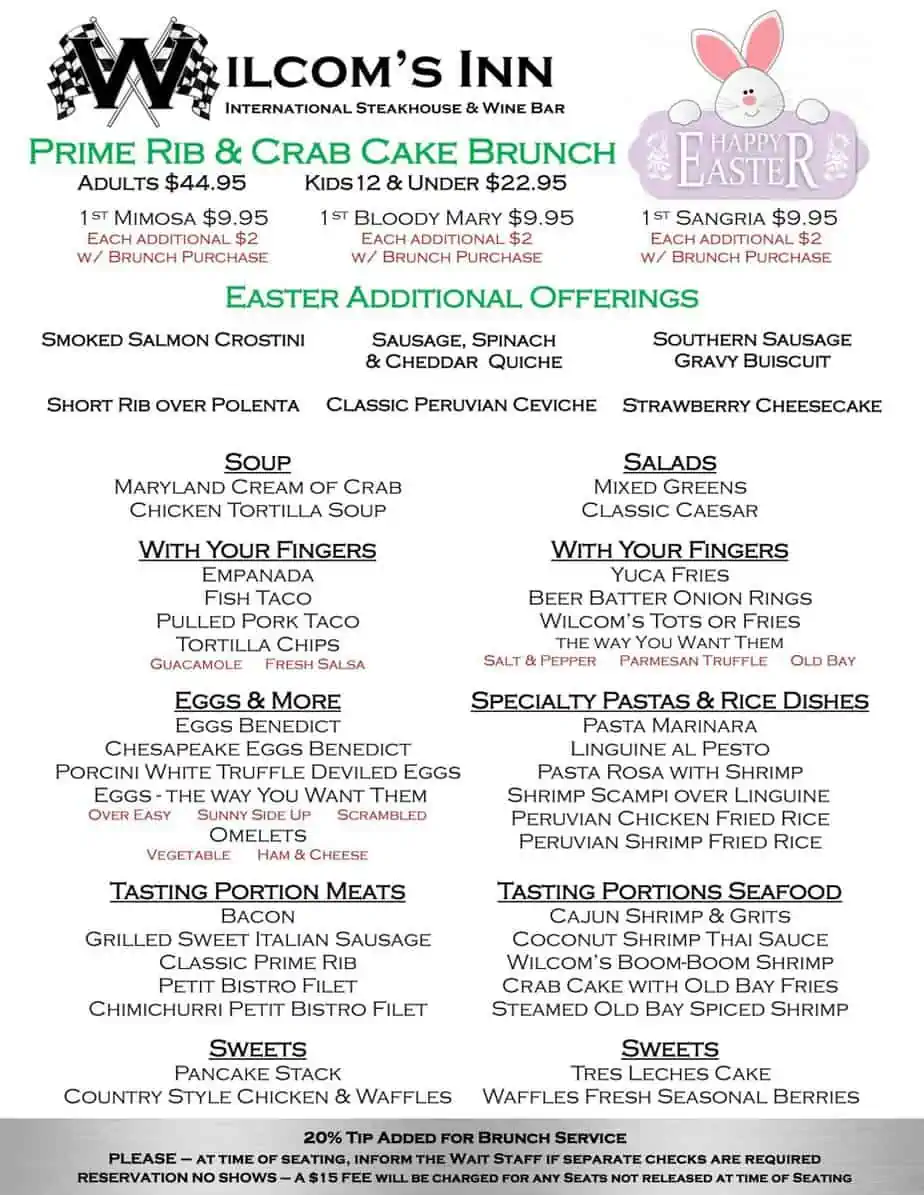 Wilcom's Inn
11234 Fingerboard Rd
Monrovia, MD 21770
(301) 798-8686
Lastly, I hope you and yours enjoy your Easter Day to the fullest!