Hometown Harvest Kitchen is a local farm-to-fork restaurant located in the heart of Downtown Frederick.
They serve seasonal menu items made from fresh produce and meats provided by over 200 local farmers.
In addition, they have a South Mountain Creamery ice cream and dairy store, offering farm fresh milk, dairy products, baked cookies and the best creamery ice cream around!
There's nothing better than buying and eating local!
Recently my son, nephew, and myself visited Hometown Harvest Kitchen to have lunch and of course some ice cream!
Here are 7 reasons you need to eat at the new Hometown Harvest Kitchen!
Hometown Harvest Kitchen in Downtown Frederick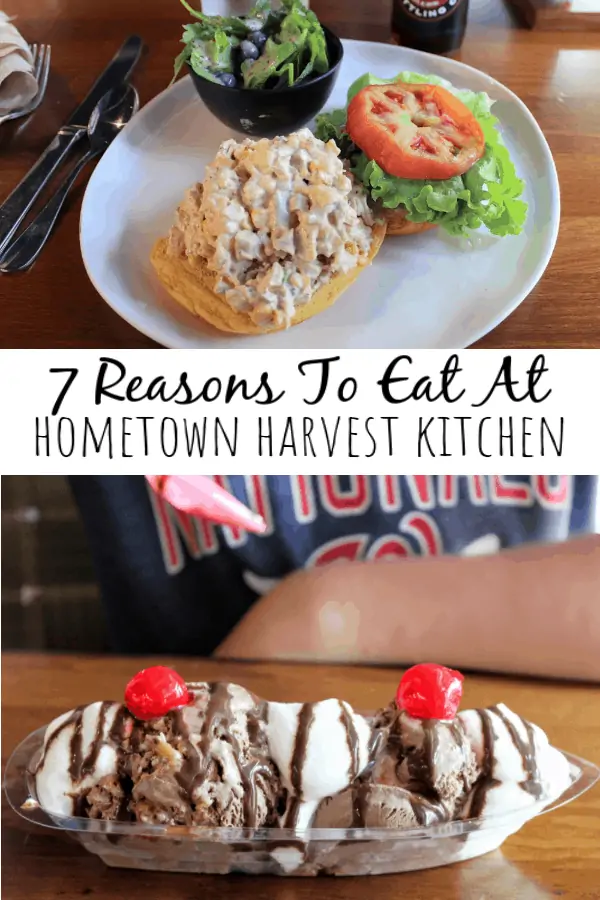 1. The Hometown Harvest Kitchen Location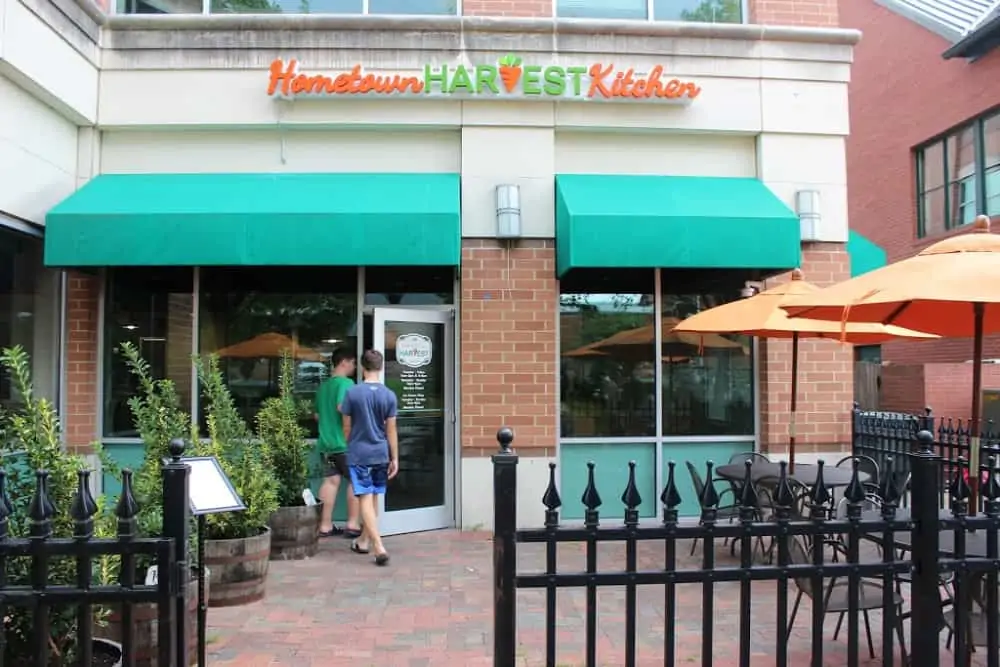 Hometown Harvest Kitchen is located right along beautiful Carroll Creek in Downtown Frederick.
Specifically, it's located next to La Paz Restaurant in the building where the old Greene Turtle used to be located.
It's an easy walk from either the Court Street Garage or the Carroll Creek Garage.
This central location is perfect for a day of Downtown shopping with lunch OR a dinner out before seeing a show.
2. Hometown Harvest Kitchen Has a Casual & Comfortable Dining Area
When you walk into Hometown Harvest Kitchen, you get the feeling that you're walking into a proud family's country style cafeteria.
And you would be right!
The Sowers Family has been farming in Frederick County at South Mountain Creamery since 1981.
Needless to say, they're super proud to have evolved through the years from their humble beginnings.
They've now positioned themselves to serve the Frederick County community through their new Downtown Frederick restaurant.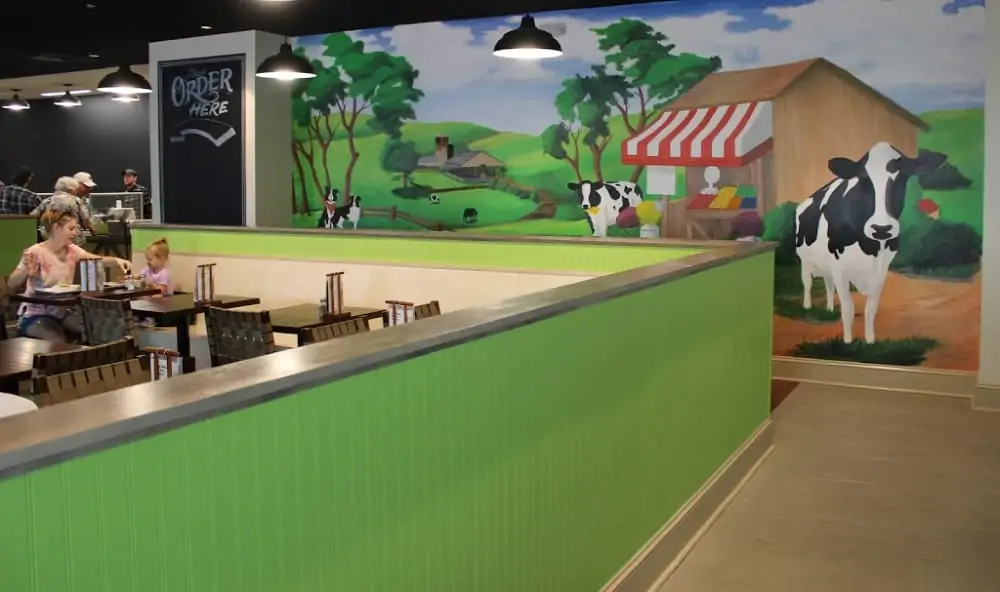 As soon as you enter the restaurant, you will be greeted with a vibrantly colorful country mural.
This mural, along with a future mural that will go behind the food line, was created and painted by the brother of Hometown Harvest Kitchen's Executive Chef, Jesse Rogers.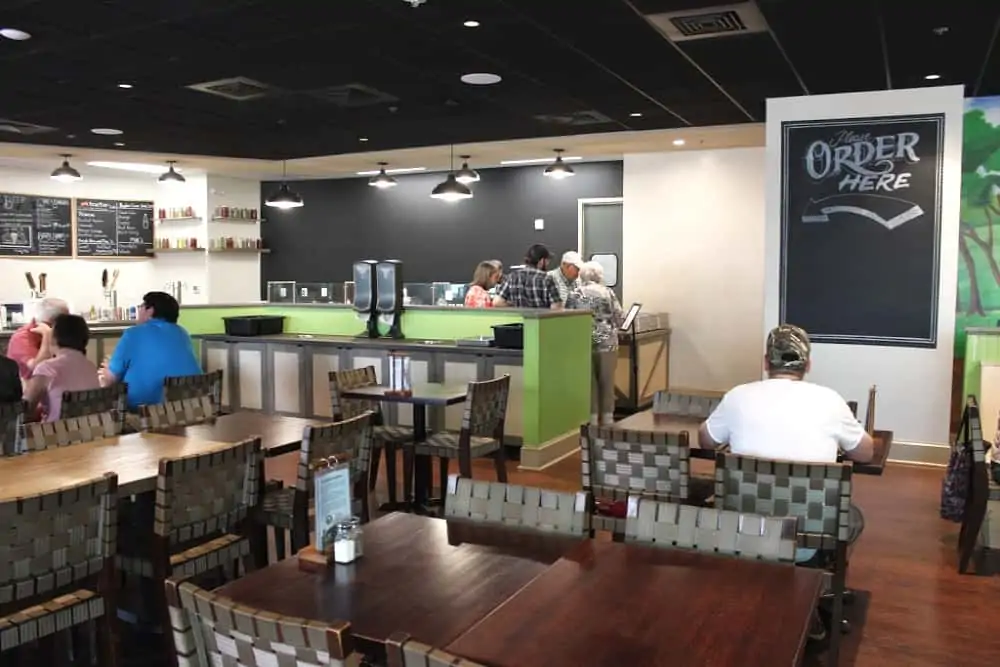 The open layout of the restaurant with large windows looking out to Carroll Creek and large tables and chairs, makes for a come-as-you-are-and-sit-a-spell kind of feel.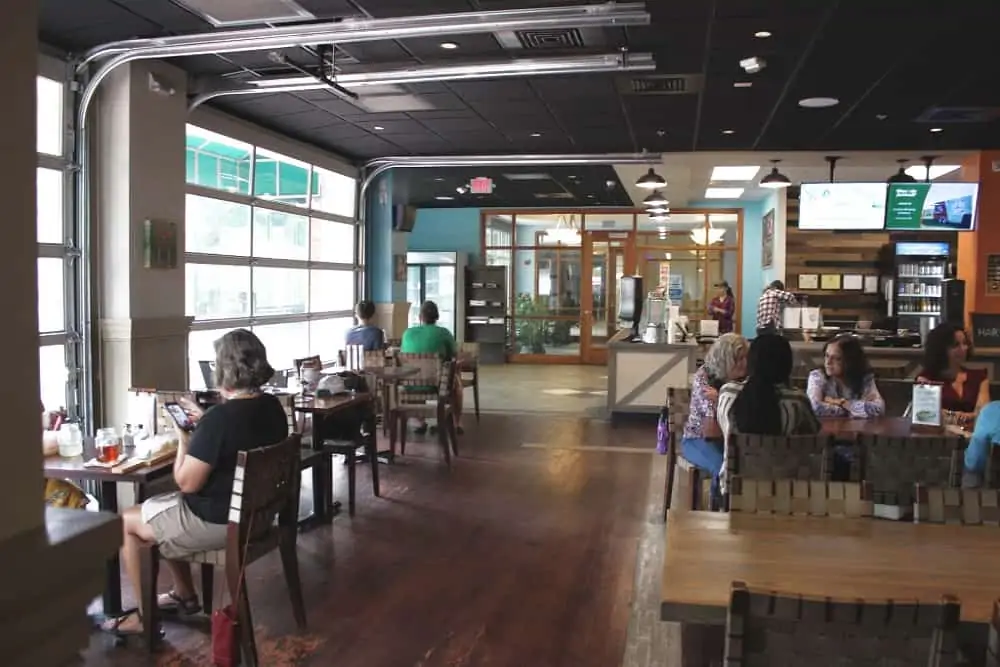 3. Hometown Harvest Kitchen Has Amazing Food!
On the day we got lunch at Hometown Harvest, their menu offered a lunch special of a rice bowl and salad ($9).
The salads for the day were a Farmer's Salad and a Spring Berry Salad in Small ($3) or Large ($6).
Their soups/rice bowls for the day were Carolina Chopped Pork Soup Over Rice Or On A Potato Bun ($7), Pork & Veg Chili Over Rice ($7), and White Bean & Kale Soup Over Rice ($7).
Sandwiches for the day were The Bethel ($9), Heirloom BLT ($9), Heirloom Tomato & Cheese ($7), & Chesapeake Chicken Salad ($9).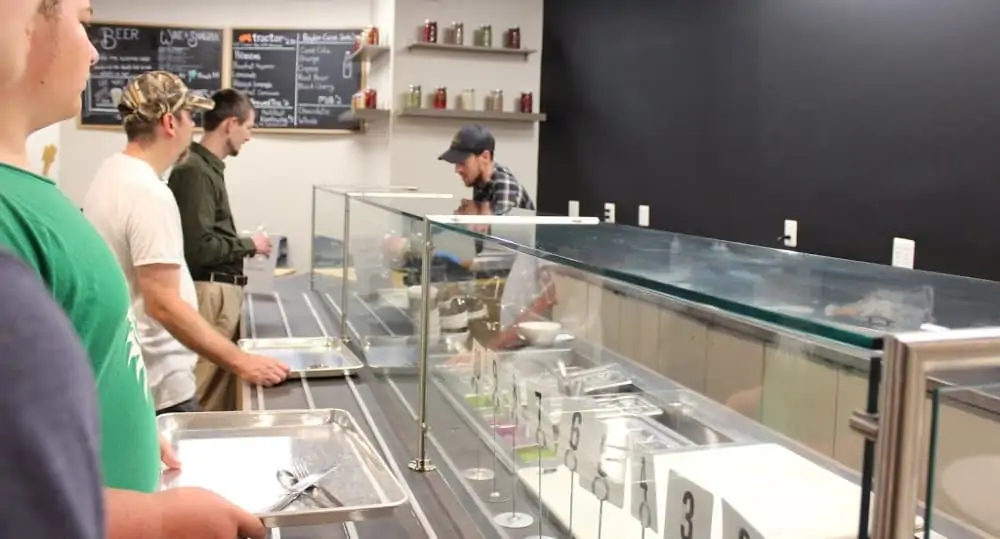 My nephew and I both got the Chesapeake Chicken Sandwich and a small berry salad with lemon poppy seed dressing.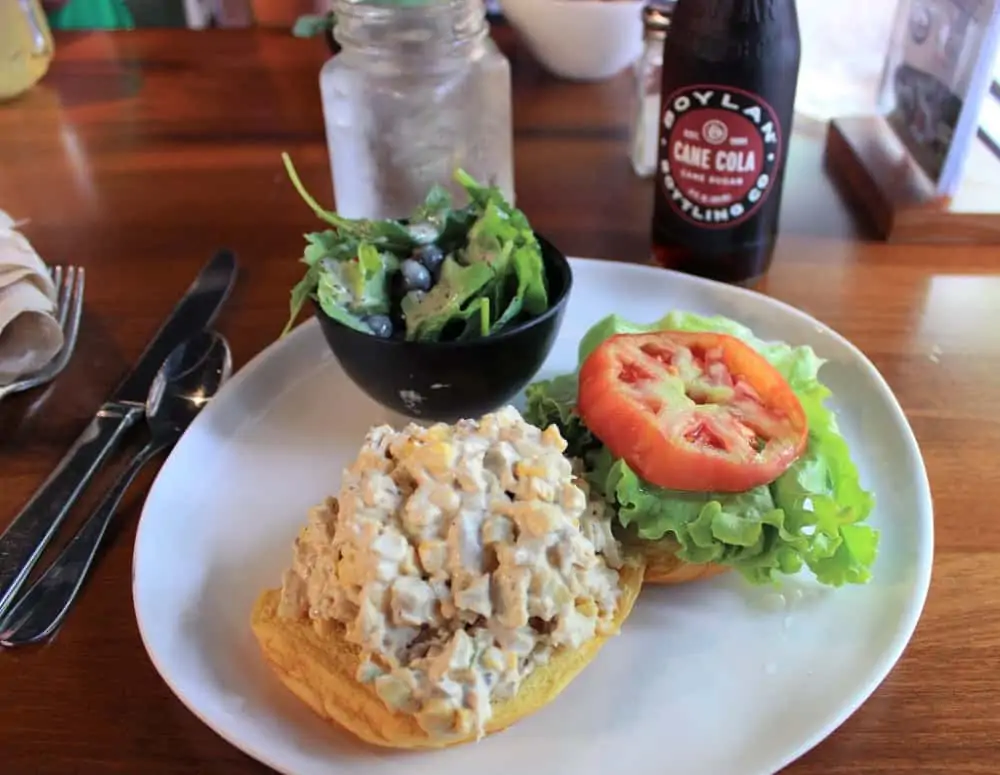 My son got the Carolina Chopped Pork Soup Over Rice and a small berry salad.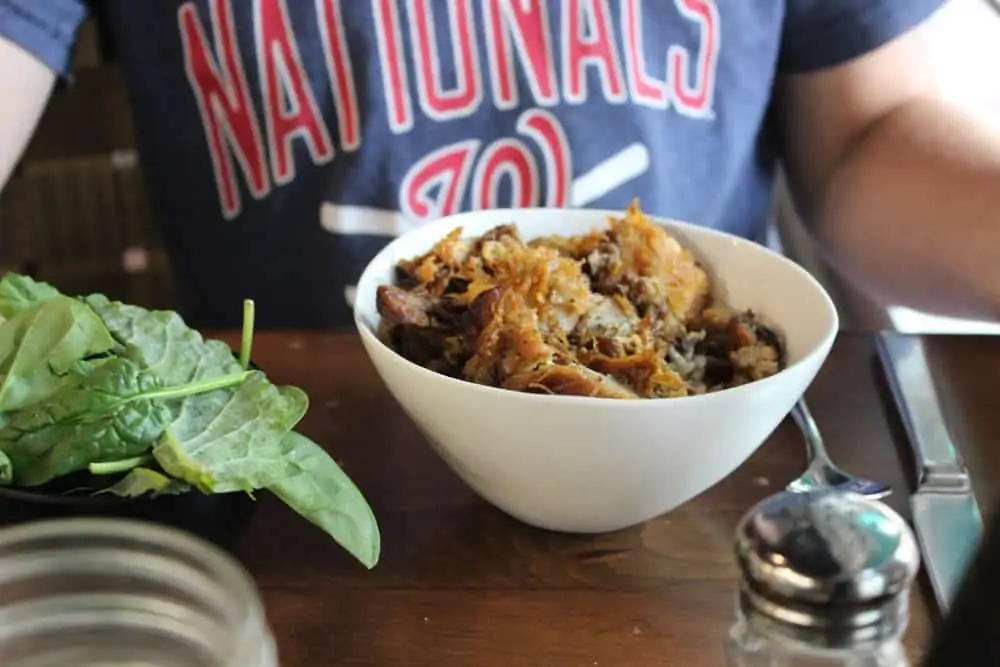 All of our meals were so fresh and delicious!
Who knew chicken salad would be good with corn in it!
4. The Beverages At Hometown Harvest Kitchen
Hometown Harvest Kitchen has a nice assortment of beverages that will satisfy anyone's thirst!
From their Boylan Cane Sodas (I had the Cane Cola and it was delicious), to fresh brewed teas, to their 100% organic non-GMO drinks, there's something for everyone.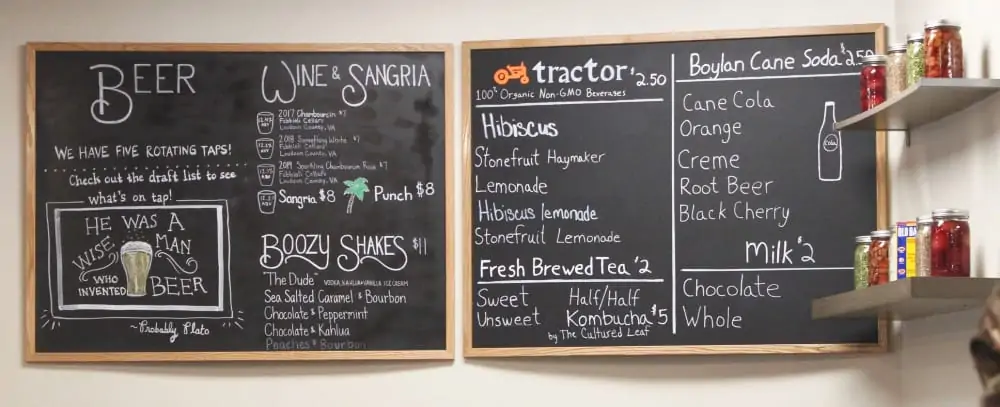 In addition, their alcoholic beverages include beer, wine, cocktails, and boozy shakes!
Oh my yum!!!
Clearly, I'll be bringing my girlfriends there next time!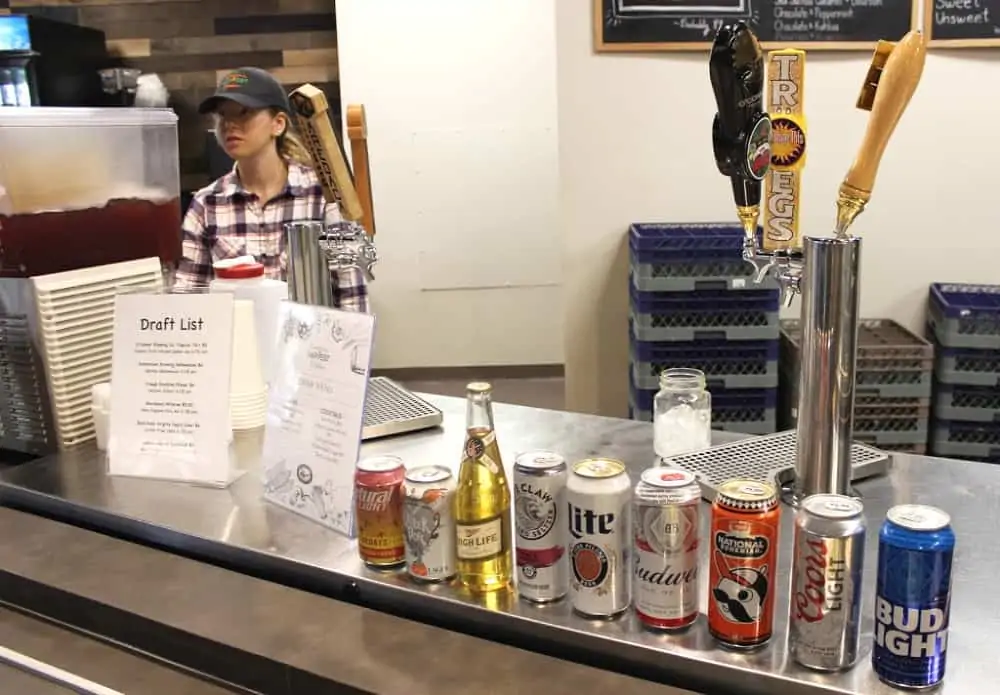 5. The Ice Cream!
Not gonna lie, our main reason for going to Hometown Harvest Kitchen was to try their South Mountain Creamery ice cream!
Mind you, we've had their ice cream many times because we happen to live within walking distance from SMC.
However, they offer way more flavors here at the restaurant!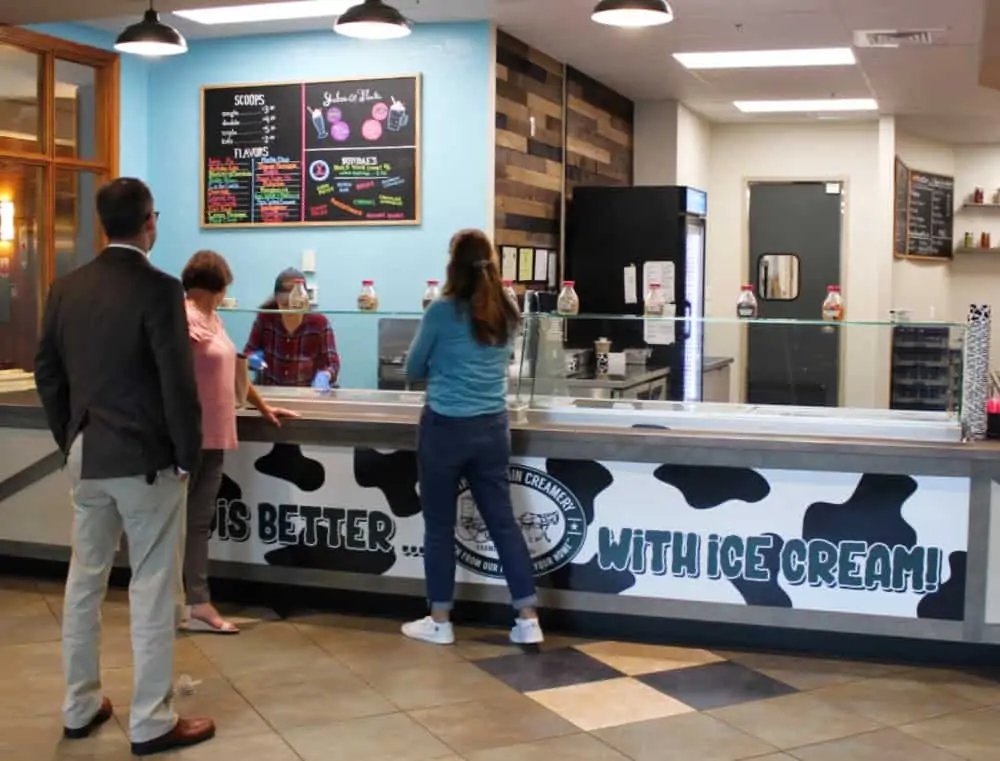 You can get ice cream in a cup, on one of their homemade waffle cones, in a shake, in a float, or on a build your own sundae.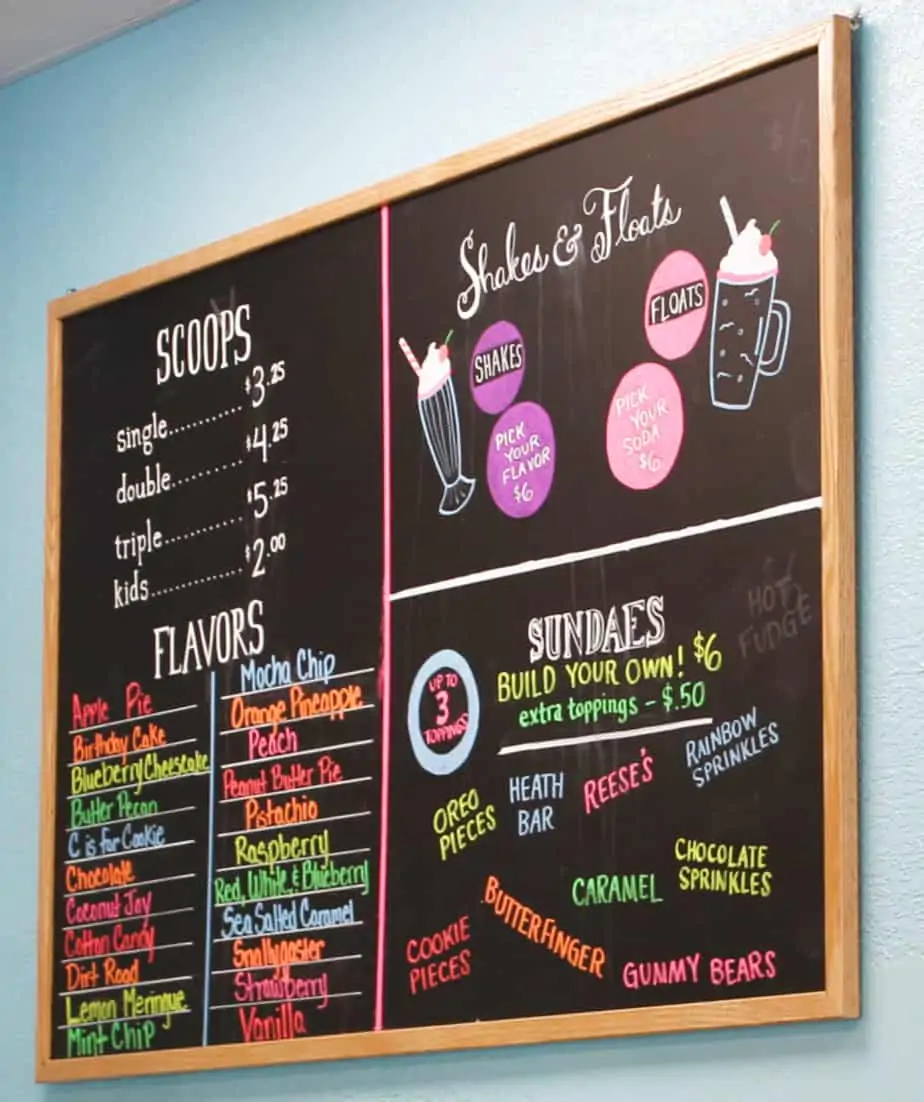 And of course you can taste test the flavors until you find the one you want!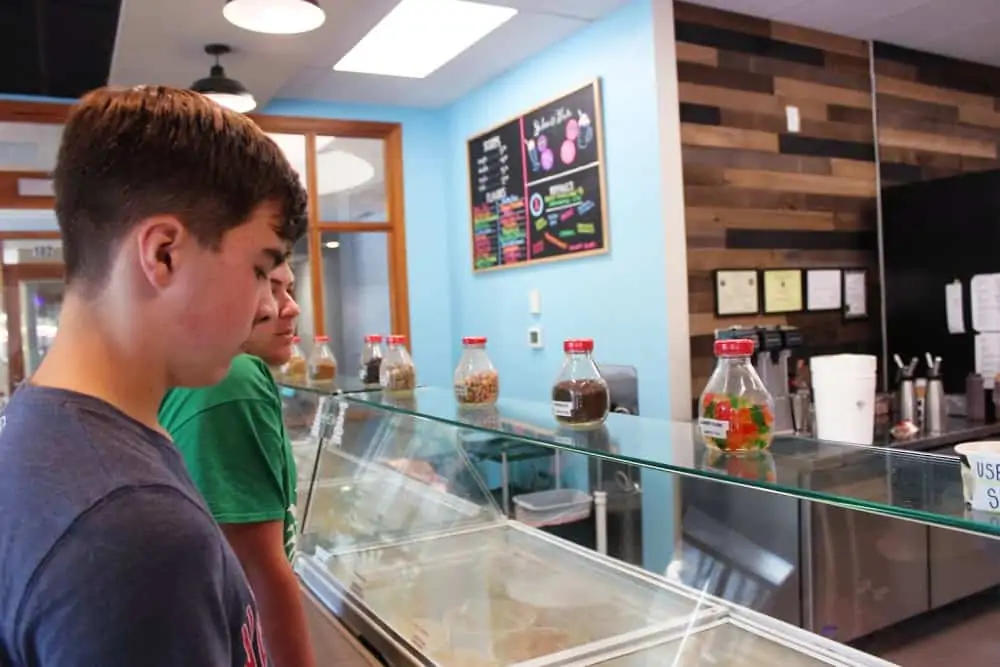 Also, Hometown Harvest Kitchen offers ice cream flights, which include 4 flavors.
Customize it with your flavors of choice OR try their Frederick Flight: The Official Flavor of Frederick, Red White & Blueberry, Dirt Road, & Snallygaster.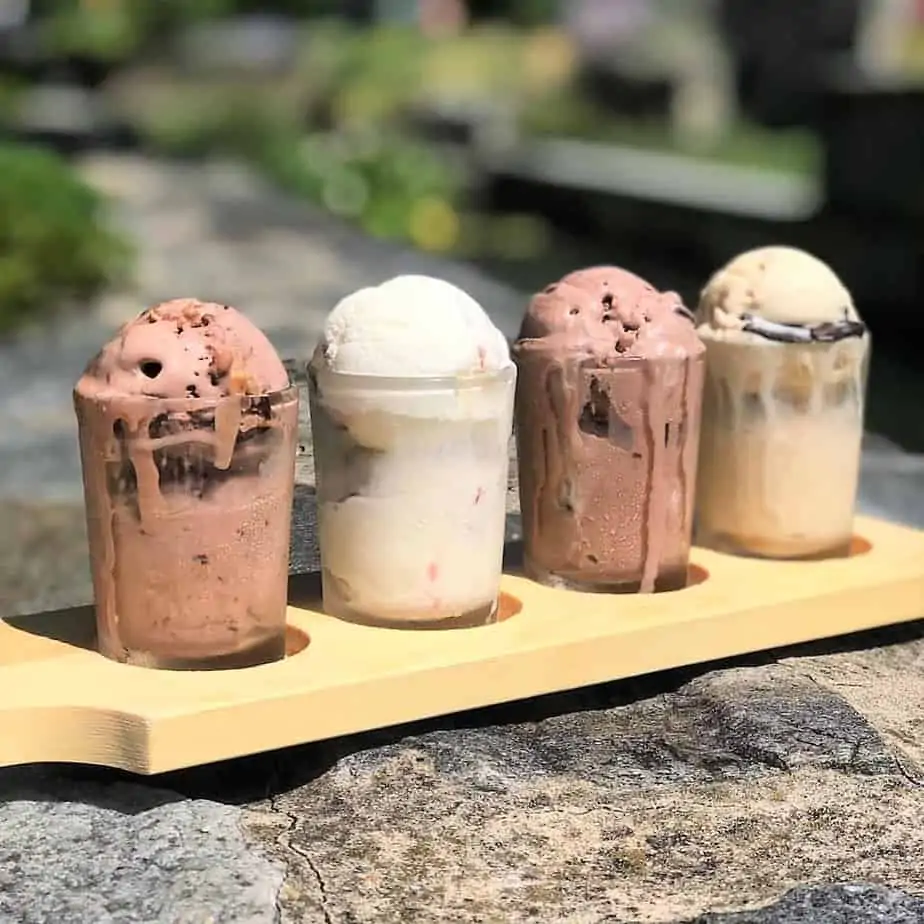 6. The Friendly Staff at Hometown Harvest Kitchen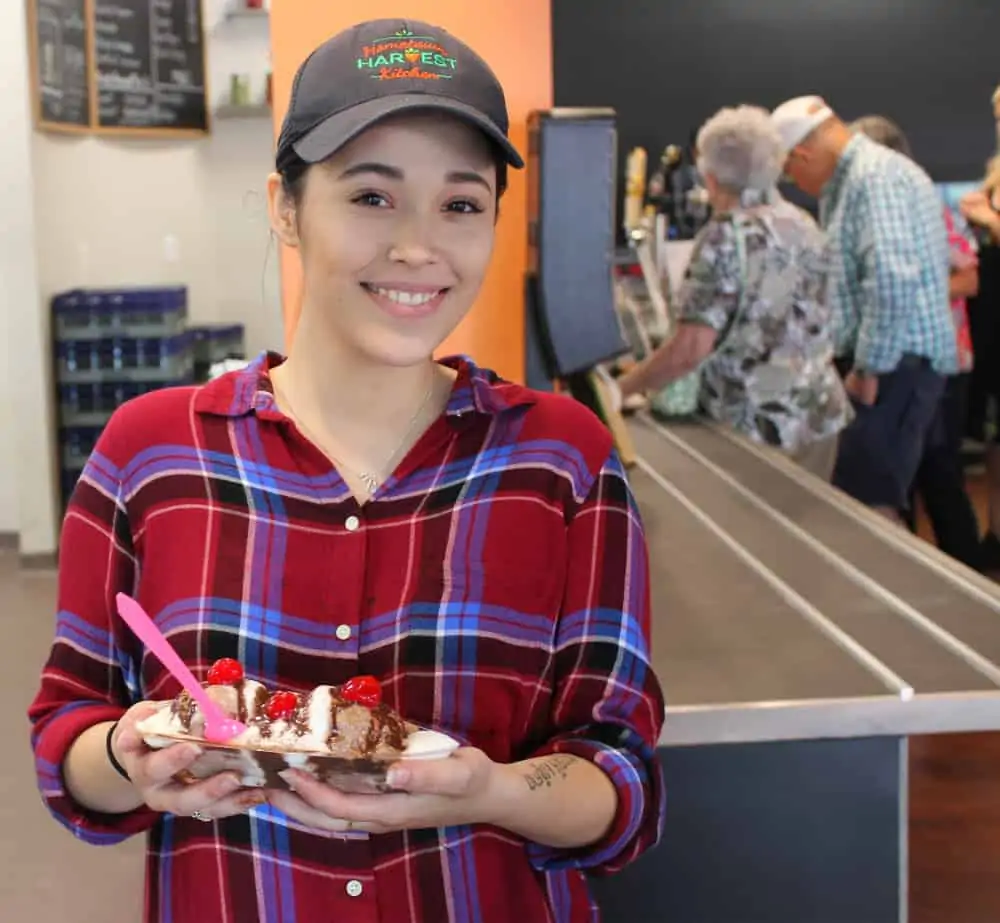 The staff is extremely friendly and accommodating.
Jake Cline, Hometown Harvest Kitchen's General Manager, immediately greeted us as we walked through the door and helped us navigate our way to the food line.
And Carina, at the ice cream store is super nice and let us taste test as many flavors as we wanted before preparing our to-die-for sundaes.
7. The Frederick Ice Cream Naming Contest
Last summer, Hometown Harvest Kitchen wanted to honor Frederick's history and heritage.
And the way they could honor it is with an official Frederick ice cream.
This ice cream is made of rich German chocolate with sea-salted caramel swirl & pecans.
And let me tell you, it is divine!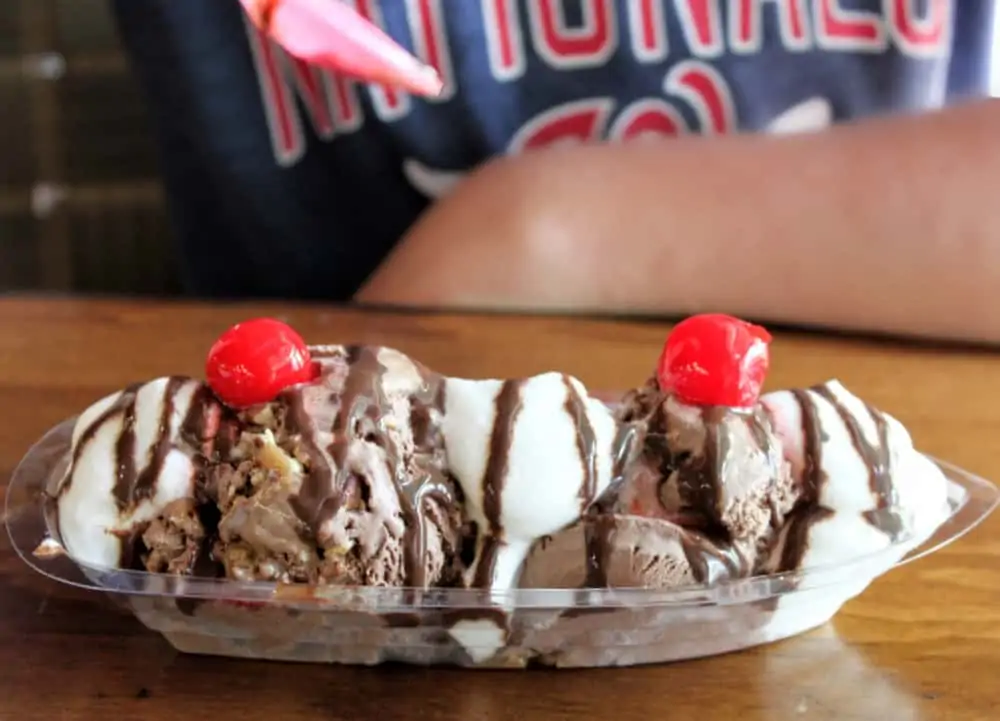 My son and I got the official Frederick flavor made into a sundae.
One word: Amazing!
So the Official Frederick Ice Cream Naming Contest has officially ended.
The top three submissions were voted on by the public and the winner was announced and featured at the Great Frederick Fair.
The winner received a prize package from Hometown Harvest Kitchen and Visit Frederick.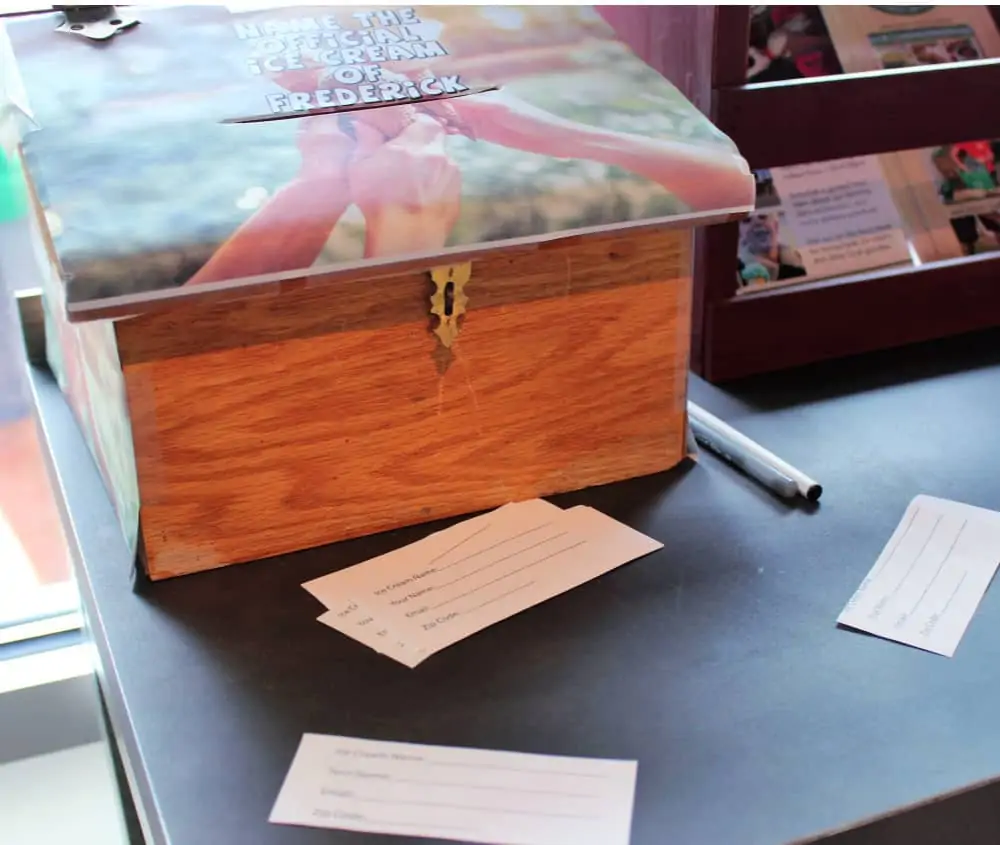 The name that we came up with was Great Wagon Road.
The Great Wagon Road was a main route for travelers in the 1700's beginning in Philadelphia, PA and ending in Augusta, GA.
This road cut through parts of Frederick County where Germans (Pennsylvania Dutch) from Europe settled in Frederick.
So I thought this would be the perfect name for the ice cream since it's German chocolate ice cream with nuts in it.
Well, our name didn't make it to the top 3 names!
However, the winning name is awesome!
The name is……….drumroll please…………..Monocacy Mud!
I have to admit it, I kinda like it!
Check out more of our Frederick County posts on:
South Mountain Creamery – Cows, Ice Cream, & More!
Farmers Markets in Frederick County Maryland
The Great Frederick Fair: 10 Reasons to Visit