Looking for easy, inexpensive DIY baseball coach gifts to show your appreciation?
Because, if you're like me, you want to show them how much you truly value the impact they've made on your child.
Needless to say, in most cases, your child's baseball coaches volunteer their time, a ton of time, with your kids.
But coming up with unique and meaningful gift ideas can sometimes be challenging.
So I've discovered the perfect handmade gift, that your child's baseball coaches will absolutely treasure!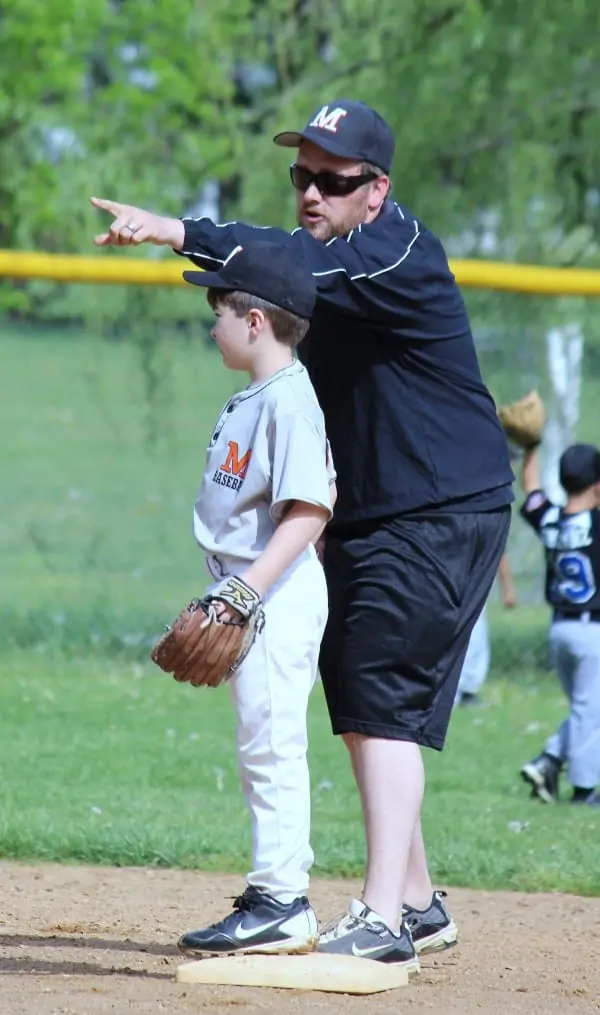 Best DIY Baseball Coach Gifts
If it wasn't for the amazing coaches my son has had through the years, I don't know if he would have continued playing baseball.
But he has continued playing and he really enjoys it.
I can see that it has increased his confidence and gives him purpose.
In addition, I just love being a baseball mom!
So, I truly value the guidance his coaches have given to him.
What Do Coaches Want For Gifts?
So, honestly, what do coaches want for gifts?
In my opinion, you cannot go wrong when you give coach gifts that are personalized and one-of-a-kind.
Therefore, each year I enjoy putting together a team gift with a fun photo collage of the players and the coaches to commemorate the season.
Also, throw in a Dick's gift card and you'll be golden!
How Much Should You Spend on a Coach Gift?
If your child's baseball coaches are like my son's coaches through the years, they don't want you to spend a lot of money on them.
Needless to say, it truly is the thought that counts in this situation.
As long as you're showing your appreciation enough to give them a gift, it really doesn't matter that you didn't spend a ton of money on it.
In my case, I decided to make something and include the kids on the team so that they could feel a part of the baseball coach gifts.
Admittedly, I am not the most creative person in the world.
However, putting together the below image using PicMonkey is super easy to do!
PicMonkey offers a Free 7 day trial so you can learn your way around their site before committing to a paid membership.
After the free trial, if you're interested in buying a membership, they have 3 packages:
Basic $7.99 a month
Pro $12.99 a month
Business $23.00 a month
If you've never used PicMonkey before, check out our PicMonkey tutorial post.
And here's another one of our PicMonkey tutorials.
Gift Strategy For My Baseball Coach Gifts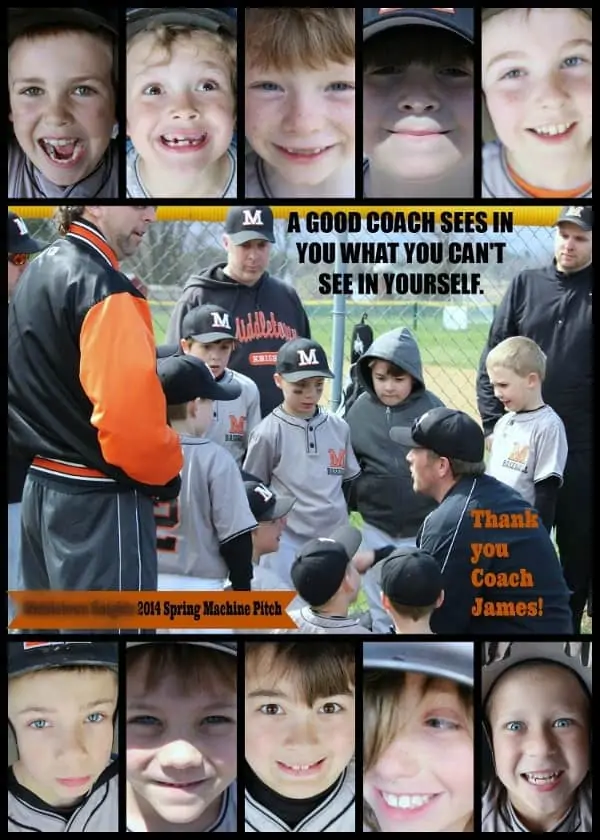 So, I knew at the beginning of the season that I'd want to create a photo collage for our coach once the season ended.
Therefore, I took pictures throughout the season.
I absolutely love taking pictures during the practices and the games.
Turns out I'm kind of a nervous baseball mom and I can't sit still throughout an entire game.
So, taking pictures helps with my nervous energy and I really enjoy it!
After sorting through all of the photos, I found the best one out of the bunch to use as the main photo.
Also, I made sure that I took pictures of each kid on the team to include in the collage.
I uploaded all of these photos into the collage template on PicMonkey and then I added the text.
Simple as that!
Printing Your Photo Collage
Instead of printing the collage from my printer, I wanted a better quality so I went to Shutterfly to order it.
As expected, the print turned out great!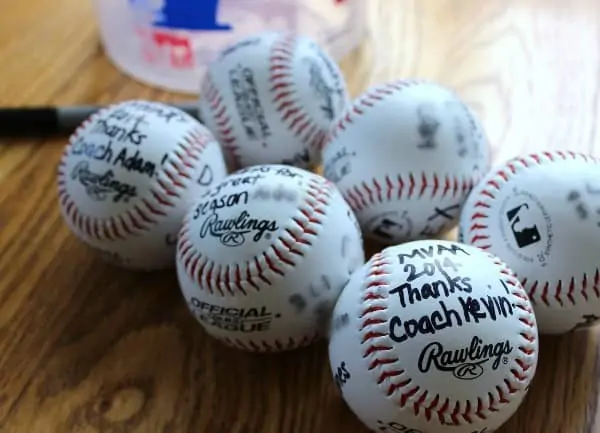 We gave the collage to the head coach because he was the one who volunteered the most time, handled the schedules, make-up games, etc. The other baseball coaches put in a huge amount of volunteer time as well. So we decided to get a bucket of balls and have each kid sign the balls to present to the assistant coaches.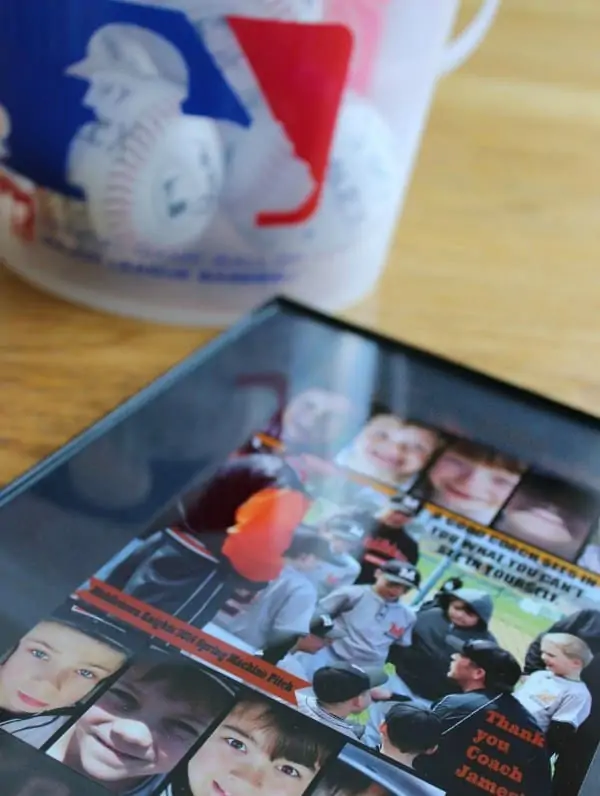 I attached the PicMonkey collage to black scrapbook paper and had each kid write their first name by their picture. Then I framed it.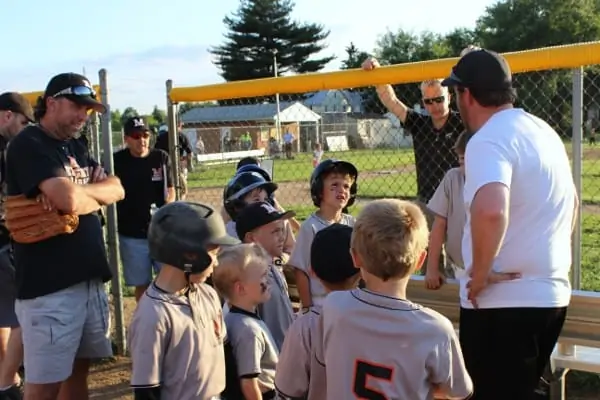 The above picture was the end of our kids' season. We had lost and didn't make it to the championships. But it doesn't matter. These kids learned so much and played their hearts out. And these coaches made it all possible.
No words can really express my gratitude to each and every one of them. An experience that can never be taken away from my son.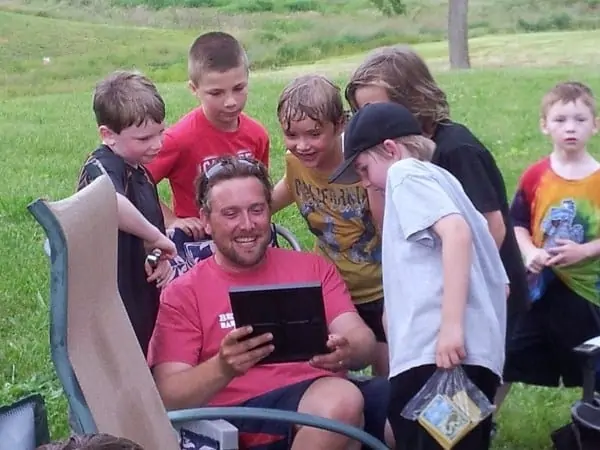 And isn't THAT what it's all about?
PLAY BALL!
For more DIY gift ideas, click on over to:
Easy DIY Home Decor Project: Grapefruit Slice Doormat Tutorial
Mason Jar Dollar Bill Birthday Gift